Step into the world of direct-to-consumer (DTC) shoe brands with us.
In the competitive footwear industry that's dominated by iconic brands like Nike and Adidas, DTC footwear companies are carving out space of their own by forgoing traditional retailers and going straight to their customers.
And to reach those customers, these e-commerce brands are relying on social media to market their shoes, build relationships, and expand their online presence.
To get an idea of how these companies are performing, we analyzed the top DTC shoe brands on social media to find out what makes these footwear companies stand out.
Social Media Engagement Rates for DTC Shoe Brands
So, who are the top DTC shoe brands on social media? And what are their engagement rates?
We analyzed 11 of the top DTC footwear companies to see how their content is performing on Facebook, Instagram, Twitter, and TikTok. The brands include:
Here's a breakdown of their social media engagement metrics by platform, compared with the overall median across industries.
Facebook
When it comes to Facebook, DTC shoe brands are performing well compared to other industries. According to our 2022 Social Media Industry Benchmark Report, the overall median engagement rate across industries is 0.064%.
Meanwhile, the DTC shoe brands on our list have a median engagement rate of 0.11% on Facebook.
Median engagement rate: 0.11%
Median posting frequency: 4.32x per week
Instagram
The shoe brands we took a look at have a median engagement rate of 0.27% on Instagram which is lower than the overall median rate of 0.67%, but that's not to say that the top performers aren't seeing much higher rates.
Median engagement rate:  0.27%
Median posting frequency: 5.76x per week
Twitter
DTC shoe brands are performing much better on Twitter when compared with other industries. The overall median engagement rate on Twitter across industries is 0.037% while the median rate for DTC shoe brands is 2.26%.
Median engagement rate:  2.26%
Median posting frequency: 2.76x per week
TikTok
Since TikTok analytics are now live in Rival IQ, we can see how DTC shoe brands are performing on the newer platform (though we don't yet have TikTok benchmarks to compare with other industries). The median engagement rate for the top shoe brands is 1.86%.
Median engagement rate:  1.86%
Median posting frequency: 0.40x per week
To get a better idea of what types of content and engagement strategies tend to work well on each platform, let's take a look at the DTC shoe brands that stand out on the main DTC channels Facebook, Instagram, Twitter, and TikTok.
Top DTC Shoe Brand on Facebook
Vivaia
Though it was only founded in 2020, sustainable shoe brand Vivaia has already amassed a major following of nearly 800K across all social media platforms combined. In addition to the immense growth achieved in such a short period of time, the brand has also outshined the competition on Facebook as it had the most engaging post of all the DTC shoe brands we analyzed.
Vivaia's top-performing post received an engagement rate of 6.56%, which is a whopping 60x higher than the median engagement rate for DTC shoe brands on Facebook.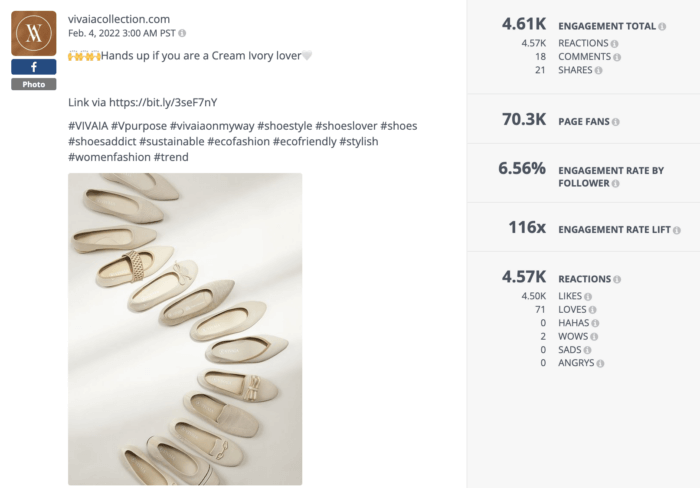 As social media professionals know, Facebook is a pay-to-play space. And judging by the engagement totals on this post, there's a good chance the engagement rate was so high because this post was likely boosted.
As organic engagement continues to decline, marketers must lean into what works — and right now, that's paid engagement. Vivaia demonstrates how boosting posts may be the key to reaching new customers on Facebook, especially when the content is relevant to your brand.
Top DTC Shoe Brands on Instagram
Atoms
DTC shoe brand Atoms stands out on Instagram for its thoughtful approach that has resulted in highly engaging posts. Atoms' Instagram strategy is one that's clearly rooted in forming connections with its audience that go beyond the surface level.
If you take a look at the brand's top-performing posts you may notice something interesting: none of them feature shoes.

In fact, three of the brand's top posts feature the co-founders of Atoms — which makes sense when you consider how much consumers appreciate seeing the people behind a brand, especially the founders. According to research from Sprout Social, 70% of consumers feel more connected to a brand when the CEO is active on social media.
When we take a closer look at one of Atoms' top posts, we can see that the post below — an image of co-founder Sidra Qasim — received an engagement rate of 4.31%, which is 16x higher than the median engagement rate for DTC shoe brands on Instagram.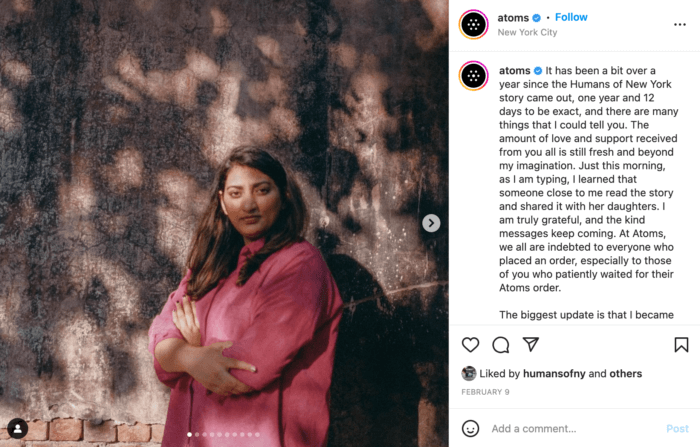 Storytelling is one of the leading characteristics of successful DTC brands, and Atoms' engaging Instagram posts are proof of that.
When you consistently tell your brand's story and showcase the people behind the scenes, you give meaning to the product which helps your audience form a stronger connection to the company.
Birdies
It's worth mentioning that aside from Atoms, the other top-performing shoe brands on Instagram, which include Vessi, CARIUMA, and Birdies, received the most engagement on their posts when they ran giveaways.
Giveaways are a tried and true method for boosting engagement across all industries, but they are particularly popular among DTC shoe brands on Instagram. After all, who doesn't love a good pair of (free) shoes?
This giveaway post from Birdies earned the shoe brand an engagement rate of 1.03%, which is 4x higher than the median rate for the shoe brands we analyzed.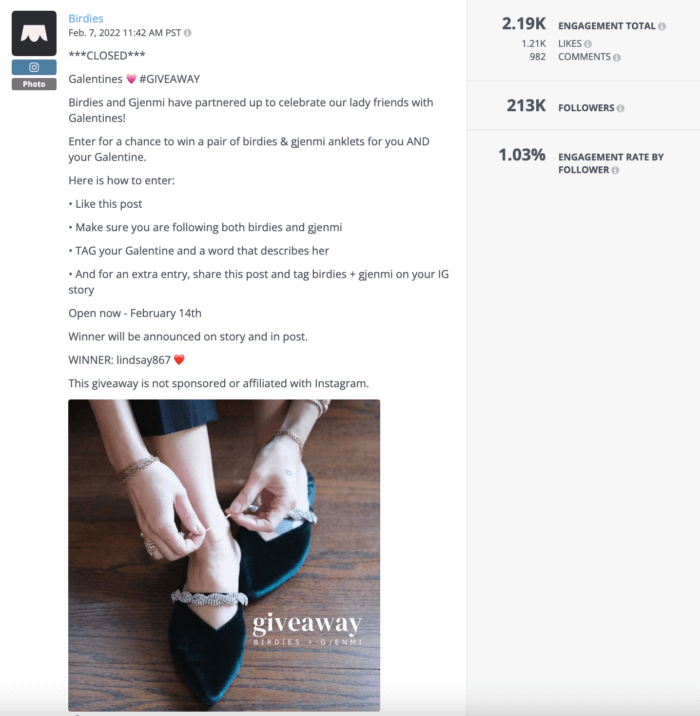 Birdies takes its giveaway up a notch with a holiday-themed giveaway for Galentine's Day and sweetens the prize by partnering with a complementary jewelry brand. It's safe to assume that the two brands have similar customers, so it makes sense to collaborate on a giveaway to gain exposure to each other's Instagram audiences and achieve a growth in followers.
Even though Instagram giveaways are naturally engaging, it's always a good idea to brainstorm creative ways to make your giveaway even more enticing to followers.
Maybe you partner with a group of brands for one massive prize, or perhaps you can run your giveaway around a holiday when everyone is shopping for gifts. If putting a little more effort into your giveaways results in even greater engagement, then it's worth it.
Top DTC Shoe Brand on TikTok
Vessi
Vessi is by far the top-performing DTC shoe brand on TikTok. Of the brands from our list, Vessi is one of only five shoe brands on the platform. While marketers may still be on the fence about whether or not joining TikTok is the right move for their brand, Vessi is a prime example of how to successfully leverage the platform before the competition.
With 162K followers, a 3.05% median engagement rate, and over three million total video views so far this year, Vessi's TikTok showcases a mix of content types including humor posts using trending filters and sounds, brand partnerships with creators, and behind the scenes videos with team members.
Vessi also leans heavily into its main differentiator, waterproof shoes, and regularly posts content around the tagline "no more wet socks."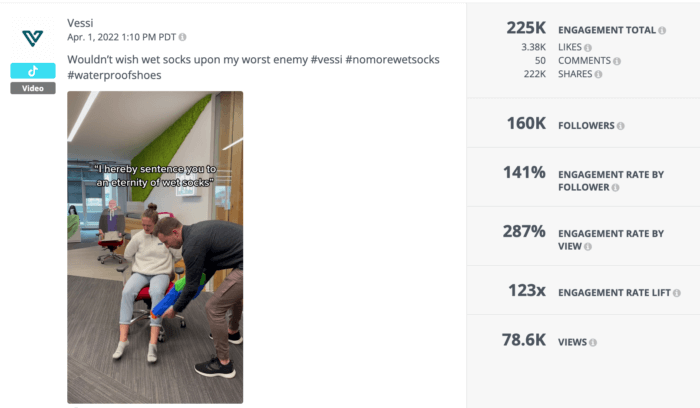 Long story short, the shoe brand isn't afraid to experiment and have a little fun, which is a marketing strategy that proves to work well for many brands and creators on TikTok.
Since TikTok is still relatively new to the social media landscape, there's still plenty of opportunity for brands to carve out a space and play around with content that users want to see — especially if the competition isn't active on the platform yet.
Top DTC Shoe Brands on Twitter
Atoms
Atoms once again takes the lead as one of the top-performing DTC shoe brands on Twitter. One of the brand's top tweets is a conversation starter meant to prompt engagement from its followers, and it clearly resonated.

This tweet is a perfect example of how to create content that encourages your audience to participate and feel involved with the brand.
Atoms' tweet asks a simple question, but it works — especially on a conversational platform like Twitter. The shoe brand spoke directly to its customers, and judging by the number of replies, the customers spoke back.
Starting conversations with followers will always be one of the best ways to engage with your audience on Twitter, and marketers should take note of how Atoms crafts its engaging strategy.
Allbirds
Longtime DTC shoe brand Allbirds is another brand that performs well on Twitter.
One of Allbirds' most engaging tweets was a promotion for an Earth Day campaign in which Allbirds matched donations to the climate nonprofit Amazon Watch.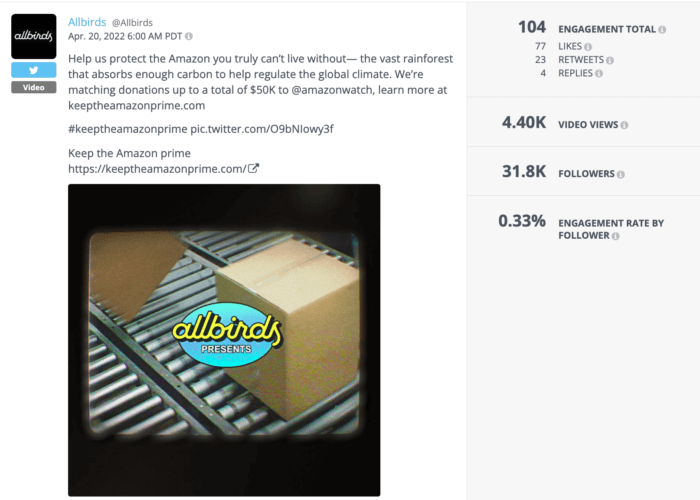 Not only was this a timely campaign focused on a cause that's important to many people — especially customers of the sustainably-made shoe brand — but the top-performing tweet included a video, and savvy marketers know how essential video content is to any social media strategy these days.
Though TikTok and YouTube are the main players when it comes to video, don't be afraid to publish brand videos across all platforms. As long as they're optimized for the platform they're being posted on, videos can potentially help DTC brands boost engagement as they tend to stand out from the standard static image.
Key Takeaways
Each social media channel offers different marketing value for DTC footwear brands of all sizes — choosing the right ones depends on your goals. Here are the top takeaways to keep in mind for each platform:
Instagram remains an effective platform to reach new customers, especially if you run giveaways every so often.
TikTok is emerging as a top platform for engagement and provides opportunities to explore creative content ideas.
Facebook is best for leveraging paid reach.
If you want to talk directly to customers, head to Twitter.
No matter which platforms you choose to create content for, when marketing a DTC brand, the best thing you can do is meet your customers where they are.
By spending time on the channels they're active on, not only will you learn a lot about your customers and form more direct relationships with them, but you can increase your brand's visibility and get the major brands to take notice.