For a social media platform that's been around for 15 years and has 353 million active users to show for it, Twitter continues to be a powerful tool that brands can use to connect with their audience.
And if there's anything our latest Social Media Industry Benchmark Report showed us, it's that Twitter engagement isn't showing signs of slowing down anytime soon. To ensure that your content has the best chances of reaching those high impression and engagement rates, it's essential to follow the top Twitter best practices.
From community-building to sparking conversations to participating in a viral trend, Twitter's superpower is in giving brands and users the ability to connect 1:1 and communicate on a more conversational level. But just like any other social platform, your Twitter strategy should be tailored to the way your audience consumes content here versus on Instagram or Facebook.
Whether starting conversations or tapping into ones that your audience is already having, there are a few Twitter best practices to follow if you really want your brand voice to shine and your content to perform well in the feed.
Below, we rounded up 10 Twitter best practices and our favorite examples of them in action.
Engage and interact
Engagement is the name of the game on Twitter. On a social platform that's all about connection and conversation, it only makes sense that one of the top Twitter best practices is to actually interact with your followers.
You can encourage engagement on Twitter in numerous ways, whether that's directly responding to someone's tweet (if and when appropriate), prompting your audience to share stories or opinions, or asking questions.
One easy interactive element to incorporate in your tweets is a poll. Creating a poll is a great way to get your audience involved and engaged. If you do run a poll, just be sure that it's on-brand and makes sense for whatever your company offers.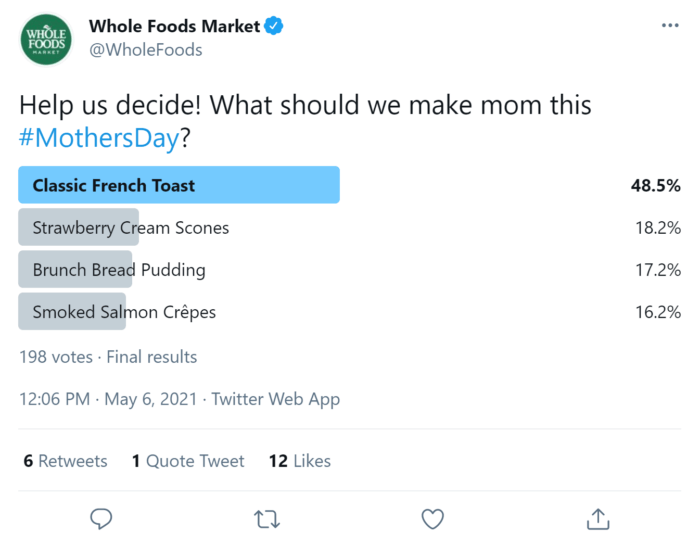 Establish a clear brand voice
It's fair to say that Twitter popularized the personified brand when it comes to social strategy. From fast food chains to retail brands, when brands personify their accounts they take on the voice of an individual rather than a company in an effort to shake off their corporate image and reveal a more casual, human side. While you don't necessarily need to take the Wendy's approach (though, if that's a style that resonates with your audience, more power to you!), the fast food chain is a shining example of a brand with a clear and recognizable voice.
Establishing a conversational or personified brand voice can be especially beneficial for B2B companies who want to incorporate Twitter best practices. A lighter, more casual tone can liven up dry or technical content and allow it to stand out in the feed.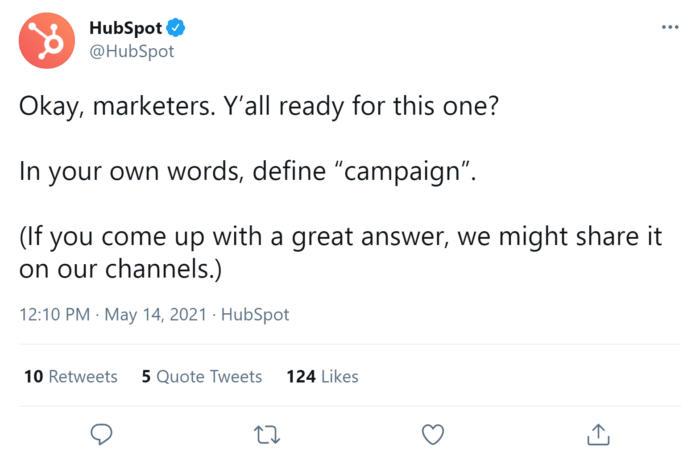 Hop on the trends
While your Twitter strategy shouldn't be based solely around trends, it's a good idea to incorporate them every now and again to boost engagement. After all, Twitter is the source for some of the most viral trends, so it doesn't hurt to join in on the fun as long as it's something your audience wants to see.
Keep in mind that not every trend may work for your brand, so don't force it if it doesn't make sense. The key to successfully executing this is knowing your audience and understanding what tone resonates with them.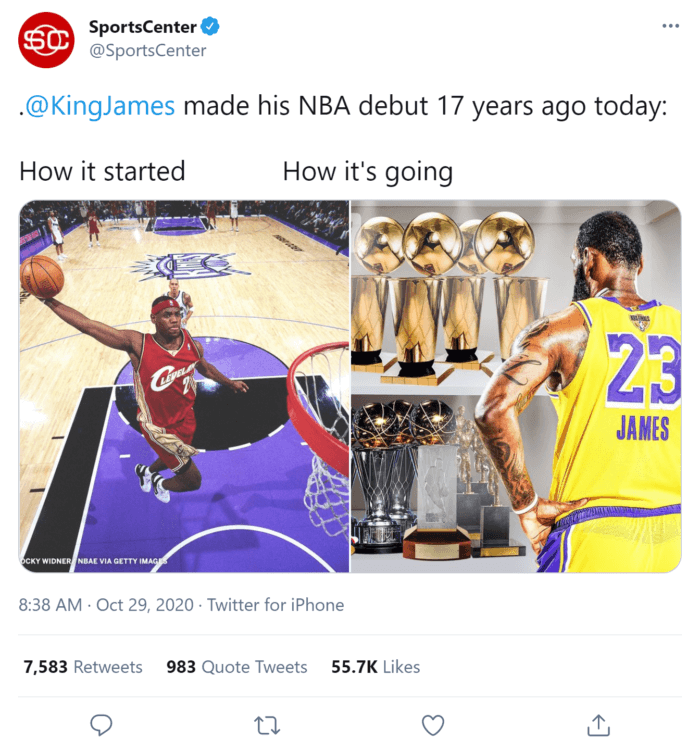 While trending memes and hashtags may sound like more of a B2C thing, B2B brands shouldn't shy away from having a little fun with trends, too. As long as it's appropriate and relevant, this type of content can be a fun way to engage with your audience and show a lighter side of the brand.
Have a plan for customer service
Because of the conversational nature of Twitter, it's not uncommon for users to visit a brand's page seeking answers for their questions about your product or service. Make sure you have a plan for how to respond if and when these questions and concerns come up, and maybe even have a dedicated team to direct them to (social media managers have enough on their plates as it is!). You may even consider creating a separate account for customer inquiries that operates like a help desk and can be managed by your company's customer service team.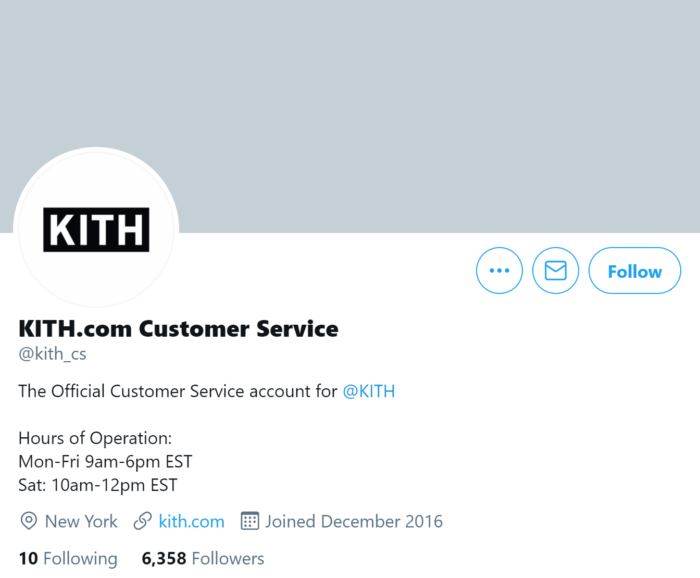 When it comes to managing customer service on Twitter, response time is critical. Make sure you respond promptly with either an answer to their question or a clear next step. Slow responses — or worse, no response at all — can make customers feel ignored and can ultimately affect their perception of your brand.
Make your content inclusive and accessible
Ensure everyone has access to your content by optimizing it for inclusivity and accessibility. One accessibility tip for your copy is to use title case when writing hashtags that contain more than one word. Capitalizing the first letter in each word makes it easier for screen readers to pronounce it correctly.
Another way to make sure your content is accessible is to add captions to your videos. Captions are not only helpful for those who are deaf or hearing-impaired, but they also allow users to engage with your content if they keep their sound off or are in a noisy location and don't have access to headphones.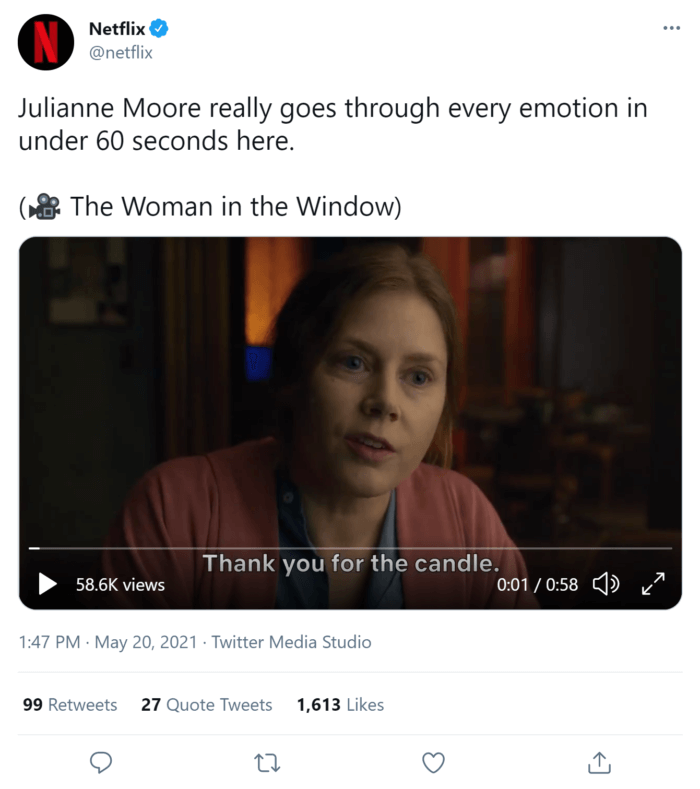 Get the most out of blog content through proper distribution
If you have a library of blog articles, then sharing that content on a regular basis should be part of your Twitter strategy. But don't just post a link to the blog post and call it a day. To get the most out of the content and increase click-through rate, tailor your copy for your Twitter audience.
Whether you write a short and quippy caption, highlight a key point or piece of data from the blog post, or pose a question, the copy should resonate with your audience in a way that will get them to stop scrolling and visit the blog post. If you want to go the extra mile, create a custom image that stands out in the feed.
Another creative way to share blog content on Twitter is by utilizing the thread method. This involves introducing the topic and then following up the initial thought with several more tweets, ultimately ending with a link to the blog post if users want to learn more. This method is popular among individual thought leaders and influencers, but Morning Brew successfully demonstrates how it's done in the example below.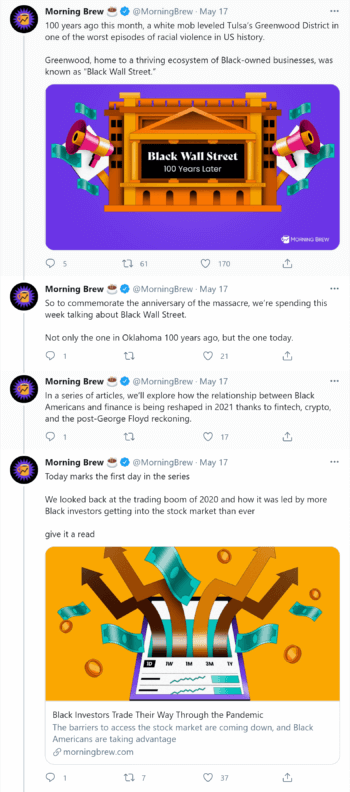 Diversify your hashtags
A hashtag that performs well on Instagram might not carry the same weight on Twitter, so before you copy and paste the hashtags from your latest Instagram post, do your research to see which hashtags have high engagement and impression rates on Twitter. You can also keep an eye on which hashtags are currently trending on Twitter and review those to see if any of them are relevant to your brand. Pro tip: Twitter recommends limiting your hashtags to no more than two per tweet.
Optimize your visuals
While captivating copy is essential on a conversation-driven platform like Twitter, strong visuals are just as important. Visuals are known to grab people's attention in a way that words sometimes can't, so if you want to get users to stop scrolling and pay attention to what you're saying, then your content needs to include eye-catching visual elements.
Make sure that your images or graphics are aligned with your branding to ensure consistency across all channels. But rather than reposting the same images you used on Instagram or Facebook, create graphics specifically for Twitter. Twitter has its own specs for image sizes, so it's a best practice to create unique images for the platform. Below are a few standard image sizes to keep in mind for Twitter.
Profile image: 400 x 400 pixels
Header image: 1,500 x 500 pixels
Tweet with a single image: 1200 x 675 pixels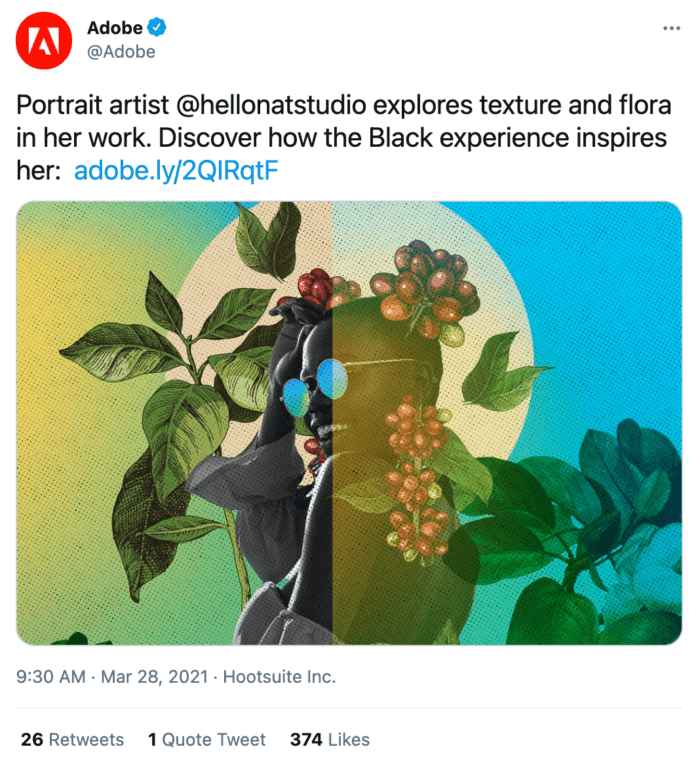 Aside from images, consider what other content your audience engages with most. Animated visuals like GIFs and videos are typically more attention-grabbing than a static image. In fact, we found that video often had one of the highest engagement rates across many industries in our 2021 benchmark report. Take a look at the engagement rate for any videos you've posted in the past; we'll bet that it performed well. If so, consider investing into more video content on Twitter going forward.
Experiment with new Twitter features
Twitter is always evolving and rolling out new features, from Fleets (Twitter's take on Instagram Stories) to Spaces and even a Tip Jar. When these features pop up, don't be afraid to experiment with new types of content. While you don't yet know how your audience will respond, they still may be worth exploring.
For example, one of Twitter's most recent additions to the platform is Spaces. Similar to Clubhouse, the live chat room audio feature is meant to drive conversation beyond tweets. Brands use Spaces to host AMA sessions or curated panels to better connect with their community and spark a two-way conversation. If your audience tends to respond well to Q&A content, then Spaces may be worth exploring.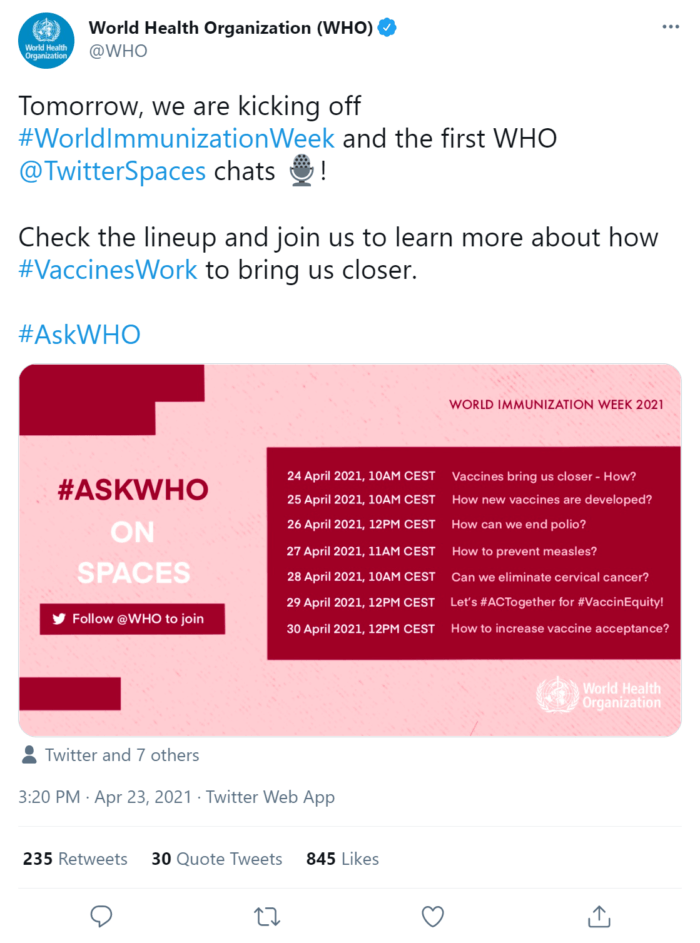 Before you dive into the latest, keep in mind that not every new feature may work for your brand. Determine how much time and energy you're willing to invest in experimenting with a new feature. Something like Spaces requires more planning and execution than, say, sharing a Fleet. So it's important to do your research and get an idea for how well your content would perform before you go all in. Afterwards, monitor your analytics to see how it fared compared to your average rates in terms of impressions and engagement.
Engage in social listening
Social listening has become an essential practice for brand marketers across all industries. Whether to monitor what people are saying about your brand or keep an eye on what's being said about the competition, social listening is all about making sure you're tapped into what's going on around you, even if you're not directly mentioned.
To follow this Twitter best practice, use a social listening tool to track indirect mentions of your brand, your competitor's brand, or conversations happening around your industry by plugging in specific keywords or brand names. Doing this will not only help you stay on top of industry trends and monitor the competition, but it will allow you to better understand what your customer is interested in or what their current gripes are.
Wrapping it up
There are always new Twitter best practices to incorporate into your social media strategy. And fortunately, it's a fun platform to experiment with. Whether you want to explore using more video or try out a new feature, just be sure to measure the results after incorporating any of these Twitter best practices. As long as you have a social media analytics tool to see how your content performed, you can take the data into account, adjust accordingly, and give it another try or make it a regular part of your Twitter strategy.