At this point, most brands have experimented with — or at least considered — weaving TikTok into their social media strategy. With its viral levels of engagement, unique algorithm, and ability to inspire countless cultural trends, the short-form video app has turned the social media marketing world on its head.
But because it's still relatively new — TikTok launched in 2016, but wasn't available in the United States until 2018 — there's still so much to learn about what works and what falls flat when it comes to TikTok marketing strategies for brands.
To get inspiration for your own TikTok marketing strategy, it's always a great idea to look to those who are creating high-performing content, building engaged audiences, and attracting TikTok users from all corners of the internet to their brands.
Here are five TikTok marketing strategies that some of the top TikTok creators have used to stand out on the app.
TikTok Marketing Strategy #1: Publish content consistently
Like most social media platforms, it takes time to build an audience and establish your brand awareness on TikTok. Even if you are able to break through the noise, create a highly engaging video or two, and gain a slew of followers, you have to continue to publish content on a consistent basis if you want to keep those active users engaged.
DTC beverage brand Poppi is an example of this. One of their most viewed videos — which currently has 29.8 million views — is of their founder explaining her journey to starting the business.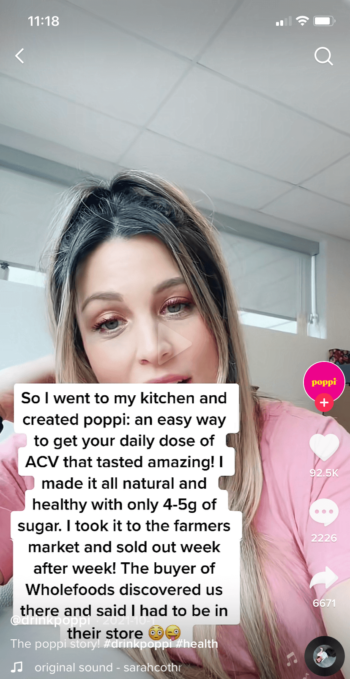 But even after the video hit viral levels, the brand didn't stop there. Poppi continues to consistently publish engaging content that focuses on its product, explains how it works, and shares sneak peeks of flavor releases.
One key to Poppi hitting millions of views could be attributed to the brand's commitment to posting TikTok content on a regular basis. According to our social analytics tool, Poppi posts 1.2 videos a day on average, which is greater than its competitors who post 0.79 per day. That means the beverage brand is consistently showing up on TikTok at least seven times a week.

Publishing consistently means finding a posting frequency that your team can reasonably keep up with. It also means being aware of how often your followers are engaging. For Poppi, that sweet spot is at least once a day. Experiment with a publishing schedule that works for your brand on TikTok and stick with it.
TikTok Marketing Strategy #2: Be entertaining
If your goal is to reach a younger audience, namely, Gen Z, then consider taking your content the entertaining route. Gen Z is known for valuing authenticity from brands, and creating organically entertaining videos on TikTok is one of the best ways to show that you're authentic.
According to a study, 65% of Gen Z use the internet for entertainment. And considering that around 44% of TikTok users are between 18-24 years old, creating content that falls under entertainment may be a great way to draw these users in.
One great example of this approach comes from language learning platform, Duolingo.
With over 4 million followers, Duolingo has amassed TikTok fame for its use of the company's irreverent mascot, a big green owl named Duo. The owl is the main character in all of Duolingo's videos, and is often seen participating in trending sounds or activities.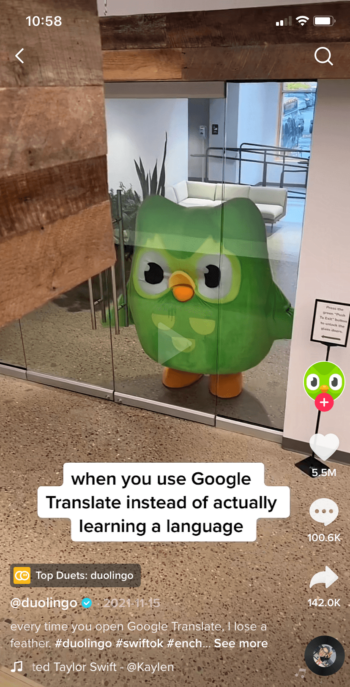 As a language learning app, Duolingo could've easily taken a more expected route by creating language tutorials, for instance. But the use of its wild mascot proved to garner more attention from users, according to the brand's social media manager. Not only does Duo humanize the brand, but it entertains its TikTok audience which ultimately piques their interest and investment in the company.
Similar to the Wendy's Twitter strategy that inspired countless brand personalities over the years, taking an entertaining approach by humanizing your brand's social media platforms works well when you have the right audience for it. But there's a fine line between entertainment and forced antics, so test the waters with a couple TikTok videos before diving all the way into this strategy.
TikTok Marketing Strategy #3: Go all in on a niche
Creating niche content is not an entirely new social media strategy, but it's one that's proving to work well on TikTok.
A great example of this comes from creator Emma Chieppor, known as Excel Dictionary on TikTok who uses her page to share quick tips and tricks for all things Excel. Yes, you read that right, Excel. If you're wondering how a traditional business tool has garnered viral interest on TikTok, it's largely in part to content creators like Chieppor who found a niche yet relatable opportunity in this remote work era.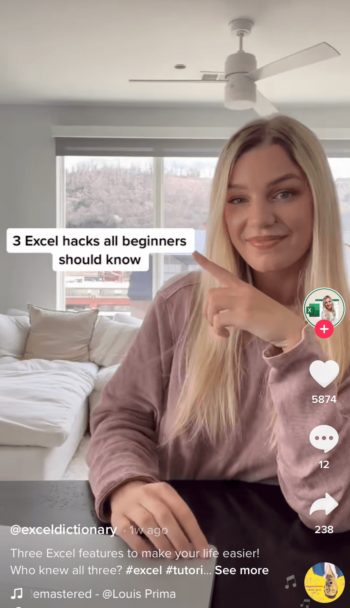 The creator was early into her career when COVID hit and she found herself working from home alone and trying to teach herself Excel without the help of co-workers. Once she became proficient, she began to share everything she learned through easy-to-understand TikTok videos.
Judging by the two million followers Excel Dictionary has on TikTok, and the fact that #ExcelTips has over 646 million views, it's clear that this niche content resonates with many people.
Plus, her page is also easy to navigate, which is one of the top TikTok marketing best practices. The labels let you know exactly what the video is about and what you can expect to learn from it. If you happen to be scrolling and looking for a specific Excel tip, you could easily find it thanks to her visual organization.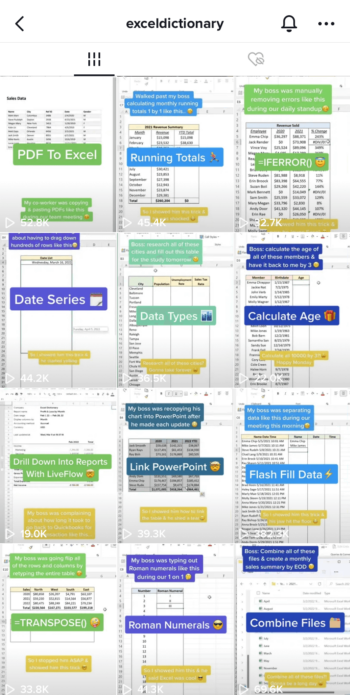 Figuring out the niche content you want to publish is a good opportunity to see how well you understand your own brand and who it serves. Not only do you have to know what makes your brand different from the competition, but you need to have a deep understanding of your target audience's specific needs so you can create original content that caters to them in a way that no one else can.
TikTok Marketing Strategy #4: Educate your audience
Similar to providing entertainment, educational videos receive high engagement on TikTok. The hashtag #HowTo has over 52 billion views and #TipsAndTricks has over 16 billion views.
If you're considering educating as part of your TikTok marketing strategy, take a few notes on what sustainable body care brand Sugardoh is doing. The clean, cruelty-free hair removal product is meant to be used for at-home waxing using a technique called sugaring. The technique itself requires some knowledge, and achieving a salon-level wax from home naturally comes with a lot of questions. Sugardoh aims to answer any questions their audience may have by creating TikTok videos that educate them on not just their own product, but at-home waxing in general.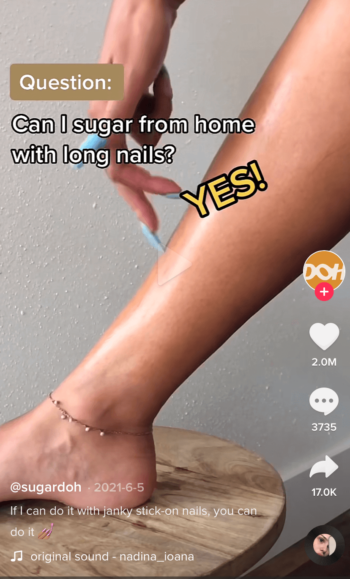 If you want to achieve educational content for your TikTok marketing strategy as well as Sugardoh, address your audience's most common questions or concerns around your product or industry. Create a how-to video that walks them through a process, share quick tips and resources, and show them how your product is the solution. Oftentimes educational content is needed when the industry or category itself is less known, so if this is the case for your brand, start by educating your target audience on general topics that relate to your product.
Pro tip: Not sure what questions to answer? A good place to look for what your audience wants to know more about is in the comments section. If you see people asking the same question over and over, it's worth it to not only engage in the comments, but dedicate an entire TikTok video or two that answers the question.
TikTok Marketing Strategy #5: Humanize the brand
Another way to humanize your brand on TikTok is by — you guessed it — showcasing the actual people behind the business.
A strong example of this TikTok marketing strategy comes from Schuler Books, an independent bookstore in Michigan. Schuler Books creates videos from the point of view of the consumer as if they're in the store and looking for book recommendations in person. The videos typically feature real employees eagerly walking through the store to pick out one of their favorite books that fall under the genre or topic of the prompt. Avid reader or not, it's hard not to be drawn in by the sheer joy and enthusiasm these booksellers display when offering up their recommendations.
One of the account's most viewed videos has received 16.4 million views and 3.6 million likes.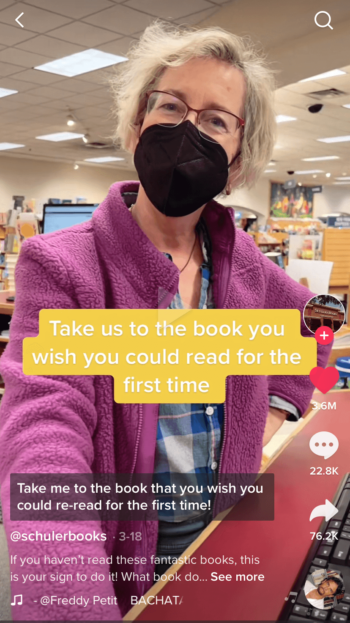 Not only does this TikTok marketing strategy humanize the brand, but it's interactive and engages with a huge corner of the TikTok universe — #BookTok is an active community and the hashtag has over 50 billion views and counting. As a bonus, the brand makes it easy for users to follow through on their recommendations with a dedicated landing page on its website that features the books mentioned in its TikTok videos.
This strategy plays into the authenticity that many TikTok users value. Real people share their real thoughts and recommendations as if they're talking to a friend. To use this TikTok marketing strategy for your brand, consider creative ways to showcase team members or even the founder in original content around relatable topics your target audience can connect with.
The Wrap-Up
No matter which TikTok marketing strategy you choose to experiment with, remember that the best social media strategies are a culmination of creating, measuring, analyzing the results, and adjusting from there.
TikTok will continue to be a driving force in the social media landscape, so take inspiration from these content creators before you set out to create your own viral TikTok content.