If you feel like your brand's Instagram engagement could use a boost lately, you're not alone.
In 2023, organic Instagram engagement rates have dipped below the rates for previous years. But that doesn't mean there aren't opportunities to turn that engagement around for your brand.
Let's go over what a good engagement rate on Instagram is in 2023 and ways to increase it using a mix of reliable and creative tactics.
What is a Good Engagement Rate on Instagram?
Before you can work on ways to improve your engagement, you have to know what a good engagement rate on Instagram is these days.
At Rival IQ, we define engagement as measurable interaction on social media posts, which includes likes, comments, favorites, retweets, shares, and reactions. Engagement rate is calculated based on all these interactions divided by total follower count.
Engagement rate = measurable interaction / total follower count
According to our 2023 Social Media Industry Benchmark Report, the median engagement rate on Instagram is 0.47% across all industries.
While every industry performs differently on the platform, 0.47% is considered a good Instagram engagement rate in 2023. You can use this number as a benchmark as you set out to improve your rate or you can dive into the specific rates for your industry. Using competitive benchmarks to measure your social performance and engagement rates helps you better understand where you stand within your industry and against similar brands.
8 Ways to Increase Your Engagement on Instagram
Now that you have a better idea of what to aim for when it comes to organic engagement, let's go over the different ways to boost your brand's engagement rates on Instagram.
1. Use Reels
There's no denying it — Reels are officially the most engaging post type on Instagram. As Instagram continues to prioritize video to keep up with TikTok and YouTube, Reels have made their way into people's feeds more than ever.
And brands that have already made Reels a major part of their Instagram strategy are seeing the benefits. Case in point: Using Reels helped Kwik Trip become one of the top convenience stores on social media and earn seven times more engagement than its other posts.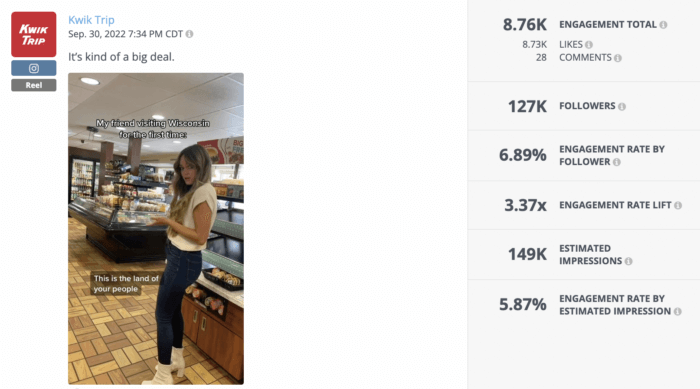 If you haven't created a Reel yet for your brand, don't think you need to be a world-class videographer to get started. Rest assured, creating short-form videos on social media doesn't need to be fancy or highly produced. All you need is a phone to capture quick, lo-fi videos, and a sense of what trending audio, song, or text to use with it.
2. Create community-first content
It can be easy to forget the social element of social media, but that's exactly what marketers need to prioritize in 2023 if you want to increase your Instagram engagement.
Whether you manage social for a sports team or a beauty product, your followers are part of your community. They want to feel involved and they want to see themselves in your content. If you want to see a community-led strategy in action, take notes from Live Tinted.
In a recent conversation with Live Tinted's Brand Marketing Manager, Aya Diaz, the marketer shared that when it comes to social content, the beauty brand prioritizes its loyal community. The small but mighty social team does this by "creating the content they want to see, answering the questions they have, and making sure the content we create is addressing product questions," she said. Diaz added that the brand's goal is to "make [our audience] feel heard and seen in the way of representation."
Live Tinted takes its community's voice, feedback, and opinions into consideration not only for its content creation process but also for its product development which helps strengthen that trust and connection even more.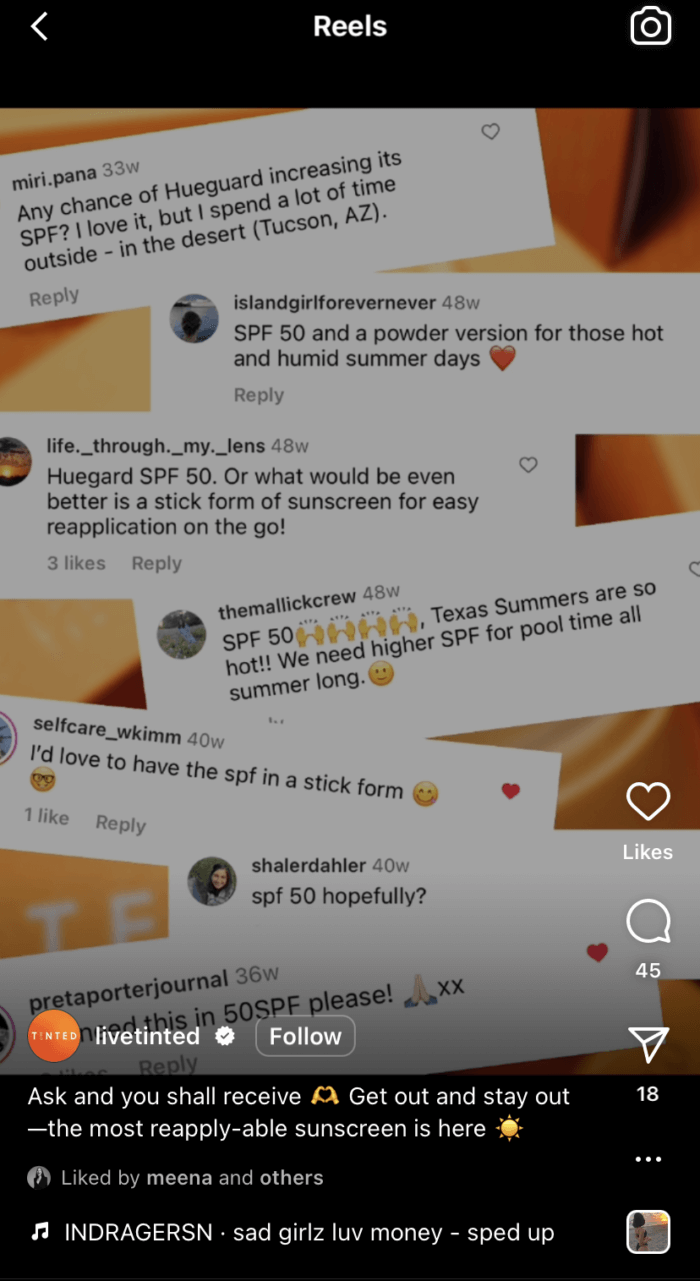 Putting its community's needs at the forefront is clearly working for the beauty brand. It has an above-average engagement rate by follower of 1.9%, which is seven times greater than the median rate for health and beauty brands.
Not only does this community-inspired strategy come through in the content creation process, but the brand also makes it a priority to have thoughtful, engaged interactions with followers.
"The thing we never want to do is make [followers] feel like they're having a one-way conversation when they're commenting or messaging us," Diaz shared. "If we see people comment or ask the same question over and over again, [we will] make a video that addresses it and invites feedback."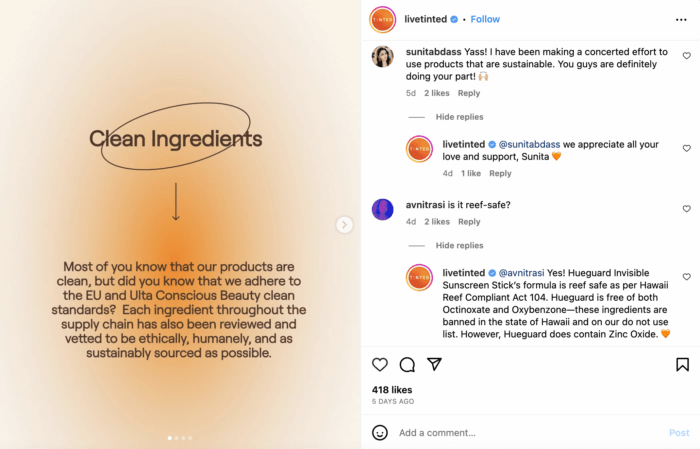 Sometimes the most effective engagement strategy is the most simple: Have conversations with your followers, listen to their feedback, and create content that they want to see.
3. Tap into UGC
User-generated content is a goldmine for busy marketers.
User-generated content, or UGC, is a great way to keep your content calendar full no matter how busy you get. When you keep a file full of UGC content that you've been tagged or mentioned in, you never have to worry about running out of content — even during your busiest weeks.
But UGC isn't just a time saver. The format is also a good way to get a lift in engagement. Because UGC doesn't look like branded content, it helps build social proof and trust in your brand. If a user sees your product being used in an organic way by a real person, it can spark their curiosity more than a post that was clearly created by your brand. When someone stumbles upon your UGC in their explore tab or feed, it can lead to profile visits, new followers, and even website clicks.
The Reel below from Pley Beauty, is a video Pley reshared from one of its followers. The video generated an engagement rate of 4.37% which is 18 times greater than the median rate for health and beauty brands. It also gave the brand an engagement rate lift that was more than double the rate compared to the average for similar posts.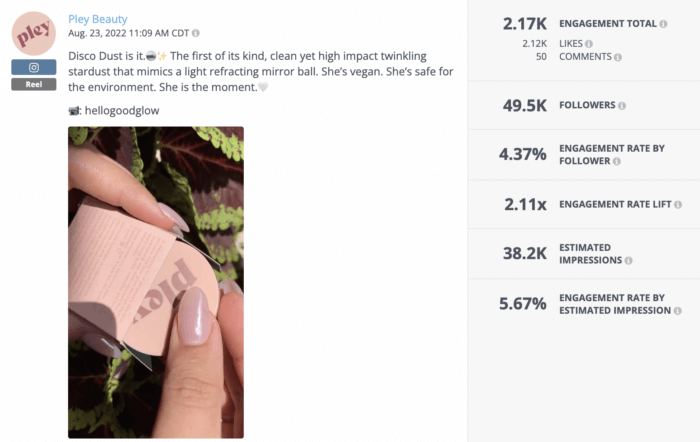 Your customers and followers can be a great source of content ideas and inspiration. Keep an eye on your tags and mentions to make sure you're staying engaged with users and can stay on top of UGC opportunities.
4. Run a giveaway
If you're looking for a quick boost in engagement, giveaways and contests are always a good way to reinvigorate your rate when it's starting to feel flat.
The key to running a successful giveaway in 2023 is to be strategic and intentional. Use a giveaway to generate buzz and social participation around a product launch, or run it in tandem with a holiday to leverage the holiday's momentum. And, most importantly, your giveaway should be audience-first. Think about who your audience is and what would get them excited to enter.
Look to top health food brand good culture for an example of running a successful giveaway.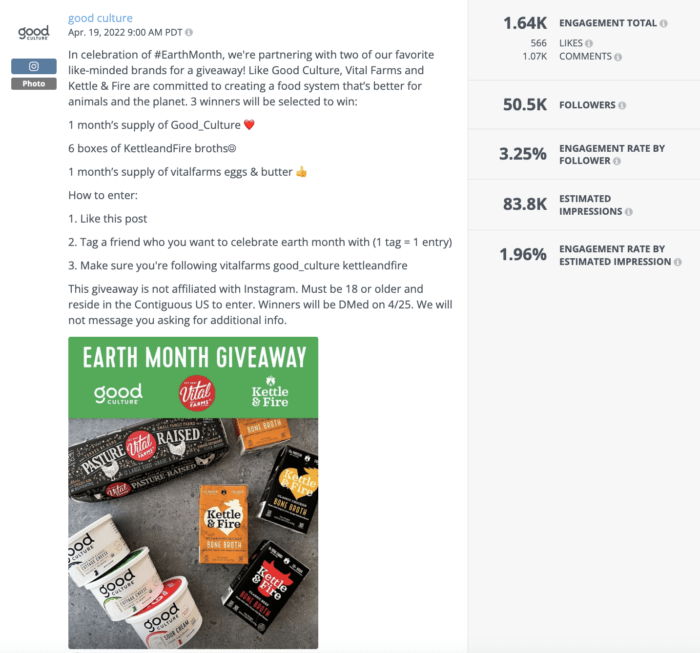 There are a few best practices that good culture followed with this giveaway. First, the giveaway was themed around Earth Day, so it captured the spirit of a holiday to get people excited. And second, good culture partnered with two similar brands in the better-for-you food space to create an even more enticing prize package for potential winners. It's clear that the brand knows its audience and understands their values and desires.
The giveaway above generated over 1,000 comments — which translates to entries — and had an engagement rate of 3.25%. This is nearly seven times greater than the average engagement rate for food and beverage brands.
Giveaways have long been a reliable tactic in every social media marketer's toolkit and they will continue to be one of the top Instagram best practices when it comes to boosting engagement for brands across industries.
5. Create carousels
While Reels dethroned carousels as the most engaging post type on Instagram, carousels continue to be high-performing for many brands across industries. As marketers know, carousels get re-served to users who didn't engage the first time they saw the post. This means you can earn more impressions over time and increase the chance to generate a boost of engagement. Lean on tried-and-true carousels when you want to give your feed a boost in engagement.
If you need even more proof that carousels are still a reliable way to generate engagement, look to Higher Ed. Of the top industries on Instagram, schools and universities take the gold, proving that they have more than a solid grasp of what performs well on the channel.
The carousel below from the U.S. Naval Academy generated an impressive engagement rate by follower of 21.6%, which is eight times greater than the median rate for schools and universities. The interactive post also received nearly 800K impressions and gave the brand an engagement rate lift that's five times greater than the average for similar posts.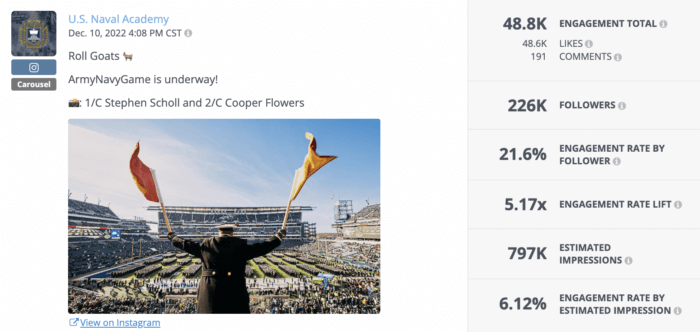 A good way to create engaging carousels is to use each image or video in the post to tell an overarching story that compels users to scroll through. If you scroll through the school's carousel above, you'll notice that the post is essentially a recap of the iconic Army-Navy football game. Fans who weren't able to be there in person can feel the spirit of the game just by looking at each image.
Follow this format when creating your next carousel. Consider the story you're telling as someone swipes through from one photo to the next. What's your hook? You can use the first photo to grab their attention or use the caption to encourage people to swipe through to the end to reveal something they'd want to see (unexpected or entertaining content usually works well here).
6. Tap into hashtags
Hashtags continue to be a powerful discovery tool that helps brands connect with users. Instagram uses hashtags to categorize your posts and show them to users who may be interested — even if they don't follow you.
To get the most engagement out of a hashtag or topic, tap into niche hashtags. Niche hashtags aren't generic like, say, #love. Instead, they are more specific to an industry or topic. These types of hashtags generate more engagement because they're targeted and seen by users who are highly engaged. For example, below are the most engaging hashtags for Sports Teams, another top-performing industry using Instagram.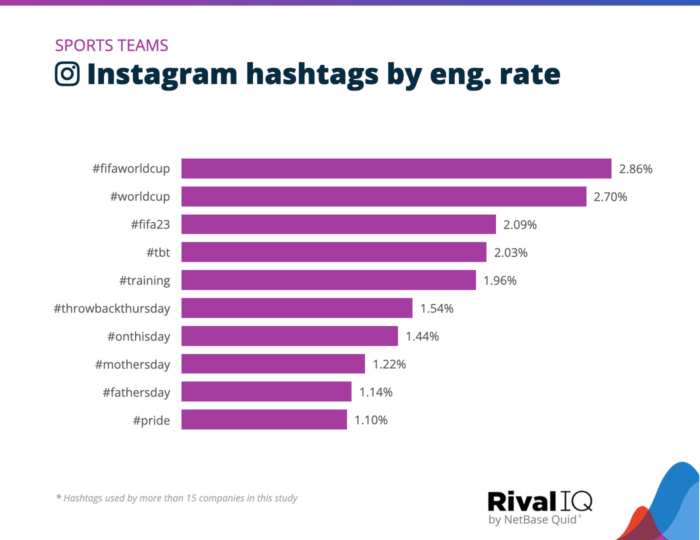 While there are a few popular hashtags in the mix (who doesn't love a good #ThrowbackThursday post?), the most engaging hashtags for Sports Teams are highly specific to sports, like #WorldCup, #FIFA23, and #training.
To find the most engaging hashtags in your industry, you can use Rival IQ's hashtag analysis tool. Not only can you see which hashtags similar brands are using and what the engagement rates are like, but you can also get insight into general topics that your competitors and audience are talking about.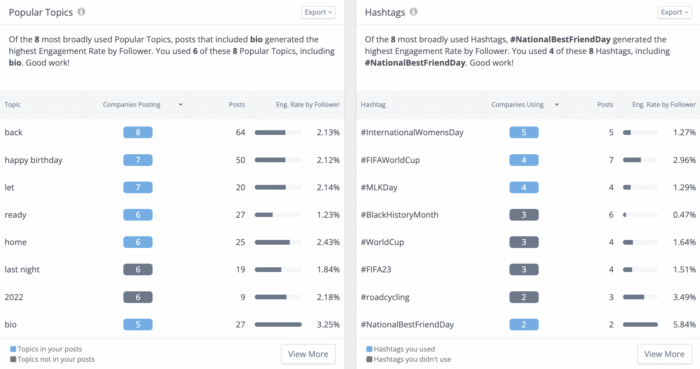 Staying on top of trending topics can help you join in on relevant conversations and give your brand a boost in engagement. Just remember to use these hashtags in a meaningful way — don't chime in simply for the sake of engagement. To generate organic engagement from these hashtags and topics, contribute intentionally to the conversation and provide relevant content that people would be interested in.
7. Get interactive with Instagram Stories
While we recently discovered that Instagram Posts have a higher reach rate than Stories, there are creative ways marketers can use Stories to boost engagement.
An effective way to incorporate more Stories in your engagement strategy is to share a big announcement or product launch as a Post, then use Stories to amplify the news and deepen engagement — like food brand Deux does in the example below.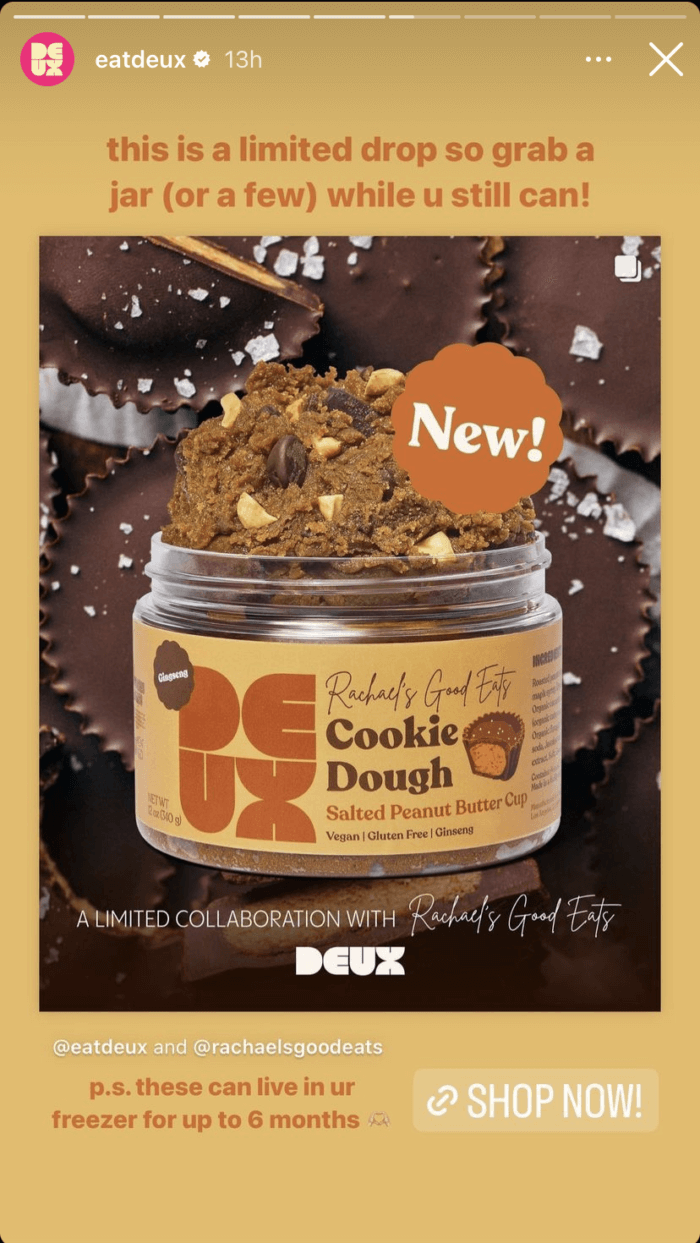 The good-for-you cookie dough brand released a limited edition product in collaboration with health, food, and wellness influencer, Rachael DeVaux. To promote the product, Deux shared the announcement Post on Stories and used the link sticker to make it easy for followers to visit its website to shop directly.
Use stickers to encourage participation, clicks, and replies, and ultimately generate more organic engagement for your brand. The link sticker is effective if you have products to promote, but you can also experiment with other interactive sticker options like questions, polls, countdown, or the emoji slider.
8. Consider boosting your posts
Let's be honest: Generating organic engagement can be challenging in a space that's increasingly becoming more pay-to-play. If you've tried to increase your engagement rate organically and still aren't seeing the numbers you want, consider investing money into your strategy by boosting your Instagram posts.
Boosted posts are an effective way to give your content a lift in engagement without putting in the extra work that comes with creating an ad from scratch. While it may seem counterintuitive, the key to boosting posts is to choose posts that have already performed well. If a carousel post you shared generated a good amount of organic engagement, then that indicates it resonated with people. Amplify your carousel's reach by boosting it to get it in front of people who don't already follow you.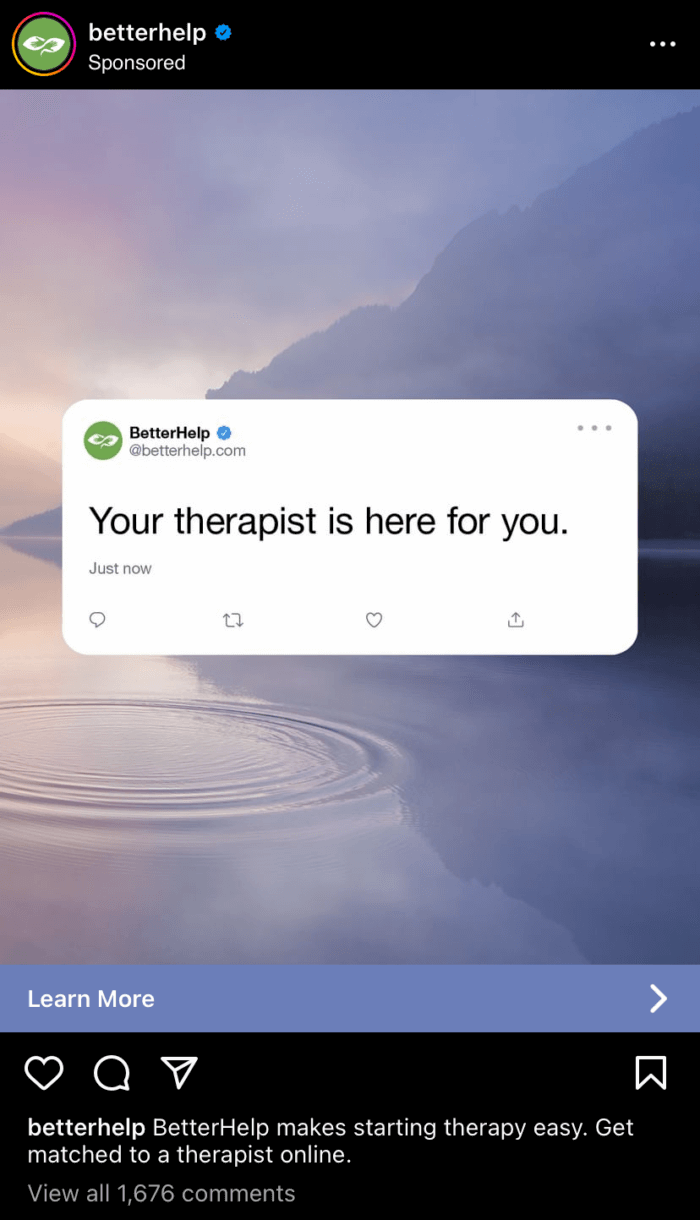 You can boost all Instagram post types including images, like the one from BetterHelp above, videos, carousels, Stories, and Reels. Experiment with boosting a post or two at first to see how it impacts your increase your reach and engagement. If a post performs well organically *and* when it's boosted, analyze the content and post type to identify what worked and try to repeat that for future posts.
Wrapping it up
Instagram may not be generating the same engagement rates that it used to, but there are still plenty of opportunities for your brand to reach and connect with your audience. Lean into tried-and-true methods like giveaways, get creative with short-form video, and don't forget to talk — and listen — to your followers.
Once you put these engagement-boosting strategies into play, it's essential to measure your performance to see if they're working for your brand. As always, experiment, analyze, and adjust to find a cadence and format that helps increase your Instagram engagement rates to where you want them to be.