Instagram has evolved far beyond a fun way to share photos or promote your brand. With its ever-evolving features and interactive elements, Instagram is a primary marketing tool for brands across all industries.
To take full advantage of the platform's powerful brand marketing capabilities, there are several Instagram best practices social media marketers should keep in mind for 2023. From working with creators to prioritizing video content, there are plenty of tactics to focus your Instagram marketing on, whether you're starting from scratch or have plans to take your brand's Instagram strategy to new heights.
Below, we've rounded up 11 Instagram best practices for 2023 so you can make sure your brand is ready to stay ahead of the competition.
Instagram Best Practice #1: Cater to your audience
Your audience drives everything on Instagram so it only makes sense to create content that's tailored to their interests and desires. But to do that, you need to understand who your audience is and what type of content they engage with.
Start by taking a look at your audience demographics. What is the average age and gender of your followers? What about their geography? You should also have an idea of what your followers' interests are. Compare what you know about your audience to your current content and see what's performing well. By tracking which posts perform well, you can also gain insight into what your followers are engaging with, whether that's static meme posts or inspirational Reels.

For example, in our analysis of a food brand on Instagram, we can see that the brand's most common post type is a Reel but carousels generate the highest engagement. This could mean that the brand's audience prefers to scroll through images rather than watch a video.
Stay tapped into what your audience engages with so you can serve them the content they want more of.
Pro tip: If you're starting from scratch, you can even ask your audience what type of content they want to see. Use questions or polls in your Instagram Stories to interact and get their input.
Instagram Best Practice #2: Leverage creators and micro influencers
According to the 2022 Instagram Trends Report, which surveyed Gen Z users ages 13-24, four out of five agree that social media and other online celebrities have more influence on culture than traditional celebrities. The report also found that "83% believe that creators have as much influence as online influencers, if not more."
The difference between a creator and an influencer is subtle but important to note. Traditional influencers use their personal brand to influence their audience to purchase products. Creators, on the other hand, are solely focused on creating content. Think Reels or TikTok videos. While a creator may naturally influence people who follow them, their primary goal is simply to create content.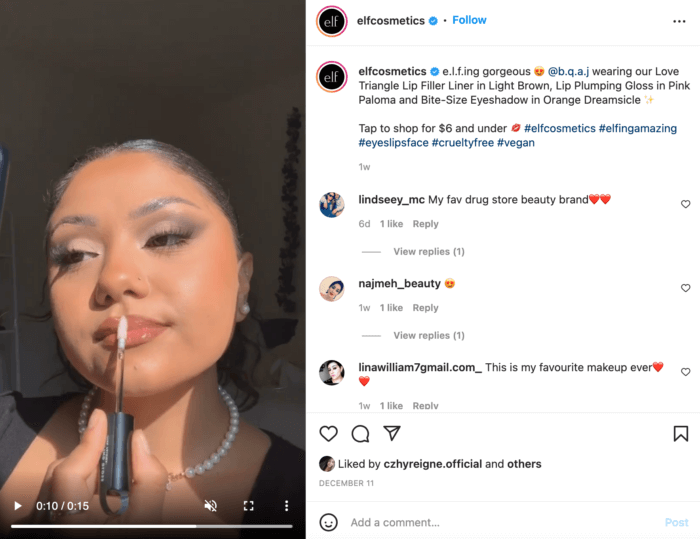 Gen Z's inclination toward authenticity demonstrates why digital creators have garnered more credibility than traditional celebrities or influencers these days: it's all about being real. Creators seamlessly incorporate products into their content which gives them a natural and relatable vibe.
So, how does this translate for social media marketers planning their 2023 Instagram strategy? While the data above is especially important if your brand's primary audience falls into the Gen Z category, this report also points to a larger trend of leaning on online creators to create content.
If you want to dip your toes into working with creators, consider micro influencers. While the industry definition of a micro influencer varies, a micro influencer is typically considered someone with a following anywhere between 10,000 and 50,000. If you don't have the budget or a product to create a full-fledged micro influencer marketing strategy just yet, take advantage of user-generated content by staying tapped into the accounts your audience is interested in.
Instagram Best Practice #3: Post content consistently
Keeping up with a consistent posting schedule has always been important and will continue to be a top Instagram marketing best practice in 2023. When it comes to exactly how often to post, we recommend posting at least four times per week on Instagram. According to our 2022 Social Media Benchmark Report, the average brand posts on Instagram about 4.5 times per week.
If you're thinking, "I don't have the time/energy/resources to post on Instagram nearly every day!" that's okay. You don't necessarily need to post on Instagram daily to make an impact. In fact, the top 25% of brands on Instagram post about 3.5 times per week, which is less than the median brand. Every brand is different, but the key is consistency. Find a cadence that makes sense for your brand based on when and how often your audience is engaged with your content, and stick to it.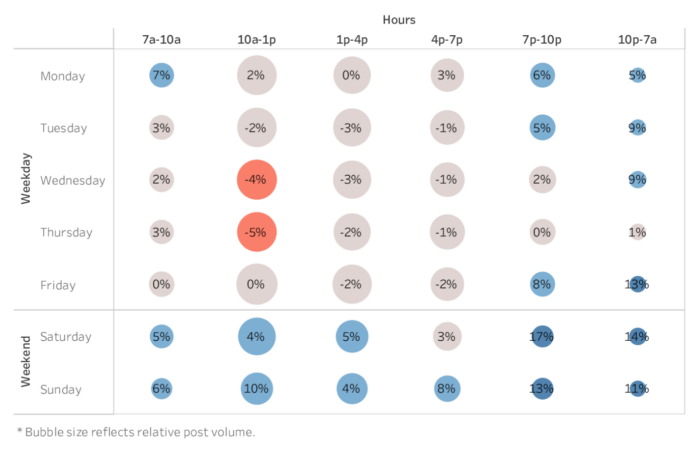 We've found that the best time to post on Instagram can vary depending on the industry. But to really understand what works best for your brand, dig into Instagram Insights to see when your audience is most engaged with your page.
Once you've identified a posting frequency that works, stick to a schedule to maintain steady engagement. Consider using tools to help you stay on track like a content calendar and a social media scheduling platform.
Instagram Best Practice #4: Embrace Reels
You don't have to be a social media industry veteran to know that Instagram is always evolving. From new features to algorithm changes, savvy social media marketers must be able to adapt quickly to incorporate new features into an existing strategy. And something to prioritize in 2023 is Instagram's TikTok-like feature, Reels.
Instagram has made a point to prioritize video content in order to keep up with its competitors, TikTok and YouTube and the interactive element is not showing signs of slowing down on the app anytime soon. Plus, as of mid-2022, any new video (under 15 minutes) posted on Instagram is automatically shared as a Reel.
If you need inspiration for your Reels strategy, look to the higher education industry. Colleges and universities don't shy away from using Reels to share a captivating look into campus life. The University of Iowa, the top-performing school overall according to our Higher Education Social Media Engagement Report, has embraced Reels to position its school as a desirable option for prospective students — and has generated incredible engagement rates as a result. One of the school's most successful Instagram posts was this Reel which generated an engagement rate 46 times higher than the median Instagram engagement rate.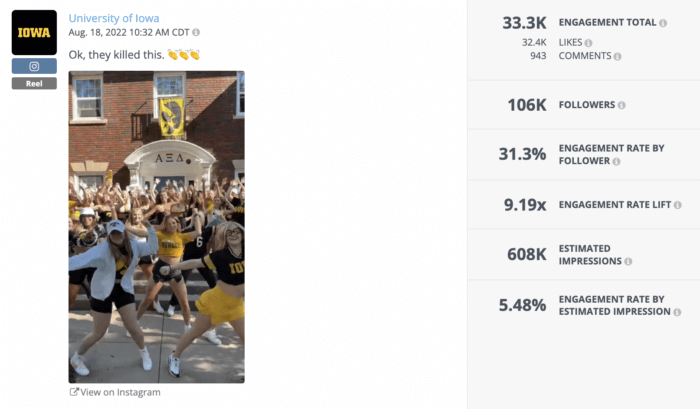 And the best part about Reels is you don't have to reinvent the wheel when it comes to content creation. If you're already creating videos on TikTok, you can easily reshare those on Instagram. Top convenience store Kwik Trip gets the most out of this strategy by reposting successful TikToks as Reels — that end up performing just as well.

Plus, because reels can be discovered in multiple places throughout the app — in the main feed, a dedicated tab on your profile, and on the Explore page — there's an even greater chance they'll reach more users.
While we've found that photos, specifically carousels, still perform well on the platform, Instagram's focus on video elements is a sign that video should be incorporated into your Instagram marketing strategy in 2023 if it isn't already.
Instagram Best Practice #5: Prioritize social listening
Are you listening? Social media marketers have caught onto the importance of social listening when it comes to staying tapped into the conversations happening around your brand and industry. But in 2023, social listening should also be used to keep tabs on what your competition is up to.
Whether you have five competitors or 50, it's nearly impossible to keep up with everything they're posting and everything that's being said about them online by relying on native analytics alone.
The key to staying on top of these instant communications (without staying glued to your screen 24/7) is to invest in a social media listening tool like Rival IQ. Our platform alerts you when the competition has a breakout post, or even changes their Instagram bio. You can also use our tool to track brand mentions, trending topics, and hashtag research so that you're always tapped into everything your target audience is interested in or talking about.
Instagram Best Practice #6: Optimize your profile for search
The worlds of social and search are colliding, and savvy marketers have to incorporate elements from both into their Instagram strategy. Nearly 40% of Gen Z users TikTok and Instagram as search engines over Google, turning to social platforms for everything from product recommendations to how-tos to advice. To boost your brand's discoverability with users, it's essential to optimize your Instagram profile for search in 2023.
There are plenty of opportunities to do this — from the copy in your Instagram bio to the hashtags you use, and the keywords you choose to include in your captions. Here are the parts of your profile that should be optimized for search:
Display name
Bio
Captions
Hashtags
For example, if your Instagram handle isn't an exact match to your brand name, you can use your display name to communicate to searchers what your brand is or does. Spindrift, a top health food brand on Instagram, has the Instagram handle @drinksprindrift. But the display name is "Sprindrift Sparkling Water" which explains what the beverage is. So if someone searches for sparkling water on Instagram, Spindrift's account has a better chance of showing up in the results.

Instagram Best Practice #7: Don't be afraid to lean into trends
Instagram users love trends. New social trends seem to pop up every week, whether they're in the form of a meme or a Reels audio. Regardless of what industry your brand is in, funny or timely content can capture the attention of both your current audience and potential followers simply for being relatable (and potentially shareable).
While not *every* brand on Instagram may be able to get away with posting a meme or incorporating the latest Reels audio, most can find ways to join in on the latest trends or buzzy conversations.
Take Adobe Express, for instance. The free design tool from Adobe makes it easy to create graphic design assets and uses Instagram to show the different ways people can use its tools. Adobe Express often posts design inspiration or Reels tutorials that show people how to use its tool, but occasionally they'll share a trending meme that shows that the brand understands its audience and connects back to its product.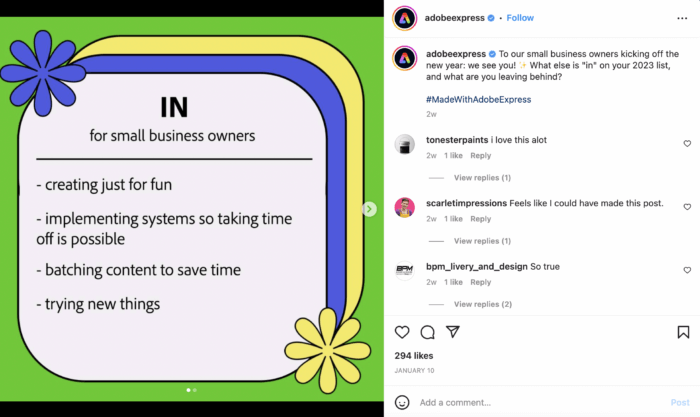 Instagram Best Practice #8: Maintain cohesive branding
There's something about a perfectly put-together Instagram page that's really satisfying. But aside from being aesthetically pleasing, cohesive visuals create an instantly recognizable look and feel that help people connect with your brand.
Pixi Beauty, a top beauty brand on social media, is a prime example of how to create a strong aesthetic. The brand's signature mint green is carried throughout its Instagram page, from the profile picture with its logo to the Instagram Stories Highlights, and even throughout most of the images in its feed. One glance and it's immediately clear that you're on Pixi Beauty's page.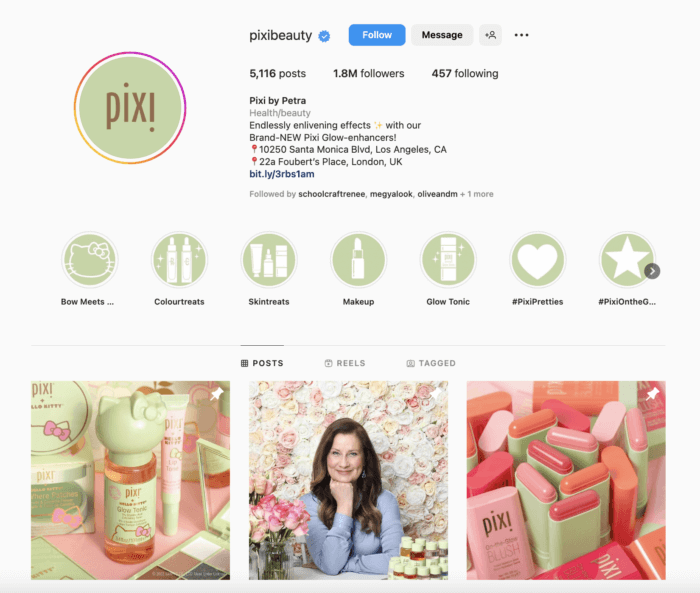 While you certainly don't have to create an aesthetic as visually strong as Pixi's, it's important to consider how you can maintain a consistent look and feel that will help potential followers associate your Instagram page with your brand. Imagine what you want people to see in their search results or on their Explore tab when your brand's name comes up.
A strong brand could translate in the tone and voice you use throughout the copy on your page, from your Instagram bio to every caption. Or you can showcase your brand through the type of content you publish, whether that's a series of carousel round-ups or humor-driven Reels. Ensuring your brand is clear from the start sets the tone as soon as a potential follower visits your page. However you choose to establish your brand's presence on Instagram, be sure to keep it consistent so your audience knows what to expect.
Instagram Best Practice #9: Amplify content with Instagram Stories
Instagram Stories continue to be an essential way to stay active on Instagram. But as we found in our 2023 Instagram Stories Benchmark Report, the frequency in which brands are posting Stories is slowing down. Stories are also competing with Instagram posts when it comes to reach and engagement, with posts having a much higher reach rate. All of that is to say that while Stories aren't seeing as much action as they did in previous years, the interactive format still plays a role in your overall Instagram strategy.
To get the most out of Stories in 2023, use them to amplify or expand on other post types like Reels and static posts. After posting a Reel or post, share it to your Stories and use interactive elements like questions, polls, or GIFs to encourage deeper engagement.
Another way to leverage Stories is with stickers, specifically the link and product stickers. If you're trying to increase website traffic or send your followers to a specific product page, these Stories features are definitely worth experimenting with. Jewelry brand Kinn Studio used Stories to not only share a UGC post that featured some of their rings, but the brand also included a product sticker that linked to the two products featured so their audience could shop directly from the app.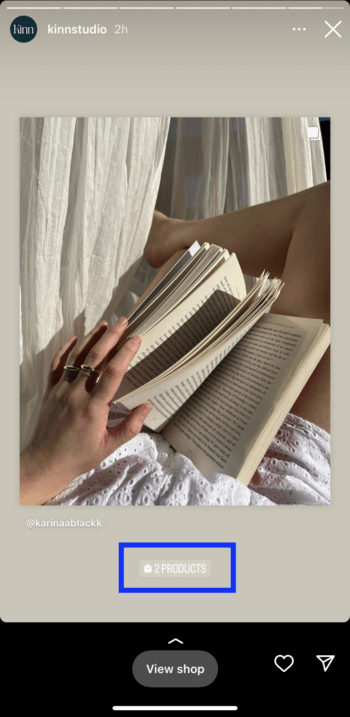 When talking about Stories, we can't forget about story highlights. Highlights are an extension of your Instagram bio and help communicate your brand from both a visual perspective and an informative one.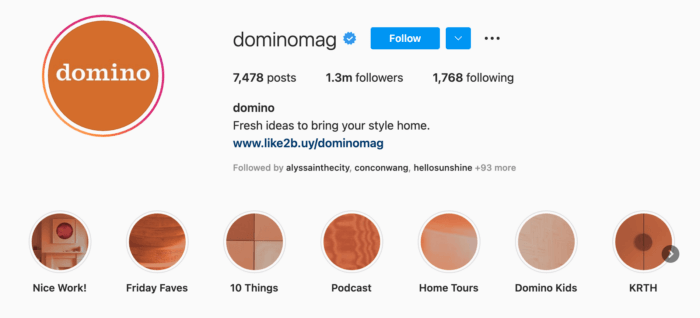 Domino Magazine is a great example of how to use the highlight cover images to not only create a cohesive look and feel but present categories of information that highlight what you want to share with followers right off the bat. You can organize this section to introduce quick tidbits you want Instagram users to know about your brand like your popular products, recent events, or service offerings.
Instagram Best Practice #10: Engage your audience in giveaways
Giveaways and contests continue to be major drivers of engagement. Over the years, we've seen many top brands on social media receive peak engagement whenever they ran a giveaway, so it's safe to say contests are a tried and true way to get people to interact with your page.
When ice cream brand cado Ice Cream shared a giveaway, the brand received an engagement rate that was 26 times higher than the median health food brand, according to our recent report. The themed giveaway aligned with a holiday (National Root Beer Float Day) and was also shared as a Reel. All of these impactful tactics combined gave cado's giveaway post an engagement rate lift that was 21 times better than the rest of its posts in 2022.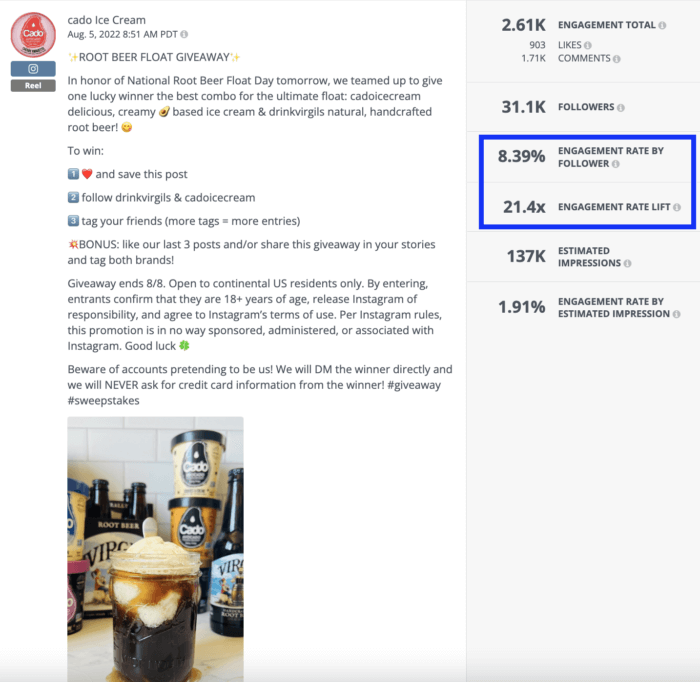 This post from cado proves hosting a giveaway is a relatively low-cost tactic that can generate a boost of engagement and an influx of new followers. To get the most out of your giveaways in 2023, get creative with how you share them. Create a fun Reel, partner with another brand, or use the momentum of a holiday to generate even more excitement.
Pro tip: If you don't feel like your product alone will be enough to entice followers, partner up with similar brands for a joint giveaway so you can leverage each other's audiences and spread the love with a major prize.
Instagram Best Practice #11: Measure and learn
We can't talk about Instagram best practices without mentioning data. Data doesn't lie, and digging into the metrics behind your Instagram content is the key to understanding not only what your audience engages with but how you can stand out from the competition.
You can learn a lot about what's working with your audience by tracking your best-performing posts. When measuring your content that performed above your average engagement rate on Instagram (especially if it's above the average rate among the competition), ask yourself these questions:
What about the posts made it perform well?
Was it timely? (e.g., posted in relation to a current event or trend)
Can it be reiterated or repurposed?
Knowing what works can help you identify opportunities that your competition may not be taking advantage of. Maybe one of your top-performing posts was a video. Are your competitors posting a ton of videos? If they aren't, then you may have found an opportunity to give your brand an edge.
When it comes to measuring the results of your content's performance, it's important to set clear objectives. You could aim to get a higher-than-average engagement rate (our recent report found that the median engagement rate on Instagram is 0.67%) or make it a goal to get a 50% increase in followers over the next year. Whatever you do, make sure it's measurable and you have a tool to accurately analyze the data.
Wrapping it up
Instagram continues to be a powerful tool for brands across all industries. While there will always be some tried and true ways to succeed on the platform — making data-driven decisions, understanding your audience, and maintaining a cohesive brand — 2023 promises plenty of opportunities to explore new features and incorporate them into your social media strategy.
By following these Instagram marketing best practices for 2023, you're already one step ahead of the competition in preparing your brand for success.
This post was originally published in January 2022 and has since been updated.