Social media marketers everywhere want to know: Who's performing well on Instagram in 2023?
In our 2023 Social Media Industry Benchmark Report, we found that brands across all industries are finding success with certain post types (looking at you, Reels) and proven Instagram best practices (hello, hashtags). But there are a few industries that stood out among the rest on the social media platform.
Let's dive into which industries use Instagram the most and how they're finding success on the platform in 2023.
Instagram Engagement in 2023: An Overview
There's no sugarcoating it: Organic Instagram engagement rates fell about 30% this year compared to last. While this isn't uplifting news, posting frequency remained the same which goes to show that brands are continuing to show up for their followers on the channel. Here's the median engagement rate and posting frequency on Instagram in 2023:
Median engagement rate on Instagram:  0.47%
Median posting frequency on Instagram: 4.6 posts per week
As far as content goes, Instagram is making the shift to video. If you've kept up with our reports in the last few years, then you know that carousels have been the most engaging post type on Instagram. This year, however, Reels came out on top. The short-form videos have taken over the feeds and brands are seeing the benefits. If you've yet to get into Reels, now is the time to take advantage of their popularity to boost your engagement.
While these numbers shed light on how brands across industries are faring on Instagram, every industry is different. Once you have an overview of the general state of Instagram engagement, it's helpful to break down how your own industry is performing so you can gain perspective on what the norm is for brands like yours and accurately compare your performance with the competition.
To give you an idea of which industries are currently seeing the most engagement on Instagram, here are the top industries using Instagram and what they're doing to generate successful posts.
Top 5 Industries Using Instagram
Top Industry on Instagram: Higher Ed
Schools and universities never fail to achieve top scores across social media channels. On Instagram, Higher Ed outperforms the rest with a median engagement rate of 2.58% which is more than 5x higher than the median engagement across industries. Schools post a little less often on Instagram than other industries with a median posting frequency of 3.9 posts per week. The takeaway? Sometimes more isn't always better — especially when you know what works for your target audience.
Median engagement rate for Higher Ed: 2.58%
Median posting frequency for Higher Ed: 3.9 posts per week
One university that stands out on Instagram and helps the Higher Ed industry perform above the rest is the United States Naval Academy.
One of the school's top-performing posts is a Reel that takes viewers behind the scenes of the school's traditions as it welcomes a new class of students. This post received a whopping engagement rate by follower of 35.1%, launching it high above the median rate for schools and universities. It also performed 10x better than the school's average post and generated over one million impressions, demonstrating the power of Reels on the platform.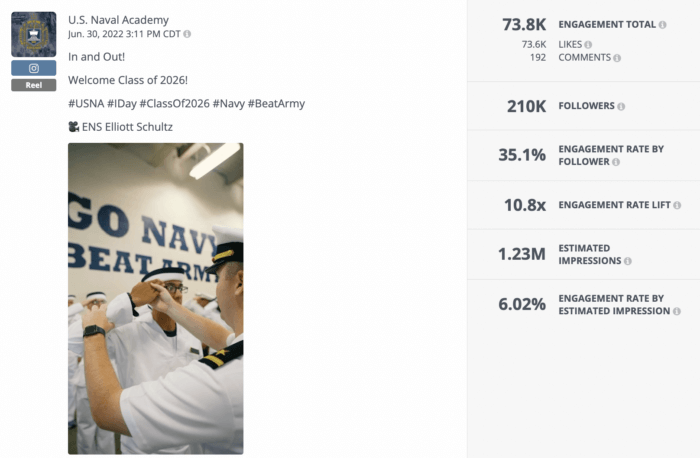 Not only does it follow the video trend, but this post is also in line with the type of content schools and universities find success with no matter the format — school-spirited posts. If we take a look at the popular topics in the Higher Ed social sphere, we can see topics like "first day" and "2026" (which refers to the new graduating class as USNA mentions above) are frequently used and highly engaging.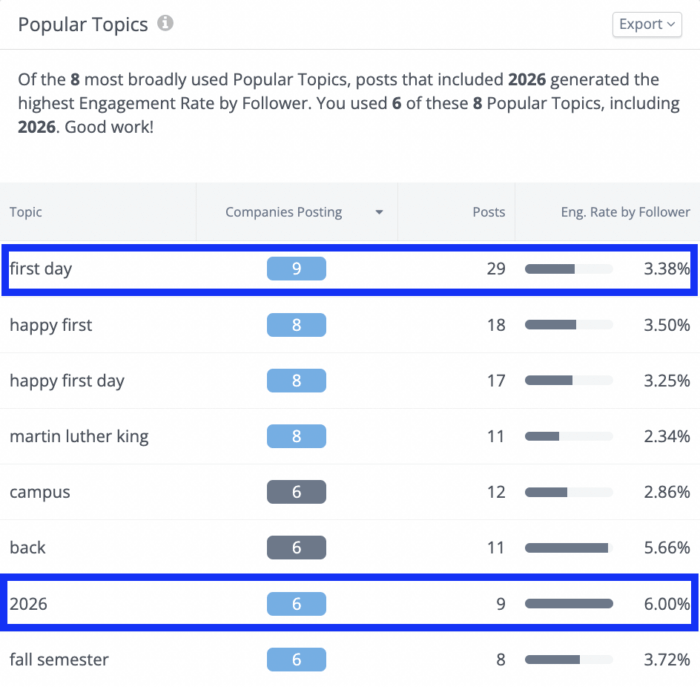 If you want to improve your school's Instagram engagement, embrace college life. Share everything from exciting sports wins to stunning campus shots to student achievements and don't be afraid to experiment with a mix of post types that are proven to perform well: Reels and carousels.
Looking for real-time insights?
Check out our
live benchmarks
for Higher Ed.
Top Industry on Instagram: Sports Teams
It's no surprise that Sports Teams are so active on Instagram, posting more than 15 times per week. Their posts focus on timely updates such as game highlights, team announcements, and anything else that keeps fans' spirits high throughout the season. Players may be the stars of each game, but fans are what keep Sports Teams motivated on Instagram.
Median engagement rate for Sports Teams: 1.49%
Median posting frequency for Sports Teams: 15.6 posts per week
Among the Sports Teams that stand out on Instagram, Buffalo Bills is a top performer. With over one million followers, the football team generated an engagement rate by follower of 3.27%, which is twice as high as the median rate for Sports Teams. And even though Sports Teams post much more frequently than other industries, Buffalo Bills went above and beyond that. The team posted about 24 times per week.
The post below is an example of what makes the Buffalo Bills a top team on Instagram. The short but powerful video shows one of the Bills players meeting a young fan. A heartwarming moment like this feels more genuine as a video than a static image, making Reels an excellent choice.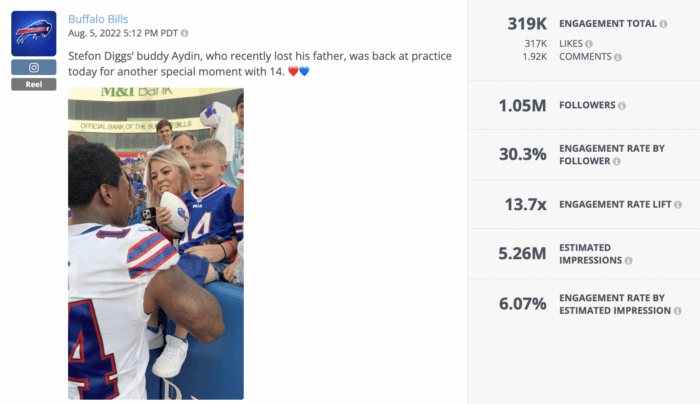 The video clearly resonated with fans, too. This was the Bills' most engaging post on Instagram for the reporting period with an engagement rate of 30.3%, a rate that's 13x better than the team's average post. On top of that, the video generated over five million impressions which means it reached far beyond the team's one million Instagram followers.
Though Sports Teams tend to post photos or carousels most, Reels are their most engaging post type. If you want to take notes from Sports Teams and other top-performing industries on Instagram, consider implementing more Reels into your social strategy this year.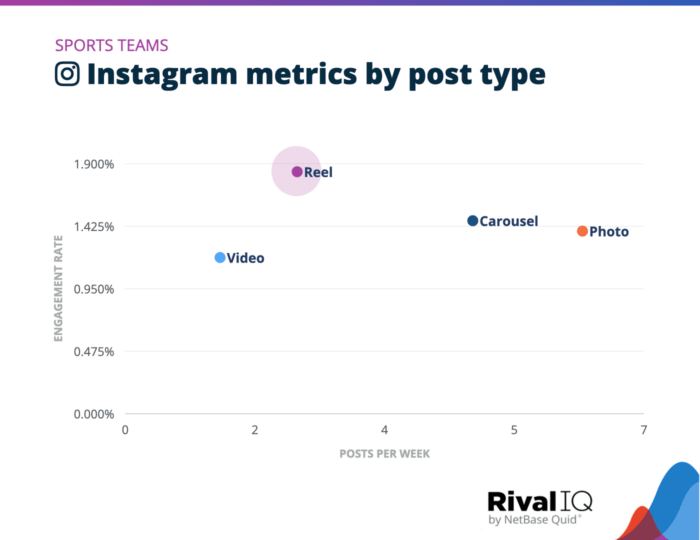 Top Industry on Instagram: Influencers
Influencers were early adopters of Instagram, so it comes as no surprise that the influencer industry continues to find massive success on the platform. With a median engagement rate of 0.81%, Influencers perform about twice as well on Instagram as the average industry thanks to interactive Reels, carousels, and photos. Influencers' posting frequency stacks up with the average rate across industries at about 4 posts per week.
Median engagement rate for Influencers: 0.81%
Median posting frequency for Influencers: 4.1 posts per week
Influencers find success when they build their brand around a niche, whether that's food or beauty, or fitness. But that's not to say you can't have multiple niches to reach a wider audience. Take Raye Boyce, for example. Known as @itsmyrayeraye on Instagram, Boyce grew her following as a beauty vlogger and has since expanded into fashion, lifestyle, and mom life content.
Her content that shares a look into her life as a mom performs particularly well with her audience. The carousel post above generated an engagement rate of 2.53%, which is a little over 3x higher than the median engagement rate for Influencers on Instagram and almost 6x better than her average post.
The key to improving engagement on Instagram through influencer marketing is to know your target audience and understand what they want to see more of. One study found that the top reasons people follow influencers on Instagram are motivated by authenticity, consumerism, creative inspiration, and envy. Basically, people follow influencers who they can relate to or aspire to be.
In Boyce's case, while beauty is her primary niche, content about mom life clearly resonated with her audience or helped her reach new followers. In Rival IQ's hashtag analysis below, we can see that the hashtag #momlife is a popular and engaging hashtag for Influencers, and Boyce tapped into that.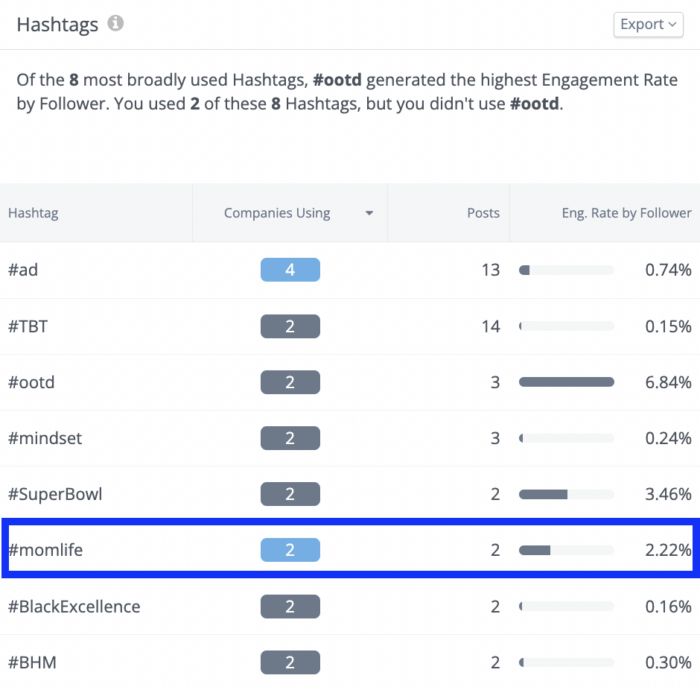 Looking for real-time insights?
Check out our
live benchmarks
for Influencers.
Top Industry on Instagram: Nonprofits
Nonprofits are another one of the top industries using Instagram to improve their social strategies. Nonprofits are active on Instagram, posting a little more than the median frequency across industries at 5x per week. They also have a median engagement rate of 0.63%, performing a bit higher than the all-industry average.
Median engagement rate for Nonprofits: 0.63%
Median posting frequency for Nonprofits: 5 posts per week
From capturing heartwarming stories to spotlighting the people behind the organizations, Nonprofits have a variety of content opportunities to share on Instagram. When it comes to content format, Nonprofits tend to post photos the most, but carousels are the most engaging post type, followed by Reels. To get the most value out of your content, try packaging up the photos you'd normally post into a carousel post to see if it performs better in that format.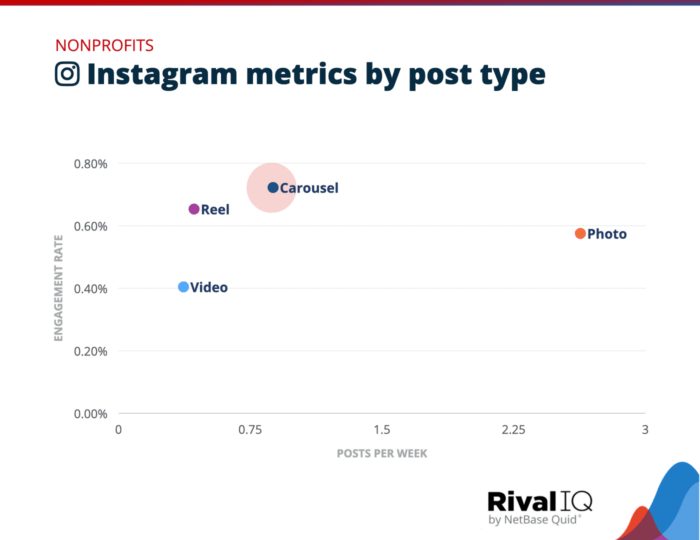 Nonprofits that want to improve engagement on Instagram can take notes from Monterey Bay Aquarium's strategy. The California-based aquarium is known for its sea otter conservation efforts and dedicates a lot of its resources to recovering the local sea otter population. To promote the sea otter program, Monterey Bay Aquarium created Sea Otter Awareness Week. The social campaign included a week of content that featured adorable images of sea otters paired with fun or interesting facts.
The carousel below from their sea otter campaign generated an engagement rate of 3.75% which is almost 6x higher than the average for Nonprofits and nearly 8x better than the average across all industries.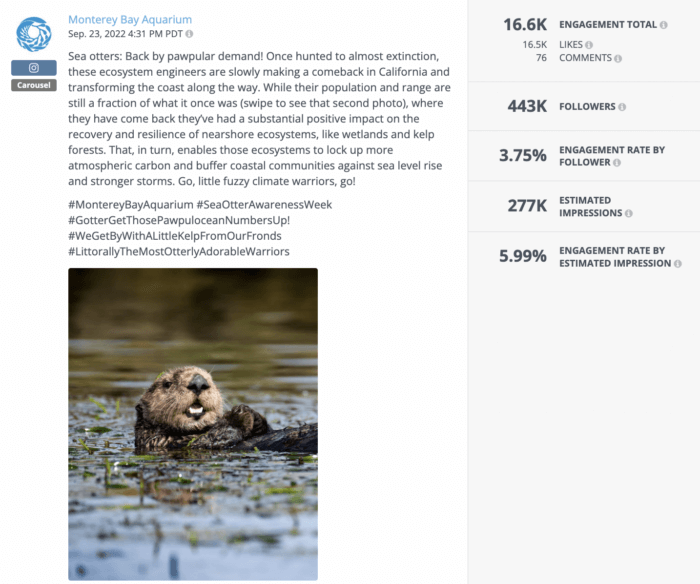 Every nonprofit has a cause that's near and dear to their hearts, and Instagram is a powerful channel to promote it. Use popular post types like carousels or Reels to capture your followers' attention by sharing compelling images and CTAs that tell a story related to your organization's mission.
Top Industry on Instagram: Media
Media brands are another active and engaging industry tapping into Instagram to reach new audiences and improve brand awareness. Like Sports Teams, Media brands post often due to the fast-paced nature of their content. Media brands use Instagram as a pseudo newsroom, sharing timely stories and cultural coverage. The median posting frequency for media brands is 10 posts per week and they generate a median engagement rate of 0.53%.
Median engagement rate for Media: 0.53%
Median posting frequency for Media: 10 posts per week
As we found in our industry benchmark report, Reels are the most engaging post type across industries. So it's no surprise that, along with carousels, Reels are highly engaging for Media brands, too.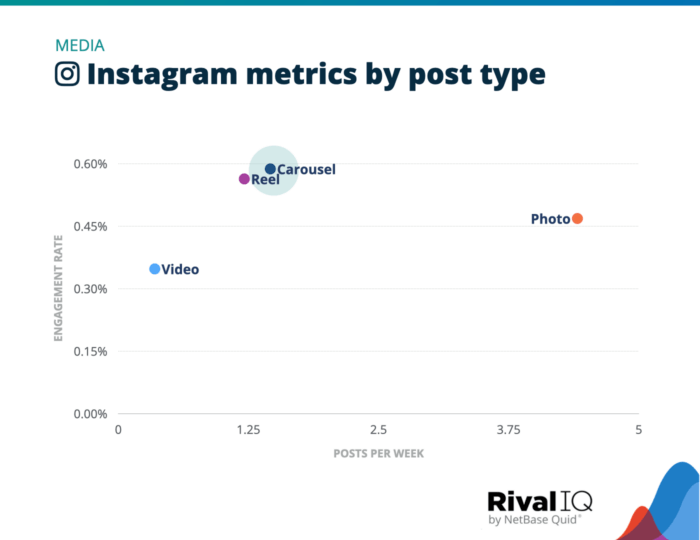 While Media brands tend to direct Instagram users to the "link in bio" to read more on their websites, these brands are also finding creative ways to engage followers in their content. An example of this comes from Playbill, a media brand that covers all things theater and Broadway. The theater resource gives its followers an inside look at the shows by sharing interviews with actors, images from productions, and even clips from behind the scenes like this Reel below.
This Reel that featured a rehearsal for the famous Rockettes show generated an engagement rate of 6.36% which is 12x higher than the median rate for Media brands and over 13x better than the all-industry average.
Media brands have a lot of content to share and Instagram Reels offer an opportunity to get creative with the way that content is presented to followers.
Wrapping it Up
If there's anything that these top industries are showing us, it's that Instagram continues to be a powerful channel to reach followers and boost social engagement for all industries.
To improve engagement on Instagram, stay tapped into your industry benchmarks so you have a more insightful perspective on what defines success with brands similar to yours. Find what works for your industry or brand when it comes to posting frequency and post types, but don't hesitate to try something new like Reels.
Every industry is different, but the one thing everyone can agree on is that your Instagram strategy can and should evolve. With the right benchmarks and insights, you can find the cadence, content, and engagement strategies that work best for your brand.