Your Instagram bio is more than just a first impression. For brands on Instagram, the bio section is prime real estate.
While an Instagram bio is seemingly one small element of your overall page, it can be impactful when done right. Your brand's Instagram bio simultaneously acts as a search tool, a brand builder, and a place to promote a product or service.
But the key to crafting an effective bio is that it shouldn't stay static. While the Instagram bio is often treated similar to an About page on a website, the difference is that the bio should vary from time to time depending on your marketing objectives.
When the bio is treated more like a marketing tool, it helps amplify those business goals.
All that to say, it's important to give your Instagram bio some thought if you want it to be effective.
If you want to write an interesting bio on Instagram that attracts your target audience, here are a few best practices to follow.
Instagram Bio Best Practices
Instagram bio must-haves
Before we dive into the bio best practices, there are a few essentials that every good Instagram bio should have:
Business name: This goes without saying, but if your Instagram represents a business, the name should be clearly displayed in the bio.
Profile picture: For brands, this is usually the logo.
Contact information: Whether that's a website link, physical address, or email address.
Every brand's bio will be formatted differently, but these elements create the foundation of a great Instagram bio and are what users expect to see on your profile.
The best Instagram bio length
According to Instagram, your Instagram bio can include up to 150 characters. Savvy social media marketers should have no problem creating punchy social media copy within that character limit. But if you want to get your message across effectively, then you'll need to choose your words (and symbols) wisely.
Being succinct is key when crafting your Instagram bio. While you can certainly pack a lot into the 150-character limit, there's no need to fill up the space simply to use the maximum amount of characters.
In fact, if you can get your message across in as little characters as possible, more power to you. Take Oreo, for example.

Oreo's Instagram bio gets straight to the point. The brand uses a simple tagline to let you know what to expect from its Instagram page and ties it back to their established brand message.
While your brand may not carry the same level of fame as the iconic cookie brand, the lesson here is to be succinct. A short, impactful bio is much more memorable than one that's filled with too much (immaterial) copy.
Use brand voice
Your brand's tone of voice should be consistent and recognizable across all content types and formats, and that includes your Instagram bio.
If you think of your Instagram page as a website, the bio would be the header at the top of the homepage. It's the first section users will see and is one of the first opportunities to engage with them in a voice that resonates.

Truly, a top alcohol brand on social media, uses its Instagram bio to show off its fun personality while staying true to what the brand offers. The first line in its bio provides a playful, welcoming feeling and is followed by a string of fruit emojis that allude to its flavorful hard seltzers.
Your bio sets the tone for the rest of the page. Make sure that it's reflecting the brand image you want to create.
To emoji or not emoji?
This is the age-old question on social media. When it comes to emojis in your brand's Instagram bio, a good rule of thumb is to only include them if they're relevant and add value. Technically speaking, most emojis count as two characters, so if you're aiming to make the most out of your 150-character limit, you may want to keep your use of emojis to a minimum. Emojis can also help create line breaks when used in a similar fashion to bullet points.
When it comes to branding, the emojis you choose should align with your brand voice and tone. Emojis can read more casual and/or playful, which may or may not be what your brand is aiming for on Instagram. If you typically use emojis in your Instagram captions, it's probably safe to assume they would work perfectly well in your bio, too. But if emojis aren't something that weave naturally into your brand's voice and tone, they might not be relevant to include in your bio.

Take blogger and influencer, Courtney Quinn of Color Me Courtney, for example. The emojis in her Instagram bio perfectly suit her playful, color-filled brand.
On the other hand, Microsoft's Instagram bio is sans-emojis, which you'd likely expect from a major tech company.

It's also important to keep accessibility in mind. Emojis shouldn't replace words or break up a sentence because screen readers will describe them *exactly* as they are. This can disrupt the flow of the message and cause confusion for the reader. Always be sure that if you opt for emojis in your Instagram bio, use them with purpose.
Include relevant keywords
In a survey conducted by Facebook, 81% of Instagram users said that they used the platform to help research products and services. This discovery aspect is what makes using relevant keywords in your bio more important than ever.
What's more, in an effort to make the platform even more searchable, Instagram has made it so that nearly everything is discoverable through Instagram Search. When a user searches a keyword or topic, everything from accounts to places to audio will show up in the results. Even with the expansive searchable factors, your brand's bio and username remain some of the most important elements.
As a marketer, you may not have the leeway to change your brand's username to include a target keyword — and it might not make sense to. However, what you can do to make your page more discoverable to your target audience is update your Instagram bio with keywords.

For example, a search for "recipe ideas" pulls up several posts and accounts, including this one from Meal Prep Magazine. As you can see, "daily recipe ideas" is included in its bio. Even though it doesn't have "recipe ideas" in its username, this account still shows up for that search term because it's part of the bio.
Audit your Instagram bio to identify any opportunities to incorporate a target keyword.  Don't forget to compare your bio to the competition when auditing for keywords. If all of your competitors are using keywords in their bios, but you aren't, then it's time to rethink your strategy. Keep in mind that when you do want to weave keywords into your bio, it shouldn't sound forced. If it's not coming across in a natural way, you can always stick to using hashtags for your keyword strategy.
Link dos and don'ts
As a social media marketer, you're no stranger to the phrase, "link in bio." Because you can't include clickable links in your Instagram posts, the bio is the next best place on your page to send followers when you have a link to promote.
While you could make the bio link your brand's homepage URL, your link should vary from time to time depending on what you're currently promoting.

Take a cue from Glossier, one of the top beauty brands on social media. Their current link leads to a curated gift guide on their website. It's safe to assume that after the holiday season, they'll swap out the link with either their main homepage or another campaign. This is a great way to get the most value out of the website section in your Instagram bio.
If you have multiple things to promote at once, consider using a tool like Linktree that acts as a single URL to house multiple links to different pages or pieces of content.
As for link formatting, no one wants to click on a lengthy link with a jumble of characters. Create a more clickable link by streamlining the look of it using a URL shortener like bit.ly.
Story highlights
An overlooked element of your bio is the Instagram Stories highlights. Though this section isn't technically part of the bio space, consider the highlights as an extension of your bio.
You can use this section to give current and potential followers more information about your brand and direct them to important topics that offer a deeper dive into what your brand is all about. Not to mention, highlight covers offer the opportunity to extend the look and feel of your branding which helps to create a cohesive image.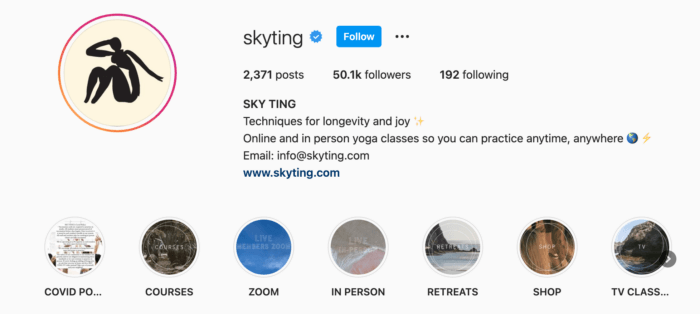 NYC-based yoga studio, Sky Ting, makes the most of its Instagram Stories highlights section by creating numerous informative highlights to feature at the top of its page. Each highlight is labeled with a straightforward title that lets you know the type of information you can expect to find in each one from the studio's COVID policy to details for its online and in-person classes.
If you have certain products or services that you want to drive awareness to, highlights can be a great way to present that information right off the bat.
How To Analyze Your Instagram Bio
Compare with the competition
Savvy social media marketers know that if you really want to see how your brand stacks up to the rest, you need to conduct a social media competitive analysis.
You can compare Instagram bios manually within the platform, or you could use a social media analytics tool like Rival IQ.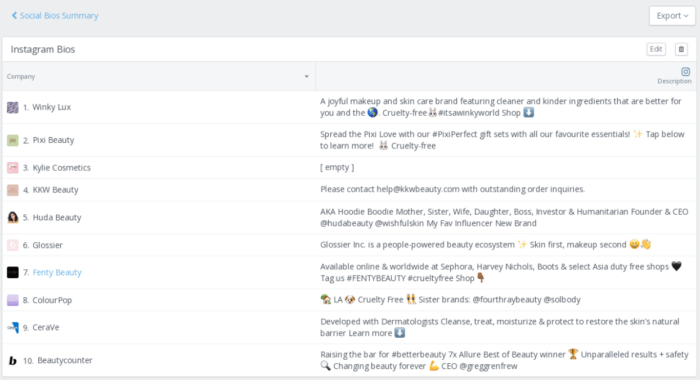 With our "Social Bios" custom dashboard feature, you can get an overview of how your bio compares to your competitors on every channel. Above, you can see the Instagram bios from all of the companies in our landscape of the top 10 beauty brands on social media.
You can also download a CSV of this data and upload it to a Wordcloud to see which words your competitors are favoring in their bios.
Having access to this insight can help you align your Instagram bio with the rest of the industry while also giving you ideas to make your message stand out among the competition.
Audit your bio
Once you have an idea of what's out there, you can review your current bio to identify opportunities to improve it.
Do some keyword and audience research and compare it with the competitive analysis you conducted. What words or topics are standing out and how can you incorporate them into your brand's bio?
It's important to also keep your brand and marketing objectives in mind as you do this. While there may be opportunities to take your Instagram bio in a new direction, it also has to make sense with your overall marketing strategy.
Experiment and adjust
As we mentioned earlier, your bio shouldn't be static. To make the most of your space, your Instagram bio should be updated as your marketing campaigns change.
With each new campaign, consider experimenting with different elements. For instance, you could try using Linktree for your links or you could opt for one link with a short call-out to promote it and see which one performs better.
To properly experiment with what works and what doesn't, you'll need to figure out what metrics you'll use to measure your bio's success. Maybe you want to focus on optimizing the link section, in which case you'll want to track link clicks and website traffic generated from Instagram. Or, if you want to increase your account's discoverability by optimizing it with keywords, you can use Instagram Insights to track where your followers are coming from.
The key is to always be testing to see what your audience engages with and adjust from there.
The Wrap-Up
Though it doesn't take up that much space on your page, your Instagram bio carries a lot of weight.
For social media marketers that want to create an interesting bio on Instagram for their brands, there are numerous ways to make the most out of the 150 characters. Play around with different formats, experiment with links and keywords, and always incorporate your brand voice.
When done right, your Instagram bio can be a powerful tool to leverage for your social media marketing strategy.