In 2022, Instagram continues to garner higher engagement rates than Facebook or Twitter.
However, with the decline in organic engagement across all platforms, and the growing popularity of video platforms like TikTok and YouTube, it can be challenging for marketers to keep up with what's considered a good engagement rate on Instagram these days.
To ensure you're up to date on the latest rates and best practices, let's go over how to accurately measure Instagram engagement and what the benchmark is for a good engagement rate on Instagram across industries.
We'll also highlight a few examples of brands that are performing well on the platform so you can get an idea of ways to increase your own Instagram engagement rate.
How to measure Instagram engagement
At Rival IQ, we define engagement as measurable interaction on organic and paid social media posts. This includes likes, comments, favorites, retweets, shares, and reactions.
Instagram engagement rate is calculated based on all of these interactions divided by total follower count. Here's the formula to calculate your brand's Instagram engagement rate:
Instagram engagement rate = [engagement total] / [total number of followers]
While there are a few different ways to calculate engagement rate, we find that dividing by the number of followers paints a more accurate picture of how your brand's engagement rate stacks up against similar brands in your industry — regardless of audience size.
What is a good engagement rate on Instagram in 2022?
According to our 2022 Social Media Industry Benchmark Report, the overall median engagement rate on Instagram is 0.67%.
This median rate applies to all industries, from food and beverage brands to hotels to nonprofits.
On average, brands are posting about four to five times per week, which is in line with our findings that brands have increased their posting frequency this year.
For top-performing brands, their engagement rates on Instagram are even higher. Our report found that the overall median engagement rate on Instagram for brands in the top 25% is 1.39%. These brands also post less frequently at around three to four times per week.
So while 0.67% is the overall median engagement rate, 1.39% or higher is considered a good engagement rate on Instagram for brands that want to aim higher.
Overall rate across industries:
Median engagement rate: 0.67%
Median posting frequency: 4.55x per week
Overall rate for brands in the top 25%:
Median engagement rate: 1.39%
Median posting frequency: 3.53x per week
Instagram engagement rate by industry
While the median Instagram engagement rate is a great starting point to benchmark your own data, every industry is a little different.
Let's take a look at some of the industries performing at an above-average rate and see what they're doing right so you can take note of a few ways to boost your brand's own Instagram engagement rates.
Higher Education
Higher Education Median Engagement Rate: 2.99%
Higher Education Median Posting Frequency: 3.46 posts per week
Schools and universities have the highest Instagram engagement rate across all industries at 2.99%.
While this number is impressive, it also means that colleges have to get creative if they want to stand out above their fellow educational establishments on Instagram.
A great example of an Instagram post with high engagement comes from James Madison University. This post received an engagement rate more than 5x higher than the median rate for the higher education industry.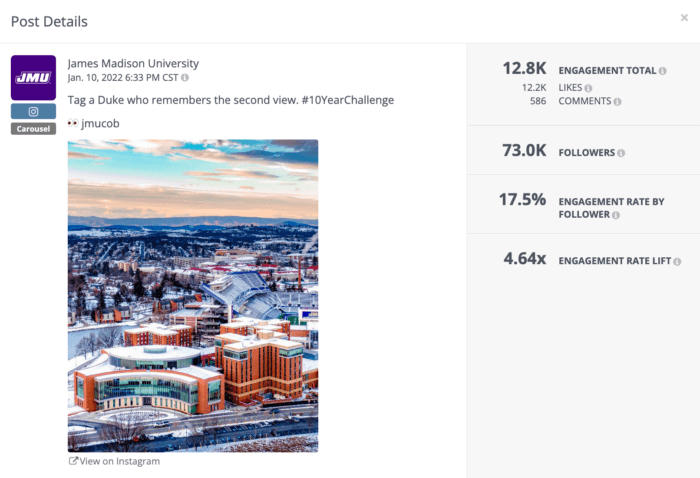 Why it works:
The #10YearChallenge has trended several times over the years, and when it happened to be trending again on Instagram at the beginning of 2022, JMU took advantage.
The trend encourages accounts to share two images: one from 10 years ago and one from the present day. The flashback evokes emotion from people who recognize the older image, which makes it the perfect content opportunity for schools to engage with former students.
This post resulted in high engagement for JMU for several reasons. For starters, the post is a carousel. And we know that carousels perform well on Instagram because they get re-served to people who didn't interact with it the first time, which increases the post's impressions.
Second, the caption on this post could've also helped boost engagement as it prompted followers to tag someone who remembers the older view. And judging by the number of comments, it looks like many people did just that.
But above all else, by sharing images that resonated with both current and former students, this Instagram post from JMU engaged a wider audience than its typical posts.
Sports Teams
Sports Teams Median Engagement Rate: 1.84%
Sports Teams Median Posting Frequency: 13.64 posts per week
Sports teams tend to perform well on Instagram with a median engagement rate of 1.84%. Sports teams also post the most often out of all industries, which makes sense given that the content typically includes frequent game or team updates.
Soccer team Leeds United hit it (or rather, kicked it) out of the park with this top-performing post. The engagement rate was 30.4%, which is 16x higher than the median rate for sports teams and a whopping 45x greater than the overall median.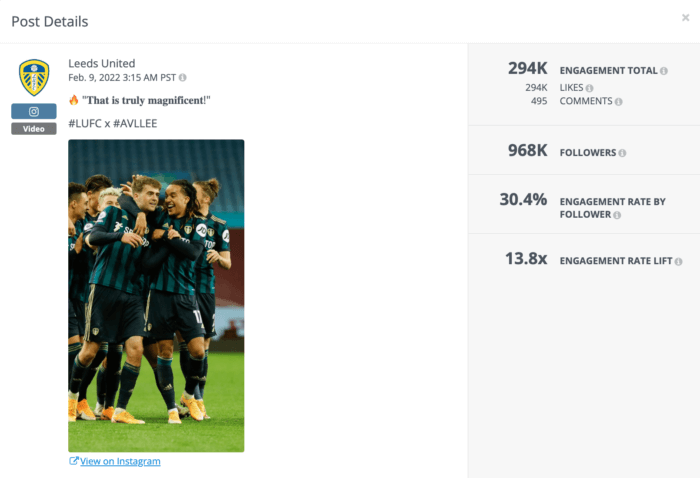 Why it works:
The video clip is a replay of an exciting moment from a game when the team makes a goal. In the video, the announcer can be overheard enthusiastically making commentary about the goal and at one point even calls it a "truly magnificent" play — which the team then used as the caption for the video post.
Sports teams perform well on Instagram when they lean into the pride their fans have for the team and create content that conjures up team spirit. The key is to capture moments for your audience to replay again and again, and video is an excellent way to do that.
Influencers
Influencer Median Engagement Rate: 1.18%
Influencer Median Posting Frequency: 4.47 posts per week
The influencer industry is another top performer on Instagram. Influencers rely on the platform to share their creative content, product recommendations, and glimpses into their personal lives. But sometimes the most engaging content is the most simple.
One example of this comes from influencer and content creator Megan Batoon. The post below received a 7.06% engagement rate which is nearly 6x higher than the median for influencers.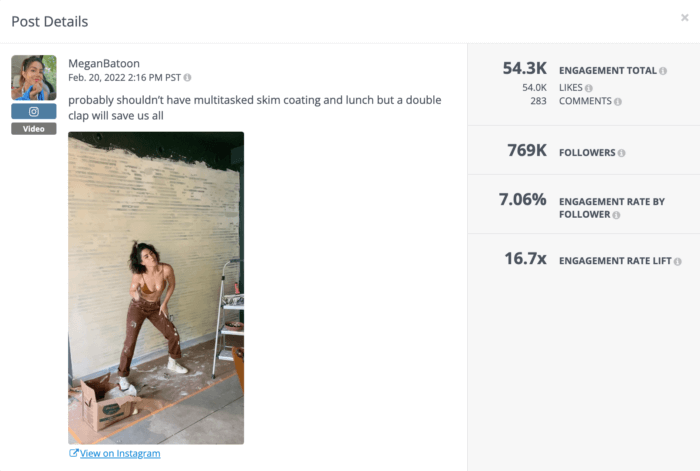 Why it works:
Megan is a content creator known for home design and DIY — she's even a co-host on the Netflix show, The World's Most Amazing Vacation Rentals — but she's also a professional dancer and has a YouTube channel where she shares lifestyle content with over one million subscribers. Simply put, Megan has a strong online presence that she's built around her playful, design-driven persona and is certainly no stranger to video content.
As we found in our benchmark report, there are plenty of opportunities for brands to lean into video content to harness more engagement on Instagram. The key is to experiment with what your audience wants to see.
Megan's video likely performed well because it was a great representation of her brand. The video is a short clip of her dancing while painting and eating lunch — it's a simple moment but it's also a glimpse into her day-to-day, which followers love to see from influencers.
When you're putting yourself out there as an influencer or content creator, people expect you to be real and authentic. In fact, one survey found that 90% of consumers said authenticity is important when choosing which brands to support or buy from. If you want to engage your audience, tap into what makes your brand unique and experiment with different post types like video.
Nonprofits
Nonprofits Median Engagement Rate: 1.04%
Nonprofits Median Posting Frequency: 4.45 posts per week
Marketers at nonprofits have the important job of using Instagram to secure donations, engage volunteers, or simply raise awareness about their organization's mission. And achieving high engagement rates can have a direct impact on those initiatives.
We've found that nonprofits lean heavily on holiday-themed hashtags on Instagram, especially ones that are relevant to their organization, like Pride Month is for The Trevor Project, a mental health and suicide prevention organization for LGBTQ youth.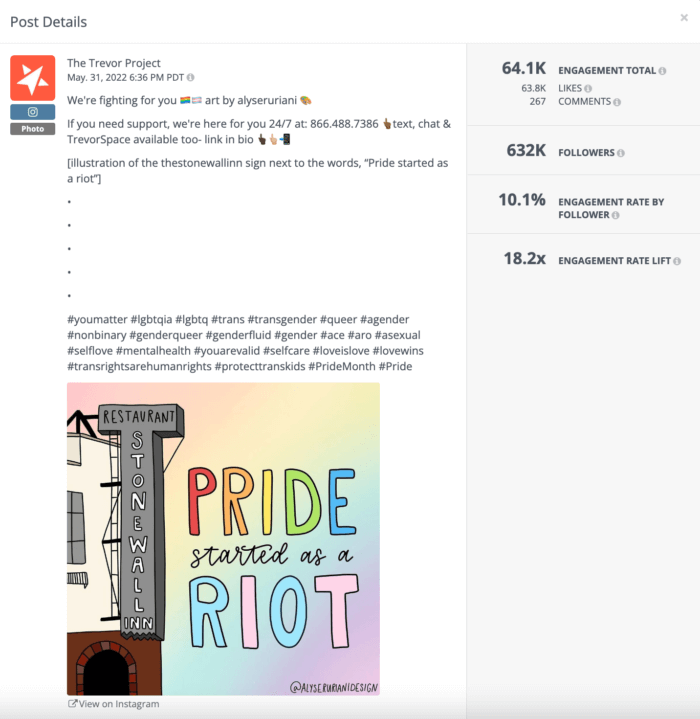 Why it works:
The Trevor Project reposted this timely illustration from artist Alyse Ruriani in honor of Pride Month. The image references the history of Pride and ties well into the nonprofit's mission.
This Instagram post is a great example of the power of user-generated content (UGC). Reposting users' content (with permission) when it's relevant to your brand is a great way to engage your audience by involving them directly.
It's also worth noting that the hashtags are in the caption rather than a separate comment. While we found that Instagram hashtags can be used in either the post or in a comment, there are pros and cons to both and it's worth experimenting with to see how the placement impacts your engagement rate.
How to increase Instagram engagement
If you're feeling inspired to up your Instagram engagement after seeing the examples above, here's a recap of the tactics these brands used to achieve their great engagement rates.
Experiment with different post types: Carousels and video posts have proven to be engaging post types, so mix those into your content strategy along with static images.
Tap into your followers' emotions: Whether inspiring, entertaining, or informing, posts that evoke some sort of emotion from followers tend to leave a lasting impression.
Repurpose content: From game replays to user-generated content, the brands above illustrated how you can get creative with Instagram content without starting from scratch.
Lean into popular hashtags, holidays, and trends: If you're feeling stuck coming up with fresh content ideas, turn to trending hashtags and holidays to capture engagement. Using Rival IQ, you can even see which hashtags people are engaging with in your industry.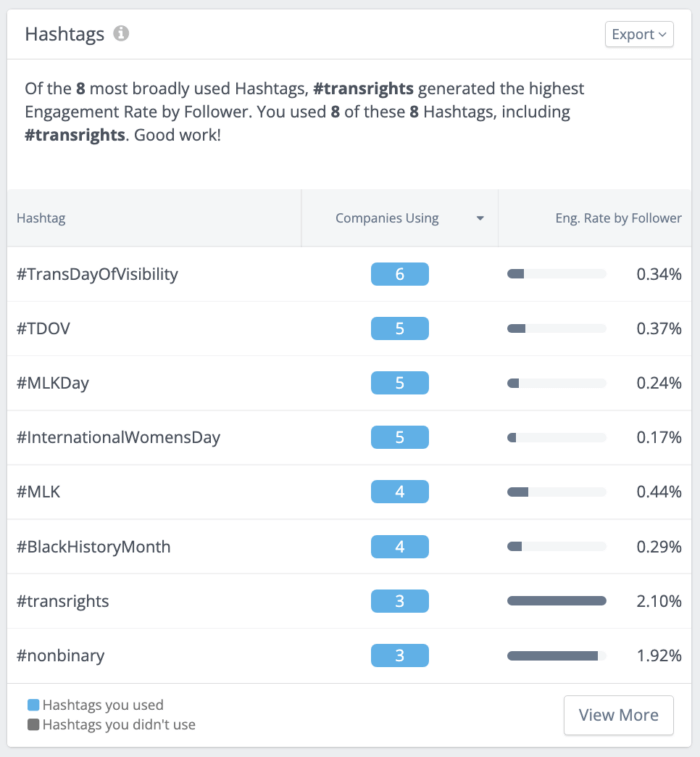 Wrapping it up
To sum it up, the overall median engagement rate on Instagram is 0.67% and the median posting frequency is between 4-5 posts per week.
These are the numbers to aim for if you want to create content that stands out above the competition.
To achieve a good engagement rate on Instagram, lean into what's proven to work for your brand while experimenting with different post types. As long as you continue to measure and assess what your audience is engaging with, you'll be on your way to reaching stellar engagement rates on Instagram in no time.