In 2023, Instagram continues to garner higher engagement rates than Facebook or Twitter.
However, with the decline in organic engagement across all platforms, and the growing popularity of video platforms like TikTok and YouTube, it can be challenging for marketers to keep up with what's considered a good engagement rate on Instagram these days.
To ensure you're up to date on the latest rates and best practices, let's go over how to accurately measure Instagram engagement and what the benchmark is for a good engagement rate on Instagram across industries.
We'll also highlight a few examples of brands that are performing well on the platform so you can get an idea of ways to increase your own Instagram engagement rate.
How to measure Instagram engagement
At Rival IQ, we define engagement as measurable interaction on organic and paid social media posts. Instagram metrics include likes, comments, shares, and reactions.

Instagram engagement rate is calculated based on all of these interactions divided by total follower count. Here's the formula to calculate your brand's Instagram engagement rate:
Instagram engagement rate = [engagement total] / [total number of followers]
While there are a few different ways to calculate engagement rate, we find that dividing by the number of followers paints a more accurate picture of how your brand's engagement rate stacks up against similar brands in your industry — regardless of audience size.
What is a good engagement rate on Instagram in 2023?
According to our 2023 Social Media Industry Benchmark Report, the overall median engagement rate on Instagram is 0.47%. This median rate applies to all industries, from food and beverage brands to hotels to nonprofits.
When it comes to how often you should be posting, we found that, on average, brands across all industries post a little over four times per week. 
For top-performing brands, their engagement rates on Instagram are even higher. Our report found that the overall median engagement rate on Instagram for brands in the top 25% is 1.05%. These brands also post at the same frequency at around 4.7 times per week.
So while 0.47% is the overall median engagement rate, 1.05% or higher is considered a good engagement rate on Instagram for brands that want to aim higher.
Overall rate across industries:
Median engagement rate: 0.47%
Median posting frequency: 4.6 posts per week
Overall rate for brands in the top 25%:
Median engagement rate: 1.05%
Median posting frequency: 4.7 posts per week
Instagram engagement rate by industry
While the median Instagram engagement rate is a great starting point to benchmark your own data, every industry is a little different.
Let's take a look at some of the industries performing at an above-average rate and see what they're doing right so you can take note of a few ways to boost your brand's own Instagram engagement rates.
Higher Education
Higher Education Median Engagement Rate: 2.58%
Higher Education Median Posting Frequency: 3.85 posts per week
Schools and universities consistently outperform every industry on social media (check out our latest report if you're interested in detailed insights on Higher Ed benchmarks).
Higher Ed has the highest Instagram engagement rate across all industries at 2.99%. This rate is nearly twice as much as the second highest-performing industry, which is Sports Teams at 1.48%.
While this number is impressive, it also means that schools have to get creative if they want to stand out above their fellow educational establishments on Instagram.
A great example of an Instagram post with high engagement comes from James Madison University. This carousel post received an engagement rate of 17.6%, which is nearly seven times higher than the median rate for the higher education industry on Instagram.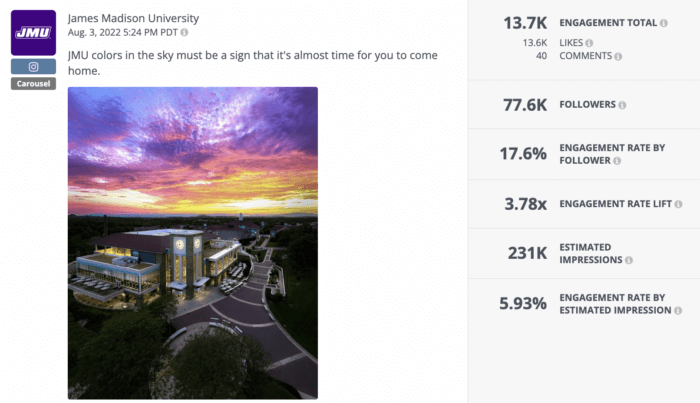 One look at that colorful, picturesque sunset and it's easy to see why this carousel racked up over 13K engagements. Campus glamour shots like this are one of the top trends that schools and universities use to lure in likes and comments from current and former students alike. JMU regularly shares stunning shots of its school on Instagram — often in the form of a carousel — which has undoubtedly helped it rank in the top 10 schools and universities across all social media channels. 
Another top-performing school that earns a good engagement rate on Instagram is the University of South Carolina, Columbia. The photo below earned the school an engagement rate of 14.5%, which is 5.6 times higher than the median rate for Higher Ed and a whopping 30 times higher than the all-industry rate.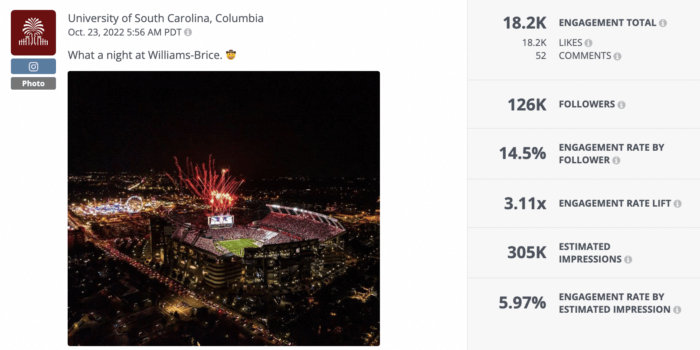 This post combines two winning trends in one: a campus glamour shot and a celebratory shoutout. The photo is a zoomed-out night shot of the school's football stadium after securing a win, fireworks and all. For schools, celebrating sports wins and congratulating student achievements are surefire ways to earn an impressive engagement rate. Whether you're a current student, a proud alum, or just a fan of their football team, it's hard not to love this photo. 
Both of these examples display how schools and universities consistently secure a good engagement rate on Instagram by appealing to a wider audience with engaging images that resonate with everyone from prospective students to the local community.
Sports Teams
Sports Teams Median Engagement Rate: 1.48%
Sports Teams Median Posting Frequency: 15.6 posts per week
Sports teams tend to perform well on Instagram with a median engagement rate of 1.48%. Sports teams also post the most often out of all industries, which makes sense given that the content typically includes real-time game highlights and frequent team updates during the playing season.
Seattle's women's soccer team OL Reign hit it (or rather, kicked it) out of the park with this top-performing Reel. The short video, which was an introduction to one of the team's newest players, earned an engagement rate of 33.5%, which is 22 times higher than the median rate for sports teams and a whopping 71 times greater than the all-industry average.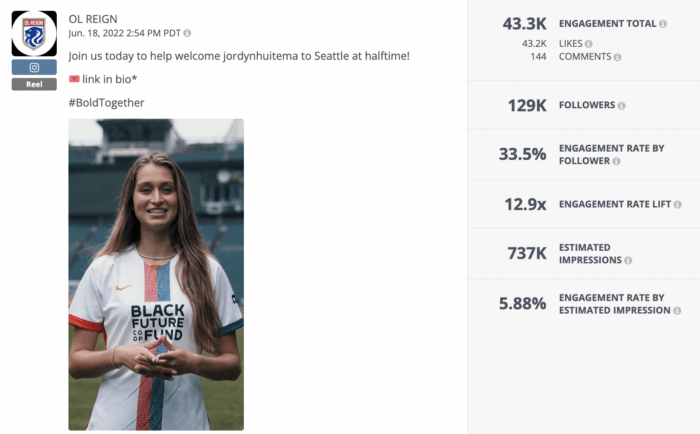 Reels are a winning strategy for most Sports Teams on Instagram. If you want to earn top engagement, we've found that Reels bring in higher engagement rates than any other post types for Sports Teams.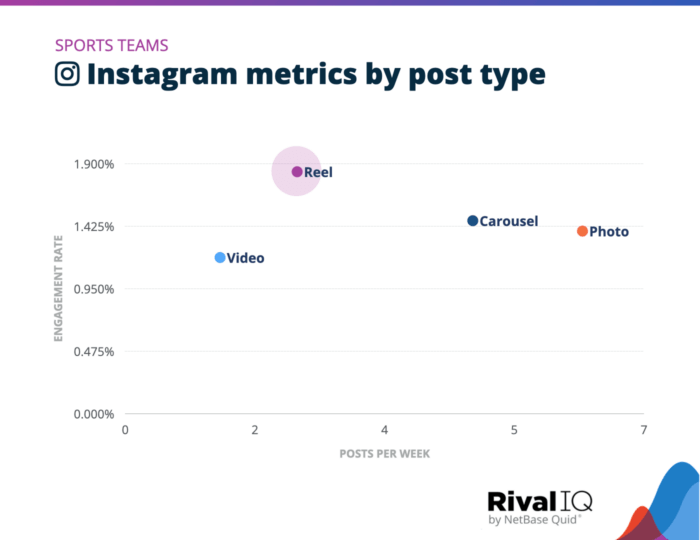 Another way that Sports Teams can earn engagement from fans is by tapping into buzzworthy conversations and hashtags. It's no surprise that timely event-inspired hashtags like #worldcup are some of the most engaging hashtags among Sports Teams. As you can see in the chart below, there are also opportunities for teams to give fans a glimpse behind the scenes with the hashtag #training as well as tap into always-popular holiday conversations.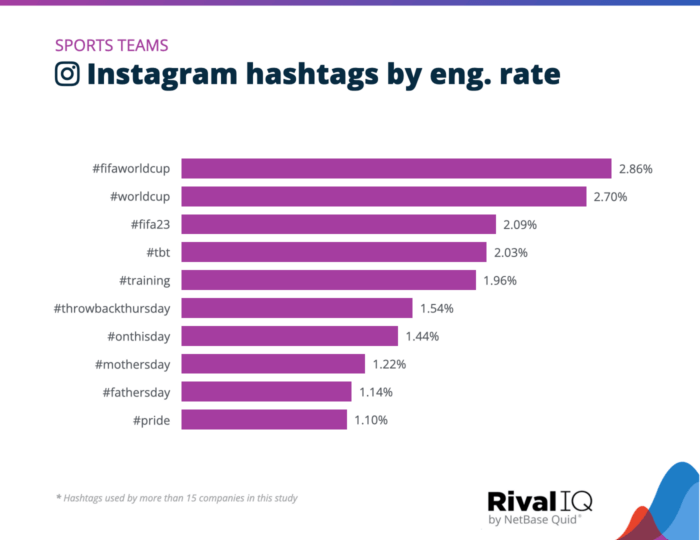 Soccer team Atlanta United FC employed this strategy by using the engaging #FIFAWorldCup hashtag in one of its relevant posts. The photo post earned an engagement rate of 7.72% which is five times greater than the median Instagram engagement rate for Sports Teams. This celebratory image also gave the team an engagement rate lift that was three times higher than similar posts for Sports Teams.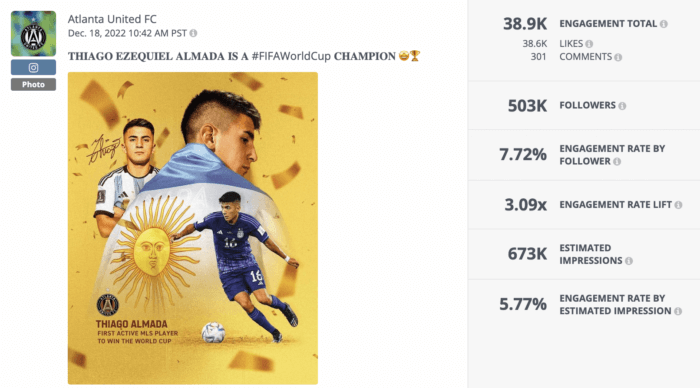 Influencers
Influencer Median Engagement Rate: 0.809%
Influencer Median Posting Frequency: 4.1 posts per week
Influencers are another industry that earns above-average engagement rates on Instagram. Influencers and creators use the platform to share their creative content, provide product recommendations, and give followers a glimpse into their personal lives using carousels, photos, and Reels — which are all equally engaging post types for this subset of creators.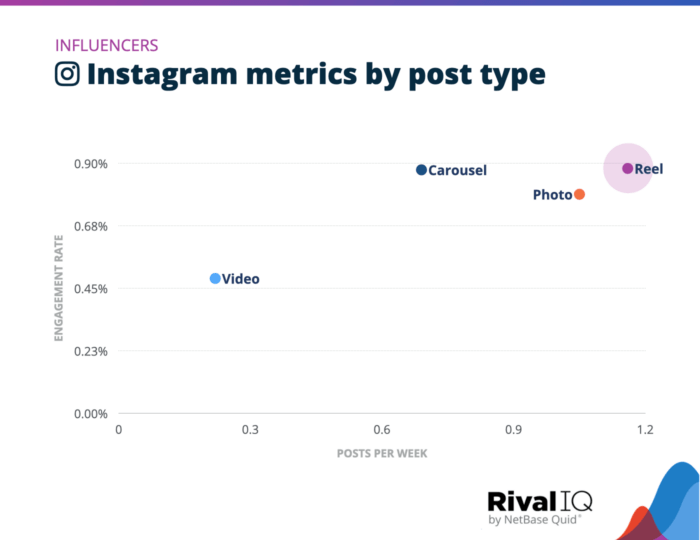 While highly produced Reels and polished photos can help influencers earn likes, comments, and shares, sometimes the most engaging content is also the most simple. One example of this comes from influencer and content creator Megan Batoon. The post below received viral levels of engagement with over 8.5 million impressions, 528K likes and comments, and an engagement rate of 69.2%.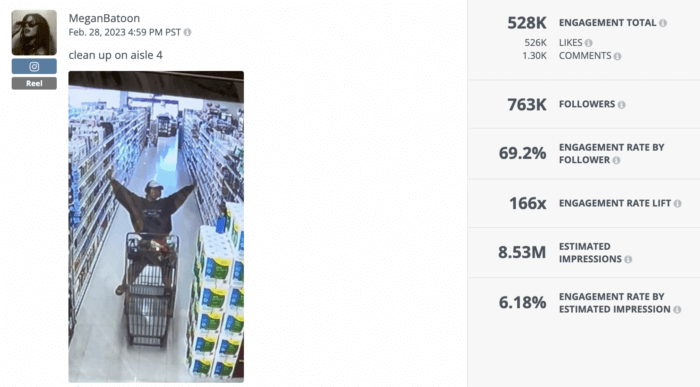 It's hard to pinpoint exactly how or why a post reaches viral levels of engagement like this, but Megan's video could've performed well because it was a great representation of her personality. The video is a short clip of her dancing in the aisle of a grocery store — from the POV of the store's security camera. It's a simple yet unexpected moment, but it's also a glimpse into her day-to-day life, which followers love to see from influencers.
When you're putting yourself out there as an influencer or content creator, people expect you to be real and authentic. In fact, one survey found that 61% of consumers prefer relatable influencers over any other influencer personality type. If you want to engage your audience, tap into what makes your brand unique and experiment with different post types like video.
Nonprofits
Nonprofits Median Engagement Rate: 0.627%
Nonprofits Median Posting Frequency: 5 posts per week
Marketers at nonprofits have the important job of using Instagram to secure donations, engage volunteers, or simply raise awareness about their organization's mission. And achieving high engagement rates can have a direct impact on those initiatives.
Like many other industries on Instagram, nonprofits found success in using Reels to reach a bigger audience and earn more engagement. This Reel from Chicago-based dance company Joffrey Ballet earned the nonprofit an engagement rate of 114%, which is a whopping 181 times higher than the average rate for nonprofits on Instagram.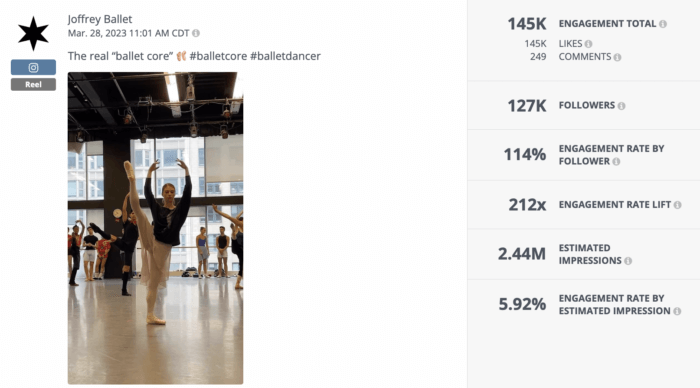 When the hashtag #balletcore started trending, Joffrey Ballet was quick to join the conversation, While the term "ballet core" doesn't have to do with dancing as much as it does with the aesthetic, the ballet nonprofit decided it was the perfect opportunity to showcase what their organization is all about. Staying tapped into trending terms paid off for Joffrey Ballet as this video earned over two million impressions and received an engagement rate lift that's 212 times better than similar videos from nonprofits. 
Social media trends, hashtags, and topics move fast so it's important to have a process for staying in the know so you don't miss out on relevant content opportunities. Use a tool like Rival IQ to get notified about trending hashtags in your industry. For example, this overview of popular topics and most-used hashtags for the nonprofit industry provides insight into how many brands are joining in on these conversations and how engaging the hashtags and topics are.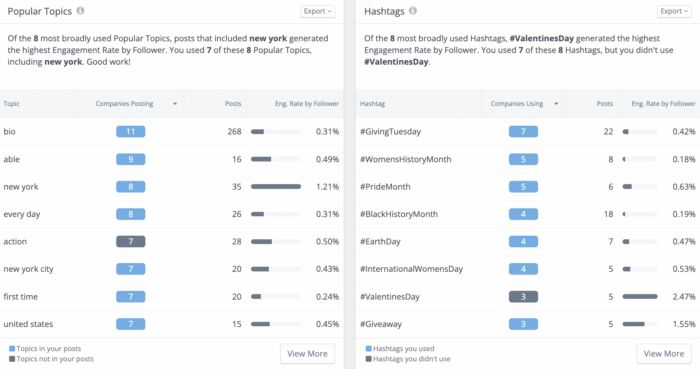 How to increase Instagram engagement
If you're feeling inspired to up your Instagram engagement after seeing the examples above, here's a recap of the tactics these brands used to achieve their great engagement rates.
Experiment with Reels: Reels have proven to be the most engaging post type for most industries, so don't be afraid to mix those into your content strategy along with static images and carousels.
Give your followers what they want to see: Your followers will let you know what content they want to see more of. Keep an eye on the comments section and the number of shares your post gets to see what's resonating with your audience.
Lean into popular hashtags, holidays, and trends: If you're feeling stuck coming up with fresh content ideas, turn to trending hashtags and holidays to capture engagement. Using Rival IQ, you can even see which hashtags people are engaging with in your industry.
Look to the competition: The best way to benchmark your engagement rate is to compare it with similar brands in your industry rather than the all-industry average. Doing this helps put your content and engagement rates into more context.
Wrapping it up
To sum it up, a good engagement rate on Instagram is 0.47%, which is the median rate across industries. The median posting frequency is between 4.6 posts per week.
These are the numbers to aim for if you want to create content that stands out above the competition.
To achieve a good engagement rate on Instagram, lean into what's proven to work for your brand while experimenting with different post types. As long as you continue to measure and assess what your audience is engaging with, you'll be on your way to reaching stellar engagement rates on Instagram in no time.
This post was originally published in July 2022 and has since been updated.