We're thrilled to release the 2023 Top 100 Beauty Brands on Social Media Report!
We've heard from so many of you that you can't wait to see how top brands like Rare Beauty, ColourPop, Fenty Beauty, Huda Beauty, and more stacked up on social this year, so we've got all the rankings plus tons of brand profiles and examples. Read on to see what your favorite beauty brand is up to on Facebook, Instagram, Twitter, and TikTok!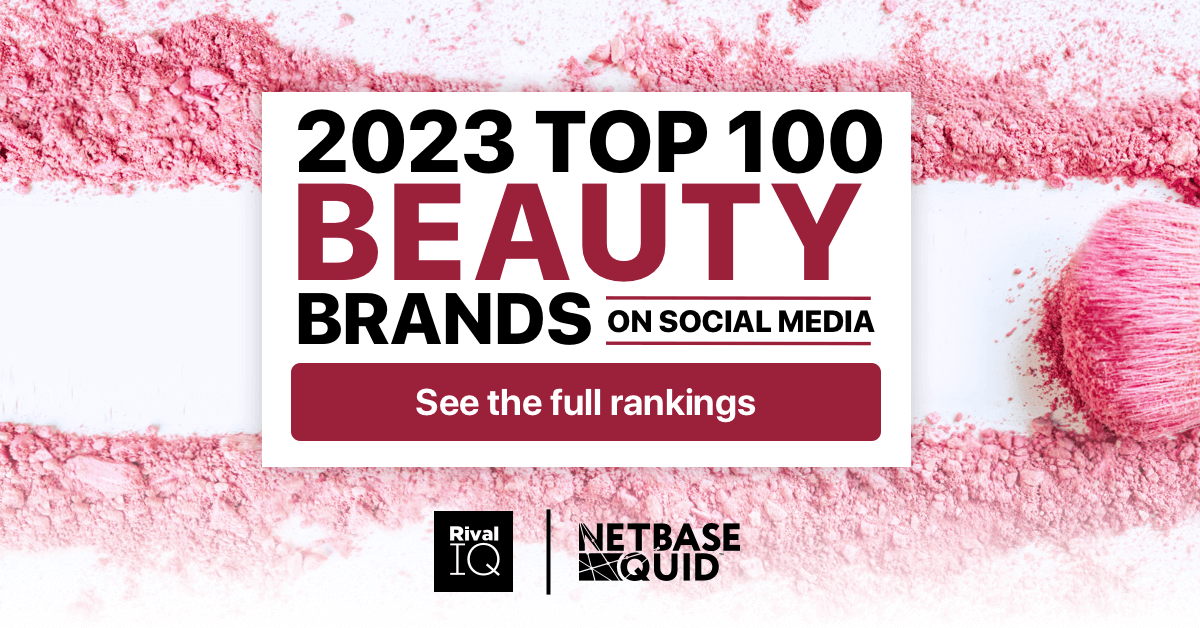 Overall Top 10 Beauty Brands on Social Media
Way to go, Rare Beauty, for grabbing the overall beauty social media gold this year! Speaking of beauty brands with famous founders, Fenty Beauty and Kylie Cosmetics were hot on Rare Beauty's heels in the overall winner's podium but couldn't quite catch Selena's brand. Huda Beauty, Glossier, and OPI came to play as usual, and ColourPop fell a few pegs but still managed a top 10 finish. LANEIGE, Sol de Janeiro, and Pley Beauty broke into the top 10 for the first time this year, which is impressive in such a crowded industry.
| Overall Rank | Beauty Brands | Rank | Rank | Rank | Rank |
| --- | --- | --- | --- | --- | --- |
| 1 | Rare Beauty | 2 | 2 | 1 | 1 |
| 2 | Fenty Beauty | 9 | 3 | 5 | 3 |
| 3 | Kylie Cosmetics | 10 | 1 | 8 | 17 |
| 4 | LANEIGE | 3 | 5 | 23 | 26 |
| 5 | Sol de Janeiro | 7 | 10 | 10 | 40 |
| 6 | Huda Beauty | 1 | 7 | 52 | 57 |
| 7 | Pley Beauty | 13 | 6 | 48 | 8 |
| 8 | Glossier | 3 | 27 | 9 | 6 |
| 9 | OPI | 8 | 23 | 17 | 34 |
| 10 | ColourPop | 19 | 26 | 7 | 4 |
Winning brands like Rare Beauty, Fenty Beauty, and Kylie Cosmetics rose to the top by finishing in the top 10 on most or all of the channels we studied. The rest of the overall top 10 is a good mix of strong brands with balanced social games with maybe a standout or lagging channel in particular that kept them off the winner's podium. Every beauty brand wants to do well across the board, but this mix of brands is a good reminder that sometimes it's better to put effort into places where you truly excel, or at the very least where your audience is (sorry, Twitter).
Top Brand: Rare Beauty
What's the social media secret for Selena Gomez's beauty brand Rare Beauty? Grabbing first on Facebook and Twitter and second on Instagram and TikTok was no small feat, but plastering famous founder Gomez's cute mug anywhere and everywhere helped the brand soar. Fans ate up anything to do with Selena across all channels thanks to her relatability and of course beloved product line, helping the brand stand out across the board.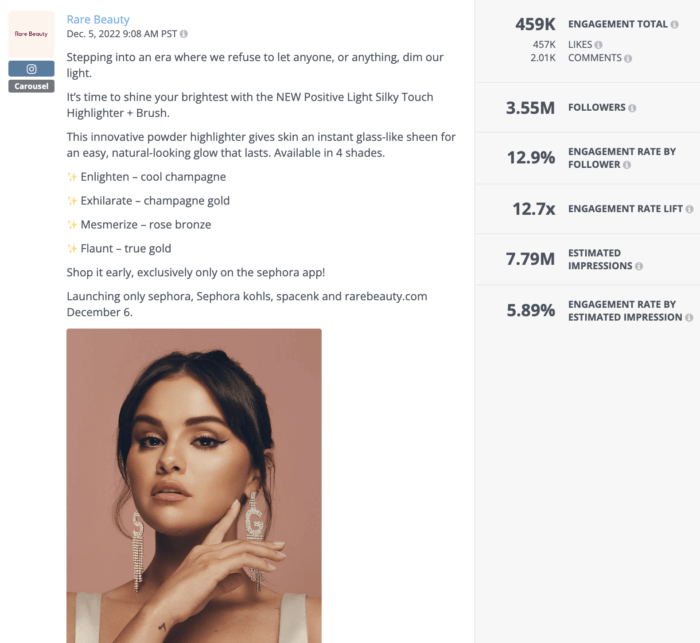 Famous founder, inspirational message, and a flawless finish using the brand's newest product release? A recipe for Instagram engagement to the tune of a 12.9% engagement rate, which blows the median Instagram engagement rate for beauty brands in this report out of the water. Fans raced to the comments to compliment Selena on her glow or to ask about how they could get their hands on the new release. Rare Beauty's top beauty posts aren't always so product-focused and are often leavened by more behind-the-scenes or personal posts from Selena herself, and part of what makes this brand so successful on social is the mix of the two types of posts.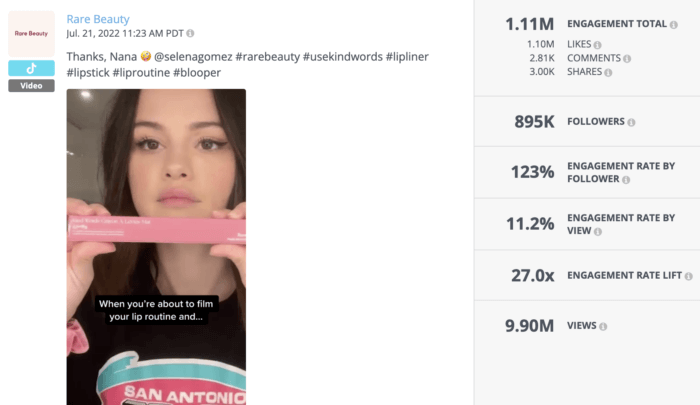 The brand rocked second place on TikTok this year, edging out many other top beauty brands on this beauty-focused but occasionally tricky channel. Rare Beauty has more than a million followers on TikTok to help bump up engagement on their posts, while the median brand in this report has just 172K. How did Rare Beauty earn more than 152M views on TikTok this year, outpacing the median beauty brand in this report by a whopping 6x? Videos like this adorable blooper from Selena herself that rocked an 11.2% engagement rate by view certainly helped, but it might have more to do with Rare Beauty's TikTok post frequency than anything else: posting about twice as frequently as the median beauty brand helps Rare Beauty get more bites at the engagement apple and therefore drives up their annual engagement total. Playing with how often you post on social media can make a big difference on engagement and is worth trying for every beauty brand.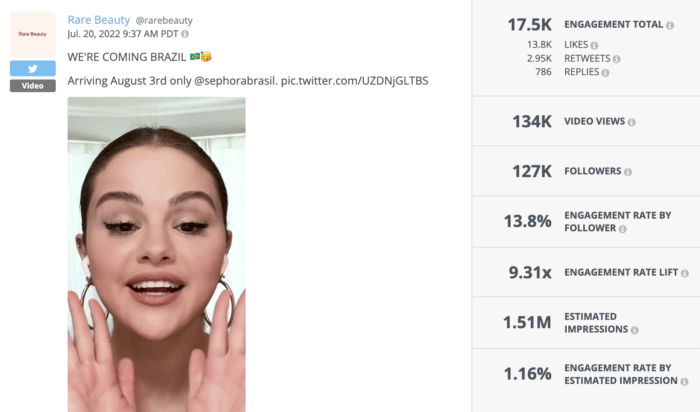 Video was key across all social channels this year for beauty brands, and this video tweet from Rare Beauty announcing the brand's launch in Brazil was no exception. The tweet grabbed attention to the tune of a 13.8% engagement rate, which blows the median beauty tweet out of the water. The lo-fi video featuring Selena recording at home earned more than 134K views and had fans jumping into the replies to express their excitement and congratulations. This tweet serves as a good reminder that video is here to stay, and that if you're experimenting with video for other channels, you shouldn't be afraid to shoot it again or repurpose the footage for use on a different channel.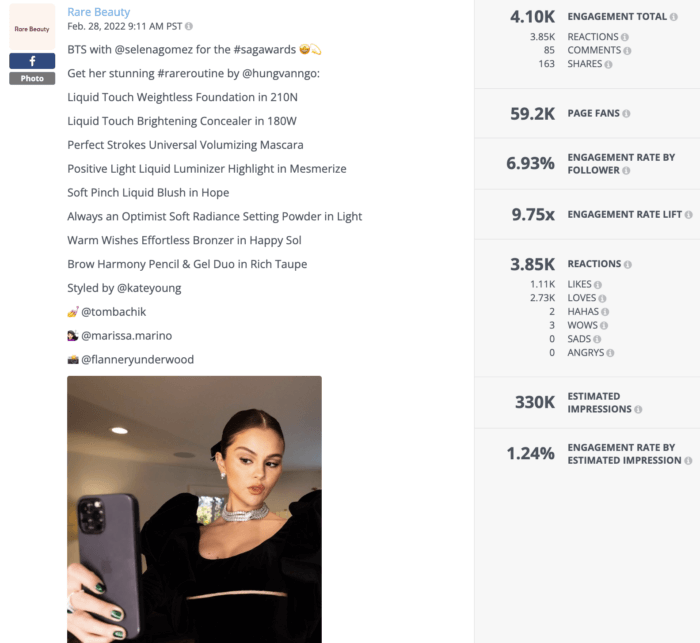 As we'll talk about later in the report, fans love a #bts moment, and this Facebook post from Rare Beauty is no exception. The Selena selfie post rocked a 6.93% engagement rate by follower and performed about 10x better than the average Rare Beauty Facebook post last year. Fans loved the chance to jump into the comments to tell Selena how beautiful she was, and Rare Beauty took the opportunity to list all of the brand's products that went into making Selena glow. Events like the SAG Awards or the Oscars can help brands helmed by famous founders hype up that fame further, but any chance to glam can help humanize a brand by putting a face to a product line.
Top Trend 1: Contests and giveaways
Contests and giveaways are a forever-trend for a reason: they consistently deliver engagement results for almost any industry, and beauty is no exception. We used our post tagging feature to automatically tag and analyze contest posts from the beauty brands in this report, and found that nearly all of them posted at least one giveaway post on Instagram this year. These posts performed more than twice as well as the median beauty post, lending major credence to the idea that this trend is here to stay.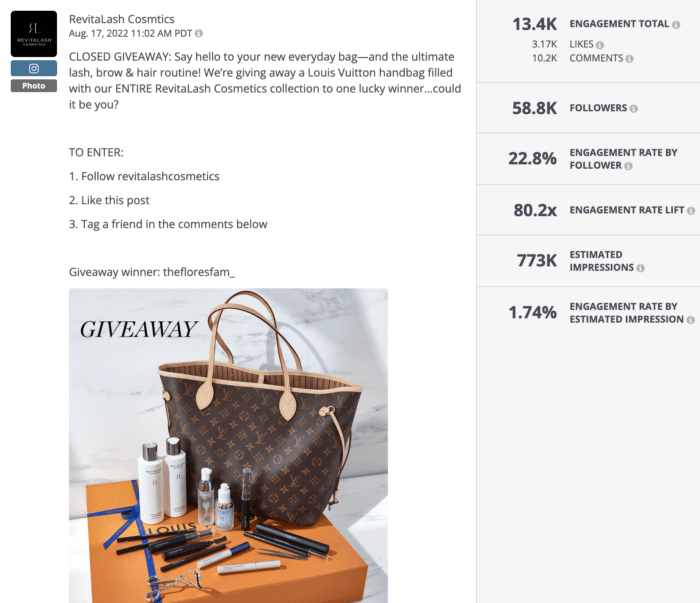 RevitaLash had one of the most engaging contest posts of the year on Instagram by engagement rate thanks to a few smart strategies. This post rocked a killer 22.8% engagement rate by offering a jam-packed luxury prize package. Simple entry requirements and encouraging fans to return to the post to check to see if they'd won rather than posting it separately or in a Story also helped amplify engagement. You don't necessarily need Louis Vitton-caliber prizes to entice engagement from fans and followers, but there's a lot to like in this RevitaLash post that any beauty brand can borrow from.

Contests aren't only for Instagram: as we'll see below, winning beauty brands like ColourPop practically filled their Twitter feed entirely with contests to earn engagements. Youth To The People and UOMA Beauty also made the most of contests on Twitter and actually had the two most engaging contest tweets of any beauty brand in the report today by teaming up with Alamar Cosmetics. These tweets earned engagement rates more than 100x better than the beauty Twitter engagement rate median thanks in part to epic prize packages. But the real genius of these contest tweets is the collab: by teaming up with other brands, Youth To the People and UOMA were able to increase their follower counts and reach new audiences who would then further drive up engagement on the tweets.
Top Trend 2: Inclusive brand actions
Inclusivity matters in every industry, but beauty brands are working harder than ever to offer inclusive shade ranges. Not being able to find your perfect shade is frustrating and unnecessary in this day and age (and a little embarrassing for brands when they get called out about it online), and many brands are listening when customers ask for expanded shade ranges. These efforts stood out with strong social engagement across all channels this year.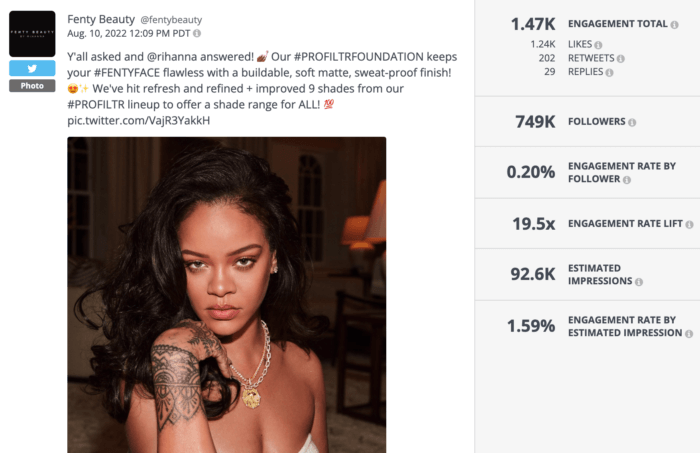 Overall second place winner Fenty Beauty earned 6x the Twitter beauty median engagement rate with this tweet about an expanded shade range. The copy and the photo make it feel a little like Rihanna is directly talking to the fans and followers who reached out to the brand asking for more shades. Fenty is well-known for having an inclusive shade range, and keeping the conversation open with fans is a sure way to both sell more makeup and make your community feel seen.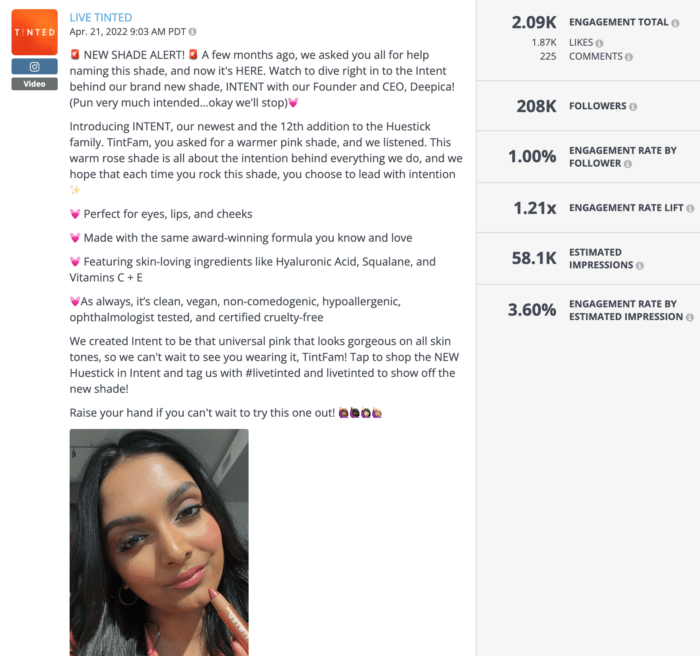 South Asian-owned clean beauty brand LIVE TINTED was all about responding to customer feedback and expanded shade ranges on social this year, like this Instagram post about a new shade of their flagship Huestick product line. The video post featuring LIVE TINTED's CEO Deepica Mutyala earned a 1% engagement rate on Instagram, which is about 5x the beauty brand median on that channel. Fans jumped into the comments to express their excitement at the new shade, which the brand was sure to mention was a reaction to community feedback. LIVE TINTED is built in part around creating makeup shades that look good on everyone, so it's no surprise that these efforts landed well for fans and followers on Instagram with this post.
Top Trend 3: Going behind-the-scenes (especially on TikTok)
Everyone loves the inside scoop, and the informal nature of TikTok videos makes it especially easy for beauty brands to pull back the curtain for fans. TikTok videos that mentioned "behind the scenes" or BTS performed four times better than the median TikTok video for beauty brands in this report, which is nothing to sneeze at. From ad shoots to red carpet prep to new products, fans and followers ate up a chance to be in the know across all channels.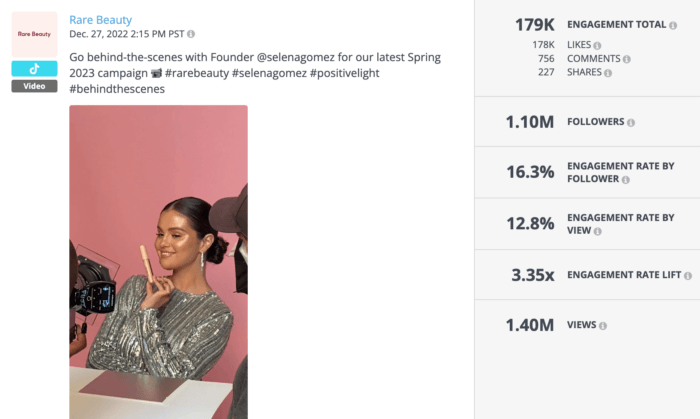 We already know Rare Beauty is the social media GOAT, but this chart-topping BTS look at a winter campaign shoot earned a whopping 16.3% engagement rate on TikTok this year. As we saw above in our deep dive into the genius of Rare Beauty's social strategy, featuring Selena front and center is always a winner for the brand. But this video is a good reminder that a few quick clips can be strung together to earn hundreds of thousands of engagements on TikTok, which is a win for any beauty brand.
Not every beauty brand in this report has a brick-and-mortar location to hype up, but Glossier has been doing just that for years as the cult favorite brand rolls out to more and more cities. This TikTok video featuring a behind-the-scenes look at the opening of its DC location earned a 16.3% engagement rate by view, which is more than 5x the TikTok median for beauty brands in this report. The video was engaging thanks to cute clips of happy staff and customers, and earned kudos in the comments as well as requests from followers to open up a Glossier in their city. You don't necessarily need a celeb founder to make behind-the-scenes content work–just boots on the ground and a little editing talent for pulling together a video that will excite fans and make them feel like they're part of the club.
Top Beauty Brands on Social: Instagram
Congrats to Huda Beauty for grabbing the Instagram gold *again*, and to Rare Beauty and Glossier for giving Huda a run for her money. The rest of the Instagram top 10 is littered with overall top 10 finishers as well like LANEIGE, Sol de Janeiro, OPI, Fenty Beauty, and Kylie Cosmetics–no surprise that success on Instagram translates to overall success. Brands like Kaja, LIVE TINTED, and Thrive Causemetics thrived on Insta but fell short of the overall top 10 podium.
| Rank | Company | Total Engagement | Eng. Rate by Follower |
| --- | --- | --- | --- |
| 1 | Huda Beauty | 13,353,275 | 2.08% |
| 2 | Rare Beauty | 33,217,063 | 1.03% |
| 3 | LANEIGE | 3,676,820 | 2.28% |
| 3 | Glossier | 8,001,165 | 0.78% |
| 5 | Kaja | 3,493,562 | 2.11% |
| 6 | LIVE TINTED | 1,875,137 | 1.90% |
| 7 | Sol de Janeiro | 2,141,272 | 1.03% |
| 8 | OPI | 6,372,158 | 0.39% |
| 9 | Fenty Beauty | 43,063,974 | 0.25% |
| 10 | Kylie Cosmetics | 49,730,319 | 0.22% |
| 10 | Thrive Causemetics | 1,337,499 | 0.53% |
Beauty brands earned a median engagement rate of 0.19% on Instagram this year and posted about once per day. These are both drops from last year, suggesting a little less investment and a little less return for beauty brands on Instagram. Sales, giveaways, new product releases, and behind-the-scenes footage helped these brands stand out on Insta this year.
Featured brand: Huda Beauty
Huda Beauty knocks it out of the park on social every year with engaging posts prominently featuring celeb founder Huda Kattan. To no one's surprise, Huda rocked a first-place finish on Instagram with almost 14 million engagements and an engagement rate of 2.08%, which is about 4x the median beauty brand engagement rate. The brand doesn't have as many Instagram followers as other juggernaut beauty brands, but a smaller group of hyper-engaged followers can do more for you on social than a big list of people less likely to engage with your content.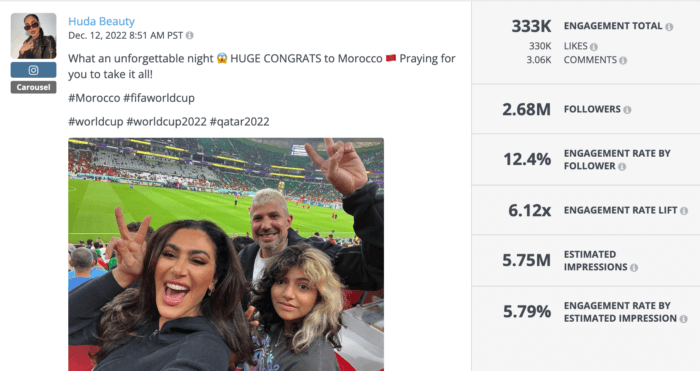 The magic of Huda Beauty is that the brand is so much more than a product account. Celeb founder Huda regularly uses the account to show off what's happening in her life, from family trips to weddings to an outing to the FIFA World Cup, and followers eat it up. This post rocked a 12.4% engagement rate, or about a 65x engagement rate lift against the Instagram beauty median. Not all beauty brands have an authentic creator at the helm that fans love to relate to, but this post is a good reminder that centering humans over products is at the very least a good experiment for beauty brands.
While many of Huda Beauty's top posts weren't focused on selling makeup, product posts were definitely peppered in, like this one about the brand's liquid matte lipstick. The Reel earned a 14.9% engagement rate by follower with a few clips of Huda putting the staying power of the lipstick to the test. Huda Beauty seriously favored Reels this year and was more than twice as likely to post a Reel on Instagram as any other post type, which is a strategy we can definitely get behind.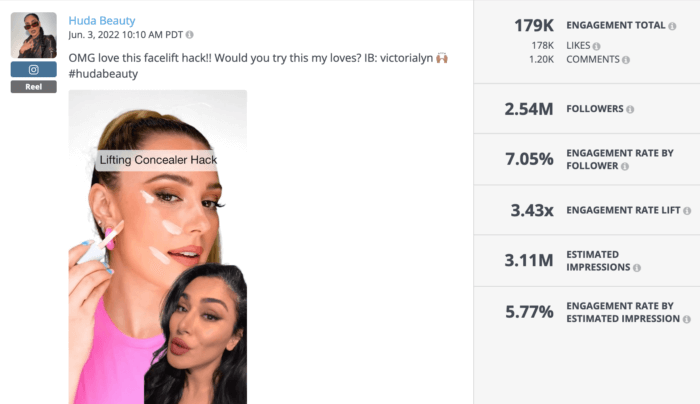 Part of Huda Beauty's success on Instagram has to do with offering value to followers instead of just sell, sell, selling, like in this Reel featuring a makeup tutorial narrated by Huda herself. The post grabbed a 7.05% engagement rate on Instagram by walking followers through a new makeup hack step-by-step in real time. The post shows off the product line and Huda's talent for makeup while staying approachable and true to the (mostly) down-to-earth nature of the creator. Paying attention to trends on beauty social media matters, and this Huda Beauty Reel is an example of just how powerful it can be to respond to what's trending.
Top Beauty Brands on Social: TikTok
Kylie Cosmetics took the TikTok gold by moving up a whopping seven places to clinch the win. Overall top ten frontrunners Rare Beauty and Fenty Beauty were hot on Kylie's heels on TikTok, as were other strong overall contenders like LANEIGE, Pley Beauty, Huda Beauty, and Sol de Janeiro. LIVE TINTED, Youthforia, and Milani also earned top engagement rates and totals on TikTok but didn't do well enough on other channels to earn a spot in the top 10.
| Rank | Company | Total Engagement | Eng. Rate by View* |
| --- | --- | --- | --- |
| 1 | Kylie Cosmetics | 14,752,016 | 9.94% |
| 2 | Rare Beauty | 12,972,511 | 9.12% |
| 3 | Fenty Beauty | 11,645,928 | 9.43% |
| 4 | LIVE TINTED | 2,187,385 | 10.19% |
| 5 | LANEIGE | 8,785,716 | 8.43% |
| 6 | Pley Beauty | 1,725,976 | 11.55% |
| 7 | Huda Beauty | 33,548,316 | 6.31% |
| 8 | Youthforia | 1,666,293 | 9.02% |
| 9 | Milani | 1,495,086 | 9.74% |
| 10 | Sol de Janeiro | 4,262,277 | 5.55% |
Beauty brands earned a 2.94% engagement rate by view and posting about 2.7 videos per week, which is about every other day. While that engagement rate is lower than what we saw in this industry last year, post frequency has increased, which is a sign that brands are investing more energy into creating content on a channel that's still outperforming its peers by miles.
Featured brand: Fenty Beauty
Fenty Beauty was a force to be reckoned with across social this year (as usual), but the brand's bronze finish on TikTok really helped catapult Rihanna's beauty brand to the second-place slot overall. Scoring so highly on a channel like TikTok requires innovation and experimentation (but we're betting a super famous founder didn't hurt either).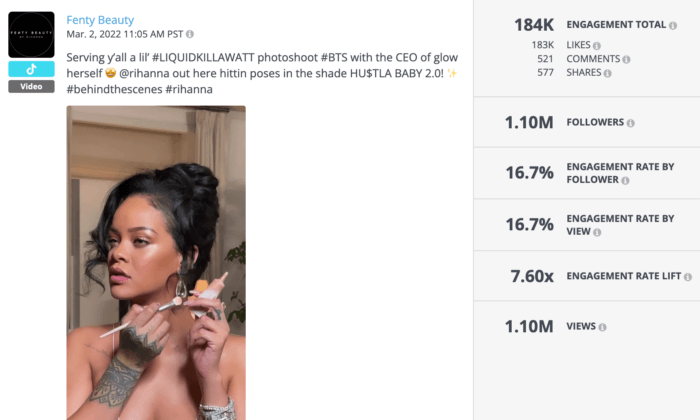 Fenty saw serious success across all four social channels this year by putting Queen Rihanna front and center in posts, and this top-performing TikTok video is no exception. Fans ate up the chance to go behind the scenes with Riri to the tune of a 16.7% engagement rate, or about 6x the beauty TikTok median this year. Short-form and lower-fi video posts like TikToks and Reels are a perfect place to center behind-the-scenes content: fans love seeing what goes into photo shoots and video production for their favorite brands–especially when it also features their favorite pop star.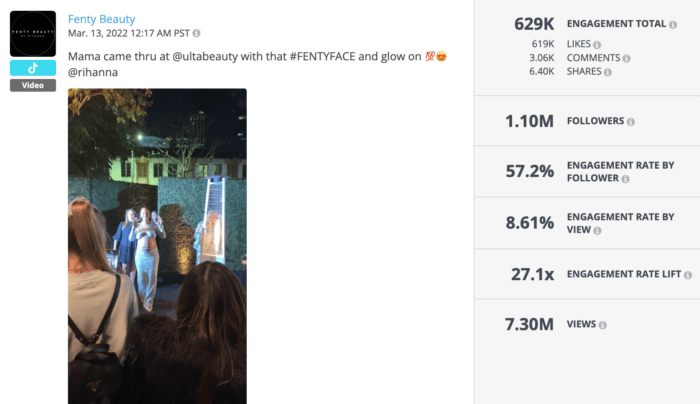 Okay, not every brand can turn eight seconds of hastily-shot film from an influencer event into one of the top-performing TikToks of the year, but Fenty makes it work. A short caption and an even shorter video had fans and followers racing to the comments to compliment (and critique) Rihanna's look and pregnancy glow. The video rocked an 8.61% engagement rate by view and a 57.2% engagement rate by follower. That's some serious mileage on a low-effort, low-cost video.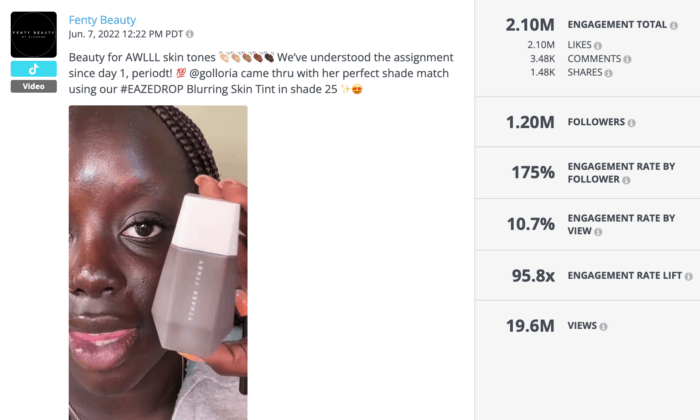 Fenty leaned big into its inclusive shade line this year to the delight of influencers and makeup fans everywhere, like in this video featuring beauty influencer Golloria George talking about just how widely Fenty's shades range. Golloria made a name for herself in the beauty influencer world with her extensive beauty knowledge and makeup reviews, and also includes a focus on inclusive shade ranges, making her the perfect influencer to give her trusted seal of approval to Fenty's new line of skin tints. Finding the right influencer for your brand can be tricky, but this partnership between Fenty and Golloria is a home run by any metric, including the 10.7% engagement rate by view on this post.
Top Beauty Brands on Social: Facebook
Beauty brands rocked a 0.03% engagement rate by follower on Facebook this year, which isn't a huge dip from last year's engagement rates in the same industry. Brands posted about 3.5 times per week, or once every other day. That posting frequency is almost half of what beauty brands were doing last year, suggesting less investment in the Metasphere this year.
| Rank | Company | Total Engagement | Eng. Rate by Follower |
| --- | --- | --- | --- |
| 1 | Rare Beauty | 268,458 | 0.720% |
| 2 | Juvia's Place | 436,823 | 0.251% |
| 3 | SKKN BY KIM | 48,343 | 1.411% |
| 4 | Mary Kay | 952,790 | 0.080% |
| 5 | Fenty Beauty | 346,605 | 0.083% |
| 6 | Estée Lauder | 314,104 | 0.083% |
| 7 | ColourPop | 1,407,030 | 0.057% |
| 8 | Kylie Cosmetics | 1,498,829 | 0.053% |
| 9 | Glossier | 90,566 | 0.106% |
| 10 | Sol de Janeiro | 41,586 | 0.156% |
| 10 | Charlotte Tilbury | 290,164 | 0.057% |
No surprise that overall winner Rare Beauty also dominated on Facebook this year, with other overall top 10 finishers Fenty Beauty, ColourPop, Kylie Cosmetics, Glossier, and Sol de Janeiro also rounding out the best of Facebook. Juvia's Place, SKKN BY KIM, Estée Lauder, and Charlotte Tilbury also soared on Facebook but didn't do so hot on other channels.
Featured brand: SKKN BY KIM
Nobody pivots quite like Kim Kardashian, and the celeb's success at shutting down super-successful KKW Beauty and focusing efforts on a new vegan skincare line was hardly surprising. The new brand aims at luxury and has a price tag to match, but that didn't stop fans from falling over themselves to talk about the brand online, especially on Facebook. SKKN BY KIM's best channel this year was Facebook by a mile, but it's easy to imagine the brand getting more traction on other channels as time goes on. A small follower count helped the brand reach a higher percentage of its die-hards, but the brand still managed to earn almost as many engagements as beauty brands with 10x the followers.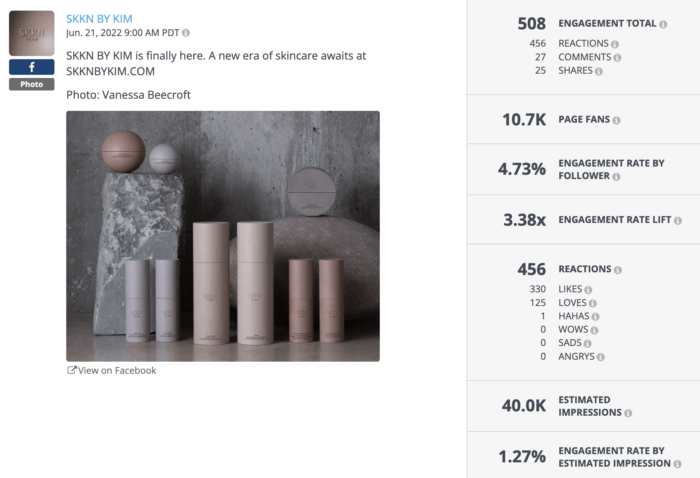 This Facebook post announcing SKKN BY Kim's product line earned a 4.73% engagement rate with nothing more than a few muted bottles, reminding us that name recognition can go a long way toward announcements like these. Launch posts like this one were consistent top performers in SKKN BY Kim's Facebook game this year, with fans jumping into the comments to ask questions of the brand (or complain about how expensive the products were). Not every beauty brand has the clout of a Kardashian, but hyping up new products is a tried and true strategy that any makeup or skincare line can use to grab attention on social.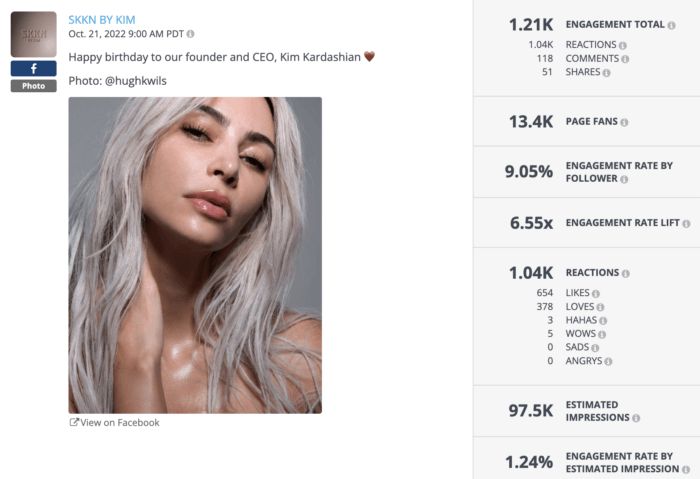 Fans also loved seeing Kim's face aglow with products from the line, like in this post that rocked a 9.05% engagement rate and more than 97K estimated impressions. Humanizing a brand is a strong social media strategy, and putting a face to the product (especially if it's a famous and instantly recognizable face) is always a good idea for beauty brands. Birthday and holiday posts perform well consistently across all channels and industries, so this easy post from SKKN BY KIM is a smart move.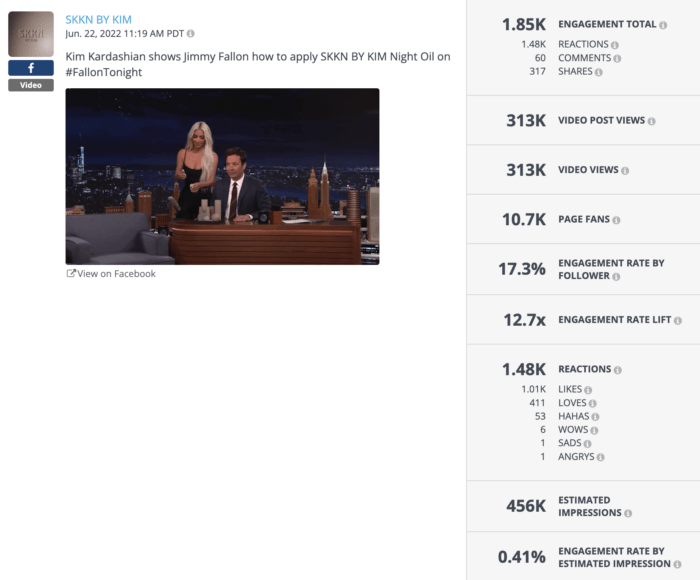 Kardashians are to TV as fish are to water, and this clip from Kim's appearances on The Tonight Show is easy proof of that. Fans loved watching Kim teach Jimmy how to apply products from her new line to the tune of 17.3% engagement rate and more than 300K video views, and jumped into the comments to send words of encouragement to Kim. The success of this post serves as a good reminder here that video can perform well even outside of Reels or TikToks.
Top Beauty Brands on Social: Twitter
Are you sick of Rare Beauty sweeping on social? Too bad, because in addition to the overall and Facebook golds, Selena Gomez's beauty brand also cleaned up on Twitter. Etude House and Fenty Beauty also earned top marks on Twitter, as did beauty juggernauts ColourPop, Glossier, and Pley Beauty, Topicals, Paula's Choice, Nopalera, and Valdé Beauty rounded out the Twitter top 10 with standout performances here but not enough oomph on other channels to contend for the overall title.
| Rank | Company | Total Engagement | Eng. Rate by Follower |
| --- | --- | --- | --- |
| 1 | Rare Beauty | 272,529 | 1.57% |
| 2 | Etude House | 69,321 | 2.65% |
| 3 | Fenty Beauty | 282,002 | 0.14% |
| 4 | ColourPop | 1,351,256 | 0.10% |
| 5 | Topicals | 35,942 | 0.34% |
| 6 | Glossier | 15,467 | 0.60% |
| 7 | Paula's Choice Skincare | 22,938 | 0.21% |
| 8 | Pley Beauty | 5,465 | 14.30% |
| 9 | Nopalera | 2,942 | 2.64% |
| 10 | Valdé Beauty | 2,896 | 3.50% |
Beauty brands earned the lowest engagement rates on Twitter of any channel this year at 0.02%, which is about in line with what other industries are seeing. Twitter has never been a terribly popular channel for beauty, with brands tweeting less than once per day on average this year.
Featured brand: ColourPop
ColourPop performs consistently well on social but didn't manage a three-peat of its overall win this year with some dips on other channels. The brand finished highest on Twitter of any of the channels we studied thanks to colorful product launches and tons of successful giveaways, and actually managed to go from 4th to 3rd this year for its efforts. 10x the followers of the average beauty brand and 5x the tweet frequency helped the brand maximize its chances of engagements to the tune of 1.35M engagements, which is more than any other beauty brand by a mile.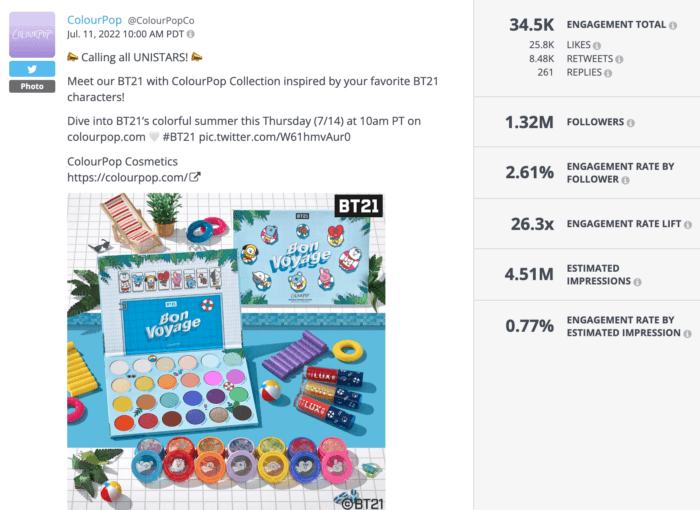 ColourPop is famous on social and in stores for its colorful collabs, and this launch of a new product line featuring animal avatars from world-renowned Korean pop stars BTS is just another example of ColourPop's success with this collab strategy. Followers ate up the launch to the tune of a 2.61% engagement rate, or about 130x the beauty median engagement rate on Twitter this year. Excited BT21 and BTS fans flocked to the replies to ask about store availability and to straight-up beg for swatches.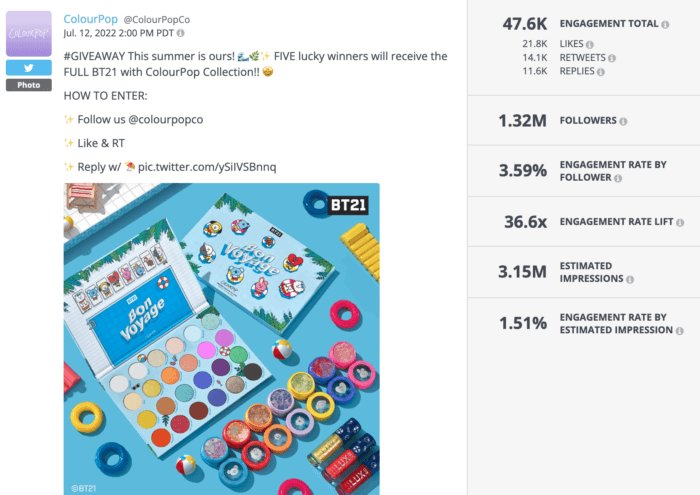 ColourPop shows us how to take existing virality and excitement and foment it into a frenzy by offering a product giveaway for a coveted new product line. ColourPop teased excitement with the launch of the BT21 collab and brought it home with a giveaway, which was a common strategy for the brand that made up many of the most engaging tweets by rate and total. Giveaways are a tried and true strategy for beauty brands because they're so effective at generating engagement, like this tweet with a 3.59% engagement rate and more than 11K replies from people desperate to get their hands on the collection before it launched to the public.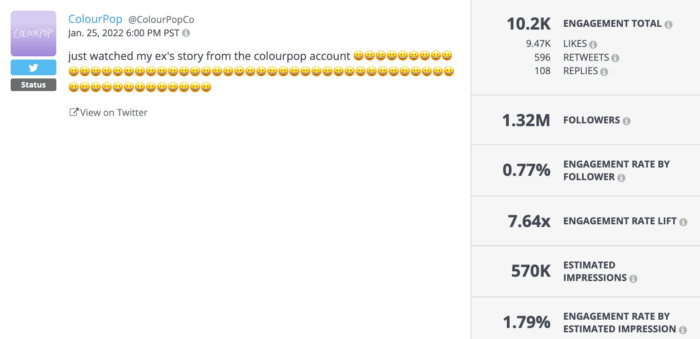 The occasional social media mess-up (or fabricated mess-up) can go a long way to humanizing a brand and incite people to jump into replies to express concern, further driving up engagement. This tweet from ColourPop describing an embarrassing action from the ColourPop account instead of a personal account is cringe-worthy but rocked a 0.77% engagement rate and more than 10K engagements as fans raced to offer their condolences. ColourPop helped drive those numbers up further by diligently replying to fans, which is always a good strategy. Did it really happen? Maybe. But the engagement is real.
How is My Beauty Brand Performing on Social?
See what the best beauty brands are up to on social with our Live Social Media Benchmarks featuring top posts, engagement rates, high-performing hashtags, and tons more. Pro tip: you can even add these benchmarks directly into your Rival IQ account for always-on monitoring of these top brands.
Or, go head-to-head with a free report on Facebook, Instagram, TikTok, or Twitter to see how you stack up against your top competition. Discover what makes your competitors tick with key insights and actionable advice you can start using now to come out on top.
If you're hungry for even more stats, grab a free 14-day trial with Rival IQ.
Methodology
We surveyed 100 beauty brands between January 1, 2022 and December 31, 2022 on Facebook, Instagram, and Twitter. We included a selection of brands from Allure Magazine's 2022 Best of Beauty Awards and others from our team. Using this data and a weighted formula, we generated an overall engagement ranking for each beauty brand. The top-ranked beauty brands have high engagement rates with average or better audience size and posting volumes. We reviewed a mix of boosted and organic posts.
We define engagement as measurable interaction on social media posts, including likes, comments, favorites, retweets, shares, and reactions. Engagement rate is defined as the total engagement divided by audience size except on TikTok, where it's defined as the total engagement divided by views.
Due to Instagram API limitations, we're able to pull accurate Instagram engagement numbers only for verified and/or Instagram business accounts.
The Case for Benchmarking
Why benchmark instead of just measuring how your brand's individual performance changes over time? Because social success is relative. Benchmarking means figuring out what's working (and what isn't) for brands in your industry and measuring your success against that.
It's really important to go beyond likes and favorites because audience size matters: 200 likes is great engagement for a beauty brand with 1,000 followers but is a drop in the bucket to a brand with 100,000 followers. Engagement rate helps us take audience size into account to see who's really reaching the highest percentage of their fans and followers with their social posts, which are the beauty brands you need to beat.
Wrapping it up
From famous founders to epic collabs to increasing inclusivity in shade ranges and product lines, it was another great year for beauty brands on and off social media. Congrats to all the winners and standout brands for their creative content, lightning-fast replies to fans, and all the community-building these brands are doing to turn fans into advocates who evangelize for their favorite brands in stores and on social.
Want to share your excitement about the 2023 Top 100 Beauty Brands on Social Media Report? Don't forget to tag us on Twitter!