You asked. We asked. Everyone asked. Instagram Reels data is now available in Rival IQ!
Avid social media geeks will remember that Meta has been gatekeeping this data for years from its API, meaning anyone wishing to access their Reels data outside of native Instagram analytics was out of luck. But that all changed recently, and our engineers have been hard at work porting all of your Reels data into Rival IQ and backfilling two years of Reels for all your analytics needs.
Let's get into all the shiny new Reels and whistles to be found in Rival IQ.
Reels in Competitive Social Data
Easily measure and compare your Reels performance to that of your competitors within all the Rival IQ tables and modules you know and love.
Peep the stats on any and every Reel in Rival IQ, with engagement total (including likes and comments), followers, engagement rate, and engagement rate lift for Reels from both you and your followers.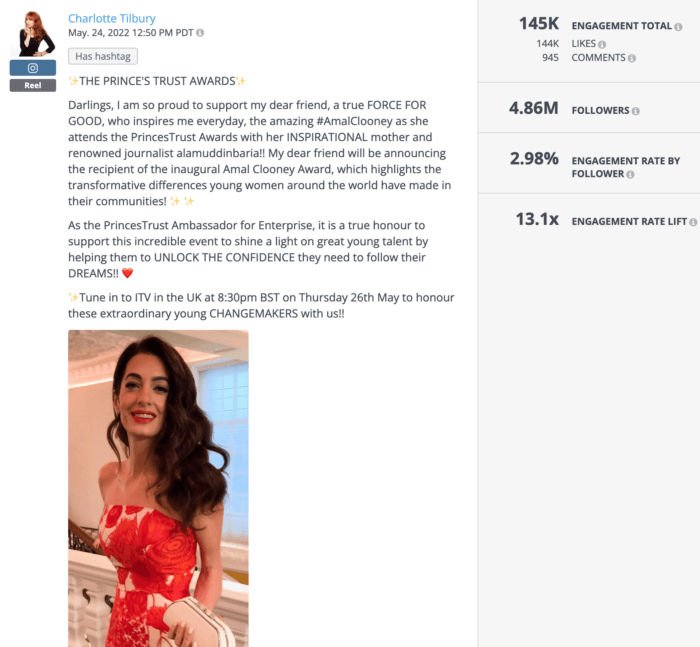 In the post above, it's easy to see that this Reel from beauty brand Charlotte Tilbury had a killer engagement rate of 2.98% and more than 145K engagements.
Once you've gotten your fill of post-level data, try filtering your entire landscape by post type to see how your Reels stack up against Reels from your competitors. (Rival IQ pros know you can do this with any post type.)

You can also measure your Reels by frequency and engagement against other common Instagram post types like photos, carousels, and videos so you can get a sense of whether Reels are worth your time (or so you can convince your boss to invest in that fully equipped video studio).

Here we can see that the focus company is posting Reels more frequently than any other post type at around one Reel per day. On the right side of the graphic, carousels are still outperforming Reels in the landscape by almost 50%, despite being posted about half as often as the average Reel. These results might be a clue to the focus company that they should balance efforts between Reels and carousels to maximize Instagram engagement rates.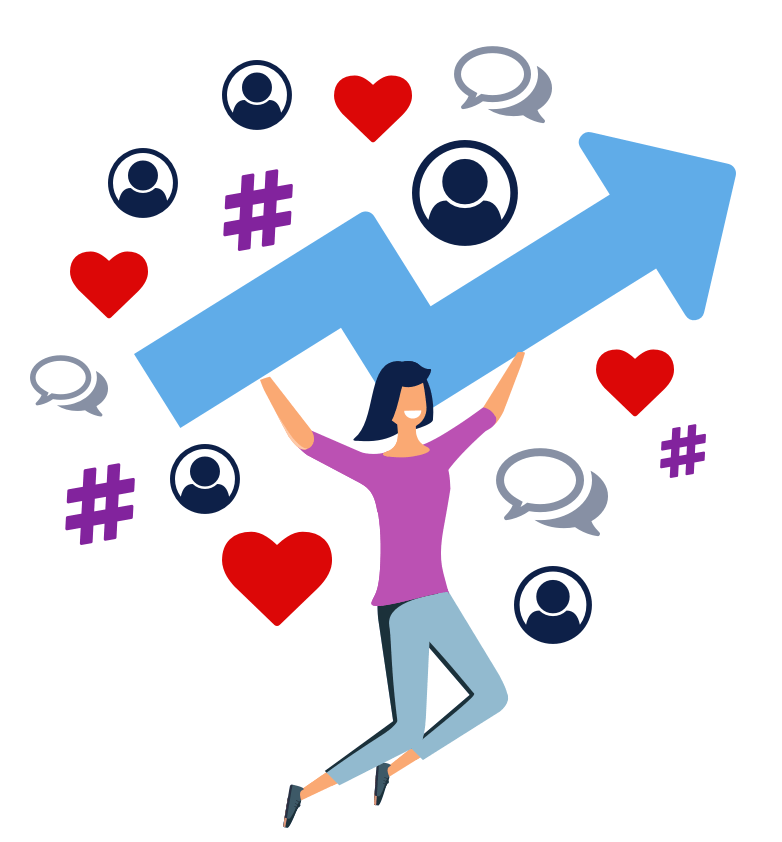 Reels in Instagram Insights
But wait, the Reels fun doesn't stop with public data! Go beyond likes and comments with oodles of private Reels data like video views and reach.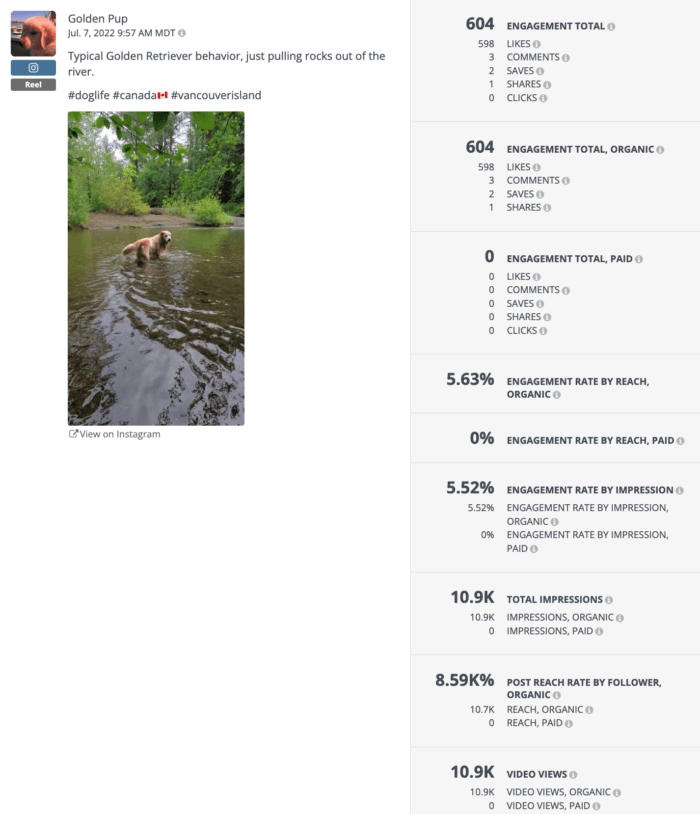 For Reels posted to accounts that you manage, we'll break out your engagement total (that's likes, comments, saves, and shares in Instagram Insights) by organic and paid, offer tons of different engagement rates so you can measure what matters to your brand, and report on impressions, reach, and even video views.

If you loved the post type comparison in public data, check out how easy it is to compare post types in private data using metrics like reach and engagement rate by impression to really dial into which posts are earning the most bang for your buck. In the table above, it's easy to see this brand is finding huge success with Reels, while their video and photo reach are really lagging.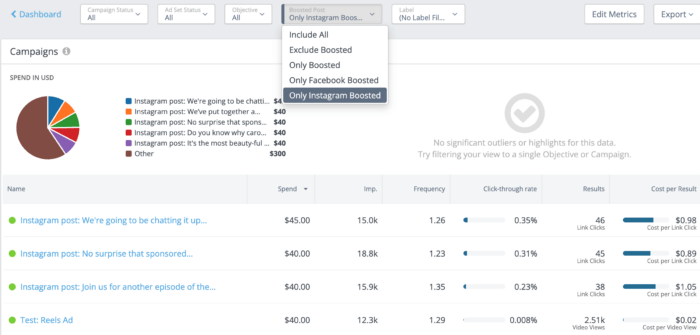 Easily analyze the spend behind the Reels in Instagram Insights. We'll keep track of how much you spent on the campaign along with key performance metrics like impressions, click-through rate, cost per result, and more. In the screenshot above, we limited our view just to Instagram boosted posts so we could compare our Reels boosting to our regular Instagram boosting. As you can see in the menu dropdown, there are a lot of ways to slice and dice your data here.
Other Reels goodies
There are tons of nooks and crannies within Rival IQ that now showcase Reels in addition to other Instagram post types.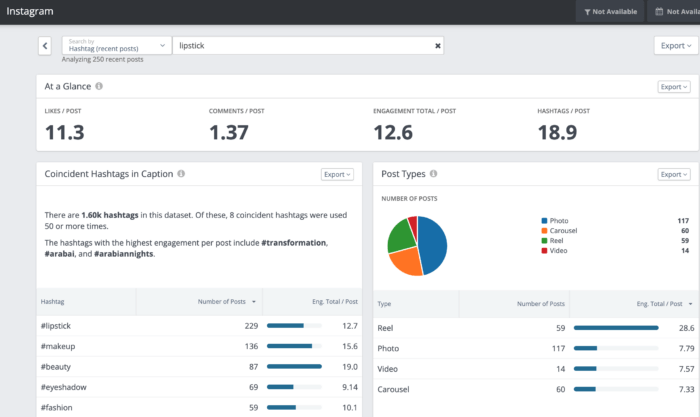 If you're not using our Instagram Discover tool to research popular hashtags or trending handles, there's never been a better time to start. This quick search of #lipstick shows that brands who use that hashtag on their Reels can expect about 4x the engagement total per post as with any other post type. Searches like this are an easy way for content creators to decide how they're going to structure their Instagram posts on a certain topic. Here we can see that putting in the extra effort to create a Reel will definitely pay off.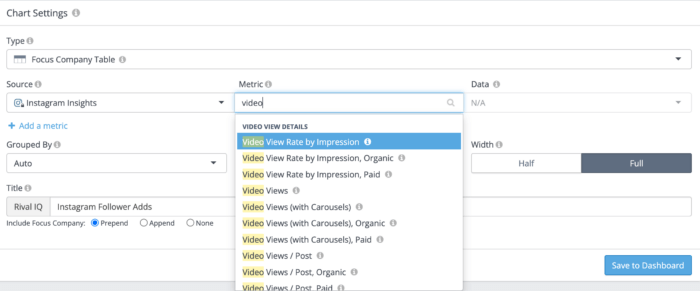 Fans of our custom dashboards will be stoked to see Reels data weaving throughout these customizable tables and graphs. Just like in the rest of this release, we have Reels data everywhere we previously reported stats for photos, carousels, and videos, meaning you'll see how your Reels are doing directly in any custom dashboards that pull in Instagram data.
Never miss a competitor's trending Reel thanks to breakout post alerts. Configure your alerts for only things you care about, and we'll automatically email you and anyone else on your team you choose whenever a competitor's Reel sees killer engagement. Fans of this feature will know it's available for every post type on every channel, plus tons of other alerts like social bio changes and big audience moves.
Wrapping it up
We can't wait to see what you do with all this new Reels data in Rival IQ, and we hope you feel (like we do) that it was worth the wait. Reels data is now live in all Rival IQ accounts, including our free 14-day trial. Happy analyzing, data geeks!