As social media continues to be a pay-to-play space and organic reach becomes more challenging, there's one strategy that proves authentic and engaging content can work for brands: micro influencer marketing.
86% of consumers say that authenticity plays a major role when deciding which brands to support — and there are few people more authentic than micro influencers. Niche, relatable, and excellent at building a community, micro influencers play an essential role in building brand awareness, generating engagement, and conveying authenticity in today's social media landscape.
When done right, a micro influencer marketing strategy can be the approach your brand needs to get in front of a highly engaged audience, increase credibility, and build a loyal customer base.
Key Takeaways
Here are a few considerations to keep in mind when developing your micro influencer strategy:
Have clear goals in place *before* creating your campaigns so you know which KPIs to measure later on.
Get clear on your brand messaging and work with micro influencers who align with your brand values.
To find the best influencers for your brand, look to your most loyal customers first.
Use influencer marketing or social media analytics tools to measure the results and adjust your micro influencer strategy accordingly.
If you're preparing to embark into the world of micro influencers, let's dive deeper into the benefits of working with these types of influencers, where to find them, and essential tips for your micro influencer marketing strategy.
What is a Micro Influencer?
The follower range can vary, but Upfluence, an influencer marketing tool, defines a micro influencer as someone with less than 15K followers — though the sweet spot is usually somewhere between 1K to 10K followers.
With a smaller audience, niche content, and a more relatable brand, micro influencers generate more engagement than influencers with hundreds of thousands of followers, according to a study conducted by Upfluence and Influencer Marketing Hub.
Micro influencers play an essential role in building brand awareness, generating engagement, and conveying authenticity in today's social media landscape.
The Benefits of Working with a Micro Influencer
If you're considering working with influencers but are on the fence about what type of influencer to partner up with, here's how a micro influencer can benefit your brand.
Better engagement
Since Instagram is the most popular platform for influencer marketing, let's compare the average engagement rate of an influencer with a micro influencer.  According to our benchmark report, influencers have an average engagement rate of 1.18%.
Micro influencers, on the other hand, have a much higher engagement rate of 3.86% on Instagram, according to data from Upfluence.
Simply put, when it comes to driving engagement, micro influencers rise to the top.
Niche audience
Because of their smaller audience and niche point of view, micro influencers not only reach more people, but they tend to have more influence. Data from Socialbakers found that micro influencers have a 20% higher conversion rate compared to bigger influencers. And one reason for this could be their niche focus that attracts a very specific audience.
Take #bookstagram, for example. The influencers in this corner of the internet are dedicated to sharing book reviews and recommendations with their community of avid readers, most of which fall into a similar target demographic.
If you take a look at the comments in the post below from micro influencer @raquelisreading, it's clear that one snapshot of the books she's reading is enough to send her followers straight to the bookstore.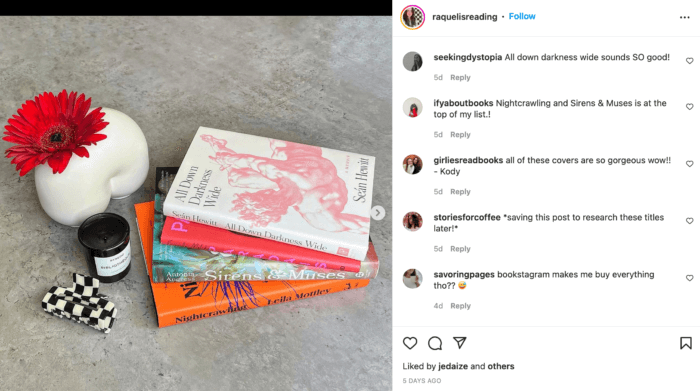 And not only do they share 'gram-worthy photos of books, but book influencers are not afraid to share honest reviews of the books they feature. Simply put, if you're looking for a book recommendation, you'll likely trust the reviews of a micro influencer who's solely dedicated to this subject.
Book influencers are just one example of how micro influencers build trust and expertise around their brands. And because of the credibility they've established, micro influencers may limit who they partner with and won't work with as many brands as some of the bigger influencers might.
So when they do form a brand partnership, it's usually very aligned with their personal brand and their followers are more likely to trust their promotion.
Good at community building
Consider this: An influencer with over 100K followers on Instagram is bound to get hundreds of comments on each of their posts. Even if they tried, it would be hard for them to respond to everyone and form connections with their audience.
A micro influencer, on the other hand, may get 30 or so comments on each of their posts — but they're going to reply to them all, answer questions, and participate in genuine conversations.
This authenticity makes it easier for them to build community around their brand, and subsequently, your brand as a brand ambassador.
5 Tips for Your Micro Influencer Marketing Strategy
If you're ready to start reaching out to influencers and launching campaigns, here are five tips to help your micro influencer marketing strategy succeed.
1. Have a clear goal
As with any marketing strategy or program, there needs to be a clearly defined goal for your influencer strategy before you dive in.
Ask yourself these questions to make sure your influencer initiatives will align with your overall social strategy:
What is your overall goal on social media? Generating brand awareness? Establishing trust? Converting followers to customers?
How can micro influencers help your brand reach that goal?
Do you have a budget to dedicate to influencer partnerships? If not, can you provide other perks?
What types of results will you be measuring from influencer campaigns?
For example, let's say you're marketing a relatively new organic beverage brand. Since there's a lot of competition in the beverage space, your goal is probably to increase brand awareness in order to break through the crowded space and grab the attention of potential customers. In this case, you'll want to partner with micro influencers who can not only generate engagement, spark curiosity, and drive followers to your page, but whose brand values align with yours. The best influencers to work with are the ones who can naturally amplify your product without coming across too sales-y.
No matter what your objective is for working with influencers, getting clear on your goal beforehand will ensure that you are tracking the right KPIs for your campaigns and can accurately measure campaign performance.
2. Know your brand
Influencers will amplify the brand messaging you provide, so it's essential to get crystal clear on your message *before* partnering with micro influencers.
A good place to start is by defining your brand values. Having clearly defined values helps lay the foundation for everything else to come, from finding the right influencers to establishing content guidelines to developing campaign messaging.
This micro influencer partnership between Daysmith Coffee and influencer Jamie Lindsay is an example of strong brand alignment.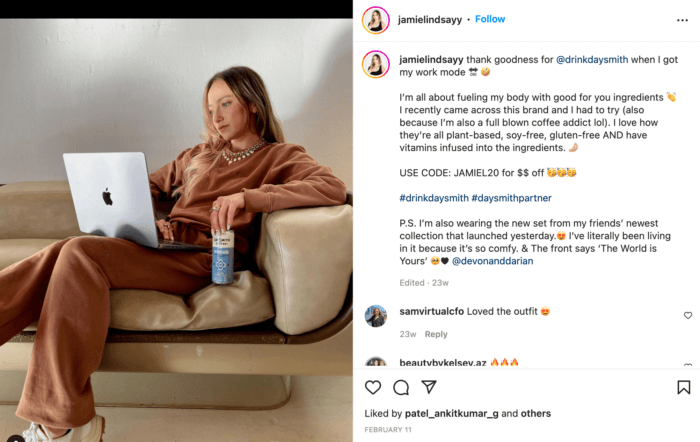 Daysmith is a plant-based coffee drink made with vitamins and nutrients that are meant to help you power through your day.
In the post above, Jamie can be seen drinking the beverage while working. She also mentions the brand's key differentiators (plant-based, soy-free, gluten-free, and contains vitamins) in the caption. It's clear that not only does Daysmith have its brand messaging down to a T, but the brand knows how to partner with influencers who can communicate that messaging authentically.
Partnering with micro influencers who are aligned with your brand's values is key to any micro influencer marketing strategy because influencers who share similar brand values will help convey authenticity.
3. Choose the right influencers
Once your goals and brand messaging are in place, you can begin your search for the best micro influencers to partner with.
There are several ways to find influencers (more on that below), but choosing the right ones will come down to brand alignment and numbers. When you have a few people in mind, check out their content to see if their approach, tone, style, and audience match up with your brand and target audience.
When it's time to reach out, ask them to share their engagement rates or check out their website to see if they have a media kit that shares key numbers like content creator Gabby Phi does on her website, as outlined in the blue box below.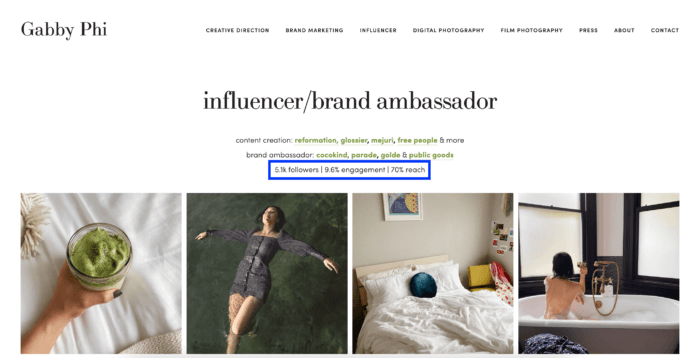 4. Determine the details
You've found the perfect micro influencers to represent your brand and you have clear goals for your influencer campaign — now it's time to nail down the details.
First is compensation. Research industry standards for payment to ensure you're on the right page before diving into a potential partnership. If you don't have the budget to pay the micro influencers you partner with, consider what else you can offer them. Perks? Product? Keep in mind that the bigger the influencer, the less likely it is that they'll accept anything other than monetary compensation. After all, a ton of work goes into content creation!
Next, figure out the campaign duration and what you want the influencer to deliver during that time. Do you want them to create one feed post and four stories? Or maybe you'd rather them create a Reel instead. Consider the engagement rates of each post type, the work involved on their end, and what would position your product in the most impactful way.
5. Always measure the results
Once you've launched your campaign, track the results using a social media analytics tool.
Monitoring and measuring content performance lets you know what's working and what's not. You can use these insights to adjust your micro influencer strategy going forward and determine whether you want to continue working with certain influencers or partner with new ones to reach a new audience.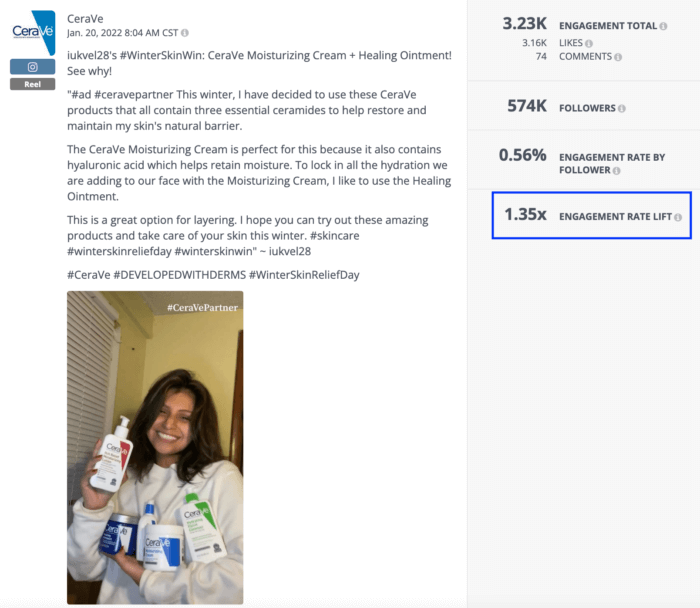 For skincare brand Cerave, our analysis shows that the micro influencer partnership above performed 1.35x better than the brand's average posts. This metric lets Cerave know what's working well and is essential to track if the brand plans to continue working with this micro influencer and similar creators.
Pro tip: If a campaign post performs well, you can also consider amplifying it by boosting it on Instagram (check out the example from Malin + Goetz).
How to Find Micro Influencers to Work With
The right influencers can make a big impact on your brand campaign.
Once you're ready to launch an influencer campaign, here are a few ways to find micro influencers to work with.
Turn to your customers
First, find your fans. Look for people who already use your product and are advocating for it on social media. Why? People who are actively promoting your brand are a natural fit for an influencer partnership because they are essentially brand ambassadors.
Since they already like and promote your brand on their page, an influencer marketing campaign will come across more authentic to their followers who have witnessed them use your products before.
The process of finding these loyal fans is similar to how you'd search for user-generated content. Browse through your tagged photos, your branded hashtag, and any conversations happening around your brand.
If you look through Glossier's tagged photos on Instagram, for example, there are several people who are creating content using Glossier products, as shown in the blue boxes below. This would be a good opportunity for Glossier to scope out their profile and see if they'd be a fit for a micro influencer partnership.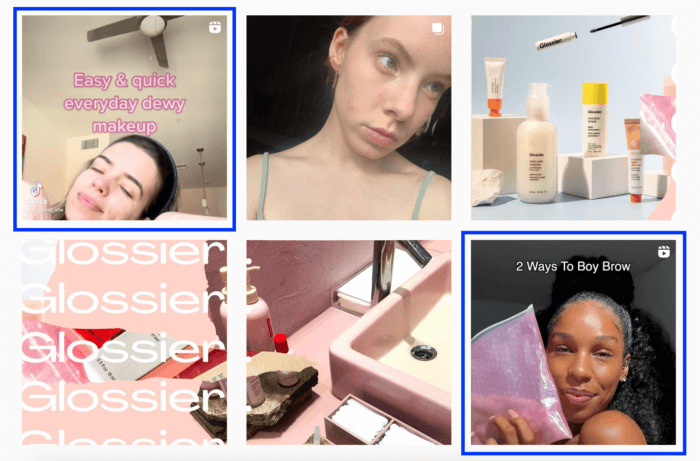 Find your target audience
Next, look for influencers who fit your target demographic. Maybe they haven't mentioned your product before, but they've worked with similar brands. As a starting point, scope out your competitors to see if they've worked with any micro influencers and if those influencers may be a good fit for your brand.
You can also find influencers who fit your target market by searching through hashtags. You can start by searching for hashtags that are relevant to your brand and audience, or try a more broad search by searching through hashtags like #microinfluencer and #discoverunder10k to find content creators with smaller audiences.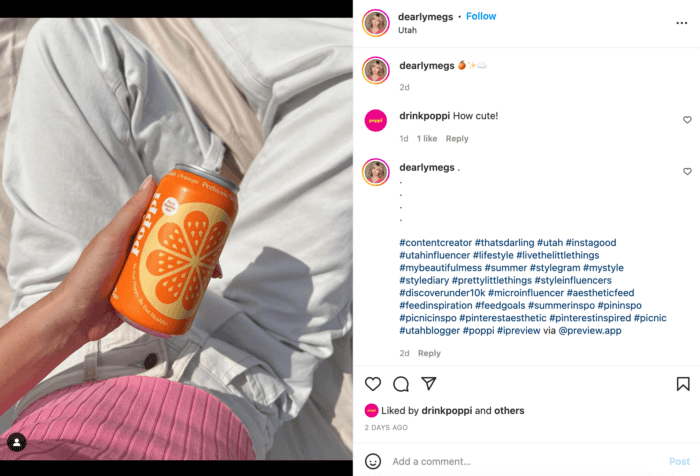 Use influencer marketing tools
Finally, if you've already searched through the resources you have on hand, you can also leverage a tool to broaden your discovery.
There are a number of influencer marketing tools you can use to not only find relevant influencers, but also track and analyze their engagement, manage relationships, and measure their performance including:
Wrapping it Up
The power of micro influencers can't be denied. As consumers continue to rely on social media to discover new brands and products, micro influencers can be the element your marketing strategy needs to reach your target audience and grow your customer base.
As you work on your micro influencer marketing strategy, it's crucial to always be listening, analyzing, and measuring so you can find and partner with the best creators for your brand.