If you've ever spent time tapping through different Instagram profiles, you've probably noticed a neat feature called Instagram Stories Highlights. Placed on prime real estate right under the bio, Story Highlights have become an important marketing tool for capturing attention and promoting one's brand.
To help you reap the benefits of this feature, let's deep dive into what Instagram Stories Highlights are, how to create your first Highlight, and the best ways to achieve and measure success.
What are Instagram Stories Highlights?
Instagram Highlights take your Stories to the next level by allowing them to be viewed past the first 24 hours. Located right under your profile bio, Highlights are curated collections of your Stories — both old and new — that are easily and indefinitely accessible for users to view.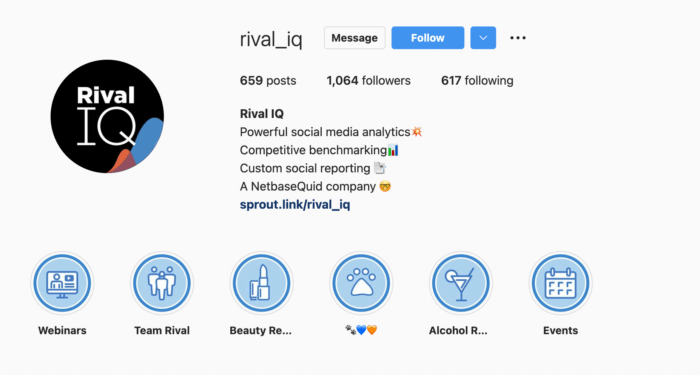 With Instagram Stories Highlights, you have complete control over what kind of topics you want to focus on and which Stories to include. This makes them a powerful marketing tool for expressing your brand and communicating core messages to current, new, and potential followers.
As the name suggests, Highlights are a way to highlight and showcase the content that's most important to your brand and followers. They encourage engagement by making it easy for your audience to see and interact with the Stories they're most interested in while also allowing your Stories to continue earning views and engagements way past the original 24-hour limit.
In other words, Instagram Stories Highlights are a must-have feature for any business intent on getting the most out of the social media platform. Here's how to get started.
How to create an Instagram Stories Highlight
Before getting started with Highlights, you'll want to make sure that your Instagram account is set to archive your Stories automatically. This ensures that all of your Stories are saved and available to be added to your Instagram Stories Highlights.
To do this, go to Settings, then Privacy, then Story, and toggle on "Save story to archive."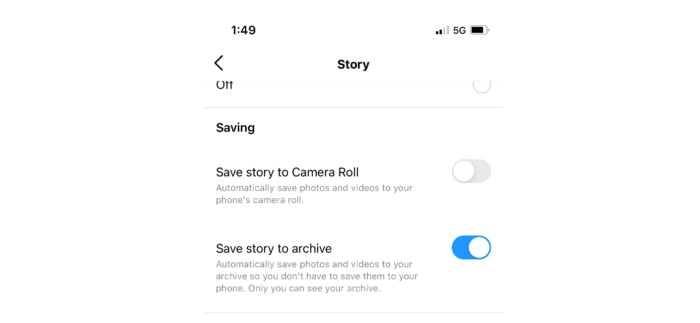 Once you've confirmed that the setting is on, you can start creating your first Instagram Highlight!
There are two ways to create a Story Highlight. Let's take a look at both.
Option 1: Create a Story Highlight from your profile
The first option is to create a Highlight from your archived Stories. Unfortunately, this method will not work if you haven't posted any Stories since "Save story to archive" has been on.
Go to your profile on the mobile app and tap the + or New button located under the "Story highlights" heading.

Select the Stories that you want to be included in the Highlight. Note that while you can have as many Instagram Highlights as you want, each individual Highlight can only include up to 100 Stories. Tap Next when finished.
Title your Highlight and edit your cover image. (We'll go into detail about these steps below.)

Tap Add and you're done!
Option 2: Create a Story Highlight from an active Story
You can also create a new Highlight from an active Story. This is the main option for those who don't have any archived Stories to add.
View the active Story that you want to add to a Highlight.
Tap on the Highlight button in the bottom right corner of your Story.

Title your new Instagram Stories Highlight and then tap Add.

Editing your Instagram Stories Highlights
To make changes to your Highlight, simply tap and hold the Highlight on your Instagram profile and select the "Edit highlight" option. From there, you can edit the name and cover photo of the Highlight, as well as add or remove the Stories included.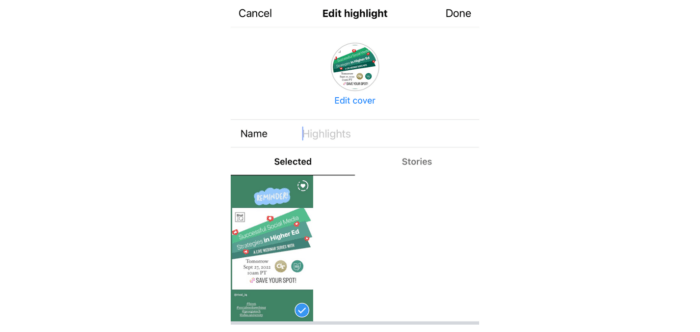 Instagram Highlights: Names and Covers
When it comes to naming your Highlights, keep it short and impactful. While there's a 15-character limit, know that the title displayed on your profile gets cut off at around 9 characters. Using a single word, acronyms, and emojis have become popular tactics to say more with less on a Highlight's title.
Getting strategic with your Highlight covers is another way to communicate what each Highlight is about. Being the static image that users first see within the circle of a Highlight, covers are a great way to capture visitors' interest, express the content of each Highlight, and strengthen your brand identity.
Fast Fact: On your profile, your Highlights are arranged left to right in order from the most recently updated to the least. Because the arrangement can change often, avoid names or covers that require your Highlights to be in a certain order.
When you first create a Highlight, Instagram will default to making your cover the earliest-dated Story that's been selected. Fortunately, you also have the option of uploading your own customized covers! While you won't be able to design your cover on Instagram directly, there are plenty of graphic design applications you can use to create custom covers. Canva and Adobe Express are two popular options that have countless templates to help you get started.
With Instagram Highlight covers, businesses are encouraged to get creative and create covers that allow them to maintain cohesive branding — a key Instagram best practice that can help with performance on the platform. Hermès, for instance, created custom covers that alluded to their artistry while incorporating recognizable brand elements like its signature orange and logo.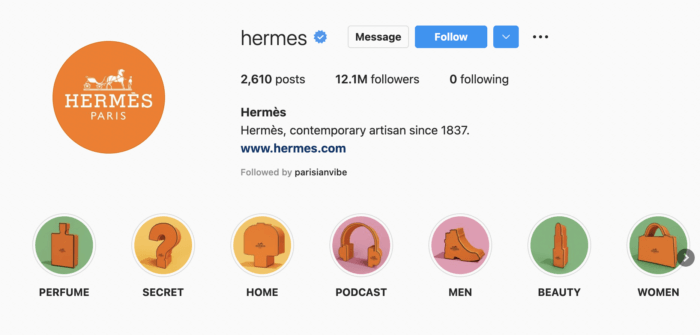 The New York Times, on the other hand, takes a text-heavy approach with its covers — a move that makes perfect sense considering its role as a newspaper.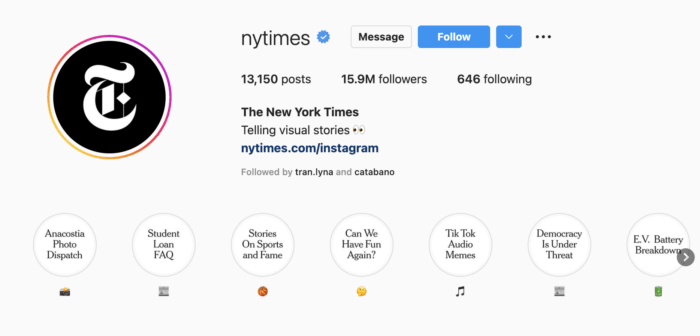 As you can tell, there's no one right way to approach Instagram Highlights Covers. Whether you want to use high-quality product shots or branded icons, the sky's the limit. As always, just make sure to keep your goal, audience, and brand identity in mind.
How Instagram Stories Highlights boost engagement
Now that you know how to create your very own Instagram Highlight, let's explore different ways that you can use this feature to earn more engagement on Instagram. Here are six ideas to get you started.
1. Pin exciting announcements
Keep big news at the top of your Instagram profile by creating a Highlight for major announcements. This could be anything from the opening of new locations to the celebration of major company milestones. For instance, the official Instagram of UNIQLO USA has a Stories Highlight dedicated to showing off its New Arrivals.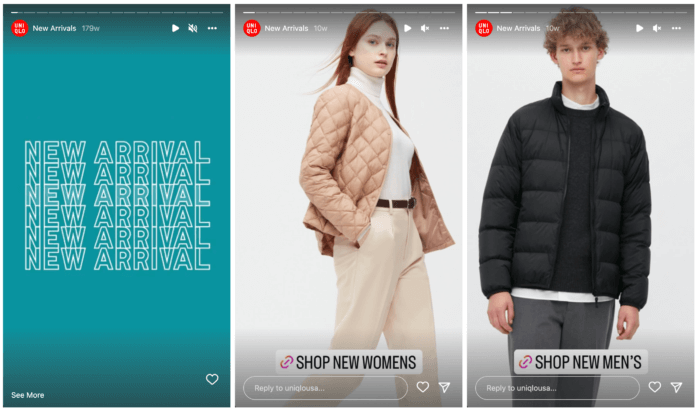 Since a Story or post can easily get buried by other content, creating an Instagram Stories Highlight is key to making it easy for your followers to learn about good news or important announcements. A quick visit to your profile and it's all right there for them to tap through!
2. Be a source of inspiration
Try using Instagram Highlights to compile creative ways your customers can use your product or service. The idea is to show off the kinds of solutions and results that your brand can help bring to life. In doing so, you'll give your customers a reason to regularly return to your page and engage with your Stories.
The beauty brand launched by Halsey, about-face, does this through its "HALSEY" Highlight. By posting photos of the artist's creative makeup and breaking down how to get the look with its different products, the brand essentially created an idea bank for fans to regularly access and interact with.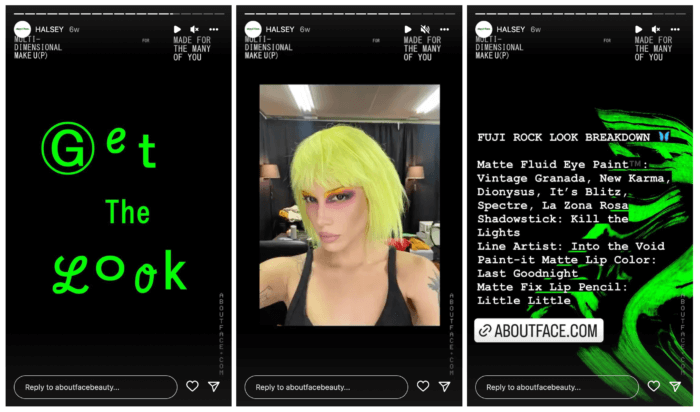 3. Provide educational resources
Do you post helpful information about your product, brand, or industry on your Stories? From tutorials and recipes to fact sheets and explainer videos, posting these kinds of useful resources is one of the best ways to provide value to your followers and keep them engaged.
With Instagram Stories Highlights, you can compile those resources into one organized Highlight that users can refer to, engage with, and share long after the initial 24 hours.
The kind of educational content that works best will be different from business to business. Generally, though, you'll want to focus on what's relevant to your customers. Catering to their followers' interest in Hawaii, for example, Hawaiian Airlines created the "ʻŌlelo Hawaiʻi" Highlight, a helpful guide to everyday Hawaiian words.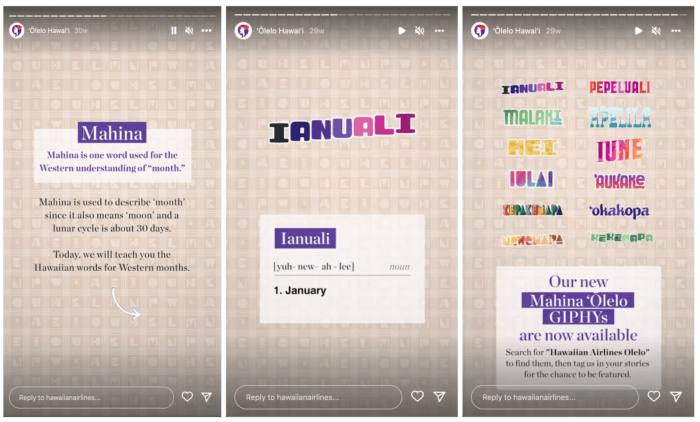 Notice how the airline even created custom stickers for Instagram users to post and share on their own Stories. Shareable elements like those help boost a brand's visibility as they are seen by more and more people.
4. Answer FAQs
Instagram Story Highlights are also the perfect place to "store" the answers to frequently asked questions. This could take the form of a dedicated FAQ Highlight or you could create multiple Highlights that address different topics.
The product-focused approach that Glow Recipe took below is one option you could try. Filled with Stories where the skincare brand answers questions about its new gel cream, the "Guava Eye" Instagram Highlight is an easy-to-access resource for Glow Recipe's curious customers.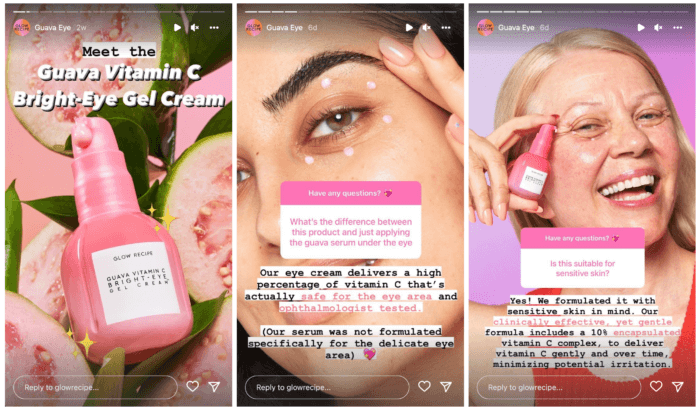 5. Go behind the scenes
Giving customers a peek behind the curtain can help spark conversations, build credibility, and generate support. Reveal what goes on behind the scenes — whether it's the design process or hilarious conversations between coworkers — and then save those Stories to a Highlight so that new customers can get a deeper understanding of your brand.
Oskar Blues Brewery did just that with its "Production" Highlight, a series of Stories that give customers an inside look at the process and culture behind its craft beer.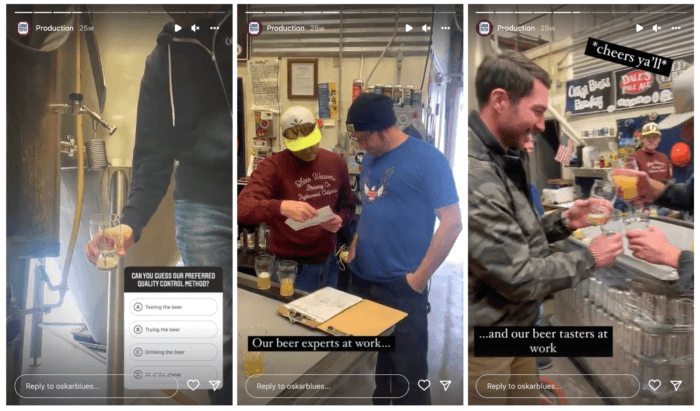 6. Showcase positive reviews & testimonials
There's nothing like glowing reviews to get potential customers interested. Consider creating an Instagram Story Highlight that showcases all the positive things your customers have to say about your brand. The Stories could include anything from video testimonials to written reviews.
Iowa University certainly understood the assignment with its "Why Iowa" Highlight. Spotlighting all the reasons why students decided to attend the university, the Highlight is the perfect tool for grabbing the attention of prospective students and convincing them to choose Iowa.
How to measure success with Instagram Stories Highlights
As with any marketing effort, you'll want to keep an eye on how well your Instagram Stories Highlights perform to ensure that your efforts are contributing to your goals.
Because Highlights are made up of Stories, measuring their success is no different from looking at your Story analytics. Check out Instagram's guide to viewing account insights to learn how to look at your numbers in the app.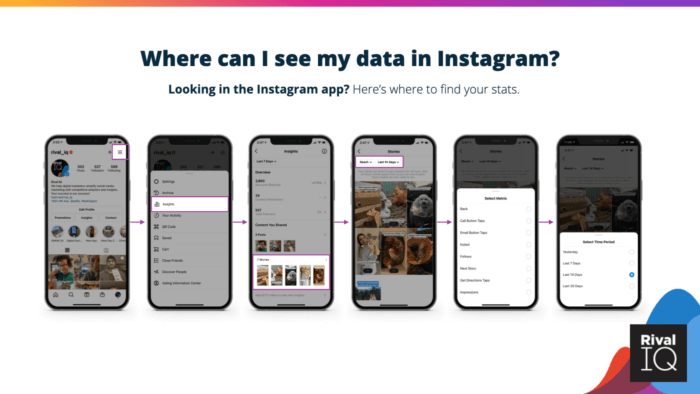 Ready to see all of your Instagram Story analytics at a glance?
Top Instagram Stories metrics to know
As a social media platform that's always rolling out new features and updates, Instagram has plenty of unique terms and metrics that marketers need to stay on top of. Let's get into some of the most important metrics for Instagram Stories.
Retention Rate. This is the percentage of your Story viewers that have stuck around through any given frame of a Story. Unaffected by Instagram's algorithm, this rate is a powerful indicator of just how engaging your content is.
Story Reach Rate. Calculated by dividing Story viewers on any given day by your follower count, this rate is the percentage of your followers who are actually seeing your Stories. Highlights are great for improving this metric since they allow your Stories to be seen long after the initial 24-hour timeframe.
Tap-Forward Rate. A slightly tricky metric, this rate is the percentage of your impressions that have a tap forward to see the next photo or video. A viewer tapping forward could either mean that your content is so engaging that they couldn't wait to see the next frame or that they've had enough and want to move on.
Tap-Back Rate. This is the percentage of your impressions that have a tap backward to see the previous photo or video again. A high tap-back rate is a good sign as it indicates that the viewer was interested enough in your content that they wanted to go back to view and engage with it again.
Reply Rate. This metric is the percentage of your Story viewers that replied to your frame on any given day. While this could be positive or negative depending on the nature of the replies, a high percentage of replies certainly suggests that your content was attention-grabbing.
Exit Rate. An indicator that your content may not be as engaging as you hope, the exit rate is the percentage of your impressions that exit your Stories by swiping right, swiping down, or closing Stories.
These metrics are significant because they show you just how engaging your Story content is. It's also a good idea to see how well your Instagram Stories are doing in comparison to other top brands. Check out our Instagram Stories Benchmark Report to get a better idea of your strengths and weaknesses when it comes to your Stories.
Wrapping It Up
Ready to boost your performance on Instagram? Incorporate these Instagram Stories best practices, follow this guide for creating your Instagram Highlights, and you'll be on your way to amplified reach and engagement in no time.