Instagram has become a powerhouse among social media platforms, capturing the attention and creativity of millions of users. And it's not just individuals who are making their mark on the photo and video-sharing app. Nonprofit organizations are also harnessing its potential to raise awareness, engage supporters, and make a positive impact.
Building on the insights from our Top 100 Nonprofits on Social Media report, we'll be diving into the world of nonprofits on Instagram and shining a spotlight on the top organizations excelling in this space and what we can learn from their success stories.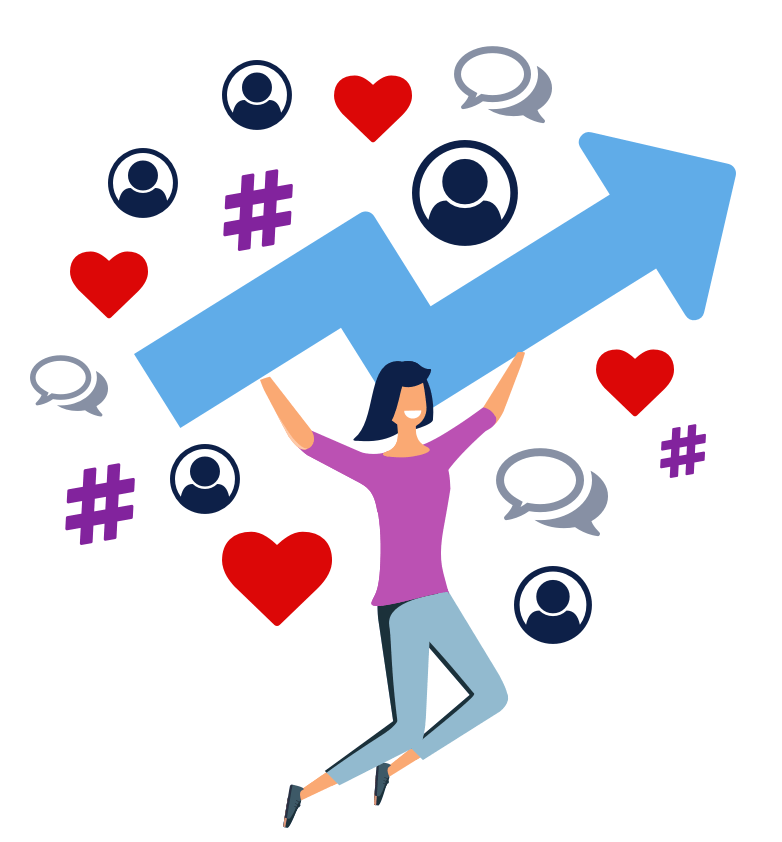 Whether you're part of a nonprofit wanting to amplify your presence on Instagram or are simply interested in the ways these organizations are leveraging social media marketing, this blog is here to help. But first, let's take a look at the broader landscape and check out the top 10 nonprofits on this famous social network.
Top 10 Nonprofits on Instagram
We analyzed the data to bring you the top 10 organizations making an impact on Instagram. So, who made the list?
These organizations made waves on Instagram, often surpassing their peers in terms of engagement rate, posting frequency, or both.
Median Engagement Rate by Follower for Nonprofits: 0.52%
Median Posting Frequency for Nonprofits: 4.7 times per week
With these benchmarks in mind, let's shine a spotlight on three stellar examples of nonprofits with standout approaches to their Instagram strategy.
3 Nonprofits with Instagram Strategies that Shine
Bat Conservation International: Saving the Bats With Humor & Hashtags
Bat Conservation International (BCI) stands out as a prime example of how to use humor and creative content to foster a deep connection with followers while advocating for its cause of bat conservation.
Bats, often misunderstood creatures, are portrayed in a lighthearted and endearing manner in BCI's Instagram posts, helping dispel common myths and misconceptions while making the audience care about these fascinating animals.
BCI understands that humor can be a powerful tool to capture attention, break down barriers, and connect with other people. By incorporating witty captions, playful memes, and amusing visuals, the organization makes learning about bats an entertaining and enjoyable experience.
Take, for example, the post below, which uses a fun meme format to provide facts about the creatures and encourage the audience to save bats. The strategy worked wonders, earning an engagement rate that was 37x greater than the median.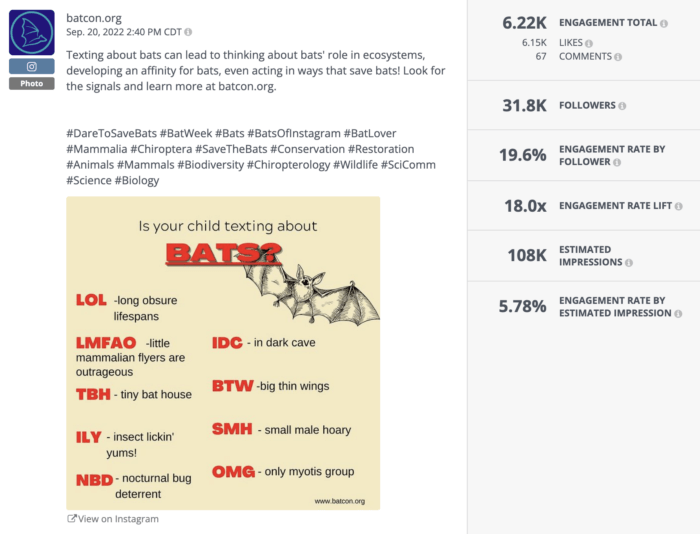 BCI's fun and charming portrayal of bats is combined with its effective use of hashtags. Each post is accompanied by a well-curated set of hashtags that strike a balance between bat-specific tags and more general yet relevant hashtags. This allows its posts to be discovered by both bat enthusiasts and potential supporters casually exploring content on Instagram.
For instance, in the month of October, the organization acknowledged bats' close association with Halloween, hashtagging #halloween and #spookyseason on the post below, which poked some good-natured fun at bats' fascinating noises and earned a whopping engagement rate by follower of 166%, or 319x the nonprofit median.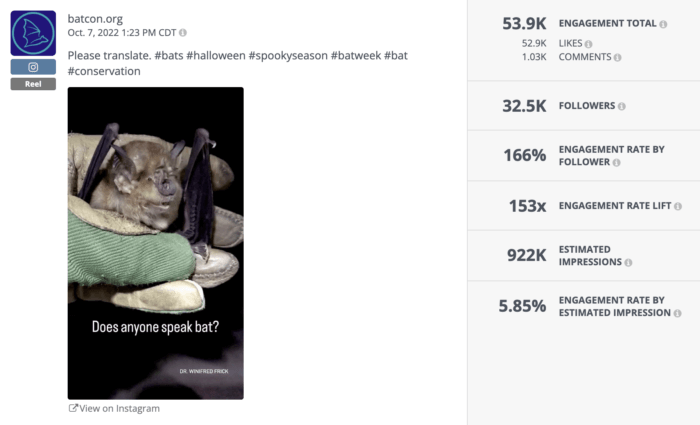 By incorporating humor, infusing creativity into education, and leveraging hashtags effectively, Bat Conservation International showcases the potential of social media as a powerful tool for raising awareness and rallying support for a cause.
Joffrey Ballet: Showcasing the Art of Movement
With captivating behind-the-scenes content and strategic use of video and trending audios, Joffrey Ballet has created a strong online presence that keeps audiences interested and engaged.
Joffrey Ballet's Instagram account strikes the perfect balance between offering glimpses into their creative process and promoting their shows with high-quality clips. By sharing behind-the-scenes content, they create a sense of intimacy and familiarity with their target audience, making them feel like valued insiders.
See how the Reel below offers a look into the "real" world of ballet and all the hard work involved. The video effectively humanizes the ballet experience, forging a deeper connection with their followers and earning an engagement rate that was 219x greater than the median.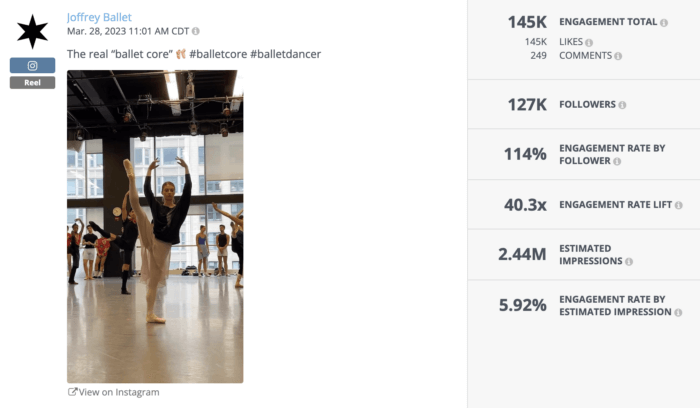 Meanwhile, high-quality clips of their shows effectively promote their productions by showcasing the beauty of their performances. Earning an engagement rate well above the median, the professionally filmed and edited Reel below shows how balancing your Instagram between behind-the-scenes clips and polished content can help make your Instagram feed more visually interesting.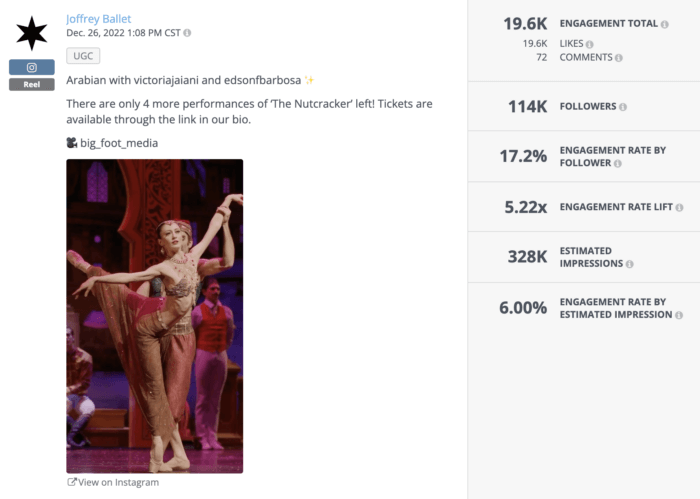 Note how Joffrey Ballet embraces Reels on this platform — an approach that's perfect considering the importance of movement in ballet. If your nonprofit has visually captivating elements, harness the power of Reels to engage your audience. Whether it's showcasing your projects, initiatives, or the impact of your work, videos have the potential to leave a lasting impression on your followers.
Elevating their content strategy even further, the ballet company seamlessly integrates popular trends into their social media content. This helps them stay relevant as they tap into broader conversations in popular culture.
For instance, in the first example, Joffrey Ballet flexed their expertise by chiming in on the "ballet core" trend. The organization also scored an impressive engagement rate — 67x the median! — with an entertaining Reel that showed how "each Nutcracker character would runway walk."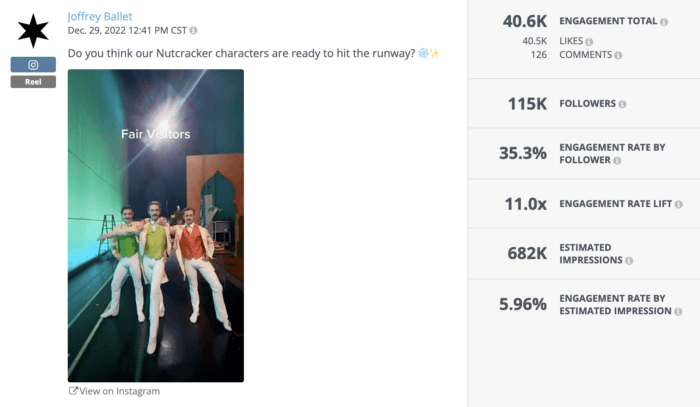 The takeaway? Keep an eye on trending topics and challenges on Instagram. Cleverly aligning your nonprofit's mission and content with these trends can be a great way to enhance your visibility and reach a wider audience.
United States Tennis Association: Engaging Tennis Lovers on Instagram
The United States Tennis Association (USTA) stands out as a shining example of tapping into its users' passions and creating engaging content. By understanding what its followers truly care about, the USTA has successfully carved its niche on the social platform, becoming a fan-favorite among sports enthusiasts and tennis lovers alike.
Sports lovers are often avid followers of statistics, and USTA smartly caters to this interest by regularly creating and posting infographics that highlight important stats. These kinds of posts not only satisfy the craving for statistical information but also serve as shareable content that sparks conversations among followers.
One striking infographic, which breaks down the exceptional achievements of tennis legend Serena Williams, was the USTA post with the most engagement within the last year, garnering nearly 100K likes and comments and an engagement rate 98x greater than the median.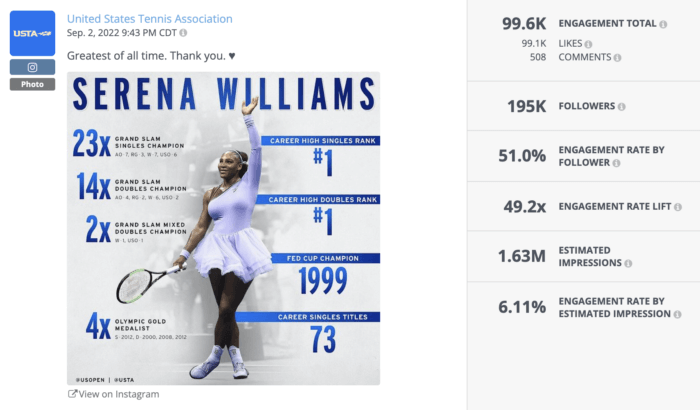 USTA also takes advantage of Instagram's Reels feature to create "highlight reels" of its own, featuring everything from entertaining fumbles to action-packed plays. By showcasing thrilling moments on the court, USTA enhances its appeal and keeps followers eagerly waiting for the next exciting clip.
Additionally, the association isn't afraid to infuse its posts with humor, creating a more relatable and authentic connection with its followers. By adding a touch of fun and lightheartedness, USTA adds personality to its brand and builds a more relatable relationship with its audience.
The Reel below is a great example of a post that combined the two strategies. Featuring player Ben Shelton reacting to a funny compilation of on-court tumbles, the Reel garnered 14K likes for an engagement rate that was 7x greater than the industry median.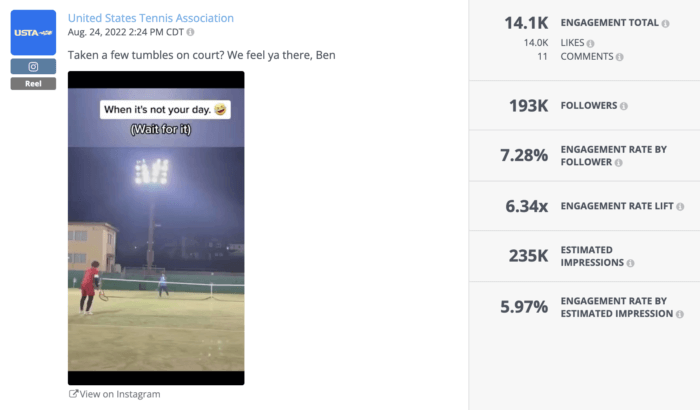 By understanding their target audience's interests and delivering content that resonates, the USTA effectively captures the essence of tennis, encouraging engagement, and driving their mission forward. Incorporating these best practices into your own nonprofit's Instagram approach can undoubtedly lead to increased engagement and a devoted community of followers.
The Wrap Up
As you optimize your nonprofit's Instagram strategy, remember the handy takeaways we've learned from these organizations. Experiment with different strategies and contents to find what resonates with your audience and aligns with your mission. Remember, it's a continuous learning process, so keep an eye on your analytics and refine your approach over time. With dedication and persistence, you're sure to make a significant impact on Instagram and beyond.