Instagram Stories best practices and benchmarks go hand in hand, so fans of our latest Instagram Stories Benchmark Report, this one's for you!
We rounded up our favorite Instagram Stories best practices and loads of examples to inspire you to try new things and expand your engagement on the world's most engaging social channel. This definitive list features copy, design, tech, and measurement tips to help you grab the most engagement with every Story.
Below, let's go over the more important Stories metrics to track and the best practices to follow if you want to amplify your reach and engagement on Instagram in 2023.
Let's go over the best practices you can follow to improve your Stories performance in 2023.
9 Instagram Stories Best Practices for 2023
1. Make the first few frames count
As we saw in our latest Instagram Stories Benchmark Report, retention in your first few frames is critical to keeping users engaged throughout the rest of your Story.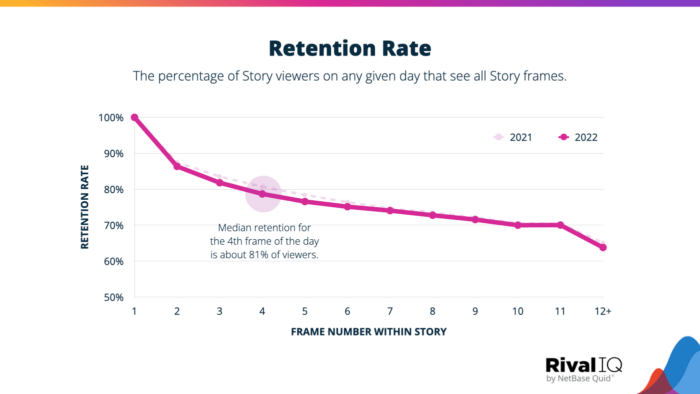 With that in mind, plan something extra special, visual, or attention-grabbing for your early frames. Some of our favorite ideas for this include videos that introduce the reader to what they'll be seeing or snappy frames that use the interactive elements we mentioned above.
The hook on this frame from ice cream brand Yasso encourages viewers to continue tapping through to learn how they can earn rewards. The brand also uses an enticing image featuring ice cream to help make its case — because who wouldn't be swayed by the promise of a sweet treat?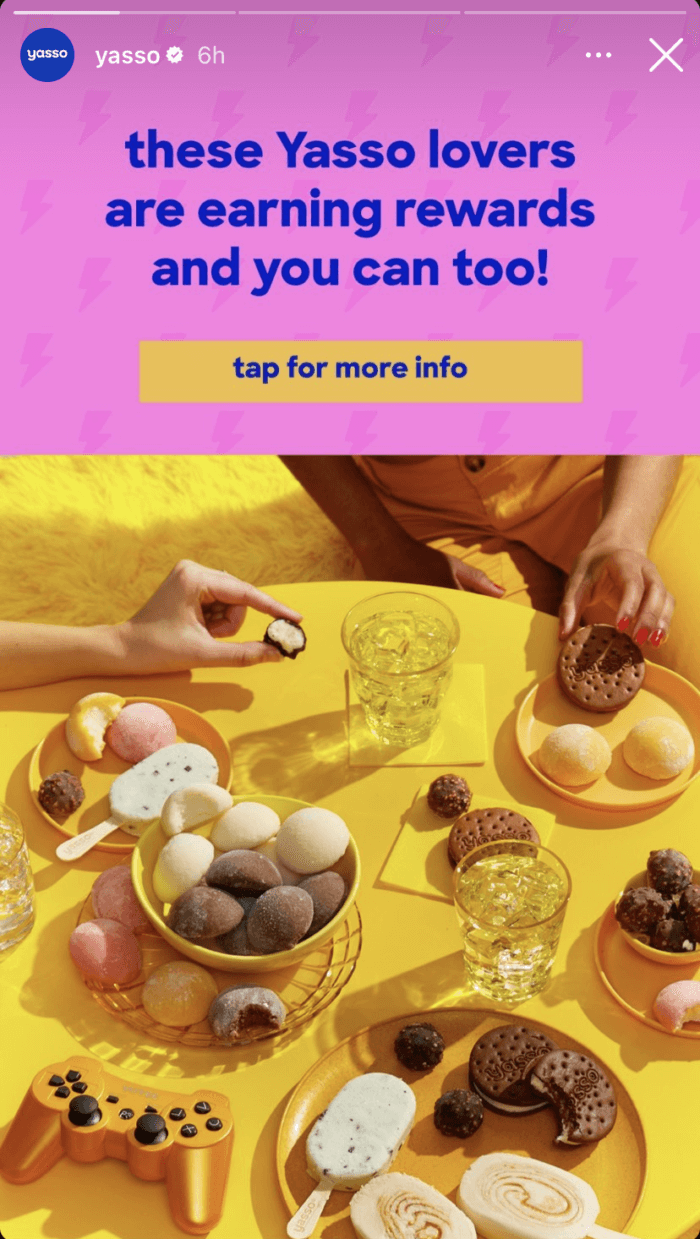 2. Use interactive elements like stickers and quizzes
We've all experienced Instagram Stories where you float from one frame to the next before exiting in disinterest. Give your followers something to do in your Stories by adding Interactive elements like quizzes, polls, emoji rating stickers, countdowns, and more. These engaging elements can also increase your reach rate. Not to mention, Instagram says that 60% of businesses using Instagram Story ads are using interactive elements to increase video view times and lower costs per click.
Aside from encouraging participation, another benefit of using interactive stickers like questions or polls is that you can gather more information about your followers and customers. Consider it a form of market research. For example, you can use a quick poll to see which product your followers prefer like the beverage brand Richard's Rainwater does in the Story below.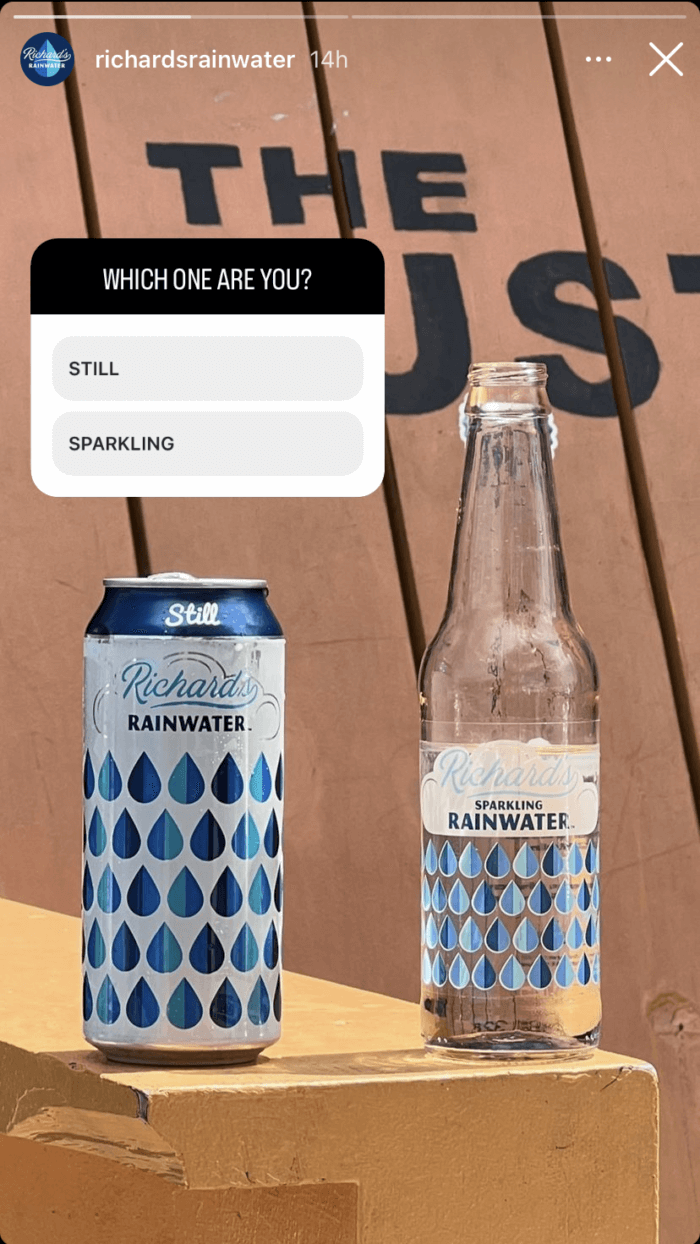 Another example of this best practice in action comes from top beauty brand Laneige. The brand used a questions sticker to answer followers' questions about one of its new products. This is a simple yet effective way to see what common questions people have and use that insight to create more content that addresses any questions or concerns.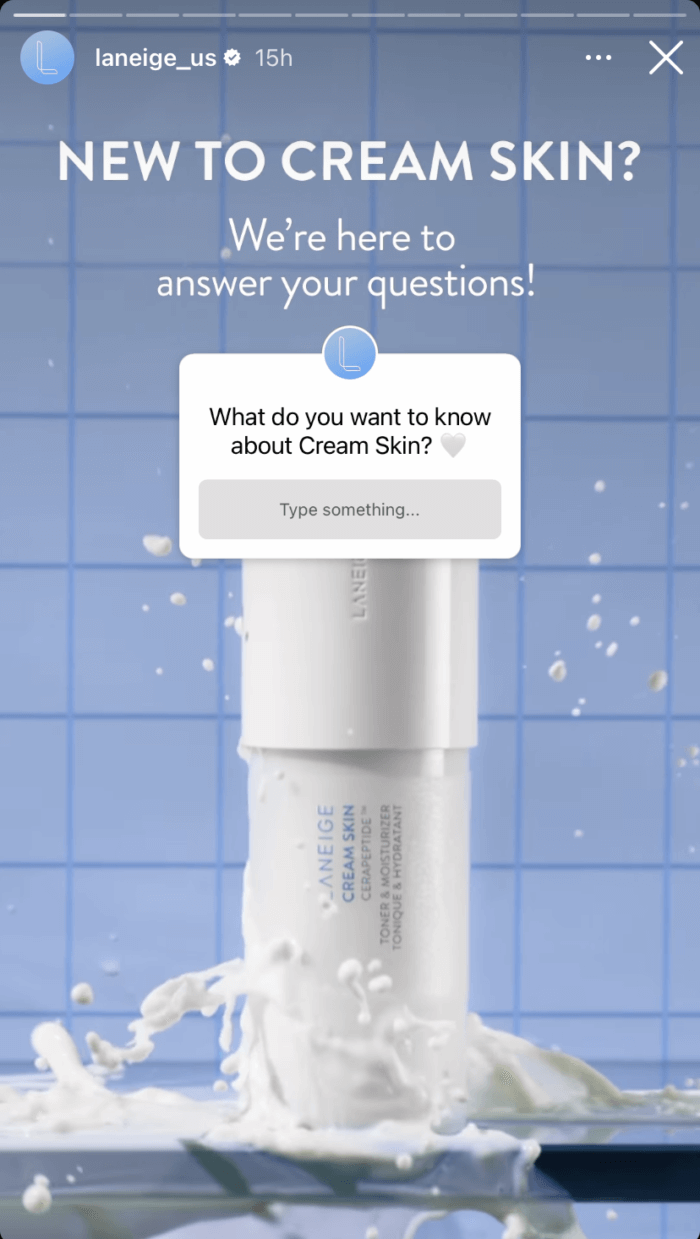 While Instagram limits the data from these interactive elements in their API, you can at the very least track sticker taps to see how much interest they got from viewers.
3. Drive traffic with links
Another sticker option that helps drive engagement for your Stories is the link sticker. Whether you want to drive traffic to a sign-up page or promote a new product, the link sticker is a great way to direct people directly to it with little effort on their end.
In this story from hotel and spa brand Miraval Resorts, the brand uses an aspirational image with a link sticker to share a booking promotion. The image gives viewers a glimpse of what their relaxing vacation could look like and the perfectly placed link sticker provides a clear call to action.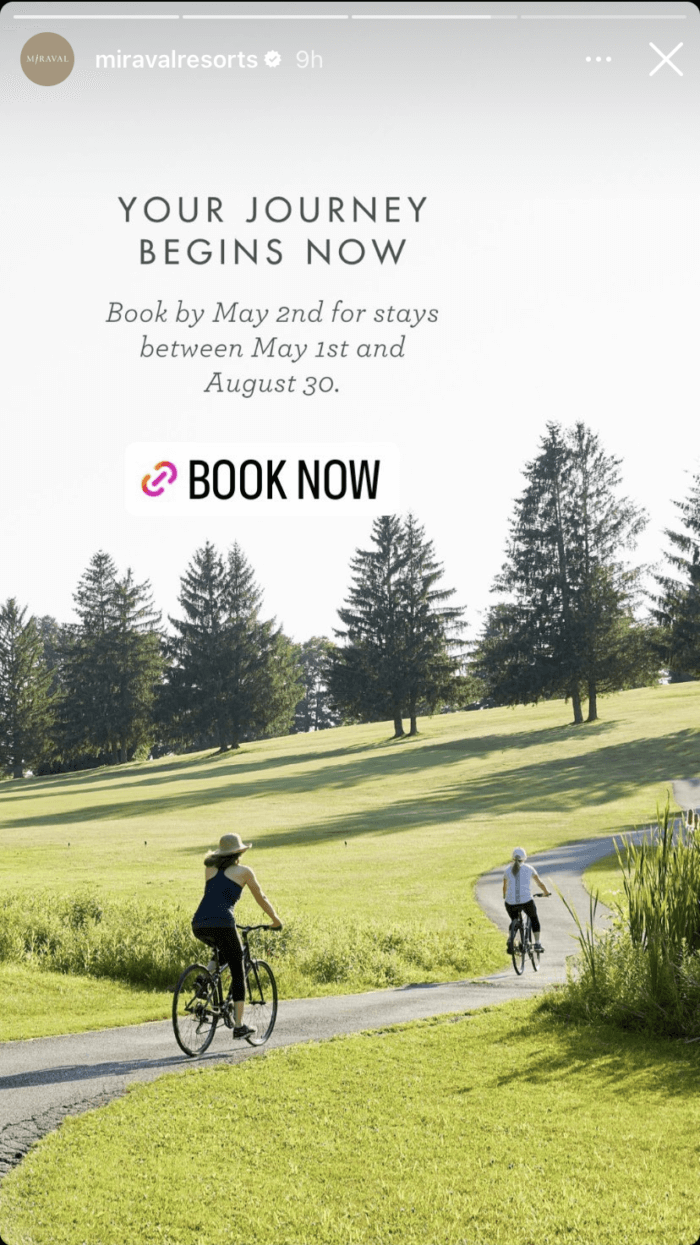 Do you have products to promote? Take inspiration from beauty brand Kosas. The brand used a link sticker to direct followers to a special product page for a sale it was running. This makes it easy for people to seamlessly shop and add to cart without ever leaving the app. Plus, the link sticker is integrated nicely with the image and colors, which makes the frame even more compelling.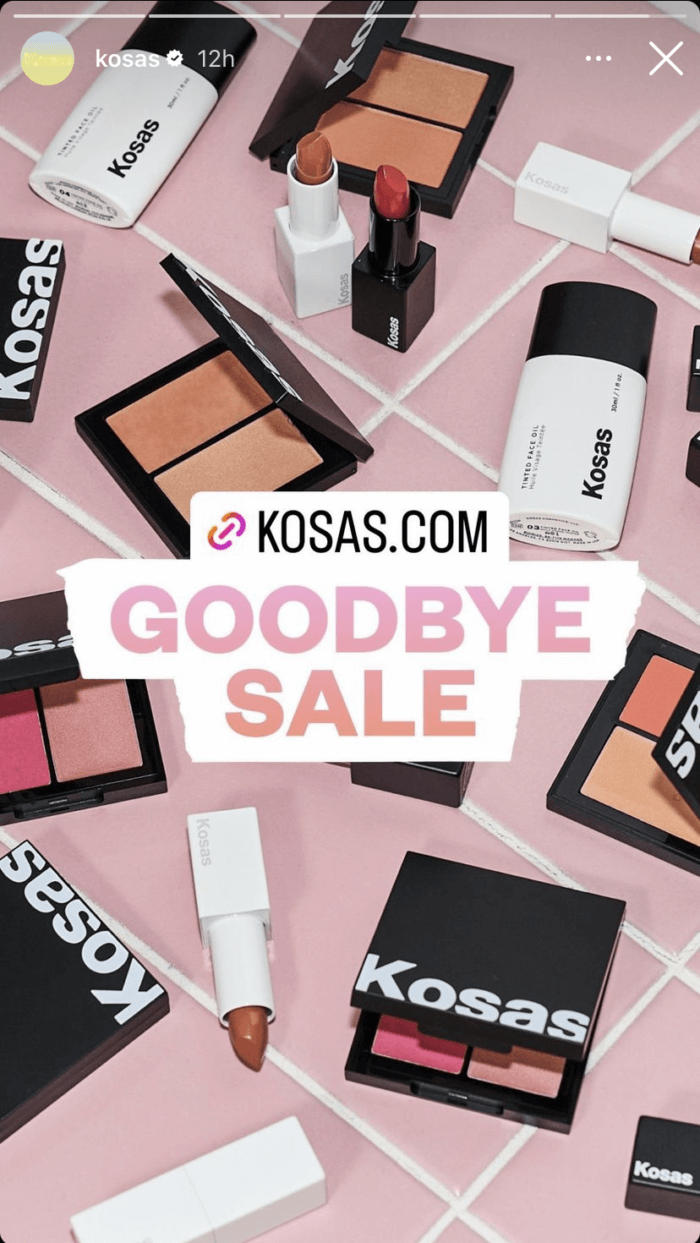 4. Have a throughline to keep users tapping forward
While a compelling first frame is important, it's important not to give away the whole farm. Treat each frame like a chapter of your favorite mystery novel and help your followers understand exactly why they can't miss the next frame in your Story. Adding several frames that tell a story can impact your tap-forward rate, which is the percentage of Story impressions that have a tap forward.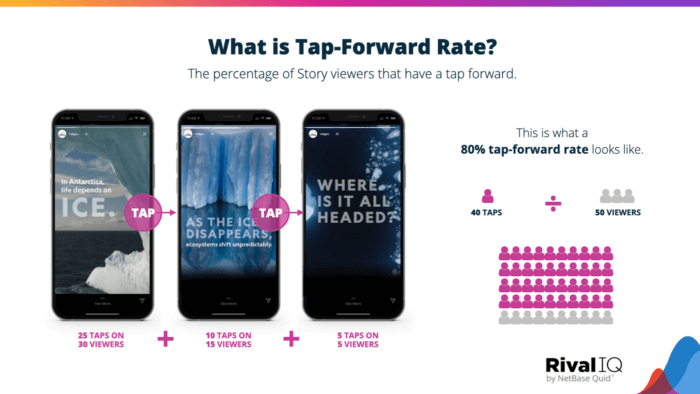 Using multiple images that tell a story — like a before and after reveal, for example — is a great way to motivate users to stay with your Story. You can also break up your copy blocks over multiple frames using short sentences or ellipses to keep people with you. As a bonus, before and after frames also encourage tap-backs to compare, which leads to even more Story engagement!
Our favorite Instagram expert Sue B. Zimmerman also recommends adding intro and outro frames to your Stories so people know exactly what's in store for them.
5. Don't be afraid of long text blocks
I know I just told you not to put everything in one frame to increase retention, but believe it or not, long text blocks can help keep people around too. If you've ever seen a frame with a long text block, you know that a good way to consume that text is to tap and hold the frame so it doesn't advance until you're done reading.
In the Story below from skincare brand, Dr. Dennis Gross, the frame includes a few paragraphs that explain the ingredients and benefits of one of its products. If you're a fan of the brand or are interested in learning more before becoming a customer, there's a good chance you'll tap and hold this frame to consume this info. The visual aspects like the clean background, big text blocks, and pops of color also make this information easier to digest as a viewer.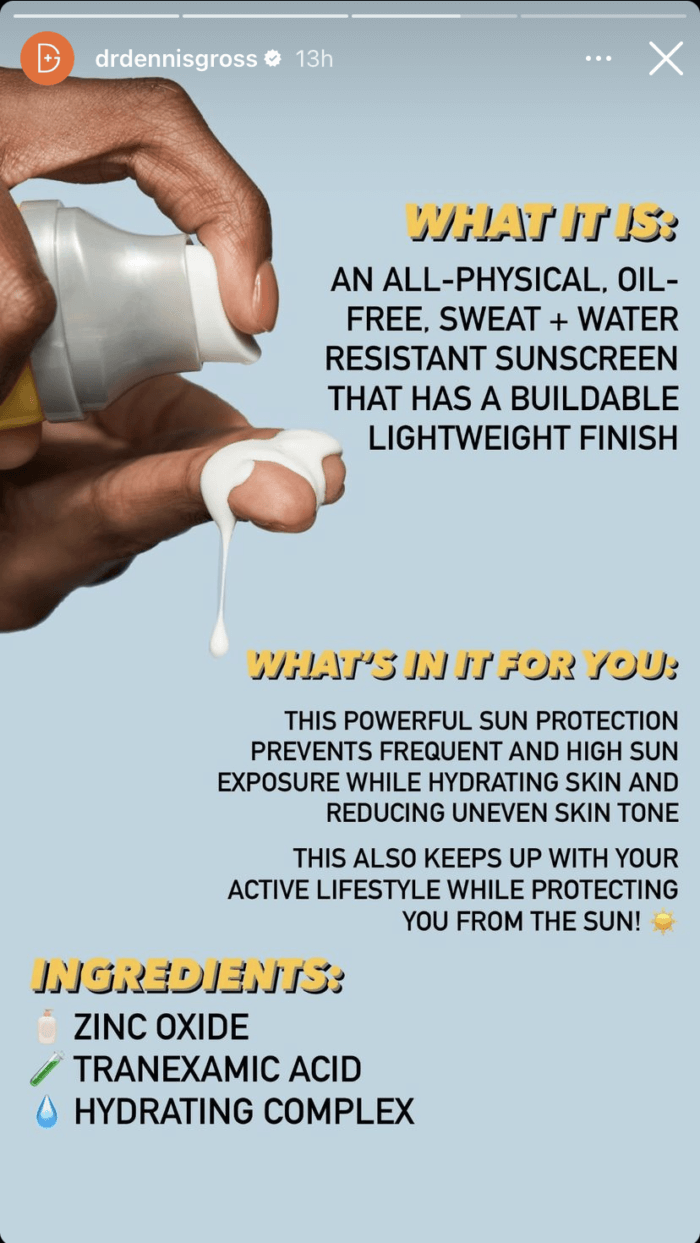 Use the tap-and-hold method to increase the time your user spends on a frame. This tells Instagram that the user is engaged with your content and makes it more likely that Instagram will serve up your stuff in the future.
6. Video matters (even if it's lo-fi)
As Instagram continues to prioritize video, it's a good idea to incorporate as much video into your Stories as you can.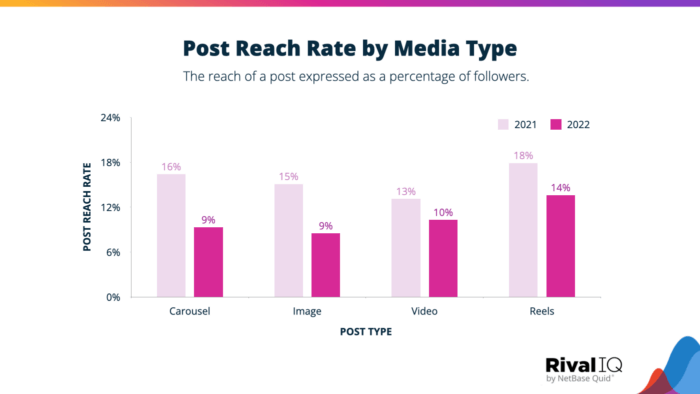 As you can see in the graph above, video reaches more people than static images. While this graph from our Stories report is in reference to post reach rates, it still makes the case for incorporating more video into your Stories. 
Why? Photos are consumed in the blink of an eye and lead followers to move quickly to your next frame, leading to more taps forward. A strong video can hold a viewer's attention for the full duration of the video (up to 60 seconds), which helps keep them engaged and ready for your next frame.
Don't be intimidated about using your phone to grab a quick video: Instagram Story viewers aren't expecting a perfect and polished video. Instead, give them something real and of the moment to help them connect with your brand. Bonus: If it makes sense, add music to your Stories to hold viewers' (or listeners') attention even longer like beverage brand Poppi does below.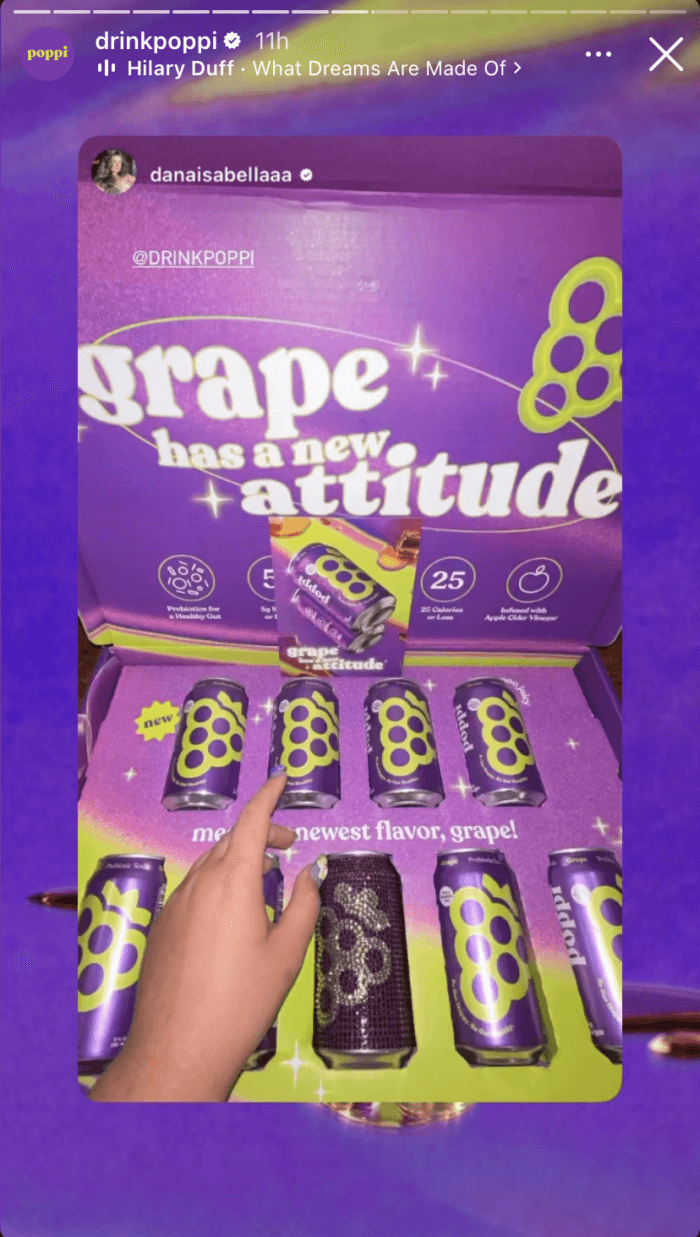 7. Use hashtags and locations for more discoverability
Many of us spend hours scrolling through Instagram's Explore tab for Stories and posts Instagram thinks we'll like, and the most surefire way to show up there is by using hashtags and locations. (My Explore tab is chock full of houseplants 🌵). These simple additions to your Stories help Instagram categorize your content and more easily show it to people whose interests align with your brand even if they aren't currently followers.
Plus, when you use a location tag on your Story, your content will be associated with the public information for that tag and account. In the Story below from iconic fashion brand DVF, the brand took viewers inside an event the brand was having. Viewers could tap the location tag to see where it was taking place and learn more about the museum.
8. Keep a consistent look and feel
You don't need an ad agency or a professional video shoot to be successful with Instagram Stories, but a consistent color scheme or font can help clue viewers into your brand. In these Stories from National Geographic, the consistent black-and-white imagery not only helps tell a story, but it's also in line with the media brand's overall branding.
These simple color and font choices can go a long way to making you recognizable and trustworthy without looking overproduced. Don't worry about jamming your logo into every frame or spending thousands on a new video setup–just keep things consistent so your viewers can instantly recognize that they're viewing a Story from a brand they know and love.
 9. Be accessible and inclusive
Ensuring that everyone can consume your Stories regardless of physical ability or access to headphones makes good sense for both your bottom line and your karma, so use simple tools to make your Stories accessible. Use captions and/or thoughtful frame descriptions so every viewer can follow along.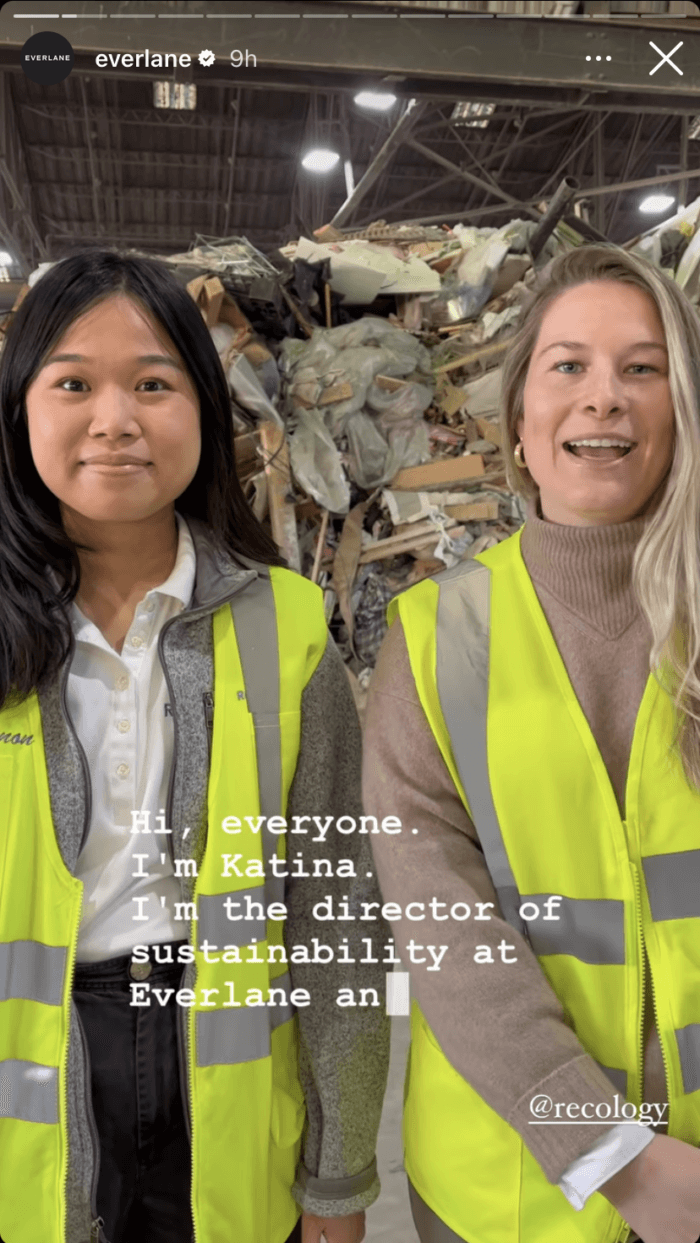 In the video above, Everlane uses Instagram's auto-generated caption feature to easily caption its Instagram Story which features two people talking to the camera. Captions allow those who are deaf or hearing-impaired to consume your Stories. Captions also help followers of all abilities engage with your Stories even when they can't play videos with sound, like at a sporting event or the library. In fact, one study found that 75% of people watch mobile videos on mute. This means adding captions should be a priority if you want a majority of viewers to enjoy it.
The most important Instagram Stories metrics
There are many ways to measure success on Instagram Stories, but here are a few of our favorite metrics. Review these metrics over time to see how strategy tweaks affect your success, and don't forget to compare your progress against industry benchmarks to see how you're really doing on Instagram.
Retention Rate:

The percentage of your Story Viewers on any given day that sees all your frames.

Reach Rate:

Your Story Viewers on any given day divided by your follower count, expressed as a percentage.

Tap-Forward Rate:

The percentage of your impressions that have a tap forward to see the next photo or video.

Tap-Back Rate:

The percentage of your impressions that have a tap backward to see the previous photo or video again.

Reply Rate:

The percentage of your Story Viewers that replied to your frame on any given day.

Exit Rate:

The percentage of your impressions that exit your Stories by swiping right, swiping down, or closing Stories.
We like these metrics because they give a really clear picture of the number of people who are engaging with your Story as well as how engaged they are. If you're rocking your retention rate, that's a great indicator that your content is resonating with your followers. If all of your followers are exiting your Story quickly, that means you need to tweak your content.
How to measure your Instagram Stories success
Anyone with an Instagram business or verified handle can easily access Story analytics going back seven days in the native Instagram app. Instagram has a handy primer on how to view your Story analytics.
When measuring the success of your Stories, use the metrics we mentioned earlier to see how your efforts align with your goal. For example, do you want to use Stories to drive more traffic to product pages using the link sticker? Analyze how many sticker taps your frames with links had. Bonus: see if any of that traffic converted to sales. 
Don't forget to download our Instagram Stories Benchmark Report so you can compare your Stories performance to tons of top brands. Why benchmark? Because audience size matters. Our brand-new benchmark report helps you see if your Instagram Stories best practices are helping you get ahead of comparable brands instead of just a channel-wide average.
Wrapping it up
We hope this round-up of our top Instagram Stories best practices inspires you to try new things. Just like on any channel, our best thinking is experiment, measure, repeat. Try one (or more) of these new strategies for a week or a month, and then turn to external measurement tools like Rival IQ or internal ones like Instagram Stories questions and polls to see whether you're making an impact on your engagement.
This post was originally published in April 2020 and has since been updated.