It's no secret that Instagram is one of the biggest social media platforms out there. With more than 1.21 billion monthly active users, Instagram has become an essential digital marketing tool for connecting with your audience and improving brand awareness.
With countless companies flocking to the platform to market their products and services, though, how do you stand out from the crowd and get more eyes on your brand? How do you boost your reach?
We've got some tips for you. Here are 11 strategies to supercharge your Instagram reach and expand your audience.
What is Reach?
First, it's important to emphasize that Instagram reach refers to the number of unique users that see your post. This is different from impression, which is the total number of views on a post. A post that was viewed 10 times by one user, for instance, would have generated 10 impressions but only have a reach of one.
For companies concerned with growing their audience and maximizing brand awareness, reach is an essential metric to track since it lets you know how many different people are seeing your posts.
As long as you have a business or creator account, Instagram will report your reach as part of its Insights feature. You can see how many accounts you've reached in general, as well as the reach of a particular post, video, Story, or Reel. To check out those numbers, simply view your Insights from your profile or a specific post. Instagram has several guides on how to navigate to your Insights on their Help Center.
You can also see your Instagram Insights with an all-in-one social media analytics tool like Rival IQ, which displays not only your Instagram reach but countless other essential metrics through detailed and visual reports.
11 Tips to Boost Instagram Reach
Instagram's algorithm, or its system of rules, classifiers, and processes that determine what posts appear in each person's feeds, greatly affects your reach. This system is complex, but we do know that it strives to personalize the user experience by showing the most relevant and engaging posts based on each user's activity.
So, what does that mean for brands looking to grow their reach on Instagram? Knowing your audience and delivering engaging content is more important than ever. Try implementing these 11 strategies for increased reach.
1. Post at the right time
While Instagram feeds are no longer organized chronologically, timing is still an essential part of getting seen.
Instagram's algorithm tends to highlight new posts because they're considered more relevant. Posting new content when your following is most active also increases the chance that they'll see your post and interact with it. This jumpstarts a snowball effect where posts that earn high engagement quickly are deemed popular and served to more users by the platform.
The best times to post will depend on your unique audience and industry. Luckily, you can easily find the days and times that your followers are most active using Instagram Insights.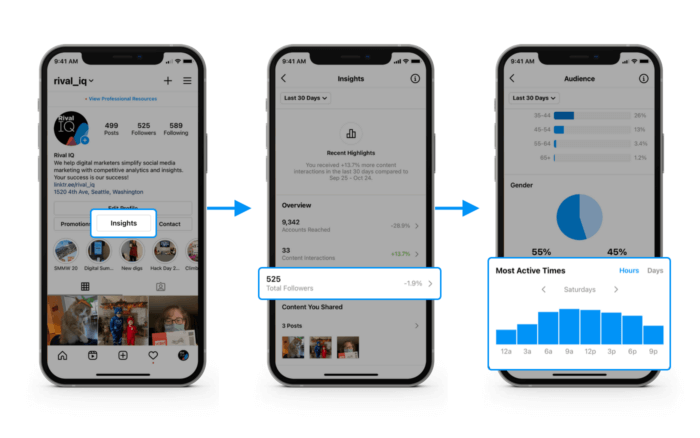 To understand more about your industry and your competition's posting schedule, check out our insights into the best times to post on Instagram for 14 key industries across North America.
2. Experiment with different types of posts
Instagram has come a long way since its inception. Once limited to just static single images, users now have a lot more options in terms of the types of posts they can share, including carousel posts, videos, Reels, Stories, and more.
Try experimenting with these different types of posts to figure out what resonates with your audience the most. What kind of content gets the most eyes on your account? Which type of post tends to draw the most engagement? Why do you think that is?
Maybe you'll find that your followers love to interact with and share the funny Reels you post. Or perhaps they're big fans of the aesthetically-pleasing carousel posts of your products. Find out what works for you and adjust your social content strategy accordingly.
3. Get smart with hashtags
Hashtags are a great way to have your posts discovered by people outside of your following who may be interested in the kind of content you're posting.
When it comes to your hashtag strategy, prioritize quality over quantity. Though Instagram does let you put up to 30 hashtags per post and up to 10 hashtags per story, thoughtlessly stuffing your posts with hashtags is rarely an effective approach. Instead, focus on finding hashtags that are relevant to your brand and generate high levels of engagement from your audience.
Luckily, there are handy tools that make hashtag research much easier. Rival IQ's hashtag analytics equip you with the data you need to identify the most engaging terms and track their effectiveness as you use them.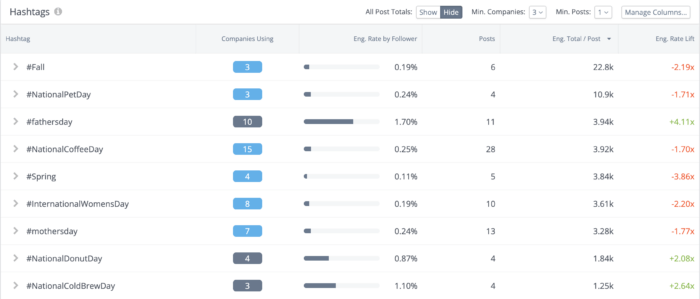 Ready to start analyzing your performance on Instagram?
4. Reach multiple communities with Instagram Collabs
One of Instagram's features — Instagram Collabs — lets you expand your reach by having your posts be exposed to another user's community of followers. Collaborations in general have long been a popular strategy for reaching a new audience, but this feature makes doing so on Instagram a breeze by eliminating the clutter of duplicate posts.
With Instagram Collabs, a single joint post is shared with each collaborator's community of followers and lives on each collaborator's profile grids with both accounts tagged at the top. The Collabs post also enjoys combined views, likes, and comments.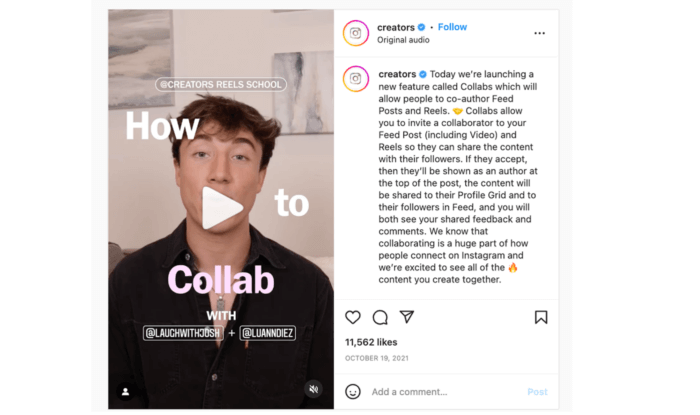 As the original author of a post, you can invite up to 20 collaborators and have your post seen by up to 20 additional communities of followers. From partnering with other brands to collaborating with influencers or your customers, this feature opens up countless opportunities for boosting your reach.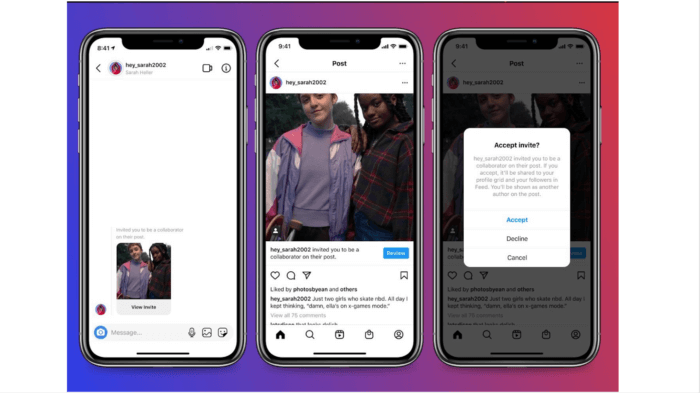 5. Encourage engagement with contests and giveaways
Another way your brand can expand its reach on Instagram is by hosting contests and giveaways. Engagement-focused contests can signal to the algorithm that your post is worth serving to others while also boosting your reach by good ol' word of mouth.
Most effective Instagram contests or giveaways provide an incentive for people to interact with the post by having entries be tied to particular actions, especially those that'll get more eyes on your brand. Asking your audience to follow your page, tag a friend in the comments, or share the contest to their Story are some popular ways to do this.
Owala and EF Ultimate Break's collaborative giveaway is a perfect example of how these kinds of posts can impact your Instagram performance. With more than 25K comments filled with tagged friends and 8K likes, this post had an engagement rate by follower that was 36 times higher than the average engagement rate of Owala's other posts this year (as of this writing).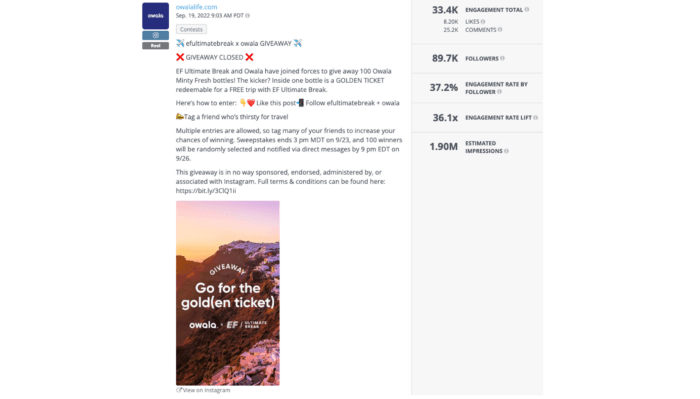 We also want to point out that Owala and EF Ultimate Break smartly utilized Instagram Collabs and made the giveaway a joint post to expand their reach even further. The insight here? Don't hesitate to combine several reach-boosting strategies to amplify their effect.
6. Use interactive stickers on your Stories and Reels
Instagram's algorithm is designed to reward engagement. So, what better way to encourage your audience to engage with your posts than by leveraging the platform's interactive stickers?
Available on both Stories and Reels, these stickers are designed to spark participation from viewers and, as a result, signal to the algorithm that your posts are engaging and should be served more prominently on users' feeds.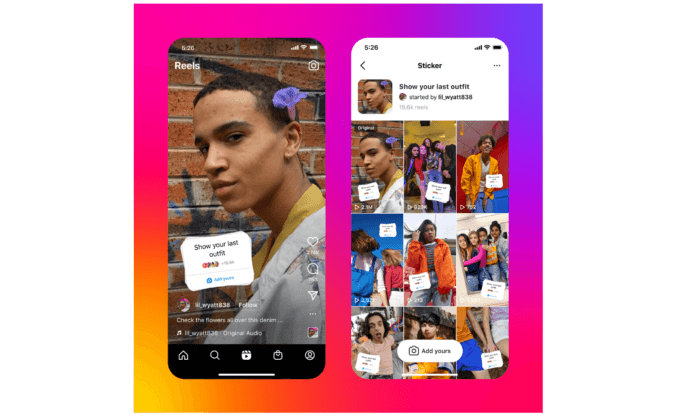 Here are just some of the interactive stickers you can use:
Poll Sticker: Ask your followers to pick between two options with a poll they won't be able to resist answering.
Quiz Sticker: Kick it up a notch with multiple-choice questions that test their knowledge or pique their interest.
Emoji Slider Sticker: Maybe things aren't as simple as A or B (or C or D…). Let your followers show you how they feel based on a sliding scale.
Add Yours Sticker: This sticker lets viewers add their own photos or videos to their story according to your prompt.
Question Sticker: Give your followers free rein to ask questions or answer your prompt through a text box. You can then share and respond to their question in another Story. (Not currently available on Reels.)
Hashtag & Location Stickers: Make it easy for curious users to discover more posts related to interesting hashtags or locations by adding these tappable stickers. Bonus: using them also helps your post show up in Search results and on the Explore feed.
For your audience, responding to most of these stickers is often as simple as a quick tap, making it a relatively low-effort yet fun interaction that they're likely to engage in.
7. Spotlight user-generated content
Posting user-generated content (UGC) is another great way to boost engagement and reach on Instagram. When you share UGC, the original users are likely to return the favor by resharing the post and having their own following engage with it.
Additionally, regularly highlighting user-generated content on your Instagram can encourage others to create similar posts that can be used to promote your brand. We wouldn't be surprised if a GoPro customer became inspired to post their own epic photos after seeing a GoPro UGC post like the one below.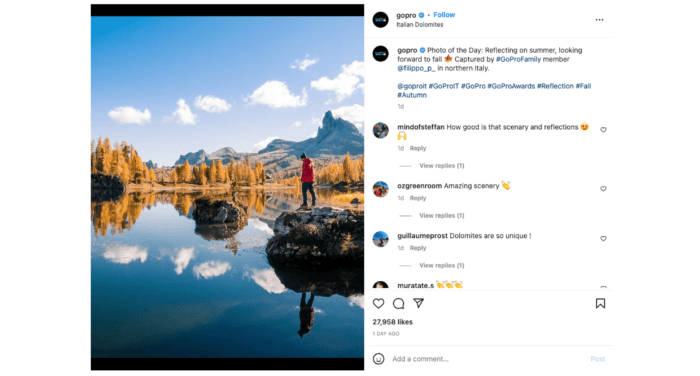 Moreover, sharing user-generated content can strengthen your brand's credibility, authenticity, and relatability. Posts from real customers — real people — tend to stand out as trustworthy and interesting amidst generic branded messaging. When people see posts they relate to on a human level, they engage.
8. Interact with your audience as an active Instagram user
It would make little sense for a brand to constantly request engagement just to leave its audience hanging. Communication is a two-way street. As people like, comment on, react to, and share your posts, don't forget to engage with them right back.
Like or reply to their comments. Interact with those who mention your brand. Reshare relevant posts that would add value to your audience's experience. In other words, be an active user! Go beyond simply posting by being a prominent and visible presence in your audience's Instagram experience and you'll naturally expand your reach over time.
9. Go Live
Here's a "hack" to get your profile displayed front and center on your followers' feeds: go live.
Placed at the beginning of the Stories feed and highlighted with a distinct "LIVE" label, live videos are hard to miss. This makes them one of the best ways to get more eyes on your account and boost brand recognition — an effect that occurs even if a follower doesn't watch the live.
This feature also has the added advantage of automatic post notifications. For users who have this setting enabled, Instagram sends out alerts when an account that they follow goes live. Unlike regular post notifications where they have to "subscribe" to a particular account, Live notifications can be sent out for any profile that they follow.
Want to maximize your reach even more? Apply our tip on collaborations here by utilizing Instagram's Live Rooms feature. Invite other users into your Live to reach their community of followers and partake in conversations for your audience to engage with in real time.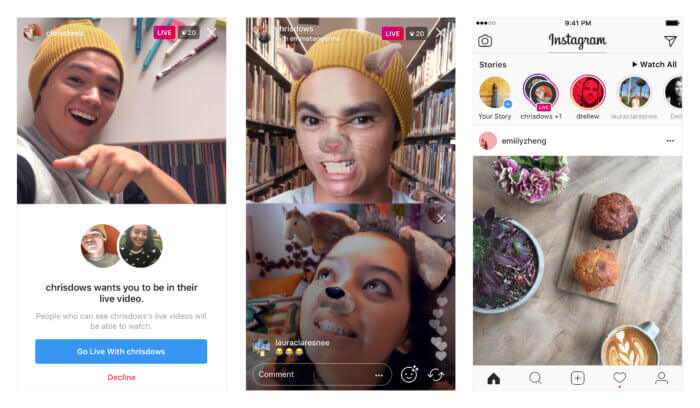 10. Amplify your reach with a boosted post
If you have the budget for it, you can also reach more people by putting some ad spend behind your Instagram efforts.
Referred to as boosted posts, these are Instagram posts that you pay to have shown to more people. They're different from paid ads in that they're created from already-published posts and have more customization options when it comes to targeting. This makes them a quick and easy way to have an organic post be seen by more people who are part of a specific audience.
You can head over to our post, How to Boost and Measure a Post on Instagram, for the nitty-gritty of how boosted posts work!
11. Track, analyze, and benchmark your performance
Regardless of which tactics you decide to implement, all efforts to boost reach must be accompanied by performance and strategy reviews. Your Instagram reach should be tracked over time so you can observe trends. It should be assessed in relation to your audience size, as well as in comparison to the industry benchmarks and your competitors' performance.
Think about it like this. Let's say that you've reached 10,000 users on Instagram this month. Is this number better or worse than it's been in the past few months? How significant is your reach in comparison to your follower count? Are you outperforming your industry and the competition?
Being able to answer these kinds of questions is essential for assessing whether your social media efforts are working and how close you are to meeting your goals. This is where powerful tools like Rival IQ come into play. With comprehensive reports, competitive insights, and more, we make it easy for you to understand your performance and find ways to be even better.
Wrapping It Up
Instagram has been a powerful tool for connecting with others for over a decade but it takes more than simply being on the platform to effectively reach your target audience. Instead, taking the time to understand your audience, produce content that inspires engagement, and strategically utilize the platform's features will be the best approach to boosting your reach.
Incorporate these 11 tips into your strategy, leverage analytics tools to help you make data-driven decisions, and you'll see your engaged Instagram community grow in no time.