Instagram hashtags are an important tool for reaching more fans and followers, but they're not always easy to wrangle.
Back in 2007, Twitter, then a relatively new and occasionally confusing social media platform, was experiencing a conundrum. Users' feeds were filled with tweets that they didn't care about. So, how could Twitter organize content in a better way? The answer was to use tags to separate and categorize content. Though the first proposed name of those tags was channels, they became known as we call them today: hashtags.
Since the introduction of hashtags, their use has only grown, making them an everyday staple among most social media platforms. Not long after Instagram launched in October 2010, the site adopted the hashtag, finding new ways to expand the use of the still new categorization device.
But as Instagram has grown, so too has its algorithm. Today, it can be challenging to keep up with what works on Instagram and what doesn't. And that includes the rules for hashtag usage. To expand your brand's reach, you're likely using hashtags, but whether or not your reach is growing depends on how you're using them. How can you know if what hashtags you're using are working? Analyze them.
How to Measure Your Hashtag Usage on Instagram
If you're working on a brand's Instagram, you should already have your account set to either a Business or Creator Account. Whether you want to use a Business or Creator Account is up to your discretion, but it's recommended that you use a Business Account if you are marketing for a business. A Creator Account is generally meant for influencers.
But whether you use a Business or Creator Account, you'll have access to similar analytics, which Instagram calls insights. To see how your hashtags on a post performed, go to that post and click "View Insights." From there, you'll be taken to a page called "Post Insights," which will show you information like your post's reach and engagement. Your reach will be broken down further into multiple categories, but if you want to see how your hashtags performed, take a look at where it says "From Hashtags" under "Impressions."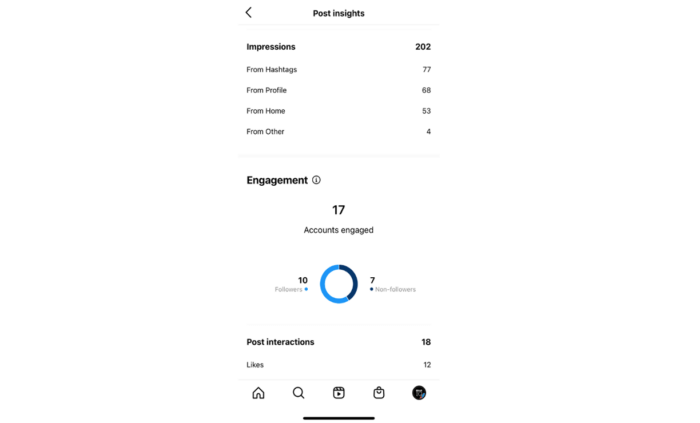 However, there's one small problem with analyzing your hashtag usage this way. You're looking at aggregate data instead of individual data. Say you run a coffee shop's Instagram and use #PumpkinSpice, #PSL, and #PumpkinSeason. Instagram will show you how many accounts you reached using all three hashtags, not just #PumpkinSpice alone. If you only used one hashtag in your post, this method of analysis may work for you. But if you tend to use multiple hashtags, you may have some trouble finding out which hashtags are the ones that are actually working.
Finding Hashtags on Instagram
Another way to find the best hashtags to expand your reach is to look at what your competitors are doing. However, Instagram won't just give you the hashtag analytics to a rival's account. You'll have to do some digging on your own. You can start by going to a competitor's Instagram and scrolling through their posts to find some common hashtags that they use. Then, plug those hashtags into Instagram's search bar to see more information and usage of the hashtag. You'll see how many other posts have used this hashtag, as well as how those other posts looked and performed.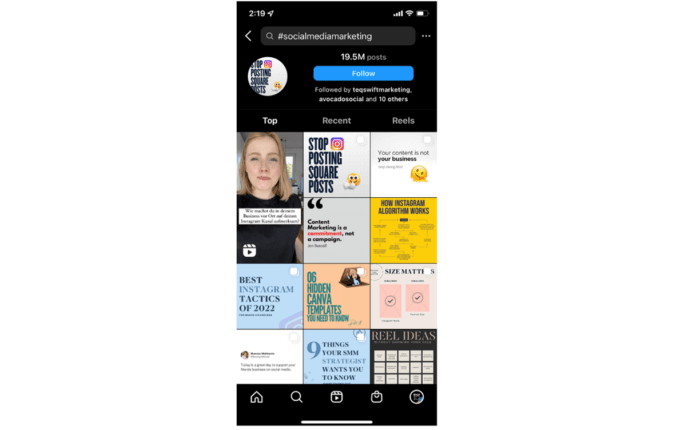 Keep an eye on the frequency of the usage of the hashtag. In the above screenshot, for instance, you'll see that #socialmediamarkteting has been used in 19.5 million posts, making this a pretty widespread hashtag. If a hashtag is seldom used, it might be because it's not a particularly popular category. On the other hand, if the hashtag is overused, your post may get drowned out.
Measuring Instagram Hashtag Usage in Rival IQ
As you can see, finding and analyzing hashtags on Instagram can be somewhat limiting. Luckily, Rival IQ breaks things down further than Instagram does. Let's go through how to find your hashtag insights on Rival IQ.
Start by creating a landscape. For this breakdown, we're taking a look at how different coffee companies have performed on Instagram. If you only want to look at how your brand is performing, you'll select "Show Only" and then your brand in the top right corner. For this exercise, we're pretending we're Starbucks. However, you can also select "All Companies," making Starbucks your focus company but still allowing you to see how your competitors are performing against your hashtag usage.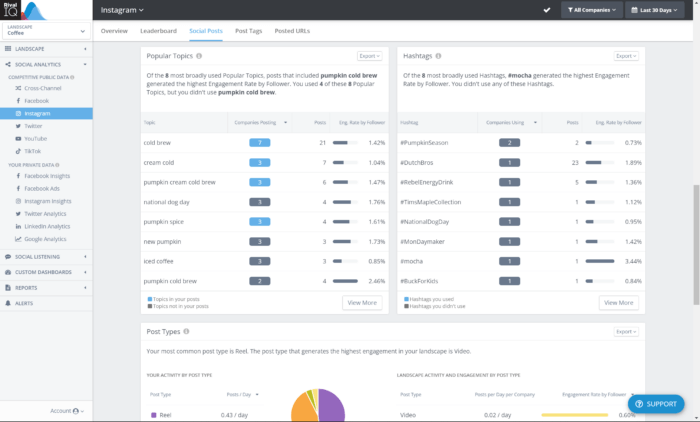 In the left-hand column, select "Instagram." Then, select "Social Posts" in the navigation bar on the top of the page that pops up. You should now be looking at insights into your social posts. This page will show you things like your engagement rate per post, how often you post, and how your hashtags are performing.
The first page you see will give you an overview of the top eight best-performing hashtags in your landscape. If you're looking at "All Companies," you'll notice that some of these hashtags are in blue, while others are in gray. You've used this hashtag in the designated time period if it's in blue. If it's in gray, one or more of your competitors has, but you have not.
While this page gives you an overview, you can go more into detail by clicking "View More." You'll now be able to see more information about how the hashtags performed, including the engagement rate by follower, how many times you or your competitor used the hashtag, and how the posts with those hashtags performed compared to your or your competitors' average engagement. Let's take a look at what the "View More" page is like when you're only looking at Starbucks.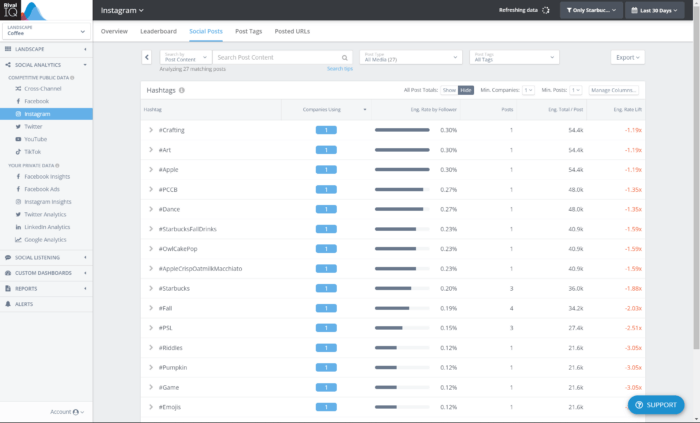 Using this in-depth information, you'll see which hashtags are worth reusing and which ones may be better off left off your posts. As you can see from Starbucks' hashtag performance, they may want to consider reworking how they use hashtags, as it appears that their hashtagged posts receive less engagement across the board than their non-hashtagged posts in the time period. Information like this is valuable to prevent yourself from spending time on strategies that aren't working.
Now, let's analyze our competitors' usage. By looking at "All Companies" on this "View More" page, we're able to see how other brands are performing through their hashtag usage. This view will help us to determine not only if there are hashtags we should be using but also if there's a hashtag strategy we may want to adopt.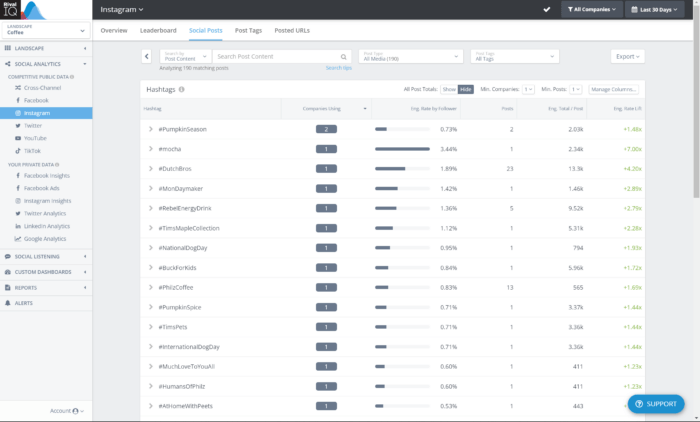 The above screenshot shows that Starbucks has not used any of the top 15 hashtags in this landscape. But other brands saw an engagement boost by using these hashtags. The top hashtag, #PumpkinSeason, was used by two brands, while the others were used by just one. To get a more individualized look at the brand's performance, click the arrow next to the hashtag.

Although #PumpkinSeason performed 1.56x better in engagement than the other posts in this landscape, it actually performed 1.22x worse than Peet's average engagement rate. At the same time, Tim Hortons saw a 1.63 times increase in its average engagement rate. So, what gives? It's important to remember that hashtags are just one part of the equation for creating a successful Instagram post.
Let's dig deeper. If you click on the Tim Hortons bar, you'll see the post that used this hashtag. You can click "View on Instagram" to see the post in action.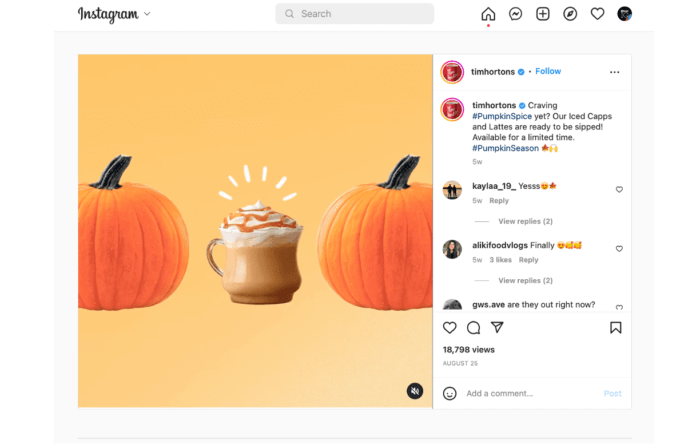 When we click out to Instagram for this post, we can see it's a very clean, bright, and crisp video. The caption simply announces that Pumpkin Spice Lattes and Iced Cappuccinos are available for a limited time. If we click out to Tim Hortons' grid, we can see that the video fits in well with the Tim Hortons brand, which frequently uses bright colors and graphics.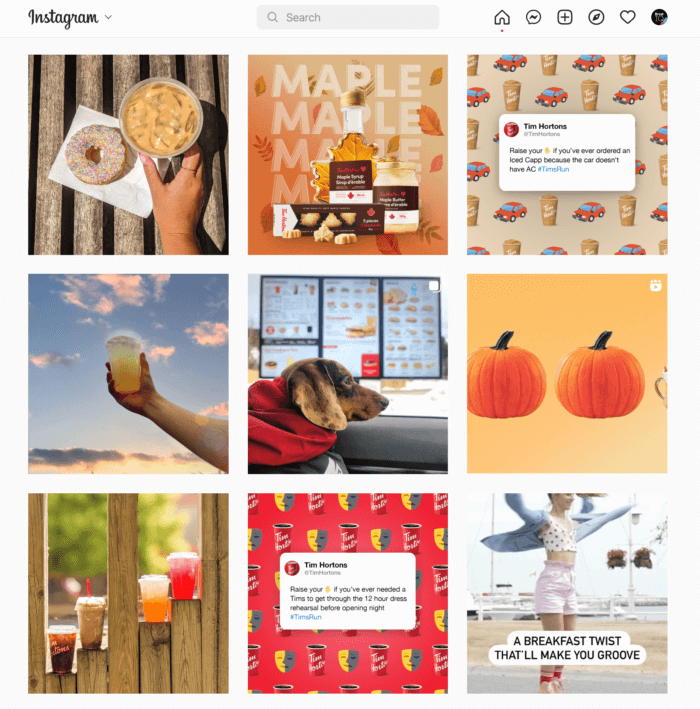 Now, let's check out Peet's post to understand why it may have performed worse than Tim Hortons and worse than Peet's posts typically do.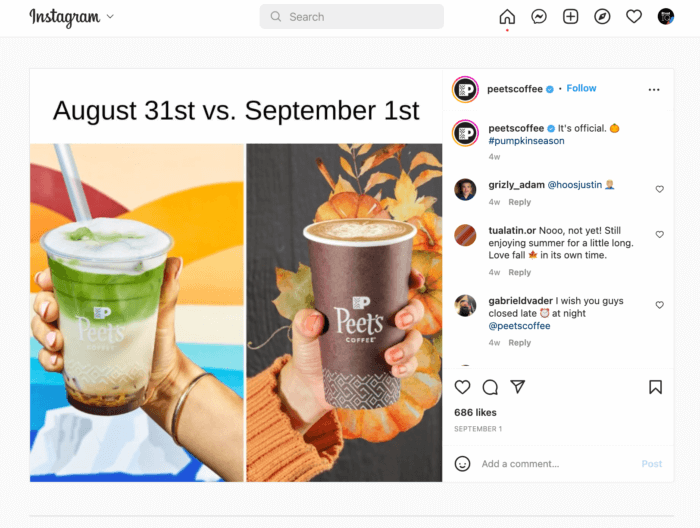 Instead of a video, we find a static picture that's somewhat busy. It has an image of a summer drink alongside a fall drink with the words "August 31st vs. September 1st" written above them. Rather than making a clear announcement, as Tim Hortons did, the caption says, "It's official #pumpkinseason." The pictures used are even a bit blurry. Social media management platform Agorapulse also found that posts that are overly reliant on text in the image perform worse, just as this post does. When we click out to Peet's grid, we can see that this post is not quite as crisp and clean as the ones surrounding it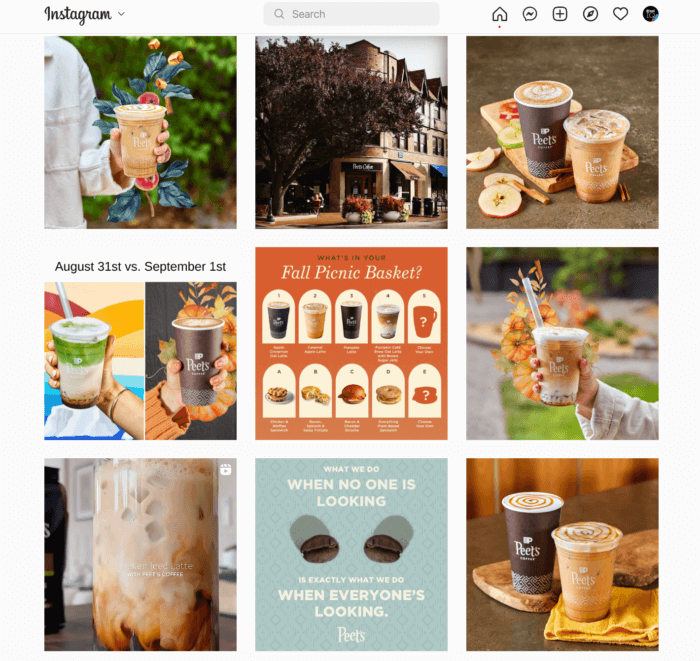 Although these posts use the same hashtag, they use them very differently. While it's helpful to analyze your and your competitors' hashtag usage, it's also essential to remember that the hashtag needs to be used in a way that fits your brand. By looking into the posts themselves, we can see that using a hashtag in a post that serves a purpose, such as announcing the return of a drink, does better than a hashtag used on a post that functions more as a meme. When analyzing your and your competitors' hashtags, don't forget to look deeper into the posts these hashtags were used in.
Another way to use the "View More" page is to identify trends. Rather than using the same hashtag as your competitors, you may want to look at what the hashtag is. According to this landscape, six of the top 15 best-performing hashtags were branded hashtags: #DutchBros, #TimsMapleCollection, #PhilzCoffee, #TimsPets, #HumansOfPhilz, and #AtHomeWithPeets. So, while it might not make sense for you to use #HumansOfPhilz if your company isn't Philz Coffee, you may want to consider creating some of your own branded hashtags for your business.
Judging by the landscape, the more creative you are with your branded hashtags, the better your performance will be. Only one of Starbucks' branded hashtags, #Starbucks, appears on its top-performing list, while two of Tim Hortons' branded hashtags, #TimsPets and #TimsMapleCollection, rank highly on the "All Companies" list. Their appearance also demonstrates that it's better to use a variety of hashtags than to use the same hashtags over and over on every post. In fact, reusing the same hashtags on every post may get your content marked as spam, according to Instagram's community guidelines, which will severely hurt your reach.
Ready to see all of your Instagram Hashtag analytics at a glance?
Hashtag Research Tools
While analyzing your and your competitors' hashtag usage can help you find the right hashtags for better reach, it can also be beneficial to use additional tools that introduce you to new hashtags that can help your brand. There are a variety of different tools that can produce hashtags for better reach. Some applications, like Photerloo's Instagram Hashtag and Keyword Generator, simply suggest hashtags based on the photo you upload. With tools like All Hashtag, you'd type in a keyword and receive a list of related hashtags that can help you expand your research.
Rival IQ's hashtag research tool works more similarly to the latter category. Over in the left-hand navigation bar, you'll see "Instagram Discover" under "Social Listening." Our Instagram Discover tool allows you to test hashtags and find relevant hashtags for your brand. You first have to connect an Instagram account. Once you do that, the search bar is ready for you.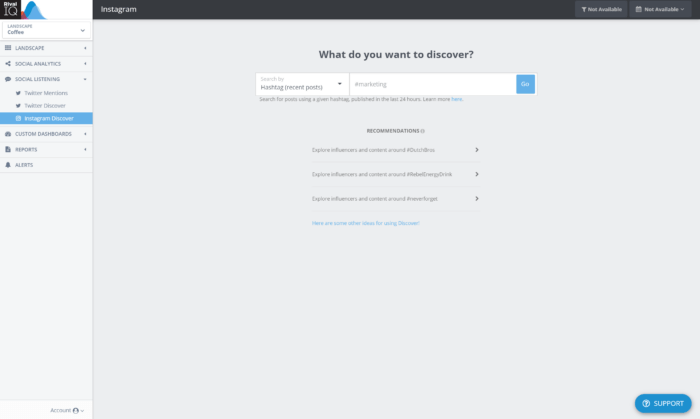 With Instagram Discover, we can search for posts that contain a particular hashtag. You can search by recent posts or by top posts, or you can search for a specific handle. Let's take a look at the top posts that contain #PumpkinSpice.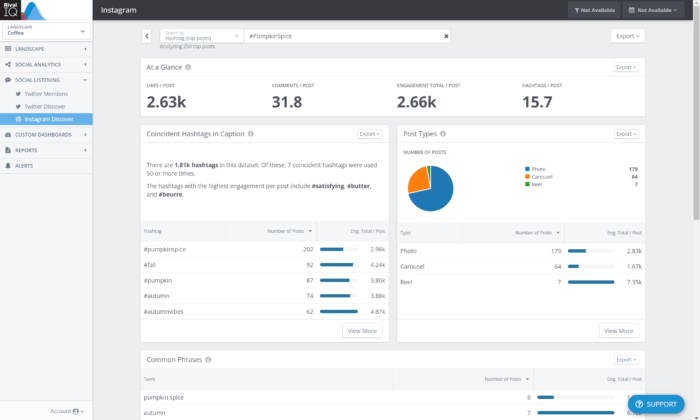 Instagram Discover will show you a report of the search results, which include aspects like common phrases found in these posts, the most engaging posts using this hashtag, and what types of posts use this hashtag. According to this dataset, the 250 top posts containing #PumpkinSpice averaged 2,630 likes, 31.8 comments, 2,660 total engagements, and 15.7 hashtags per post.
One of the most valuable parts of this page for Instagram reach is the section labeled "Coincident Hashtags in Caption." With this section, you'll see what other hashtags perform well with #PumpkinSpice, helping you to diversify your hashtag usage to help increase reach.
You can view the coincident hashtags by the frequency of their use by clicking "Number of Posts" or by their total engagement by clicking "Eng. Total / Post." Since we're interested in finding hashtags with better reach, we may want to organize by the latter, as viewed in the screenshot below.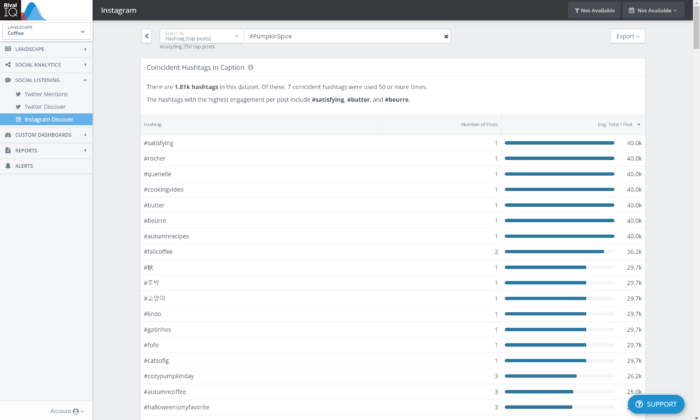 Although not every hashtag may work with your brand's image, a coffee brand like Starbucks may benefit from using the high-ranking hashtag #fallcoffee, as multiple posts performed well when using this tag.
Another way to use this data to help you find the right hashtags for your brand's reach is by looking at the most engaging posts using #PumpkinSpice. Find posts that relate to your brand's image and look at the hashtags used to find new hashtags you can add to your strategy.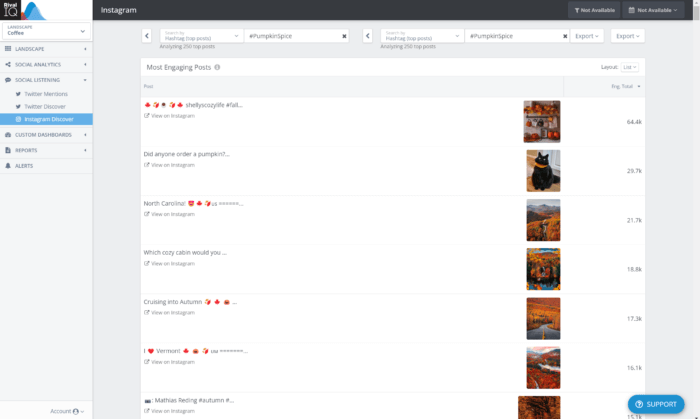 How Many Instagram Hashtags Should You Use to Increase Reach?
We now know that using a variety of hashtags is beneficial, but how many hashtags should be used on a post? It's a question that confounded social media marketers, with some social media experts suggesting that using all 30 allotted hashtags is right while others say using just one is better. What's the correct answer? Instagram says the sweet spot is three to five hashtags.
Looking at your competitors may also help you find the right number for your brand. When we look at the posts in the coffee landscape, it appears that most of the brands are using just one to two hashtags per post. Should you go a different route and use 10 to 20 hashtags, you may look spammy in comparison to your competitors.
Once you have the number of hashtags figured out, you need to answer another question: Should you use the hashtags in the caption or comments? According to Rival IQ's research, the answer is that the choice is up to you. Instagram will not penalize you for choosing either one, but your audience might. Too many hashtags in the caption can make it look cluttered, while keeping them in the comments may look cleaner. However, if you use a scheduling app, you may find it easier to keep the hashtags in the caption. Otherwise, you'll have to do your best to make sure you're still the first to comment on your post, which defeats the purpose of using scheduling software.
Whether or not you post hashtags in the caption or comments should also come down to your strategy. If you begin using branded hashtags, for example, you'll likely want to keep them in the caption because you want people to see them, associate them with your company, and use them on their own accounts. If you'd rather use more general relevant hashtags or plan to use more than the recommended three to five, you may want to keep them in the comments, where they're less likely to be seen by your audience.
Do Hashtags Still Matter on Instagram?
While you may be wondering how many hashtags are suitable for your brand, some companies are debating using them at all. In early 2022, the head of Instagram, Adam Mosseri, said that hashtags don't "really" help with post distribution. So, does that mean we should just throw hashtags away?
We're not ready to stop using them just yet, and neither are most Instagram experts. Thanks to Instagram's changes in search settings, gone are the days when you had to type a hashtag in to find related posts. Now, you can simply search by keyword. But hashtags are still helpful categorical tools. By using the right hashtags, Instagram will be better able to categorize your posts, making them more likely to pop up on users' Explore page or their feeds. Now, perhaps more than ever, it's essential to use your hashtags strategically.
What Hashtags Performed Best in 2022?
While it's critical to find hashtags that work specifically with your brand's image, you may want to take advantage of trends you see across your industry. Our 2022 Social Media Industry Benchmark Report takes a look at industries ranging from higher education to home decor. Our research found that two types of hashtags performed well across every sector.
The first is giveaways and contests. For the fashion industry alone, #competition and #giveaway topped its hashtag charts. Together, these two hashtags had an engagement rate of nearly 5%, which is higher than their following three best-performing hashtags combined.
The second is holidays. The statistics go to show that you should look out for opportunities to post about holidays, even the unofficial ones. The commemorative Star Wars Day, May the 4th, ranked on the list of top hashtags for tech and software brands. Finding holidays that fit within your industry can help boost your posts.
Wrapping It Up
Since 2007, hashtags have been a part of our online conversations, and despite what some may believe, they're here to stay. But what has changed over the years is how hashtags factor into brand strategy. When using hashtags on Instagram, it's critical to ensure they're the right fit. Analyzing your own posts, as well as your competitors, can keep you one step ahead, so you're never wasting time on the wrong hashtag strategy.