It's a pay-to-play world, and social media marketers are tasked with navigating it. While Instagram is a valuable channel for building brand awareness, interacting with customers, and creating a community, brands are seeing less organic engagement on Instagram this year.
This is why Instagram ads are important to mix into your brand's social strategy. Instagram ads help break through the algorithm, increase your reach, and amplify the organic content you worked so hard to create.
Whether you're new to running Instagram ads or just need a refresher, let's go over when to use Instagram ads, the different types of Instagram ad formats, and how to run your ads and track their performance.
What are Instagram Ads and When Should You Use Them?
Instagram ads are a form of paid content used to expand your reach, increase engagement, sell more products, and convert users into customers.
If you haven't experimented with paid social before, you may be wondering: Are Instagram ads worth it? The answer is yes, when done right.
To succeed with Instagram ads, you first need to have your target audience set up so your ads can reach the right people. You also need to have strong messaging and visuals that capture your audience's attention and speak to the action you want them to take, whether that's to learn more about your brand or shop a new collection of products.
When to Use Instagram Ads
The best way to use Instagram Ads is to reach potential customers who don't already follow you and wouldn't organically see your content.
To get the most out of your ads, each one needs a goal. What do you want users to do after they see your ad? Follow you? Visit your website? Sign up for an account? Whatever action you want them to take, Instagram probably has a CTA button for it.
Here are the CTAs you can include on your Instagram ads:
Sign Up: If you have a subscription or account-based business, use the Sign Up button to convert Instagram followers into users.
Learn More: This CTA is best for increasing brand awareness and can be used to send users to a landing page to learn more about your campaign, product, or service.
Shop Now: If you have a collection of products to promote, the Shop Now CTA makes it easy for people to explore and make a purchase — all without leaving the app.
Book Now: Similar to shop now, the Book Now CTA is best for service businesses that are advertising appointments, hotel stays, or something similar.
Visit Instagram Profile: This CTA sends users directly to your profile. It's best for increasing brand awareness and gaining new followers.
5 Types of Instagram Ads
Before you start creating Instagram ads, it's important to understand your options. One ad format may be better suited for your campaign than another, so it's essential to choose the one that will generate the best results for your ad goals.
Here are the Instagram ad formats you can choose from:
Image
Video
Carousel
Stories
Explore Page
Let's go over a few examples of each of these ad types so you can see what they look like in action — and get inspiration for your own Instagram ads.
Image ad
The first type of Instagram ad is an image ad. These ads are single-image, static post types that are commonly seen within the feed, though you can also use a photo ad in Stories and the Explore page. You can choose to have your single-image ads appear as a square, landscape, or vertical in the feed.
Photo ads are best to use when you have a strong message that can be communicated with a single visual. A great example of this is the ad below from First Aid Beauty. The image ad is effective for a couple of reasons. For starters, the graphic presents a simple photo with a strong message that lets people know about the brand's biggest sale that's currently happening.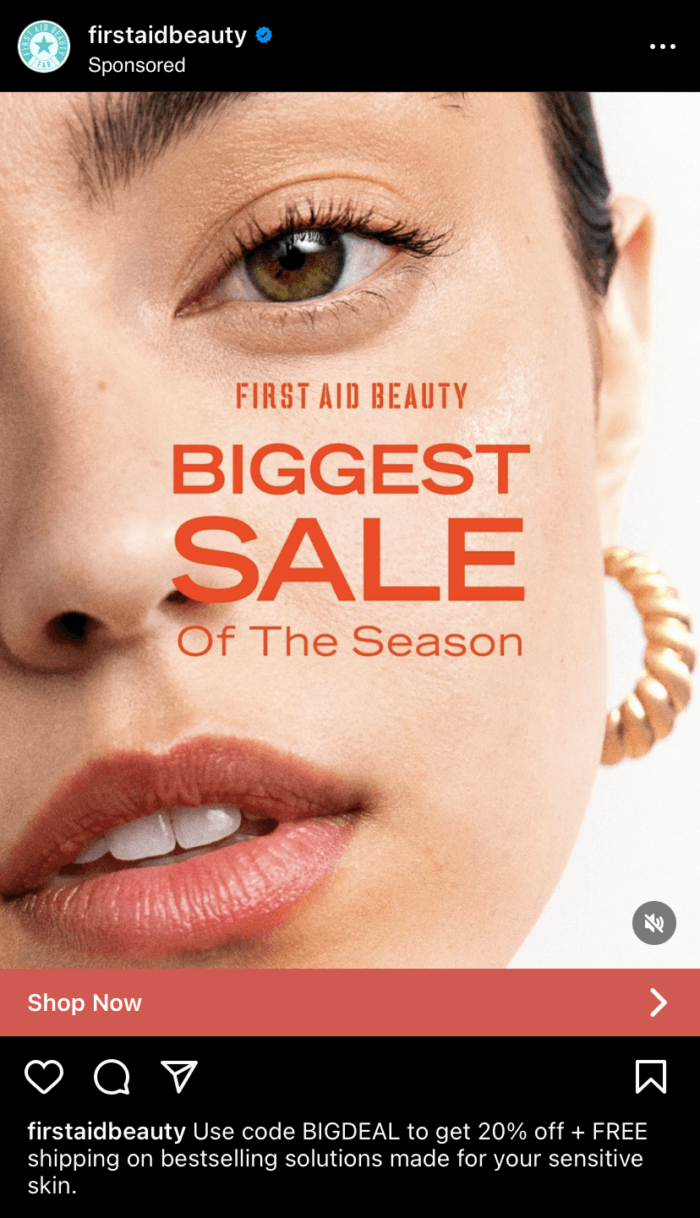 Another great element of the photo ad is that it includes a discount code in the caption underneath the CTA to Shop Now. This makes it easy for users to start shopping within the app.
Instagram image ads can also be used to direct users to your website or landing page like this ad from Breef does. The ad includes a simple graphic that introduces users to the brand and includes a CTA button to "Learn More."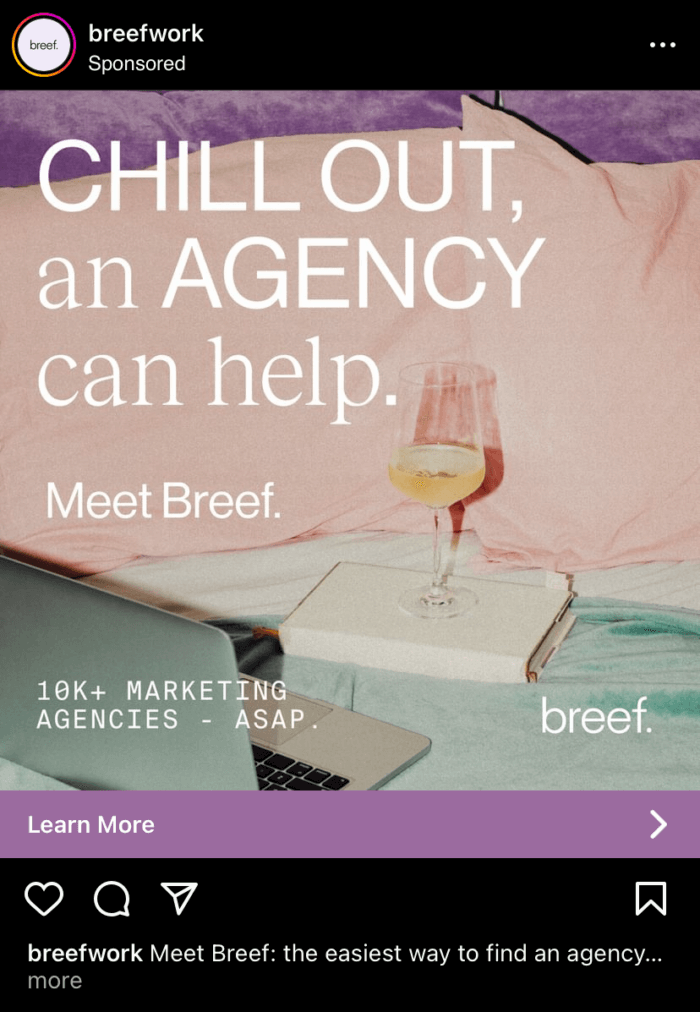 If you don't want to run a full Instagram ad campaign, you also have the option to boost your Instagram posts, instead. Boosting is a way to increase the reach of an Instagram post you already published. Boosting is a convenient way to get the most value out of organic content that you already created. In the image below, you can see the data behind Rival IQ's boosted Instagram posts. You don't have to put a ton of money behind your boosted posts to see results such as increased impressions and click-through rate, either.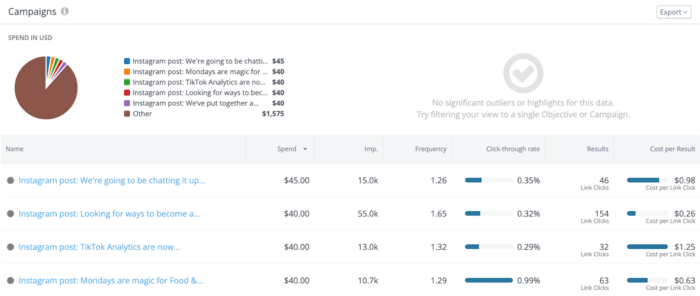 It's also worth mentioning that when you boost an Instagram post, it includes a "Sponsored" label just like an ad would.
Here's an example of a boosted Instagram post from the Austin-based small business, Coloring Austin. The art business boosted one of its posts and included a CTA button that prompts users to visit the brand's Instagram profile to learn more about the brand.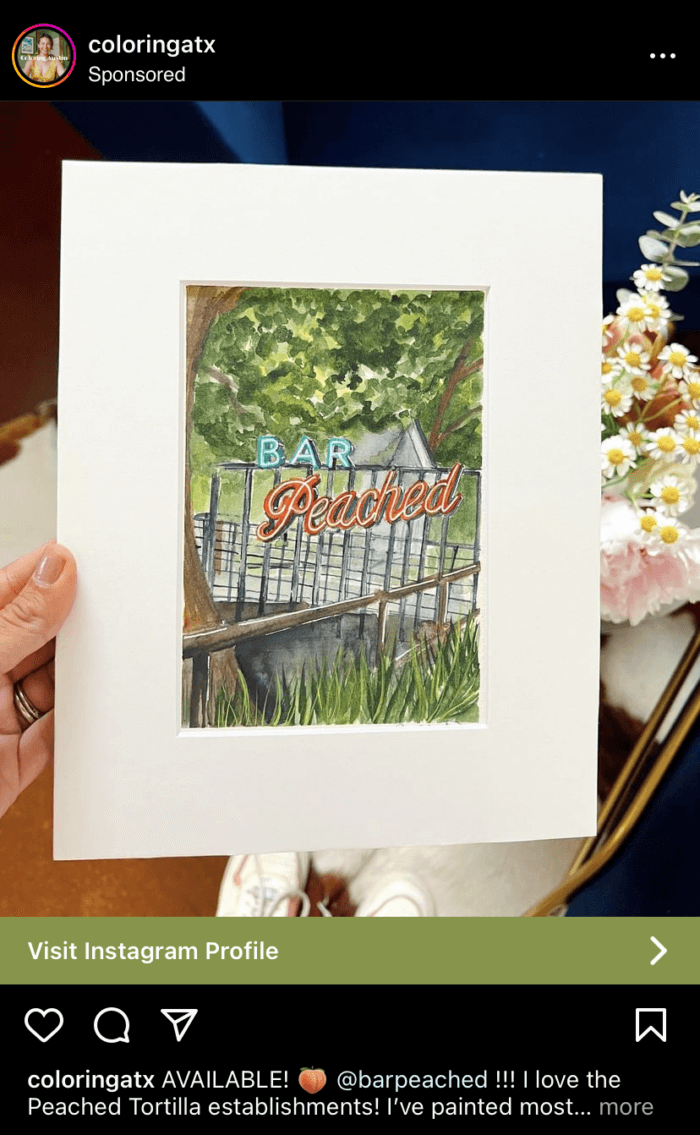 Video ad
If you want to go beyond a static post to capture your audience's attention, consider a video ad. Video ads are best for taking viewers through a journey by telling a story or illustrating a process.
The idea of creating cinema-style videos may sound daunting, but just remember that you don't need to be a videographer to create Instagram video ads. Depending on your brand and audience, your video can be more on the informal side, or you can use a tool like Canva to create animated visuals. Animated graphics and motion art can also be used for your video ads, like the one below from Linktree.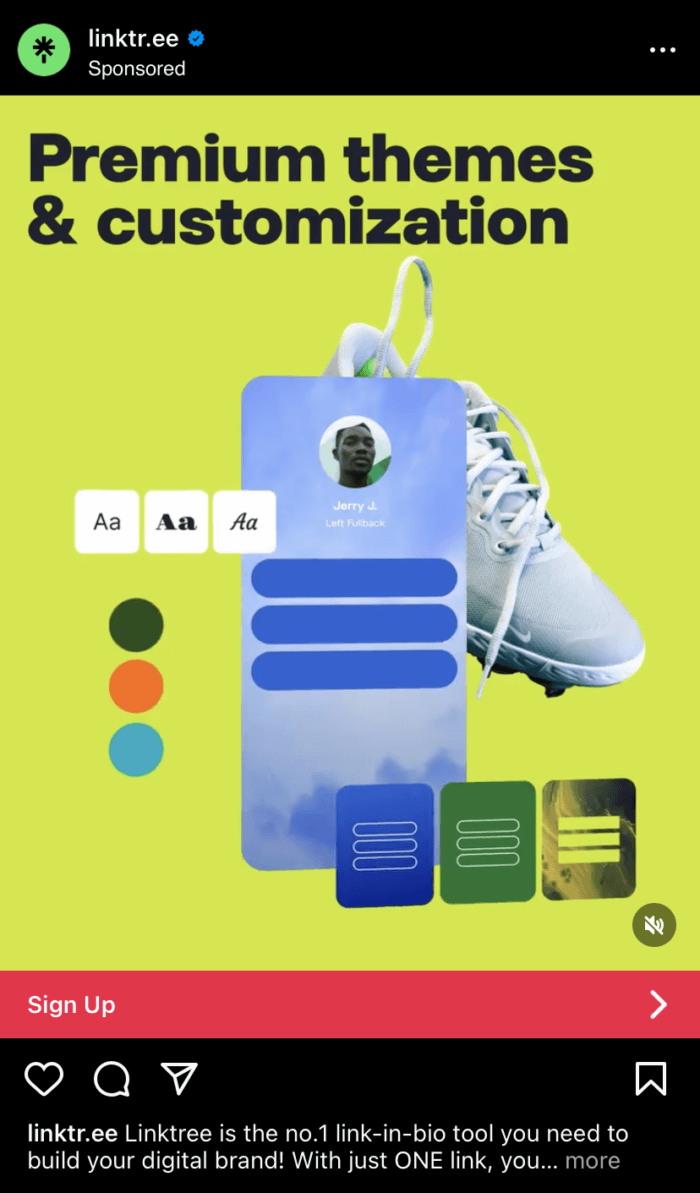 While it's hard to tell from this screenshot, the actual video ad included moving elements to represent the different branding customizations you can make on your Linktree page. The ad included a CTA to sign up for a Linktree account.
Video ads can be used in the Feed, on Stories, on Reels, and on the Explore Page. Below are a couple of examples from a QuickBooks video ad used in two different places.
The first one is a screenshot of a video ad QuickBooks ran in the feed. The video features the story of a real-life small business owner talking about how difficult it was to track and organize receipts and other business financials before she found QuickBooks.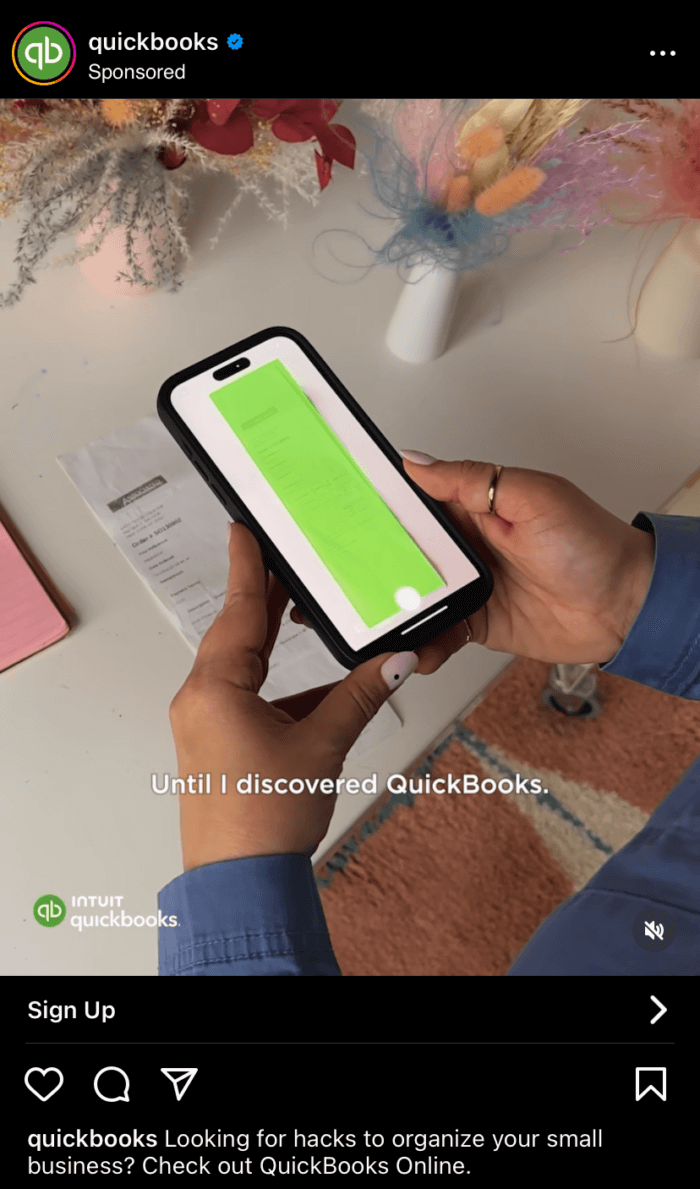 QuickBooks ran the same campaign as a Stories ad, too (we'll go over Instagram ads for Stories in more detail below). For Stories, the featured small business owner was different, but the concept followed a similar storyline and included a CTA to sign up for an account.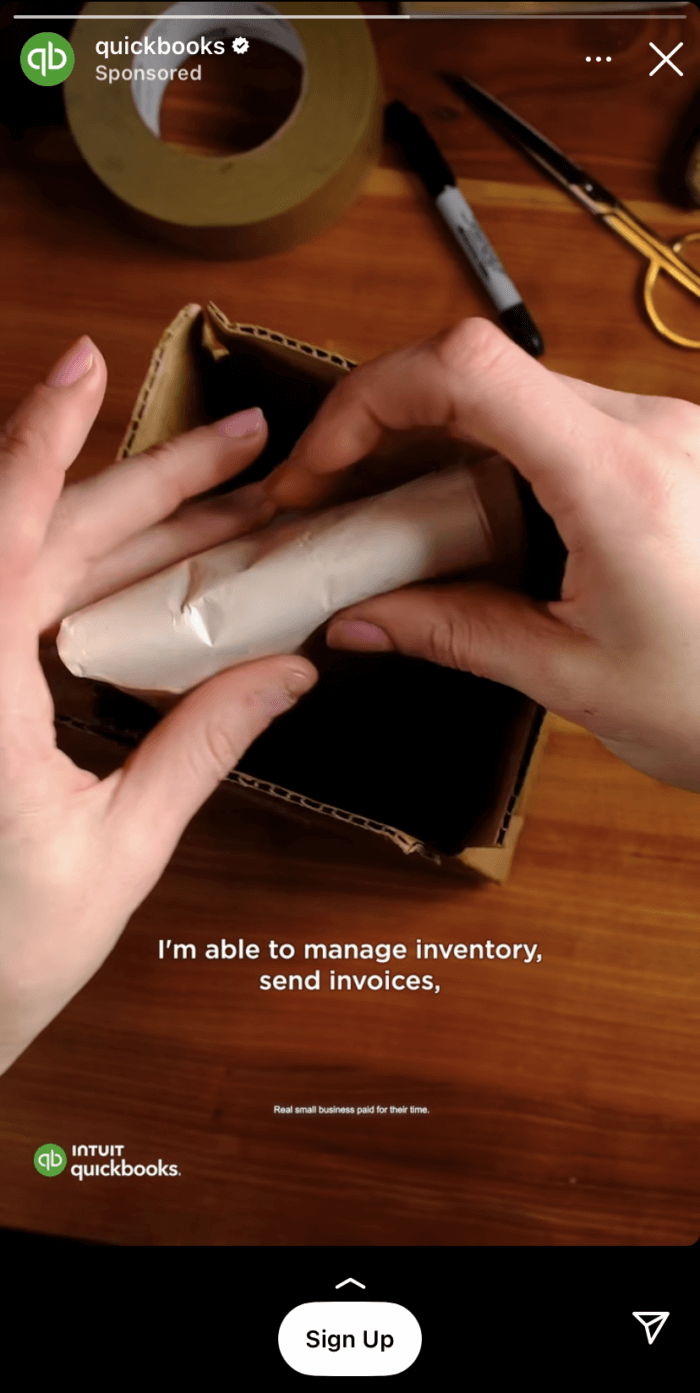 Something to consider when using a video ad on Stories is the sizing difference. Stories are displayed in a vertical frame — which can be a plus as it takes up more of the viewer's screen — but if your video isn't edited to fit that specific size, you risk your video being cut off.
Another spec worth mentioning is the length of your video ads. According to Meta's best practices for Instagram video ads, in-feed video ads can be up to 60 minutes long. However, video ads in Stories can only be 120 seconds long.
Carousel ad
As we know from our benchmark report, carousels are one of the most interactive post types on Instagram. Carousel ads are engaging for a similar reason — they prompt Instagram users to swipe through multiple slides and give your brand more than one opportunity to convince them to tap that CTA button.
On Instagram, carousel ads are an effective way to promote a collection of products, like in this Anthropolgie ad.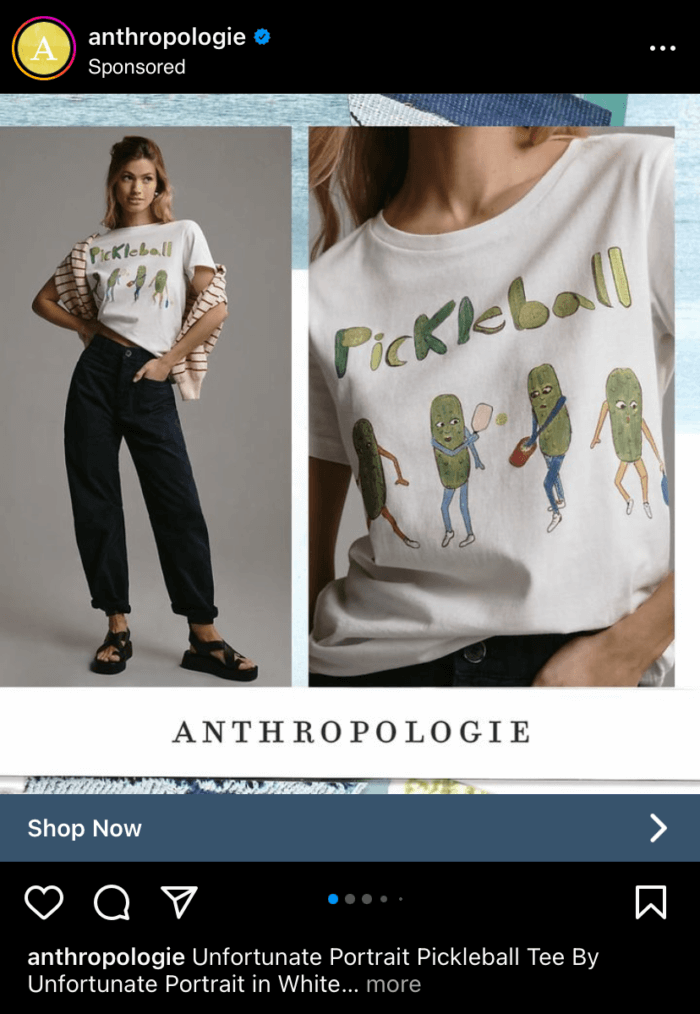 The carousel features multiple products, each with their own description in the caption and a CTA button to Shop Now.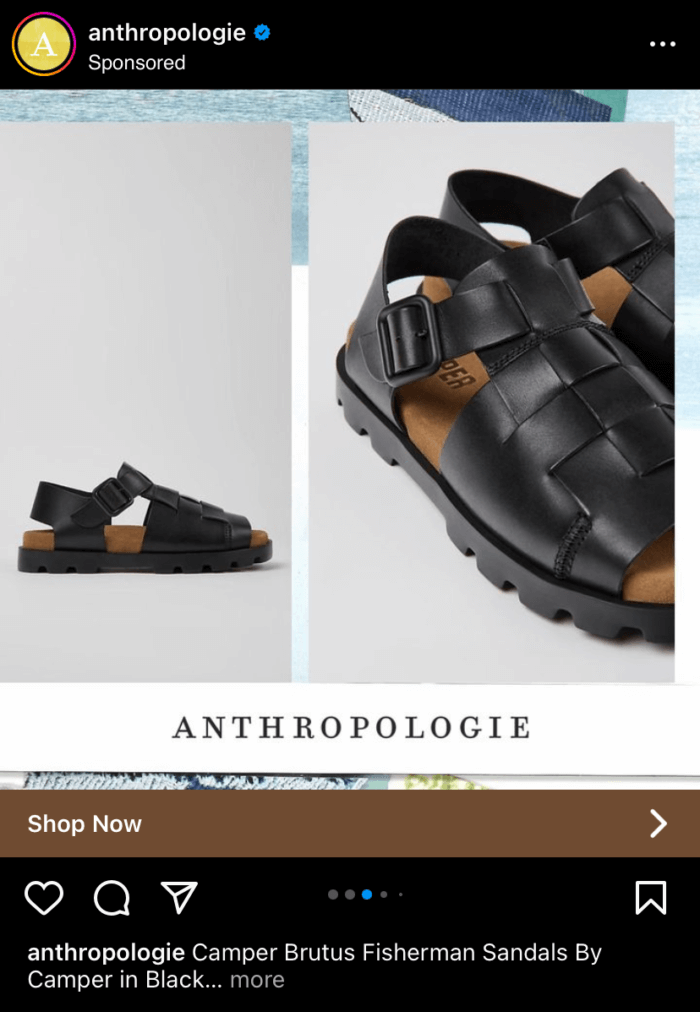 You can also get creative with carousel ads and use them to tell a story or take users through a quick buyer journey. For example, you can use each slide to answer any questions a potential customer may have if they're unfamiliar with your brand.
Vacation offers a great example of how to use a carousel to introduce your product to Instagram users. The first slide in the carousel ad showcases the product with a visually appealing image and a short tagline. It also includes a Shop Now CTA button.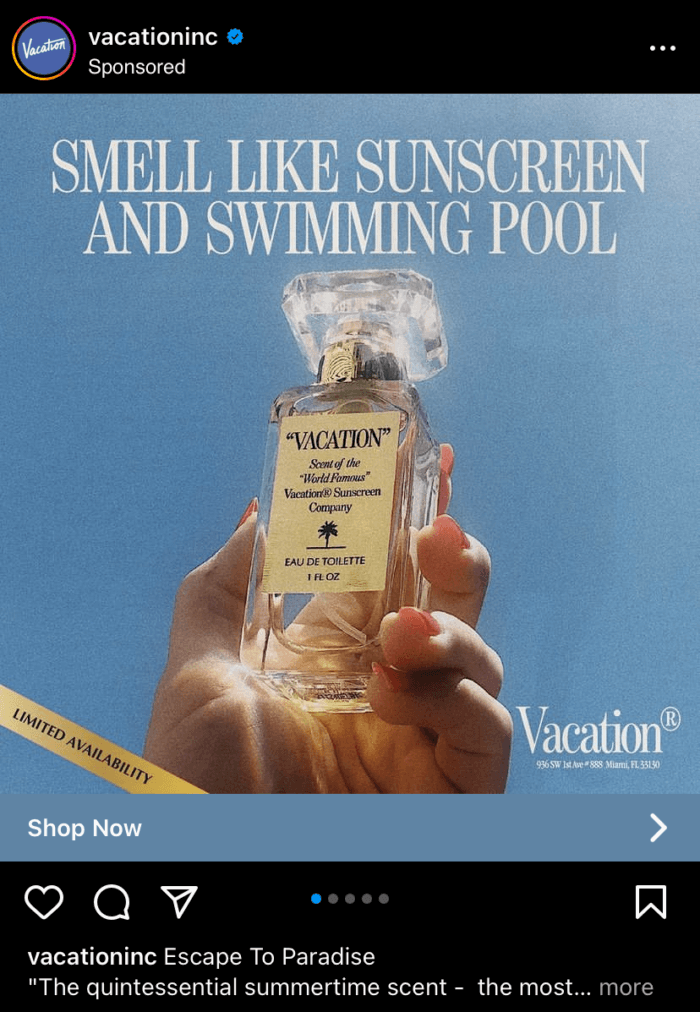 As you scroll, the other slides include reviews and quotes that help build social proof. If you were unfamiliar with the product before seeing this ad, scrolling through Vacation's carousel would certainly improve your awareness and maybe even convince you enough to add it to your cart.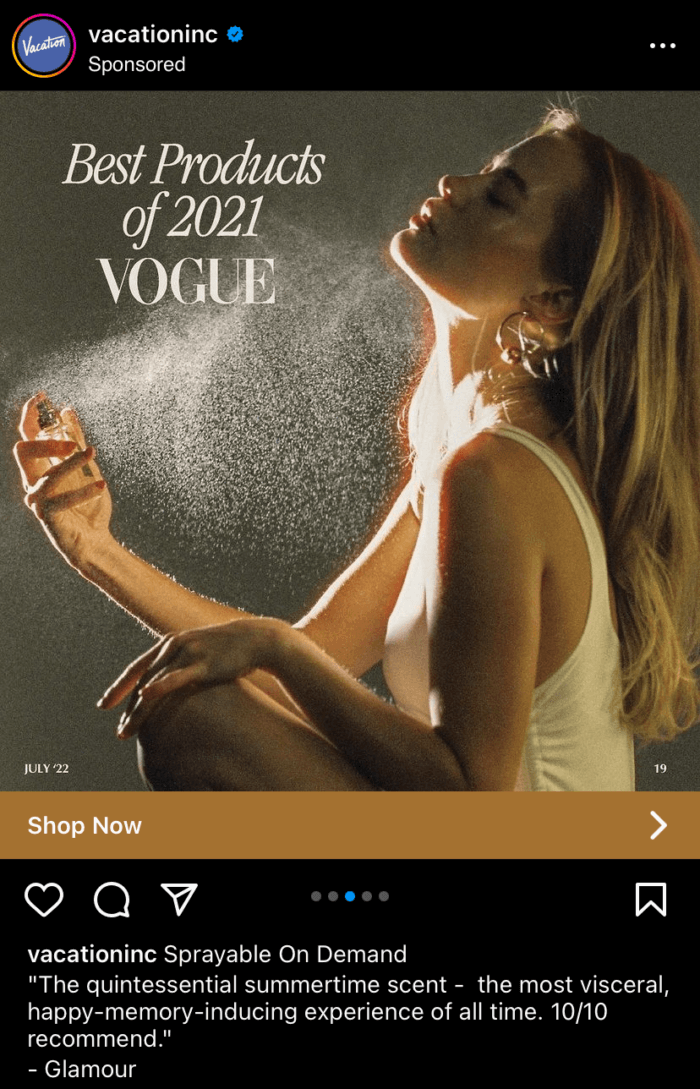 Instagram Stories ad
Stories is another popular placement for Instagram ads. Ads here integrate seamlessly with the other Stories users are tapping through, so it makes sense to include Stories in your paid content strategy.
When it comes to organic Stories content, each frame needs to hook your viewer to capture engagement and improve retention. The same goes for Stories ads. If you're looking for inspiration for an Instagram Stories ad, take a cue from the swimwear brand Summersalt.
The ad below is effective because it features an animated countdown that not only captures a viewer's attention but also creates a sense of urgency around their sale event.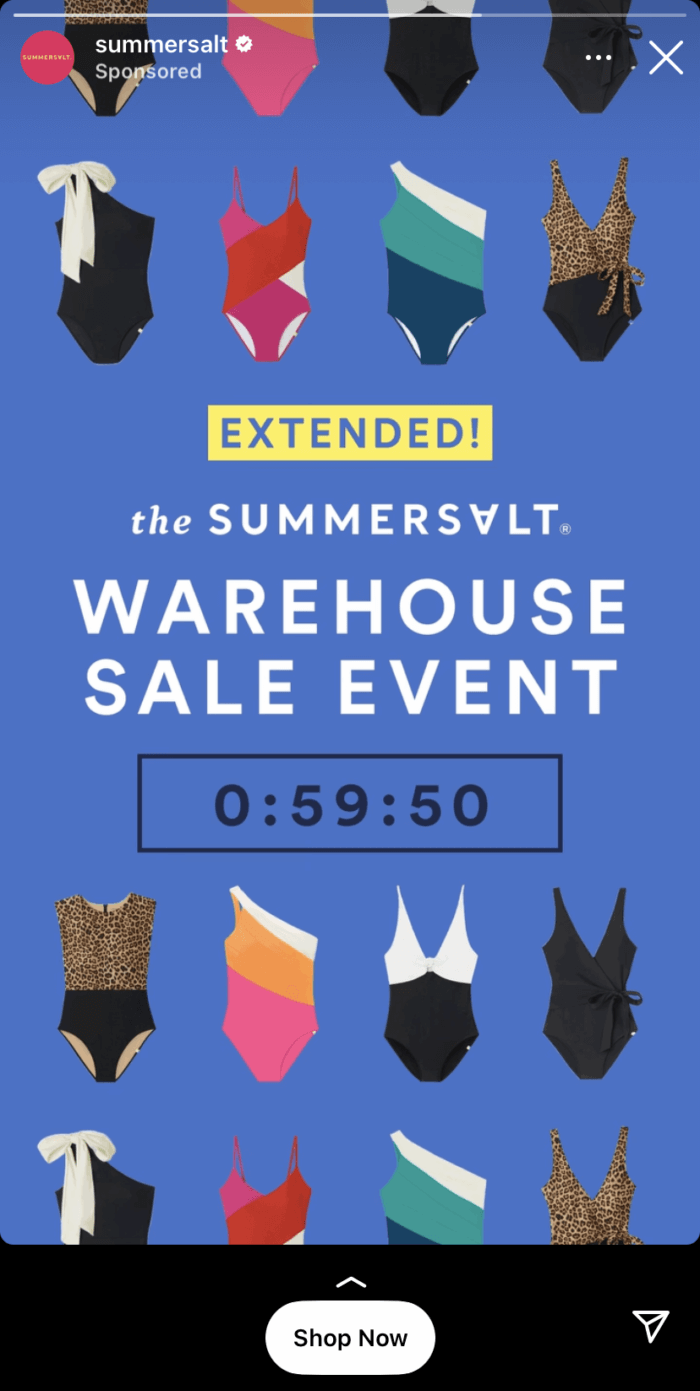 When people are viewing Stories, they're often tapping through until something catches their eye. There's no doubt that an interactive countdown would compel you to hold down that frame to make sure you're not missing something.
Explore Page ad
If you ever venture into your Explore Page tab on Instagram, then you know it's a hodge podge of content. It's hard to tell what's up and what's down, so, unsurprisingly, this makes it a good place for marketers to sneak in paid content.
In the screenshot below, you can see an outlined ad from Getaway House. It's sandwiched between numerous organic posts, though it's bigger than the rest of the posts. However, it blends in enough for a user to casually discover and tap on.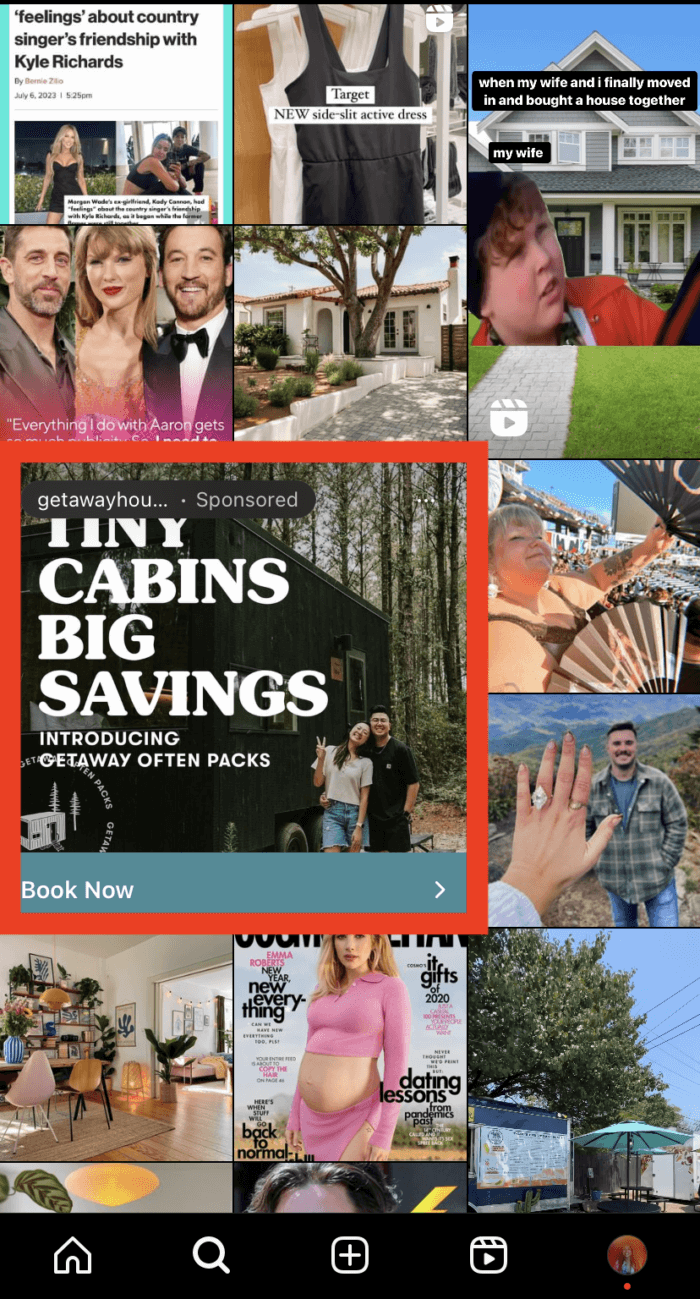 If you were to click on Getaway's ad in the Explore page, it would take you directly to the full post where you have the option to actually click on the CTA button and book your tiny cabin getaway trip.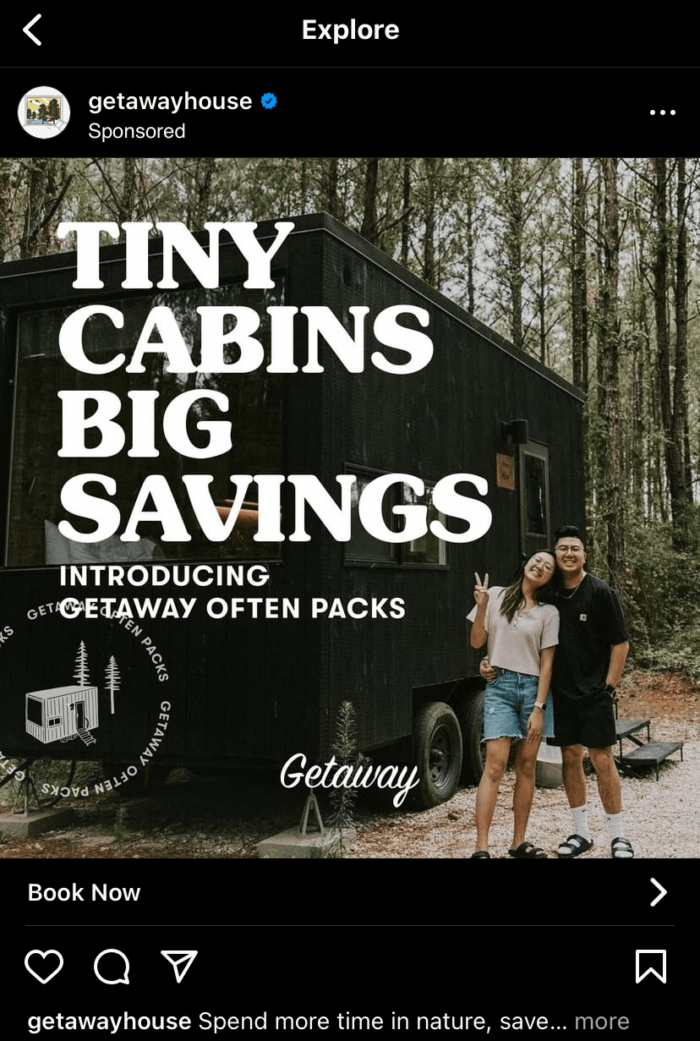 How to Run Ads on Instagram
If you're ready to start investing in paid content on Instagram, here are the steps to follow to set up and publish Instagram ads.
To start, go to Ads Manager and click the "Create" button in the left corner to start a new ad.

You'll get a prompt to choose your campaign objective. Your options are:
Awareness
Traffic
Engagement
Leads
App promotion
Sales
Meta also lets you know how each objective is different and the general results it may achieve, like video views or reach. You also have the option to name your campaign before continuing to the next step.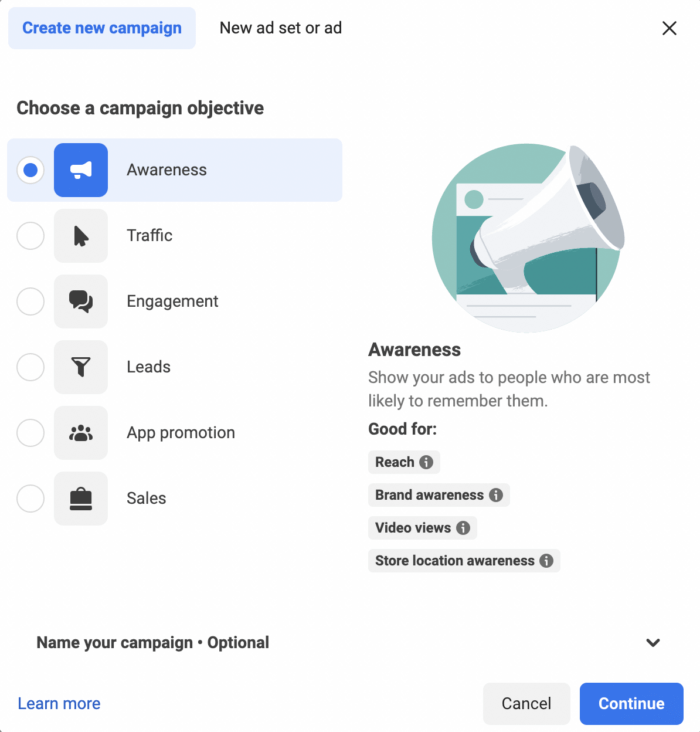 The next step is where you'll set up your audience, ad budget, and ad run time. You'll start by choosing a specific performance goal. If your objective is awareness, you can choose whether you want to maximize the reach of ads, maximize the number of impressions, or maximize ad recall lift.
Next, you'll define the audience you want your ad to reach. If you've run Instagram ads before, you can select the same audience you targeted last time, or create a new one if you're starting from scratch.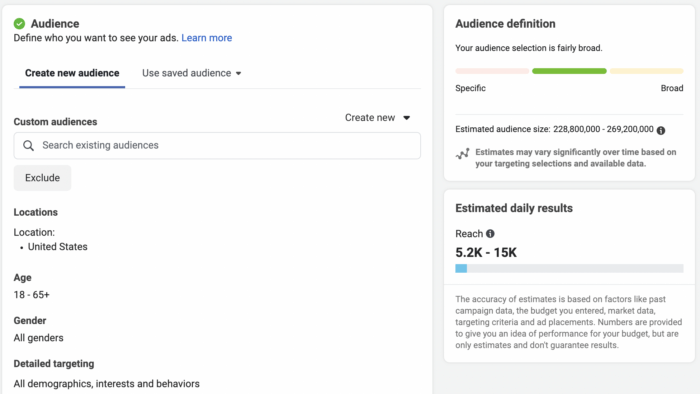 As you enter the details about your audience, like demographics, interests, and behaviors, Meta will show you how many people your ad is estimated to reach based on your budget, ad placement, and any previous campaign data.
The last step when setting up your Instagram ad is to choose the format and placement. This is where those ad types we mentioned earlier come into play.
You have the option to select either a single image or video, a carousel, or a collection. Once you choose, you can see a preview of what each of your ads will look like in the Feed, Stories, or Reels.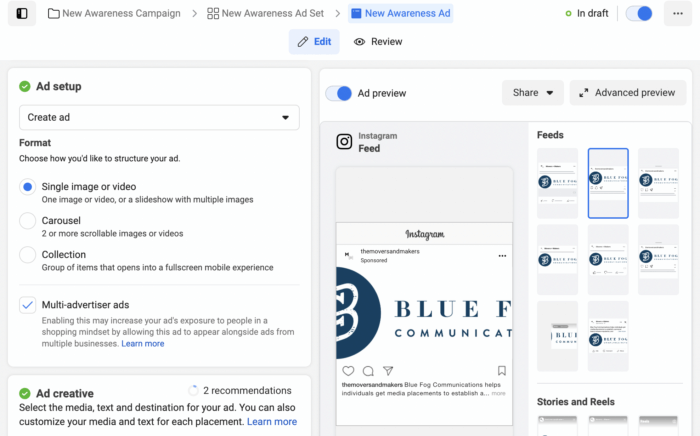 Once you've adjusted everything and are satisfied with how your ad looks, you're ready to hit publish. But you're not quite done yet! Instagram ads may effortlessly run in the background, but that doesn't mean you can forget about them and hope they generate results.
After you've published your ad, it's time to track and measure your performance so you can know if your efforts have paid off.
How to Track Your Instagram Ad Performance in 3 Steps
Tracking and measuring your Instagram ad performance is essential to ensure the resources you're investing in are generating results.
For instant insights, you can check on your ad's performance directly in your Ads Manager account. Going directly to the source by using Facebook's native reporting is a convenient way to track your ad in real time or make adjustments as needed.
If you want to conduct a deeper analysis to fully understand how your Instagram ads are performing, use a tool like Rival IQ's Facebook Ads Analytics feature. If you already have a Rival IQ account, log into your account (or sign up for a free trial), and follow the steps below to measure your ad performance.
Step 1: Open Facebook Ads in your Rival IQ account
In the menu on the left side, you'll see a section titled, "Your private data." From there, head to the "Facebook Ads" tab to see your ads dashboard.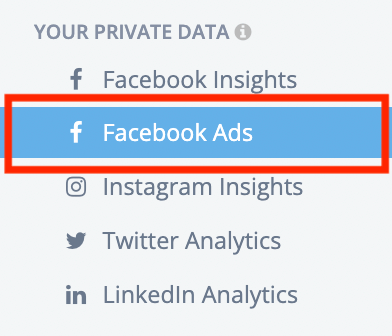 Once you're there, you'll see an overview of all of your campaigns across Facebook and Instagram. You can get specific about which campaigns you want to analyze by filtering by campaign status, objective, and whether or not to include boosted posts.
Step 2: Add metrics
Your analytics dashboard will automatically include a set of metrics that are common when to measure. But you also have the option to edit or add metrics that you want to analyze.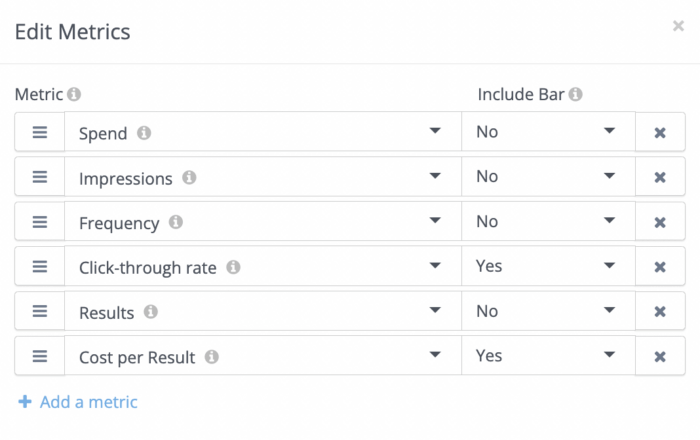 Step 3: Conduct an in-depth analysis of your ads
Now for the fun part: diving into your ad metrics. Experimentation makes up a large part of running Instagram ads, and the only way to understand the results of your experiment is to take a detailed look at your key metrics.
In Rival IQ, you can get detailed insights into your audience, ad spend, and conversions to see if your current ads are generating the results you want or identify things you'd like to change. For instance, if you see that the demographic you spend the most of your ad budget on generates the lowest click-through rate, then you know that you need to adjust your target audience.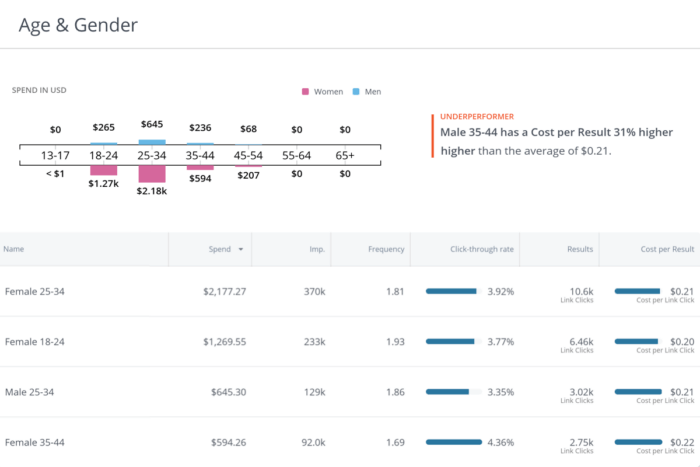 The same goes for other elements of your ad, from your CTAs to your audience behaviors. Analyze every aspect and compare to your previous Instagram ads to identify any patterns or trends.
Wrapping it up
Advertising on Instagram is an effective way to break through the algorithm and reach the right customers. To get the most out of your Instagram ads, it's important to consider the placement of your ads, the message and creative elements you want to use, and how that all relates to your campaign goals.
After you've created your ads, invested a healthy budget, and set up your campaign, don't let your efforts go to waste. Track your ad performance over time in Facebook's native ads manager, and go deeper using an analytics tool like Rival IQ.
With a detailed analysis of your target audience, their behaviors, and your average ad spend, you can uncover opportunities to improve your ad reach and conversions. Simply put, by following these steps, you can ensure your paid efforts amplify your organic content to make for a powerful Instagram strategy.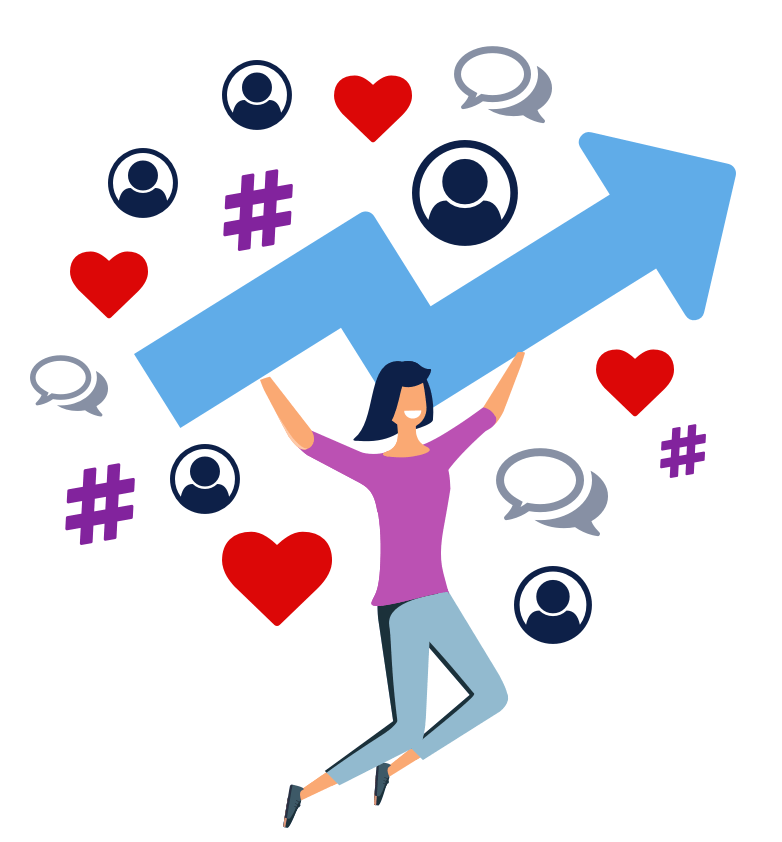 Start analyzing your brand's Instagram ads with a free Rival IQ trial.
Get my free trial