Back in 2020, Instagram released Reels, short-form videos that you could share as you would posts. Then capped at 15 seconds, Reels were widely critiqued as being Instagram's answer to TikTok's success. But three years later, Reels are a popular part of Instagram, and it's difficult to find a brand or content creator who doesn't use them.
And using them seems to be for their benefit. According to Instagram, 91% of active Instagram users watch videos on Instagram weekly. It's no wonder Hootsuite found that Reels can give your overall engagement rate a boost.
Looking to improve your Instagram Reels performance? Let's go through some of the best practices for Instagram Reels.
10 Tips for Upping Your Instagram Reels Game
1. Post often and analyze your Reels performance
How often should you post on Instagram? According to our research, the top 25% of brands by engagement post about 3.5 times per week, which suggests that you should post every other day and stick to a schedule.
Reels should be something that you add to your posting schedule. According to our 2023 Social Media Benchmark Report, Reels were the top-performing type of post for the food and beverage, health and beauty, home decor, influencer, retail, sports teams, and travel industries.
So, how much should you invest in Reels production? The best way to know if you're creating engaging, follow-worthy Reels is by analyzing them. With Rival IQ, you can find all kinds of data on your posts, from your reach rate to multiple forms of your engagement rate.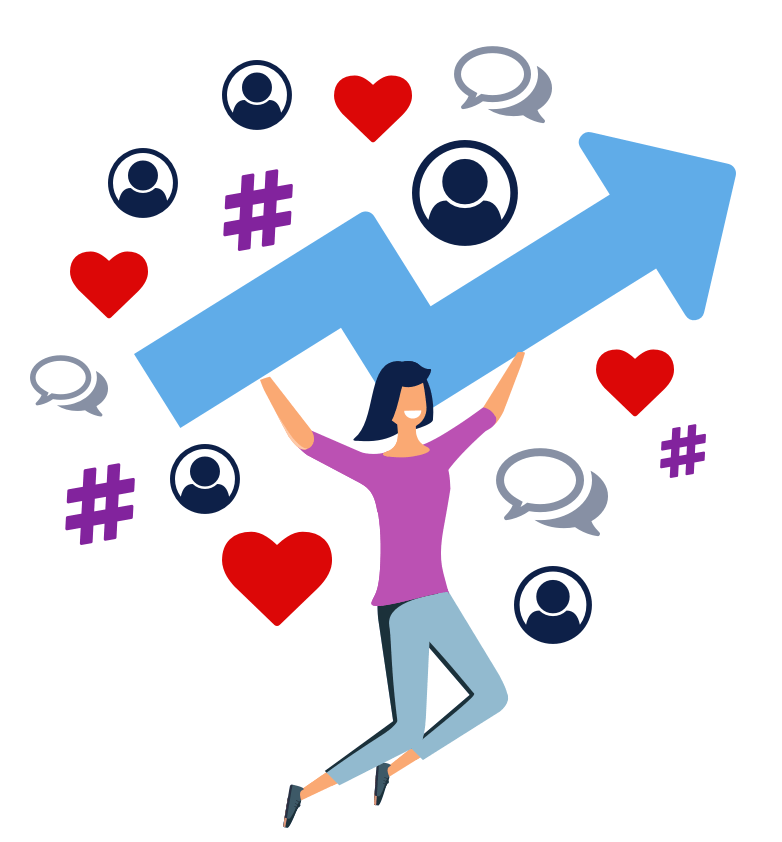 But we also believe that your analysis should go beyond your own Reel's metrics. With our competitive data, you can also keep track of how your Reels are doing throughout your industry. Say you run a new makeup brand. We already know that Reels are doing well for the health and beauty industry, but how about your direct competitors, like Rare Beauty?
You can check out your dashboard to see that not only are Reels Rare Beauty's most common type of post on Instagram, but they also clock in with an average engagement rate of 1.18%, which is the highest of all of the forms of content the brand shares on the social media platform. By tracking your competitor's success, you'll know who to watch to take away learnings to add to your own strategy.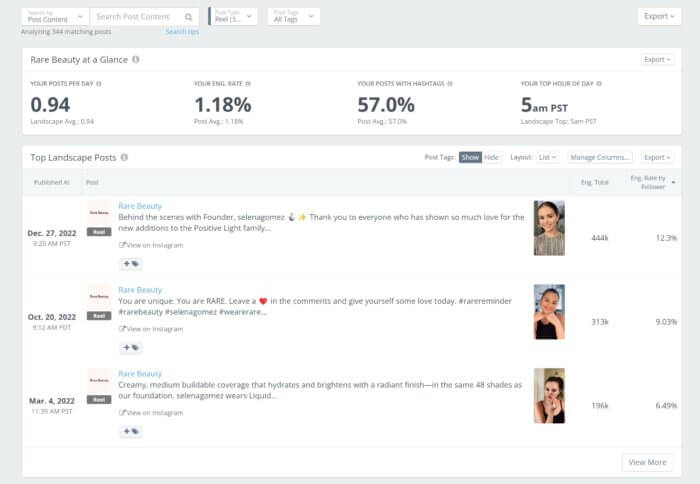 2. Keep it vertical
According to Hootsuite, the ideal aspect ratio for an Instagram Reel is 9:16. And Instagram's own algorithm does give us reason to believe this ratio is the magic one. Instagram claims to look at pixels before deciding to prioritize a Reel. Using a different aspect ratio can result in unflattering, pixelated video content that Instagram won't want to promote.
Sticking to vertical is an integral part of creating Reels. Because most people are browsing Instagram on mobile, you want to make sure your content is optimized for the mobile viewing experience.
In 2022, Dunkin' posted 32 Reels. Their top-performing Reel, of a small dog and a Dunkin' iced coffee, scored an engagement rate of 4.62%, 4.2x their average engagement rate for the year. This Reel was a vertical rectangle. In fact, all five of Dunkin's top Reels for the year by engagement were vertical rectangles. However, Dunkin' also posted square-shaped Reels, none of which made the top five.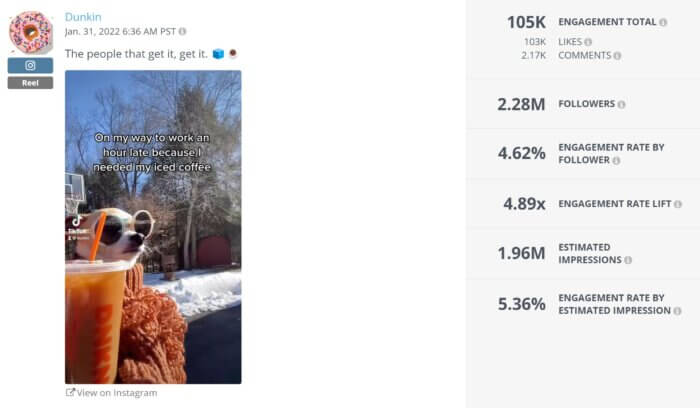 3. Use captioning
Approximately 15% of American adults have hearing loss, while two to three of every 1,000 children are born with it, according to the National Institute on Deafness and Other Communication Disorders. When a video is shared on social media without captions, it can be exclusionary. Someone with hearing loss may struggle to view it and know what's being said.
While closed captioning can help you reach those who would otherwise be unable to hear your content, it also enables you to reach a significant portion of the population who simply would rather watch videos on mute. According to a study by Verizon Media and Publicis Media, 69% of people view video without the sound on in public places. Twenty-five percent watch with the sound off even when they're in private.
The study also directly questioned the importance of captions. Of those polled, 80% said they would be more likely to watch an entire video if captions were available. Fifty percent of those surveyed went further to say that captions are crucial to them because they typically watch with the sound off.
Not using captions can alienate more of your audience than you might realize. It also matters where you place the caption. You should aim to put it where it's visible when simply scrolling through your feed rather than placing it somewhere that would require the viewer to click the Reel to read it.
Beauty brand Glossier focused on accessibility in 2022 by using closed captioning for posts that feature speaking, although several Reels simply used music that went uncaptioned. The brand's top Reel by engagement for the year included collaborator and spokesperson Olivia Rodrigo, who was captioned as she spoke about her new collection with the brand. The post earned an engagement rate of 3.63%, 4.7x the brand's average engagement rate for 2022.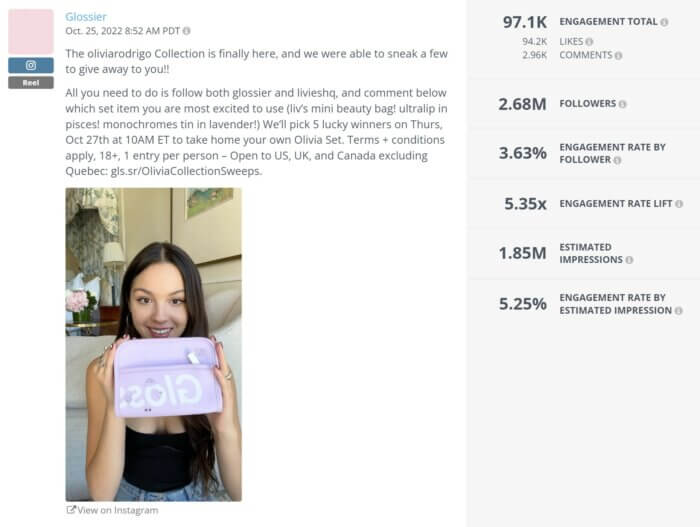 4. Share your Reels on your Stories
According to our research, Stories have been shown to have a lower reach than posts. However, it's still a good idea to share your Reel to your Stories and alert your followers to your new post. Your content may not always appear in all of your followers' feeds. By sharing the Reel to your Story, you're catching your target audience's attention and helping direct them to your posts. Place a sticker over an important piece of your Reel or simply post a snippet of a video clip to further incentivize your audience to click out to see the full video.
Consider sharing your Reel to your Stories, like Reese Witherspoon's media company Hello Sunshine did. After posting a Reel of audition tapes by the "Daisy Jones & the Six" cast, the brand promoted the content by sharing a short clip on their Stories that contained a link to the full content. By sharing the Reel to their Stories, the brand is directing their audience to their video. Even if the Reel didn't appear in a user's feed, they might still end up seeing the content because they still viewed Hello Sunshine's Story for the day and decided to click out to the Reel.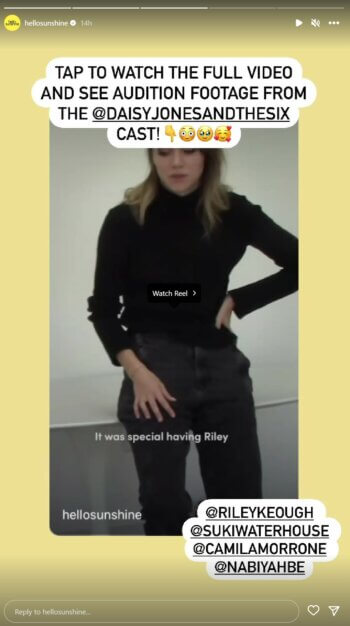 5. Don't just repost your TikTok video
It's not uncommon to see a TikTok watermark pop up in an Instagram Reel. But companies that are resharing content posted to TikTok directly to their Reels could be doing themselves a disservice. According to Instagram, content that is "visibly recycled," like one with the watermark, will be less discoverable on Instagram. Essentially, that piece of content will be deprioritized and reach fewer audiences.
Home furnishing company Arhaus shared 86 Reels throughout 2022. All of them were without the TikTok watermark, which is perhaps part of the reason why Reels were some of the brand's best-performing content. The brand's third most engaging post of the year by rate was a Reel showcasing a mimosa recipe. It earned an engagement rate of 1.96%, 7.8x the brand's average engagement rate for 2022. It should be noted that the only posts that ranked more highly than this Reel were both giveaways, which frequently gain the highest engagement rates for brands.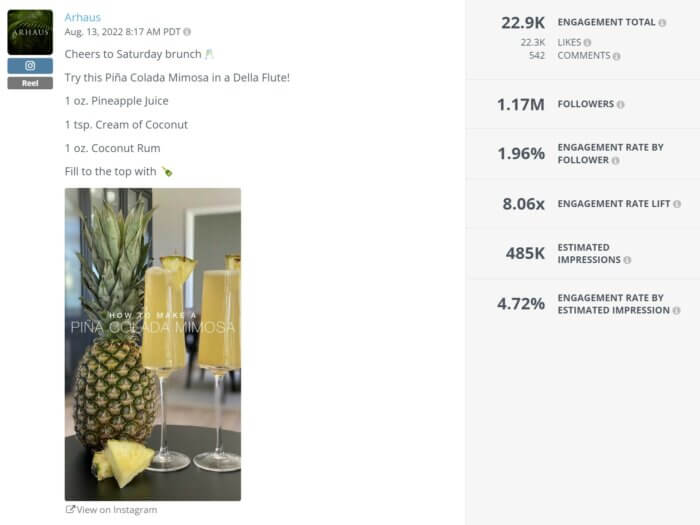 6. Use original audio or music from the Instagram music library
When sharing tips to help creators make Reels that are discoverable and more likely to be seen, Instagram posted that it would prioritize content that has original sound or music from the Instagram music library. In some cases, following this practice may actually be your only option. If you have a business account, you can't use music from recording artists and can only use Instagram's royalty-free music.
This practice may be a drawback for you as you can't reach an audience that's looking for content containing a viral song. However, attempting to skirt this rule can have serious repercussions, as using copyrighted music can leave you open to a lawsuit and result in your account being suspended. It's best to follow the rules and stick to original sound or Instagram's royalty-free library.
Considering the popularity of videos that trigger autonomous sensory meridian response (ASMR), you may not need to incorporate music or even work too hard on creating original sounds. You could follow in King Arthur Baking's footsteps and post Reels content where the sound is simply what's happening in the video. One of the baking brand's top Reels of 2022 was a video in which recipe creator @turkuazkitchen shared how to make a Pumpkin Roll. She provided no voiceover but simply showed the steps, with the sounds of her baking being the only audio. The post garnered an engagement rate of 1.43%, 4.45x the brand's average engagement rate in 2022.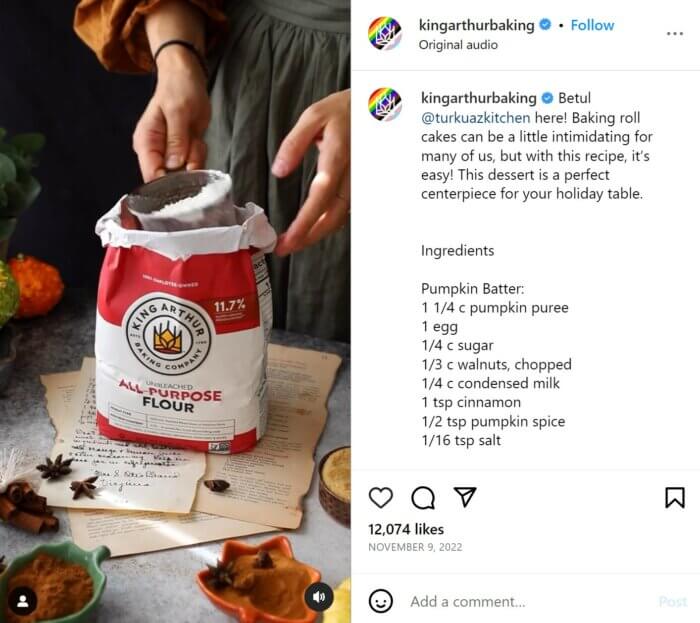 7. Use filters, text, and other editing options
Also while sharing tips to get your Reel seen, Instagram posted that it would prioritize content that made use of the social media platform's filters, camera effects, text options, and other editing tools. Beyond the fact that Instagram wants to see content that uses their editing options, the use of such tools also can make your content more visually engaging. The more visually engaging your Reel is, the more likely your audience will stick around the watch the whole thing.
One of coffee company Dutch Bros' top Reels of 2022 was announcing a special deal for National Coffee Day. In the post, the brand used Instagram's text stickers to share information about the event, caption the video, and countdown to the reveal of which drink they're recommending people pick up for the holiday. The post earned an engagement rate of 3.57%, more than 2x the brand's average engagement rate for 2022.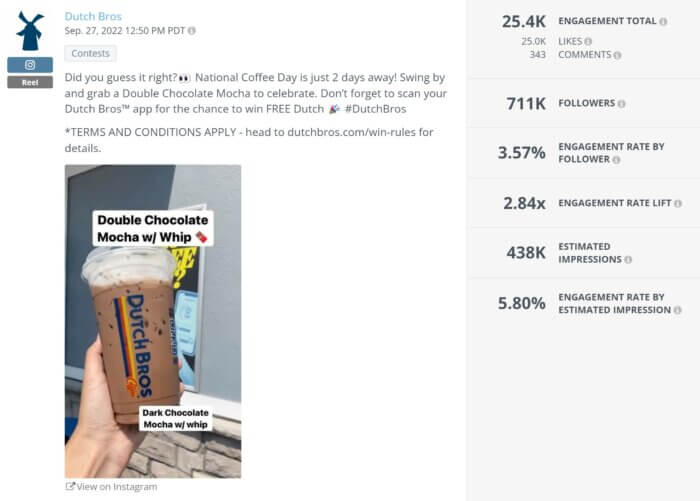 8. Start with a hook
Reels were introduced with a 15-second cap, but in some cases, they can now go up to 90 seconds. Although it's often asked how long a Reel should be, the answer is that it depends on what type of content you're making. A video of a cute animal saying hello probably doesn't need to be as long as one of someone showing how to make a full recipe.
While the exact length of your Reel may vary, there's one thing that doesn't: those first few seconds are always crucial. Instagram recommends starting off with a hook to capture your viewer's attention. A hook is something that would make a viewer want to stop and stay for the whole video. According to Instagram, some of the best hooks are actually negative, such as "Here's what you're getting wrong about [blank]" or "This is the biggest mistake you're making with [blank]."
But the hook should ultimately fit your brand. So, if negativity strays away from your brand's image, stick with a more positive hook. Considering that the Disney brand is overwhelmingly positive, it makes sense that a publication focused on everything Disney, the Disney Food Blog, starts out with upbeat hooks.
One of the brand's top Reels for 2022 starts out with one such hook, claiming that followers "need to know about this underrated Disney World souvenir" before talking about a LEGO figure Disney guests can design at Disney Springs. Such a hook makes people, especially Disney fans, want to stick around to know what they've been missing. The post earned an engagement rate of 4.14%, 2.6x the brand's average engagement rate for 2022.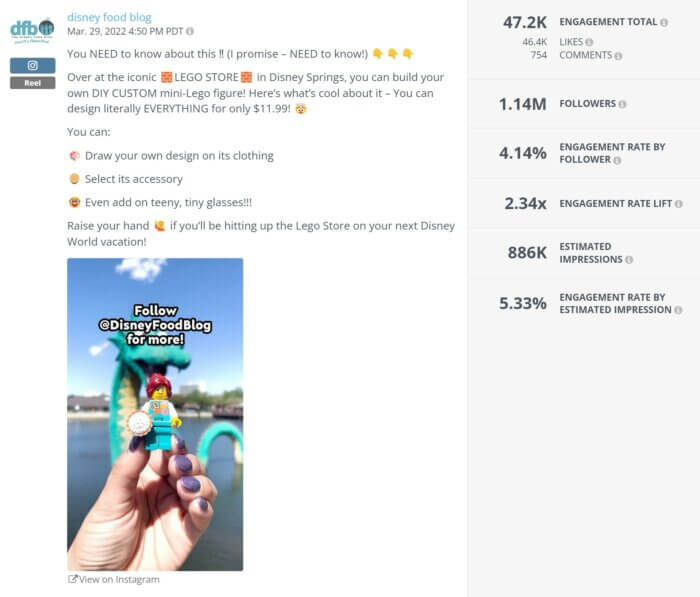 9. Loop it
Instagram's algorithm promotes Reels that are already popular. Due to this fact, it's crucial to find ways to up your video view count. Doing so may mean relying on some tricks to convince your audience to watch more than once. One trick is to make your Reel loopable. Creating a loop means making the end of your video flow right into the beginning. Your viewer may not consciously watch the video more than once, but getting them caught in the loop still means getting multiple views from one person. The more views you get, the more likely Instagram will start promoting your Reel to more people, bringing you even more views and engagement.
Bob's Red Mill's top Reel of 2022 uses a loop, which makes it hard to know when the video ends and restarts. Because the beginning and end flow together, it's easy to accidentally watch more than once, which is ultimately good for your video view count.
Bob's Red Mill uses a wide variety of recipe creators and influencers, and many Reels share the recipes they create. In this Reel, recipe creator @girlfromcalifornia teaches the audience to make zucchini-corn squash blossom pancakes. The video starts with, "I think you're really going to like this one," while it ends with her saying, "Trust me."
When you watch the Reel, the ending flows right into the beginning, so it sounds like she's saying, "Trust me, I think you're really going to like this one," creating a loop. The Reel earned an engagement rate of 1.61%, nearly 9x the brand's average engagement rate.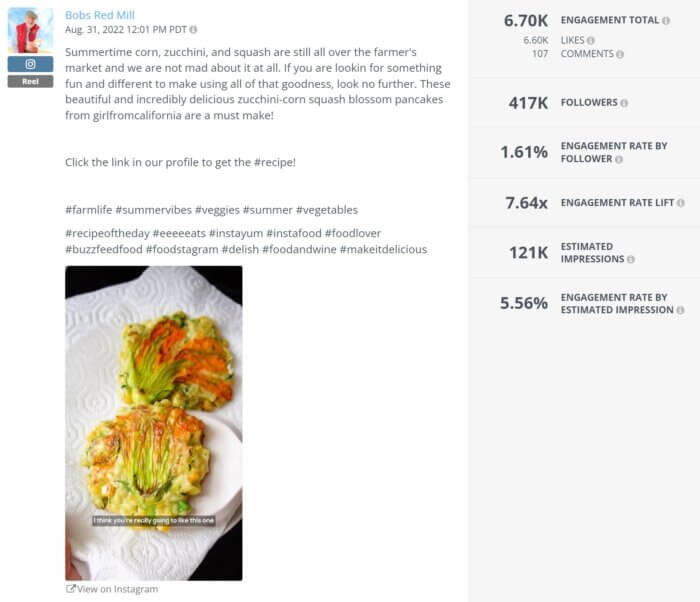 10. Find the right hashtags
Hashtags help tell Instagram what your Reel is about. If you want your content to be prioritized, it can be beneficial for Instagram to have hashtags to help categorize the Reel. Finding the correct hashtags can help you appear on the right person's Explore page or in their search results. Instagram users can also follow hashtags, so your Reel can pop up in their feed if you use the hashtag they're following.
Korean beauty brand Kaja Beauty uses hashtags throughout their posts, Reels included. The brand's top post of 2022 was a Reel showing off a few products to promote a sitewide sale. The Reel included hashtags like #KBeauty, #Makeup, and #MakeupMustHaves and earned an engagement rate of 76.1%, more than 36x the brand's average engagement rate for 2022.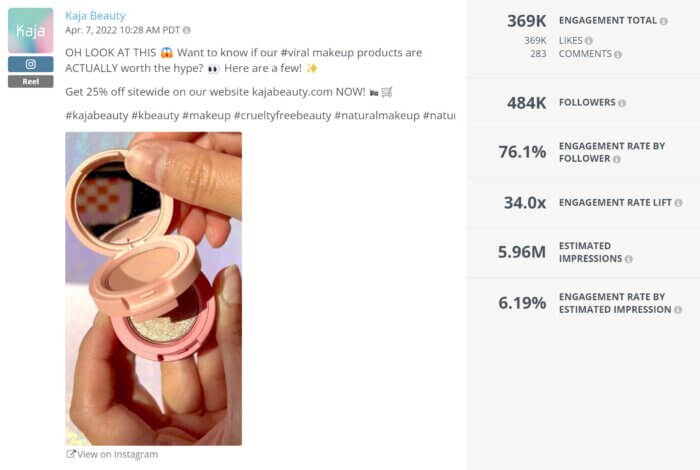 Looking to up your own hashtag game? Tools like Rival IQ can help you find the right hashtags to increase your Reel's reach and engagement.
Wrapping up Best Practices for Instagram Reels.
When it comes to making Reels, certain practices generally should be followed, like creating vertical content, using non-copyrighted sounds and music, captioning for greater inclusivity, and producing original content without the pesky TikTok watermark. But finding the best Reels strategy for your brand will take some trial and error. Test out the tips in this article to find what works best for you. Create loops, use relevant hashtags, decorate your Reel with filters and stickers, try out positive and negative hooks, and see if you boost your reach by sharing on your Stories.
Whatever you test, be sure to reinvest in what's working by checking your analytics on a tool like Rival IQ. For more info on how Reels are performing today on Instagram, check out our 2023 Social Media Industry Benchmark Report.