If you've ever spent time scrolling through Instagram, you're probably familiar with all the hashtags that often accompany posts. These seemingly innocent symbols can make a huge impact when it comes to boosting your content's reach, visibility, and engagement.
Hashtags enable users to discover new posts, explore specific topics, and stumble upon hidden gems within the vast sea of content. By using relevant and popular hashtags, you make it easy for your content to be found in search results, Explore feeds, and by niche audiences. This means more eyeballs on your posts and the potential to gain new followers and engagement.
Now, you might be wondering, "Okay, hashtags are cool and all, but how do I know if they're working for me?" Well, that's where measuring hashtag performance comes into play. By tracking certain metrics, you gain valuable insights into how well your tags are engaging your audience, boosting your post visibility, and driving engagement.
Understanding which hashtags are hitting the mark allows you to fine-tune your strategy, optimize your content, and maximize your Instagram success. So, let's dive headfirst into the world of hashtag analytics and uncover how to measure their effectiveness like a pro.
Top Metrics to Track For Instagram Hashtag Performance
Want to know whether the hashtags you've been using on your Instagram posts are effective? Here are a few key metrics that you need to keep an eye on.
First and foremost is impressions from hashtags, which tells you how many times your post was shown to users because they searched or followed a hashtag you included. For example, if you used the tag #travelinspo and a user was served it in their search (as seen below), then that would be an impression from a hashtag.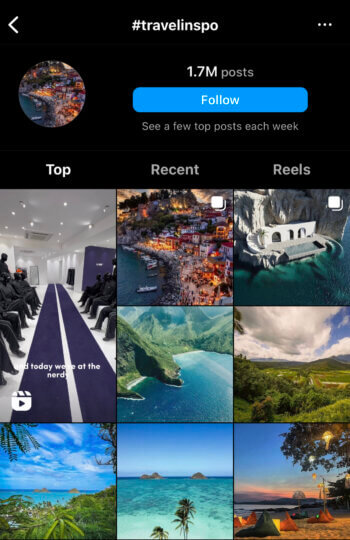 Available in your Insights on Instagram, this metric gives you an idea of how much visibility you get from the hashtags you've chosen. If none (or a minimal amount) of your impressions come from hashtags, it's probably time to try out some new ones.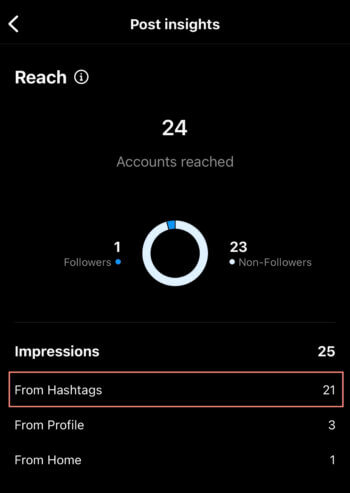 Post reach is another metric you'll want to look at. This refers to the number of unique users who have seen your post. While you won't be able to know exactly how many unique users saw your post through hashtags, keeping note of which hashtags were used on posts with a high reach can give you insights into the effectiveness of particular hashtags.
Last, but certainly not least, is post engagement rate. High engagement rates indicate that your content is resonating with your target audience. After all, having your post shown to and seen by others means little if they just dismiss it seconds later. By tracking the number of likes, comments, and shares your posts receive and identifying the hashtags that you used on top-performing posts, you can better identify the keywords that generated the greatest level of interest and interaction with your content.
Ultimately, there's no magic number that appears alongside certain hashtags to let you know whether they're effective. Instead, it's all about looking for patterns and trends in the data.
Identify the hashtags that consistently drive higher impressions, reach, and engagement. Analyze the effectiveness of Instagram hashtags in posts versus captions. Pinpoint the content types and themes that resonate most with your audience. Armed with these insights, you can refine your hashtag strategy and optimize your content for even better results.
Finding and Evaluating New Hashtags
Now, what about hashtags that you haven't used yet? How do you find new hashtags to include and, more importantly, evaluate whether those hashtags are worth using?
A good place to start is by identifying common hashtags used by your competitors and industry peers. Analyze how those hashtags are tied to impressions, reach, and engagement. Are they generating engagement rates that outdo industry benchmarks? This can give you valuable insights into which hashtags are truly effective and resonate with your target audience.
You can also type in keywords related to your niche in the Instagram search bar, then go to the Tags tab to see the related hashtags that are most often used, as the example below shows.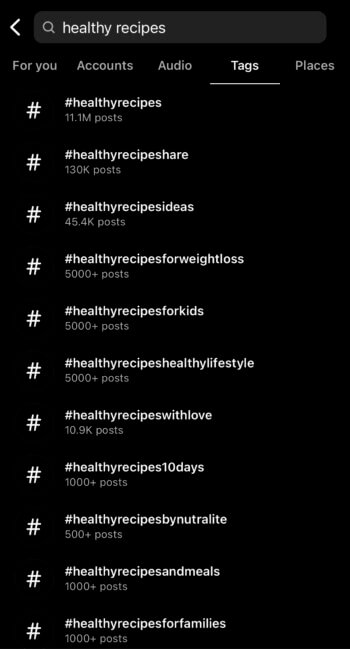 Once you've got a few keywords you want to evaluate, it's a good idea to look at each hashtag's popularity, or how often the hashtag has been used. As shown above, searching the hashtags on Instagram is one easy way to see how many posts have included a particular tag.
There's no hard-set rule for how popular a hashtag should be. Just be aware of how much content is associated with each tag. Play around with a mix of popular and rare hashtags to see what works best. Look for tags that strike a balance between being popular enough to have a significant audience but not so popular that your posts get lost in a sea of content.
With these tips in mind, you're now ready to take your hashtag game to the next level. Want to know how to conduct hashtag analysis quickly and efficiently? We've rounded up the best tools to help. In the next section, we'll dive into the native Instagram app and some third-party platforms that can make your hashtag research and analysis a breeze.
Top Tools for Instagram Hashtag Analytics
Ready to get down to business and conduct your hashtag analysis? Let's talk tools, starting with the most obvious: the native Instagram app.
Instagram Insights
The metrics that you'll want to track for hashtag performance — impressions from hashtags, post reach, and post engagement — can all be accessed through the native Instagram app. To do so, tap View Insights on each individual post that includes hashtags you want to analyze and scroll down to the desired metrics.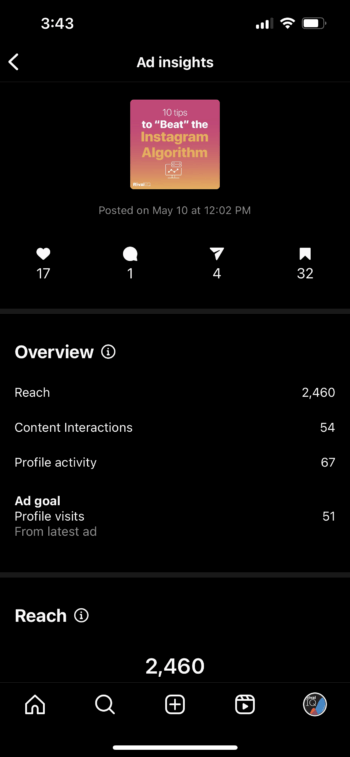 Instagram also offers features that can help you find and evaluate new hashtags. As mentioned earlier, Instagram's search function will generate plenty of related hashtags to inspire you, as well as tell you how popular each tag is.
You can also manually research your competitors on the platform. Note that you won't be able to see insights about other accounts' reach or impressions. What you can do is study their content for hashtag ideas and take note of which tags were associated with posts that garnered a high number of likes (engagement).
While the native Instagram app is a solid source of data for measuring hashtag effectiveness, the big downside is that everything must be tracked and analyzed manually, which can be incredibly time-consuming. Luckily, there are third-party tools out there that can help. Here are six platforms that automate the process, making it easy to see the insights you want.
1. Hashtagify
As its name suggests, Hashtagify focuses on helping users explore trending and popular hashtags, discover related hashtags, and analyze their performance. While the platform prioritizes Twitter hashtags, it does offer real-time stats on Instagram hashtags, as well as related hashtag suggestions and indicators on engagement rate and content quality.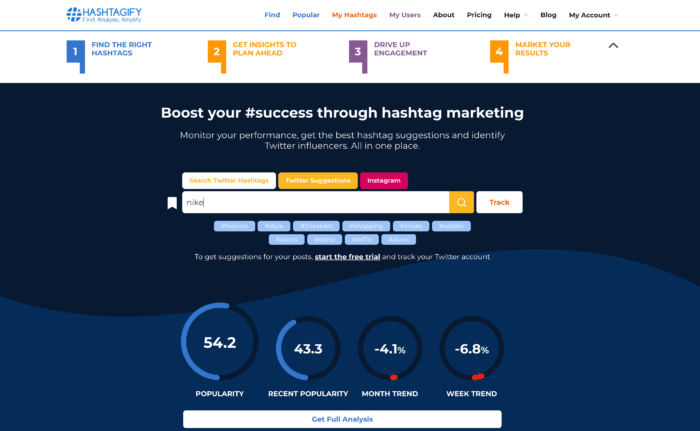 2. Awario
As a brand monitoring tool, Awario makes it easy for brands to keep up with and analyze all mentions of their brand on the web.
Awario includes a hashtag tracking tool that reports on any hashtag of your choice's level of popularity, its growth over time, reach, and activity on major social networks. The platform also allows you to analyze the sentiment behind certain hashtags and lets you monitor social data around dedicated branded hashtags.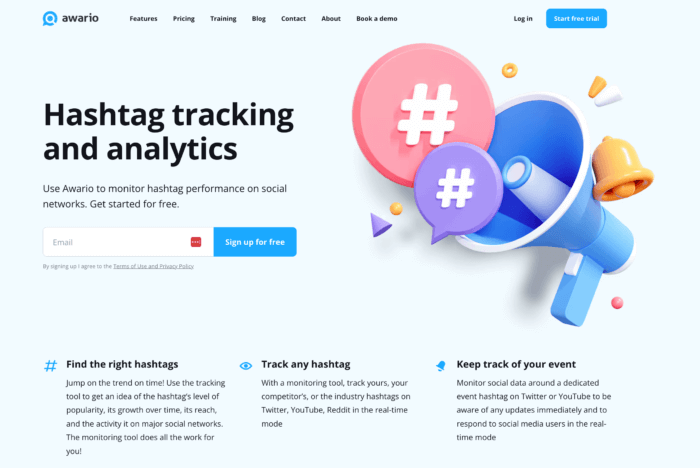 3. Rival IQ
Rival IQ is a comprehensive social media analytics platform that makes it easy to conduct competitive analysis, social posts analysis, social reporting, and social media audits.
With our hashtag analytics capabilities, you can easily identify the hashtags that deliver the best response from your audience, plus see which hashtags your competitors use and learn how well they're working.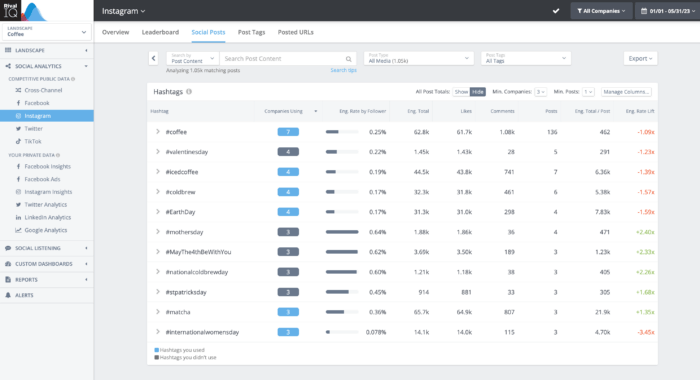 Ready to see all of your Instagram hashtag analytics at a glance?
4. Keyhole
Keyhole is another option for hashtag tracking and analysis across various social media platforms, including Instagram. It provides real-time insights into hashtag performance through comprehensive tracking in one dashboard.
You can also find trending topics, identify influencers within your industry, and benchmark your competitors' social media efforts.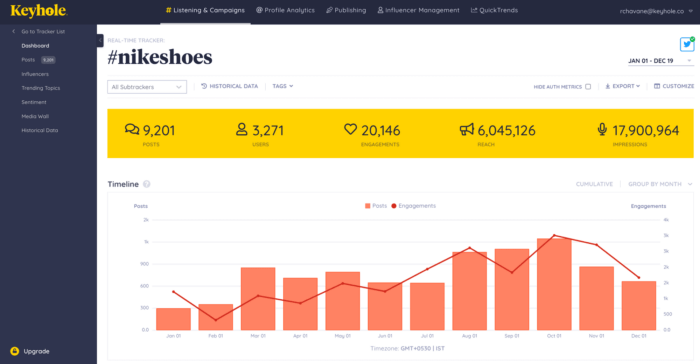 5. Iconosquare
As an all-in-one social media management platform, Iconosquare has a powerful feature called "Listening." This feature enables you to monitor hashtags and discover how they're being used across Instagram by analyzing hashtag trends, top posts, and engagement metrics.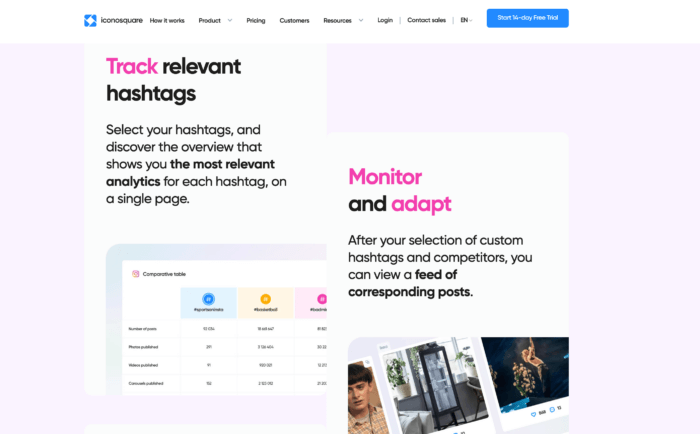 6. Later
While primarily recognized for its Instagram scheduling capabilities, Later also offers several hashtag tools, including hashtag suggestions and hashtag analytics.
Later's Instagram Analytics tool can tell you which hashtags bring in the most engagement, allowing you to compare hashtags side-by-side or see details about specific metrics.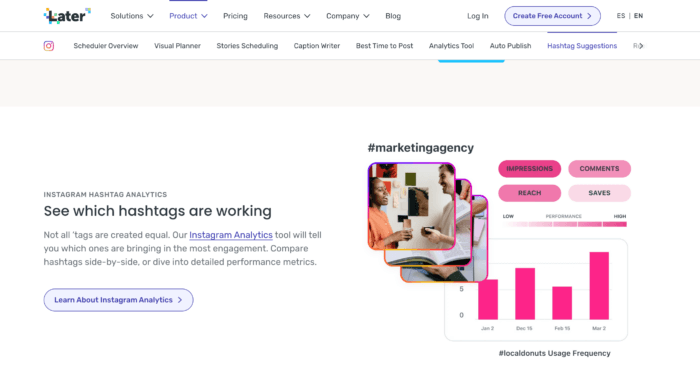 Wrapping It Up
Analyzing the effectiveness of your hashtags ensures that you take full advantage of their ability to help you reach a wider audience, boost engagement, and elevate your brand to new heights.
With the right tools at your fingertips, conducting hashtag analysis becomes a breeze. The native Instagram app is a great starting point, but why stop there? Third-party apps like ours take your analysis to a whole new level, providing you with comprehensive data, competitor benchmarking, and even hashtag suggestions tailored to your niche.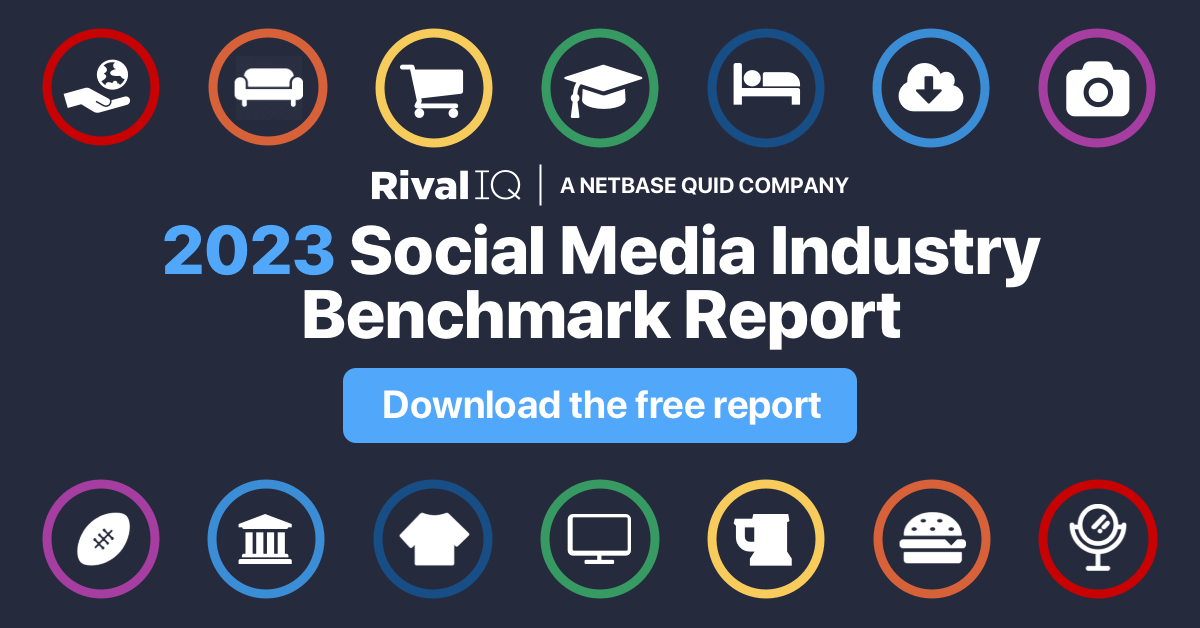 Don't be afraid to experiment, test different combinations, and adapt as trends evolve. Keep a close eye on how your chosen hashtags perform and don't hesitate to make adjustments along the way. Remember, finding and using the right hashtags is an ongoing process, with each hashtag you use bringing you closer towards building a thriving and engaged community.