Twitter and beer brands are a perfect match. Beer brands are often more on the casual side; they like to keep things light and entertaining and never take themselves too seriously. The same can often be said about Twitter!
With its conversational nature, the social media platform has long been the place for consumer brands to have a little fun with their audience, communicate with them 1:1, and share more quippy content than they would on Facebook or Instagram.
And if there's one type of industry that can really benefit from this lively way to engage, it's the alcohol industry. More specifically, beer brands.
According to our Top Alcohol Brands on Social Media, beer brands thrived on Twitter compared to other platforms. The best beer brands were active and engaging. They tweeted 6x/week on average and saw a median engagement rate of 0.21%, in addition to following some of the tried and true Twitter best practices.
If you're looking for inspiration for your brand's Twitter strategy, take note of what these five beer brands on Twitter are doing right.
Austin Beerworks
Twitter Stats:
26.9k followers
37.2k total engagement
164 tweets
Austin Beerworks tops our list of most engaging craft beer brands on Twitter, and is number 10 on our overall list of top brands on social media across all channels.
One scroll through the Austin-based brewery's Twitter feed and it's not hard to see why the brand has captured the attention of nearly 30k followers. The brand consistently shows up for its audience with content that's entertaining, on-trend, and even cheeky at times.
But perhaps more than anything, it's evident that Austin Beerworks is fiercely committed to its community and proud to be a local brand.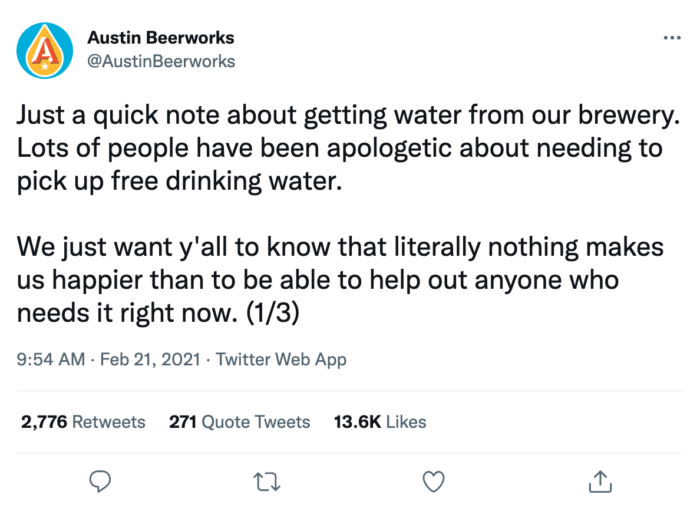 Austin Beerworks' top-performing tweet received an engagement rate of a whopping 64%, which was the most engaging tweet across the entire alcohol industry. The tweet? The first of a thread that addressed how they were providing free drinking water during the aftermath of the Texas winter storm that left many without running water in their homes.
Another highly engaging tweet from Austin Beerworks demonstrates how the brand weaves its humorous voice and tone into conversations that are already being had on the platform.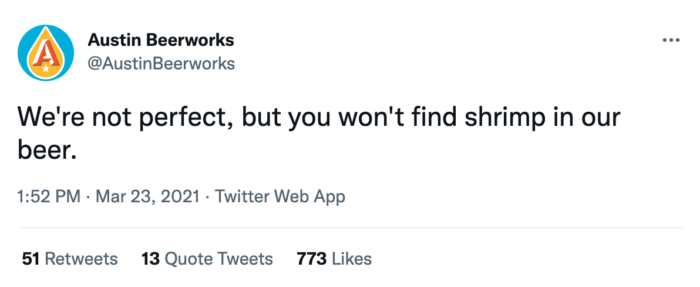 Twitter was built with the intention of being conversational — each week there seems to be a new trend, meme, or topic that everyone on Twitter is talking about. And if you were active on the app during March 2021, then you may remember the Cinnamon Toast Crunch shrimp tail crisis.
Austin Beerworks was clearly tapped into what people were talking about that week and jumped on the chance to join in on the conversation.
This perfectly-timed tweet is an example of not only why brands need to stay tuned into what's trending, but how to tie these conversations back to your brand in a way that's relevant and engaging.
From genuinely caring about its community to being actively involved in current events and trends, Austin Beerworks is a case study in how to out-perform the competition while staying true to your brand.
Krombacher
Twitter Stats:
28.6k followers
60.1k total engagement
256 tweets
Coming in second on our list thanks to a highly engaging tweet, German brewery Krombacher is another top beer brand on social media.
Its highest-performing tweet had an engagement rate of 11.1%, which is 52x greater than the industry's median average of 0.21%. But it's clear to see why. Krombacher's top-performing post was a giveaway, which is a popular social media campaign trend for alcohol brands as we saw in our alcohol report.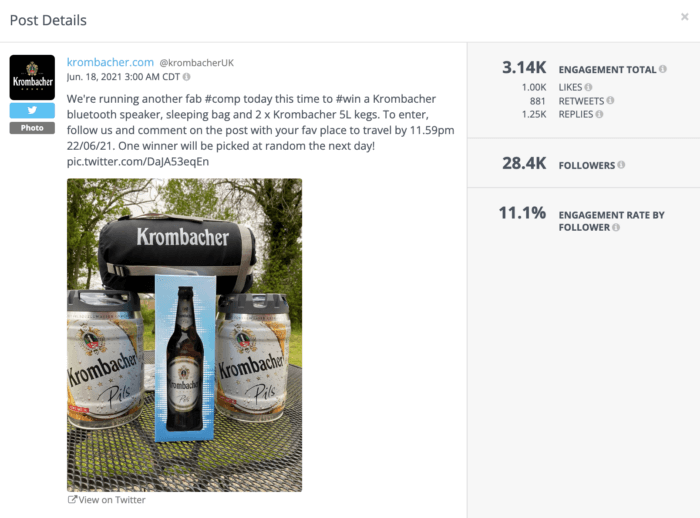 Contests and giveaways on social media naturally get the highest engagement rates across channels and industries because followers are required to engage if they want a chance to win the prize. Giveaways also have a conversion rate of 30%, which is higher than most types of content.
Krombacher frequently runs giveaways on its Twitter, usually encouraging its audience to retweet, follow, or comment which helps boost the post's reach.
When it comes to running a giveaway or contest on Twitter, there's fortunately not a whole lot of planning that goes into it other than figuring out what you want to give away.
The most important part is making sure your prize is something your audience would actually want to win; even better if you can partner with another complementary brand to not only double the winnings but combine audiences for greater reach. In Krombacher's giveaway tweet above, the brand included a branded Bluetooth speaker and sleeping bag in addition to the beer.
Pro tip: Having a slow month on social media? Use a giveaway to boost engagement and get a fresh influx of followers.
Carling Black Label
Twitter Stats:
45.5k followers
56.4k total engagement
345 tweets
Brands always wonder how often to post on social media and the answer is: it depends. For alcohol brands on Twitter, the top brands tweet 6x/week on average, which is a little less than a tweet a day. Posting frequency takes into account the amount of original tweets published by a company. But replies and retweets can help keep your page active and should be implemented as part of your Twitter engagement strategy.
South African beer brand Carling Black Label goes above and beyond, racking up a total of 345 tweets in 2021, or about one a day. The company's consistent tweeting has helped it land a spot among the top five beer brands.
One of its tweets with the highest engagement received a 5.97% engagement rate by follower.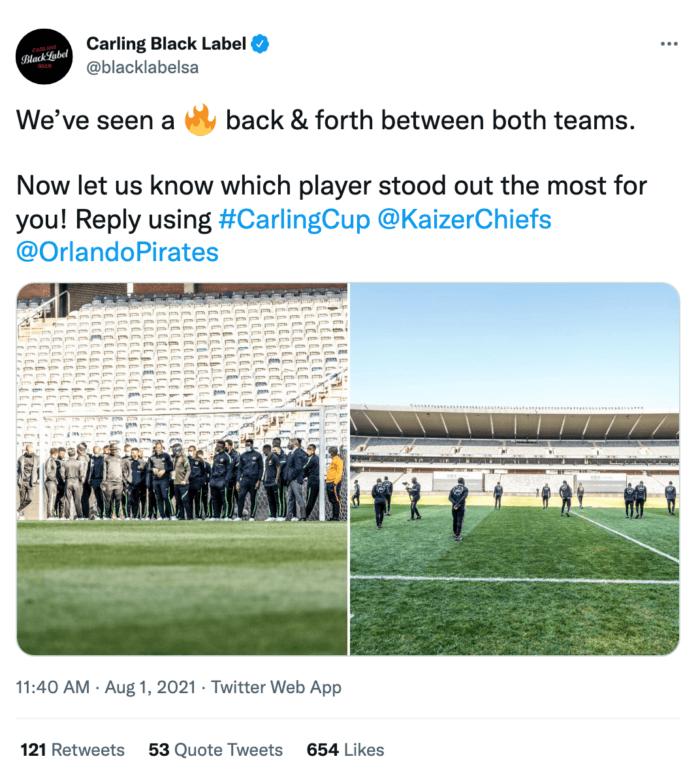 The following phrases are displayed prominently in the brand's Twitter bio: "The most awarded beer in Africa," "Champions Drink Responsibly," and "taste the gold inside." If you're sensing a theme here, you're probably not wrong. We'd guess that Carling Black Label puts an emphasis on winning throughout its branding. So it makes sense to attach its brand name to a football championship cup.
While it may not be feasible for every brand to sponsor or host an event, the lesson here is in consistent branding. Everything Carling Black Label tweets about or puts its name on ties back to its brand message around being the best in class.
Consistency will always be the key to creating a memorable brand. When putting together your Twitter strategy, always keep your brand message and values in mind and consider how your tweets can reflect that.
SA Breweries
Twitter Stats:
43.2k followers
28.4k total engagement
228 tweets
Also based in South Africa, SA Breweries is the parent company to Carling Black Label, among other beer brands. But that doesn't mean the brewery can't have its own brand presence on Twitter. SA Breweries has built a solid audience of 43.2k followers and tweets regularly for a total engagement of 28.4k.
But it's the substance of its content that helps SA Breweries stand out above the rest. Twitter encourages brands to reflect their values in their content, and one of the brewery's top tweets does exactly that.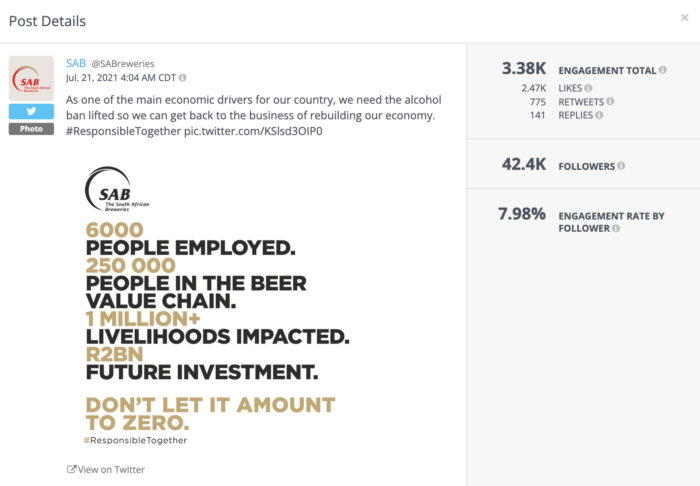 More and more we're seeing brands share their opinions on public issues. And there's a good reason for that. Research finds that a majority of consumers feel that it's important for brands to take a stance on social and political issues.
As evident by one of SAB's top Twitter posts, brands can and should chime in on conversations happening beyond social media if they're relevant to the brand values. SAB's tweet was in response to a ban on alcohol sales that South Africa implemented during a wave of COVID-19 in the country. This is just one example of SAB being vocal about its company's efforts throughout the pandemic.
During a time when many use social media as a platform for their voice, brands can no longer stay silent on issues that matter to their audience.
For example, if sustainability is one of your brand values, your followers will expect to see tweets addressing things like climate change, sustainable processes, and zero-waste efforts. Being vocal about your brand values is essential to earn and keep brand trust.
Yuengling
Twitter Stats:
71k followers
35.7k total engagement
298 tweets
As America's oldest brewery, Yuengling naturally has a ton of credibility to its name. But the Pennsylvania-based company — which landed the number one spot on our list of top alcohol brands across all social media channels — doesn't rely solely on brand recognition to drive its Twitter strategy.
Yuengling is active on the platform and uses visuals to differentiate its brand from the competition. The brand regularly serves up entertaining images, branded GIFs, and videos to its audience of 71k followers.
One of the brewery's top-performing tweets is a video and had a 1.77% engagement rate, which is a little over 8x greater than the industry average.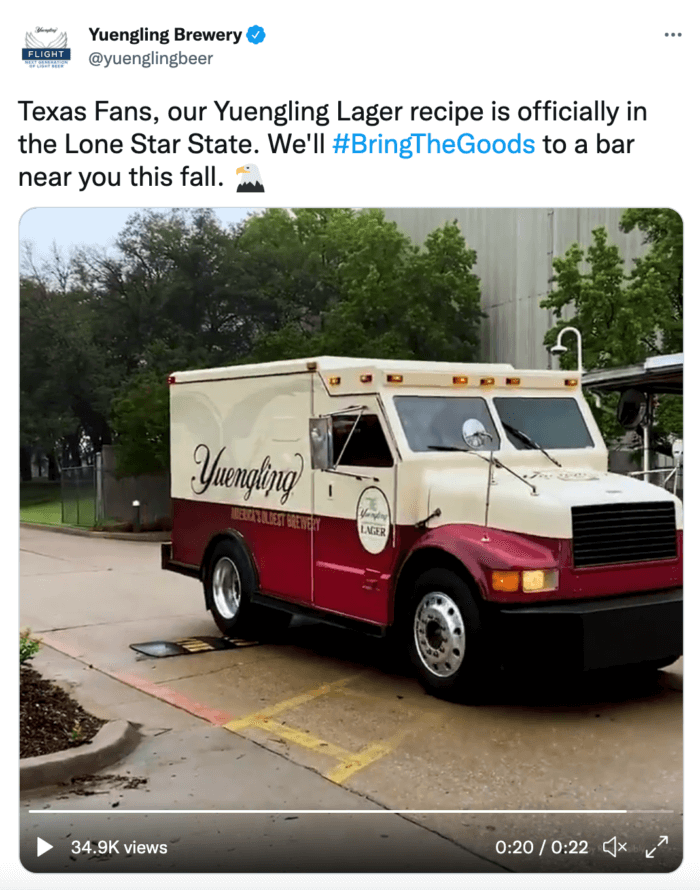 In the video, a Yuengling beer delivery truck can be seen making an entrance through the gates of what the viewer can assume is a property in Texas. Why Texas? The brand used this video to announce that its beer will soon be available in the Lone Star state.
Video is a smart way to stand out in a noisy Twitter feed. In fact, Twitter has recently cited a 34% increase in video view time on the platform and a total of 3.5 billion video views per day.
Using a video to make an announcement or introduce a new product is a creative way to get your message out. Plus, as demonstrated by Yuengling, there doesn't need to be a ton of production behind video content. On a platform like Twitter that's more casual and less about aesthetics, capturing your audience's attention as they scroll through the feed can be done without a long, highly-produced video. Instead, prioritize timeliness and relevance to prime your video content for better engagement.
Wrapping it Up
These popular beer brands are proof that Twitter remains a valuable social media platform when it comes to engaging with your audience. 
To stand out among the competition, beer brands on social media shouldn't be afraid to have some fun, share non-beer-related content that represents their brand values, and experiment with different post types every once in a while. 
If you want to shake up your Twitter strategy in 2022, take note of these top-performing tweets from these beer brands on social media.