Raise a glass to all the top alcohol brands on social media in 2021!
We surveyed our favorite wine, beer, gin, tequila, bourbon, and hard seltzer brands to analyze all the top alcohol social media campaigns on Instagram, Facebook, and Twitter. Read on for top alcohol social media trends, alcohol brands killing it on all three channels, and the definitive rankings of all your favorite alcohol brands on social media.
Shake up your favorite cocktail, and let's get reading!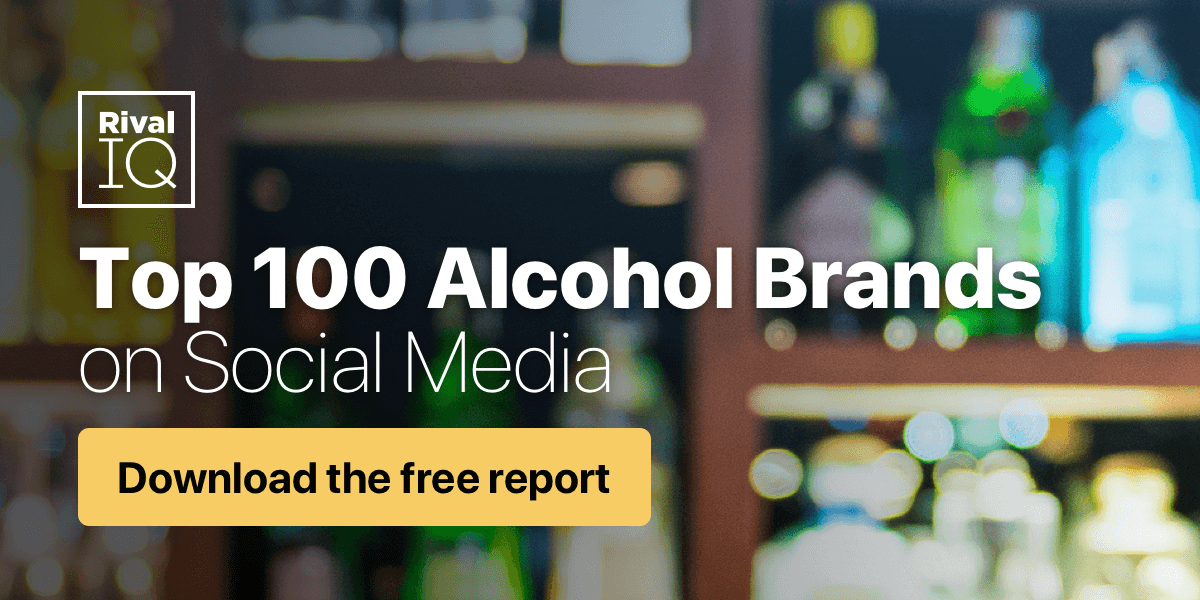 Overall Top Alcohol Brands on Social
Cheers to Yuengling for grabbing the gold this year for alcohol brands on social media! Russian River Brewing and Blue Chair Bay Rum rounded out the winners' podium with second and third-place finishes respectively. Whiskey distilleries Michter's Whiskeys, Eagle Rare, and Buffalo Trace and breweries Cape May Brewery, Shiner Beers, and Austin Beerworks rounded out the top 10, while Truly Hard Seltzer outperformed every other hard seltzer brand that's come on the market in the last few years. Meanwhile, gin, tequila, and wine lovers everywhere might be scratching their heads and drowning their sorrows. Congrats to all the winners!
| Alcohol Brand | Overall Rank | Rank | Rank | Rank |
| --- | --- | --- | --- | --- |
| Yuengling | 1 | 5 | 2 | 10 |
| Russian River Brewing | 2 | 3 | 9 | 19 |
| Blue Chair Bay Rum | 3 | 6 | 13 | 6 |
| Michter's Whiskeys | 4 | 11 | 7 | 15 |
| Truly Hard Seltzer | 5 | 4 | 30 | 3 |
| Eagle Rare | 6 | 12 | 16 | 8 |
| Buffalo Trace | 7 | 19 | 5 | 16 |
| Cape May Brewery | 8 | 7 | 10 | 42 |
| Shiner Beers | 9 | 10 | 21 | 18 |
| Austin Beerworks | 10 | 26 | 8 | 1 |
Without further ado, let's get into the top alcohol social media campaign trends of the year.
Alcohol Social Media Campaign Trend: Contests and Giveaways
It's a truth universally accepted on social media that everyone likes free stuff, so the fact that giveaways were seen in many of the most engaging posts of the year on every major channel is no surprise. (Spoilers: this is true for nearly every industry.) For the price of a little free product or swag, brands can expect serious engagement on giveaway posts as fans follow directions for the chance to win. Many brands further amplify impressions by encouraging fans to check back on the original post to see if they've won.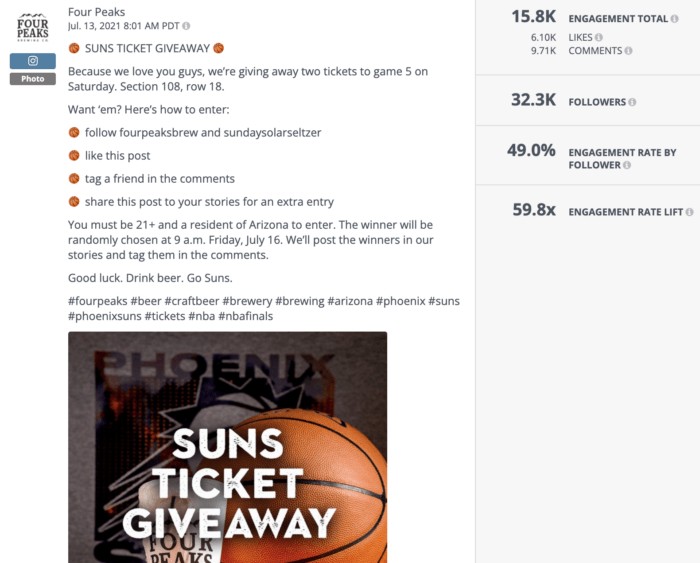 Southwest craft brewery Four Peaks saw nearly 16,000 engagements with an Instagram giveaway featuring basketball tickets. This post's 49% engagement rate was the second-highest Instagram engagement rate of the year for alcohol brands, reminding us that asking fans for a little heavy lifting to enter a contest is completely feasible as long as the prize matches the effort. It's worth noting that many other alcohol brands saw great success with giveaway posts that were much less grand than Four Peaks', so you don't necessarily need an expensive prize to win big engagement.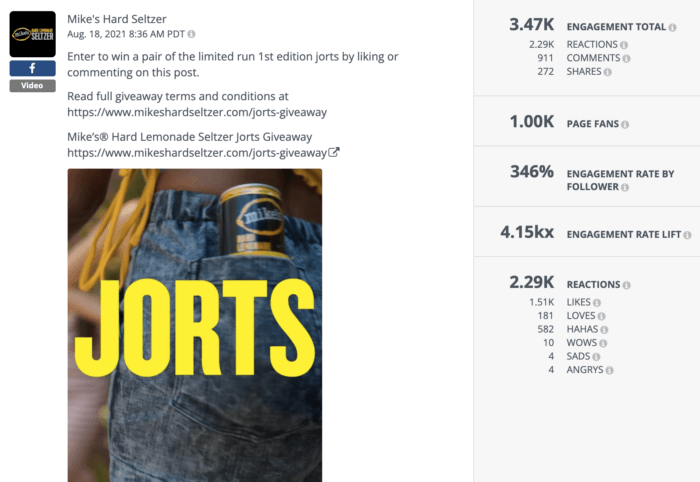 When you have 50 pairs of custom branded jorts (jean shorts) to give away and just 1,000 Facebook followers, all of whom seem to get your humor, you get a dynamite Facebook post with a stellar engagement rate. Mike's Hard Seltzer went, well, hard on this giveaway, with a slick music video and presumably a lot of boosting on Facebook to score this many engagements with a small follower count. Many brands go all-in on one enticing prize package when doing a giveaway, but 50 pairs of jorts meant the brand could engage with followers with replies dozens of times more than just announcing one winner. Not all brands can afford an expensive commercial like Mike's, but there's definitely something to learn with the brand's approach to giveaways.
Alcohol Social Media Campaign Trend: Product releases
With much of 2021 spent at home in lockdown, alcohol brands capitalized on our attention (and increased interest in drinking) with loads of new flavors and products for us to spend money on. While brands like Buffalo Trace and Eagle Rare have social media feeds that reflect their obsessive commitment to an unchanging recipe, breweries and hard seltzer makers were all about the new.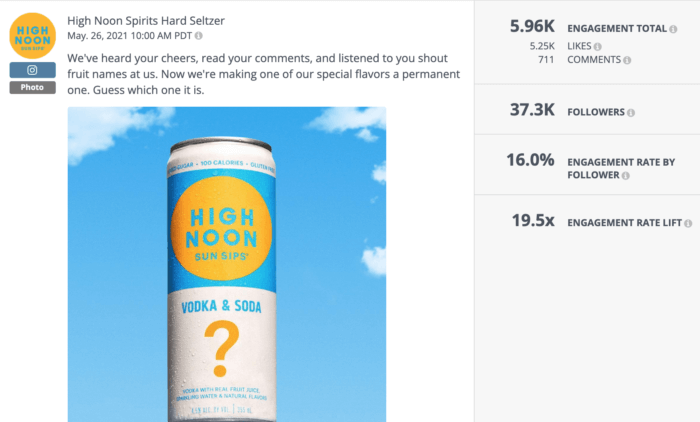 Seltzer brands like High Noon, Truly Hard Seltzer, and Vizzy Hard Seltzer released oodles of new flavors and ways to drink this year from tropical to popsicle and way, way beyond. This Instagram campaign from High Noon hyped up fans by inviting them to guess the brand's latest flavor release and grabbed the brand a 16% engagement rate. Even though hard seltzer's popularity seems to be waning, it really had a moment in 2021, and distilleries tried to capitalize on that popularity by releasing a new flavor seemingly every day of the week. There's something to be said for shiny new things, especially in the age of COVID lockdowns and increased consumer spending.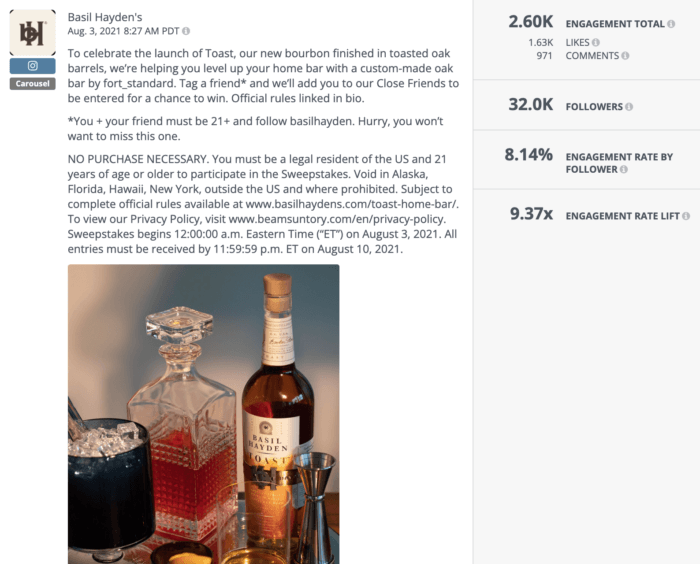 Bourbon distillery Basil Hayden's took a new product release a step further by pairing it with a giveaway of a gorgeous custom oak bar, and fans turned out for a chance to express their excitement for a new product while vying for free stuff. The campaign was one of the distillery's most engaging of the year with an 8.14% engagement rate on Instagram. Pairing tried-and-true social media strategies like giveaways with new releases is a great way to grab attention on every major social channel, so don't be afraid to take a page out of Basil Hayden's social campaign playbook.
Alcohol Social Media Campaign Trend: Community Connections
Consumers' thirst for authentic and thoughtful communication from brands have never been higher, and many top alcohol brands came through by favoring heartfelt messages over slick commercials. It can feel easy for brands to fall back on marketing assets or market-tested slogans, but some of the most engaging social media campaigns of the year for alcohol brands were nothing more than a thoughtful message to fans.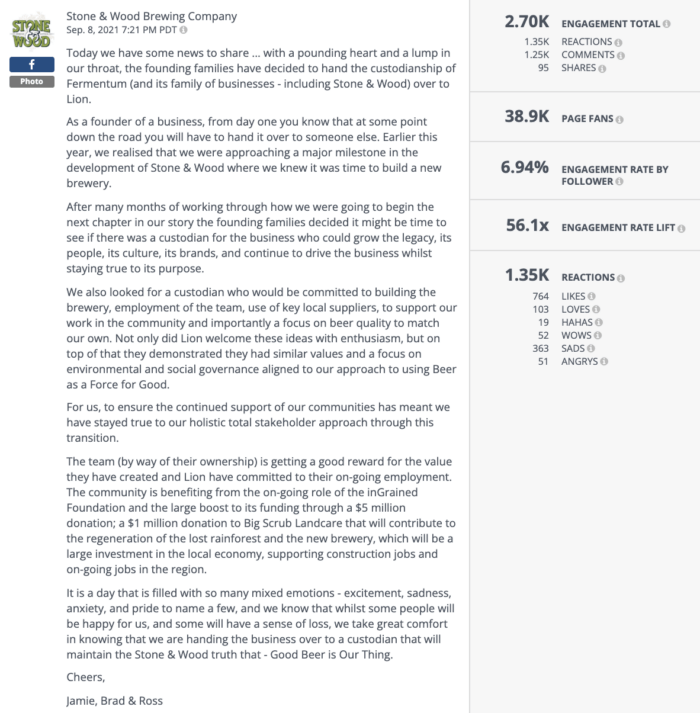 Stone & Wood Brewing Company announced their acquisition by global beverage company Lion on social media with honesty, care, and emotion in a thoughtful letter to fans. Followers immediately jumped in the comments to congratulate their favorite brewery on their next chapter to the tune of a 6.94% engagement rate, which blows the 0.28% median Facebook engagement rate for alcohol brands out of the water. The brewery further amplified engagement on the post by responding to many fans to thank them for their support and answer questions.
Many of Austin Beerworks' top posts on social this year had nothing to do with their tasty beer, and this Instagram post is no exception. The brewery jumped to help Texas residents during the big freeze of February 2021, and this sweet post checking in and saying thanks grabbed tons of engagement from fans to the tune of a 3.52% engagement rate. Followers jumped into the comments to express gratitude right back to the brewery for being so community-minded, and out-of-state followers promised to order up some of the brewery's offerings in support. Social media can be a scary place sometimes, but brands like Austin Beerworks remind us that there's plenty of room for good on social too.
Featured alcohol brand: Yuengling
Pennsylvania brewery Yuengling shows us you don't have to be the best on any one channel to be a top alcohol brand on social media. Yuengling ranked 5th on Instagram, 2nd on Facebook, and 10th on Twitter while still grabbing the overall gold, reminding us that it's important for brands to invest as fully as possible in creative social content that engages followers, rather than putting all eggs in one basket.
Yuengling saw about 2x the median alcohol engagement rate on Instagram and Facebook while lagging a little on Twitter, and posted about twice as frequently as the median alcohol brand on all three channels.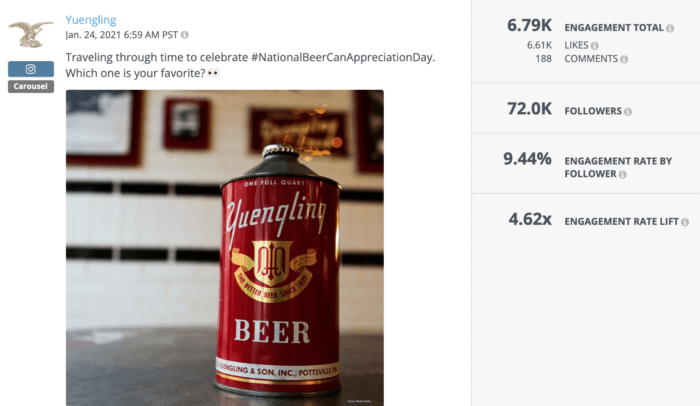 Did you know #NationalBeerCanAppreciationDay was a thing? Yuengling did, and this Instagram carousel campaign celebrating this niche holiday scored a whopping 9.44% engagement rate and was the brewery's post with the highest engagement rate of the year. We've seen again and again that carousel posts boost engagement by serving the photos within to your followers until they've swiped through or engaged with the post. That engagement boost meant Yuengling had six chances (one for each photo in the carousel) to invite their photos to partake in a little nostalgia. The brewery's success here demonstrates it's generally a good idea to group photos together on Instagram if you can rather than posting individually.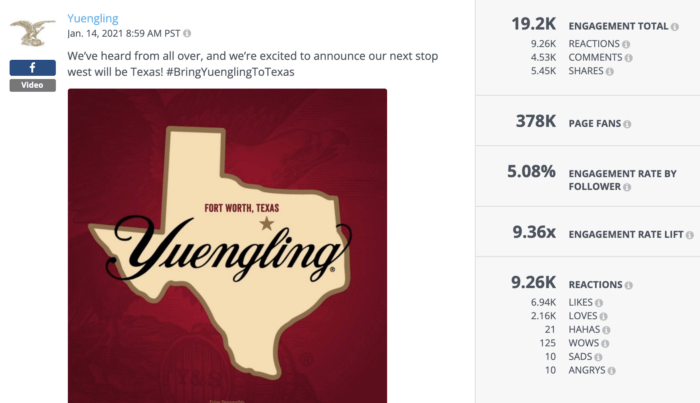 When you post on Facebook and see nearly 10,000 reactions with just 10 angries 😡, you know you're doing something right on social. Yuengling's beers are famously available only on the East Coast, and followers were stoked to learn Yuengling is now available in Texas. Comments ranged from tears of joy to bootleg offers to other geos begging Yuengling to continue to expand its footprint. This Facebook video post was Yuengling's most engaging post of the year with a stellar 5.08% engagement rate and thousands of shares, and many of the brewery's top posts on other channels also had to do with the Lone Star State.

Sometimes, social media strategy is complex, pre-planned, and expensive. Other times, social media strategy is as simple as asking followers to retweet if they prefer your beer in bottles and favorite if they prefer it canned. Yuengling saw a lot of success with this small request of followers and simple graphics, with several of their top tweets asking followers to vote in the form of a tweet engagement. This tweet was Yuengling's fourth-most engaging tweet of the year with a 1% engagement rate, which is about 5x the Twitter median for alcohol brands. Fans even took it upon themselves to reply to the tweet with further clarification about their opinions for Yuengling containers, which helped further amplify the tweet's reach.
Top Alcohol Brands on Instagram
From Tequila Avion to Empress Gin to Russian River Brewing and beyond, the alcohol champs on Instagram this year represent an even split between the various types of alcohol. Brands like Yuengling and Blue Chair Bay Rum saw top scores on Instagram alongside strong finishes on other channels, while brands like Aviation American Gin and winery Ruinart clearly focused on Instagram at the expense of engagement elsewhere.
Top alcohol brands on Instagram enticed followers and likes with gorgeous product images, exciting new releases, and plenty of giveaways to boost follower counts and engagement numbers. The average alcohol brand on Instagram saw a median engagement rate of 1.26% and posted about 3 times per week, or about every other day.
| Rank | Company | Total Engagement | Engagement Rate |
| --- | --- | --- | --- |
| 1 | Tequila Avion | 344,602 | 2.77% |
| 2 | Empress Gin | 403,946 | 2.45% |
| 3 | Russian River Brewing | 369,274 | 2.18% |
| 4 | Truly Hard Seltzer | 340,357 | 2.21% |
| 5 | Yuengling | 345,578 | 2.08% |
| 6 | Blue Chair Bay Rum | 515,484 | 1.67% |
| 7 | Cape May Brewery | 310,535 | 1.60% |
| 8 | Aviation American Gin | 302,666 | 1.48% |
| 9 | Ruinart | 282,584 | 1.48% |
| 9 | Shiner Beers | 187,795 | 1.73% |
Featured alcohol brand: Truly Hard Seltzer
For a brand that didn't exist five years ago, Truly Hard Seltzer is punching way above its weight on social, especially compared to brands like Shiner Beers (founded in 1909) and Buffalo Trace (founded in 1787). Okay, so there wasn't social media in the 1700s–Truly has still had less time to amass a following and engagement. The seltzer brand ranked 5th overall, with notable 4th place finishes on Instagram and grabbing the bronze on Twitter.
Truly rocked a 2.21% engagement rate, which is nearly twice the average of alcohol brands we surveyed here. The seltzer brand also posts slightly more frequently than the average alcohol brand on Instagram at about four posts per week, which helps boost their engagement rate and totals.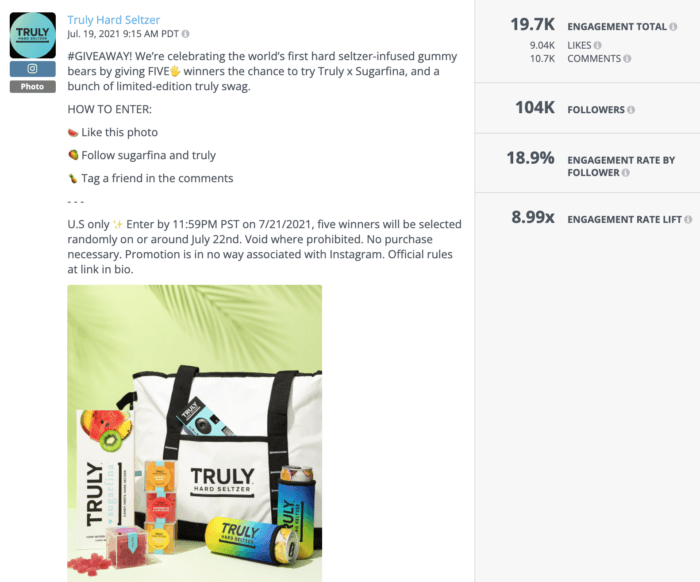 Giveaways are a tried and true recipe for social engagement across many industries, but Truly saw some of the biggest engagement numbers of any alcohol brand we surveyed. This giveaway campaign featured an easy ask for followers with a big payoff in boozy products and swag. Followers turned out in droves to the tune of an 18.9% engagement rate and nearly 20,000 engagements, suggesting that seltzer-infused gummy bears are everything the world has been waiting for. This giveaway post grabbed Truly's highest engagement rate of the year and serves as a good reminder that giveaways are a popular strategy for good reason.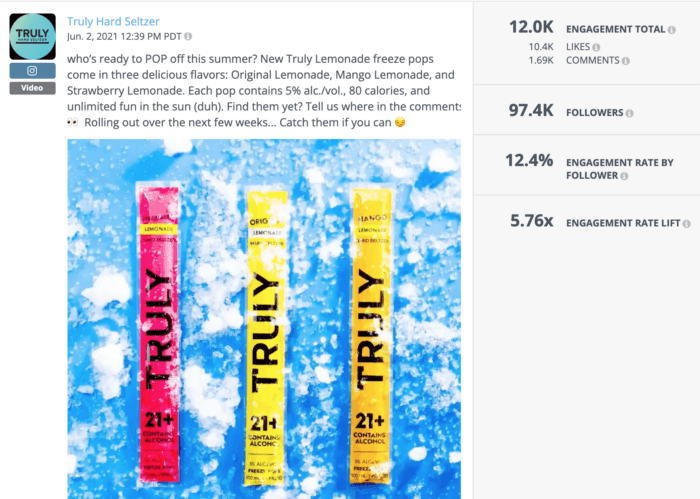 Being a new(ish) alcohol brand has its perks, including the ability to innovate endlessly on your flavors to ramp up excitement among followers and customers. Many of Truly's top Instagram posts feature wacky new flavors and offerings like these boozy ice pops, and followers eat (and drink) them up, in this case to the tune of a killer 12.4% engagement rate. Pairing this new product with a jazzy GIF and a quick request for followers to share where they're buying this limited release led to tons of excited comments and followers tagging their friends, which further amplified this post's online reach.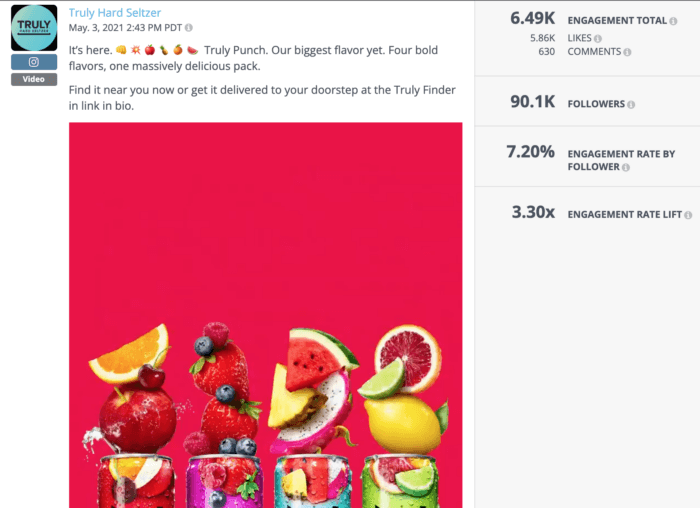 Truly's vibe on social is technicolor, and many of the brand's top posts feature their colorful cans on even more colorful backgrounds. This bright GIF features cans of Truly exploding with fruit in celebration of a new flavor and rocked a 7.20% engagement rate, which is about 6x the alcohol median. Truly never struggles to catch followers' eyes on social, but this video is a particularly good example of content that stands out in a news feed.
Truly gets extra points for post type diversity on Instagram: while many alcohol brands tend to favor photo posts for ease, Truly's top ten Instagram posts are a mix of photos, carousels, and videos.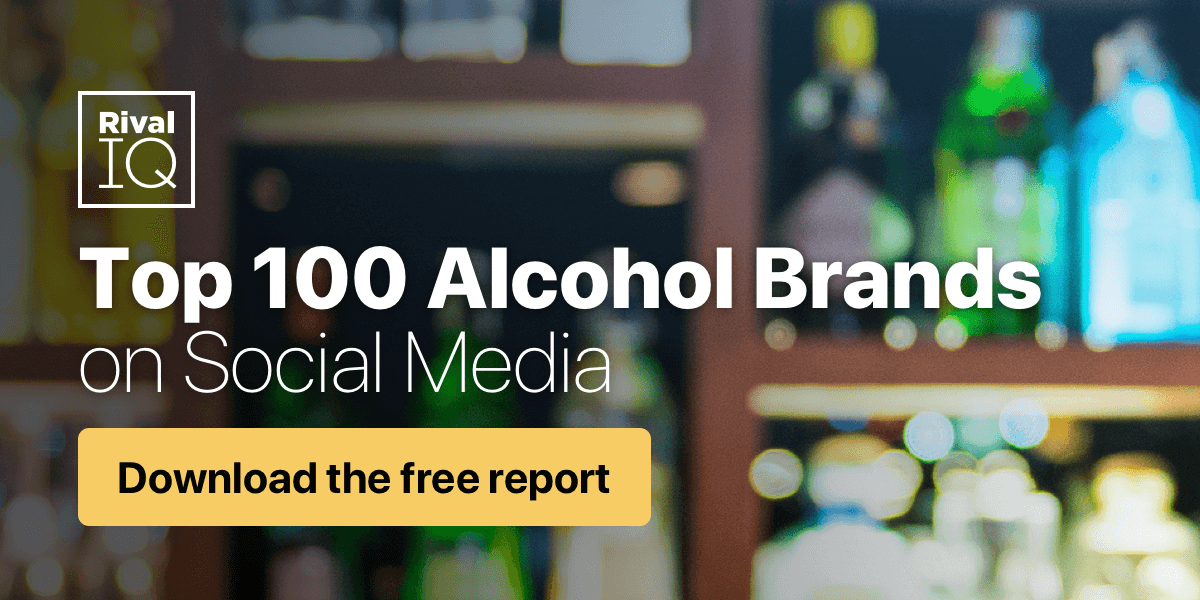 Top Alcohol Brands on Facebook
This year's top alcohol brands on Facebook were a little all over the place in that many of the highest performers on Facebook didn't do so hot on other channels. First-place winery and winner Nieto Senetiner grabbed the gold on Facebook but were near the bottom of the barrel on Instagram and Twitter, which was also true for Founders Brewing and winery Masi Agicola. Yuengling, Buffalo Trace, and Michter's Whiskey performed better across the board, with top finishes on Facebook, Instagram, and Twitter. The median alcohol brand Facebook engagement rate was 0.28%, and alcohol brands posted about 3x/week on average.
| Rank | Company | Total Engagement | Engagement Rate |
| --- | --- | --- | --- |
| 1 | Nieto Senetiner | 210,223 | 0.70% |
| 2 | Yuengling | 504,261 | 0.56% |
| 3 | Founders Brewing | 345,546 | 0.46% |
| 4 | Frescobaldi | 129,537 | 0.50% |
| 5 | Buffalo Trace | 300,667 | 0.30% |
| 6 | Masi Agricola | 52,849 | 0.57% |
| 7 | Michter's Whiskeys | 54,115 | 0.55% |
| 8 | Austin Beerworks | 27,639 | 1.00% |
| 9 | Russian River Brewing | 61,246 | 0.42% |
| 10 | Cape May Brewery | 58,135 | 0.43% |
Featured alcohol brand: Buffalo Trace
Bourbon brand Buffalo Trace ranked fifth on Facebook this year thanks to some seriously successful social strategy and isn't doing too shabby on Instagram and Twitter as well with sub-top-20 finishes on both. The distillery saw a 0.3% average engagement rate this year, which is just a little higher than the industry average seen in this report.
So why did Buffalo Trace rank so high on this channel? Hint: it rhymes with ghosting piquancy 👻🌶. Buffalo Trace posted about 8x/week on Facebook, or about twice as often as their average competitor. Posting consistently helped the distillery create more opportunities for their followers to engage and meant their engagement totals were sky high compared to the average alcohol brand on social this year.
Does this mean your alcohol brand's social media strategy for 2022 should be "post more at all costs"? No way. Posting more frequently gives you a competitive advantage on social only if you're posting high-quality content. If you want to figure out how often to post on social media for your industry, we've got you covered.
Let's look at a few examples of high-engagement Facebook alcohol campaigns from Buffalo Trace.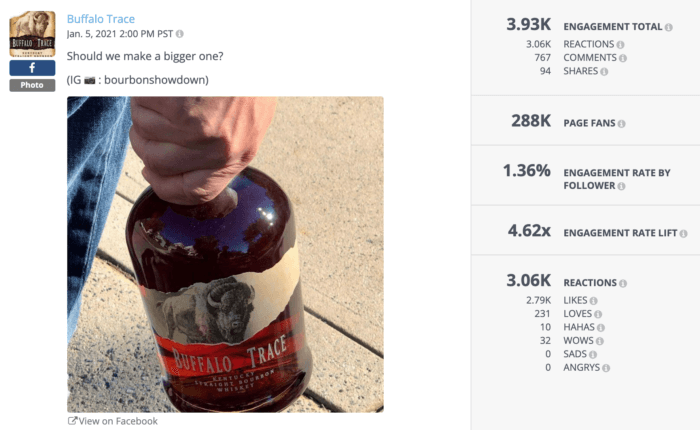 Buffalo Trace is all about giving the people what they want, as long as what they want is bourbon. The distillery saw a lot of success on social this year with mouthwatering close-ups of their signature offering. This UGC shot of the distillery's bourbon paired with a simple question about increasing the bottle size led fans to clamor for more bourbon per bottle in the comments, alongside many an accolade for the brand. This campaign was the brand's most engaging Facebook post of the year with nearly 4,000 engagements and an engagement rate of 1.36%, or nearly 5x the median engagement rate for alcohol brands.
None of the distillery's top posts on Facebook featured so much as a face, let alone multiple people enjoying their bourbon, so it's clear that Buffalo Trace knows their followers engage best with their product standing alone. Buffalo Trace's success with this simple post is a good reminder for everyone that content doesn't need to be expensive, fancy, or over-produced to succeed on social.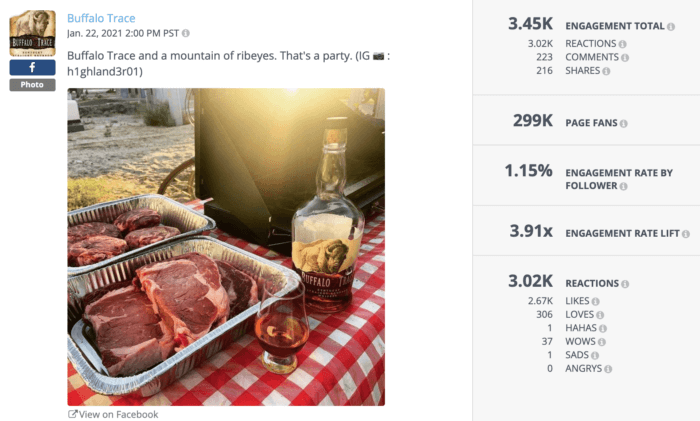 Many of Buffalo Trace's top Facebook posts featured bourbon's best friend: meat. From recipes to UGC to cocktails, Buffalo Trace encouraged fans to take their bourbon beyond a glass on the rocks. This top-performing alcohol campaign featuring a fan photo of their barbecue setup is a prime example of UGC at its finest: reposting this fan's Buffalo Trace and beef led other fans to take to the comments with their own photos of grilling while drinking, which further multiplied Buffalo Trace's stash of fan photos to repost on social.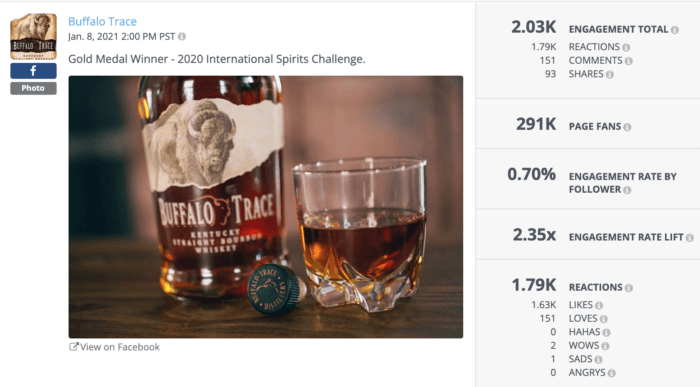 Buffalo Trace was not above the #humblebrag on Facebook with an emphasis on the brag, with many of the brand's top posts featuring exciting wins from around the world. This campaign shared a big win for the distillery at the 2020 International Spirits Challenge, and fans showed up to raise a glass and share their congratulations. (Of course, it doesn't take much of an excuse for Buffalo Trace fans to pour a glass of the good stuff.) With more than 2,000 engagements and an engagement rate more than double the industry median, Buffalo Trace has a lot to celebrate with this post.
Top Alcohol Brands on Twitter
Congrats to Austin Beerworks on a first-place finish on Twitter this year, and grabbing 10th in the overall rankings. Other top 10 overall finishers like Truly Hard Seltzer, Blue Chair Bay Rum, and distillery Eagle Rare scored top marks on Twitter, while breweries Krombacher and SA Breweries scored great on Twitter but bombed on other channels. Alcohol brands tweeted 6x/week on average, which is a little less than a tweet a day, and saw a median engagement rate of 0.21%.
| Rank | Company | Total Engagement | Engagement Rate |
| --- | --- | --- | --- |
| 1 | Austin Beerworks | 36,811 | 0.88% |
| 2 | Aviation American Gin | 104,213 | 0.50% |
| 3 | Truly Hard Seltzer | 33,930 | 0.83% |
| 4 | Krombacher | 59,208 | 0.82% |
| 5 | Carling Black Label | 51,908 | 0.39% |
| 6 | Blue Chair Bay Rum | 28,568 | 0.50% |
| 7 | Vizzy Hard Seltzer | 10,156 | 1.27% |
| 8 | Eagle Rare | 15,835 | 0.48% |
| 9 | SA Breweries | 19,293 | 0.21% |
| 10 | Yuengling | 34,507 | 0.16% |
Featured alcohol brand: Austin Beerworks
Austin Beerworks cleaned up on Twitter this year with a first-place finish, killer engagement rate and total numbers, and the most engaging tweet in the entire industry by engagement rate. This Texas brewery averaged a 0.85% engagement rate on Twitter, which is more than 4x the alcohol industry average.
While many alcohol brands succeeded on social this year by posting photos of their delicious boozy offerings or funny memes, Austin Beerworks' success can be attributed to something different: genuine connection to their community. From offers to help during the big Texas freeze of February 2021 to progressive hiring practices, the brewery wasn't afraid to put community over profit in their actions and their tweets.
The tweet above is the aforementioned most engaging tweet of the year in the alcohol industry by engagement rate with a whopping 64% engagement rate by follower. This generous offer to supply free drinking water to neighbors in need during a raging winter storm in Texas resonated with followers and beer fans without so much as a photo to grab attention. Austin Beerworks' heartfelt tweet is a reminder to us all that sometimes the best marketing is standing by your values even when times are tough (or cold).

Austin Beerworks' second most engaging tweet of the year grabbed a whopping 19.7% engagement rate taking a stand against the myth that low-wage jobs are difficult to fill because of laziness. It would've been easy for the brewery to decide not to wade into the divisive issue of unemployment, but this tweet and the brewery's thoughtful discourse in the replies makes it clear that Austin Beerworks stands up for what they believe in (and that their social media person has carte blanche). The brewery was able to add followers this year instead of losing them despite finding success on social with topics that wouldn't be considered "safe" or "approved" by many alcohol brands.

Speaking of divisive tweets, Austin Beerworks announced it would keep its indoor masking policy in place even after the governor of Texas lifted mask guidance statewide in March 2021. One might think that the 3.77% engagement rate on this tweet came from furious Texans begging the brewery to comply with the governor's guidance, but it was quite the opposite: fans turned out in droves to commend Austin Beerworks for keeping its staff and customers safe, and more than a few replied to say they planned to become new customers based on this policy. Austin Beerworks shows us again and again that sticking with closely-held values is both the right and the engaging thing to do.
Live Alcohol Social Media Benchmarks
Comparing your alcohol brand's social performance has never been easier. Browse our Live Alcohol Brand Social Media Benchmarks for a real-time look at top alcohol posts, engagement rates, high-performing hashtags, and tons more. You can even add these benchmarks directly into your Rival IQ account for always-on monitoring of these top brands.
Need even more competitive analytics? Go head-to-head with a free report on Facebook, Instagram, or Twitter to see how you stack up against your top competition. See what makes your competitors tick with key insights and actionable advice you can start using now to come out on top.
If you're thirsty for even more stats, start a free 14-day trial with Rival IQ.
Methodology
We surveyed 180 alcohol brands between January 1, 2021 and September 30, 2021 on Facebook, Instagram, and Twitter. We included a selection of alcohol brands from our 2021 Social Media Industry Benchmark Report and others labels from our team. Using this data and a weighted formula, we generated an overall engagement ranking for each alcohol brand and used it to rank the top 100 alcohol brands on social. The top-ranked brands have high engagement rates with average or better audience size and posting volumes. We reviewed a mix of boosted and organic posts.
We define engagement as measurable interaction on social media posts, including likes, comments, favorites, retweets, shares, and reactions. Engagement rate is defined as the total engagement divided by audience size.
Due to Instagram API limitations, we're able to pull accurate Instagram engagement numbers only for verified and/or Instagram business accounts.
Why Alcohol Brands Should Benchmark on Social Media
Why benchmark instead of just measuring how your brand's individual performance changes over time? Because social success is relative. Benchmarking means figuring out what's working (and what isn't) in your industry and measuring your success against that.
It's crucial to go beyond likes and favorites because audience size is hugely important: 100 likes is great engagement for a brewery, winery, or distillery with 1,000 followers but is a drop in the bucket to an alcohol brand with 100,000 followers. Engagement rate helps us take audience size into account to see who's really reaching the highest percentage of their fans and followers with their social posts, which are the alcohol brands you need to beat.
Wrapping It Up
We hope you enjoyed reading about our favorite alcohol brands and trends on social media this year, and we also hope it didn't drive you to drink if your brand wasn't among the winners.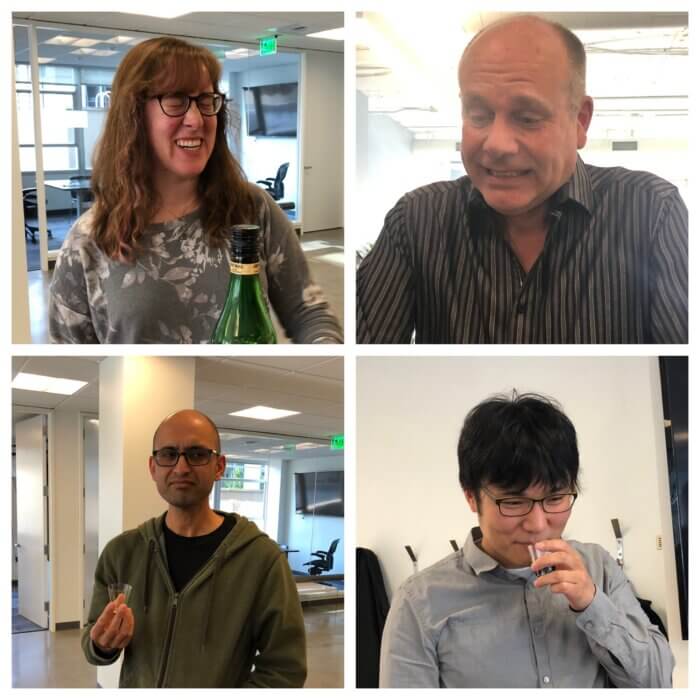 Special shout-out to the Rival team who willingly took shots of Fernet-Branca–your #FernetFaces did not disappoint.
Did we miss an alcohol brand you love? Don't hesitate to reach out to us on Twitter.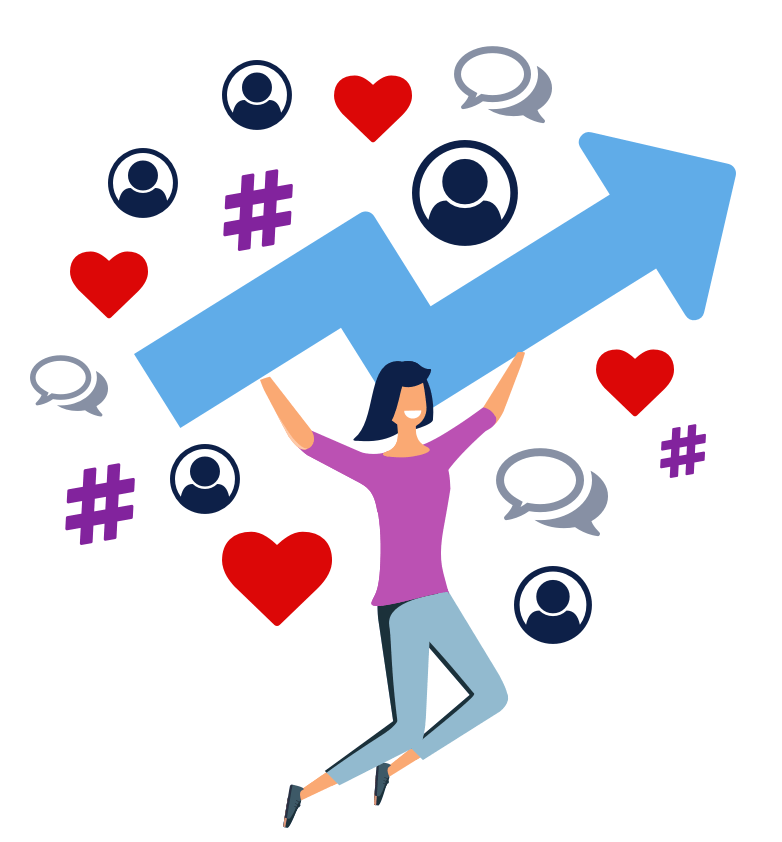 Start analyzing your alcohol brand's social with a free Rival IQ trial.
Get my free trial