It's been nearly fifteen years since Facebook was made available to the general public and changed the nature of social media forever. In that time we've seen the rise of multiple social competitors, including Twitter, Instagram (now owned by Facebook), Snapchat, Vine (R.I.P), TikTok, Google+ (also R.I.P.), and many others. With every addition to the market, the list of Facebook best practices has had to shift to meet the expectations of changing features and audiences.
Even after all of this, Facebook is still the king of social media with 2.80 billion active users and a major driver of social media-related business. So, despite the common refrain of pundits claiming that Facebook is "no longer cool," the numbers say otherwise. This means that you're only putting yourself at a disadvantage if your social media strategy doesn't include optimizing your brand marketing for Facebook.
That's why I've put together a list of the top ten Facebook best practices your brand needs to succeed in 2021. Happy posting!
Facebook Best Practice #1: Properly size your images
Imagine sending only 60% of an email to a coworker or starting a story three chapters in without any background information. This is what it's like to share improperly sized images on Facebook. You're only conveying the information that is visible to the average Facebook user scrolling through their feed while leaving the rest hidden. Additionally, improperly sized images also lead to diminished quality, such as pixelation when dealing with smaller visuals.
There are specific image sizes that are optimized for maximum visibility on Facebook and tailoring your visual content to these specifications will ensure the highest levels of engagement possible.
Optimal Facebook Image Sizes:
Profile Picture: 400 x 400 px
Business Page Cover Photo: 1200 x 674 px
Event Cover Photo: 1920 x 1005 px
Group Cover Photo: 1920 x 1005 px
Photo Post: 1200 x 630 px
Story Post: 1200 x 445 px
Carousel Ad: 1080 x 1080 px
Single Image Ad: 1200 x 628 px
Catalog Image: 1080 x 1080 px
Don't count on your users to click on your images to get the whole picture (pun intended). Tell your whole story the first time while your audience scrolls over your content. Be sure to save this list of image sizes for your own reference when creating new visual content for your business page.
Facebook Best Practice #2: Engage your audience with questions
Facebook is a participatory medium. We log in each day for the promise of sharing and receiving information about the lives of other people. We all want to feel involved and the ultimate promise of Facebook is to be that connective tissue to the world. I know, deep, right?
As a brand, it's crucial to capitalize on that desire to feel involved, and asking questions is the perfect way to engage your audience and ensure their participation in the growth of your page. These kinds of questions range from product development-related questions to fun little opinion-based questions related to the weather. If you don't know where to start, here are a few ideas:
What's your favorite _______ (season, holiday, vacation spot, movie, etc.)?
Which product is your favorite? ______ or _______
When you were a child, what was your dream career?
Which colors do you prefer on ______ product?
How has ______ product improved your daily life
Your brand shouldn't live or die based on the feedback from these questions. After all, it was Steve Jobs who once said, "People don't know what they want until you show it to them." But these questions are a great way to engage your audience as well as gather some knowledge about their tastes, interests, and reasons for why they engage with your brand in the first place.
Facebook Best Practice #3: Optimize your daily posting cadence
If you rarely post on your brand page or not at all, you won't see any real benefits to your business, but what about the opposite situation? On the other hand, posting a lot is also harmful to brand engagement where you run into issues of oversaturating your audience with content. This will either cause more important content to get lost in the noise or alienate your audience altogether out of sheer annoyance.
If posting too little or too much are the extremes, what is the optimal posting limit for increasing engagement with your audience in 2021? Well, there is no clear and definitive answer because it depends on how many followers you currently have and what line of business you are in.
Hubspot did some research and found that while having more followers meant a higher return on investment with more posts, there is still a point of diminishing returns: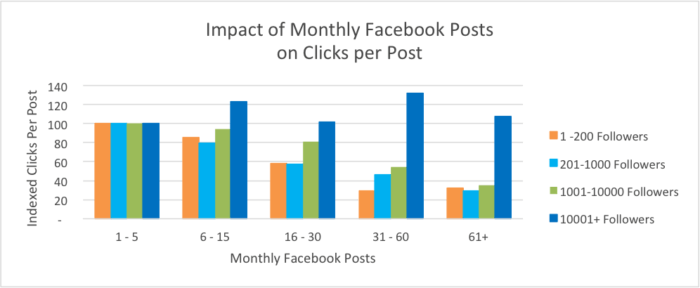 While more posts benefitted the pages with larger followings, the benefits do taper off. (via Hubspot)
The old rule of thumb for the number of posts per day was around one to two, but this rule doesn't apply to certain types of businesses. For instance, if you're running a news-based page, then it's better to post more content since the news is always updating and changing. However, if your brand is centered around selling shoes, how many posts do you think your followers need to see each day about your shoes? Eventually, you'll hit a point where you'll run out of topics to post about and your audience will tune you out once you begin recycling old content.
Deciding how many times to post per day is relative to your return on investment. That's why it's crucial to track the clicks, impressions, and shares for your page, and Rival IQ has just the right tools to help you optimize your social strategy. Our platform will analyze your social channels and top-performing content to determine when the best times to post during the day are for your brand. Speaking of best times…
BONUS: What about the best times to post?
Great question! Luckily, we've done extensive research into this subject at Rival IQ and there are a few general takeaways you should consider:
Move away from lunchtime: Much like on Instagram, weekday mornings and afternoons see the highest concentration of posting, but don't have much to show for themselves by way of engagement. Try a few early morning or late night Facebook posts to see if you can catch your followers outside of work.
Try posting on weekend evenings: Brands are seeing above-average engagement rates on Facebook on the weekends, especially when moving away from posting between 10 am – 4 pm.
Outside of this, the best times to post on Facebook are specific to your brand and the historical performance of your page. This information is found in your Facebook Page Insights. Once you select "posts" in the Insights section, you'll find a breakdown chart that shows average post traffic throughout the day so you can find the optimal times to post.
Facebook Best Practice #4: Implement a video strategy
It's not enough to use images in your social media post lineup. If you're only using images and not video to convey the power of your brand on Facebook, then you're missing out on a huge marketing opportunity.
If you're just developing your video strategy for Facebook in 2021, here are a few best practices to follow:
Create a short intro trailer for longer videos: Not everyone has minutes to figure out what you're hoping to convey in your video before scrolling on. A short three- to five-second intro trailer that hooks your audience is the perfect way to keep them on the leash for the valuable content you're looking to convey.
Don't go overboard on length: Nobody has time to watch a thirty-minute diatribe about your brand, product, or topic, especially while scrolling through Facebook. Keep your video length anywhere between one to five minutes to convey your message.
Use the correct aspect ratio: Just like the optimal image sizes, Facebook also has an optimal video aspect ratio. Use a 4:5 aspect ratio when releasing content on this social platform.
As long as you stick to these best practices and keep your video content fresh, your audience should reward you with the engagement and clicks you're looking for.
Facebook Best Practice #5: Take advantage of Facebook's resources
In the last best practice I linked to the Facebook for Creators resource. Facebook provides countless how-to guides, case studies, guidelines, and best practices for you to follow. Who better to take advice on using Facebook than the creators of the platform itself?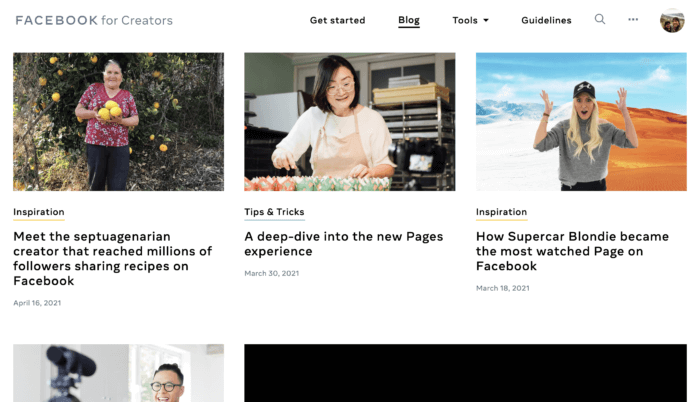 Facebook covers a multitude of topics that'll inspire you to succeed as a brand on their platform (via Screenshot)
This resource was created as a way for Facebook to encroach into Google's territory of video dominance with the YouTube platform. So, why not utilize their competitive nature to your advantage?
If anything, you should at least read through their "Get Started" resource to help you establish your brand as a significant force when it comes to video content creation. One thing to keep in mind is that this guide will lead your page down the path to becoming a video creators page and if that is not your only goal, make sure you skip over some of the steps that lead in that direction. Chances are you'll use this resource as a way to find new ideas for content and promotion for your business rather than a tool to becoming the next big online influencer or commentator.
Facebook Best Practice #6: Use hashtags
Interestingly enough, hashtags have existed on Facebook since 2015, but the extent of their importance on the platform has been shrouded in mystery until recently. In fact, I can't remember a time when I included them on a Facebook best practices list. In 2020, Facebook began stressing the importance of using hashtags for increasing engagement by including post metrics for individual hashtags, similar to Instagram.
According to Social Media Today, Facebook began showing the top trending hashtags on the platform as they are typed into the status bar. This feature is crucial for brands to stay on top of and take advantage of trending topics. Riding trend waves is a great way to boost visibility and sprinkling relevant hashtags in your posts is the perfect way to ride the coattails of a hot topic.
Of course, there's always the risk of too much of a good thing, even hashtags. So what is the optimal number? Scott Ayer of Post Planner asked the experts and found that one to two hashtags per post saw the highest number of interactions. Each additional hashtag after the second led to a steady decline in engagement. So, unlike Instagram which seems to reward a high number of hashtags, the rule with Facebook is one to two.
Facebook Best Practice #7: Verify your Facebook business page
This is the easiest way to distinguish your brand from all of the wannabe pages that hope to ride your coattails to social media success. Verifying your Page doesn't just provide your business with a small blue checkmark next to your page name: it's bigger than that. A Page verification signals to your audience that your business is the real deal, while the rest are only imitators.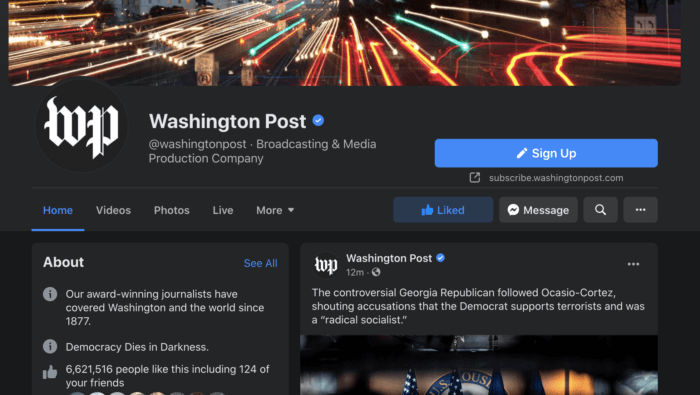 Now you know for sure that this is the official Washington Post Facebook page. (Via Screenshot)
The best part is verifying your Page only requires a few steps to set you on the path to earning the coveted blue checkmark. Once you've completed those steps, you have one more set to go through. This process requires you to request a badge from Facebook and provide the following documents and assets:
Photo ID (Drivers license, passport, national identification card)
If your page represents an organization, one of the following: Phone/utility bill, certification of formation, articles of incorporation, or tax exemption documents
Relevant URLs to your businesses' webpage to illustrate your notability
Once you submit this information to Facebook they will make a determination as to whether your page warrants a blue checkmark or not.
In addition to the added credibility, verifying your page grants your business additional tangible benefits, such as:
Access to new tools before they are made available to other brands
Boosts in Facebook's search algorithm
These added benefits put your business Page in a better position in terms of traffic and consumer confidence in your brand.
Facebook Best Practice #8: Respond to your page messages
Your Facebook page is more than just a giant digital billboard for you to blast your narrative into the void of the internet. It's a platform for you to connect with your audience and really understand their wants, needs, and feelings about your brand. This is one of the easiest Facebook best practices to jump on immediately, but answering all of your messages will require constant attention. Answering messages to your page is the perfect way to connect with your audience on a granular level.
I can even speak from personal experience of the power of a reply from a brand Facebook page. On more than one occasion I've made a point to frequent brands that have answered my concerns over Facebook messages, especially in a timely fashion. That last part is especially important since Facebook will actually display a badge on your page denoting the fact that you are very responsive if you have:
A response rate of 90% or more
A response time of less than 15 minutes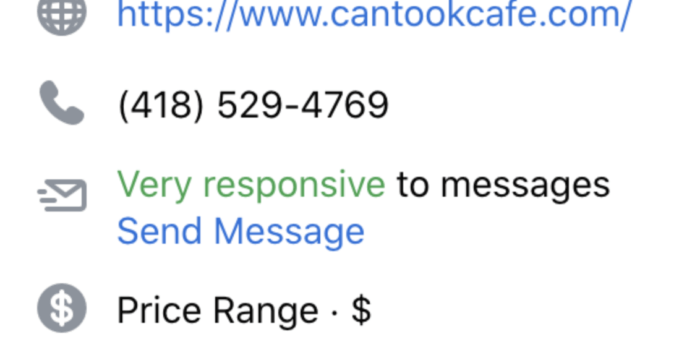 If you engage with your customers in a timely manner, you'll earn this badge from Facebook (via Screenshot)
Engagement is a two-way street when it comes to social media, so the more you engage with your audience, the more likely they are to feel connected to your brand.
Facebook Best Practice #9: Boost your highest performing posts
What if the popularity party could run for just a little bit longer? Boosting popular posts is a great way to double-dip on the engagement you receive, and the good news is that it is a very cheap way to get your content in front of more eyes. Instead of relying on Facebook's algorithm to build organic reach, you pay Facebook to put your content in front of more people. Out of all of the Facebook best practices in this list, this one is the only one that'll require a real monetary investment in the platform.
The process for boosting posts is also much easier than setting up a formal ad campaign:
Choose the post you want to boost
Click "boost post"
Choose which objective you're looking to accomplish with this post: website visits, engagement, or direct messages
Choose your CTA button
Select your audience
Set your budget and duration
When boosting your posts, you set the budget you are comfortable spending with the minimum spend set at $1 per day. The days of massive organic reach on Facebook are over. Everything is pay-to-play, but at least this method is cheap and simple to set up.
Facebook Best Practice #10: Just be real
Millennials and Gen Z are very quick to pick up on insincere and contrived marketing. Instead, these generations support brands that promote honesty, civic engagement, corporate responsibility, and real connection with their customers.
One easy way to connect to your audience, particularly a younger audience, is through relatable and candid content. This includes the use of features like Stories and Facebook Live to release personable content about your brand, such as staff highlights, production processes, POV videos of events, and AMA (ask me anything) posts.
However, it's not enough to just release a few videos and stories. The tone is everything when it comes to this kind of content, so relax and be your genuine self (or selves). Self-awareness and a relaxed tone go a long way.
Final Note on Facebook in 2021
Things are changing quickly and our list of Facebook best practices is expected to change along with it. With the rise of Apple's iOS privacy rules restricting app tracking and targeting, Facebook and the brands that advertise on it will have to find new ways to adapt to the market. There aren't any obvious solutions as of yet, but once the answers are clear, you can bet that Rival IQ will have the resources you need to better connect with your brand audience. In the meantime, keep an eye on our blog and we'll give you everything you need to win in the world of social media!