It's time to get down to the brass tacks of your social strategy. Underneath all of the glitz and glamour of memes and live streams, the truth is that social media is a tool for your business to build brand awareness, drive traffic to your website, and win over new clicks and conversions. Organic just won't cut it anymore to reach the audiences and results you're looking for. That's why it's crucial that you stay up to speed on all of the latest social media advertising trends.
I've done some digging and found the numbers that'll make the case for these trends. Some of these trends are new, while others are a continuation of past trends with slight updates.
So let's jump into it!
Best Social Channels to Maximize Ad ROI
How do you measure which social channel is best for ad buys? I believe the end result is the most important when determining which channel is best suited for your money, so in the end, I have to go with conversion rates as the premier benchmark. If we're looking solely at conversion rates, according to Priceonomics and Heap, Facebook is your best bet for getting the results you want.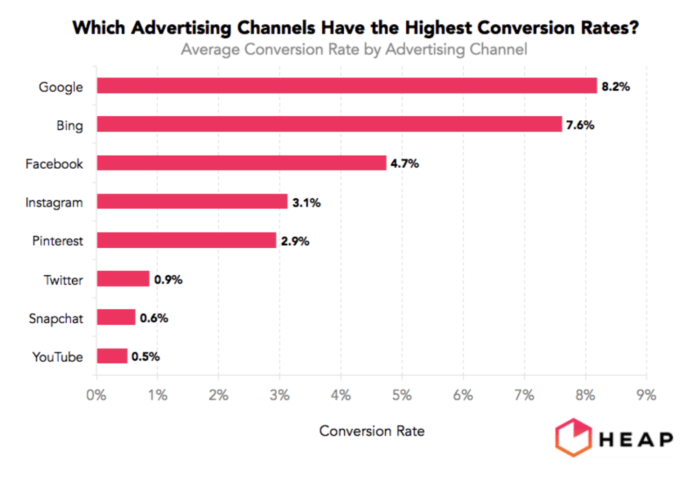 As you can see in this chart, search engines dominate conversion rates, but once you get into the social channels, you find that Facebook tops the list with a 4.7% conversion rate followed by Instagram, Pinterest, Twitter, Snapchat, and YouTube.
However, while Facebook does have the best conversion rate for advertisements, this doesn't mean it's the best for your business. As you can see above, Statista broke down each social channel in 2020 by its share of B2B/B2C respondents and while Facebook is still in the lead in terms of overall respondents, the splits tell a much deeper story.
Best for Business-to-Business (B2B) Ads: LinkedIn
Priceonomics didn't factor LinkedIn into their conversion rate measurements and this is most likely an oversight (and a serious one at that) because LinkedIn is the premier business social platform. According to WebFX, LinkedIn has a conversion rate of 6.1% in the United States, which destroys Facebook's paltry 4.7% in comparison.
The great thing about LinkedIn is the quality of leads and conversions gained from this channel. This platform is perfect for B2B advertisements because it caters to professionals networks, industry influencers, and company decision-makers.
That being said, this audience makes LinkedIn terrible for most other types of ad buys. LinkedIn is not a social channel for advertising consumer products as shown by the stark difference in B2B and B2C respondents in the Statista breakdown.
Best for Business-to-Consumer (B2C) Ads: Facebook
While Facebook is still a decent platform for generating conversions in the B2B space thanks to its massive market share, it'll never reach the level of quality conversions that LinkedIn provides. B2C is where Facebook really shines due to its more casual and social audience. Most users join Facebook because they want to connect with other people based on friendly and familial ties or similar interests. It's all about consuming and recording your life and the lives of others.
This makes it a great platform for marketing consumer products and with its in-depth targeting tools, Facebook is a fantastic advertising platform for businesses that truly understand their audience. However, the real question is how long this granular targeting will last. Facebook heavily relies on tracking user data to help advertisers retarget audiences and with the introduction of the privacy rules in iOS 14, as well as other recent trends, this might change.
Honorable Mention: Instagram
While Facebook outdoes Instagram in overall B2C respondents, that doesn't mean it isn't a worthwhile tool to spend your advertising budget on. In some cases, I would argue Instagram is a better bet for certain types of brands. Instagram is a social platform built around sharing your life in images, including events, travels, and even everyday life. Lifestyle brands are particularly powerful on Instagram and with the third-highest social platform conversion rate, you can't afford to ignore these audiences.
Video Ads [still] Dominate
With privacy rules on everyone's minds because of Apple's recent application tracking changes as well as an overall movement for better digital protection, the world of online advertising is shifting rapidly in response. Thanks to these shifts, compelling content is more important than ever, and resting on your laurels is not an option (as if it ever was).
Video has surged in popularity over the past few years, in fact, nearly 60% of marketers say that video ads drive more clicks than image ads. Video ads also allow your brand to convey more information than image ads do far more efficiently.
Now, you might be thinking that video is a difficult medium to break into. After all, some content creators invest tons of time and money into video editing software, expensive cameras, scripting, and even hiring actors. The good news is that platforms like Facebook have simplified some of the processes for you. Features like Facebook Live allow you to post new videos straight from a mobile phone. You don't need studio quality to resonate with your audience. In fact, simple, authentic content is all the rage right now, and using these unscripted video features is the perfect way to show the down-to-Earth side of your brand. Embrace the human elements of marketing.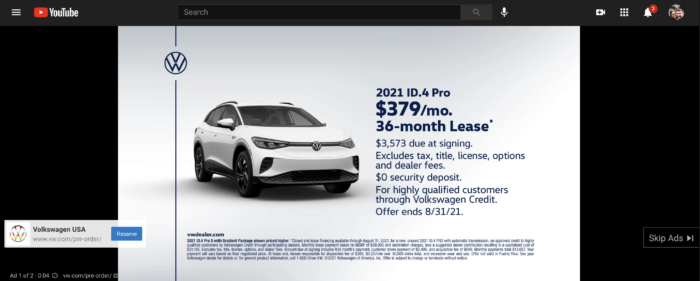 I wouldn't even know that Volkswagen created a new electric vehicle if it weren't for video advertising
This is one of my favorite social media advertising trends. It forces brands to think of new ways to capture the attention of their audiences with interactive content. If you're looking to jump into a medium for the first time, here's a shortlist of best practices to follow.
Video Ad Best Practices
Keep it short and sweet: It's no secret that social media caters to short attention spans. The optimal length for a video ad is around 20 to 30 seconds. Any longer than that you risk losing the interest of your audience.
Add video captions: If you're anything like me, you typically keep your phone on silent. This means that video content is automatically silenced when scrolling through your social feed. Make sure your message is still apparent using captions to catch the attention of those like me who keep their phone on silent and for those who are hard of hearing or deaf. You don't want to exclude anyone in your audience.
Make sure you're optimizing video sizes to the correct platform: Facebook, LinkedIn, YouTube, Instagram, and every other social platform requires different video optimal aspect ratios. Be sure to use the correct sizing when uploading advertisements to these channels.
When investing in video advertising, one thing to keep in mind is the limited shelf life of this content. According to The Drum and Quickframe, the first five days are the most crucial in the lifecycle of a video ad. Viewership and other metrics fall off after those first five days and decline by 5% each day after.
If you're concerned about losing your audience quickly, be sure to read our guide on why you're losing video views.
The big takeaway from this section is that video is an extremely valuable advertisement avenue in 2021 so long as you are aware of the limitations and pitfalls.
Boosting Facebook Posts (for Brand Awareness)
Sometimes the primary goal of your campaign isn't more clicks and conversions (although it's always a welcomed result of a successful campaign). If your brand is looking to spread awareness rather than drive sales, then boosting your Facebook posts is a better option than spending money on an ad campaign.

Boosting posts is just a few clicks away thanks to the accessible "Boost Post" button on the reach/engagement metrics bar
This feature was created by Facebook years ago as they reduced the reach of organic content on their platform (organic reach dying out is one of the more unfortunate social media advertising trends). Now, post boosting is the easiest way to drive up views and engagement on an already popular post of yours, leading to more brand awareness. While it is an easy method for driving numbers, there are certain situations where post boosting is helpful and when traditional ads are the preferred avenue.
When post boosting is helpful:
Promoting popular content: Boosting is a fantastic way to get more eyes on content that is performing well on your page but is beginning to stall out with organic traffic. If you think that the only thing preventing more traffic to your post is the Facebook algorithm, then post boosting makes perfect sense.
Trying to grow your page likes: I remember the golden days of Facebook where all it took to build a sizable audience was a hit piece of content with tons of organic reach. Now it's a constant game of organic and paid content. Boosting posts is a good way to get your content in front of lots of eyes very fast, therefore increasing the likelihood of growing page "likes."
When ad campaigns are better:
A/B testing new content: Post boosting is a terrible way to A/B test different types of content. There is very little control over audience exposure with post boosting. Traditional Facebook ad campaigns are far more granular and better suited for A/B testing.
Getting the best value for your paid content: Reforge offers some insight into the effectiveness of ad campaigns versus boosted posts. It turns out that when measuring on nearly every metric, ad campaigns beat out boosted posts. Facebook ads have a lower cost-per-click, higher impression counts, and higher click-through rate than boosted posts.
Just remember, boosting posts is an effective tool in your paid content arsenal, but it's not a substitute for a well-constructed and researched traditional advertising campaign on Facebook. Think of it as a supplemental avenue for traffic rather than a cornerstone of your social media advertising strategy.
Potential Growth in Text Heavy Facebook Ads
Facebook removed the 20% rule on text space for image ads in 2020 and will no longer penalize ads that go over this limit. This means there are no longer any restrictions against text taking up more than 20% of the image used in an advertisement.
This is huge news for advertisers since automated checkers for Facebook would analyze advertisements and warn users that their ads with high amounts of text might not be shown. This is no longer an issue.
Facebook has opened the floodgates to text-heavy advertisements, but despite the penalty being removed, the platform is still cautioning users that too much text might harm the performance of the advertisement. They warn that images with less than 20% of the real estate taken up by text tend to perform better.
I have to agree with Facebook's assessment. This is one of the social media advertising trends I am not looking forward to and I hope marketers restrain themselves when devising new ad copy. Long bodies of text are best suited for blog posts.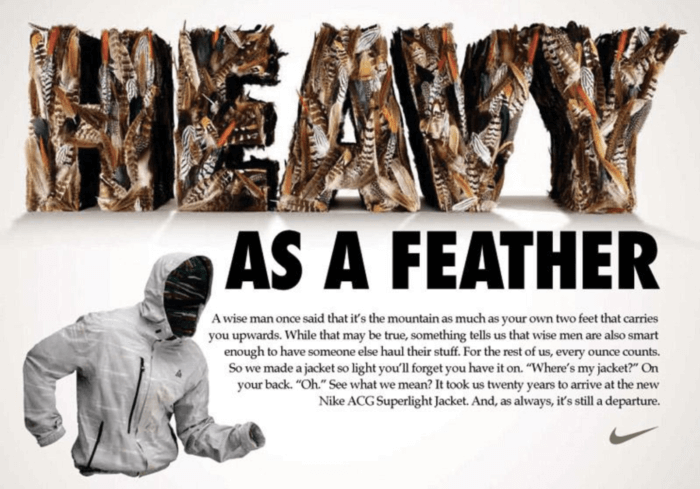 Here is a great example of a Nike ad that might work in a magazine, but would perform horribly as a social media ad.
No one wants a novel for an advertisement. In fact, the optimal length for a television advertisement is 30 seconds and I think this is a good rule that ought to apply to other forms of advertising. Your ad shouldn't take any more than 30 seconds to understand and even then that is a little too long in terms of social media.
So, even though the safeguards are gone, exercise some restraint and try not to turn the text in your advertisements into a Master's thesis.
Dive deeper into your social media strategy
Whether you're optimizing your social ad strategy or planning out a top-of-funnel organic campaign, you can't operate off of yesterday's best practices. If you're looking for the latest tips, guides, or social media trends, be sure to check in regularly here on the RivalIQ blog.
Additionally, if you have any thoughts on our suggestions, feel free to find us on Twitter to share your feedback. We'd love to hear from you!