Influencers have taken the world by storm and become a powerful force in the marketing industry. With the rise of social media and the internet, anyone can become an influencer and those who do it well have a huge impact on their audience and the brands they work with.
With so many influencers out there, though, it can be overwhelming for brands to decide who to engage and partner with. To help you out, we've compiled a diverse list of top social media influencers. From mega-influencers to micro-influencers, these individuals stand out for how they inspire meaningful engagement, regardless of how big or small their following is.
Whether you're a brand looking to partner with an influencer or are simply curious about these social media masters' approaches to engagement, this blog will give you the inside scoop on what makes a good influencer, starting with the metrics that prove their impact.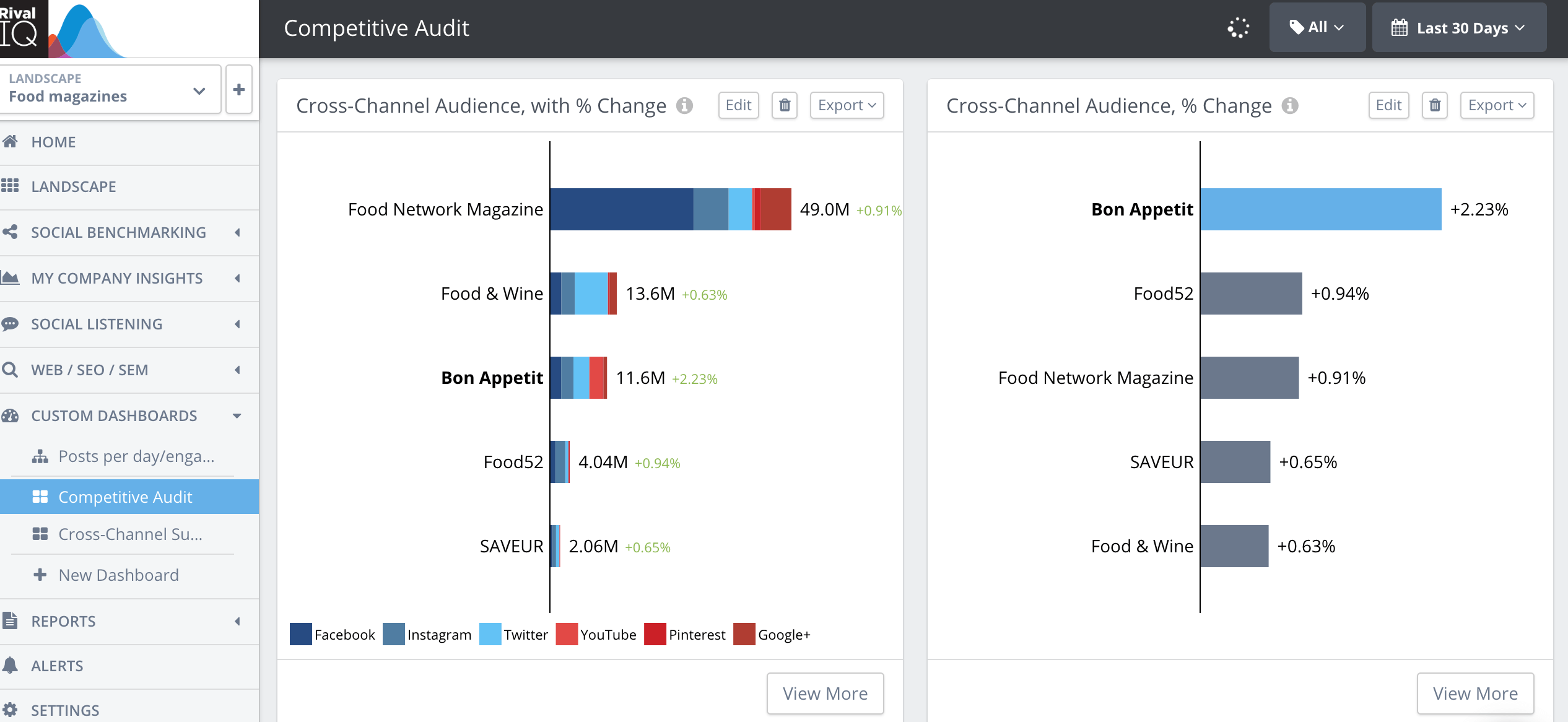 Influencer Social Media Benchmarks
In order to identify top influencers, it's important to be able to measure their performance in comparison to industry benchmarks. Without benchmarking, it's difficult to get an accurate picture of an influencer's success compared to their peers. Luckily, this is where our Social Media Industry Benchmark Report can help.
Covering 14 different industries including influencers, the recent 2023 report provides the latest social media benchmark data for engagement rates, posting frequency, post types, hashtags, and more. Here's what we were able to learn about how influencers as a whole performed on Facebook, Instagram, Twitter, and TikTok:
Influencers on Facebook earned a median engagement rate of 0.196%.
Influencers on Instagram earned a median engagement rate of 0.809%.
Influencers on Twitter earned a median engagement rate of 0.044%.
Influencers on TikTok earned a median engagement rate of 3.08%.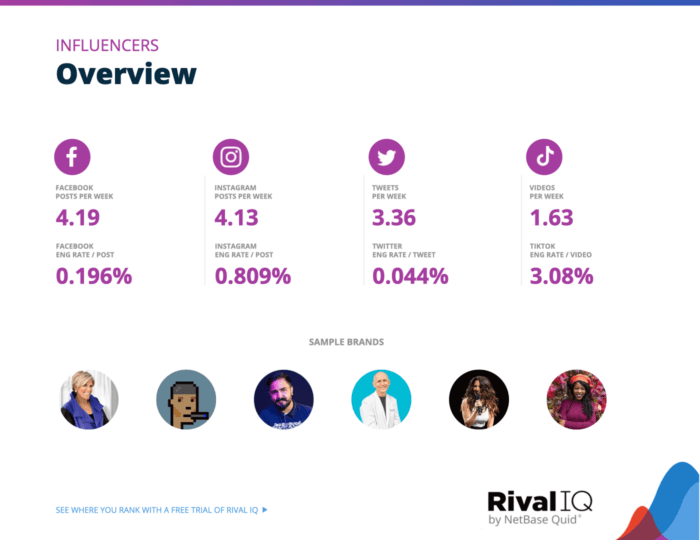 With the above benchmarks in mind, we sought out influencers on each platform that stood out from the crowd. With engagement rates that surpassed the median, these influencers have an impact on social media that's worth spotlighting. Here are 12 names to keep an eye on, starting with the ones acing it on Facebook.
Top Facebook Influencers
Selena Gomez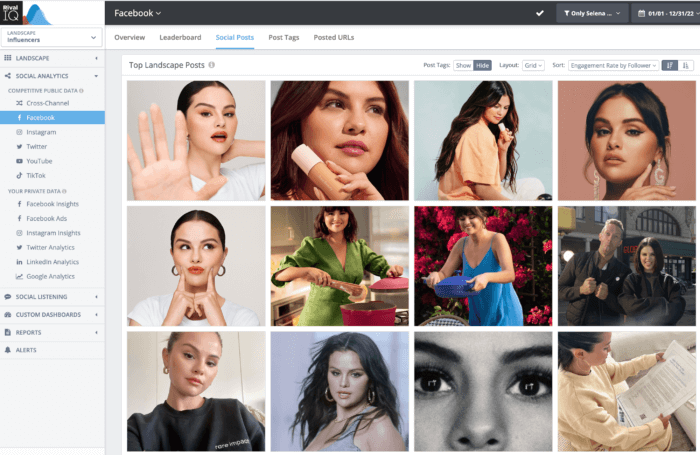 Selena Gomez is an American singer, actress, and beauty brand founder who has become a household name in the entertainment industry. With more than 60 million fans on Facebook alone, she is one of the most-followed figures on social media today.
In the public eye since she was a young actress, Selena's fanbase — and influence — has grown massively over the last two decades. Despite the fact that high engagement rates become harder to achieve the more followers you have, Selena's Facebook engagement rate of 0.26% is notably 1.32x higher than the median.
While she doesn't post as frequently as other influencers (0.75 posts per week vs. the platform median of 4.19), when Selena does post, her followers rally to show support. For instance, the below Facebook post, which announces a kitchenware collection in which 10% of the profits will be donated to expand mental health services, garnered an engagement rate that was more than double the median.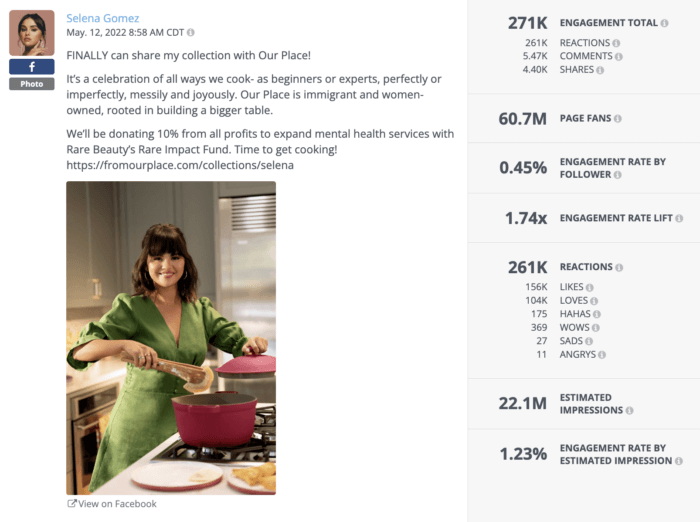 Admired for being down-to-earth, charitable, and open about her mental health journey, it's no wonder that so many fans proactively engage with Selena's posts on Facebook. The relatable celeb clearly has a strong connection with fans that goes way beyond her makeup products and TV appearances.
Megan Batoon
Megan Batoon is a YouTuber, dancer, actress, and social media influencer who has amassed 419K fans on Facebook. With a wide range of content that caters to different interests and tastes, Megan shares all the different aspects of her life, experiences, and thoughts with her audience, making them feel like they're part of her journey.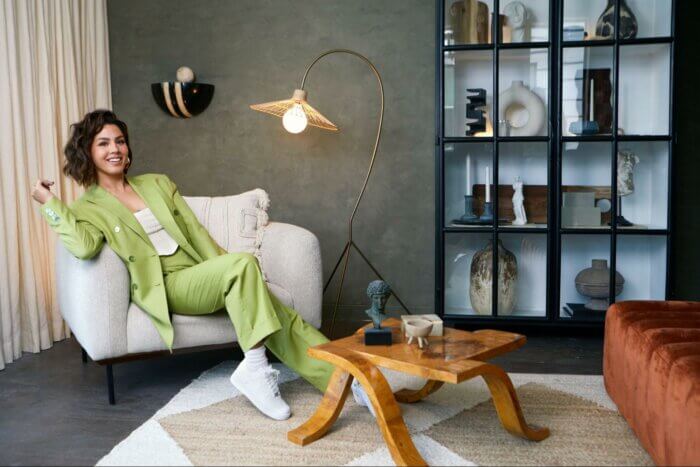 Whether it's dance videos, cooking tutorials, or lifestyle vlogs, the influencer knows how to engage her audience, earning her a Facebook engagement rate of 0.41% or over 2x the median!
Oneika the Traveller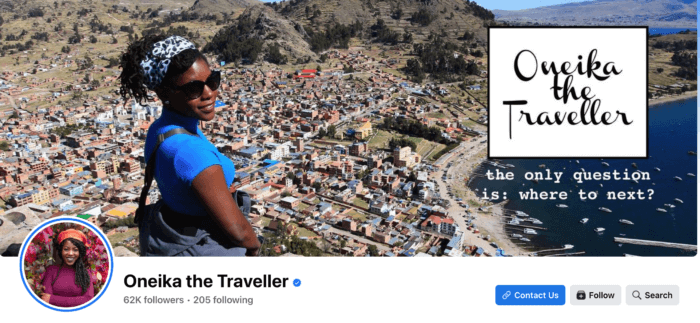 Oneika Raymond, or Oneika the Traveller, is an Emmy Award-winning journalist, speaker, television host, and social media influencer. On a mission to educate, empower, and encourage exploration, Oneika has grown her Facebook following to over 60K fans by sharing her travel experiences in a genuine and informative way. Her content is not just pretty pictures but also consists of thoughtful commentary and helpful tips for travelers looking to explore the world.
Another reason for Oneika's success is her authenticity and honesty. Sharing both the ups and downs of solo traveling as a Black woman, her transparency makes her content more relatable and inspiring to her followers. The result? An engagement rate that's more than triple the median.
Top Instagram Influencers
Christiano Ronaldo
When it comes to sports icons, few names are as recognizable as Cristiano Ronaldo. With nearly 580M followers on Instagram at the time of writing, he is the most-followed person on Instagram and scored an engagement rate of 1.92%, which is 2.4x higher than the average influencer on Instagram.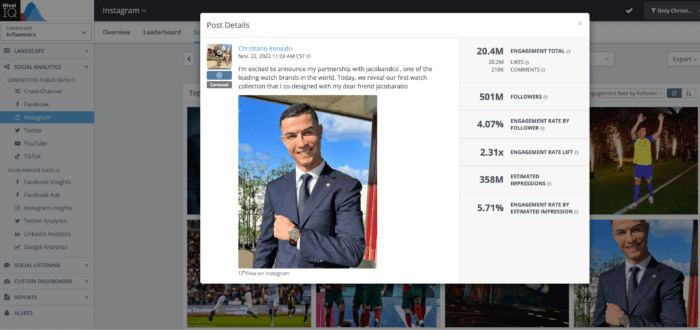 Cristiano Ronaldo's massive following on Instagram is a testament to his popularity, talent, and hard work both on and off the field. Sharing glimpses of his personal life, training sessions, football matches, and even fashion sense, the athlete has cemented his place as a social media icon and a role model for millions of fans around the world.
Suze Orman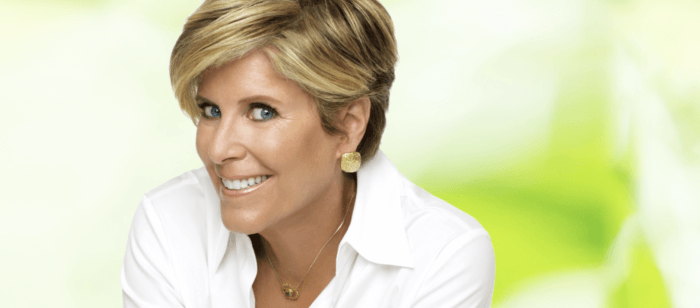 Suze Orman is a personal finance expert, motivational speaker, and New York Times bestselling author who has been helping people manage their money for over three decades. Her Instagram has a following of 123K followers at the time of writing and is filled with financial advice, motivational messages, and personal stories.
Suze is passionate about helping people achieve financial freedom and her audience responds in kind, engaging with her at a rate that's 1.48x greater than the median. By being transparent and honest, Suze has gained the trust and loyalty of her followers who turn to her for guidance and inspiration.
Jessica Marcussen
Jessica Marcussen is a certified Pilates instructor and fitness influencer who uses her platform to share her passion for classical Pilates, as well as inspirational and educational content for her audience of 100K Instagram followers.
Mixing it up with exercise videos, challenges, and tips, as well as photos of art that bring to mind elements of Pilates, Jessica knows how to keep her audience motivated and engaged. Like the post below shows, she doesn't shy away from sharing personal details and will happily demonstrate what she knows in order to help her followers. At 5.69%, the instructor's engagement rate by follower is a whopping 7x greater than most other influencers.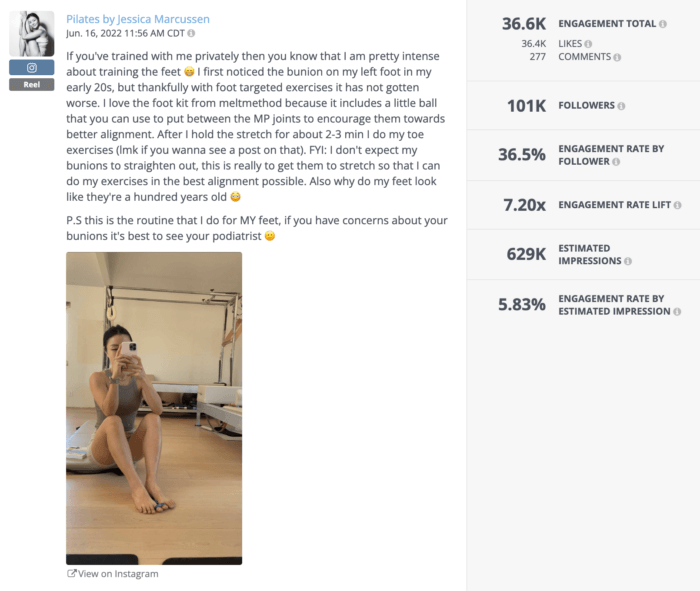 Top Twitter Influencers
BTS
BTS is a seven-member boy band from South Korea that's taken the music industry — and social media — by storm. Known for their charismatic performances, moving lyrics, and dynamic personalities, they have a massive influence on fans around the world. With nearly 49M followers on Twitter, their tweets have dominated the platform in terms of engagement. Of the 30 most-liked tweets of all time, a staggering 17 tweets belong to BTS.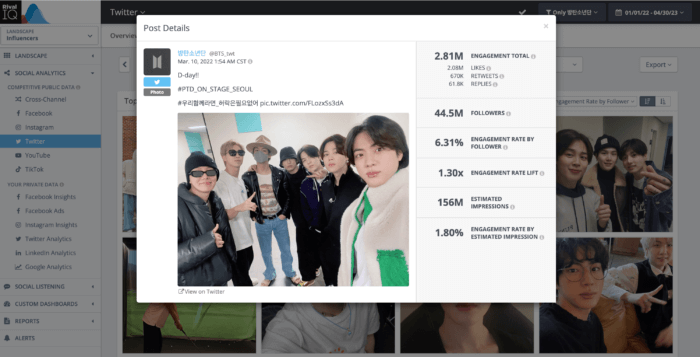 On Twitter since 2011, BTS has long used social media as a way to connect with their fans. Tweeting messages of thanks and behind-the-scenes glimpses into their lives, the band's authenticity and accessibility inspire their loyal fanbase to show up by the millions to show love to every post. Their engagement rate? A massive 4.94% or 12x greater than the median.
Jordan Belfort
Jordan Belfort, also known as the "Wolf of Wall Street," is a former stockbroker turned motivational speaker and author who has gained a following of 654K on Twitter. His rise to fame and fortune followed by his downfall and redemption was the inspiration for the 2013 hit film titled after his infamous moniker.
Jordan's Twitter is a mix of inspirational quotes, business advice, and personal anecdotes. Clearly, the approach works. For instance, a tweet that simply featured a photo of Jordan along with some words of motivation earned an engagement rate nearly 40x greater than the median.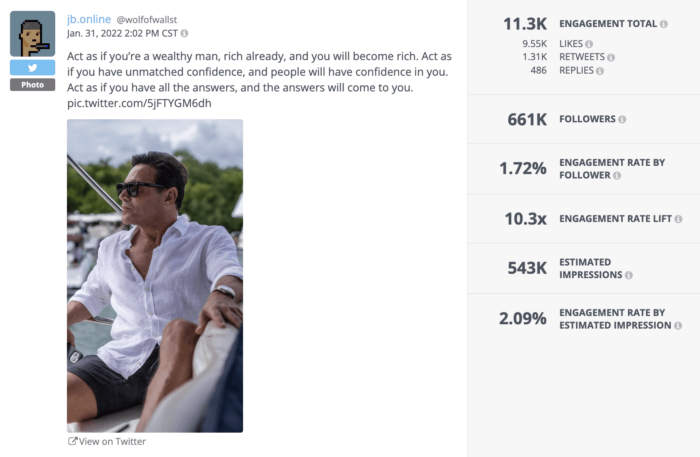 Leaning into his unique life story, the entrepreneur also shares his experiences, mistakes, and lessons on business and personal growth. His followers respond enthusiastically to his brutally honest approach to life and business, earning him an engagement rate that's nearly 4x greater than those of other Twitter influencers.
Sorav Jain
Sorav Jain is a social media influencer, entrepreneur, and founder of a leading digital marketing agency called EchoVME. As a thought leader in the industry, he shares his insights, opinions, and tips on digital marketing trends with his 28K Twitter followers.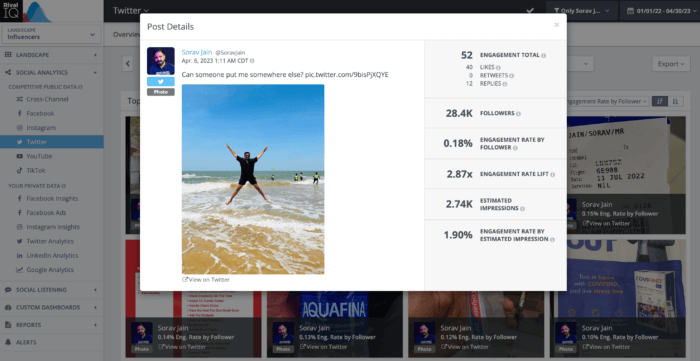 Notably, though, it's not all business for the entrepreneur. Sorav freely posts his thoughts on all types of topics outside of digital marketing and engages with other users regularly. By asking questions and replying to people's comments, he's built a strong community on Twitter and scored an engagement rate that's 1.64x greater than the median.
Top TikTok Influencers
Khabane Lame
Khabane Lame, or Khaby Lame, is a content creator whose unique approach to humor has propelled him to the top as the most-followed TikTok account with 159M followers with a solid engagement rate of 3.33%.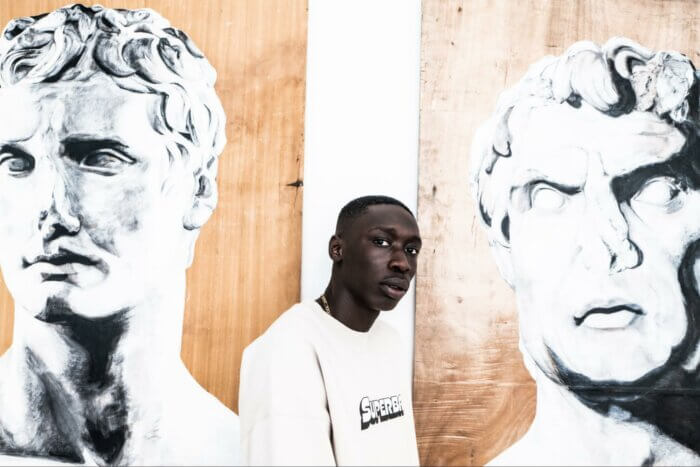 What sets Khaby apart from other content creators is his distinct sense of humor and ability to turn everyday situations into comedic gold. His trademark deadpan expressions and witty commentary have millions of people tuning in each time, making him a household name on TikTok and social media in general.
Aisha Nur
Aisha Nur is a skincare, makeup, and lifestyle influencer with over 232K followers on TikTok. Sharing tips, tricks, and recommendations, she takes her followers along on her skincare and makeup journey as she explores different products and routines. For example, one TikTok where she details her process for getting rid of pimples scored an engagement rate of 25.8%, or 8.4x the median.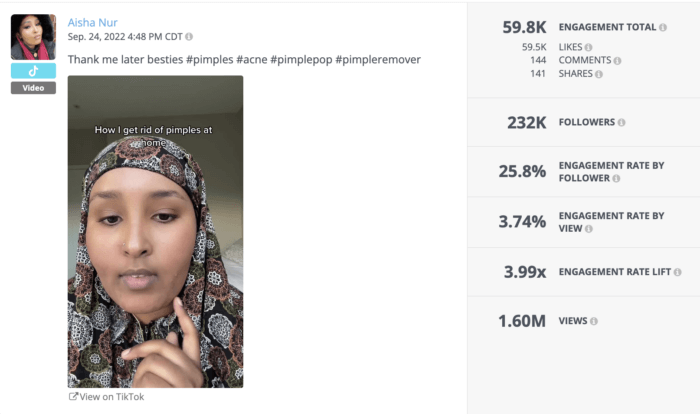 Honest, confident, and unapologetically herself, Aisha has earned the trust of her audience, becoming a reliable source of information to her community of followers. Plus, she's mastered the art of seamlessly incorporating trendy music and audio into her TikToks. No wonder her engagement rate is more than double most other influencers on the platform.
Marie Forleo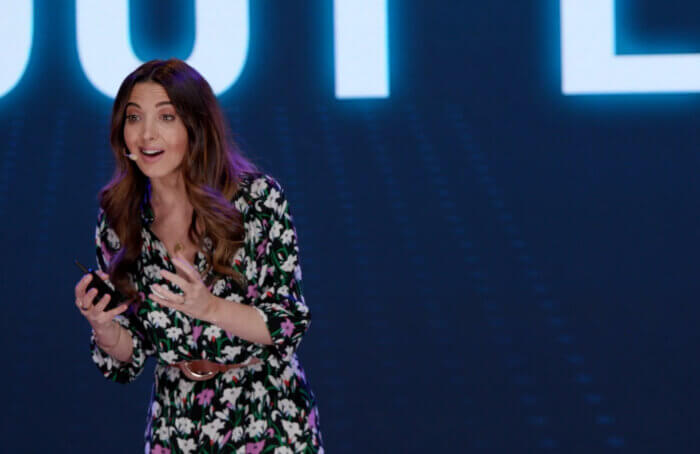 Marie Forleo is a #1 New York Times best-selling author, speaker, and online business coach who has garnered an impressive following with her inspiring and motivational content. With over 27K followers on TikTok, Marie uses her platform to share insights and tips on business, personal growth, and life in general.
Posting snippets of her motivational speeches covering her life, struggles, and lessons learned, Marie creates content that is easy to connect with. By keeping her content short and to the point, she's able to capture the attention of her audience, deliver value, and bring in a level of engagement that's nearly triple the median engagement rate of other TikTok influencers.
The Wrap Up
The world of social media is constantly evolving and there are always new influencers emerging. The 12 influencers we've highlighted in this blog are just a few of the many talented creators out there. From athletes to travel journalists, entrepreneurs to musicians, each influencer brings a unique perspective and voice to their platform but also share the common trait of expressing themselves authentically on social.
If you're looking to increase engagement on your own social media, take a cue from these top influencers. Share what makes your brand unique, be genuine, and create content that truly resonates with your audience. By doing so, you'll be able to build a community of followers who not only engage with your content but also feel connected to you on a deeper level.