These days, it's hard to talk about marketing without mentioning influencers.
You've probably seen headlines covering the latest moves made by mega-influencers like the Kardashians or outlining the latest brand-influencer deal to make waves across social media. As a marketer, you know on a basic level that working with influencers is highly important in today's environment  — but what exactly is influencer marketing?
Put simply, influencer marketing is when brands promote through product placement or endorsements from an influencer — that is, someone with a dedicated social following.
Given the title because of their influence over those who follow them, influencers can be found on a range of social platforms. From bloggers and streamers to social media creators and celebrities, influencers take many forms and have dominated as a force in marketing. In 2022, the influencer marketing industry expanded to become a $16.4 billion industry.
According to an Aspire report, more than two-thirds (68%) of brands plan to increase their influencer marketing budgets in 2023, "indicating the value and effectiveness of this channel." All in all, the future is looking good for those who are looking to delve deeper into this space.
For marketers who are just getting started, though, influencer marketing can be a bit of a maze. With so many platforms and creators out there, how do you find the right influencers to partner with? Even more, how can you measure the success of your influencer campaigns?
In this guide, we'll cover all you need to know about discovering the right influencers for your brand and tracking influencer performance. Let's get started!
The Types of Influencers
Before you dive into the big world of influencer marketing, it's important to know the different types of influencers out there. Broken down by audience size, there are generally four types. Here's what you need to know about each:
1. Mega-influencers
With typically one million or more followers on a single platform, mega-influencers are the ones most likely to make headlines. Many are top celebrities who were able to take their fame from being an actor, musician, TV personality, etc., and turn it into a powerful online social presence, such as Beyonce who has a whopping 292M followers on Instagram alone.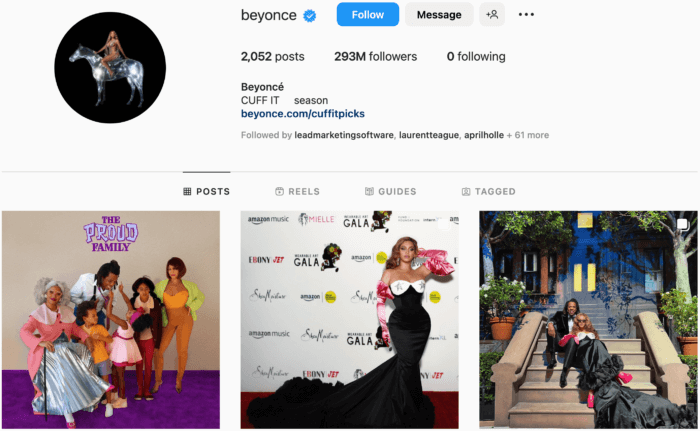 Mega-influencers also include social media creators who have slowly grown their audience into the huge numbers that you see today. Raye (@itsmyrayeraye) gained an audience of 1.5M on Instagram by posting a mix of beauty and lifestyle content online.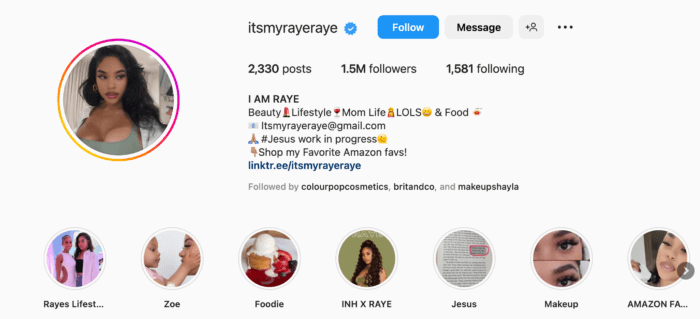 With their massive reach, mega-influencers can influence huge numbers of people in a way that's favorable to your brand. However, because of their size, they can be expensive, as well as less accessible.
2. Macro-influencers
Macro-influencers are those who have an audience size of around 100K to one million, such as travel creator Nathalie (@voyagefox). Though not necessarily household names, these influencers still have impressively large followings that can be valuable to brands.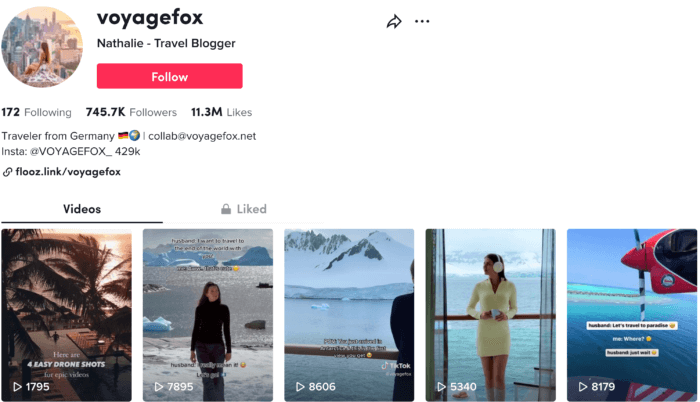 The big advantage that macro-influencers have is that they tend to have a closer relationship with their smaller community of followers than mega-influencers do. As such, when a macro-influencer endorses a brand, their audience typically responds and engages on a much higher level.
3. Micro-influencers
With an audience that typically falls within the 10K to 100K range, micro-influencers are smaller-scale creators that have often built their following by focusing on a very specific niche. As an example, Sharon Pak (@immbunny) amassed 76.2K followers on Instagram as a hair brand founder and an overall expert/insider in the beauty industry.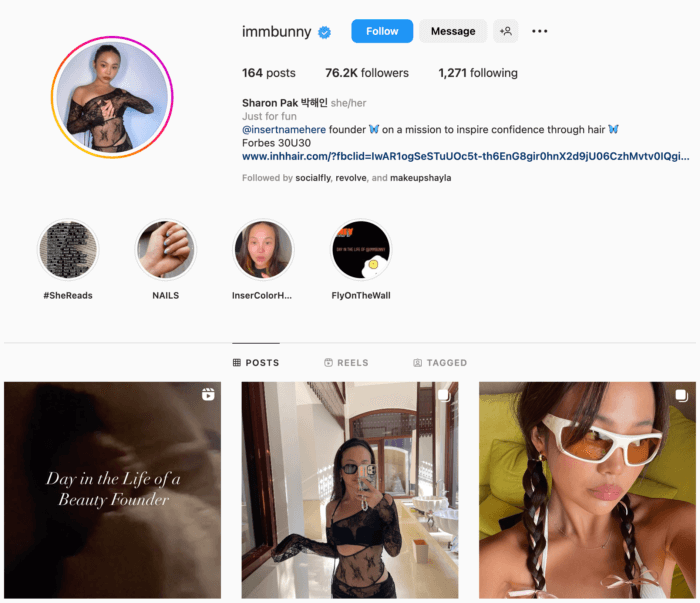 Similar to the effect described in the section above, micro-influencers' smaller audience often allows them to develop a deeper relationship with their followers. While their reach may not be as great as a macro- or mega-influencer, their lower cost plus the high impact that they have on their audience can actually end up being more bang for your buck.
Granted, there are possible downsides to working with micro-influencers. For instance, as a smaller influencer, there may be some kinks in the partnership process compared to an influencer who is more experienced. Still, their consistently high engagement rates often prove to be well worth the extra work.
Want to learn more about working with micro-influencers? Check out these 5 Tips For Your Micro Influencer Marketing Strategy.
4. Nano-influencers
Lastly, we've got nano-influencers, who are characterized as those with influence in a small, local community, such as neighborhood leaders or local creators. They typically have around 10K followers or less on social, like foodie Jake Eats Dallas.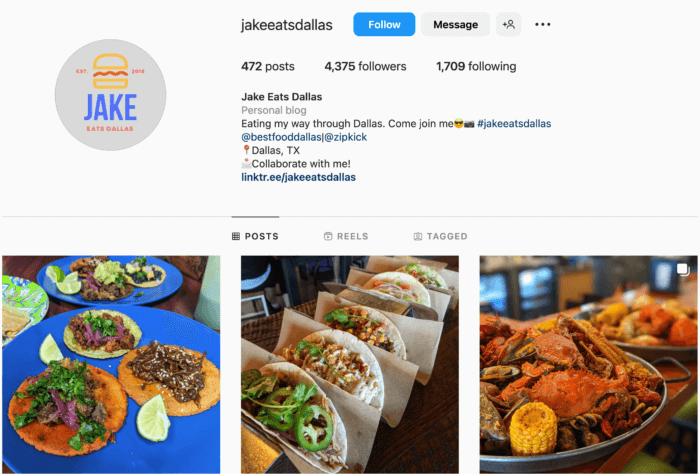 While nano-influencers have a limited reach, their influence can make a big difference to smaller or more local brands. They're also a lot more affordable than influencers with bigger followings, though this is sometimes reflected in the quality of the content.
What to Consider When Choosing an Influencer
Once you have a general idea of the type of influencers you want to work with, it's time to get selective. Beyond follower count, here are some factors that should take a closer look at:
Social Platform. What kind of campaign are you looking to launch? Identify which social platforms align with that goal and find influencers with a strong presence on them. For example, campaigns where influencers film themselves trying a new product tend to work well on video-focused platforms like TikTok or YouTube but not Twitter.
Niche or Industry. Prioritize influencers that are a good fit for your brand. Does your influencer post content that aligns with your niche or industry? Would the collaboration make sense and appeal to their audience?
Target Audience. What kind of people follow the influencer? Do they match the ideal target audience that you're trying to reach and engage? 
Engagement Rate. Do their followers engage with their content? What's the average rate of engagement on their posts? A high engagement rate is a good sign that the influencer's audience cares about what the influencer publishes and, thus, will pay attention to your own brand if you work with them.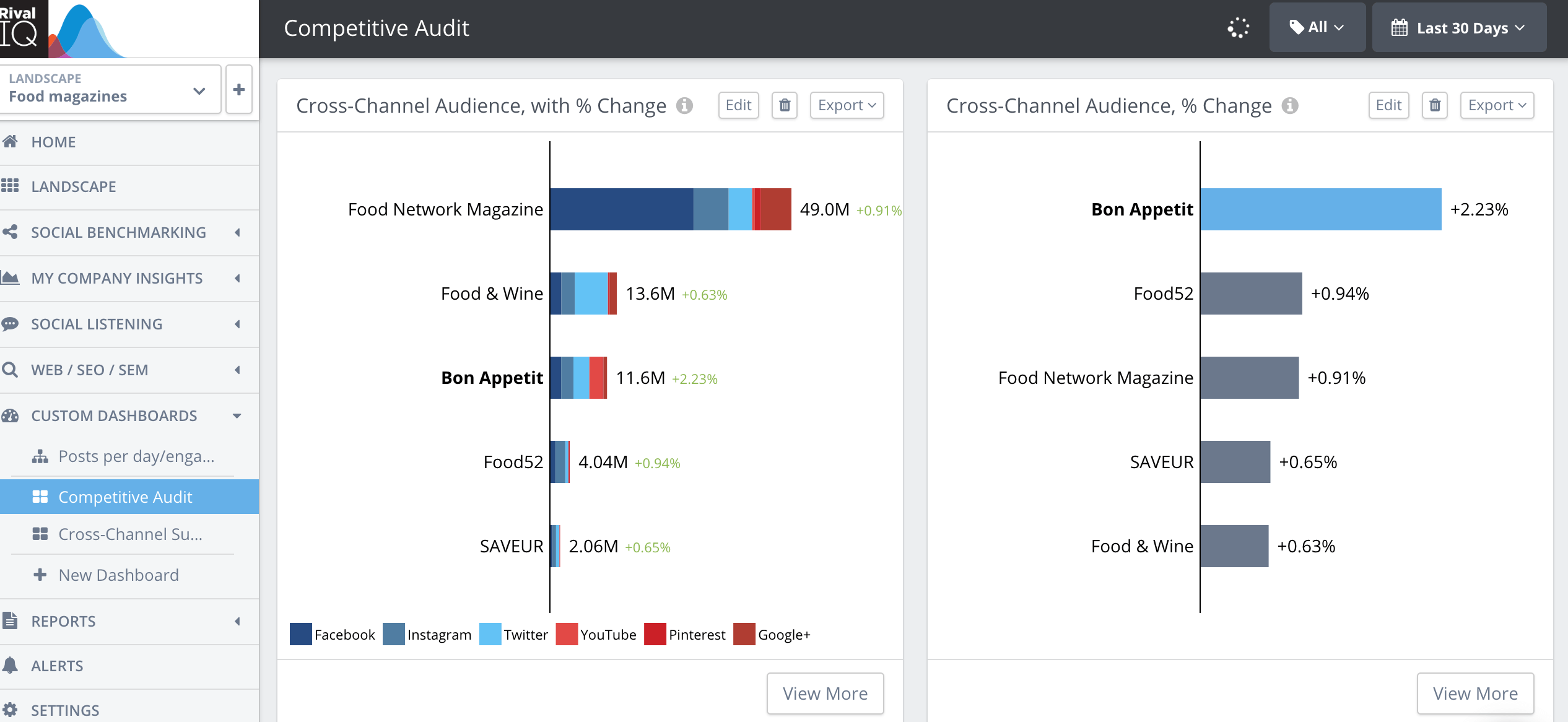 Sentiment of Engagement. Take care to observe what the sentiment behind an influencer's engagement is. How positive and/or genuine are the comments? Why are people sharing a post? Having lots of comments or shares isn't always a good thing, so be diligent in understanding what's driving their engagement.
Content Quality. Remember that influencer collaborations are a reflection of your brand and can impact your reputation. Does the quality of the content the influencer puts out match your own brand standards?
Personality and Values. Do some digging about the influencer's personality and values to make sure that they align with your own. If you're an eco-conscious brand, avoid working with those with a history of endorsing environmentally unfriendly products. If your brand voice is outspoken and bold, go for influencers with similar personalities. You get the idea.
Authenticity. Authentic influencers are trusted by their followers to be honest and genuine in their content. When they work with your brand, it'll be because they truly believe in the partnership, a sentiment that will encourage their audience to trust in the collaboration and welcome your brand.
Cost. How does the influencer expect to be compensated? Free products? Commission? Flat Fees? Consider whether the cost of working with the influencer makes sense for your budget and goals.
Now that you know what to look for, let's get into some of the best ways to find influencers.
How to Discover Influencers
Keep an eye out for high-profile fans
Who better to work with than someone that already loves your brand? You can find influencers by simply keeping track of creators who have expressed love for you on social media.
Scroll through your followers and see if you recognize any "famous" names or verified accounts. Have any notable influencers tagged you in a post? Maybe a potential partner has even reached out to work with you in your direct messages (DMs) on social!
Study the competition
Another tactic is to check out who your competition has been working with. If an influencer has collaborated with brands similar to yours, there's a chance that they may be a fit for you, as well.
Scour hashtags
You can also search hashtags on your desired social platform to see if any influencers that fit your requirements appear.
Begin by looking up hashtags that are relevant to your brand, industry, and audience. For example, if you're a hotel brand, hashtags like #travelblogger or #hotellife could be a good place to start. A broader search like #microinfluencer or #nanoinfluencer is also a good option if you're looking for influencers with a particular audience size.
Turn to good ol' Google
Simply searching up top influencers in your industry through a Google search is another method for finding creators to work with. Often, you'll be presented with articles that list the various influencers and their social media handles.
Get access to an influencer database or platform
There are quite a few companies out there that specialize in helping companies find influencers to work with, as well as how to get in touch with them.
Some operate by building a database of influencers, which you can access for a price. inBeat that follows this kind of model. Others, HypeAuditor, also offer campaign management and analysis functions, allowing you to discover influencers and track the success of your influencer campaigns.
Use a social media analytics platform or tool
Because numbers play a big part in finding influencers (think: follower count, engagement rates, and trending hashtags), social analytics platforms and tools can be a big help in identifying and evaluating potential influencers for your brand. Use them to find accounts that mention you, analyze the engagement of potential influencers, track relevant posts and hashtags, and so on.
Rival IQ's Discover tool, for instance, presents you with potential influencers based on a particular hashtag. With its analytical capabilities, the tool also calculates each influencer's engagement rate for you, as well as gives them a "Potential Influence Score."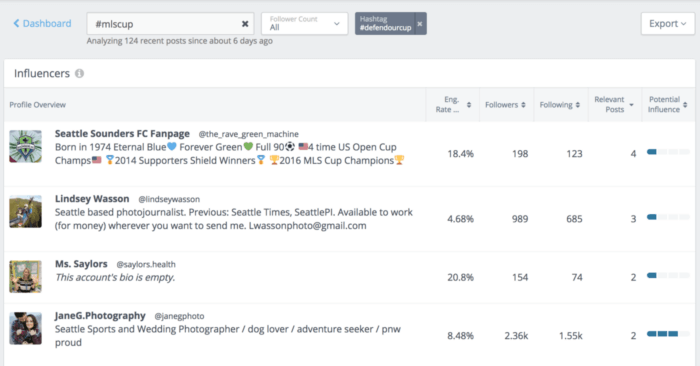 Tracking Your Influencers' Performance
Just as critical as picking the right influencers is knowing how to track their performance and evaluate your campaigns' success. This starts with setting the right goals.
How to Set Measurable Goals and KPIs
Your influencer marketing efforts should always start with a clear definition of your goals. What is it that you hope to achieve by working with influencers or by launching this upcoming campaign?
Do you hope to increase brand awareness or are you trying to jumpstart your own social presence and grow your audience? Is the aim to boost sales of a particular product or is it to improve the reputation of your brand? Have a clear goal in mind and you can better craft your campaigns to achieve them.
Once you know what you're trying to achieve, you can then identify your key performance indicators (KPIs). These are the metrics that you'll want to track in order to assess how well you're progressing toward your goal. For instance, you can:
Track reach and/or follower growth to measure awareness.
Track likes, comments, shares, etc. to measure engagement.
Track social media sentiment to assess brand reputation.
Track revenues to measure sales growth.
Ultimately, though, you should pick the KPIs that make the most sense for your brand and its goals. From there, you can make your goals more precise by utilizing the S.M.A.R.T. goals framework, which outlines five elements that can provide clarity and focus for your efforts. A "SMART" goal is one that is:
Specific. There's a desired outcome that's clearly understood by all parties.
Measurable. Progress towards and achievement of your goal can be measured in quantifiable terms.
Achievable. The goal is realistic and attainable.
Relevant. The goal is relevant to your brand's mission and situation.
Time-bound. There's a deadline for achieving the goal or evaluating the progress that has been made.
So, if we were to set a goal that follows this framework, it would look something like this:
Achieve an average engagement rate per post of at least 1.18% on Instagram posts from our influencer marketing campaign throughout the next three months.
Of course, you don't want to just pull numbers out of thin air. When possible, your measurable goals should be based on data-backed insights. Review your past performance to establish a baseline and appropriate goal. Look up competitor or industry numbers and benchmark your performance against theirs. Public reports, like our Social Media Industry Benchmark Report from which we got the 1.18% engagement rate mentioned above, can be a great help with this!
How to Track Your Influencer Marketing Campaign's Performance
With your goals and KPIs in place, you're all set to track the performance of your influencer marketing campaigns.
One of the most common methods of tracking is through the platform's native analytics tools. Most social media platforms give you access to countless metrics and insights about your posts and profiles right within the app.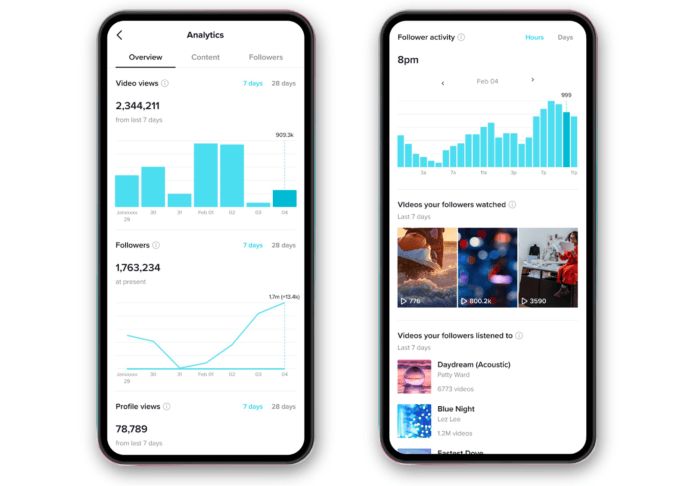 TikTok is one of the many social media platforms that offer in-app analytics for its users.
Considering many influencer marketing campaigns are published by the influencer themselves, it's also common practice to have them send you detailed reports on the performance of the campaign.
If your goals are centered around conversions and sales, one effective method of measuring your results is to give your influencers unique links that allow you to track the visitors that an influencer sends to that link. Giving each influencer a unique discount code is another way to keep track of the sales that they've helped you make.
Finally, you can always take advantage of third-party platforms like Rival IQ to track the activity and performance of your entire influencer network. With auto-tagging and scheduled exports, our features bring the ease of automation to influencer tracking while the user-friendly dashboard streamlines access and reporting of key metrics.
The Wrap Up
Influencer marketing can be a powerful way to help any brand achieve its growth goals — it's just a matter of getting started. We hope this guide demystifies the process of discovering and tracking influencers and gets you excited to launch your own influencer marketing program!
And, if you're ready to boost the efficiency and effectiveness of your influencer marketing efforts, click here to learn more about how Rival IQ can help you track and measure your influencer program.