I'm a little bit ashamed to admit how much time I spend watching, responding to, and tapping my way through Instagram Stories and Highlights (so I won't). What can I say? The short, entertaining updates are like candy for my brain.
Stories have a little something for everyone. The updates are usually helpful, funny, informative, smart, or simply feel like catching up with an old friend (even if you've never actually met in real life). For brands, sharing Stories is a great way to connect with followers, promote products, and offer deals, so long as customers have a chance to view the content. Since Stories expire after 24 hours and do not appear on your profile grid, if your target audience doesn't tune in before the time lapses, they'll miss it altogether.
One way to avoid this scenario is to thoughtfully curate your Instagram Stories Highlights section, the Instagram feature that allows you to "pin" selected stories to the top of your profile. Brands get to pick the categories they create, and the Stories are available as long as you'd like them to be. Thanks to Highlights, audiences can view the Stories anytime, and brand managers have an organized content archive to reference when needed down the line. The following are a few examples of brands making the most of their Instagram Stories Highlights.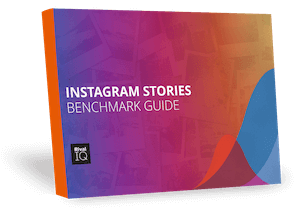 Earning Shoppers' Trust with Instagram Stories Highlights
Today's retailers live in a highly saturated market. Thanks to the Internet, shoppers have more options than ever before, making the competition increasingly fierce.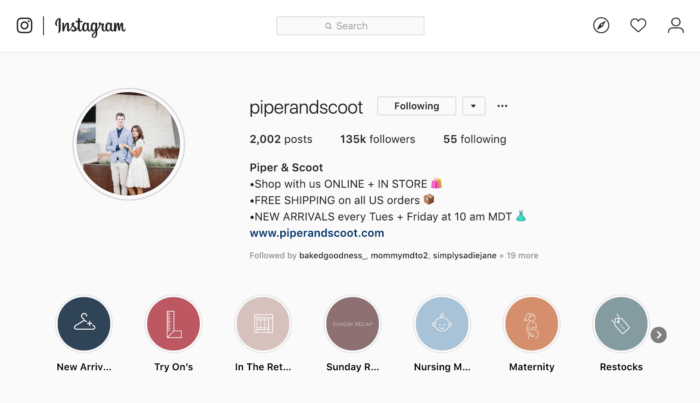 Kylee Middleton is the owner of Piper & Scoot, an online clothing boutique. While P&S has a brick and mortar storefront in Utah, a large number of their transactions happen online.
Even though one might think the shop owner's primary interest is to just move product off the shelves as quickly as possible, Kylee seems to prioritize happy, satisfied customers over impersonal sales. To that end, she uses Stories to set people up for purchasing success. Since online shoppers may feel uneasy about how something will actually fit (which is nearly impossible to determine by just looking at the pictures online), Kylee has mastered the art of the Story "try on" session for her 135K Instagram followers.
Here's how it works. New clothing arrives in store twice a week on Tuesdays and Fridays. As soon as the shipment is in, Kylee tries on select pieces on camera to describe the actual fit on a "real human" (AKA not a model). Kylee is honest about the fit and transparent about her height and clothing size. She even calls attention to her broad shoulders and long torso that sometimes make certain cuts fit a bit tighter across her arms and waist. I share the broad shoulder concern, so I always appreciate when she specifically mentions that her arms do or do not fit comfortably in a dress or top.
Not only does this strategy work on a weekly basis for people like me who regularly view P&S Stories, it's particularly helpful when P&S is having a final sale. It makes perfect sense that customers would be nervous to purchase something online without trying it on first (and not be able to return it). So, to build rapport with shoppers for the sale, Kylee revisits her try-ons and shares commentary on pictures of the models wearing the merchandise, curating a round-up of previous photos and videos so people can shop with more confidence that the item will fit the way they'd like.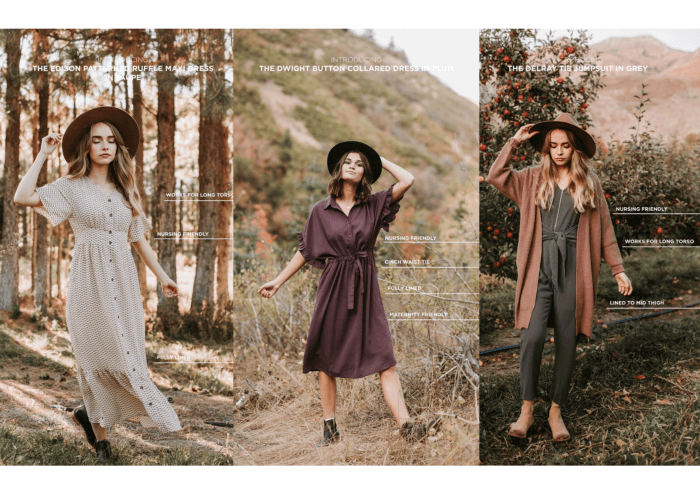 This strategy also helps drive awareness for specific products. While some shoppers might proactively visit the website and sift through pages of merchandise, most aren't. Instagram followers, however, are much more likely to see the dress on Kylee via real time Stories or Highlights, prompting them to swipe up to see more and shop on the website.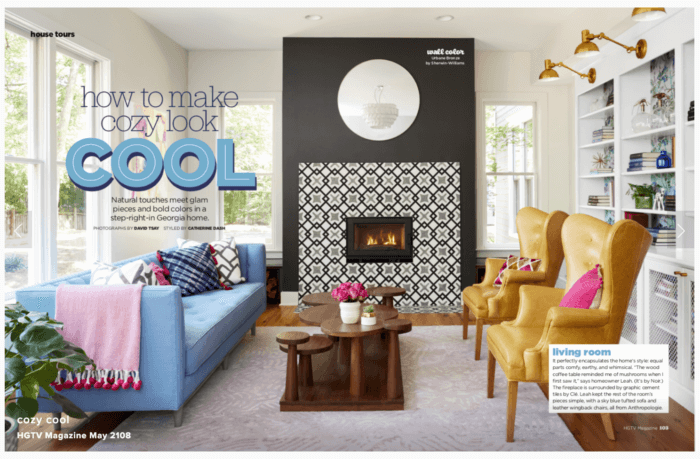 Generating Awareness for Multiple Services
Metal + Petal is a full service residential and commercial interior design firm. Though based in the small town of Athens, Georgia, M+P works with clients everywhere, and leverages Instagram as a brand awareness and lead generation platform. M+P does an excellent job of curating the right Instagram Stories Highlights to help new followers discover what their company is all about.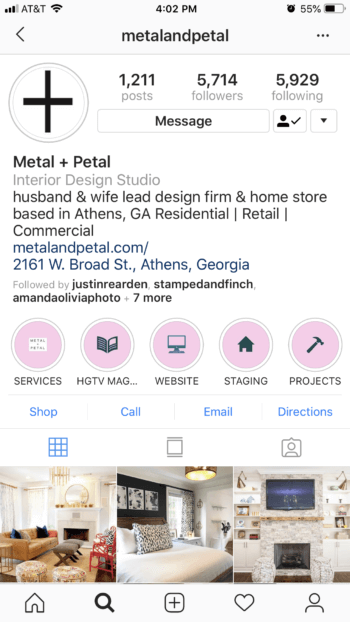 What works:
Professional, polished presentation. M+P uses custom Highlight covers to name each category. The uniform pink background and clean icons make it easy to see the diverse portfolio of services offered. Tip: you can make your own custom Instagram Stories Highlights covers here.
Behind-the-Scenes. Whether it's walking through an empty room before the staging or new design installation, or videos of employees walking around the store, promoting products and making gift suggestions, M+P provides a sneak peek into how they do their jobs and what it is like to be their customer and client.
Consistent branding. Props to the person on staff who consistently uses clean, on-brand design. By using the same grids and fonts, each Story has a consistent, cohesive feel, no matter where the project is located or when it was completed.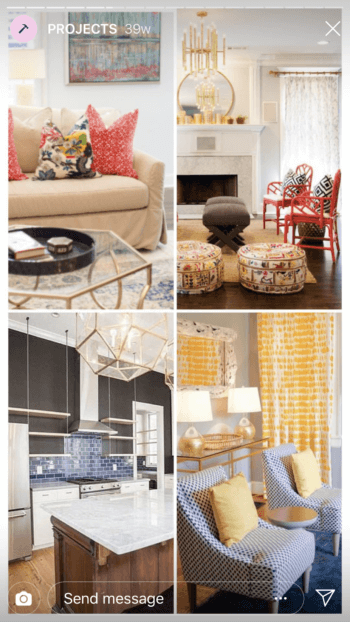 PR, PR, PR. M+P gets more mileage out of exciting PR coverage by dedicating a specific Highlights category to noteworthy press. For example, one of their projects was featured in the HGTV magazine this year. Instead of just having a moment on newsstands, the feature lives forever on the M+P Highlights reel "HGTV Mag." Each story features a photo from the spread, which are high quality and professional. Not only does this coverage beautifully promote their work, it gives prospective clients confidence in the M+P services, and serves as inspiration for the projects they want to complete.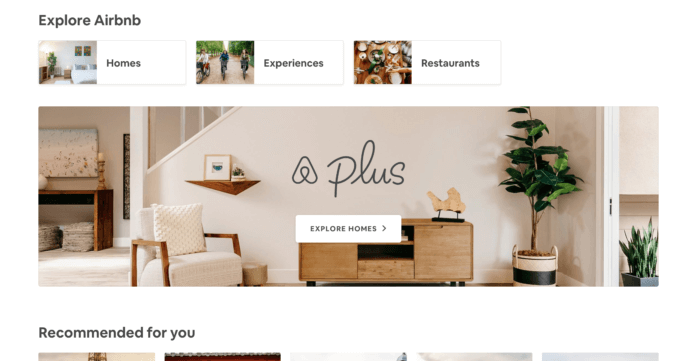 Spreading the Travel Bug
Last year, Instagram launched Polls on Stories. People and brands use this feature to solicit audience feedback on everything from settling a disagreement, to asking what kind of content they want to see next. No matter the topic, it's a fun, interactive way for brands to easily engage with and learn from their followers.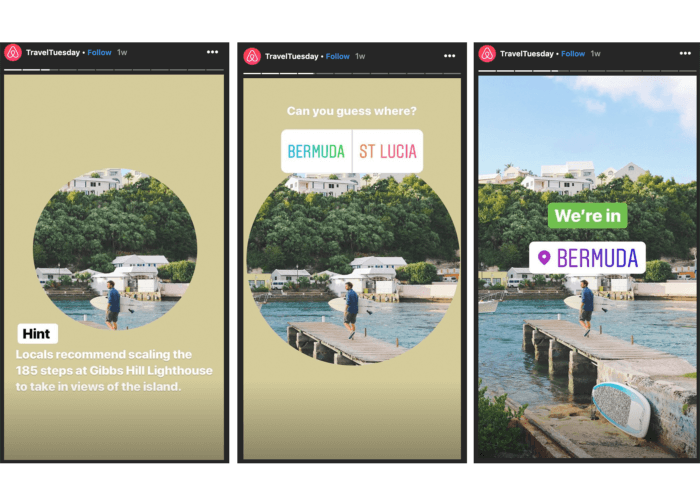 Every Tuesday, Airbnb adds Stories to their "Travel Tuesday" Highlight. The Stories follow the same formula each week. First, Airbnb posts a few clues about their location by sharing pictures and interesting facts and stats. Then, they post a poll with two destinations to choose from, asking viewers to take a guess on location. Later, Airbnb reveals the right answer, then proceeds to share swoon-worthy photos of the incredible travel destination. It's enough to make anyone want to immediately find a flight and book an amazing Airbnb.
This fun engagement works because it's light-hearted, gives the brand a chance to remind travelers about all the destination possibilities with Airbnb, and creates memorable engagement with followers each week.
Have we inspired you to create a new content series worthy of a spot on your Instagram Stories Highlights Reel? Have you discovered your followers respond best to certain types of Story content? If so, please let us know on Twitter.