If social media is essential to your business success, it is imperative you perform a social media competitive analysis to learn how your competitors market and how your performance compares.
Every social media professional knows that the best social media strategies are rooted in data. Whether you're looking to improve the ROI of your social media or to earn buy-in from your company leadership, putting in the work to back your plan with data will pay dividends.
Luckily, performing a social media competitive analysis doesn't have to be complicated. This post will make your job easy, and our reporting template will help you look amazing.
To help you with your analysis, we'll walk through an example of creating an entire social media competitive analysis. Our example brand for this walkthrough will be the seltzer brand Spindrift, and we'll use a set of 9 other brands from our Health Foods landscape as the comparison set for our analysis.

Getting ready to start: Free template and Tools
Here are a few essential items to get started to set you up for success.
First, get a copy of the social media competitive analysis template to play along. These templates are free to download and use, and they'll speed your work right along.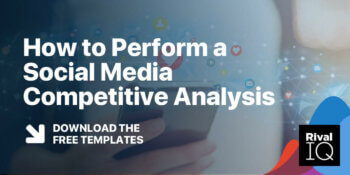 Free social media competitive analysis template
Download now
Now that your template is ready to go, let's get started!
Gathering our tools
To complete our social media competitive analysis, we will need a data tool to help us gather the information we need. There are several tools you could use to perform this analysis, and we'll use Rival IQ to do most of the work. If you want to play along at home, our 14-day free trial will let you do everything you need.
You'll also want to make sure you get a copy of our template to work through your analysis.
Building your competitive landscape
The first step in completing a social media competitor analysis is building a set of competitors. Of course, you probably know your key competitors, but if you don't, here are a couple of ideas for finding some comparisons.
Ideas for building out your landscape
Use SimilarWeb to find competitive websites.
Google search your brand name to look for other companies advertising against your brand.
Google search for your main product to look for other companies.
Use your profile page on Twitter to look for recommended other accounts to follow. Use the see more link to get to the connect page for your key brand.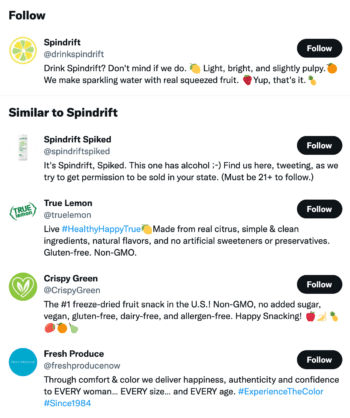 This analysis: Spindrift and health food and beverage brands
For this example analysis, we will focus on Spindrift, the sparkling water brand that uses real fruit. The competitive set for this analysis includes nine other health and natural food brands, including Brew Dr. Kombucha, Health-Ade, and Impossible Foods.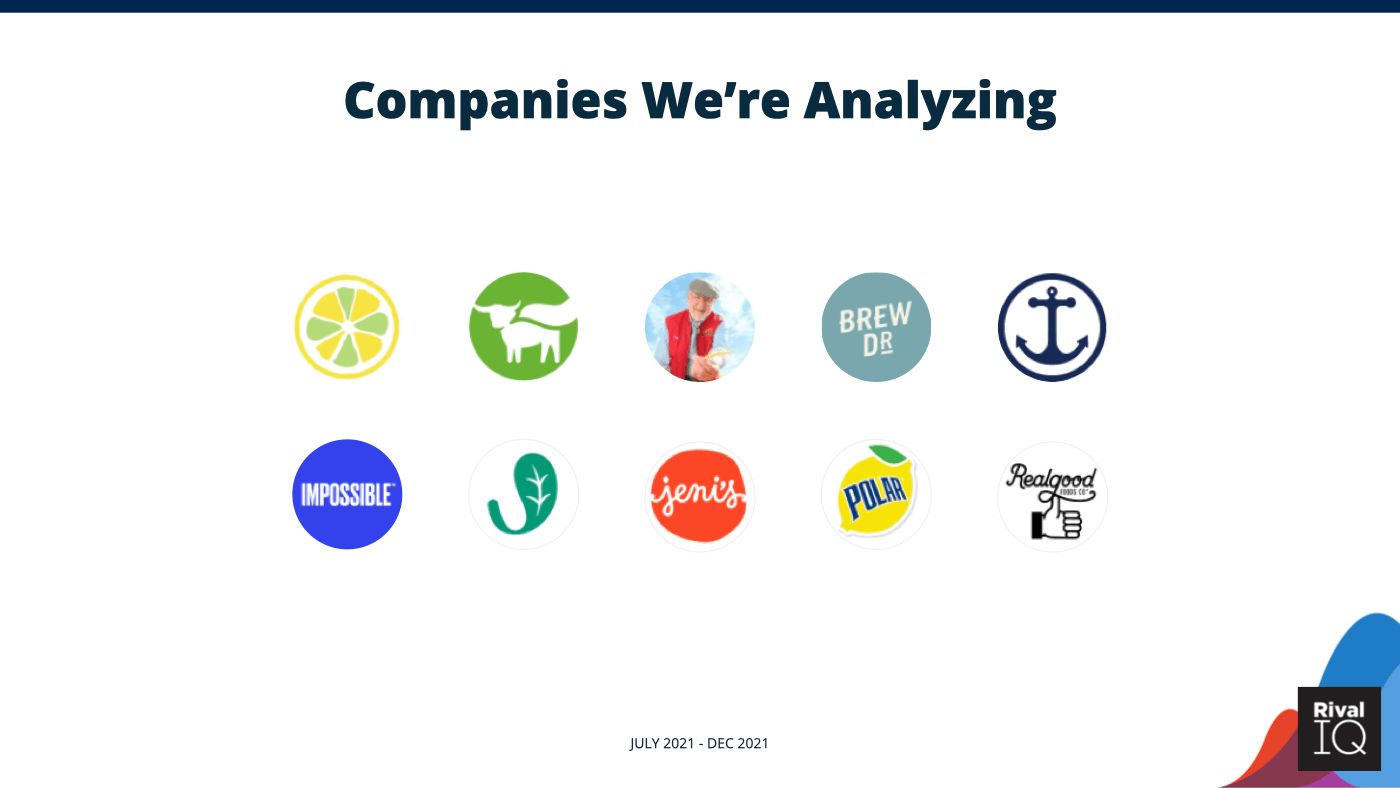 Which social media networks matter?
Now that we have our competitive set, we need to determine which social media networks to include in our analysis. Using the data from our landscape, we'll review average performance for audience (fans), activity (posting frequency), and engagement to determine where to focus.
For the rest of this example, we'll perform our analysis using six months of data. We'd recommend using at least three months of data. Of course, using less will work, too, but keep it to at least 30 days' worth of data.
Audience metrics: Landscape averages
Let's start with some average audience and audience growth metrics. Here, we'll see which social channels have the largest followings and are showing strong growth.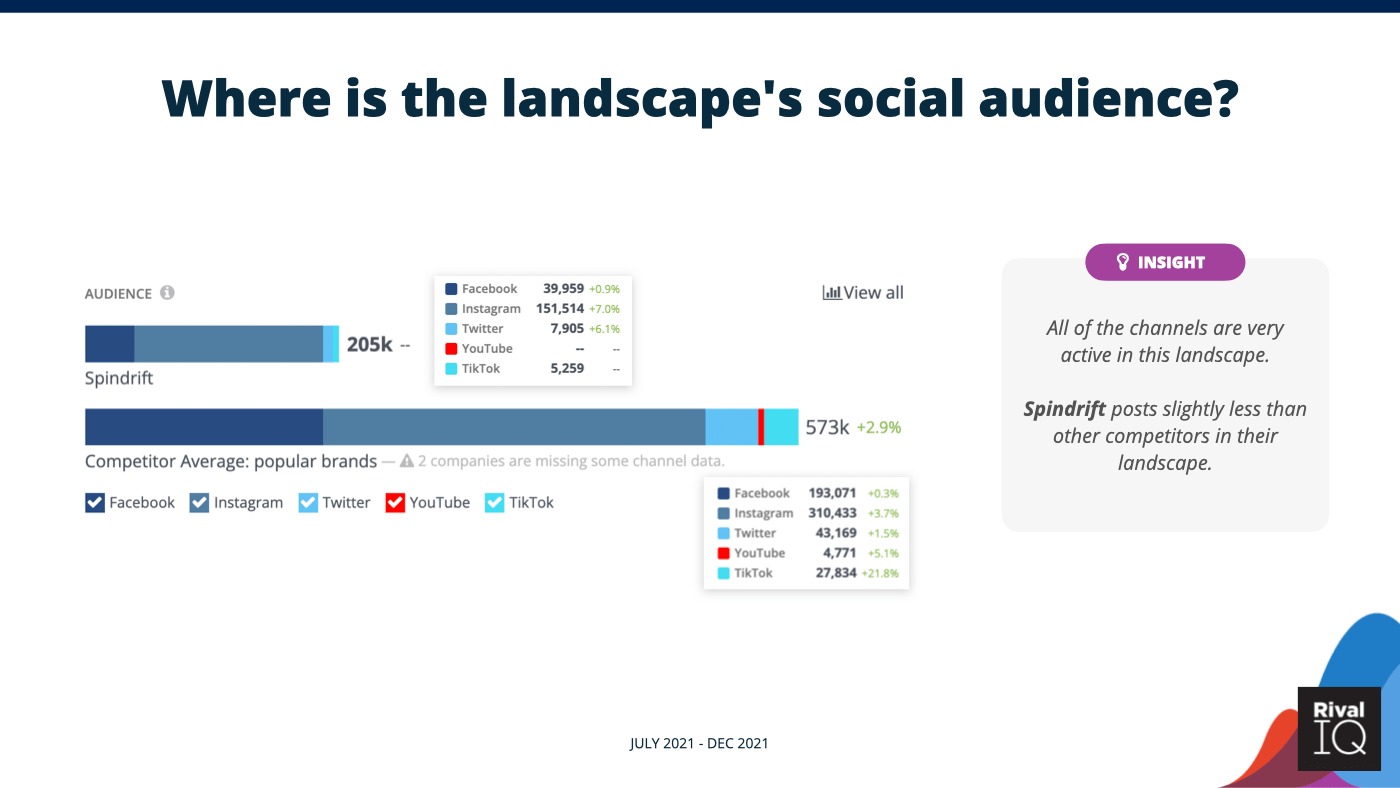 Looking at the landscape averages for follower counts for these companies, Instagram is the dominant channel, with Facebook coming in second and Twitter and TikTok after that.
Considering follower growth, this landscape is seeing solid numbers on TikTok (21% over six months) and moderate growth on Instagram (3.7% over six months) and YouTube (5% over six months).
Activity metrics: Landscape averages
We can use activity metrics to understand where our brands invest their time. The slide below shows that the average brand in this landscape is posting about 15.7 times per week. Those posts are broken down somewhat evenly across Instagram, Facebook, and Twitter, with about 20% of the total going to TikTok and YouTube.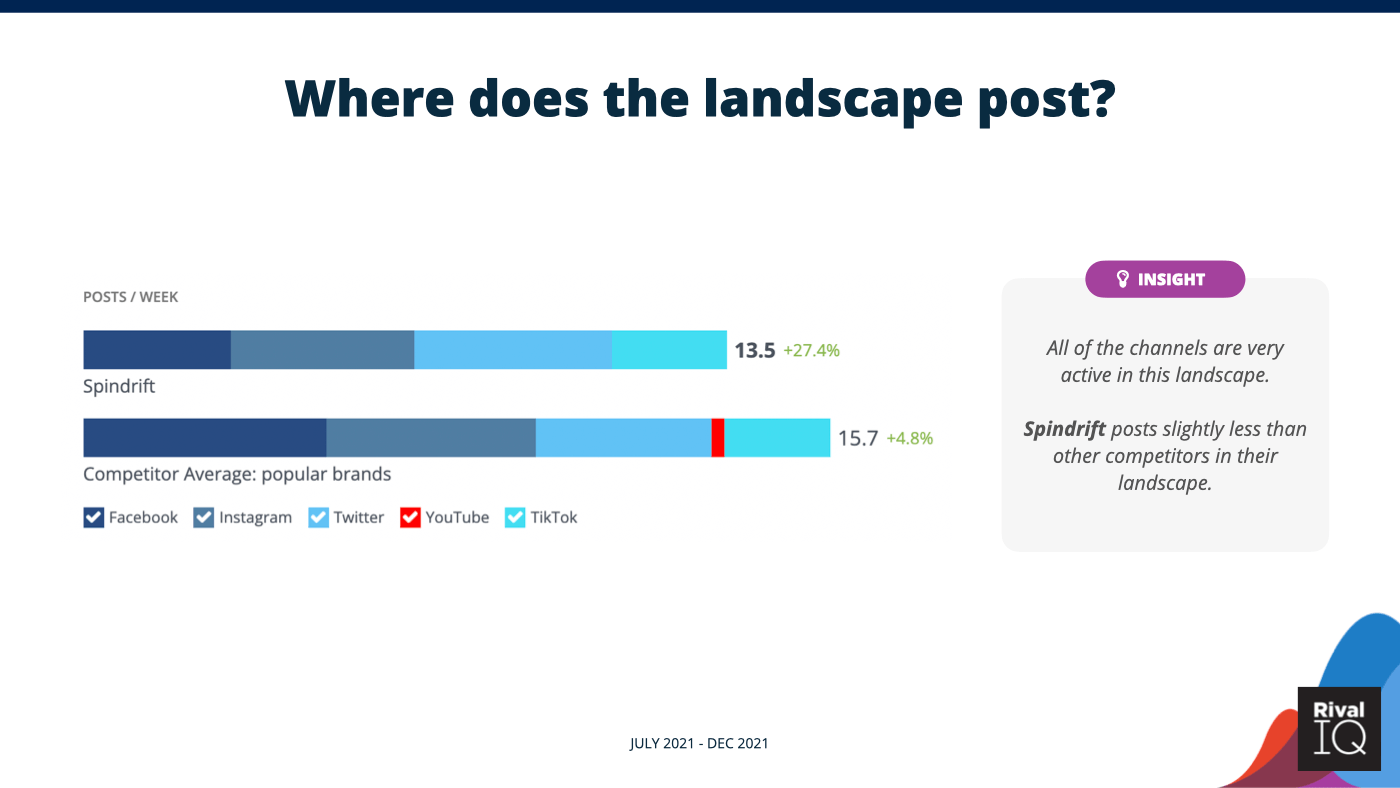 Of course, YouTube is a different animal, and we wouldn't expect to see posting volumes that rival the other social media platforms.
The social channels we'll analyze
In this landscape, there are three core social media platforms that we'll analyze: Instagram, Facebook, and Twitter. Although TikTok has exploded in users and time-spent metrics, TikTok is still an emerging platform for brands. We'll leave it out of this analysis, but you can include it in yours!
Benchmarking and Metrics
To understand how these brands compare on social, let's dig into various benchmarks and metrics around social audience, activity, and engagement.
In the previous section, we used the cross-channel benchmarking graphs to understand how Spindrift compares overall to their landscape on followers and posting metrics.
Since each social network has its own feel and required strategy, we'll go channel-by-channel in this section to get the broadest picture possible of their social performance.
For each channel, we'll review followers, posting frequency, engagement totals, and engagement rates.
If you'd like more context on some of these metrics, we'd suggest reading How Often to Post on Social Media and The Social Media Industry Benchmark Report.
Benchmarking key metrics on Instagram
To begin, let's look at follower, posting, and engagement metrics for Spindrift on Instagram.
In the slide below, we've included three key pieces of information: Spindrift's performance on these key metrics, how Spindrift's performance has changed over time, and competitive benchmarks for each of these metrics.
Here, we can see that Spindrift has a smaller following than the other brands in this set, and their following is growing at about double the rate of the landscape average.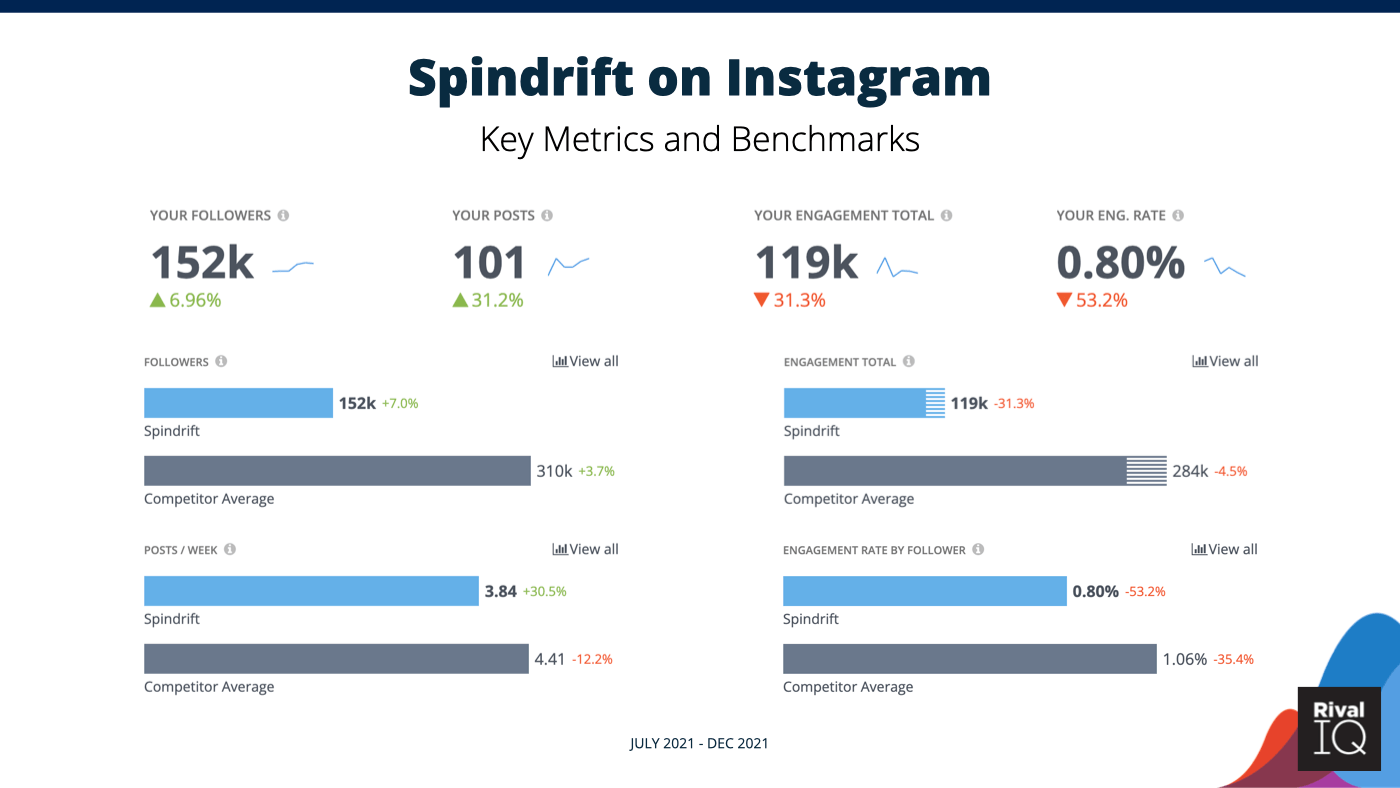 With posting about four times a week, Spindrift is in line with the landscape average. Notably, they increased their posting during the second half of 2021 by about 30%. However, their total engagement dropped by 31% despite that move, which is something to examine further.
For engagement rates, the landscape average dropped by about 35%, while Spindrift's engagement rate dropped 53%! Noting these differences in performance between your brand and the landscape benchmarks is precisely why we do these types of analyses.
After examining Spindrift's social performance against the landscape, we can use competitor-level metrics to see exactly how Spindrift ranks and to find examples of brands that are worth studying more because they're outperforming the other brands.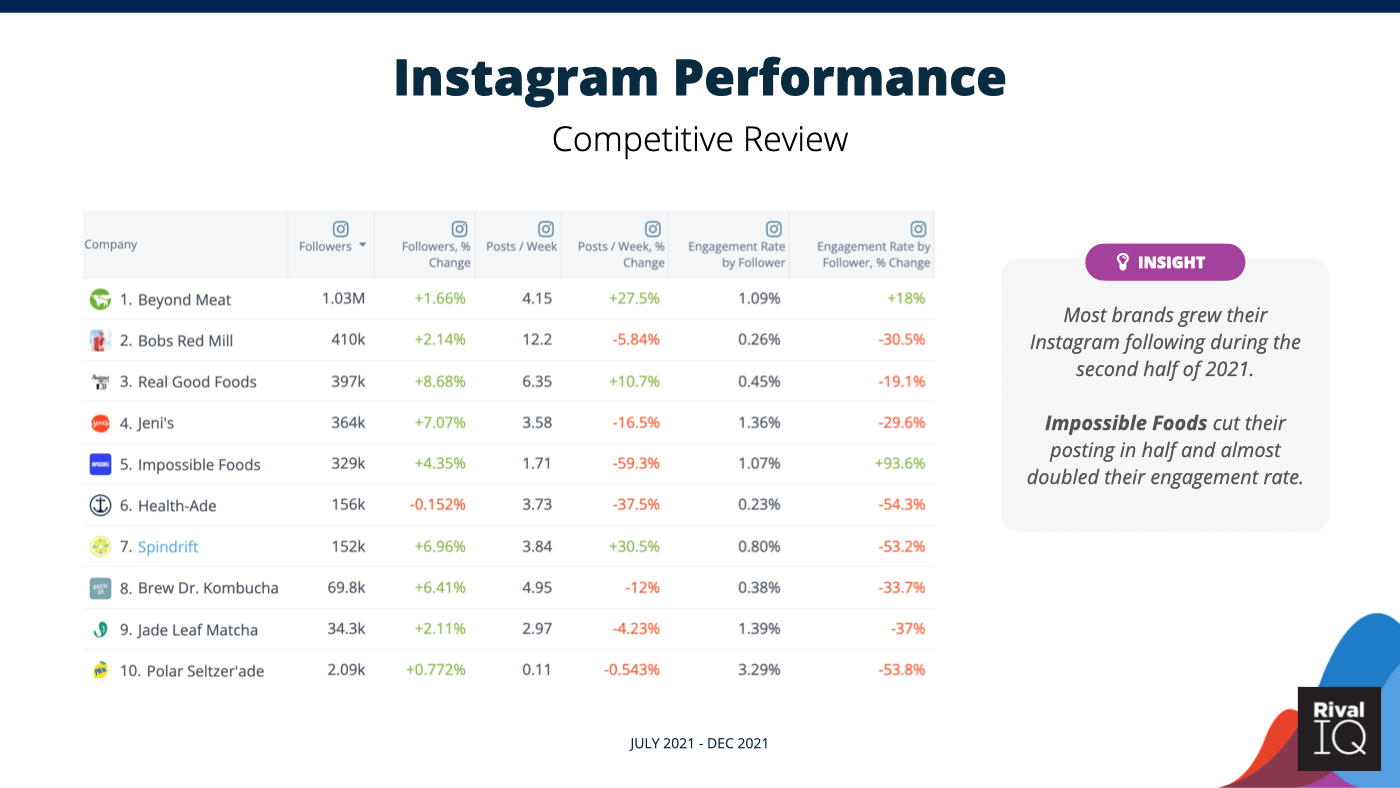 In the slide above, we've included follower, posting, and engagement rate metrics, along with the relative change on a brand-by-brand basis. This chart is sorted by followers, from biggest to smallest, and you could choose to include other metrics, like engagement totals, comments, or more.
There is a tradeoff on having too many/few metrics, so remember to try and keep things focused.
Benchmarking key metrics on Facebook and Twitter
Similar to the analysis we did above for Spindrift on Instagram, we can benchmark Spindrift's performance on Facebook and Twitter to gain a better understanding of how they're executing on each of those social networks.
Here are the landscape-level benchmarks and company-level details for Spindrift on Facebook.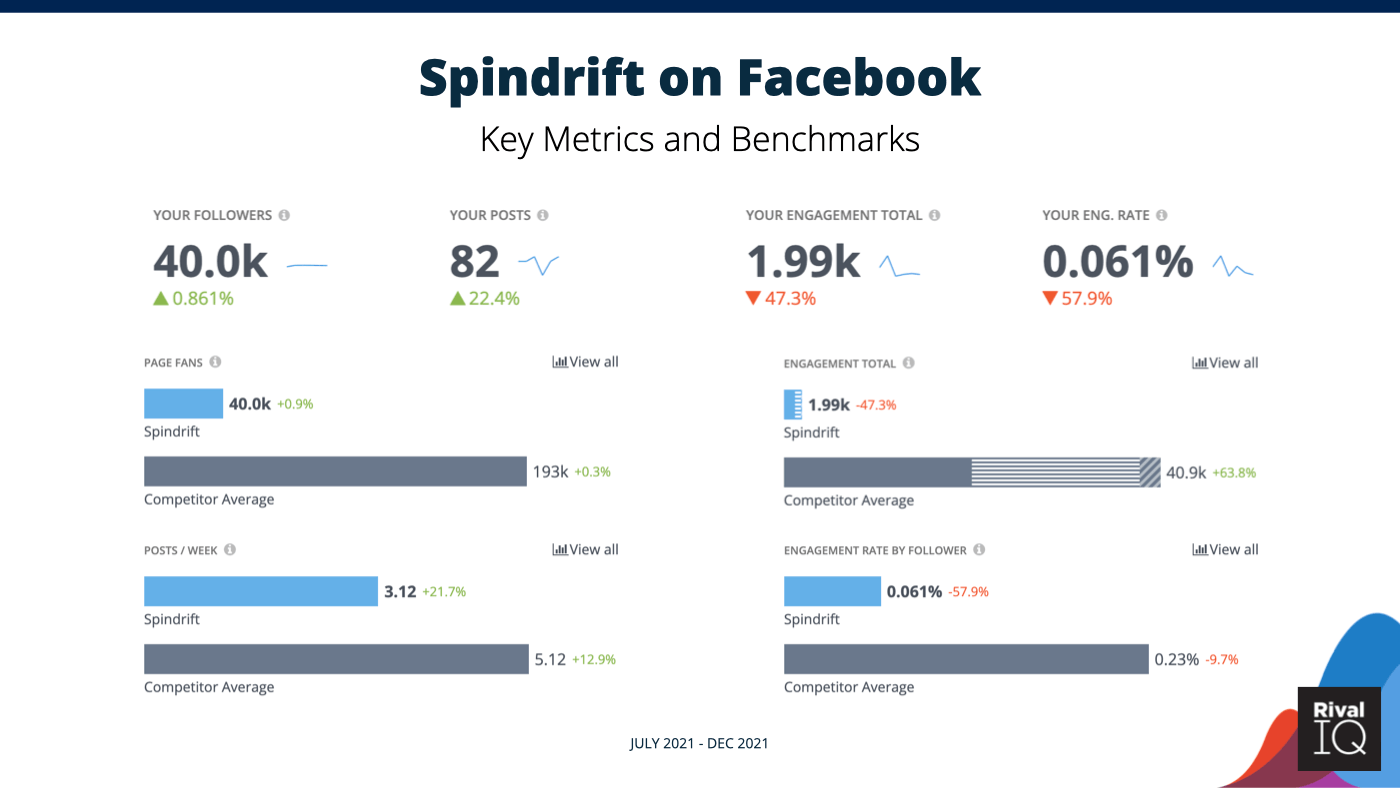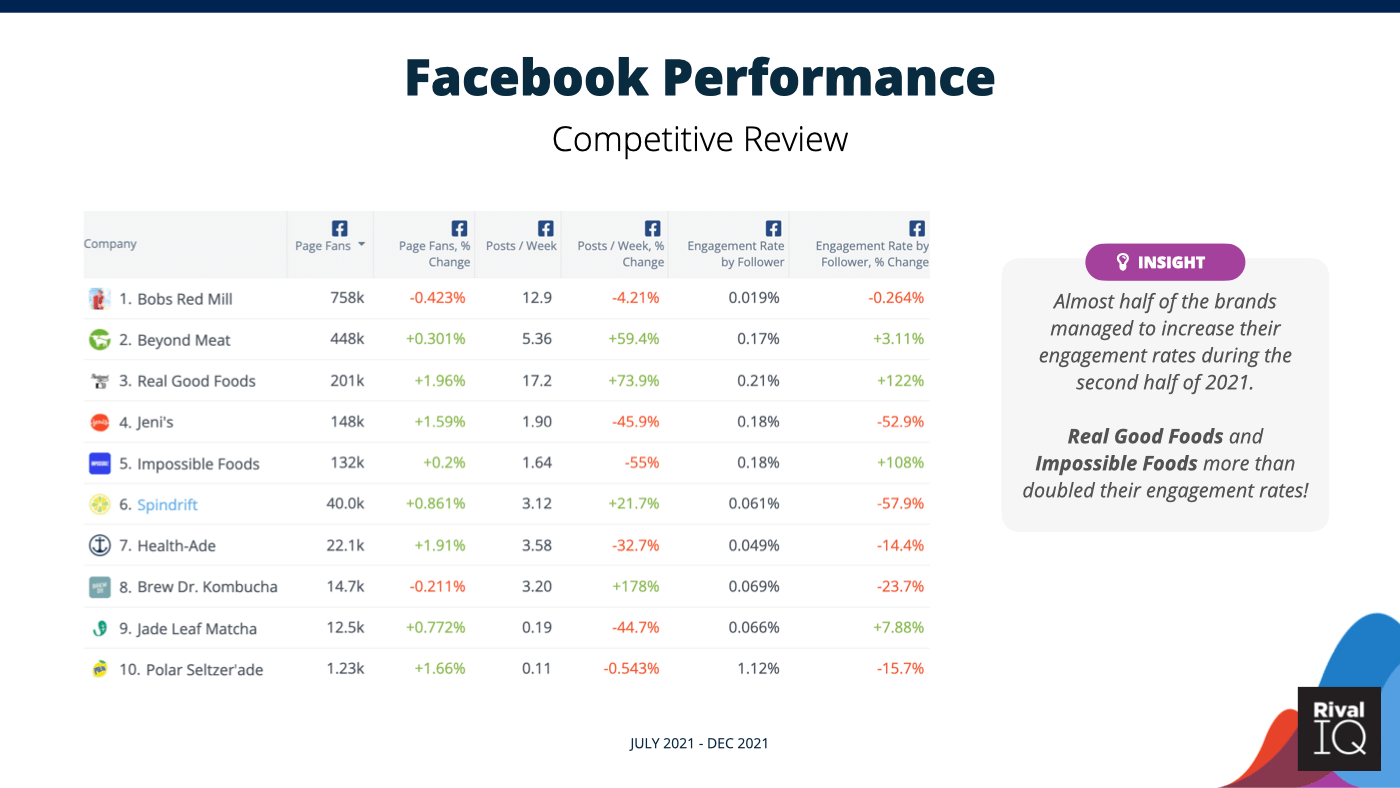 The slides below show Spindrift's landscape-level benchmarks and company-level details on Twitter.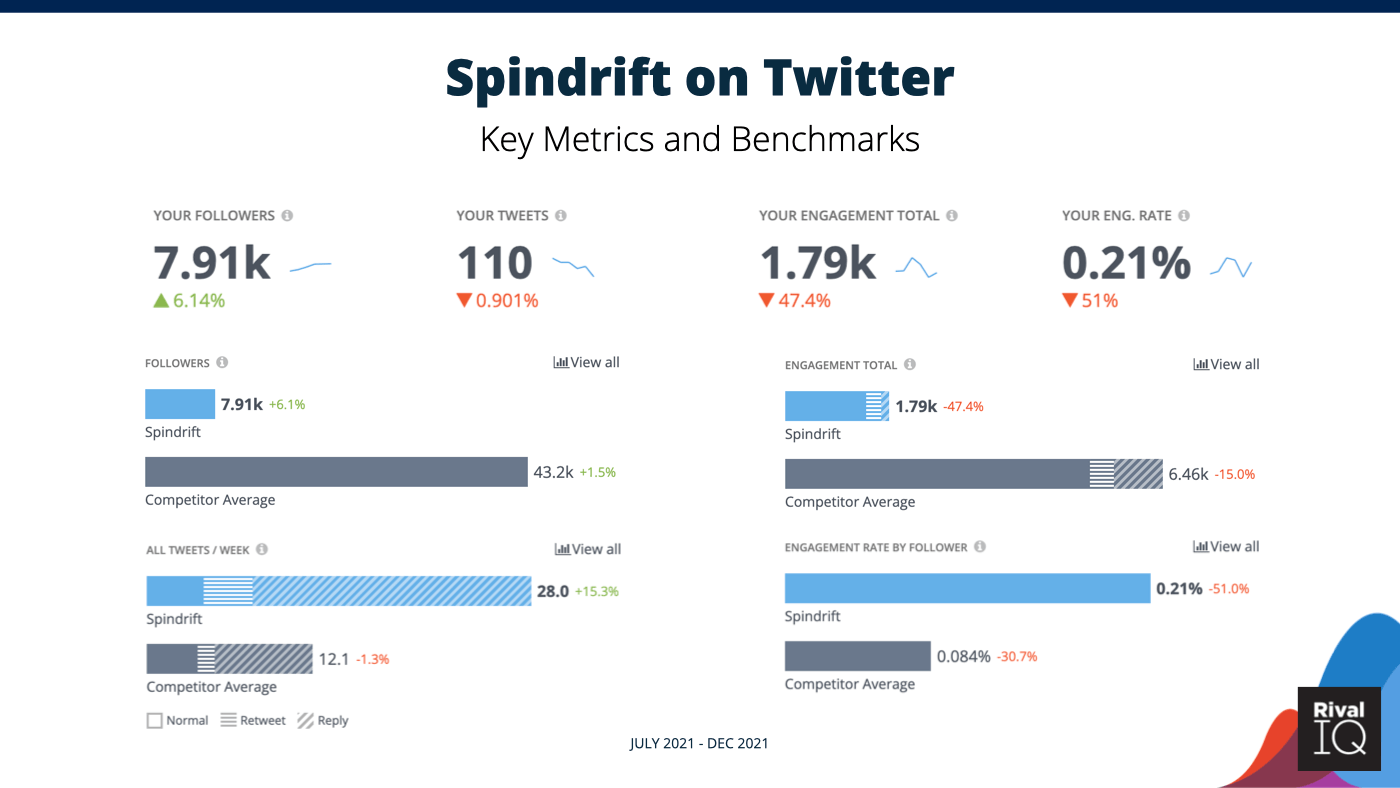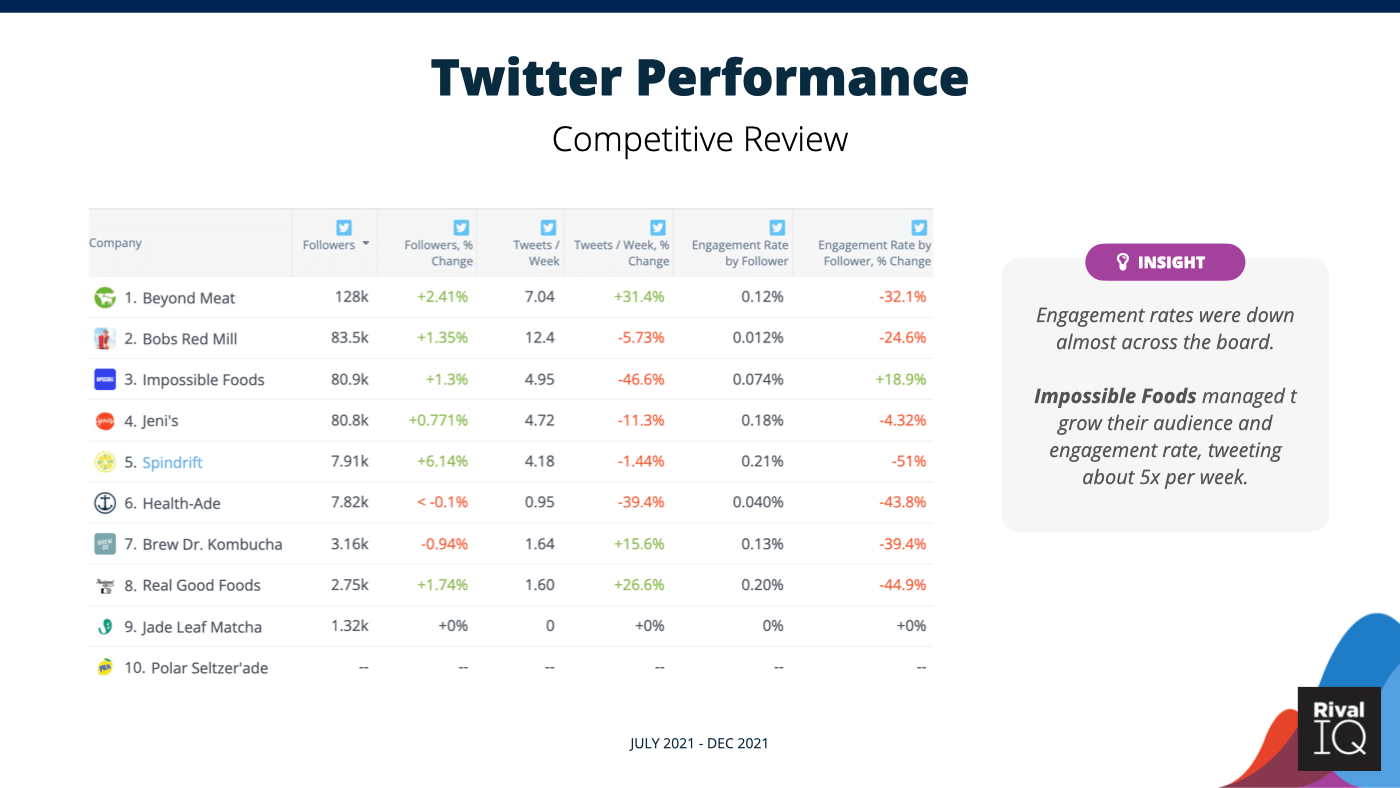 Ready to start your analysis?
Positioning analysis
Reviewing the language you and your competitors use to describe your brand will inform how you craft and refine that positioning.
From our in-depth Competitive Communication Audit article:
Each company has a unique way of describing itself. Some companies are better than others in the consistency of those messages. One aspect of positioning that is very important is making sure your topline messages are consistently communicated, meaning who you are and what you do are clear and consistent across all digital channels. This is also true for visual branding, which should be consistently employed.

Let's pull in the social bios from this landscape to review. We'll look at each bio for each company, channel by channel.
Starting with Instagram, we're looking for a few key items beyond which words these brands use to describe themselves. Specifically, we'll examine length, hashtag usage, emoji, and references to other platforms. If you're looking for the best tips and tricks for writing your bios, definitely read How to Write an Effective Instagram Bio.
Starting with length, most of these brands use more than 100 characters, with Brew Dr. Kombucha getting close to the 150 character limit. On the other hand, impossible Foods is concise, coming in with only 25 characters!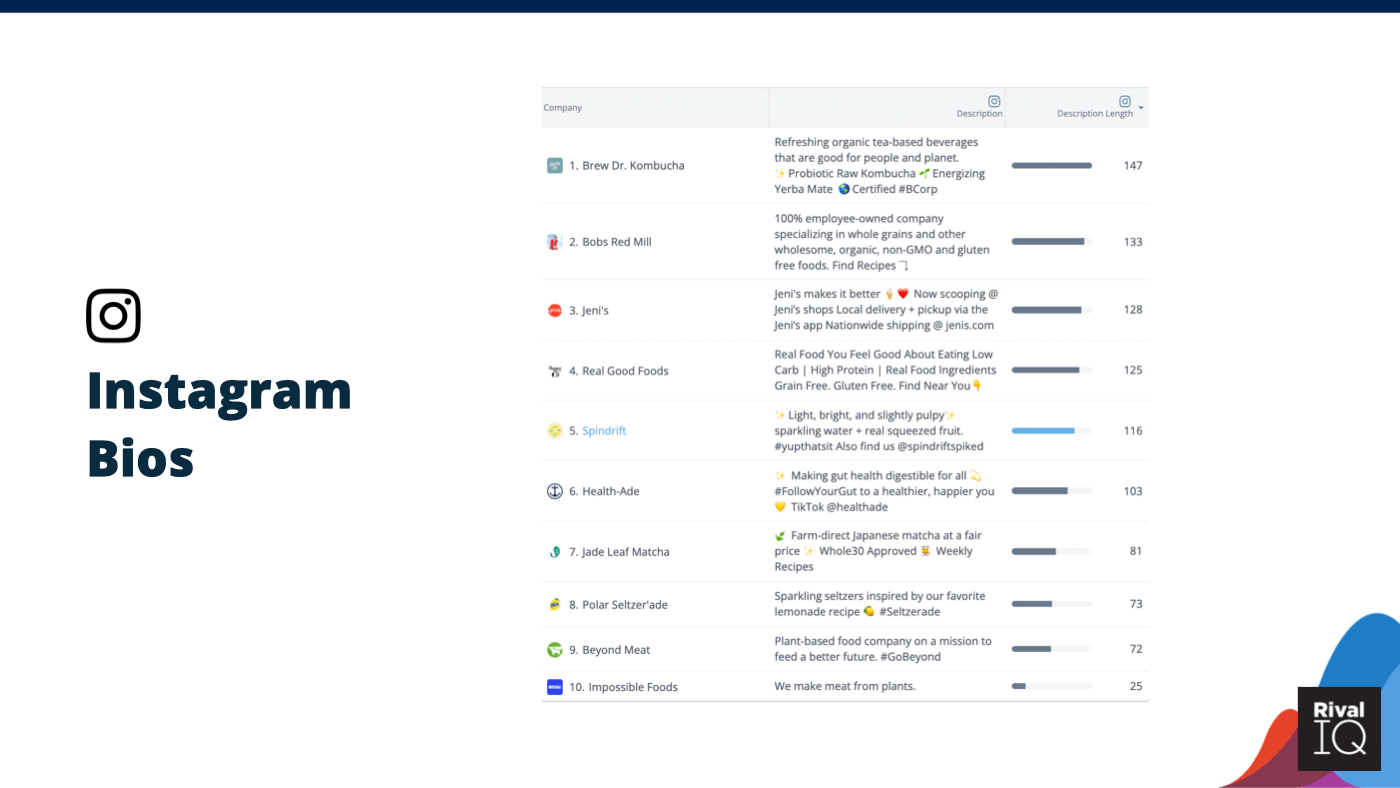 On hashtag usage, only five of the brands in our landscape are using a hashtag. Typically, brands want users to use their core brand hashtags, and putting it into your bio is an excellent way to let your fans know what to do. However, unlike what we see from other industries like beauty and cosmetic brands, the companies in this landscape aren't asking their fans to tag them. So perhaps this is an opportunity, folks!
Next, let's look at emoji usage. Eight of the ten brands we're examining use emojis, including Spindrift. Each of the beverage brands is using ✨, which isn't surprising given the carbonated nature of their beverages. No brand employs more than three emojis, which feels like a good choice. You can have too much of a good thing!
As for references to other platforms and accounts, only three of the ten companies in this landscape reference their other social networks or handles. Spindrift uses their bio to refer to their @spindriftspiked account, and Health-Ade points us to their TikTok account. Jeni's Ice Creams take the space to remind folks that you can get shipping via their website since not everyone may realize you can overnight ice cream (it works, by the way, I've tried it)!
In the next slide, we performed a word frequency analysis using the bios from Instagram for the companies in this landscape. A word frequency analysis looks at how many times a word is used in a text set. You can do this analysis using free tools like WordCounter or a word cloud generator.
Not surprisingly, the words "real," "food," "organic," and "sparkling" are among the more commonly-used words here.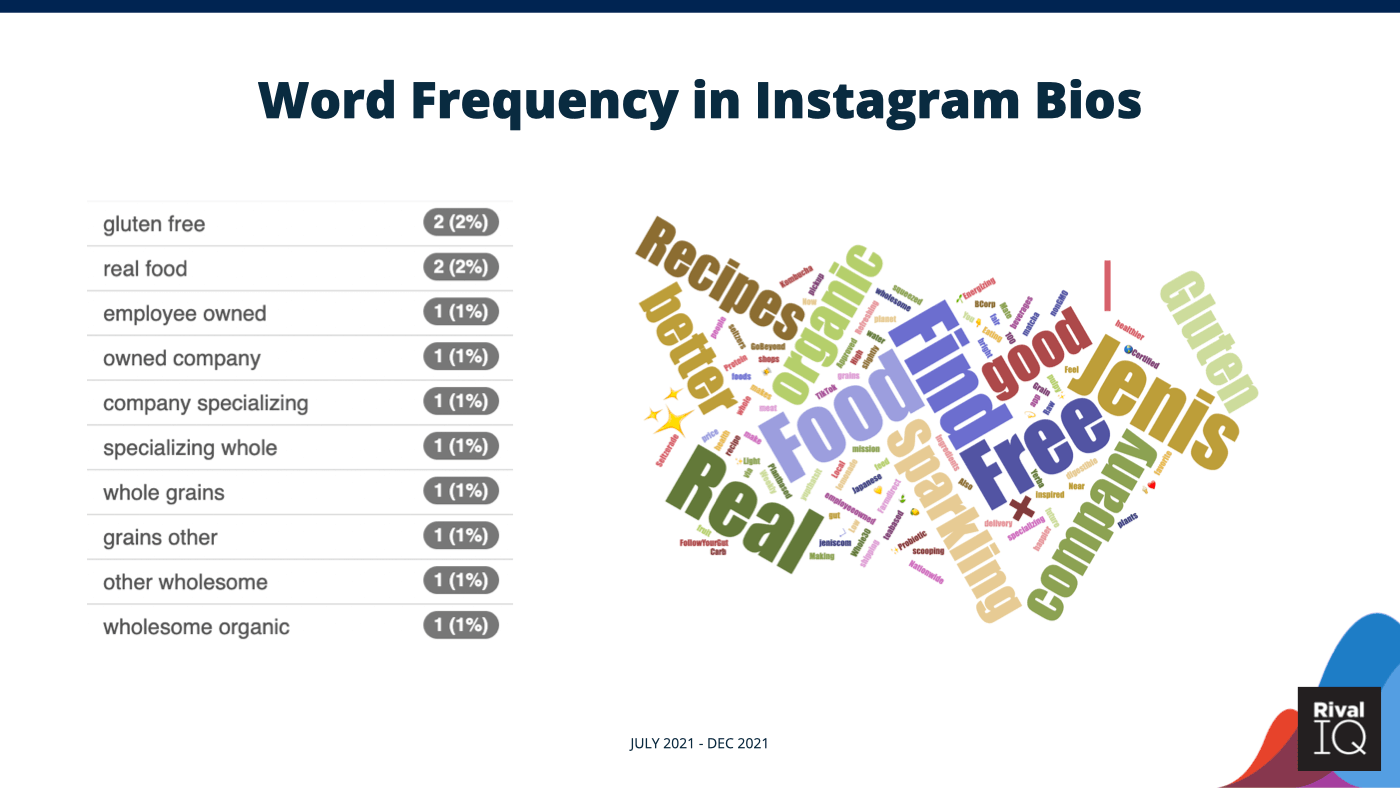 If you want to see the Facebook and Twitter positioning slides, check out the report.
Creative content analysis
Now that we've reviewed metrics and hashtags, let's focus on some of the creative in the actual posts that drive the numbers. Of course, we all know it helps to have on-brand, thumb-stopping shots to drive engagement on Instagram.
To look at the top-performing posts from a competitive perspective, it is easier to see what a brand is working toward if you analyze the posts one company at a time. Also, researching a brand's best and worst-performing content will give you insights into what works well, regardless of brand.
Spindrift's Instagram posts: Most and least engaging
To begin, let's start with our focus brand, Spindrift. Below, we'll see their top and bottom nine Instagram posts during this time period.
Spindrift's best posts for the second half of 2021 keep things focused on their product, even when the shots are UGC of Spindrift-inspired cookies. We see a pattern for CPG brands on social where high-engagement social posts feature clean visuals of the product.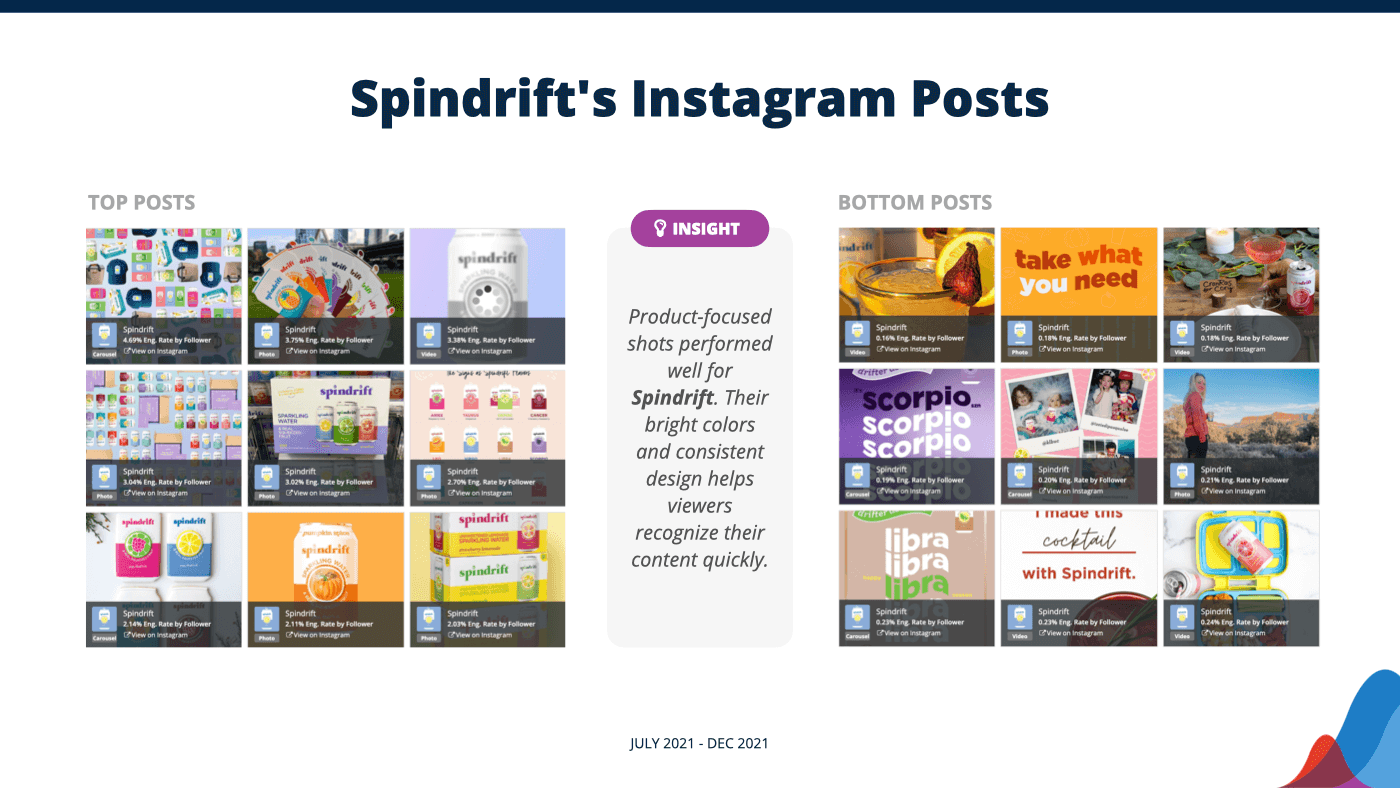 Looking at top-performing content is only half of the story. Finding patterns in the content that doesn't get engagement also yields clues as to campaigns that could be improved.
We see Spindrift's nine lowest-engagement posts on Instagram have a different feel than their best-performing content. There is heavy use of text overlays, the product is largely missing, and when the product is shown, it isn't the focus of the images. I love this side-by-side view of top/bottom posts because it provides a clear look at the contrast between the most and least engaging creative for a brand.
More examples of Instagram creative from the landscape
Though we won't dive into each company, here are a few more top and bottom-performing examples.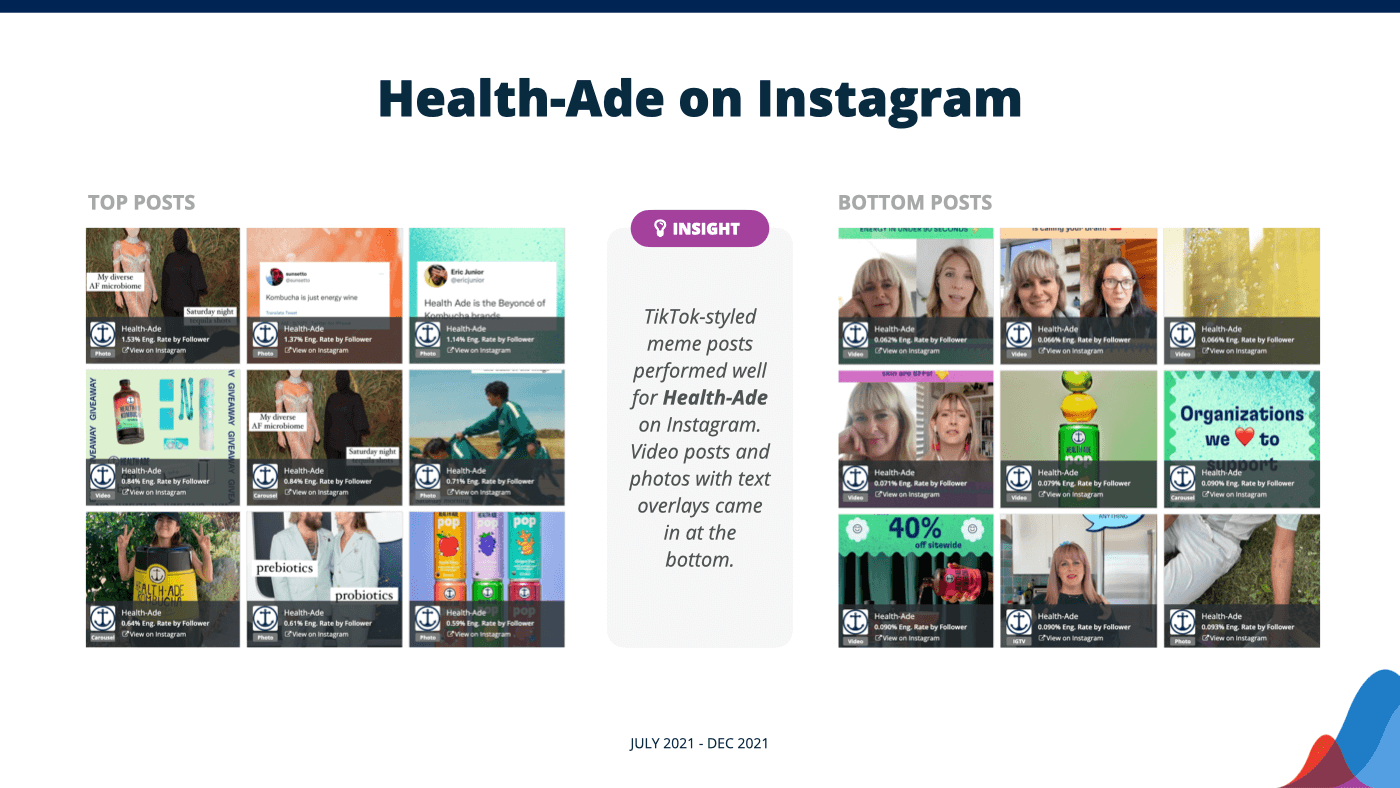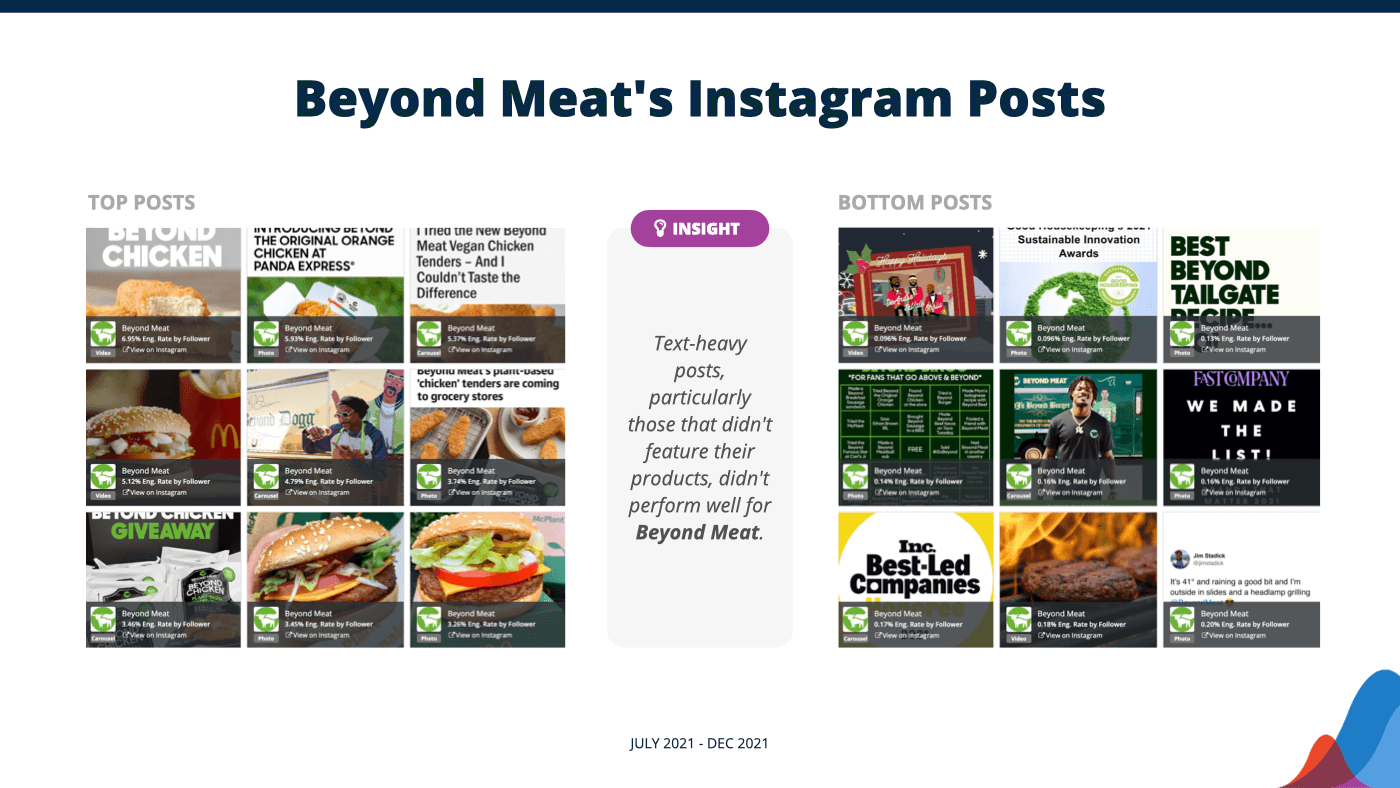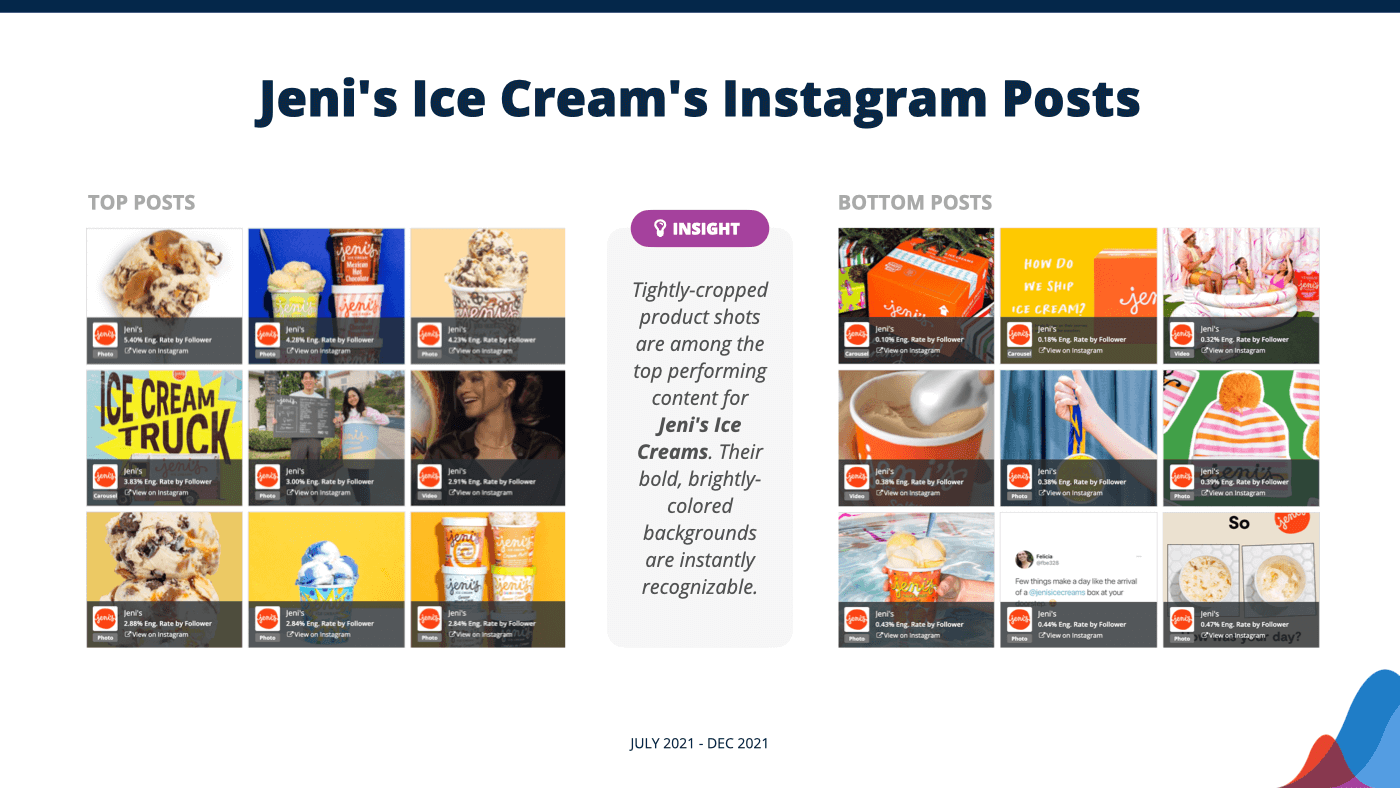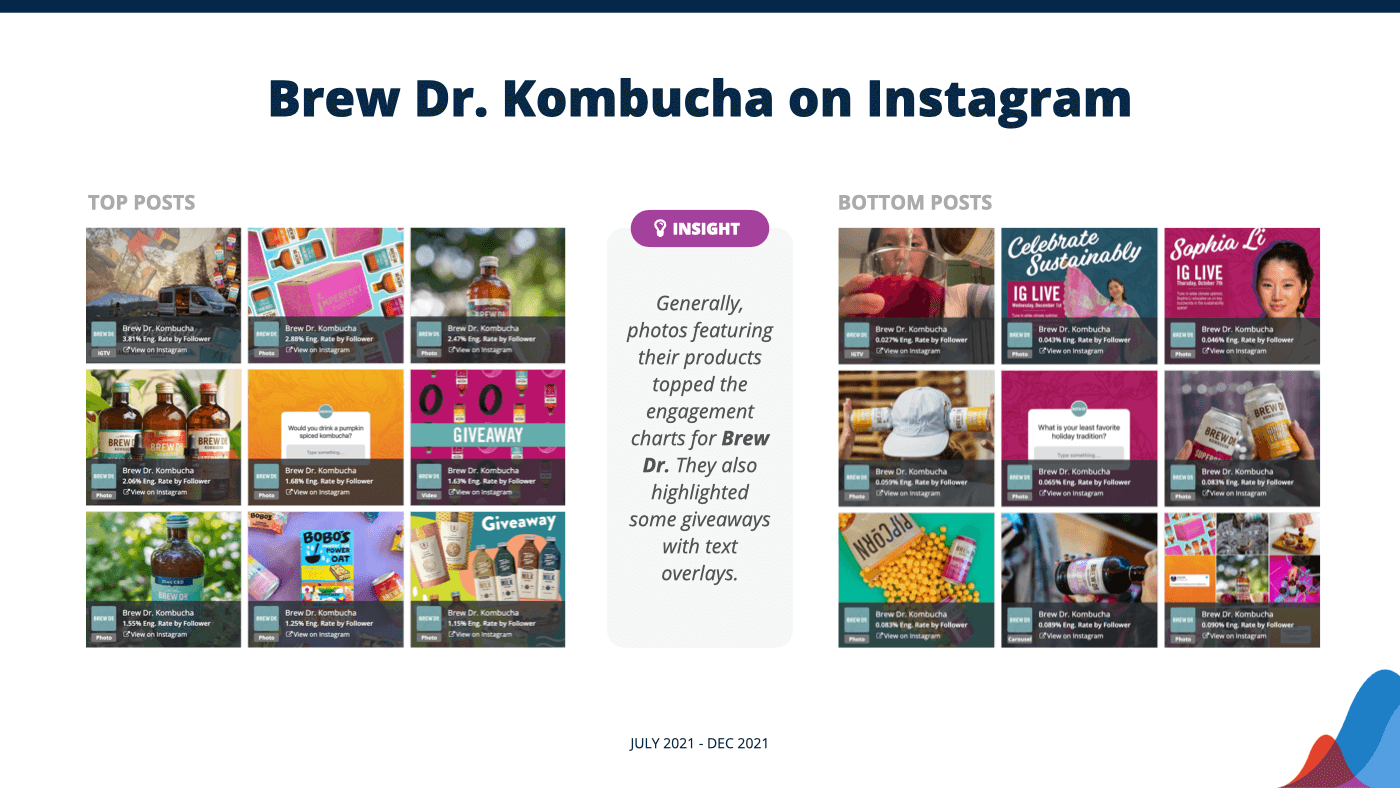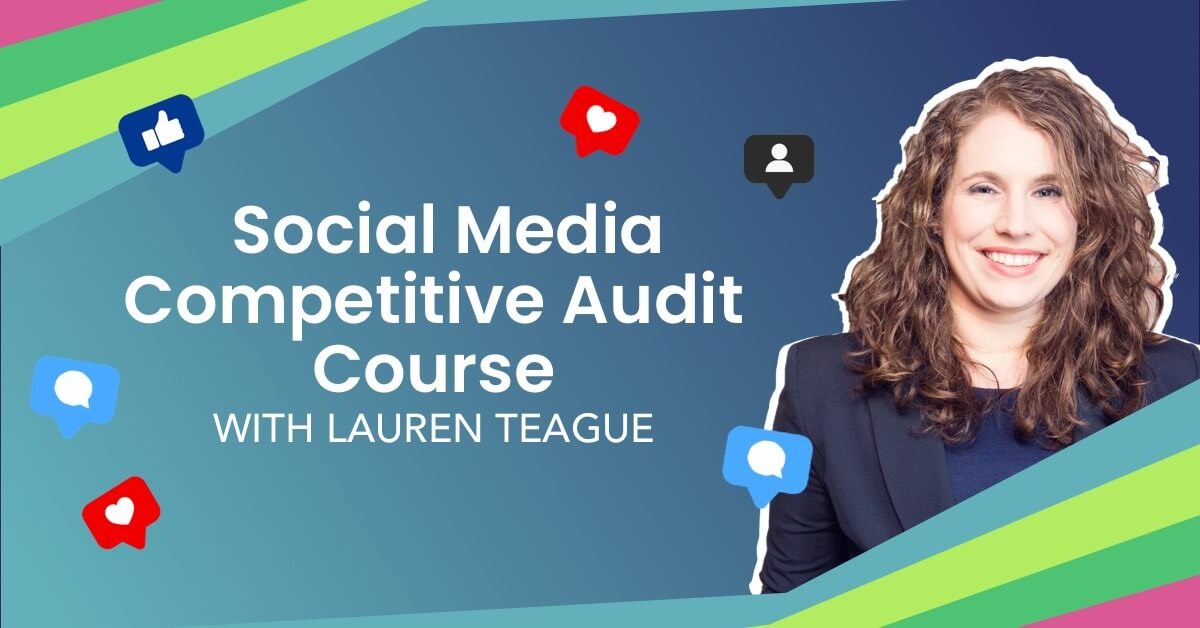 Caption analysis
Though the images in our posts are a huge factor in determining their success, the words that we use to connect with our audience matter, too. Staying with our trend of examining social engagement on Instagram, let's look at how to reveal high-engagement topics by reviewing the most popular phrases within this health-food landscape.
We'll start out looking at the words Spindrift is using in their posts using Popular Topics within Rival IQ.
High-engagement and high-frequency phrases from Spindrift
In this analysis, we're looking at phrases Spingdrift used at least three times within the period, sorted by engagement.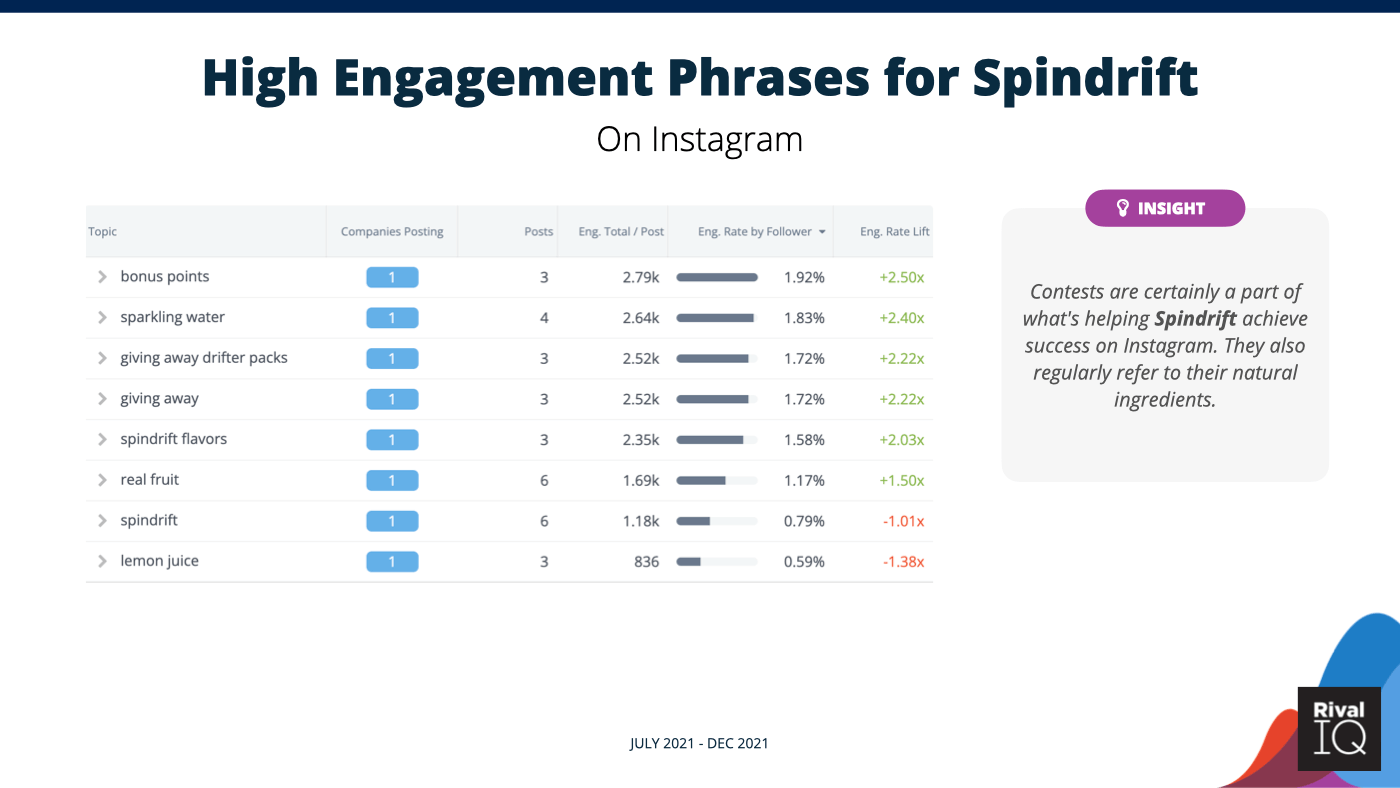 In the table above, we see that the phrase "bonus points" appears in three posts and that those posts, on average, earn an engagement rate of 1.92%. Other notable phrases that earn high engagement are "sparkling water," "giving away," and "real fruit."
Digging into posts that use the phrase "bonus points" in the caption, we can find that Spindrift often uses this phrase to ask for more from their audience, whether it's for a contest, a recipe, or just more engagement.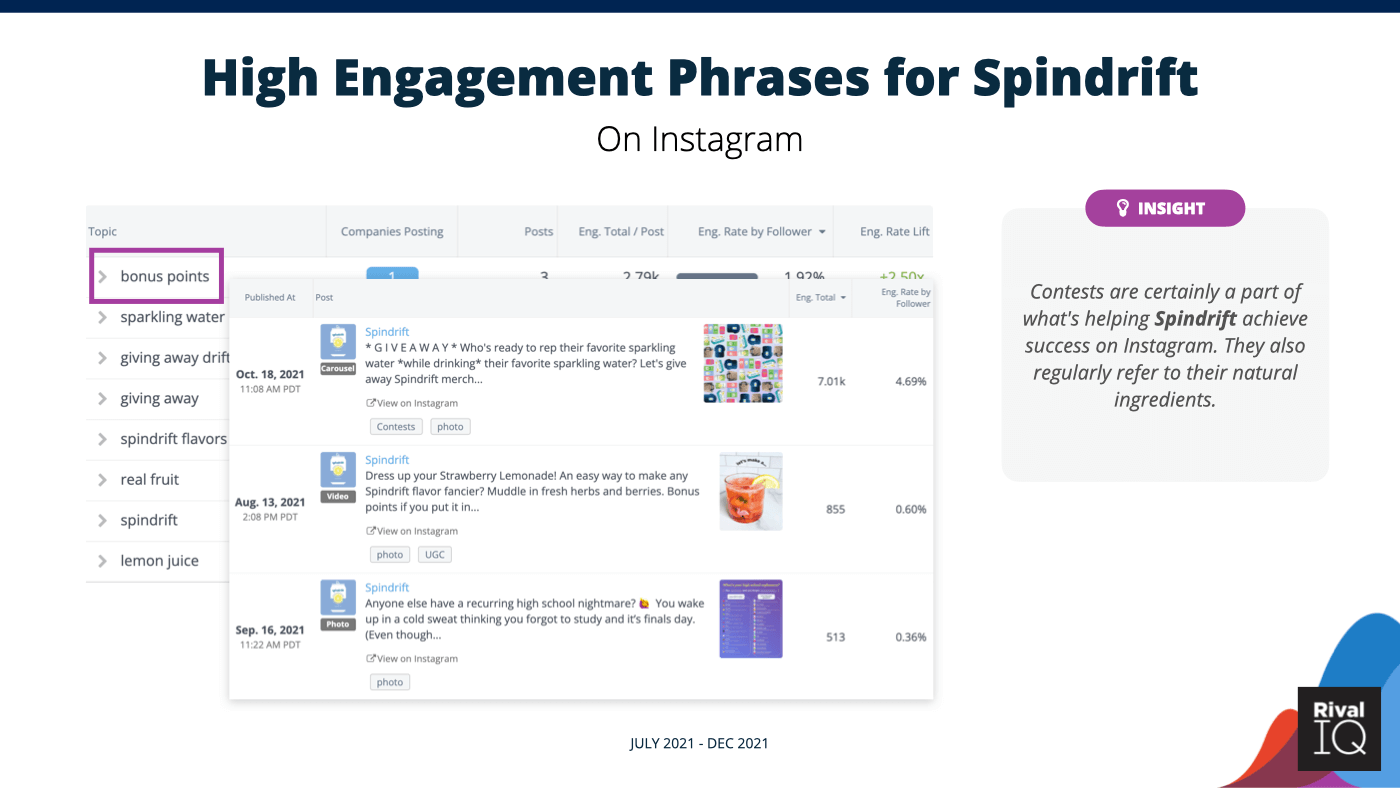 Broadly used phrases in this landscape
If you're looking for trends and tactics in your competitor analysis, one easy way to find them is to look at phrases and topics that a number of brands are using.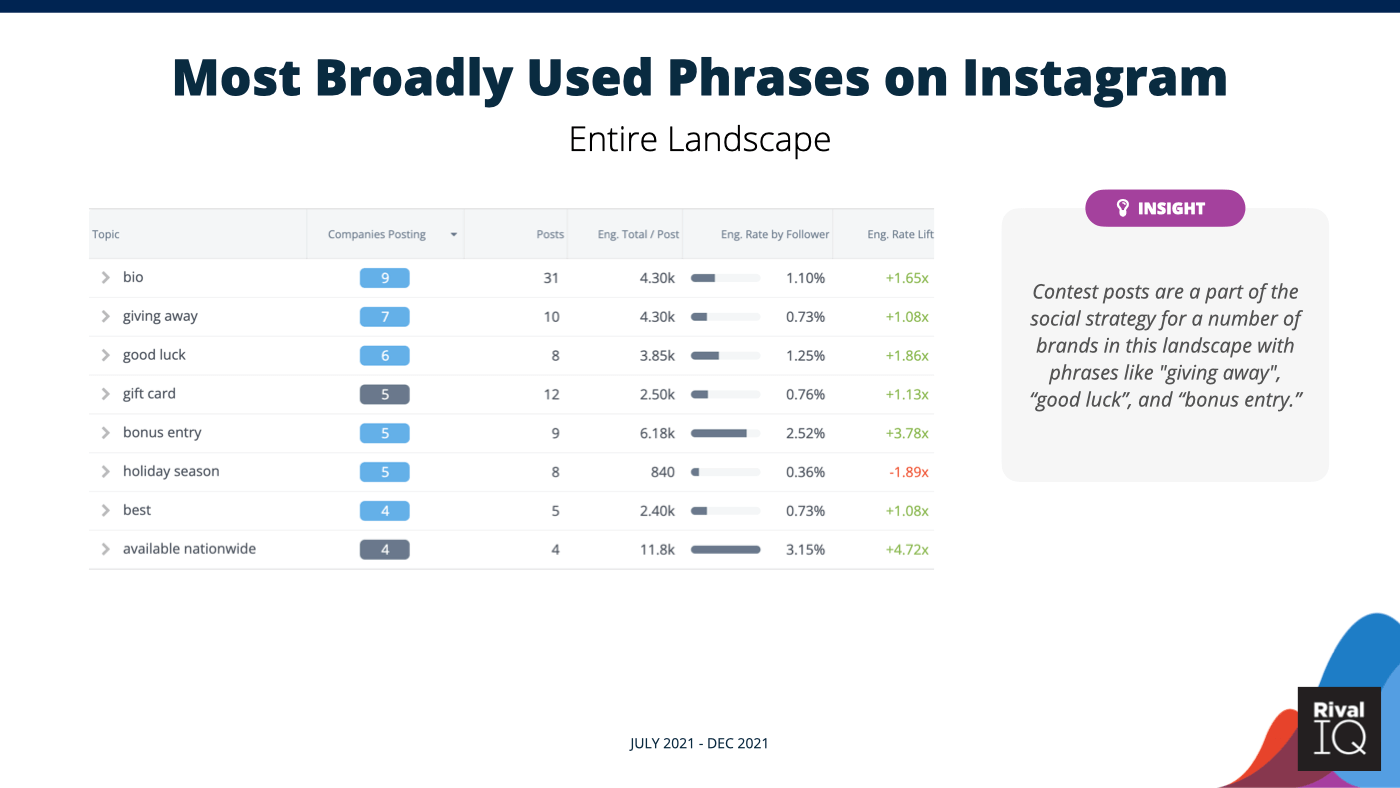 In the table above, we've used Rival IQ's Popular Topics capabilities to find phrases commonly used by many brands in this landscape. Contest posts are a part of the social strategy for many brands in this landscape, with phrases like "good luck," "giving away," and "bonus entry."
If we dig into the top posts that use "bio" within their post caption, we see many high-engagement posts working to drive users to their profile pages for that bio link click.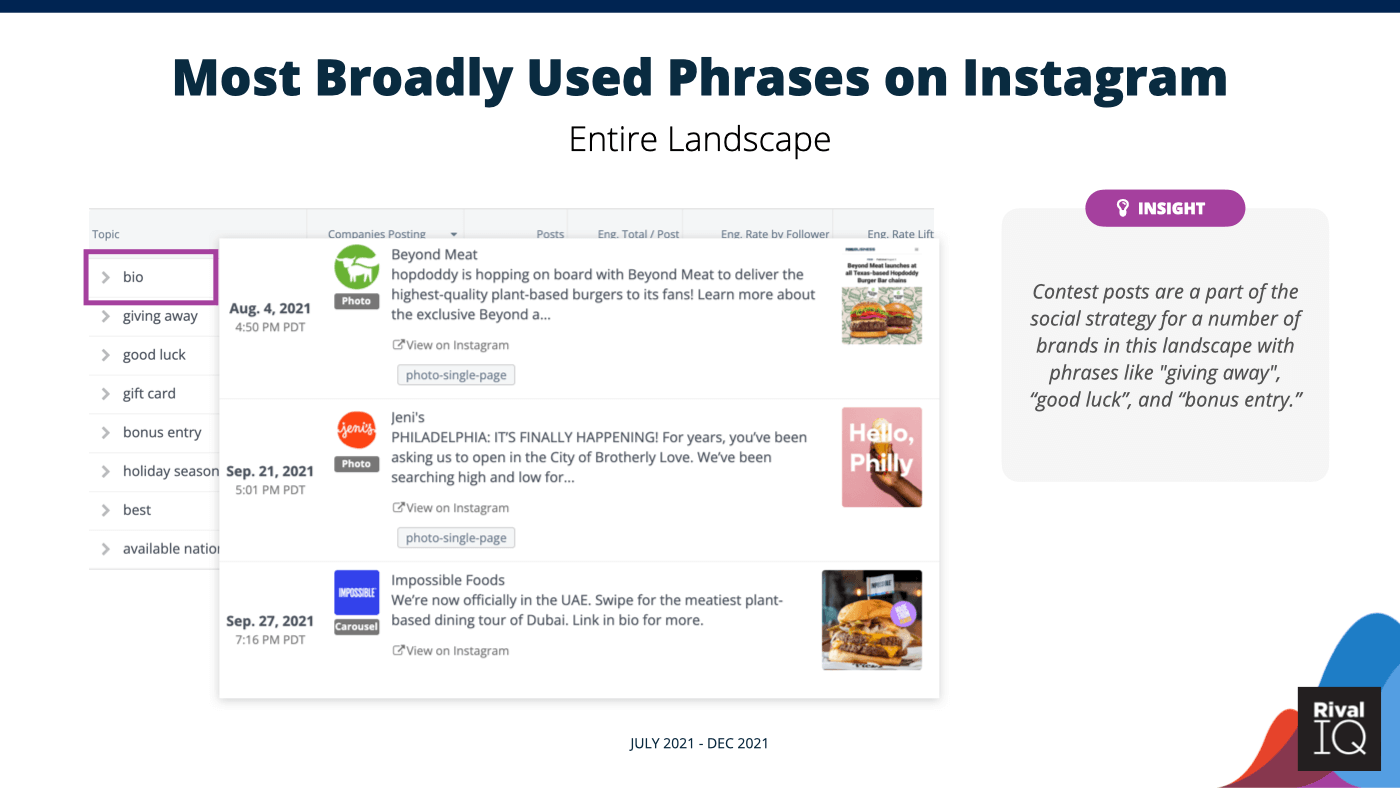 Hashtag review
Hashtags help users on social media find content related to a specific topic or theme. Brands also use hashtags to help users show their affection or affinity for a particular campaign. Using the right hashtags also is vital for helping users that aren't in your audience discover your brand.
In performing a competitive hashtag review, we're looking to understand how content using different hashtags performs and to learn if there are hashtag opportunities we're missing. Also, studying hashtags can reveal competitive insights about our competitors' campaigns.
To start, let's look at the most broadly used hashtags on Instagram by the companies in this landscape. For this time period, #Giveaway was used by three of the nine companies, but not including Spindrift. Together, they had an average engagement rate per post of 0.62%. Also, #pumpkinspice was used by three of the brands for a total of twenty-eight posts, and its average engagement rate was just 0.30%.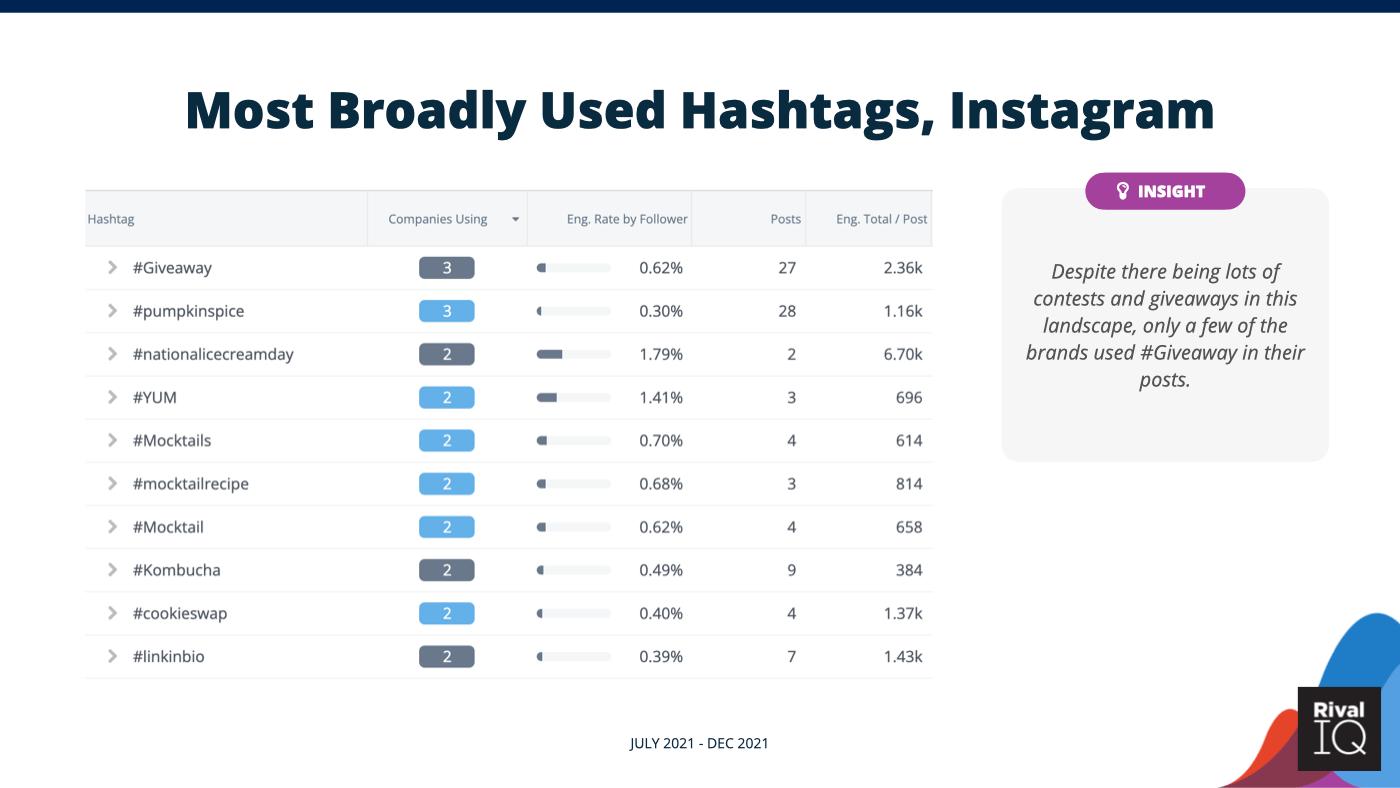 To understand which brands are using these hashtags and how they're performing, we can expand our view to break down the per-brand performance on any hashtag. Below, we dig into the #Giveaway hashtag and can see that Brew Dr., Real Good Foods, and Bob's Red Mill were the brands that were driving the number.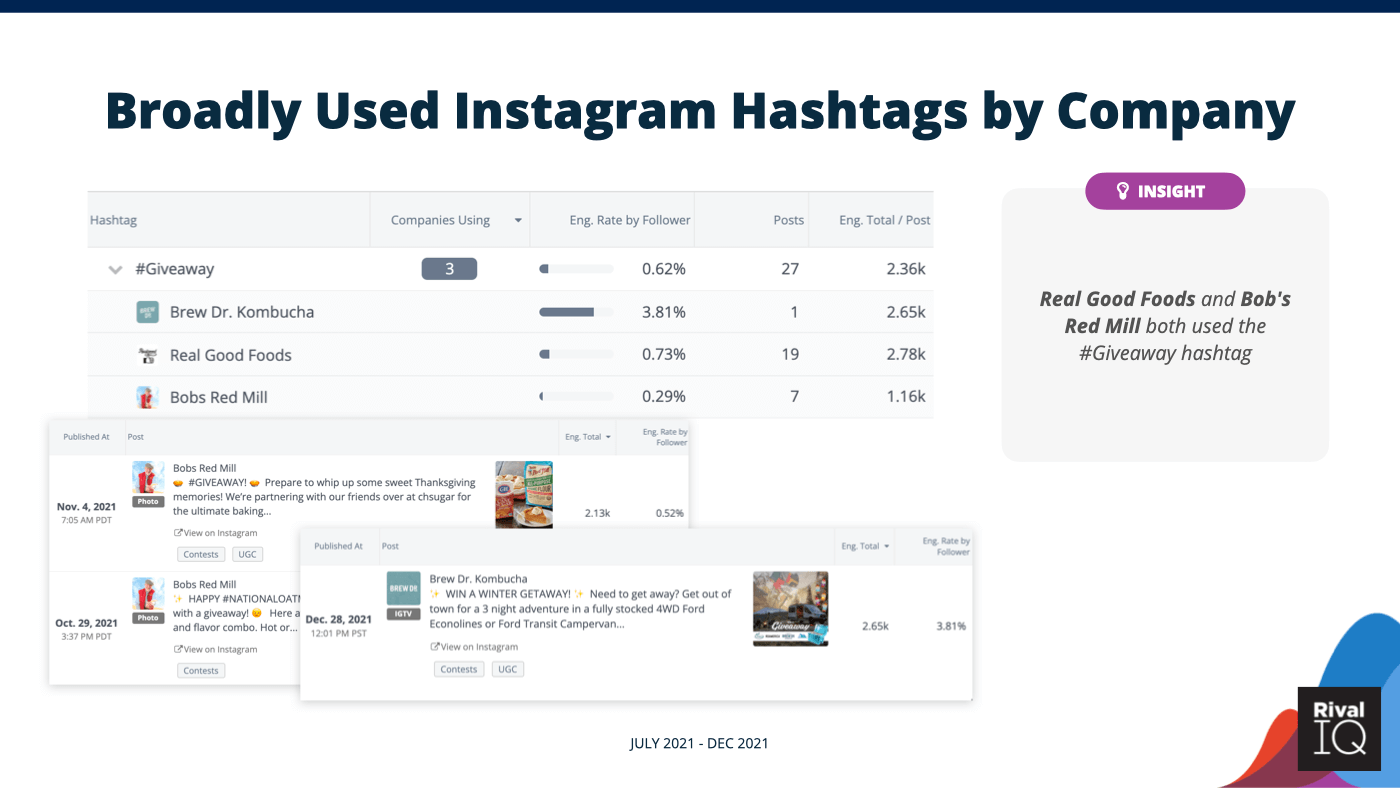 If we have a specific competitor brand that we want to dig into, we can examine their most used hashtags for insights. Below, we see Brew Dr. Kombucha's most used hashtags for the time period. Their most used hashtag is their branded hashtag, #Brew Dr. Kombucha, with fourteen posts.
Note that Brew Dr. had over 250 posts during this time period and only used their branded hashtag on fourteen of them. The posts where they used #BrewDrKombucha outperformed their other posts by 1.63 times. Of their most used hashtags, #Mocktail has the highest engagement total per post, more than 3.1 times their other posts.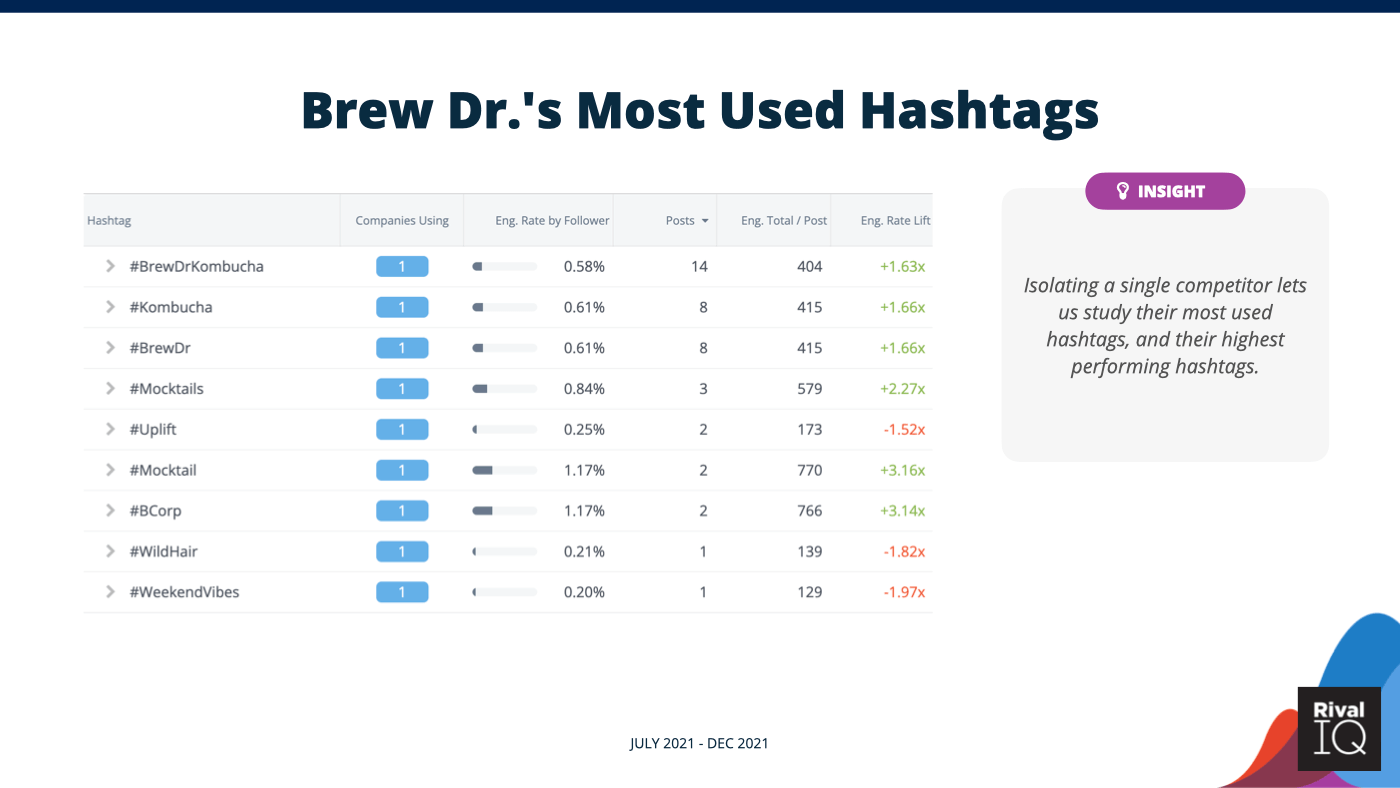 Instagram isn't the only place hashtags should be a part of your social media execution. Hashtags on Twitter are critically important, and even Facebook has hashtag support now. The slide below shows the difference between the top 10 hashtags for a broader health-food landscape on Instagram and Twitter.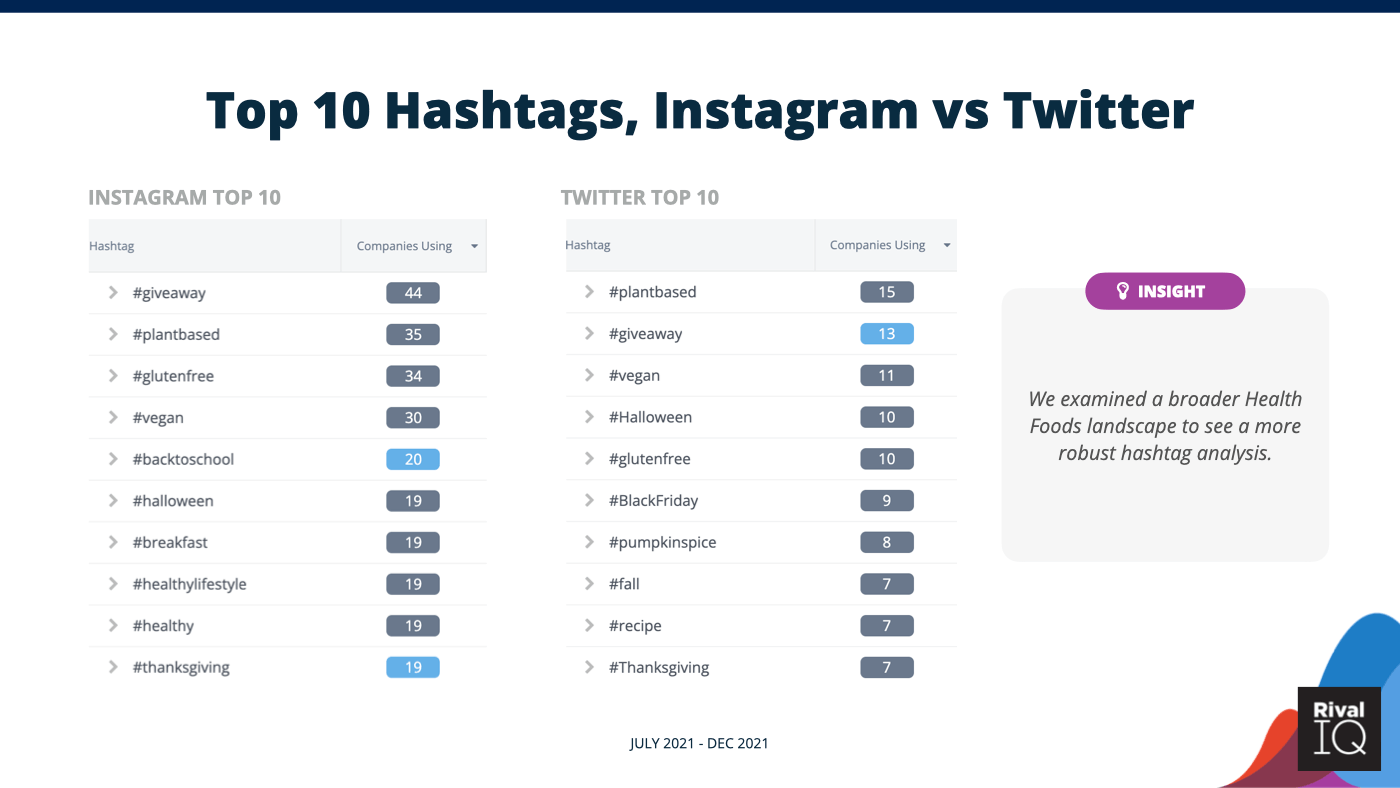 Post type analysis
The types of media that you post to social media matter. Depending on the platform, the topic, and the audience, you'll want to ensure you're posting the right mix of content.
One sure way to understand how your post types affect your engagement is to break down your analyses by post type. We'd urge you always do post-type analysis on a channel-by-channel basis. No two social platforms are the same, and mixing channels in your analysis will lead to confusion.
Below, we'll look at a post-type breakdown for Instagram posts by this landscape. The first thing you'll note is that photo posts outnumber videos by about four-to-one. The per-post engagement rates on photos are roughly even with videos and carousels, so it seems like there are opportunities for brands to experiment with other post types.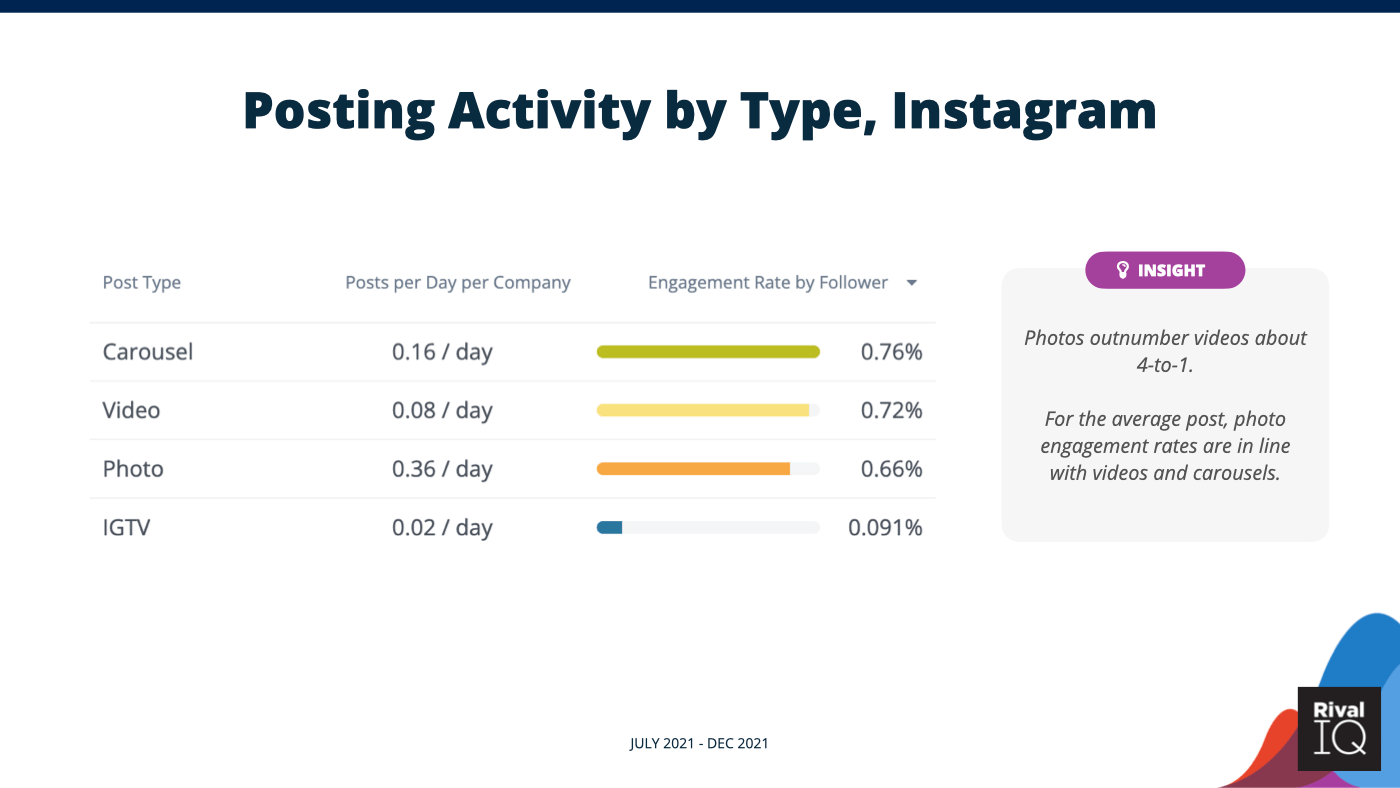 To get an even better picture of how the post types perform for specific brands, we need to go one layer deeper.
To compare how each brand performs for each post type, we can focus our analysis on just one single type. To start, we'll analyze just the photo content on Instagram. In the slide below that examines only photo content, we can see that Spindrift's photo content averages an engagement rate of 0.96%, higher than their overall average of 0.80%. First, they post more photo content than the average brand in this landscape. Second, their average engagement rate per post, at 1.01%, is about 20% higher than the landscape average of 0.83%.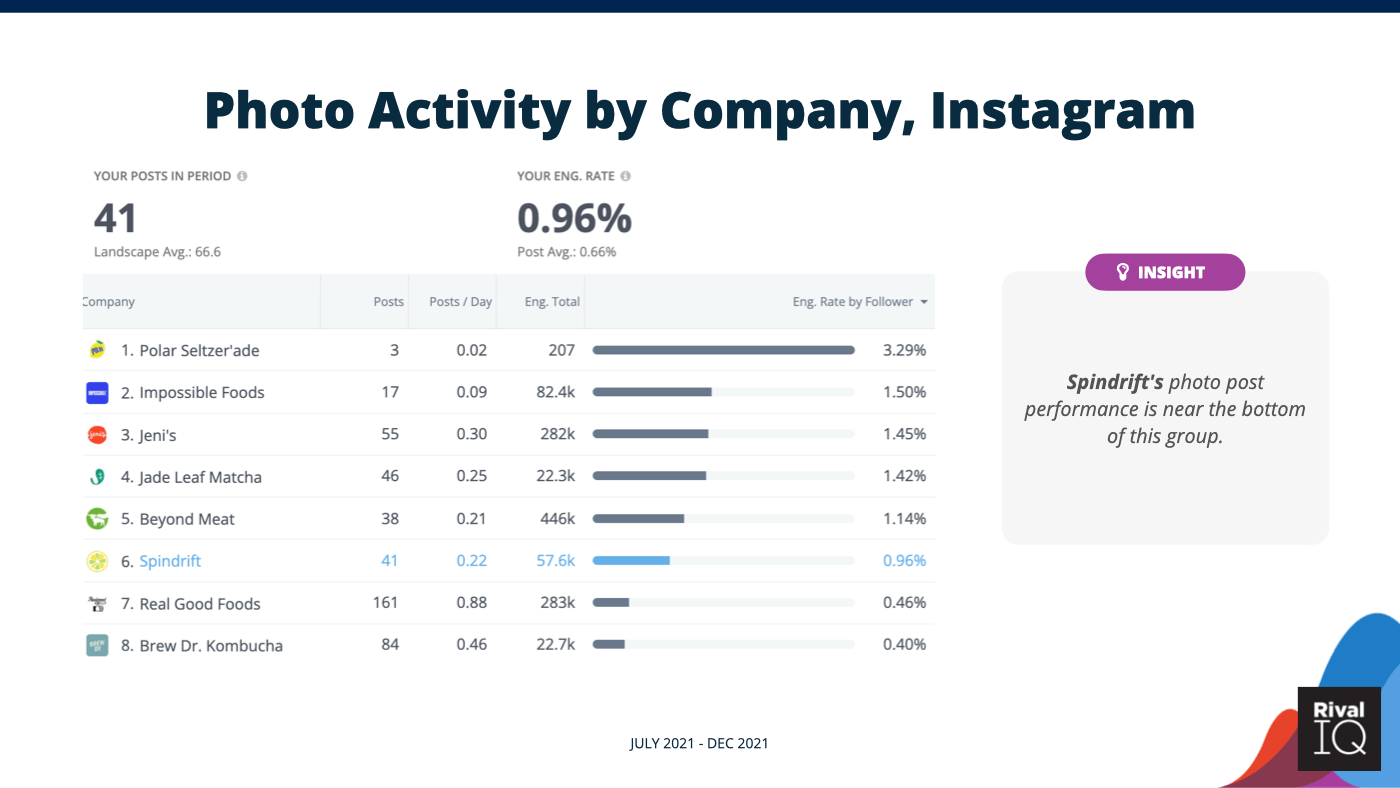 Below, we show similar metrics for each brand's video and carousel posts in this landscape.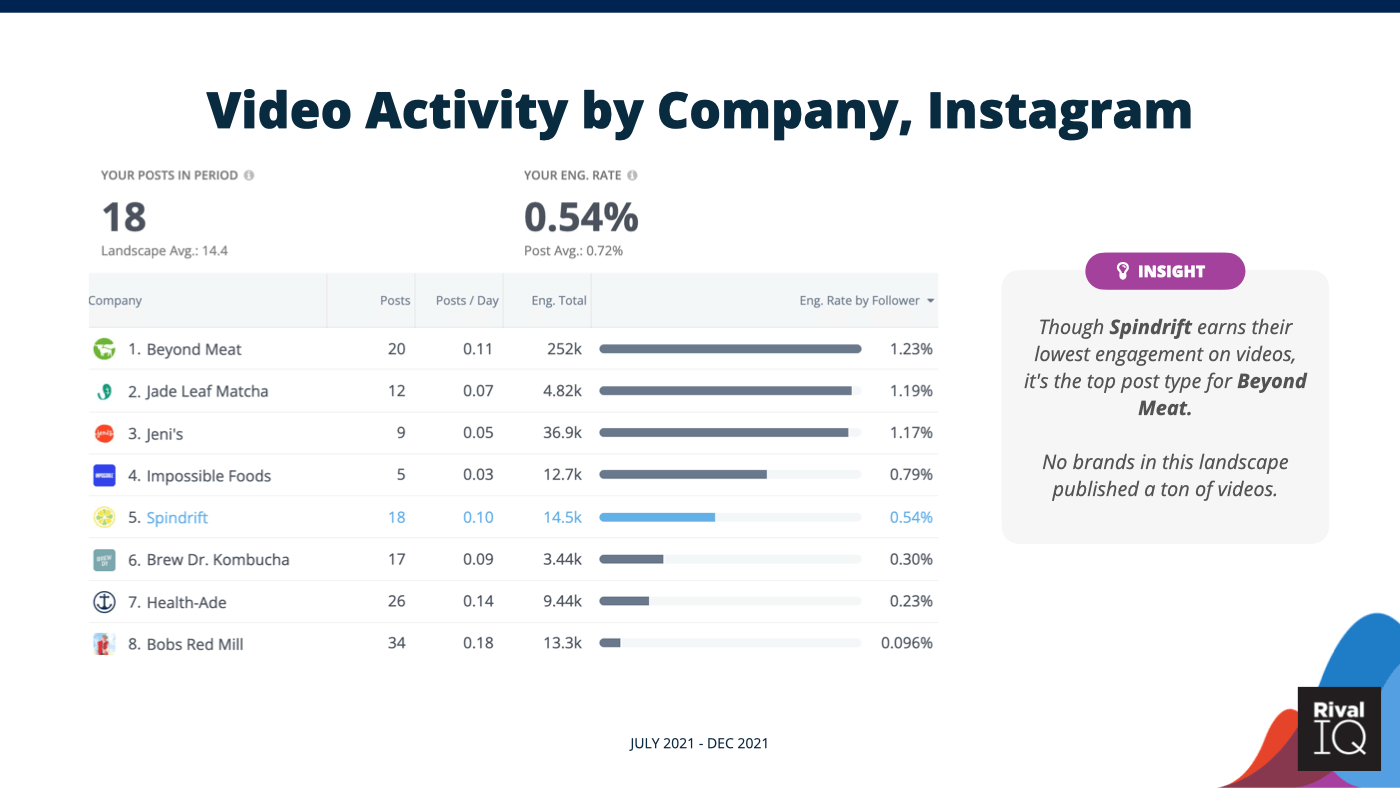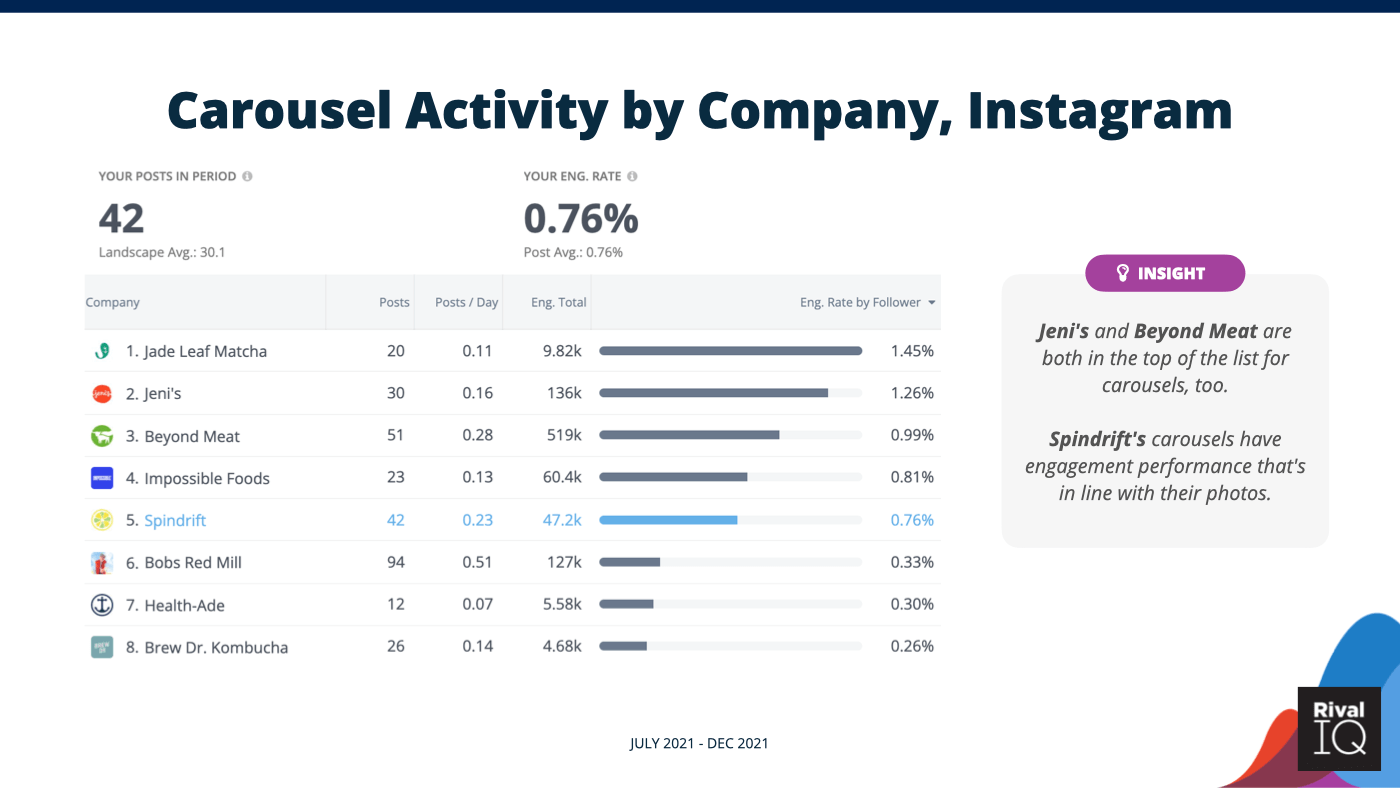 Boosted posts analysis
We can gain powerful insights by understanding how often our competitors boost their Facebook posts – and the topics they're boosting. Using a tool like Rival IQ, we can analyze these boosted posts to see what really matters.
In the slide below, we see only three brands even boost posts on Facebook and those that boost aren't doing much of it. Although this won't be the case in every landscape, it's helpful to know where your competitors are prioritizing their efforts and their dollars.
In the analysis, you can see that the posts that are being boosted, the engagement rates are between 1.5x and 10x higher, depending on the brand.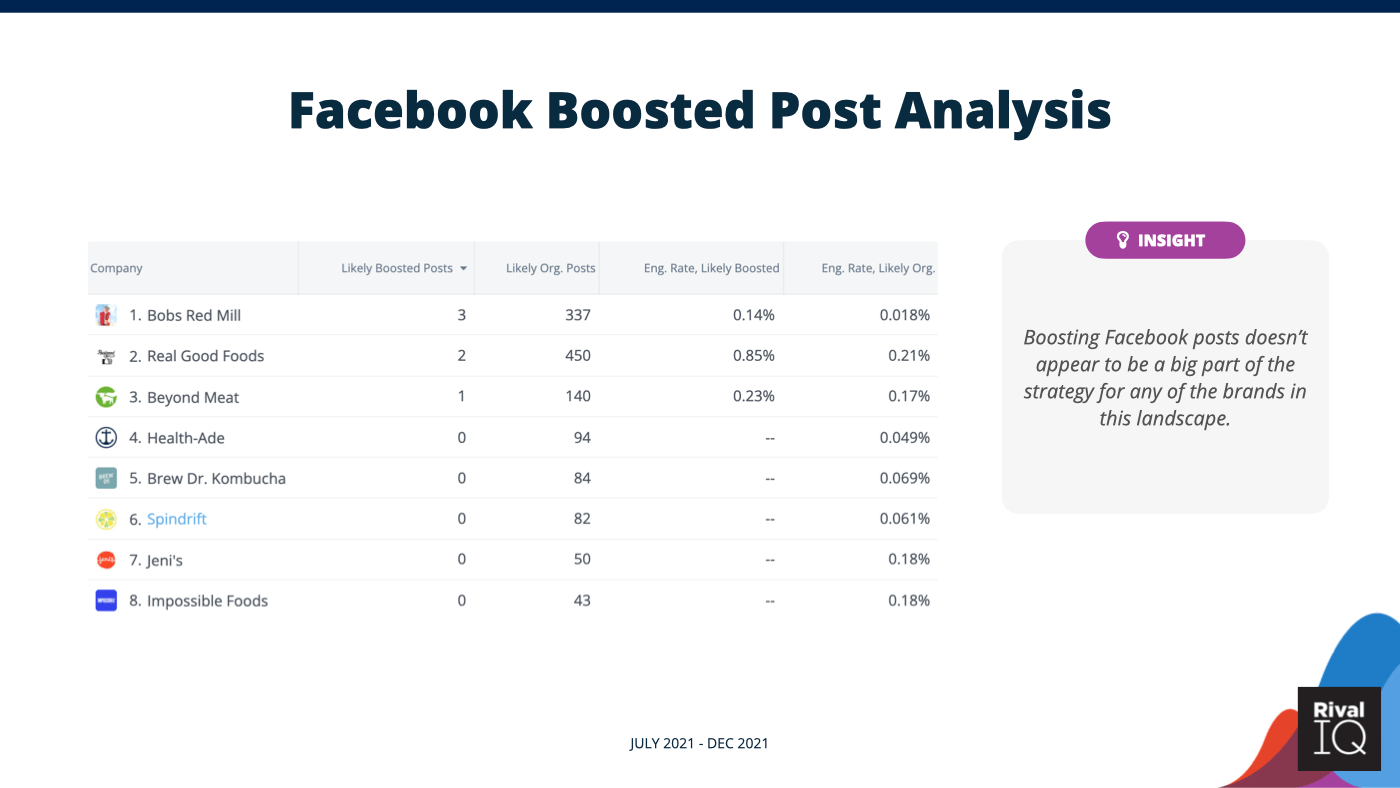 Twitter mentions analysis
We can use some lightweight social listening on Twitter to learn who is talking about our competition and how much they're talking about them. Influencer marketing, PR, and hashtag campaigns are all ways we see Twitter mentions move for a brand.
In the slide below, we're examining the relationship between a brand's Twitter audience and the number of Twitter mentions they earn. Beyond Meat and Impossible Foods have the largest followings and earn the most mentions. Of the brands with smaller Twitter followings, Spindrift and Health-Ade are among the leaders in terms of mention volume.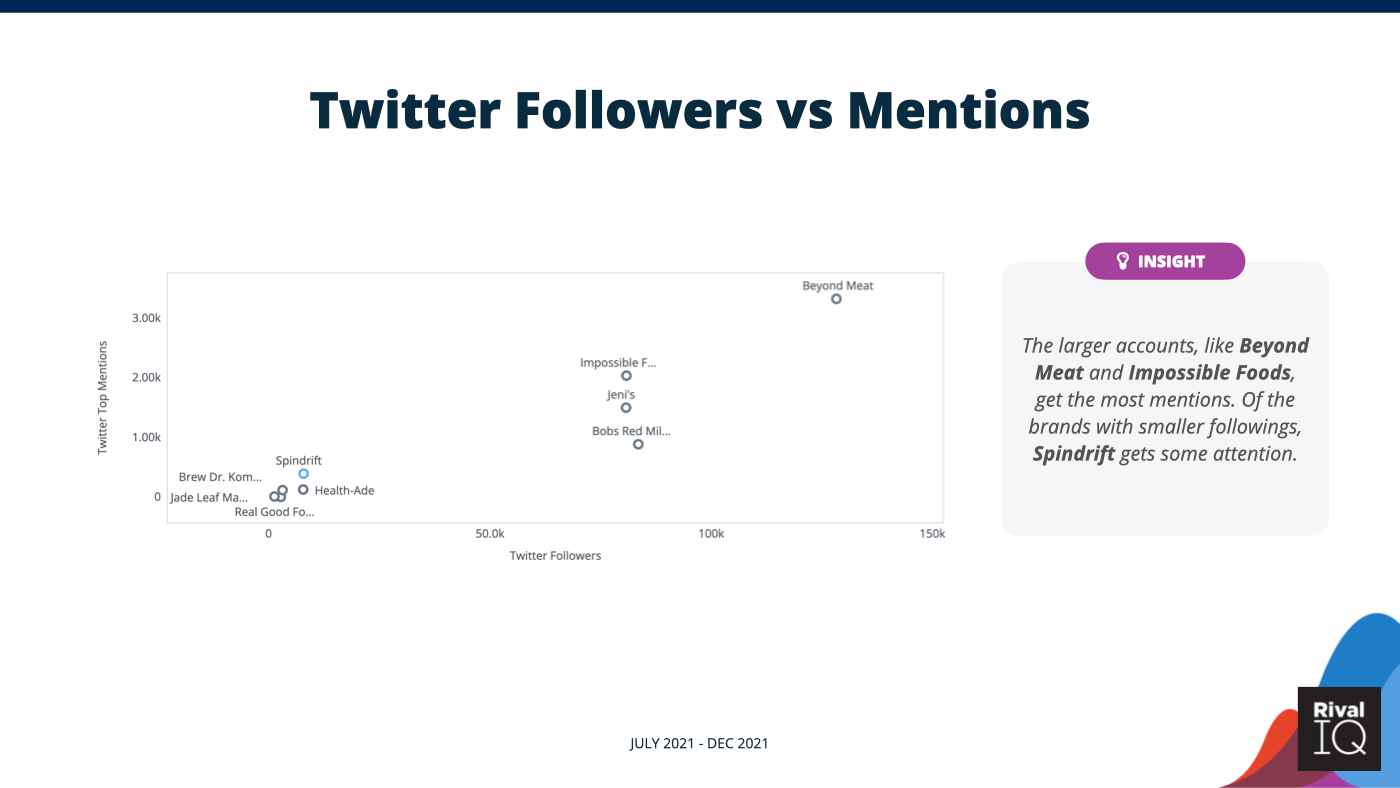 To learn more about the people behind these mentions, we can dig into the actual handles doing the mentioning. In the slide below, we're looking at Twitter accounts that have mentioned these brands over the time period, sorted by audience size. The Economist leads the list with five mentions of Beyond Meat. Whole Foods, the Amazon-owned grocery chain, also mentioned Jenny's Ice Creams during this period.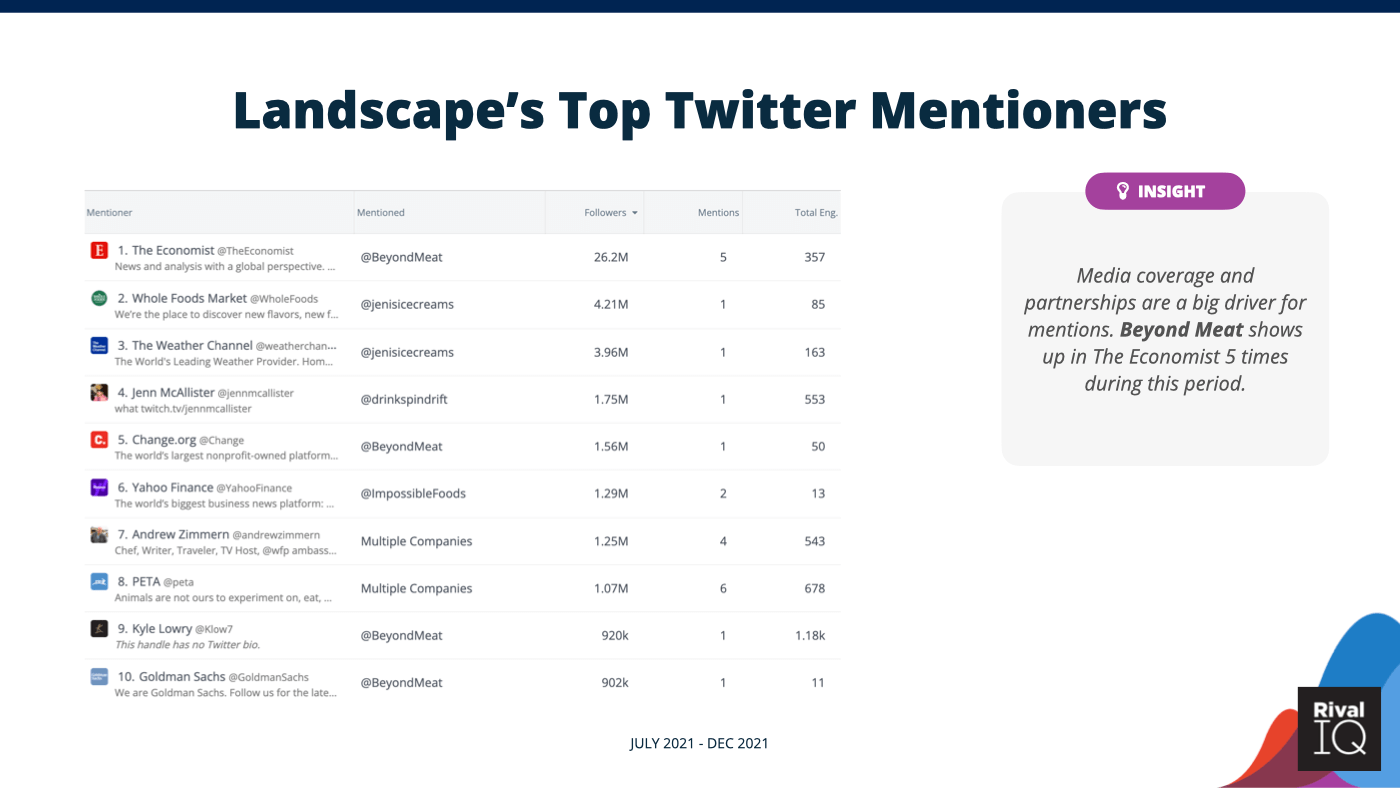 Wrapping things up
Before you finish and share your results with your team, do everyone a favor: put together an executive summary. Describe the analysis, draw attention to key insights from your research, and highlight next steps. This should help the rest of your team determine where they'd like to dig into your report most.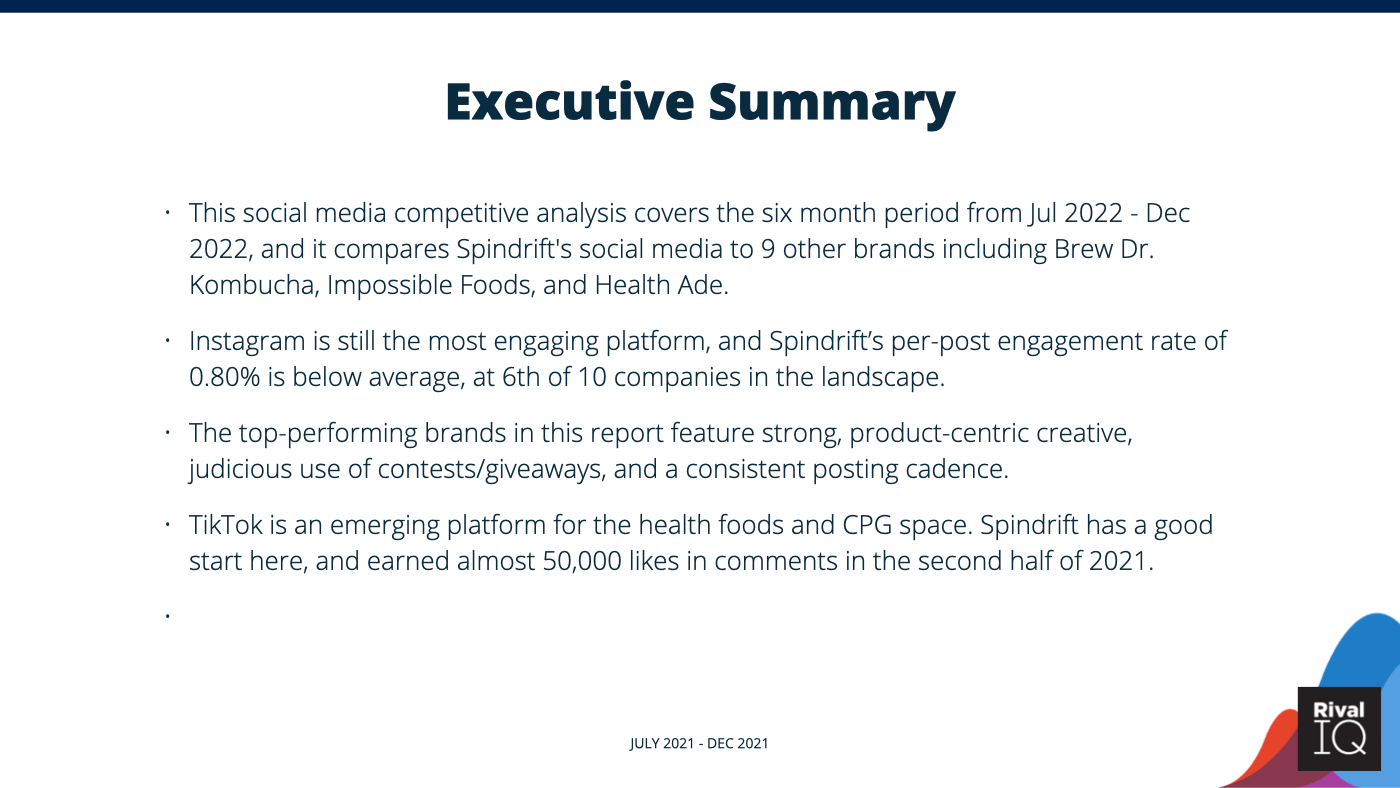 You can use Rival IQ's powerful social media analytics to complete every part of what you've learned in this article. We offer a 14-day free trial, and we promise you'll learn a ton about your industry along the way. Get after it!
Get your own competitive analysis using Rival IQ.