Instagram has gone through many changes since its 2010 launch. It went from being a photo-centric app to including videos in the form of Reels, IGTV, and Stories. In the early days, some might say the app was akin to a visual diary. These days, you can make Instagram take many different shapes, depending on how you use it.
With the beginning of TikTok, some suggested that Instagram might go by the wayside. And it is true that engagement is down on Instagram, according to our 2023 Social Media Industry Benchmark Report. With how much content is out there, not only on Instagram but on many more social media apps, content creators are competing for eyes on their posts and Stories. It's no wonder why engagement saw a 30% decrease in 2023.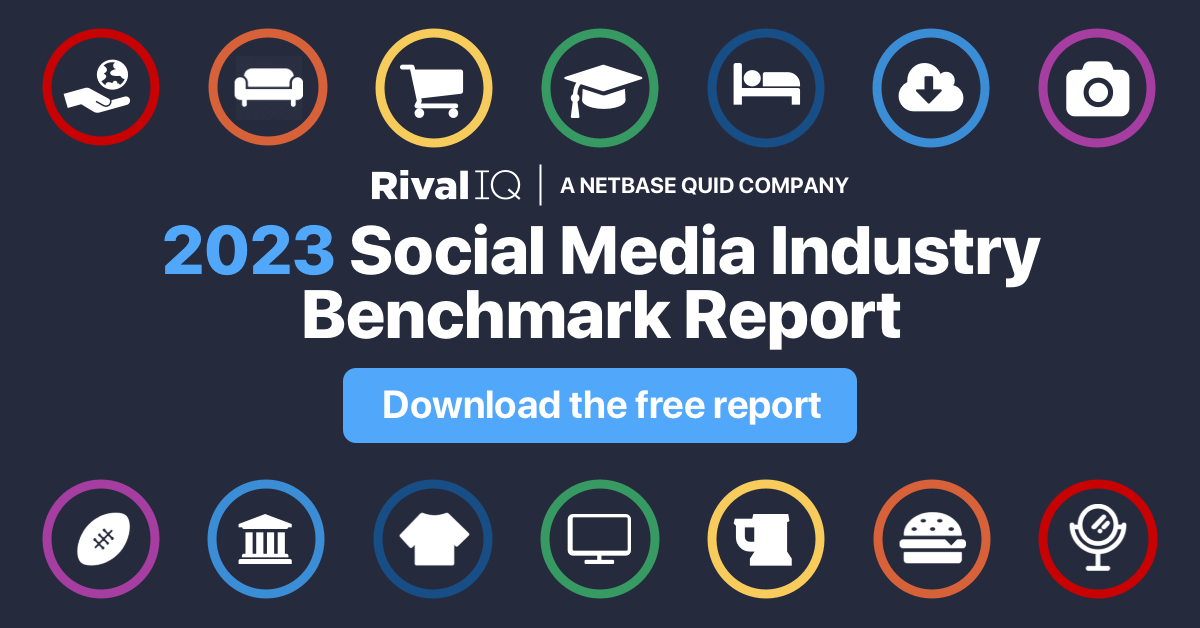 Our 2023 Instagram Stories Benchmark Report discovered similar findings, as our research determined that engagements on posts, regardless of follower count, decreased across the board.
Stories had a mixed bag of both good and not-so-good results. This year's Instagram Stories tap-back rate, which is the rate of people tapping backward to see a Story frame again, has increased, which suggests that brands are making content that people want to engage with. The reply rate has also increased, though replies are always low on Stories. However, the exit rate has also gone up, but not by too much.
With engagement mainly decreasing across Instagram, it's more important than ever to ensure that you're making content that's optimized for the platform and your target audience. With an Instagram analytics tool, you can test your content and reinvest in what works. The right tool can give you in-depth, indispensable information that helps you tailor your posts and Stories into content that people want to engage with.
What should you look for in an Instagram analytics tool? Let's talk about what makes for a good analytics tool and which ones are worth your investment.
What to Look for In an Instagram Analytics Tool
Before you invest in a new tool to help you track your Instagram presence, you want to be sure you're making the best possible call. The right tool for you might not be the right one for another company's needs.
For instance, if you have multiple stakeholders, you may want to go with something that makes it easy to share regular reports. Or perhaps you have numerous people working on your Instagram account. In that case, you'll likely want a tool that allows for multiple users.
But there are other features to look for in an Instagram Analytics tool in general, regardless of size and stakeholders, such as:
An easy-to-use interface
Detailed reports that are easy to understand
Actionable insights created from your data
Competitive benchmarking
It's worth noting that many Instagram analytics tools serve multiple purposes beyond tracking analytics. You may want to consider investing in one that has other features, like social listening, which helps you follow the online conversation around your brand and engage with your audience.
Now, let's get into the tools that can help you boost your engagement. These Instagram analytics tools are in no particular order, as all of them have something that allows them to fit different companies' unique needs.
The 10 Best Instagram Analytics Tools
Instagram Insights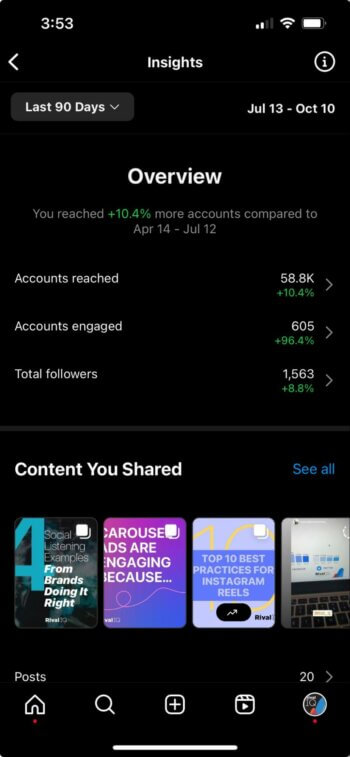 How it works: Instagram Insights is the native Instagram analytics tool provided by the platform. It gives you a look at the accounts you've reached, the accounts you've engaged, and your follower count. You can also see your top-performing posts, Stories, and Reels.
Pros: This Instagram analytics tool is free to use, making it a good place to start if you're a new company or just beginning to utilize Instagram analytics.
Cons: Instagram Insights requires you to have an Instagram Business Account or a Professional Account. This analytics tool is also best for a general overview. It does not give you the in-depth information that many other Instagram analytics tools do.
Rival IQ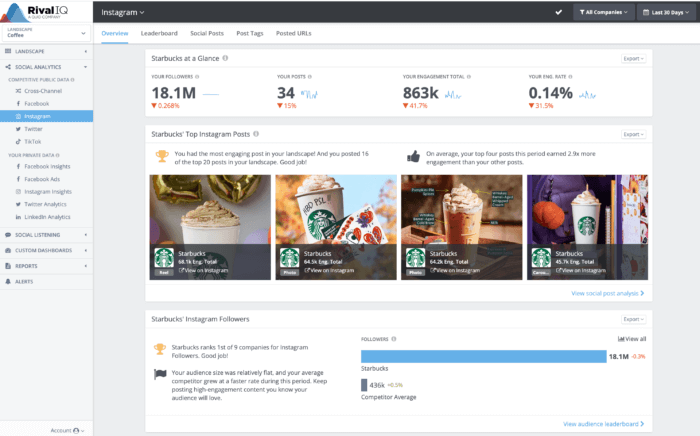 How it works: With Rival IQ, you can dive deep into your Instagram metrics, but Rival IQ focuses strongly on the benefit of using competitor metrics as well. You can track what's happening on your Instagram and compare it against your top competitors for a greater understanding of your industry. With all these in-depth metrics, you'll also get helpful insights, such as the best times to post.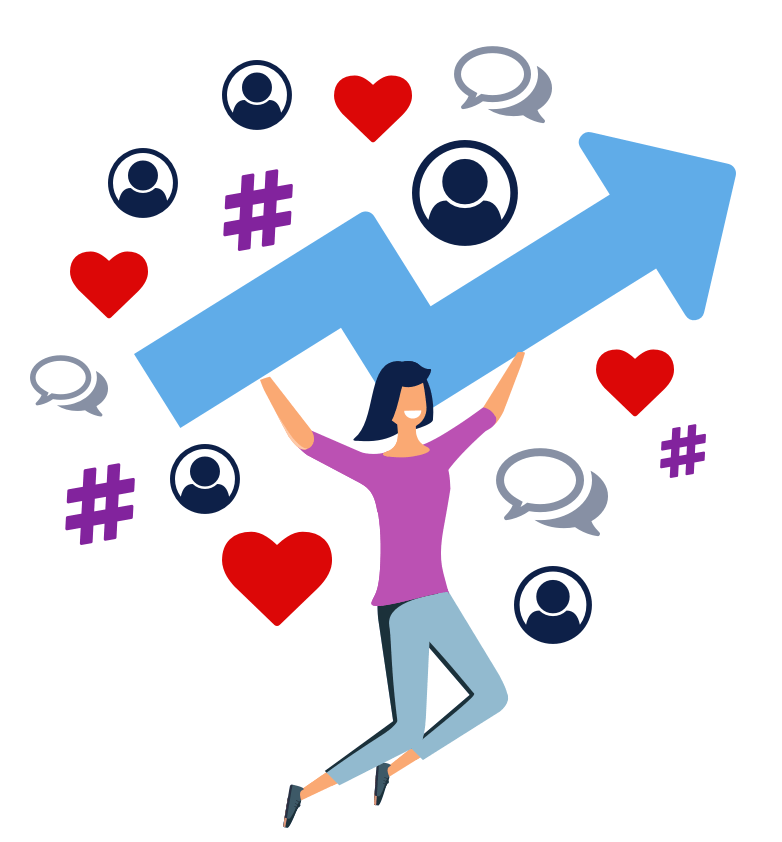 Pros: In addition to competitive benchmarking, one of the most significant benefits of using Rival IQ for your Instagram analytics tool is that you also get social listening for Instagram with its Instagram Discover feature. You'll be able to keep track of the conversation around you on Instagram, as well as get ideas for top hashtags to boost your engagement.
Cons: Some users desire more customized reporting options rather than using Rival IQ's default reporting settings.
Sprout Social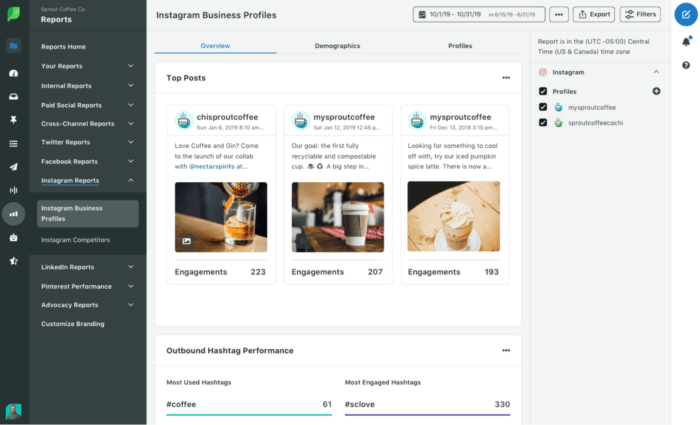 How it works: Sprout Social is an all-in-one social media management tool where you can plan your Instagram content, publish it right from Sprout Social, monitor your engagement and the conversation around you on Instagram, and analyze your Instagram performance. You can also track your competitors' performance, see how your hashtags are doing to optimize your posts, and get detailed information on your audience.
Pros: Sprout Social is known for having a very user-friendly interface. It's also an ideal application to collaborate on if you have multiple users handling your Instagram account.
Cons: Users report that there's some difficulty with tagging content from Instagram and posting Stories directly through the application. You also unlock more features with high-tier packages, which means that the feature you want may be challenging to get if you don't have a high enough budget.
Iconosquare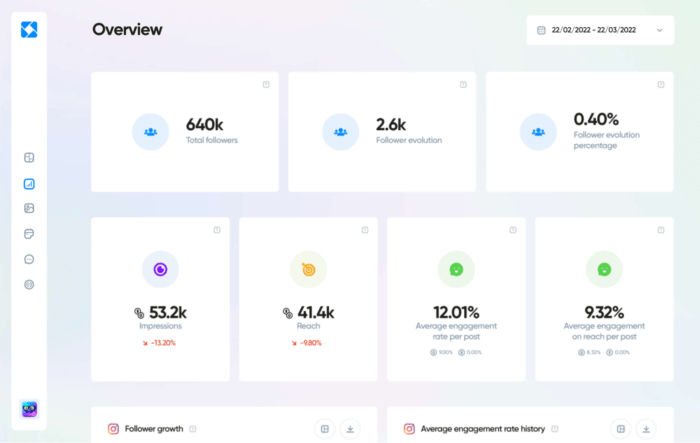 How it works: Like Sprout Social, Iconosquare is another all-in-one tool that goes beyond analytics. This tool lets you plan, collaborate on, and publish your content in one place. You can also monitor your engagement through the application and keep track of the greater conversation around your brand on Instagram. When it's time to analyze your posts, you have a dashboard with easy-to-read graphs showing you over 100 metrics. The application also makes it easy to deliver visual reports to key stakeholders.
Pros: Iconosquare has an easy-to-use interface. Their in-depth reports are also ideal if you have multiple stakeholders interested in seeing your success on Instagram.
Cons: Users report difficulty in scheduling and posting Stories through Iconosquare. They also say that reports can take a great deal of time to generate.
Brandwatch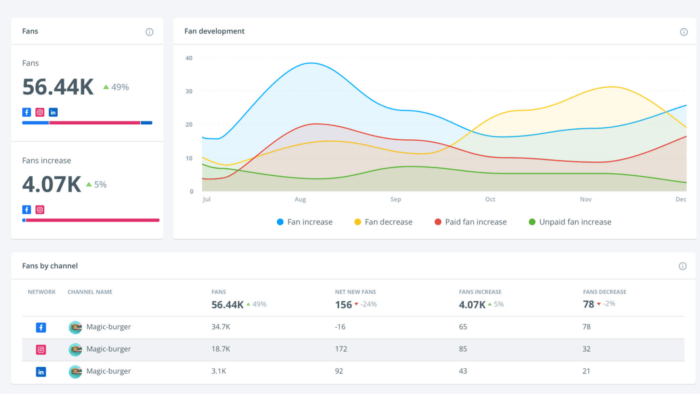 How it works: Brandwatch has multiple tools that fit different sides of social media management. You can choose which one makes the most sense for your needs. It's long been known for its consumer intelligence application, which utilizes social listening to give you insights and trend reports into your industry and the conversation around your brand. It also offers an influencer marketing solution, enabling you to manage relationships and campaigns all in one place. Its social media management tool can take care of your content calendar, engage with your audience, and track your Instagram performance.
Pros: Reports are highly customizable, ensuring that you can see all the metrics that mean the most to you and your stakeholders. You can also share reports with the simple click of a button.
Cons: Some users report discrepancies in the data between Brandwatch's analytics and the native analytics on a social media platform.
Keyhole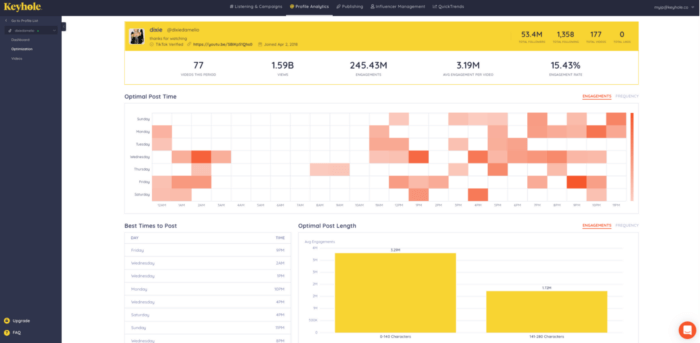 How it works: Keyhole is a social media analytics and social listening tool. Monitor what people are saying about you, analyze your and your competitors' Instagram profiles, keep track of your influencer campaigns, and conduct market research and trend tracking through the platform. Keyhole also allows you to schedule and publish content right through the application, with helpful insights like the best time to publish enabling you to optimize every post.
Pros: Keyhole offers real-time metrics, allowing you to make changes to your campaign while it's ongoing. This Instagram analytics tool is an optimal choice if you're looking for influencer management solutions, as you'll also get in-depth reporting on things like your influencer's return on investment (ROI).
Cons: Users report that Keyhole can get expensive quickly as pricing is based on how much data the application needs to track. If you have a very successful campaign, you may find yourself paying more than you expected. Some users also say that the interface is not user-friendly, particularly when it comes to scheduling posts.
minter.io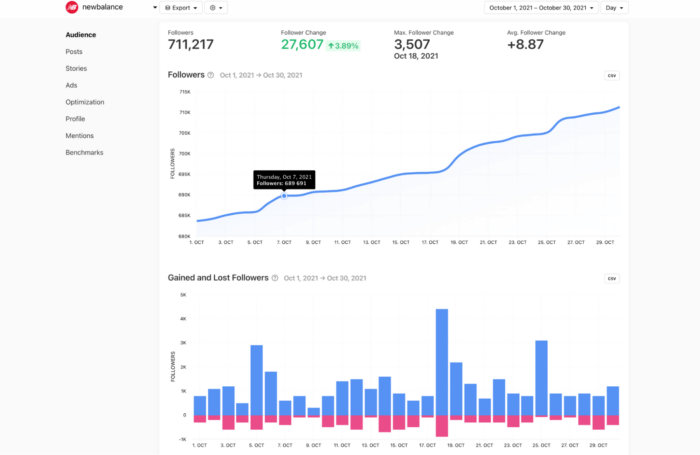 How it works: minter.io is primarily an analytics tool, but it does have some social listening capabilities. This Instagram analytics tool lets you track your follower growth, get insights into your audience's demographics, compare yourself to your competitors through easy-to-understand graphs, view how your hashtags are performing, and see engagement information for posts, Stories, and ads. The application also enables you to keep an eye on your brand mentions.
Pros: minter.io offers an Instagram Audit tool, which gives you a performance score and tells you where you can improve across your profile and content. It's a great place to start if you're looking to optimize your Instagram presence. Users report that minter.io works best for Instagram compared to the other social media applications it works with.
Cons: Users say exporting reports is very time-consuming, and competitor data is lacking.
Hootsuite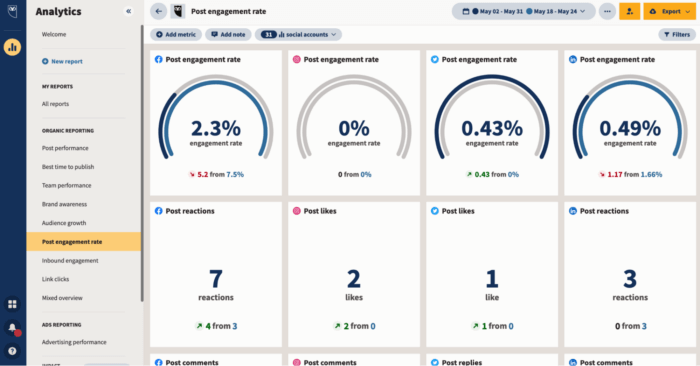 How it works: Hootsuite is an all-in-one tool that's primarily known for its scheduling capabilities. Through the application, you can schedule all your Instagram content and allow it to be automatically published by Hootsuite. Hootsuite also uses your Instagram analytics to help you optimize your posts by giving you recommended posting times. When it comes to analytics features, Hootsuite will also provide you with information on your top-performing posts and help you see where you stand in your overall industry with competitive benchmarking.
Pros: Users report that using Hootsuite significantly saves them time and that the interface is easy to understand.
Cons: As the scheduling tool and social media management features are what Hootsuite is mainly known for, its reporting features are somewhat lacking in comparison to some of the other Instagram analytics tools on this list. It's better for a general overview rather than if you're looking for very in-depth metrics.
SquareLovin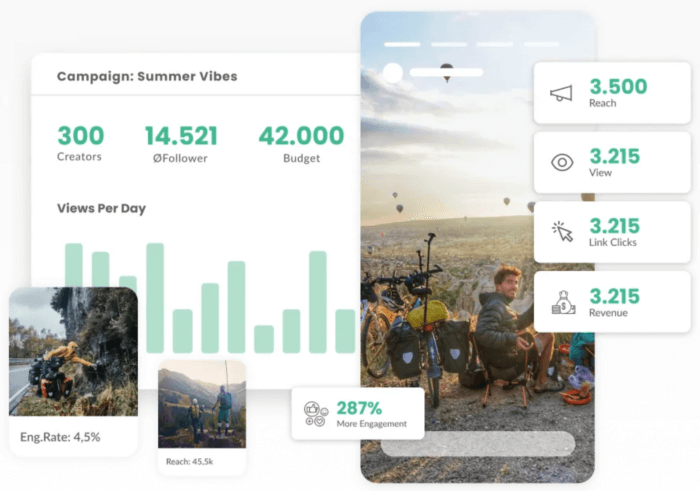 How it works: SquareLovin differs from the other Instagram analytics tools on this list in that it's best for those aiming to build a robust influencer marketing system. Through the application, you can manage influencer relationships on the app, collect and repurpose user-generated content (UGC) and influencer-generated content (IGC), and measure the impact of your campaigns.
Pros: SquareLovin shows you metrics like your ROI on a particular influencer, making it helpful when attempting to show stakeholders the benefit of your influencer campaigns.
Cons: Because SquareLovin is primarily focused on influencer marketing, it's not a good fit for those not looking to build brand relationships or repurpose UGC or IGC. Its analytics are more tailored toward influencer relationships and less about overall Instagram account metrics.
Pallyy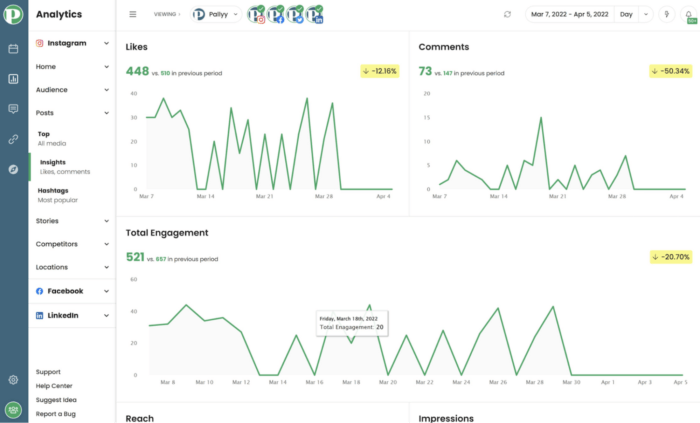 How it works: Pallyy is an all-in-one tool that's known for being more budget-friendly than other social media management and analytics tools on the market. With Pallyy, you can plan, schedule, and auto-publish your content on Instagram and other social media platforms. Then, you can use its analytics features to create custom reports to show stakeholders how you're growing.
Pros: Because of Pallyy's low price point, it's an ideal fit for those looking for an all-in-one tool who don't have the budget for the others on the market, like small businesses. Users also report that it's easy to navigate and highly customizable.
Cons: Pallyy is still relatively new. As a result, users say Pallyy still has some bugs to fix. Its reporting feature, as well as its scheduling capabilities, are not as robust as other Instagram analytics tools.
Wrapping Up Instagram Analytics
A good Instagram analytics tool goes beyond showing you data. Instead, it'll take that data and offer you ways to optimize your social media campaigns, allowing you to bring in more followers and boost your engagement.
Investing in an Instagram analytics tool means that you're testing and reinvesting. You're seeing what works and what doesn't, not only for you but for your industry as a whole. From there, you're making data-driven decisions to make your Instagram strategy much more impactful.
Not ready to invest in an Instagram analytics tool yet? Start by checking out our suite of free social media analytics tools to help you advance your Instagram strategy.