Hold on to your hats, shoes, carabiners, water bottles, camping stoves, and parkas, because we're rolling out the top outdoor brands on social media!
We partnered with our pals at Inkwell, a creative agency with a ton of outdoor brand expertise, to create the definitive report on how all our favorite gear brands and retailers performed on Instagram, Facebook, and Twitter in the last year. We examined tons of handles, posts, and engagements between June 2019 and June 2020 for the freshest take on great outdoor brands on social.
Read on for spotlights on our favorite brands across all three channels for strategies you can steal for inspiration. Don't forget to download the report for the full rankings, plus tons of bonus content all about our favorite influencers and most influential campaigns.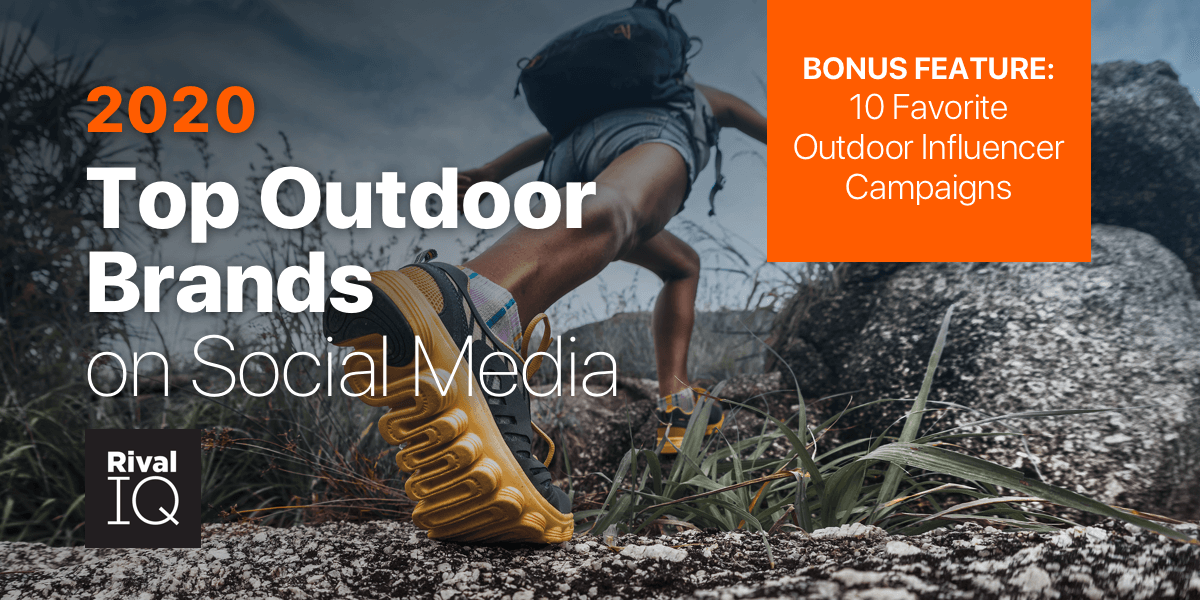 Top 10 Outdoor Brands on Social Media: Overall
What a year for outdoor brands on social media! Between responding to seasonality, more pushes than ever to fight climate change, and coronavirus, these brands and retailers have had their hands full when trying to create eye-catching, authentic, and engaging content on Instagram, Facebook, and Twitter.
In this study, we looked for brands that both earned high engagement relative to their audience size (rate) and high engagement overall (totals). We combined these two metrics across our three channels to compute our final rankings. We ranked brands using this combo to ensure that it took more than just a hefty follower count to grab a high score. If you're curious, jump to read more about our methodology.
For a little context, outdoor brands lagged a little behind the average industry we studied in our 2021 Social Media Industry Benchmark Report, but that's no reason to feel discouraged. Plenty of outdoor brands and retailers saw dynamic success on social this year thanks to innovative content and experimental posting strategies. Let's get into our top 10 overall leaders for outdoor brands.
| Overall | Company | Instagram | Facebook | Twitter |
| --- | --- | --- | --- | --- |
| 1 | Nalgene | 15 | 3 | 7 |
| 2 | Hydro Flask | 1 | 30 | 23 |
| 3 | Burton Snowboards | 16 | 6 | 1 |
| 4 | Yeti Cycles | 6 | 11 | 13 |
| 5 | Santa Cruz Bicycles | 2 | 38 | 14 |
| 6 | Simms Fishing | 8 | 6 | 22 |
| 7 | Jones Snowboards | 4 | 1 | 65 |
| 8 | Atomic | 3 | 4 | 65 |
| 9 | L.L.Bean | 12 | 19 | 8 |
| 10 | Filson | 19 | 13 | 23 |
Brands like Burton Snowboards and Jones Snowboards popped up in the top ten across multiple channels, while brands like Hydro Flask and Santa Cruz Bicycles dominated on one channel but didn't break into the top on others. What did it take to get to first place?
Water bottle company Nalgene has all the answers, and it starts with consistent performance across all three channels we studied instead of total domination on just one. While Nalgene didn't clinch the gold on Instagram, Facebook, or Twitter, their steady high performance across all three were enough to help them win out over the 80 other outdoor brands we studied.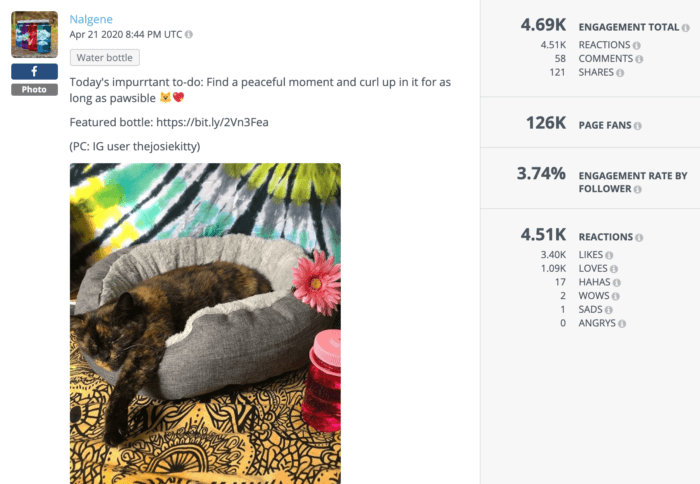 Nalgene's highest-performing post on their highest ranking channel, Facebook, saw a whopping 3.74% engagement rate, which was more than 66x the outdoor brand Facebook average. Followers always love a good cat photo, and they managed to sneak in some product placement in the photo and caption as well. The most interesting part about this post, and all of Nalgene's other top-performing Facebook posts? They weren't even in the top 10 overall most engaging Facebook posts of the year. Their 0.294% average engagement rate reminds us that doing well consistently on a channel leads to more success than a few flash in the pan posts. Consistent engagement tells social media algorithms that followers want to hear from you, which makes Instagram, Facebook, and Twitter more likely to serve your posts to followers again.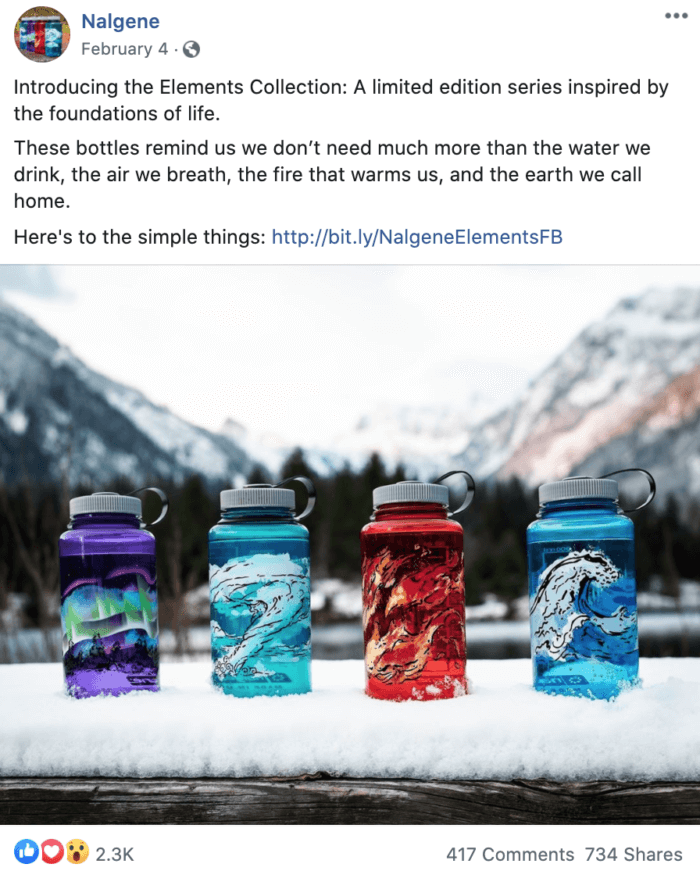 This product-focused post from Nalgene had a killer engagement rate of 2.89%, which is a significant win in a sea of non-product posts from other outdoor brands. Many of the brands who found success on social this year did so by eschewing content that featured their gear heavily in favor of influencers, activism, or just stunning nature shots, so we were impressed to see Nalgene able to cut through the noise with this colorful post. This post was their second most engaging post on Facebook this year, and a "simple" shopping tweet (disguising a political message) also topped their Twitter charts.
Does Nalgene's success with these posts mean all outdoor brands should refocus their efforts on selling their products on social? Definitely not. Nalgene laid the groundwork for social media engagement and success with tons of non-product-focused posts throughout the year that engage and excite followers. A strategic product post every once in a while capitalizes on that hard-earned engagement and succeeds as a result.
The best content for any brand to post is unique to that brand, and requires a lot of careful listening, experimentation, and feedback from followers. Just because Nalgene found success this year by showing off their product on social doesn't mean it's the perfect fit for your brand, so be sure to keep an ear to the ground so you can find out what your followers really want.
Congratulations, Nalgene! Now that we've crowned an overall winner, let's get into a few of the top trends we saw across many outdoor brands on social media this year.
Check it out:
You might be expecting to see mega-brands like Patagonia, REI, and Oakley dominating our top 10, but here's why even those top engagement getters aren't topping the charts: this report isn't just about earning lots of engagement, it's about earning that engagement relative to your size. This means that Patagonia's 8 million engagements are amazing, but not enough to grab top billing relative to their 6 million followers. If you're hungry for info on what success looks like from these major players, check out how
The North Face
scored 6th on Instagram below.
Top Trend 1: Contests and giveaways
It's no surprise that contests and giveaways are a popular engagement strategy for outdoor brands when we've seen so many other industries (like Beauty and Higher Ed) harness the power of free stuff.
About two-thirds of outdoor brands we surveyed ran some sort of giveaway on Instagram, Facebook, or Twitter this year. Even more impressively, two of the top three Instagram posts and the Twitter tweet with the third highest engagement rate were giveaways, suggesting some serious staying power for this posting strategy.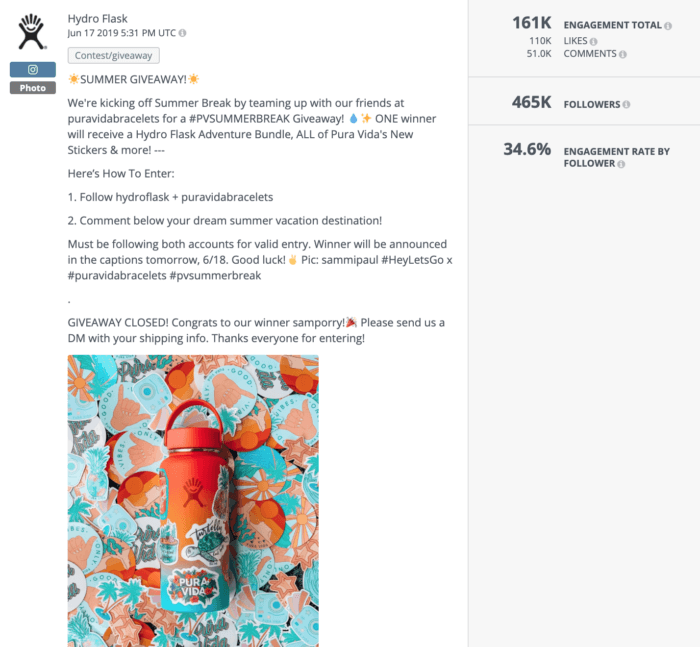 This Instagram post from Hydroflask rocked the highest engagement rate we studied with a whopping 34.6% engagement rate and more than 161,000 total engagements. Wow! Guess we shouldn't be too surprised, with Hydro Flask's #1 spot on the Instagram rankings and #2 spot overall: this brand clearly knows how to work the 'gram.
The success of this contest is a good reminder that brands don't have to give away the stars and the moon to find engagement with a contest–Hydro Flask saw those killer stats by giving away nothing more than a cute water bottle and some stickers. It's also worth noting that Hydro Flask didn't ask much of its followers to enter the contest (just two follows and a comment), which could've contributed to the stellar engagement the post received.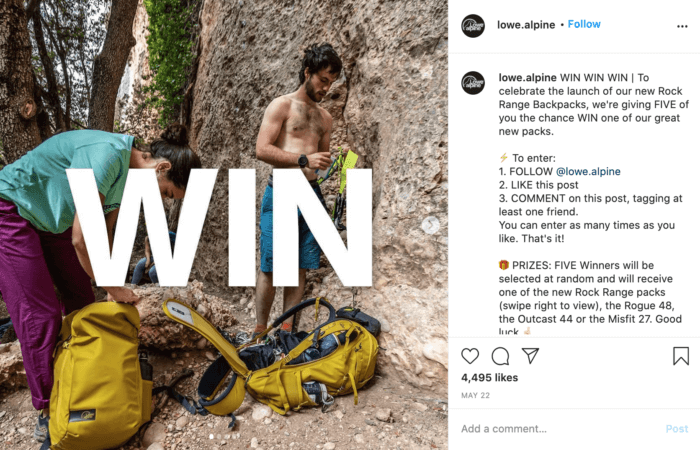 This Instagram contest from gear company Lowe Alpine was the Instagram post with the third highest engagement we studied with a 19.5% engagement rate. The contest had the same requirements as many of the other giveaways we saw, but it was one of the only Instagram contests with such an eye-catching "WIN" stamp over the top of it, which perhaps drew extra attention and epic engagement.
The top 10 posts on Instagram and Twitter feature tons of contests and giveaways, but this strategy was used a little more sparingly on Facebook.
The success of contest and giveaway posts serves as a good reminder for brands to find ways to engage current and potential followers with free stuff.
Top Trend 2: Coronavirus/being outdoors safely
Coronavirus is never far from our minds these days, and outdoor brands had no choice but to figure out how to communicate with their followers on social media during this tough time. We used Post Tagging in Rival IQ to track any mention of coronavirus or COVID-19 and found that posts that mentioned the pandemic scored above-average engagement on every channel.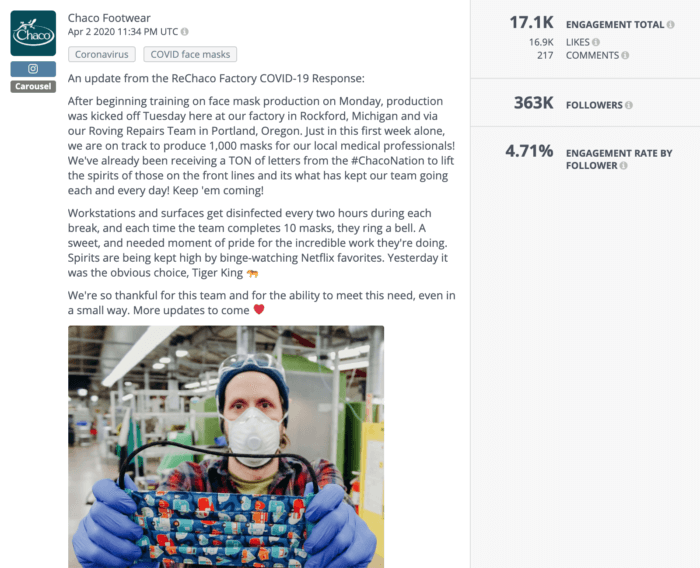 Chaco Footwear's sixth highest-performing post of the year featured their response to coronavirus and pivot to a mask-making operation. This post really resonated with followers thanks to its heartfelt message and peek behind the scenes to the tune of over 17,000 engagements.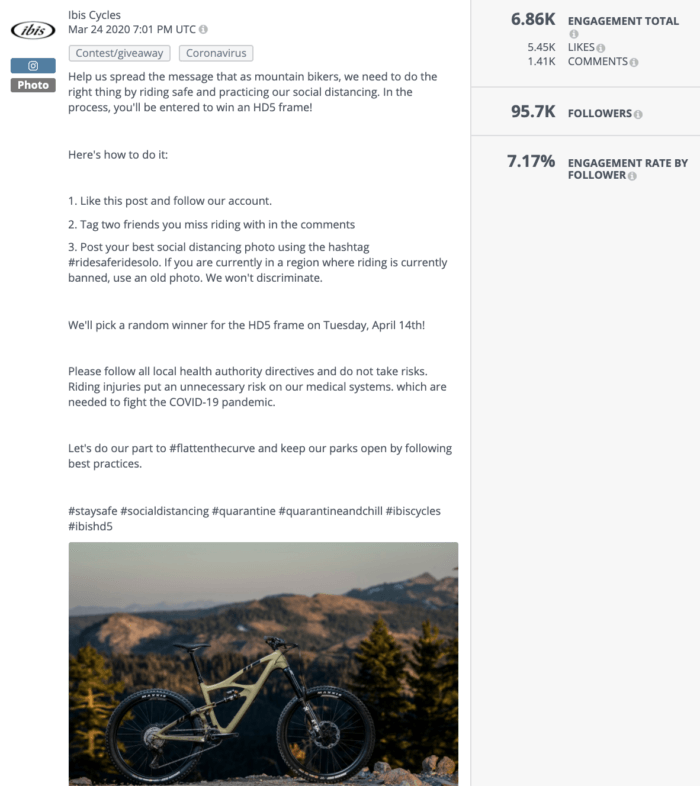 This Instagram post from Ibis Cycles used the success of contests to encourage its followers to ride safely and alone during the pandemic. The bike brand scored a whopping 7.17% engagement rate on Instagram by rewarding followers for biking safely with the chance to win a new bike frame, which was the highest engagement rate Ibis saw all year. It's inspiring to see brands using their platform to encourage safe behavior during the pandemic, and hopefully this high engagement rate drove home the success of this strategy to Ibis.
Does this mean your brand should be posting all coronavirus all the time? The short answer is no. We studied how coronavirus is impacting brands, and have found that the best things brands can do right now are post respectfully, authentically, and thoughtfully.
Top Trend 3: Human stories matter
From influencers to heartfelt posts about weddings in the woods, there's never been a better time to feature the experience of using your gear instead of the gear itself. As we saw above, companies stepping up to support the fight against coronavirus really resonated with fans, but let's get into a few other posting strategies putting hikers, climbers, and skiers first.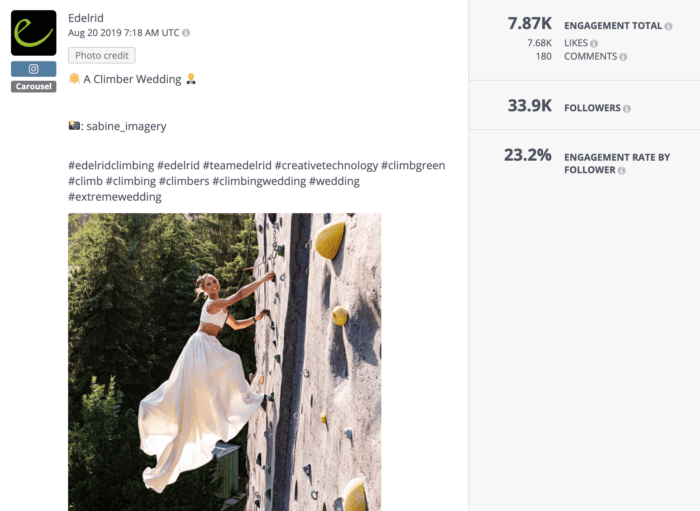 This stunning carousel post from climbing gear company Edelrid was the second most engaging Instagram post from outdoor brands this year with a whopping 23.2% engagement rate thanks to a cover image that really tells a story of love in the outdoors. The third photo in the carousel features some of Edelrid's gear, but they devote most of the real estate in the post to the happy couple's active and unconventional union, which followers loved.
It's worth noting that Edelrid was smack in the middle of the pack with a 50th overall ranking, but earned sixth place on uber-engaging Instagram thanks in part to the success of this post. Edelrid's epic engagement on Instagram is a good reminder for brands that it's okay to focus your efforts on channels where your followers are really engaged.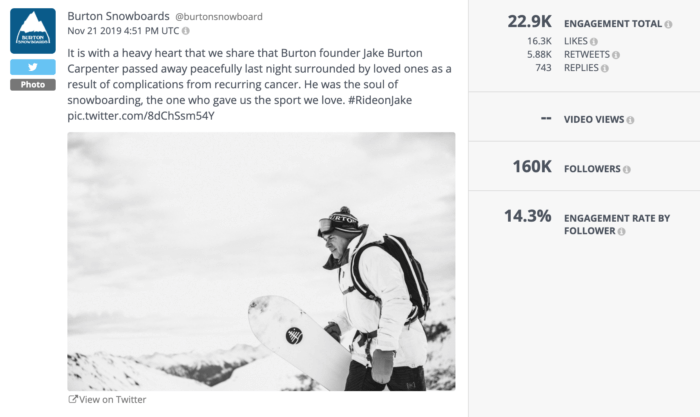 Burton Snowboards marked the passing of their founder, Jake Burton Carpenter, and it resonated so much with fans on social that it scored the highest engagement rates all year for outdoor brands on both Facebook and Twitter. Not every industry can cultivate personal relationships between founders and fans, but Burton's followers came out in droves to send well wishes to the Burton family in their time of grief.
The contrast of these two posts reminds us that sometimes the best thing you can do on social is get personal with your fans and followers, even if the news you have to share is tough.
Top Trend 4: Outdoor influencers
As we'll see again and again in this report, influencers are a critical piece of the outdoor brands social media puzzle, and can be an authentic way to show off your product or cause in a way that really resonates with followers.
Athletes are at the center of everything the outdoor industry does, from product development to media and marketing," says Patrick Crawford, a founding partner at Inkwell. "Athletes are a true reflection of their sport's communities, so their reach and engagement far outperform brands. In this industry, it's hard to beat a smart campaign rolled out through a great group of athletes."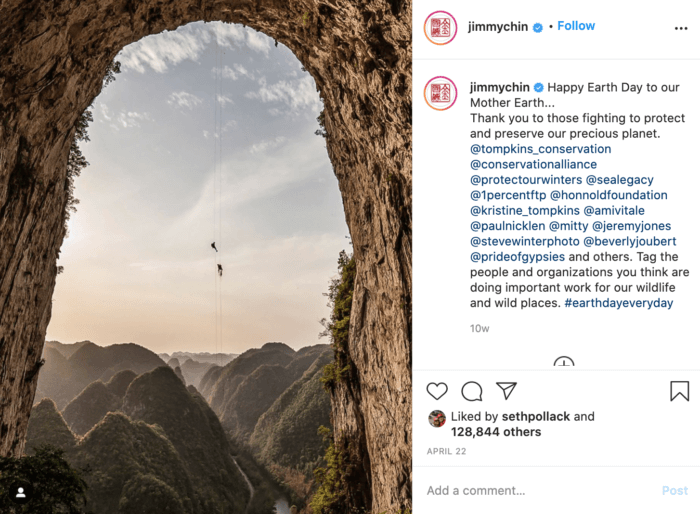 Jimmy Chin has become a household name over the years thanks to his tireless climbing and gorgeous photography, and he's using the success he's found on social to promote environmental causes. He never misses an opportunity to redirect his followers' attention to saving the oceans, mountains, and trails he spends so much time in, and partners with powerhouses like Protect Our Winters and The North Face to amplify his message even more.
We pulled together our list of our top favorite influencers of the year as a bonus feature in the full rankings report. Don't miss profiles on Jimmy Chin, Alex Honnold, Sasha DiGiulian, and more.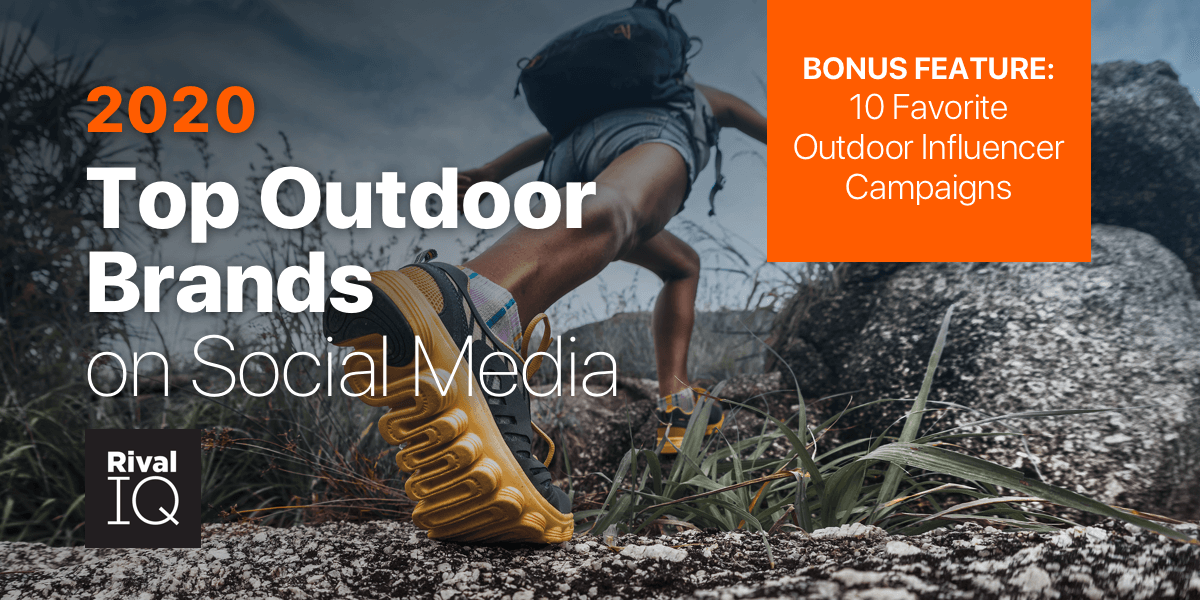 Dive into our favorite influencers of 2020 in this free report.
Download now
And if you're looking to involve influencers in your brand, don't hesitate to get in touch with Inkwell.
Honorable mention: Bikes
As anyone who has tried to buy a bike in the last few months knows that bikes are HOT right now. Posts about bikes scored about median engagement for posts on Instagram, Facebook, and Twitter, but let's highlight a few outstanding examples of brands helping their followers get their bike fix on social media this year.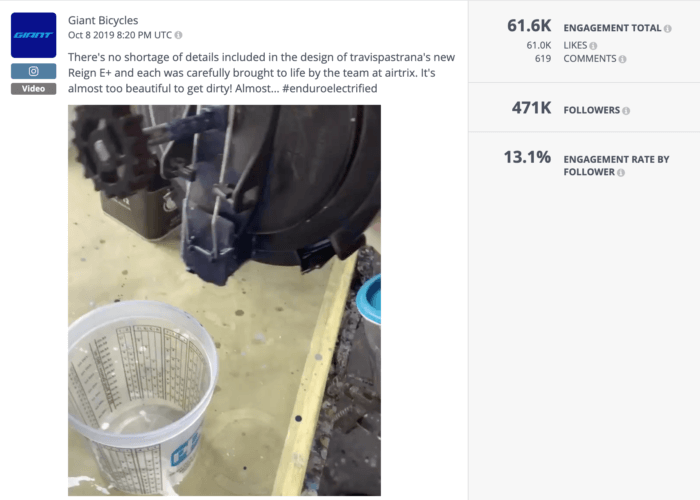 This post from Giant Bicycles was the seventh most engaging post on Instagram, and features a seriously soothing video of hand-painting one of their specialty bikes. Go ahead and watch it; we'll wait. This post scored more than 60,000 likes on Instagram without so much as a "link in bio" to help people buy the featured bike.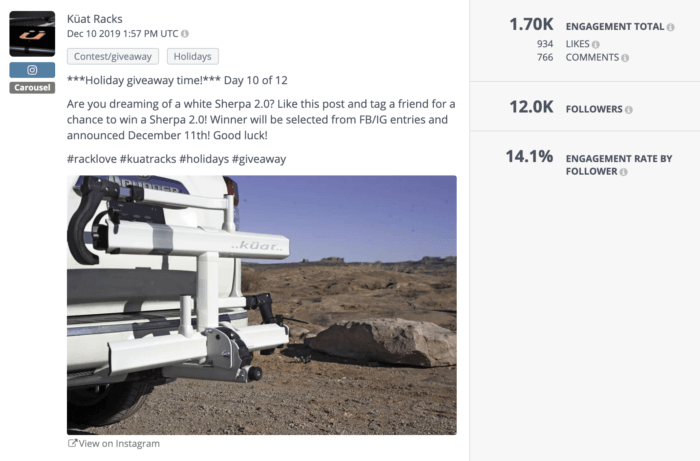 This Instagram post from Küat Racks united a bike post with one of our other most popular outdoor trends of the year with this giveaway of one of their popular bike racks. This post is a good reminder that giveaways aren't just for the big brands–an 14.1% engagement rate represents their most engaging post of the year and our fifth most engaging Instagram post.
Not every brand can pull off a bike-themed post right now, but if you've got it, flaunt it! 🚲
Top Outdoor Brands on Instagram
Instagram is the place to be for outdoor brands, with more than 20x the average engagement rates as Facebook and Twitter. With an average of 4.93 posts per week, outdoor brands were just as likely to post on Instagram as on Facebook. It's no surprise that outdoor brands saw the most success on uber-visual Instagram–epic nature shots and snaps from outdoor adventures can really find their footing on such a photo- and video-based channel.
| Instagram Ranking | Company | Total Engagement | Engagement Rate |
| --- | --- | --- | --- |
| 1 | Hydro Flask | 3,915,595 | 2.38% |
| 2 | Santa Cruz Bicycles | 5,648,053 | 2.05% |
| 3 | Atomic | 2,516,108 | 2.53% |
| 4 | Jones Snowboards | 1,933,751 | 2.33% |
| 5 | POC Sports | 1,882,958 | 2.06% |
| 6 | Yeti Cycles | 649,455 | 2.18% |
| 6 | Black Diamond Equipment Ltd | 2,379,098 | 1.16% |
| 8 | Simms Fishing | 1,236,768 | 1.41% |
| 9 | Trek Bicycle | 2,342,388 | 1.05% |
| 9 | Specialized Bicycle Components | 2,717,424 | 1.02% |
It's worth noting that outdoor brands' median Instagram engagement rate of 0.97% is still below the Instagram median of 1.22% of all brands we studied in our 2021 Social Media Industry Benchmark Report. Some of these outdoor brands have more work to do to cut through the noise on Instagram, but let's get into what it took to crush it on this channel.
Featured brand: Hydro Flask
Instagram's epic advantage over other channels is why we're awarding extra gold medals and summit beers to Hydro Flask for clinching the #1 rank on the 'gram. As we saw above, this bottle company clinched the #1 most engaging post with a contest they ran last year, but their success on Instagram was far from a one-hit wonder.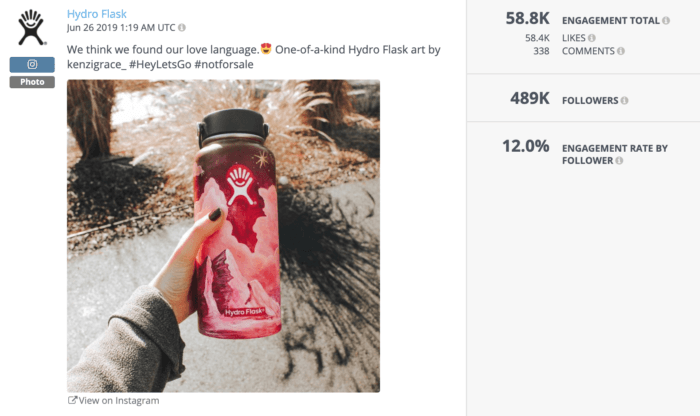 Hydro Flask loved a good user-generated content (UGC) moment on Instagram, like this UGC post that scored a whopping 12% engagement rate. Many of their top posts feature their customers' photos, from customizing their products to enjoying time outside and beyond. Hydro Flask encouraged followers to use the #HeyLetsGo hashtag when posting about their beloved Flasks in the wild. This action helped energize fans with a chance to be reposted by such a popular handle, and also created a treasure trove of UGC for Hydro Flask to pull from.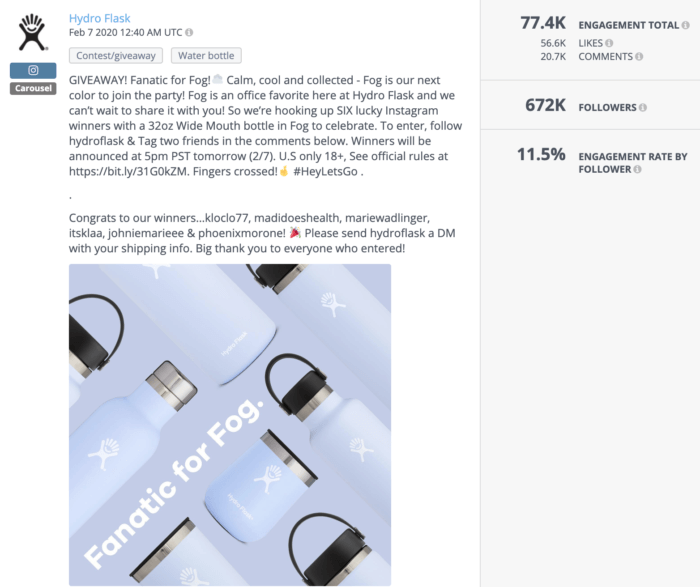 We can't overstate Hydro Flask's success with Instagram contests, though. You saw their amazing 34.6% engagement rate on the most popular outdoor brand Instagram post of the year above, but the 11.5% engagement rate on this frosty post is nothing to sneeze at either. Seven of Hydro Flask's top 10 Instagram posts were contests or giveaways, suggesting that this brand has figured out what works and runs with it.
The only thing lacking from this bright brand was a unification of these two strategies: why doesn't Hydro Flask ask its followers to show off their photos for a chance to win great gear? This engagement strategy has worked well for other brands by exciting followers and creating more UGC for brands to pull from. There's always next year…
Featured brand: The North Face
With a follower count more than 17 times as large as the median brand we studied, big brands like The North Face are in a class all their own when it comes to reach and engagement on social. This outdoor gear company ranked sixth for total engagement on Instagram with more than five million likes, comments, and shares this year. Even if your brand doesn't have millions of followers, there's still plenty of inspo to be found with this brand.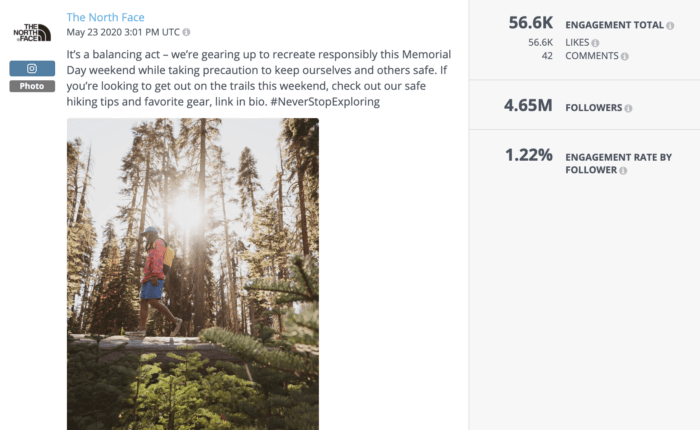 This post about recreating safely doubled The North Face's average engagement rate thanks to a simple message and an eye-catching photo. The North Face was able to use their resources and expertise to pull together tips for staying safe outdoors (while also offering shopping ideas), which was a unique take on the "be safe outdoors" trend we've seen many brands posting about in the last few months.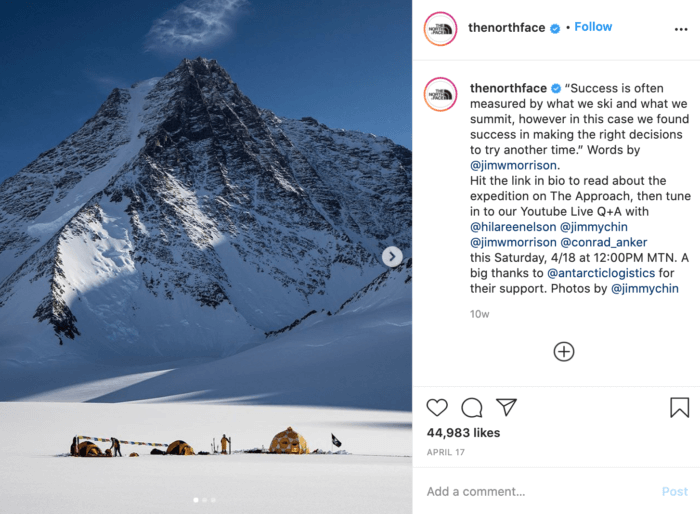 The North Face seamlessly integrates influencers into their posts like in this stunning snap from Jimmy Chin that engaged more than 45,000 followers. Rather than doing the expected by featuring famed outdoor explorers in the gear, The North Face offers a more personal way to interact with these influencers at a YouTube Q+A. Providing authentic ways to interact with your outdoor heroes is a great way to build trust between your followers and influencers you're partnering with, so kudos to The North Face here.
Big brands with even bigger followings can sometimes struggle to engage a large enough percentage of their followers to score great engagement rates, but there's still plenty to learn and steal from their social strategies.
To give you a sense of the magnitude of engagement these brands garner on Instagram, here are the top 10 brands for total Instagram engagement in our report.
| Company | Instagram Engagement | Instagram Followers |
| --- | --- | --- |
| Patagonia | 8,849,264 | 4,523,672 |
| Quiksilver | 7,134,917 | 2,284,954 |
| REI | 6,790,225 | 2,323,181 |
| Under Armour | 6,627,866 | 8,217,067 |
| Santa Cruz Bicycles | 5,648,053 | 1,169,451 |
| The North Face | 5,396,371 | 4,652,773 |
| Billabong | 4,819,164 | 2,052,818 |
| Hydro Flask | 3,915,595 | 659,300 |
| Burton Snowboards | 3,317,783 | 1,341,701 |
| YETI | 3,002,521 | 1,446,093 |
Larger follower counts mean these brands need to see tons of engagements with every post to reach a high percentage of their followers, so it can be tough for these brands to crush it with their engagement rates. Because this report looks at both engagement totals and engagement rates, these big brands weren't always able to crack the top 10.
Top Outdoor Brands on Facebook
Despite exponentially lower engagement on Facebook, outdoor brands posted 4.8 times per week here–just as many posts per week as on Instagram. Not to worry–we still have lots of good news to share (and strategies to steal) from high-performing brands on Facebook.
| Facebook Ranking | Company | Total Engagement | Engagement Rate |
| --- | --- | --- | --- |
| 1 | Jones Snowboards | 180,133 | 0.85% |
| 1 | Marmot | 385,237 | 0.27% |
| 3 | Nalgene | 127,960 | 0.29% |
| 4 | Atomic | 112,327 | 0.25% |
| 5 | Helly Hansen | 293,715 | 0.10% |
| 6 | Burton Snowboards | 148,593 | 0.10% |
| 6 | Simms Fishing | 79,566 | 0.17% |
| 8 | Rapha | 80,349 | 0.15% |
| 9 | Arc'teryx | 105,159 | 0.13% |
| 10 | REI | 969,466 | 0.06% |
Posts from brands that featured influencers really shined on Facebook this year, which is good news for brands who have invested in their relationships with these climbers, photographers, bikers, and more. Posts in the top 10 most engaging posts on Facebook this year featured influencers like snowboarder Antti Autti shredding it on the slopes on his Jones Snowboards gear or Arc'teryx athlete Michelle Parker skiing an extreme run down a mountain.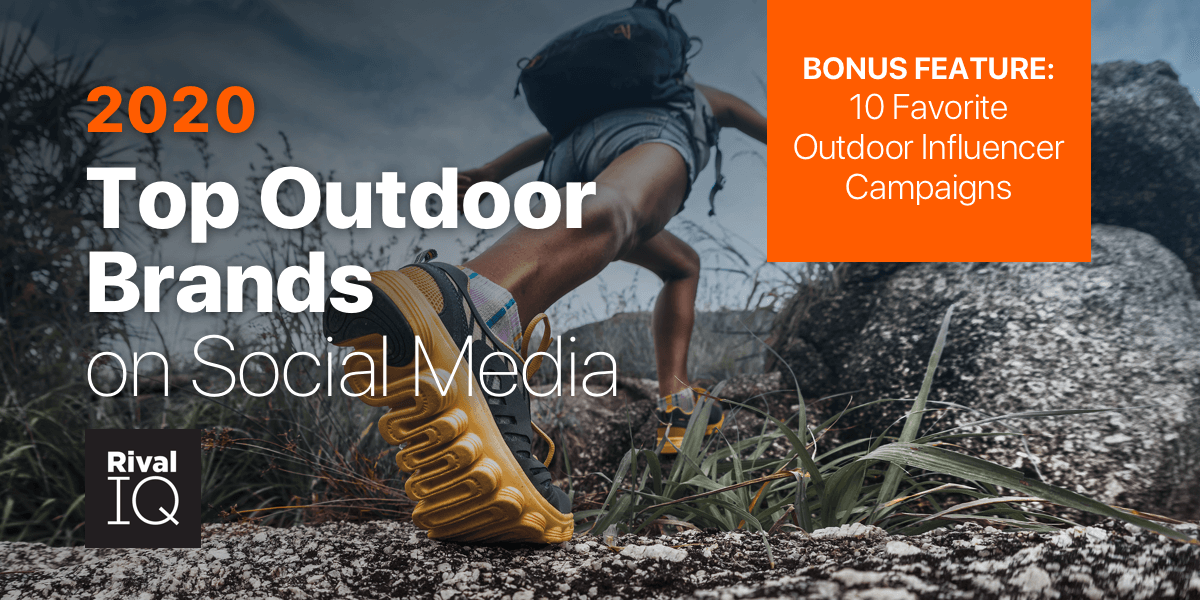 See more of our top influencer posts and campaigns.
Download here
Contests and giveaways also worked well on Facebook this year, as well as posts about how brands are supporting the fight against coronavirus and climate change.
Featured brand: Jones Snowboards
Jones Snowboards tied with Marmot to grab Facebook gold this year thanks to authentic posts about snow sports (and some seriously strategic boosting). Even though the brands tied for overall rank on Facebook, let's focus on engagement rate winner Jones to see what they did to rile up their followers so much.
Jones clinched the second, third, and fourth posts by engagement rate on Facebook this year without a single product shot or mention, suggesting they know what their followers want on social and are more than ready to hand it over.

The snowboarding company's Facebook followers loved seeing Jones founder Jeremy Jones representing his climate activism nonprofit Protect Our Winters to testify in front of Congress' Special Committee on Climate Change. This video post had 5x the average outdoor brand engagement rate on Facebook without so much as a product mention or a flashy nature shot, which reinforces Jones' decision to use their platform to call for meaningful environmental change. Throughout our study, we've seen followers reward outdoor brands who aren't afraid to stand up in support of climate activism.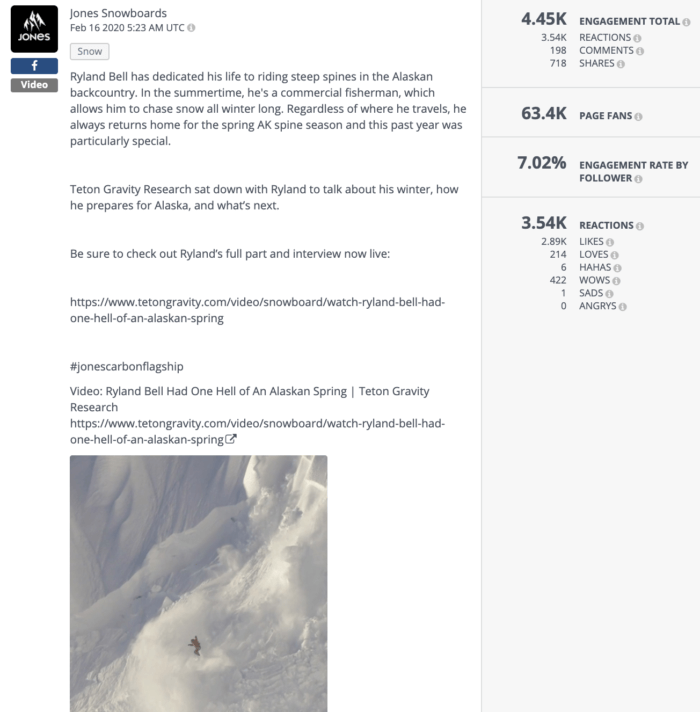 Posts like this one from Jones featuring snowboarder Ryland Bell and a killer 7.02% engagement rate serve as a great reminder of why Facebook is still relevant even as Instagram continues to dominate: post type diversity. Jones (and many other outdoor brands) get a lot of mileage out of posting links on Facebook when they're much more limited to photos and videos on Instagram. These links are a powerful way to tell the full story of an outdoor adventure or influencer beyond the confines of a caption, and are a great way to amp up followers.
Outdoor brands looking to make the most of their social spend and influencers can take a page out of Jones Snowboards' (Face)book.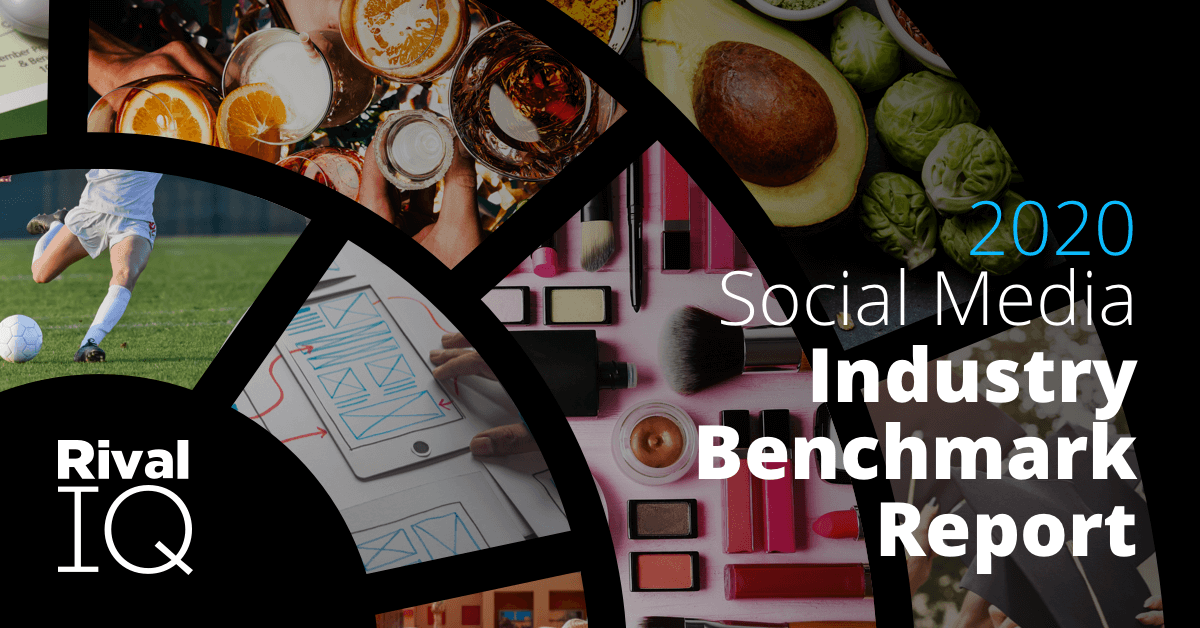 Check out the latest Social Media Industry Benchmark Report for even more benchmarks.
View the report now
Top Outdoor Brands on Twitter
Outdoor brands saw about half as much engagement on Twitter as they did on Facebook this year, and they paced their efforts accordingly by tweeting half as often as they posted on Facebook. Are these low engagement rates worrisome? Not really. As we saw in our 2021 Social Media Industry Benchmark Report, many industries can expect to see half as much engagement on Twitter as on Facebook.
| Twitter Ranking | Company | Total Engagement | Engagement Rate |
| --- | --- | --- | --- |
| 1 | Burton Snowboards | 46,470 | 0.13% |
| 2 | HOKA ONE ONE | 23,619 | 0.19% |
| 3 | Patagonia | 119,720 | 0.09% |
| 4 | Billabong | 21,291 | 0.11% |
| 5 | Salomon | 23,499 | 0.09% |
| 6 | Zpacks | 4,146 | 0.33% |
| 7 | Nalgene | 11,702 | 0.09% |
| 8 | L.L.Bean | 20,166 | 0.08% |
| 8 | Oakley | 20,779 | 0.07% |
| 8 | Danner | 3,995 | 0.15% |
Outdoor brands like Burton Snowboards and Patagonia have cracked the Twitter code by posting a mix of photos, videos, contests, memes and more to make the most of this channel. It's also worth noting that a few of the top-performing tweets of the year are actually recycled content from other channels. We consider post type and content diversity a social media best practice, but the success these brands saw by running contests or making major announcements on a few different channels is a good reminder for outdoor brands that if something is working, it's good to make the most of it.
Featured brand: Patagonia
At first glance, a review of Twitter bronze medalist Patagonia's top tweets makes it look like the brand accidentally uploaded a bunch of photos and videos to Twitter instead of ultra-visual Instagram. This clothing retailer didn't even bother to caption some of their top tweets and instead chose to let the stunning imagery speak for itself.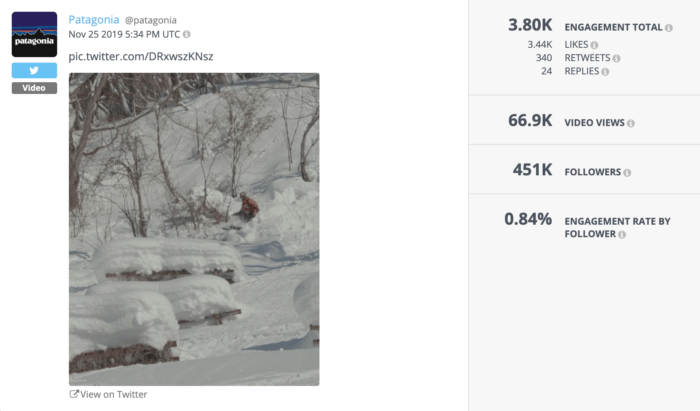 The tweet above rocked a 0.84% engagement rate, which is more than 26x the Twitter average for outdoor brands, without so much as an influencer mention or a photo credit. The success of tweets like this one, and many of Patagonia's other top tweets, is a strong reminder for outdoor brands to lay off the product shots every once in a while and just remind customers about how great it feels to get outside.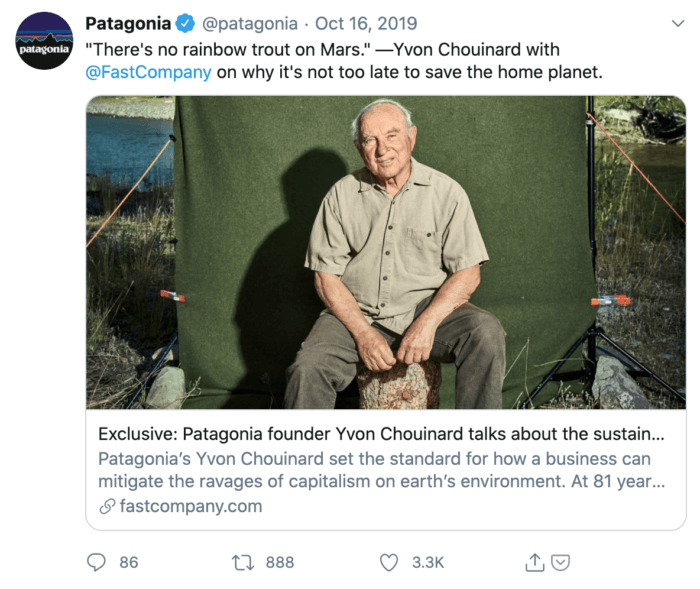 Tweets like this one about fighting to protect the climate are a more expected use of Twitter, but still grabbed follower attention to the tune of a 0.97% engagement rate. Outdoor brands are increasingly using their platforms and large audiences to drive home the message of how important it is to save the planet. Corporate social responsibility is a buzz-y idea, but it's not hard to see how preserving the environment makes both good business and moral sense for outdoor brands.
Not a single one of Patagonia's top ten tweets features a straightforward product shot, which can't be said of their Instagram and Facebook content. Does this mean outdoor brands should never show off their products on Twitter? Certainly not. But Patagonia is a great example of a brand tailoring their content to what their Twitter followers really want. Twitter is a great place to fine-tune this strategy because there's so much opportunity for one-on-one conversations with your followers, so don't be afraid to try new strategies on Twitter and ask your followers what they think.
How is my outdoor brand performing on social media?
Comparing your outdoor brand's social performance has never been easier.
Browse our Live Social Media Benchmarks for a real-time look at top outdoor brands' posts, engagement rates, high-performing hashtags, and tons more. You can even add these benchmarks directly into your Rival IQ account for always-on monitoring of these top brands.
Need even more competitive analytics? Go head-to-head with a free report on Facebook, Instagram, or Twitter to see how you stack up against your top competition. See what makes your competitors tick with key insights and actionable advice you can start using now to come out on top.
If you're hungry for even more stats, start a free 14-day trial with Rival IQ.
Methodology
We surveyed 80 outdoor brands on social media between June 1, 2019 and May 31, 2020 on Facebook, Instagram, and Twitter. Using this data and a weighted formula, we generated an overall engagement ranking for each outdoor brand. The top-ranked outdoor brands on social media have high engagement rates with average or better audience size and posting volumes.
We define engagement as measurable interaction on social media posts, including likes, comments, favorites, retweets, shares, and reactions. Engagement rate is defined as the total engagement divided by audience size.
The case for benchmarking
Why benchmark instead of just measuring how your brand's individual performance changes over time? Because social success is relative. Benchmarking means figuring out what's working (and what isn't) for brands in your industry and measuring your success against that.
It's crucial to go beyond likes and favorites because audience size is hugely important: 100 likes is great engagement for an outdoor brand with 1,000 followers but is a drop in the bucket to a brand with 100,000 followers. Engagement rate helps us take audience size into account to see who's really reaching the highest percentage of their fans and followers with their social posts, which are the outdoor brands you need to beat.
Wrapping it up
We couldn't be more inspired by these amazing brands and influencers! We're ready to see some amazing outdoor content in the year to come, and of course we also can't wait to strap on some gear and get outside.
Can't get enough outdoor brands on social media? Join us for our next Data-Driven Marketer webinar with Inkwell's own Patrick Crawford to discuss great social media in the great outdoors.
Did we miss a brand or influencer you want us to include next time around? Want to share your thoughts about the report with us? Don't hesitate to reach out to us on Twitter!
We partnered with Inkwell, a creator marketing agency that builds campaigns with the world's most influential communities and creators. Inkwell helps clients operate as modern media companies to create real, meaningful engagement within passion communities.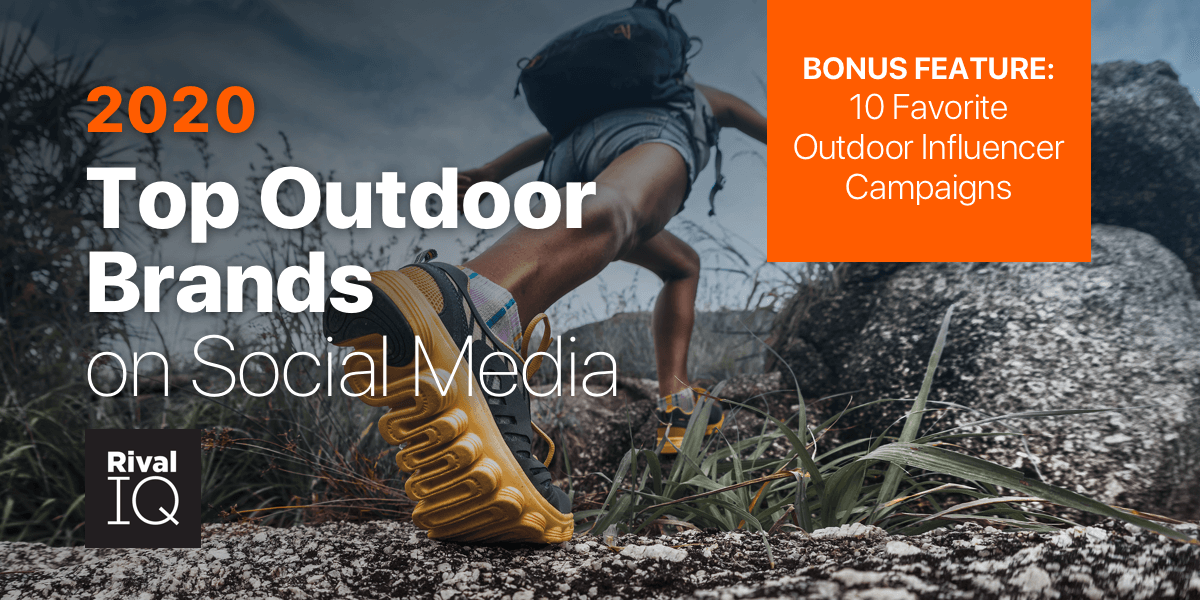 Dive into our favorite influencers of 2020 in this free report.
Download now.