Can you guess who made the cut for the top industries using TikTok?
For our 2023 Social Media Industry Benchmark Report, we analyzed over 5 million posts across the major social channels to find the leading brands, industries, and trends audiences couldn't get enough of. TikTok, the newest of the main social platforms, effortlessly took first place for engagement, beating out Instagram, Twitter, and Facebook combined.
With audiences engaging with their favorite brands more on TikTok than any other platform, we have to ask: Who are these brands, and what are the top industries on TikTok?
Let's look at what the leading TikTok-ing industries are doing and how you can use their strategies to better engage with your audience.
Key Metrics
Before diving in, let's cover a few critical details from our 2023 TikTok Benchmark Report, which is, by the way, packed full of super helpful performance insights broken down by industry so you can figure out exactly how your brand is doing against the competitive benchmarks that matter most.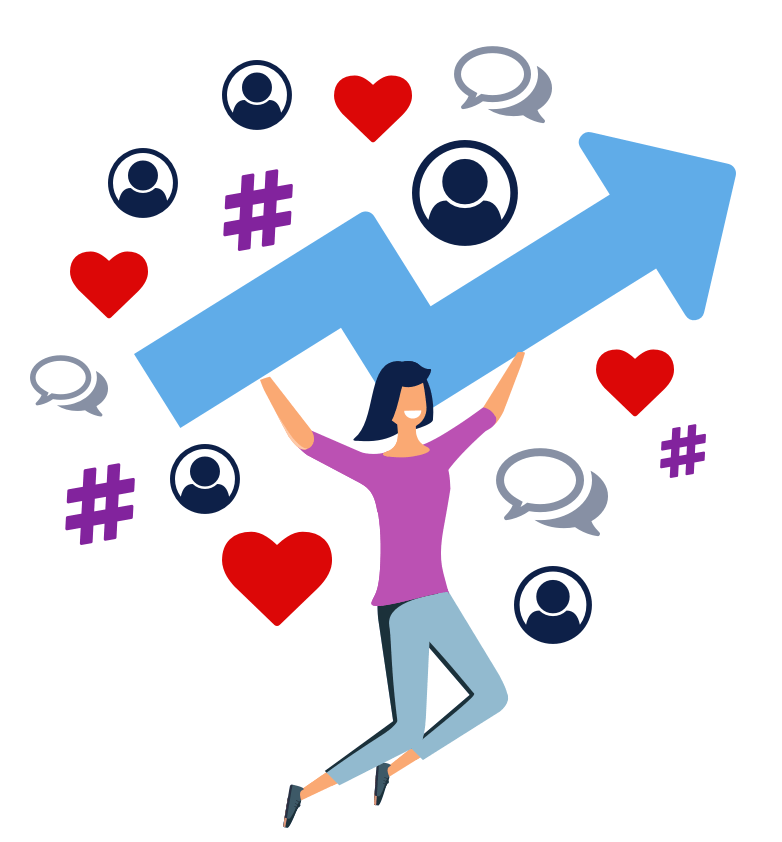 If you need a refresher on important lingo, you can read up on TikTok metrics and terminology.
Now for a few takeaways from our TikTok analysis:
The median engagement rate by follower on TikTok is 5.69%, higher than Facebook, Instagram, and Twitter combined.
Brands post between 1-2 TikTok videos per week on average.
Brands post TikTok less frequently than other social media channels.
Without further ado, here are the top industries on TikTok.
The Top Industries Using TikTok
Top Industry on TikTok #1: Higher Education
Taking gold with a median engagement rate of 16.26% is Higher Ed.  Despite having an engagement rate nearly 3x greater than the all-industry median, Higher Ed was one of the industries that posted the fewest times per week, showing us that more doesn't always mean better.
On the 2023 Social Media Industry Benchmark Report, we also found that the hashtags with the highest engagement rates belonged to Higher Ed with tags like #College and #Uni. There were also a few related to special events like #Graduation and #CollegeMoveIn.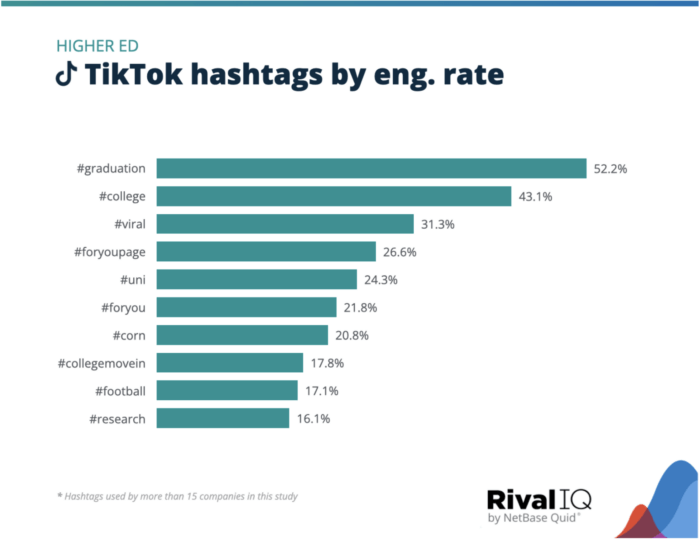 It seems followers appreciate content about day-to-day experiences just as much as special occasions.
P.S. If you noticed that one of these things is not like the others, we should recall that 2022 was the year of the viral "corn kid" across social channels.
Winning trend on Higher Ed TikTok: A taste of campus life
Celebrating on-campus moments was big on TikTok this year. Schools posted about everyday life for students on campus, how they get ready for game days and class, and generally relatable content for students.
What these campus life-focused TikToks have in common is a feeling of authenticity. The posts feel like something made by students for their friends. Gen-Zers especially value this off-the-cuff content that moves away from the perfectly curated social media content popular in years past.
We couldn't talk about the schools winning on TikTok without mentioning Baylor University, who were big into posting relatable content.
In a post that had a 12.2% engagement rate by view, the school paired a trending sound with a video of students talking about studying at home but instead falling asleep. Followers commented by tagging their friends and leaving messages like "not my school calling me out."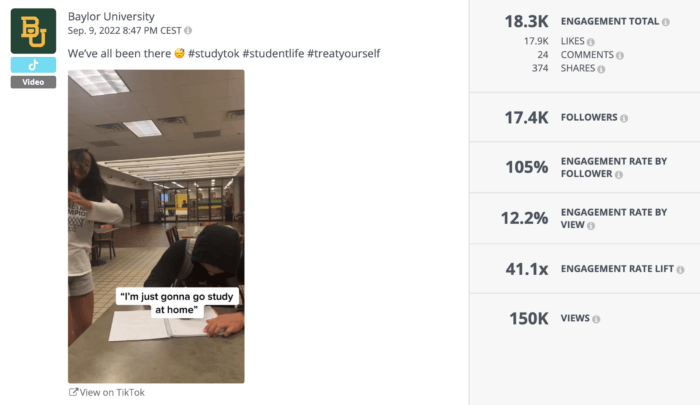 We should also give a shout-out to Louisiana State University, which focused heavily on on-campus engagement with students this year. Their TikTok feed is full of funny clips of students around campus, like the one featuring students doing the popular #GriddyDance that was shared over 1.26K times.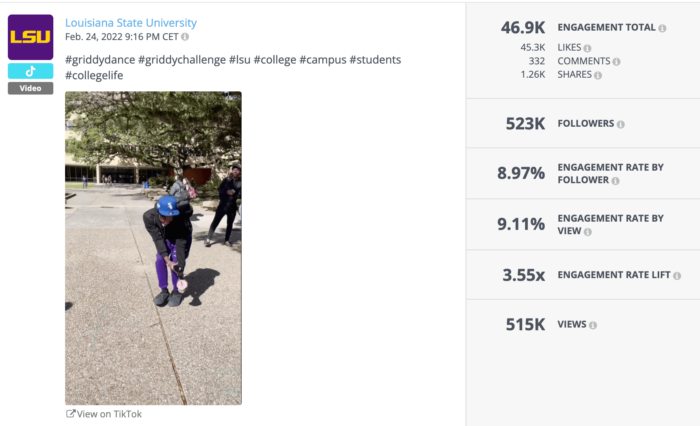 Other popular trends in Higher Ed were sports wins, school year kick-offs, and graduations.
How to make it yours: Embrace unfiltered moments.
If there's anything we can learn from Higher Ed Tok, it's that authenticity goes a long way. So no matter your industry, don't be afraid to lean into the more candid moments. Peel back the curtain to give fans a taste of who your brand really is, and invite your followers to laugh and have fun with you.
Top Industry on TikTok #2: Sports Teams
With the second-highest TikTok engagement rate at 9.18%, we have our Sports Teams. They posted roughly around twice per week, which is on par with the industry-wide median, and found success with event-focused hashtags like #Fifa23 and #Preseason.
Winning trend on sports TikTok: Highlight plays
Unsurprisingly, sports fans were all about wins and the unforgettable plays that got them there this year on TikTok. One shining example came from Leeds United, who posted a TikTok showing off their goalkeeper's amazing double-shot save during a game with 15.7x more likes, comments, and shares than their average post — a sign that the team struck a chord with followers. The slo-mo effect probably didn't hurt, either.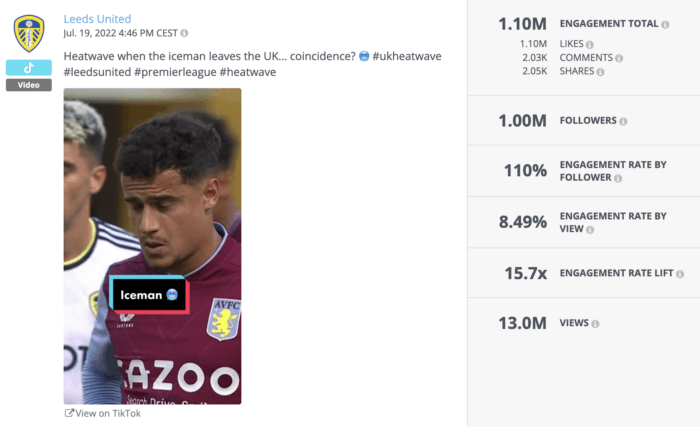 Another team to watch on TikTok this year was the Phoenix Mercury. The team frequently posted to the platform to show off game highlights, behind-the-scenes footage of the players, and even some on-court trash talk.
Their top post of 2022 showed one of their players making a ⅔ court shot just in the nick of time. This TikTok brought in a 21.2% engagement rate by view, which is impressive enough on its own, but what really makes this a standout post are the 7.80K shares.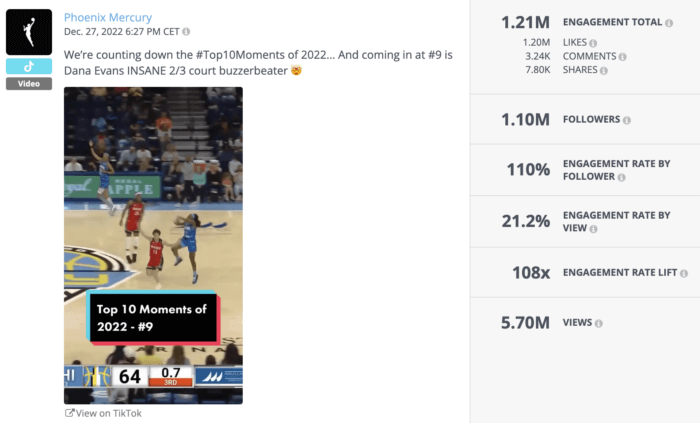 Since shares are the more laborious way followers interact with posts (think of the effort required to stop mid-scroll to hit 'like' versus share with friends), highly-shared posts show that brands really gave the people what they want.
How to make it yours: Celebrate your wins.
Your industry may not have literal home runs and slam dunks, but you get where we're going with this metaphor, right?
Take to TikTok to show off your community's victories, both big and small. Do you have any milestone achievements to brag about? Did you break any company or industry records? Are your clients experiencing significant progress thanks to your brand? People love being part of a winning team. Don't be afraid to tap into that.
Top Industry on TikTok #3: Travel
Coming in with the third highest engagement rate at 7.43% is the travel industry which found massive success with location-focused hashtags like #Thailand, #NYC, and #SouthAfrica. Other successful hashtags like #Adventure and #Bucketlist aligned with Travel TikTok's overall theme of capturing those wanderlust moments.
Winning trend on Travel TikTok: Exploring destinations
This year on Travel TikTok, brands were all about using stunning destinations to captivate followers. They showed off the unique culinary experiences, exciting adventures, and can't-miss activities that make a place unique. Luxury hotel experiences were also a big hit.
SANDALS Resorts leaned into their followers' love of adventure and luxury with TikToks showing off mouthwatering tropical scenes and giving a glimpse into what their resorts can offer.
In one of their top-performing videos, with 6.91x the engagement as their average post, we see visitors exploring Grenada in search of incredible waterfalls. Through their other posts, we get a taste of swimming with sea turtles in Barbados and diving into a crystal clear pool in Jamaica.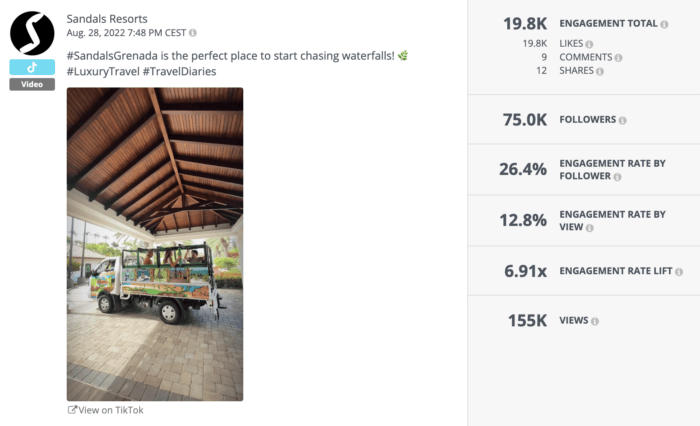 No matter the location or activity, SANDALS is all about creating an experience for its followers focused on exploration, pleasure, and one-of-a-kind adventures. Followers seem to really take to this type of immersion experience, even if it gives them a case of FOMO.
Another way we saw Travel Brands reach followers this year on TikTok was through creator-led campaigns like Marriott Bonvoy Hotel's #30stays300days.
Each post in the campaign featured a different travel creator showing off destinations across the world, from Mexico City to New York to Bali. They took followers around amazing sites and highlighted all the perks of staying in one of Marriott's hotels. Going deeper into destinations paid off in the engagement department, and by handing the mic (or tripod?) over to creators, Marriot opened themselves up to new pockets of followers and invited audiences to see a more personal side of the brand.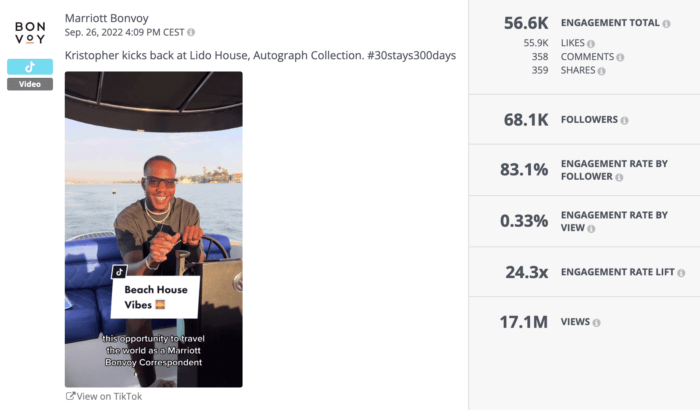 How to make it yours: Create an irresistible experience.
The Travel Brands that stood out the most on TikTok really leaned into the idea of crafting an experience around their services. These brands showed followers that they're not just getting a nice place to sleep when they stay at their hotel; they're getting luxury, adventure, exclusivity, and new cultural experiences.
Think about how your brand can apply this lesson and craft a one-of-a-kind experience for your followers. You can also collaborate with creators and influencers and shake up your brand marketing.
Wrapping it up
While engagement on Instagram, Twitter, and Facebook was less than ideal this past year, TikTok was a silver lining for marketers across industries. It's undoubtedly the place to be for brands looking to connect with followers.
Higher Ed, Sports Teams, and Travel Brands led the way this past year on TikTok and showed that authenticity, celebrating our victories, and creating enticing experiences could help brands in every industry connect on a deeper level with their audiences.
Now, it's your turn to take these lessons and make them your own. We'd love to see what your brand comes up with, so feel free to share them with us on Twitter.