It's time to see what beauty brands are up to on social media this year, and a new channel has entered the chat: TikTok.
We ranked 100 top beauty brands on Instagram, Twitter, Facebook, and for the first time, TikTok, for the ultimate beauty showdown on social. Our comprehensive report reviewed thousands of posts and millions of engagements for a full view of exactly what's working and what's not for beauty brands on social media.
Read on to see which beauty brands came out on top and which ones fall flat in this jam-packed report.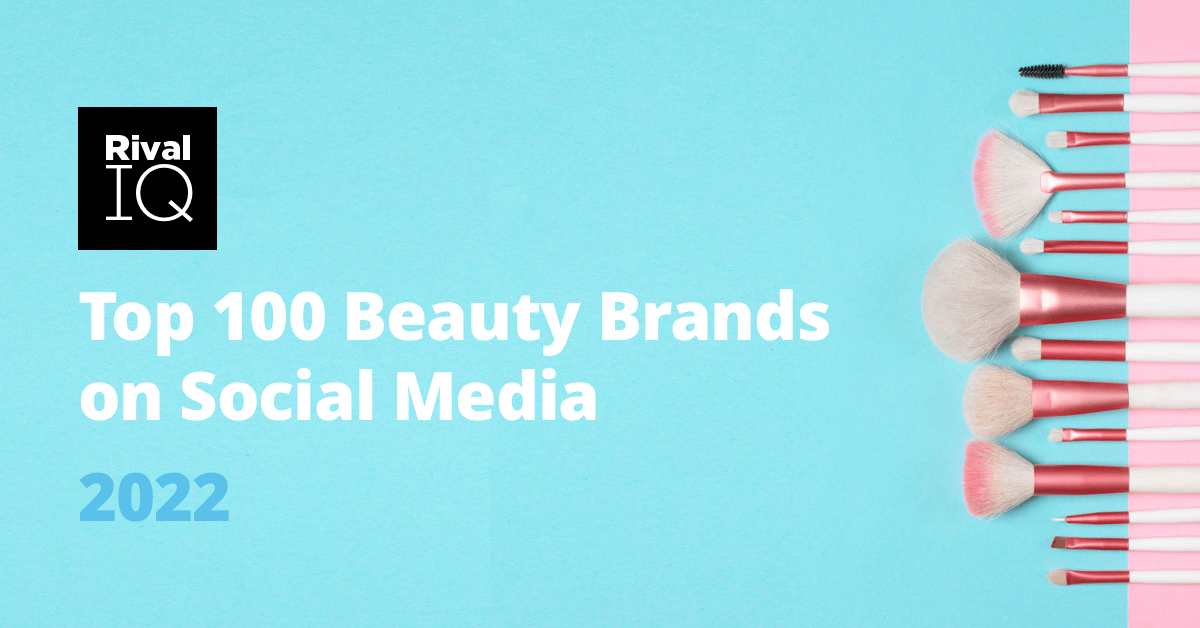 Top Overall Beauty Brands on Social
It was a big year for beauty brands, especially as TikTok rose in popularity and relevance to beauty consumers, but more on that in a bit. Our top-ranked beauty brands feature a mix of perennial favorites like ColourPop, Kylie Cosmetics, Fenty Beauty, and Huda Beauty alongside a few fresh faces who were able to break into the top 10 with standout content and engagement like The INKEY List, Essie, OPI, and Too Faced.
| Beauty Brand | Overall Rank | Rank | Rank | Rank | Rank |
| --- | --- | --- | --- | --- | --- |
| ColourPop | 1 | 4 | 1 | 4 | 4 |
| Kylie Cosmetics | 2 | 3 | 8 | 5 | 8 |
| Fenty Beauty | 3 | 6 | 7 | 6 | 3 |
| Glossier | 4 | 2 | 6 | 19 | 7 |
| Huda Beauty | 5 | 1 | 3 | 22 | 81 |
| The INKEY List | 6 | 14 | 11 | 30 | 30 |
| NYX Cosmetics | 7 | 28 | 2 | 26 | 21 |
| Essie | 8 | 13 | 15 | 35 | 25 |
| OPI | 9 | 5 | 31 | 14 | 41 |
| Too Faced | 10 | 29 | 5 | 23 | 39 |
It's worth noting that not all of our top 10 finishers had pristine records on every channel. ColourPop, Kylie, and Fenty grabbed podium spots by sweeping the top 10, but the rest were a little all over the place. This mix is a good reminder to beauty brands looking to succeed and engage on social media that sticking to your strengths can be just as successful as making huge investments across all channels. Let's dive deep on the most engaging beauty brand on social media this year and then talk through a few top trends that weaved their way through many of the industry's most engaging posts.
Top Brand: ColourPop
How does ColourPop do it year after year? They're a consistent top 10 performer and have grabbed the overall gold two years running, which means there's a lot to learn about what makes this beauty brand so dynamic on social media. The brand leverages a big following and high posting frequency (about 2x the average beauty brand) to top the engagement total charts on Instagram and Twitter. Let's get into how this beauty brand stood out on Instagram, TikTok, Facebook, and Twitter this year.
Instagram is a key channel for any beauty brand, and ColourPop dominates with oodles of posts and engagement. The brand posted more than twice as often as the median beauty brand on Instagram and had the highest number of beauty posts for any brand we studied this year with more than 2,000 posts, or about 40 (!) per week. This relentless posting schedule means there's something for every one of ColourPop's 10 million followers, helping the brand earn more than 67 million engagements and the top spot for engagement total on Instagram.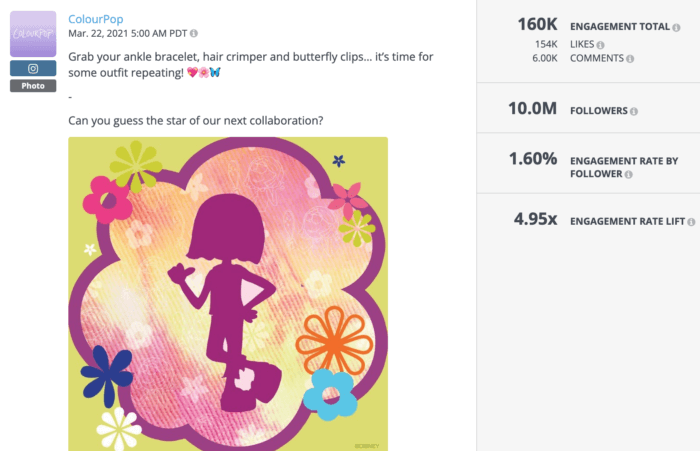 Collab announcements performed well consistently for ColourPop on Instagram, which has been an attention-grabbing strategy for years for the brand. Teaser posts like the one above for the 2021 Lizzie McGuire collection had fans racing to leave 6,000 comments to share their hopes for the release and connect about what the Disney channel meant to us, er, them in the 2000s on a post with a 1.6% engagement rate, or about 4x the beauty brand median on Instagram. The brand knows exactly how to rile up its follower base on Instagram with collabs and staggered releases.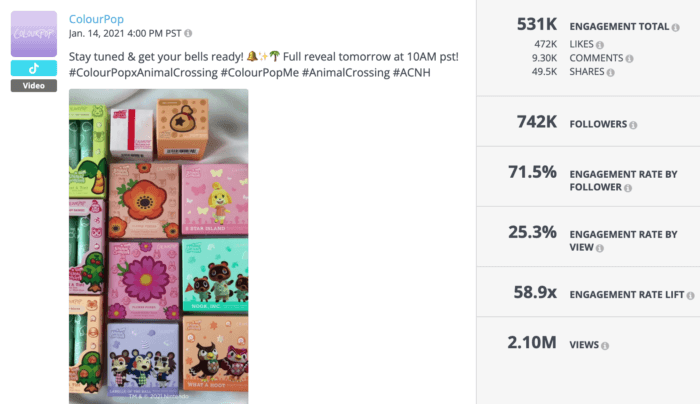 TikTok was an elusive channel for some beauty brands, but ColourPop excelled here by plugging into the cultural zeitgeist with their colorful collabs. This video featuring a sneak peek of a new Animal Crossing collection grabbed attention with more than 2 million views and 531,000 engagements with fans clamoring for more info and a chance to buy. Many of ColourPop's top TikTok videos featured collabs with beloved standalone properties like PowerPuff Girls and Barbie, which helped the brand rank #1 on TikTok.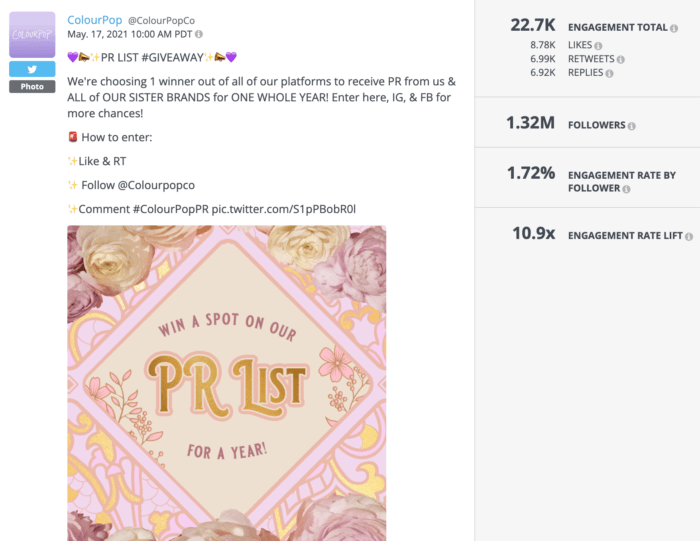 Posts like the giveaway above led to consistent success for the brand throughout the year on Twitter, with fans falling over themselves to enter a contest with a killer prize: tons of free products from ColourPop's PR list. The giveaway post earned more than 22K engagements and an engagement rate of 1.72%, which is 34x the Twitter average. Having a great prize always helps beauty brands succeed with contest posts, as do succinct instruction lists for fans hoping to win without putting out too much effort.
Top Trend 1: Collabs
You couldn't throw a rock on beauty social media without hitting a brand that was teaming up with another brand or influencer to co-market or release exclusive product lines. Many brands benefitted from the amplifying effect of having two audiences to market to instead of just one, and as such many of the top posts by engagement rate featured two or more brands. Collabs looked different from brand to brand, but some of the most successful partnerships of the year featured beauty brands teaming up with pop culture icons, influencers, and other beauty brands to make magic on social.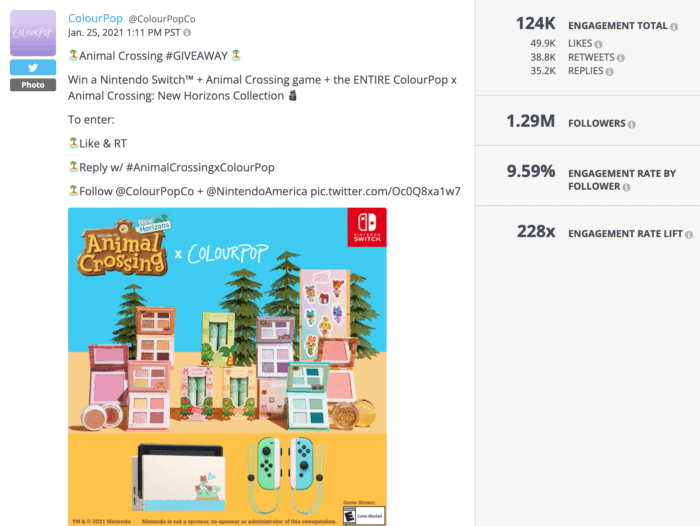 As we saw above, overall and TikTok winner ColourPop was the reigning monarch of collabs this year with tons of exclusive releases featuring pop culture faves like Animal Crossing. The above tweet is just one of many examples of ColourPop dominating on Twitter with collaboration announcements with an extra boost from offering a chance to win an enticing prize package. This brand consistently exemplifies the best of the best beauty strategies on social media like in this post, which helped it rise to #1.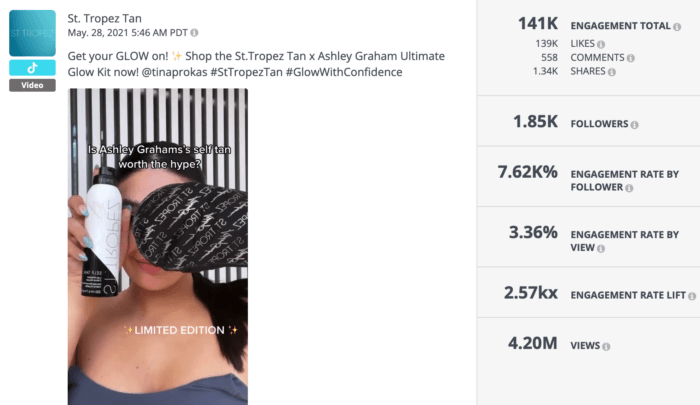 St. Tropez Tan had one of the most engaging TikTok videos of the year thanks to a product partnership with model Ashley Graham. The brand doubled the average TikTok engagement rate by view for beauty brands, earning more than 141,000 engagements and a whopping 4.2 million views with the announcement. Finding the right influencer to rep your brand is an elusive task for many beauty brands, but St. Tropez Tan clearly got it right here, to the delight of viewers.
Top Trend 2: Contests and giveaways
Anyone who has read one of our social media industry reports in the last few years won't be surprised to hear that contests and giveaways remain one of the most engaging strategies for beauty brands on social media. These low-effort posts typically yield big rewards, especially when structured in a way that doesn't ask too much of entrants. The average contest post performed about 3x as well as the average beauty post on Instagram, which is a critical channel for many of the brands in this report. Let's look at a few particularly strong contest examples.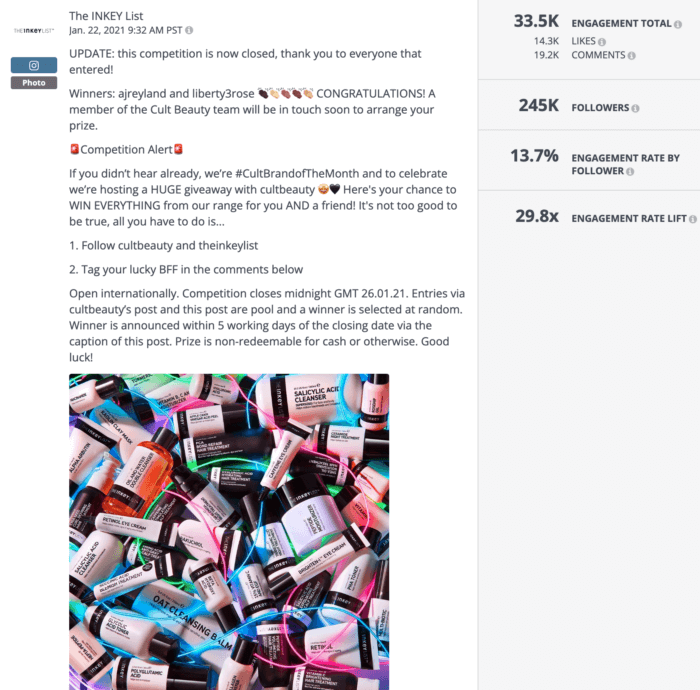 This colorful Instagram post from The INKEY List, which grabbed the #6 slot overall, earned the brand tons of engagement via a few easy strategies. The contest offered a monster prize to grab attention and then asked fans to do just a few easy things to enter rather than requiring a long list of tagging and sharing to help boost engagement on the post. With more than 33,000 engagements and a 13.7% engagement rate, the post performed almost 30x better than the average beauty post on Instagram this year.
The post also let entrants know the brand would post the winner in the body of the post, which encourages repeat impressions and engagement. This strategy is small but mighty, and many of the most engaging contest posts we see in any industry use it to bring fans back again and again.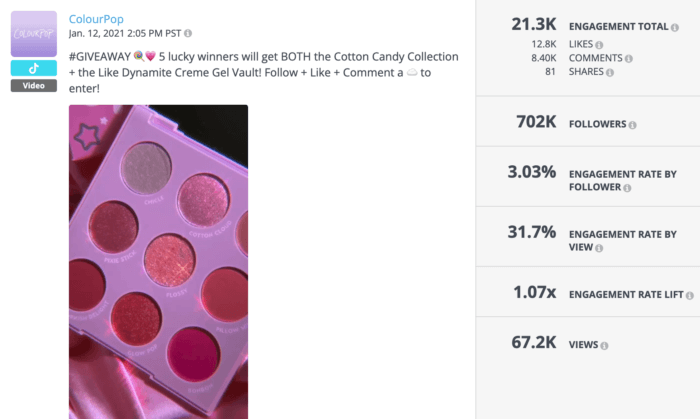 Overall first place beauty brand ColourPop also grabbed the gold on TikTok with tons of giveaway posts like this one, which earned a 31.7% engagement rate by view and more than 21,000 engagements. ColourPop kept it simple with entrance requirements and didn't need to assemble an epic prize pack to entice viewers to follow+like+comment to win. This video is a good reminder that giveaways don't have to be complicated to be successful on social, and that TikTok is a great channel for beauty brands looking to run contests.
Top Trend 3: Authenticity on social
We hope brands getting real with their followers will never go out of style on social. Posts about causes that mattered to brands and their fans dominated the most engaging posts on all four channels this year and helped brands meaningfully connect with their followers.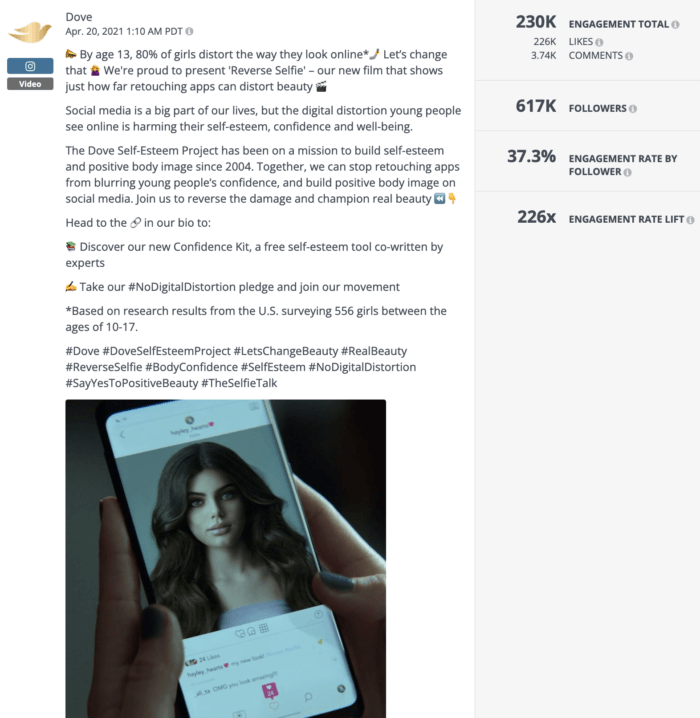 This Instagram video from Dove earned the brand more than a million views and a staggering 37.3% engagement rate as fans jumped into the comments in droves to compliment the brand on its Dove Self-Esteem Project. Retouching has become a huge issue on social media, especially for beauty and fashion brands, so having a beloved brand like Dove step up and fight against it really resonated with followers. This was Dove's most engaging post of the year by a mile by both engagement total and rate.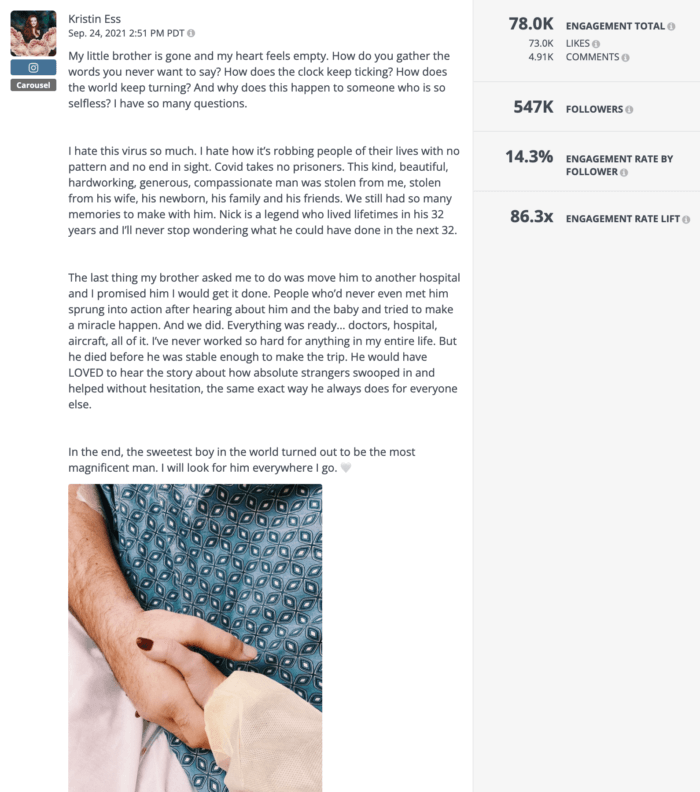 Hair brand Kristin Ess finished 68th overall but had one of the most engaging beauty Instagram posts of the year when she wrote a heartfelt post mourning her brother's death from COVID. Followers left thousands of comments expressing their condolences for Kristin's loss, leading the post to be 86x more engaging than the average beauty post. In this delicate political climate, it can feel risky for brands to post about polarizing topics like COVID, but authentically connecting with followers that get your brand's point of view can really be worth losing a few that don't.
Top Beauty Brands on Social: Instagram
We bet there isn't a beauty brand on social media that would tell you that it's possible to soar on social without a strong Instagram presence, so it's no surprise that overall top scorers like Huda Beauty, Glossier, Kylie Cosmetics, and ColourPop also swept up on Instagram. Top 10 Instagram finishers like EM Cosmetics, Goop, and even Huda Beauty lagged on other channels but still managed to grab top rank, reminding us that it really matters where and how brands direct their social media time and budget.
| Rank | Company | Total Engagement | Engagement Rate |
| --- | --- | --- | --- |
| 1 | Huda Beauty | 10,410,787 | 2.85% |
| 2 | Glossier | 11,450,614 | 0.91% |
| 3 | Kylie Cosmetics | 64,328,031 | 0.44% |
| 4 | ColourPop | 67,296,195 | 0.32% |
| 5 | OPI | 8,393,439 | 0.39% |
| 6 | Fenty Beauty | 45,020,354 | 0.27% |
| 7 | Etude House | 2,303,291 | 0.61% |
| 7 | Em-Cosmetics | 1,591,856 | 0.90% |
| 9 | goop | 5,350,715 | 0.34% |
| 10 | KKW Beauty | 6,401,674 | 0.32% |
| 10 | Beautycounter | 1,549,377 | 0.61% |
Beauty brands saw a median engagement rate of 0.34% on Instagram last year and posted just under 9x per week, which is more frequent by a mile than on any other channel. Giveaways and new releases performed well for beauty brands on Instagram, as did heartfelt posts from brands and founders that addressed big emotions and issues facing consumers (and humans) in this challenging time in history.
Featured brand: Huda Beauty
Huda Beauty has come out on top for beauty brands on Instagram three years running thanks to the brand's beloved founder Huda Kattan and her uber-personal posts. The brand sits at the front of the pack with 65.5K engagements per post and an average engagement rate of 2.85%, which is more than 8x the average beauty brand. Huda doesn't have the most followers on Instagram of the beauty brands we studied, but having a smaller engaged following is infinitely more productive than having millions of unengaged followers.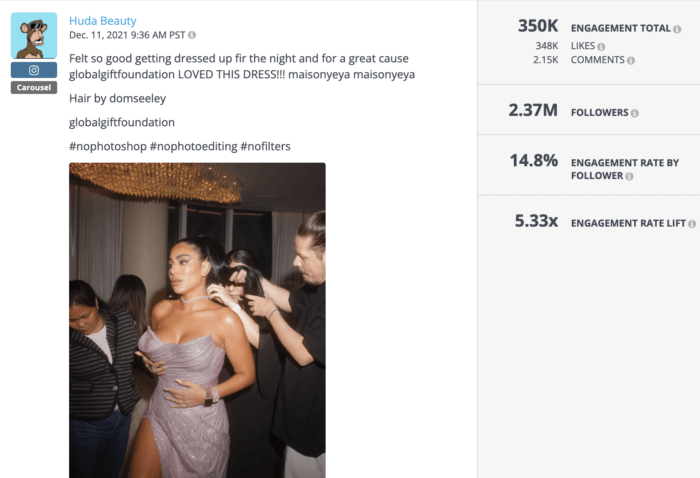 Many of Huda's top Instagram posts emphasize Huda the founder instead of Huda the brand, and this top-performing carousel post is no exception. Featuring Huda glamming it up for a gala and the founder's signature commitment to showing her life unfiltered, the post grabbed an epic 14.8% engagement rate and more than 350,000 engagements. Savvy marketers know that carousel posts are one of the most effective ways to bump up engagement on Instagram because Instagram often re-serves the post to users who didn't interact with it the first time the post crossed their feed.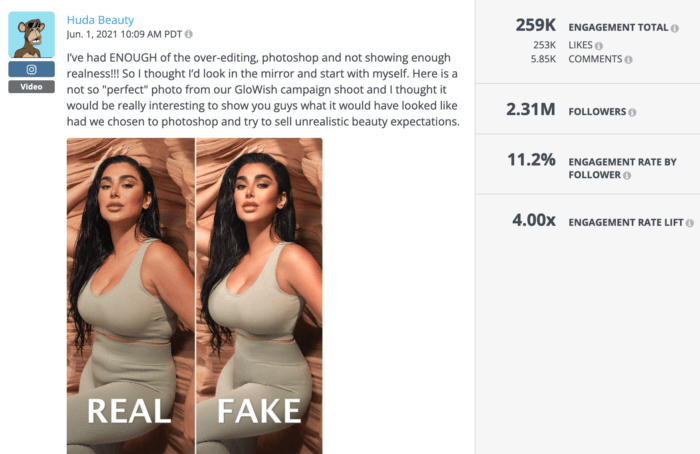 In another post that has nothing to do with makeup but still serves to strengthen the brand on social, Huda posted a video exposing how impactful and harmful Photoshopping can be. Fans jumped into the comments to praise the celeb for showing her real self on social media to the tune of 259K engagements and an 11.2% engagement rate. The post clearly resonated with fans and helped Huda build trust with current and potential customers even though it's not directly selling makeup.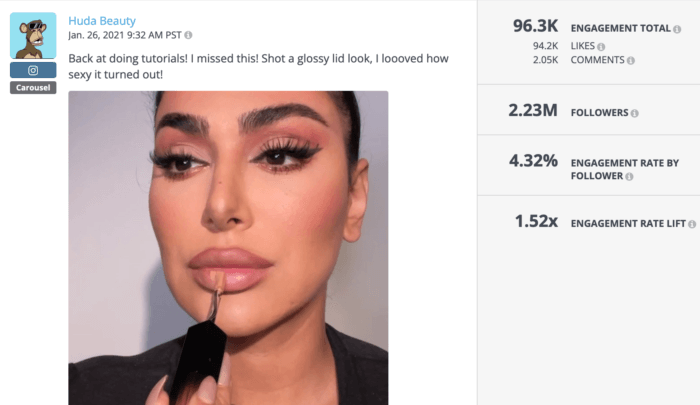 Huda Beauty's top Instagram posts are dominated by dispatches from the famous founder and the ins and outs of her life, and you have to scroll for a few miles to find a post that actually deals with makeup. This carousel features photos and videos of Huda herself using oodles of Huda Beauty products to create a gorgeous makeup look. Even though Instagram is growing increasingly shoppable, Huda Beauty kept the emphasis on seeing the makeup in action rather than selling products, and fans ate it up to the tune of a 4.32% engagement rate.
Top Beauty Brands on Social: TikTok
We're so excited to introduce TikTok rankings for beauty social media this year, and these brands did not disappoint. The TikTok top 10 looks like a remix of the overall top 10, with most brands like ColourPop, NYX Cosmetics, Huda Beauty, and Fenty Beauty performing well across the board and on TikTok. Kaja, Benefit Cosmetics, and Blissworld were the only top-ranked beauty brands on TikTok that didn't necessarily dominate on other channels as well.
| Rank | Company | Total Engagement | Engagement Rate by View |
| --- | --- | --- | --- |
| 1 | ColourPop | 7,296,489 | 10.36% |
| 2 | NYX Cosmetics | 4,811,705 | 2.62% |
| 3 | Huda Beauty | 112,278,293 | 6.23% |
| 4 | Kaja | 4,490,713 | 11.13% |
| 5 | Too Faced | 4,633,418 | 1.54% |
| 6 | Glossier | 2,621,940 | 16.02% |
| 7 | Fenty Beauty | 4,557,349 | 12.99% |
| 8 | Kylie Cosmetics | 3,508,427 | 14.94% |
| 9 | Benefit | 3,179,884 | 3.81% |
| 10 | Blissworld | 1,538,192 | 5.60% |
No surprise here that TikTok engagement rates are miles ahead of other channels. It is the most downloaded social media app of the last few years, after all. But social media marketers should take note that beauty brands averaging a 4.39% engagement rate on TikTok this year is actually a measure of engagements per view, not engagements per follower, which we usually use for other channels. Why the swap?
For most other social media channels, followers are consuming most of your content, since Facebook's, Instagram's, and Twitter's algorithms seem to put a large emphasis on serving your posts and tweets to those who have "opted in" by giving your brand a follow. But TikTok's #ForYouPage changes the game by serving your brand's content to people it thinks will engage with it regardless of whether or not they follow your brand or have ever even heard of it. Because of TikTok's emphasis on the FYP and new content distribution strategy, non-follower views become much more relevant and valuable than on other channels. As such, we're using views in the denominator of our engagement rate calculation to make sure brands are getting credit for those non-follower eyeballs.
Even though TikTok is showing major engagement rates for beauty brands, these brands are averaging just under two videos per week, reminding us that it can be a lot of work to grab those killer engagement rates. TikTok isn't right for every beauty brand, but let's look at a brand that's sitting at the head of the pack.
Featured brand: NYX Cosmetics
NYX Cosmetics was a force to be reckoned with on TikTok this year with 184 million views and more than 4.82 million engagements, not to mention the fourth-highest posting frequency on this channel of any beauty brand we studied. These impressive numbers helped NYX grab second place on TikTok and seventh place overall on social. Fans especially loved seeing NYX's product line in action, especially when videos featured influencers (or dogs!).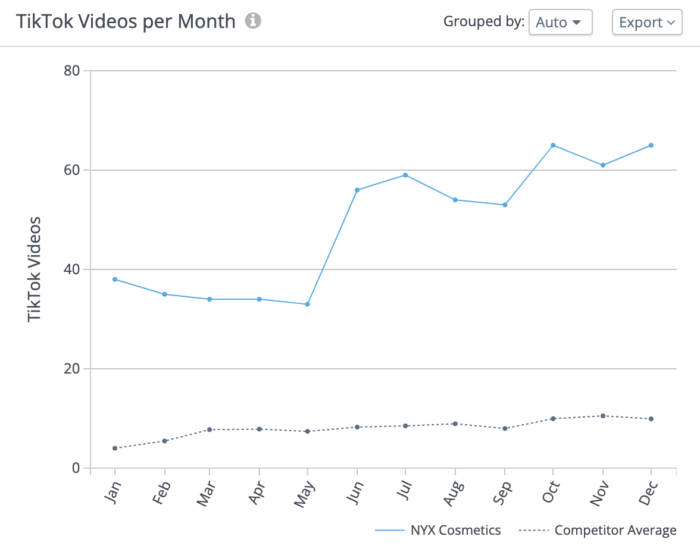 It's worth noting that NYX's stellar TikTok engagement results are a result of the brand investing in this channel throughout 2021, nearly doubling the number of videos per month in the latter half of the year. NYX's engagement totals follow a very similar pattern, which makes good sense: the more frequently you post on social media, the more chances you have to grab a like, comment, or share from someone who sees your video.
This TikTok video grabbed an eye-popping 12.7 million views and more than 357,000 engagements with nothing more than a speedy series of product shots. TikTok can feel intimidating to brands that are just getting started in the world of portrait-oriented videos, but NYX reminds us all that sometimes sticking with what you know–in their case, great makeup–can really pay off. Influencers or the latest dance trend can help your brand grow on TikTok, but these strategies aren't a necessity for every brand as long as you're willing to experiment to find what works for you.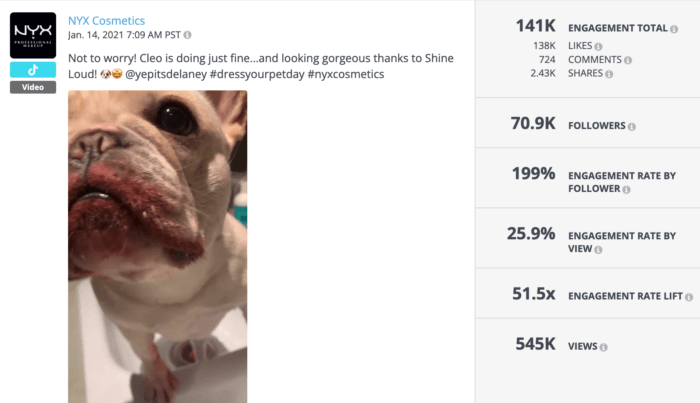 Every social media manager knows that sometimes, dogs are the answer. NYX reposted this video from a NYX customer whose dog got into her makeup and helped prove just how long-lasting one of the brand's lip shades really is, and fans ate it up to the tune of more than 545,000 views and 141,000 engagements. UGC is a tried and true strategy for brands on social media for a reason: fans love seeing products and services in real situations, and brands get a little break from having to professionally record and edit videos. Plus, someone at NYX would've definitely gotten busted for animal testing if they'd tried to create this in-house 😉.
Top Beauty Brands on Social: Facebook
Social media giants like KKW Beauty, Fenty Beauty, and Kylie Cosmetics aren't surprising to see in the Facebook top 10 this year, but we love to see Mary Kay rise in the ranks from last year and smaller brand Juvia's Place grab the top spot. It's also worth noting that with a few exceptions, many of the top brands on Facebook struggled on other channels, reminding us that success on social isn't one-size-fits-all.
| Rank | Company | Total Engagement | Engagement Rate |
| --- | --- | --- | --- |
| 1 | Juvia's Place | 599,205 | 0.27% |
| 2 | Mary Kay | 1,526,393 | 0.12% |
| 3 | KKW Beauty | 352,833 | 0.22% |
| 4 | ColourPop | 2,517,065 | 0.08% |
| 5 | Kylie Cosmetics | 1,637,681 | 0.08% |
| 6 | Fenty Beauty | 774,610 | 0.07% |
| 7 | Beautycounter | 164,496 | 0.12% |
| 8 | Dior Beauty | 5,843,610 | 0.05% |
| 9 | Pixi Beauty | 162,104 | 0.12% |
| 10 | Tarte Cosmetics | 1,024,612 | 0.06% |
Just like last year, beauty brands in this report saw median Facebook engagement rates of around 0.04%, which is the lowest median engagement rate for any channel we studied this year. Average Facebook posting for beauty brands actually increased a little to just under 6 posts per week.
Giveaways topped the charts for many beauty brands on Facebook again this year, as did holiday-themed posting like #InternationalWomensDay and #MothersDay. New releases and self care-themed posts were often sure bets for beauty brands on Facebook as well.
Featured brand: Kylie Cosmetics
Kylie Jenner's makeup brand, Kylie Cosmetics, always puts on a strong show on social, grabbing the overall silver medal with top 10 finishes across all four channels we studied and rocking fifth on Facebook. What makes this beauty brand stand out? The brand's famous founder was catnip to Kylie's Facebook followers, who ate up personal posts and glamour shots from Kylie herself.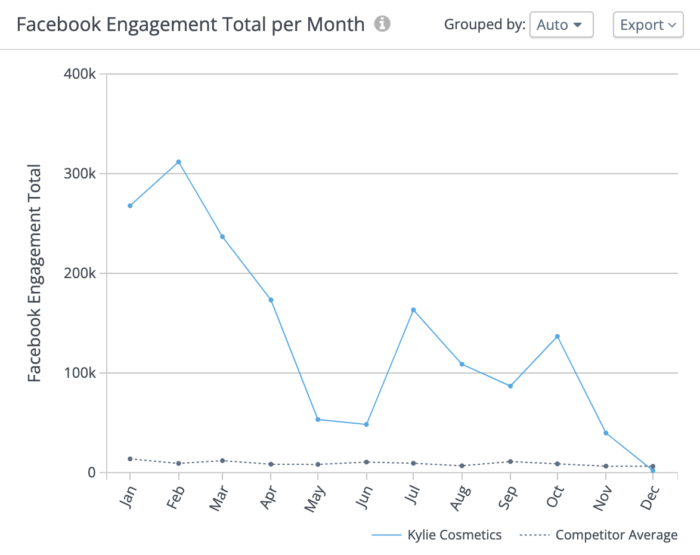 Kylie Cosmetics had an interesting year on Facebook, with the majority of its impressive 1.63 million engagements coming in the first half of 2021 and a dramatic taper in the latter half of the year. Social media algorithms are famously secretive, so it's hard to say for sure what happened to explain the brand's big engagement fall off when you can see in the gray competitive average line that the beauty industry as a whole had a flatter year for Facebook engagement.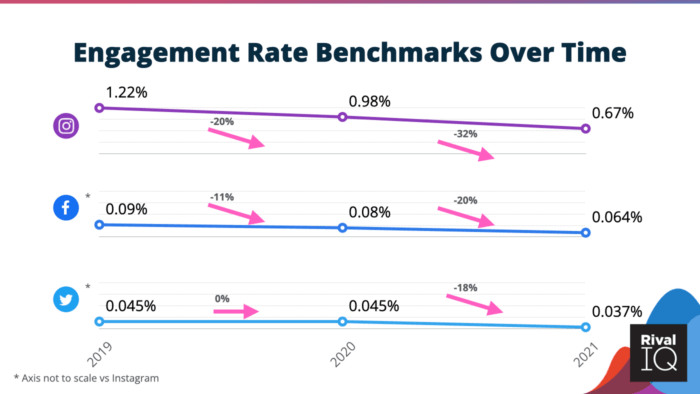 As we saw in our 9 Key Takeaways from the 2021 Social Media Industry Benchmark Report webinar, social media engagement has been trending down across the board every year we've looked at it. By that count, it's not too surprising that Kylie Cosmetics saw better engagement rates and totals in the first half of 2021 than in the second. But there are a few social media strategies that can explain why the brand was particularly successful on Facebook in Q1 and Q2. Let's get into it.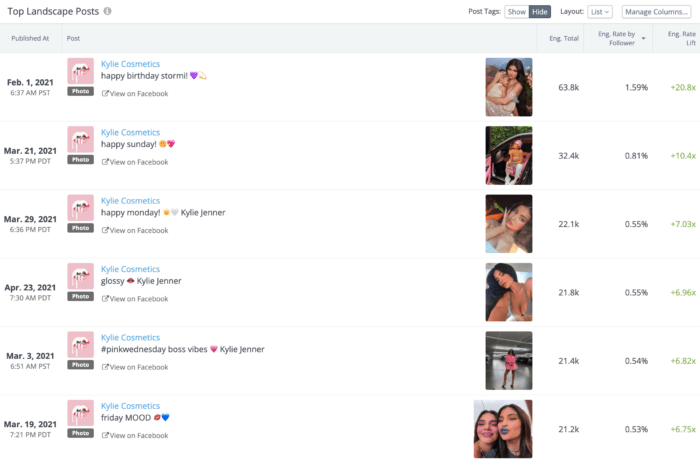 Above are Kylie's top six Facebook posts of the year by engagement rate, all posted between February and April. The green numbers on the right show the engagement rate lift, or how much better these posts performed than the average Kylie Cosmetics post. Can you spot what these posts all have in common? If you said "captions with hardly any words," you'd be right. Kylie's best posts of the year when measured by engagement rate all offered an open-ended caption alongside a snap of the famous founder without a makeup product in sight. Followers leaned in hard to these posts to wish Kylie a nice day or tell her they like her outfit. Color me nostalgic, but this genuine engagement is beautiful in its own way: followers aren't engaging with posts to win a giveaway or a coveted new release, but because they saw an opportunity to treat a celeb as an approachable friend, at least for a few minutes. As captions grew longer and posts went from general to specific, engagement rates and totals declined for the brand, suggesting the brand might want to sprinkle in more short hellos from Kylie in next year's social strategy.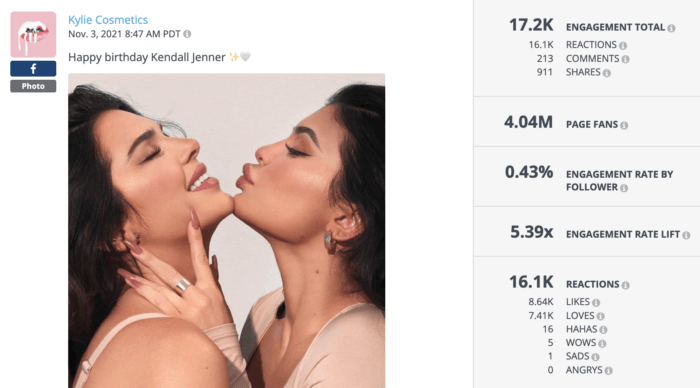 Continuing in the "is this a makeup brand or Kylie Jenner's personal Facebook Page?" vein, this post celebrating Kylie's sister Kendall's birthday grabbed over 17,000 engagements and a 0.43% engagement rate, which is about 10x the average beauty engagement rate for Facebook. Kylie kept it simple once again with just a few words in the caption and a topic that made it a no-brainer for followers to drop a comment or a reaction, which is definitely the brand's bread and butter on social.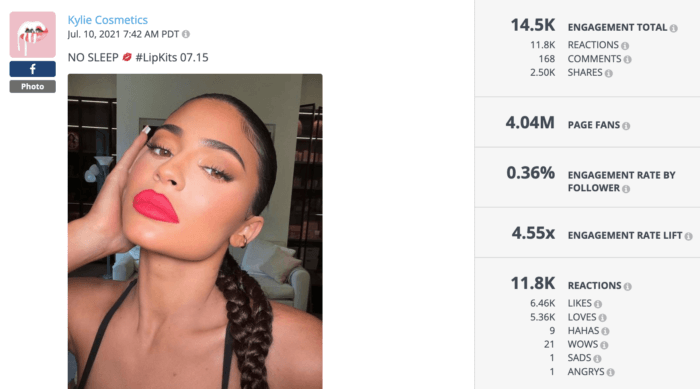 The makeup brand did, every once in a while, use Facebook to try to sell actual makeup instead of a lifestyle, as seen in this post announcing new colors and formulas for the brand's signature offering Lip Kits. An extra-short caption helped Kylie earn a killer engagement rate and more than 2,000 shares on the post as fans clamored to guess the latest shades or offer a mix of reactions to Kylie's appearance.
Top Beauty Brands on Social: Twitter
Just four of the overall top-ranking beauty brands performed notably well on Twitter this year: Fenty Beauty, ColourPop, Glossier, and Kylie Cosmetics. These brands saw strong performance across all or most channels, while brands like Etude House, LANEIGE, CeraVe, and MAC Cosmetics doubled down on the channel that was working best for their engagement and followers: Twitter.
| Rank | Company | Total Engagement | Engagement Rate |
| --- | --- | --- | --- |
| 1 | Etude House | 81,121 | 5.09% |
| 2 | LANEIGE | 38,441 | 11.07% |
| 3 | Fenty Beauty | 571,437 | 0.24% |
| 4 | ColourPop | 2,909,845 | 0.16% |
| 5 | CeraVe | 43,458 | 0.39% |
| 6 | MAC Cosmetics | 1,482,638 | 0.13% |
| 7 | Glossier | 40,678 | 0.29% |
| 8 | Kylie Cosmetics | 367,197 | 0.07% |
| 8 | KKW Beauty | 107,013 | 0.09% |
| 10 | Mary Kay | 47,152 | 0.13% |
Beauty brands saw a 0.05% median engagement rate on Twitter this year, which is a little higher than Facebook and way lower than Instagram and TikTok. Beauty brands averaged just over 3.5 tweets per week, or one about every other day, though top performers tweeted way more frequently on average.
Featured brand: MAC Cosmetics
MAC Cosmetics was edged out of the overall top 10 by just two spots but managed to finish 6th on Twitter, which was the brand's highest finish on any channel this year. MAC's 1.54 million followers ate up the brand's frequent tweets and helped net more than 1.48 million engagements this year, which is the third-highest of any beauty brand we studied. The brand's average Twitter engagement rate was 0.13%, or about 2.5x the beauty average.
Savvy social media marketers will take one look through MAC's top-performing tweets and identify a runaway tweeting trend: anything featuring MAC brand ambassador and K-pop star Lalisa Manobal brings the engagement gold every time. The above tweet was MAC's most engaging tweet of the year by rate with a whopping 4.98% engagement rate and more than 76.7K engagements. This tweet stands out by explicitly encouraging followers to drop a response to wish the star a happy birthday, which helps explain more than 4,000 replies on a beauty tweet that has almost nothing to do with makeup.
MAC has clearly found what works on Twitter: it's not an exaggeration to say all of the brand's top tweets by engagement rate mention Lisa and feature a photo of her face. Interestingly, this is a Twitter-only strategy for the brand, as top posts on other channels aren't nearly as Lisa-themed. The brand's Twitter audience is clearly primed for engagement on these posts and runs to reply to tweets about Lisa from all over the world.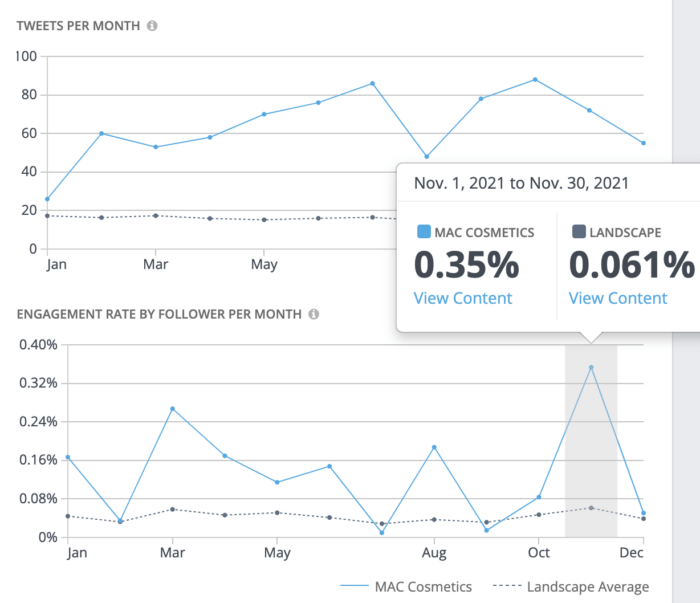 Let's take another view on "the Lisa effect" for MAC. The above graph tracks MAC's tweets per month and engagement rate per month over the course of 2021. The top graph shows brand's tweeting grew steadily over the year, while the bottom graph shows engagement peaks and valleys throughout the year with a big spike in November. We'd give you two guesses for how MAC managed this engagement bump, but you'd only need one: Lisa.
After two successful years as a brand ambassador, Lisa took on a new role at MAC and released her first makeup collection in November 2021, which helped the brand triple its 2021 engagement rate. The limited-edition release caused a flurry of excitement and reminded brands that hyping up new offerings can lead to big wins on social, especially when paired with the right influencer.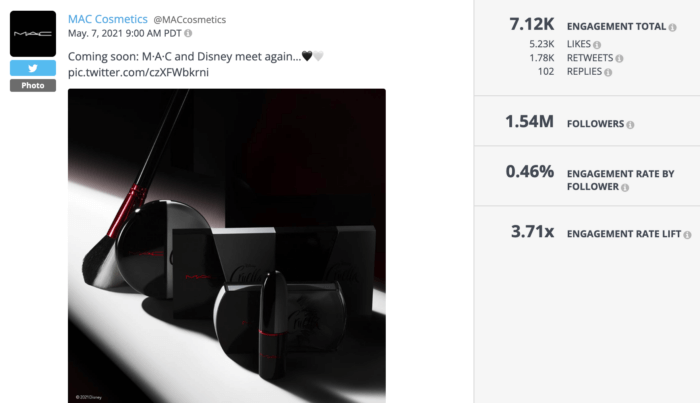 It's comically hard to find a top MAC tweet that doesn't involve Lisa, but this teaser tweet for an upcoming Disney collab grabbed a 0.46% engagement rate and more than 7K engagements for the brand. A simple, stylized photo and sparse details had followers flocking to retweet and reply with excitement and guesses for what was coming, which is always a sound strategy for makeup brands. And, of course, followers didn't miss a chance to comment asking to see Lisa in the release materials, which also gave engagement a bump.
How is My Beauty Brand Performing on Social?
See what the best beauty brands are up to on social with our Live Social Media Benchmarks featuring top posts, engagement rates, high-performing hashtags, and tons more. Pro tip: you can even add these benchmarks directly into your Rival IQ account for always-on monitoring of these top brands.
Or, go head-to-head with a free report on Facebook, Instagram, TikTok, or Twitter to see how you stack up against your top competition. Discover what makes your competitors tick with key insights and actionable advice you can start using now to come out on top.
If you're hungry for even more stats, grab a free 14-day trial with Rival IQ.
Methodology
We surveyed 100 beauty brands between January 1, 2021 and December 31, 2021 on Facebook, TikTok, Instagram, and Twitter. We included a selection of brands from Allure Magazine's 2021 Best of Beauty Awards and others from our team. Using this data and a weighted formula, we generated an overall engagement ranking for each beauty brand. The top-ranked beauty brands have high engagement rates with average or better audience size and posting volumes. We reviewed a mix of boosted and organic posts.
We define engagement as measurable interaction on social media posts, including likes, comments, favorites, retweets, shares, and reactions. Engagement rate is defined as the total engagement divided by audience size except on TikTok, where it's defined as the total engagement divided by views.
Due to Instagram API limitations, we're able to pull accurate Instagram engagement numbers only for verified and/or Instagram business accounts.
The Case for Benchmarking
Why benchmark instead of just measuring how your brand's individual performance changes over time? Because social success is relative. Benchmarking means figuring out what's working (and what isn't) for brands in your industry and measuring your success against that.
It's really important to go beyond likes and favorites because audience size matters: 200 likes is great engagement for a beauty brand with 1,000 followers but is a drop in the bucket to a brand with 100,000 followers. Engagement rate helps us take audience size into account to see who's really reaching the highest percentage of their fans and followers with their social posts, which are the beauty brands you need to beat.
Wrapping It Up
We hope this report has helped you get your beauty social media data fix, or at least given you ideas for your next Sephora trip. Congrats to all the winners who are working hard to stand out in a crowded field with dynamic and consistent social media, and a special shout-out to all the beauty brands experimenting and succeeding on TikTok. We can't wait to watch the industry continue to transform with the rise of video.
Don't forget to drop us a line on Twitter if you loved the report or want to start a methodology fight.