In this interview, we sat down with Lauren Teague, a Digital Marketing and Social Media Strategist from Convince & Convert, to discuss her thoughts on the winning Instagram marketing strategies for 2022.
Along with Rival IQ founder, Seth Bridges, the conversation kicks off with Lauren's top takeaways from the 2022 Instagram Stories Benchmark Report. With recent data indicating that Instagram posts have a higher reach rate than Stories, Lauren is clear that the best bang for your buck is going to come from creating an excellent first impression—that means creating compelling content on your news feed and supporting that content across the platform. Although considering Instagram's recent focus shift to video, she wouldn't be surprised if Reels took over the Feed soon.
Watch the full interview for more takeaways and some serious inspiration for creating your 2022 Instagram marketing strategy.
13 Instagram features to amp up your marketing strategy
During the webinar, Lauren and Seth laid out the 13 different ways brands can interact with their followers on Instagram— Feed, Stories, Highlights, Reels, Video, Guides, Shoppable posts, Stickers, Custom AR filters, link in bio, captions, hashtags, DMs, and CTAs. Whew!
That's a lot of choices and brings up the question of should you pick and choose, or do you dabble in all of them?
The answer boils down to a key takeaway of this episode: understanding your audience and giving them the right content at the right time in the right place. Speaking of takeaways, let's dive right in!
Winning Instagram strategies for 2022: Key takeaways
Lauren and Seth touched on several topics that included social media consumption patterns, creative content on Instagram, audience research, competitive benchmarking on Instagram, and optimizing the temporary nature of Stories. Here is a roundup of the top takeaways from this webinar.
Know and grow your audience on Instagram
A good Instagram marketing strategy begins with building an audience persona. Lauren shared her go-to audience mapping template to help brands identify if Instagram is actually where their target audience hangs out, unearth the questions, challenges, wants, and needs that the audience has, and how to solve those. With this blueprint in hand, marketers can start planning content geared towards helping the audience rather than selling to them.
Lauren reminds us that in this quest to increase our fanbase, it means nothing if your follower count increases but reach and engagement decrease. She recommends balancing all the posting on Instagram, Stories, and Reels with earned media, community building, and audience interaction.
Another key tactic to build an Instagram following is to invest in a strong hashtag strategy. Lauren and Seth discuss how it's better to focus on finding moderately used ones that have a high average engagement rate, so your brand's content does not get lost in the noise.
If you are looking for a powerful hashtag research tool, we highly recommend using Rival IQ's Instagram Discover tool. Our users have found it to be a game-changer in their hashtag analytics strategy on Instagram and Twitter. Try it out!
Ready to start your analysis?
Create quality Instagram content
Lauren breaks down what she does to make content that stands out in the Instagram crowd in a 3-step formula that begins with creating value-based content. A good technique to build out this type of content starts with asking, "how I can help my audience rather than how I can sell?"
The second step in Lauren's three-part process is to add an element of entertainment to the content. While "entertainment does not mean it has to be funny," it means that the audience should relate to it and feel compelled to consume your content.
In the final step, Lauren reminds us that brands must interact directly with the user by actually engaging through commenting on posts and responding to your DMs.
Learn from your competitors' Instagram marketing strategies
Seth and Lauren also talked through some other ways brands leverage content from other social media channels to create content on Instagram. Seth mentioned an excellent example from Kum & Go, a convenience store chain that repurposes funny DMs with customers into additional Instagram content. The idea here is that not only are you making an impact in the DMs, but using that time investment to also bolster your Instagram marketing strategy. You can learn more about this strategy from Seth's recent interview on the CStoreTALKS podcast, and check out the 2022 CStoreDecisions Social Media Awards for more ideas from the top convenience store brands on social media.
There is something to be learned from the top-performing brands in every segment. At Rival IQ, we believe that competitive analysis and benchmarking should be at the heart of every social media strategy so you can keep an eye on what the best in the industry are doing, learn from them, and outperform the competition.
Use Instagram's new features to your advantage
Over the past few months, we've seen Instagram roll out several new features that could impact how your brand does business on the app. The link sticker was a welcome addition for many brands with less than 10K followers. But Lauren reminds us, it's not about slapping a link sticker on every Story, it's focusing on "what's on the other side of the sticker." Brands should ensure that the customer experience on the other side of the link is mobile optimized and directs the audience to the appropriate content with the correct CTAs.
Continuing the conversation on Stickers, Lauren also shares with us how creating branded GIFs and uploading them to GIPHY is another sneaky way to get extra eyeballs on your brand's Insta page (and Facebook, and Twitter too!). Check out our recent webinar on creative social media strategies in Higher Education. Our guest, Jonah Restuccio from Syracuse University, shares how he created a few Instagram stickers as an experiment and saw it generate millions of views. Designing branded stickers and gifs is now an essential part of Syracuse's Instagram marketing strategy as its popularity continues to soar.
E-commerce businesses got an extra boost when Instagram added the Shop button in the main navigation section of the app. You can shop from the main Feed, from a Story, and even use the button in the Stickers. Lauren loves that you never have to leave the app with Instagram Shop. This is GOLD for marketers.
Savvy marketers who've done their customer mapping homework and know the best times to post on social media in 2022, this is your chance—share content and lead the audience to your Shop for a seamless purchasing experience.
Understand Reels vs. TikTok
In the interview, Lauren reiterates a ton of differences between the audience on TikTok and Instagram. She also recommends that brands who should be on TikTok (which isn't necessarily all brands right now) should make sure they have someone who really understands TikTok creating that content. In deciding how to create on Reels and TikTok, content creators need to decide how differentiated their content should be on Reels versus TikTok. And by the way, it's important to understand that branded TikTok content often looks nothing like the brand. It's not supposed to, and that's okay!
It would have been amazing to have dug into the Reels vs. TikTok debate more, but unfortunately, we ran out of time. I think we could pull a few strings and have Lauren come back for another session. What say, peeps?
Wrapping it up
Watch the video for all of the specifics to beef up your Instagram marketing strategy, including how the pandemic has impacted social media usage patterns, ideas to repurpose your content, Lauren's favorite sports brands, and where you can catch her speaking next. Lauren has also teamed up with Rival IQ to create a 4-part Social Media Audit course, and it comes with easy-to-follow videos, downloads, and templates. Give it a whirl!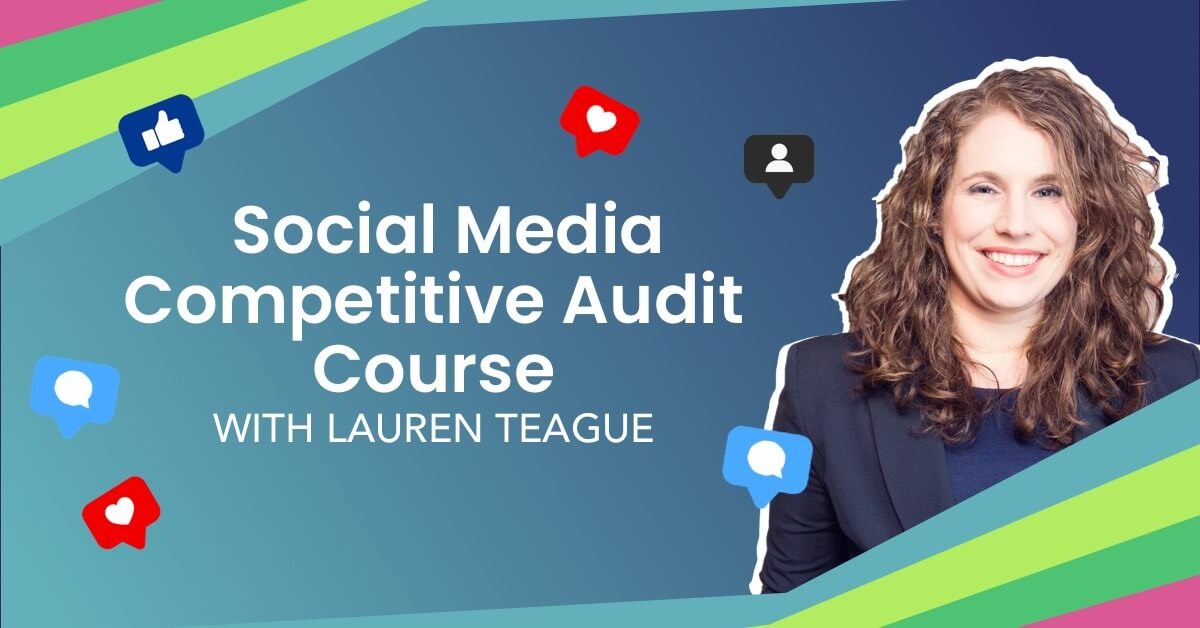 If you have more questions about Instagram strategies, social media metrics, or being a guest on the Data-Driven Marketer, reach out to us on Twitter or Instagram.
About Lauren: Lauren Teague is a marketing strategist and original social media leader. After 7 seasons leading the social media efforts of the PGA TOUR she joined the respected Convince & Convert Consulting team. Today, Lauren advises clients and audiences on customer experience, content marketing, and social media management. She's a partner of Sports PR Summit and a startup founder of a re-commerce marketplace. In 2021, Lauren partnered with Rival IQ to teach the Competitive Social Media Audit course, where she explains how to collect all your social media data in one place and compare it to your competition for valuable insights to see what works in your industry, highlights improvements to make, and shape your future social strategy.