If you want to learn an easy makeup hack or get inspiration for your skincare routine, turn to beauty brands on TikTok.
The TikTok hashtag #beauty has over 173 billion views and counting while #SkinCareTikTok has over three billion. What does this mean for beauty marketers? TikTok is a goldmine for content ideas and is the social media platform to be on if you want to reach a highly engaged audience.
To find out what the top beauty brands on TikTok are doing to stand out on the platform, we turned to our Top 100 Beauty Brands on Social Media Report to identify the top 10 brands and figure out what trends they use to grow their audiences and generate impressive engagement rates.
The Top 10 Beauty Brands on TikTok
For our Top 100 Beauty Brands on Social Media Report, we surveyed 100 beauty brands across Facebook, Instagram, Twitter, and TikTok. Here are the top 10 beauty brands on TikTok:
Beauty brands on TikTok earned a 2.94% engagement rate by view. These top-performing brands also posted about 2.7 videos per week, which is about every other day.
Want to know what these industry-leading brands did to make it to the top of the pack? Let's dive into the trends we identified from the most successful videos these beauty brands shared.
5 Trends From the Top Beauty Brands on TikTok
The top skincare, body care, and makeup brands all found their stride on TikTok this year. Whether leveraging trending hashtags or showcasing familiar faces, these brands leaned into highly-engaging tactics to grow their following, reach new audiences, or improve brand awareness. Here are five trends to copy from the top-performing beauty brands on TikTok.
1. TikTok Trend: Famous founders
While not every beauty brand can claim a famous founder, some of the top-performing beauty brands on TikTok find the most success when they spotlight the celebrity behind the brand.
One example of this trend comes from Rare Beauty. Founded by Selena Gomez, the clean makeup brand's most engaging TikTok videos feature its famous founder. With 58 million followers on TikTok, Gomez has built a massive audience on the platform — so it makes sense for the beauty brand to leverage her fame and active presence to cross-promote Rare Beauty's content.

The brand's top-performing video is a six-second clip of Gomez using a trending sound to share that she's in Paris. While simple in execution, the short video had a huge impact on the brand. This single video generated nearly 10 million views and received an engagement rate by follower of 141%. It also generated an engagement rate by view of 12.3%, which is four times greater than the median rate for beauty brands on TikTok.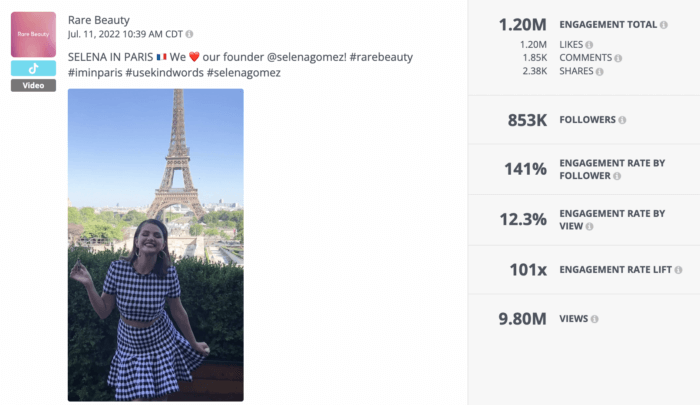 Another celebrity-led beauty brand that kills it on TikTok is Fenty Beauty. Founded by the multi-talented Rihanna, Fenty Beauty has 1.5 million followers on TikTok and has an average engagement rate by view of 9.37%, which is three times greater than the median rate for all beauty brands.
Fenty Beauty regularly shares videos of its founder using different products from the makeup line and explaining some of the inspiration or thought processes behind the development. While Rihanna's star power undoubtedly draws your attention, the videos also make the case for providing a visual demonstration of how your products can be used in real life.
The video below — a short clip of Rihanna describing her favorite lipstick shade and demonstrating how to apply it — generated over five million views and received an engagement rate by view of 12.1%, which is a little over four times greater than the median for beauty brands on TikTok.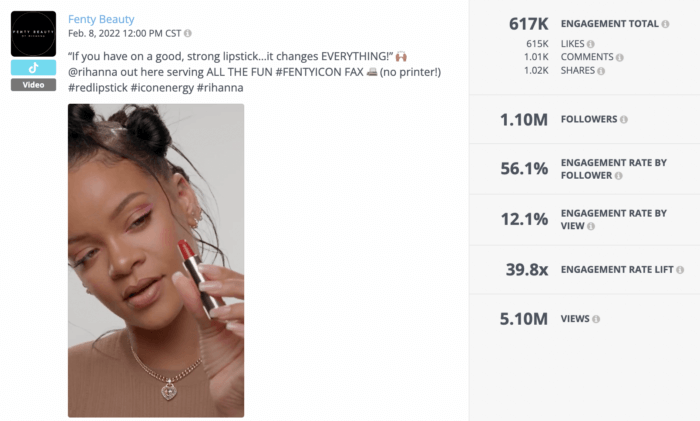 Even if your brand isn't founded by a global pop star, that doesn't mean you can't leverage star power for your content. Keep an eye out for UGC (user-generated content) opportunities, especially if you spot your product being used by a celeb, a well-known makeup artist, or an influencer.
LIVE TINTED demonstrates how to successfully do this. The clean beauty brand reshared a video from @misskrissym, a makeup influencer with 420K followers on TikTok. In the original video, the influencer shares a hack for wearing a headband to keep your hair out of your face when doing your skin or makeup routine. The bonus is the headband being used to demonstrate the hack is from LIVE TINTED.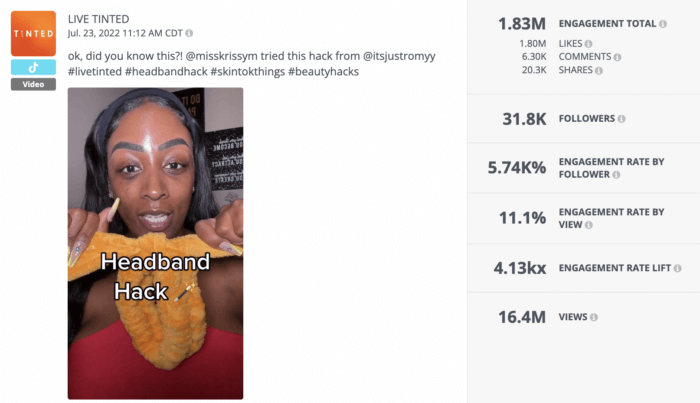 The re-shared video ended up being one of the top-performing TikTok videos out of all of the top 10 beauty brands we analyzed. Less than a minute long, the beauty hack video generated a whopping 16.4 million views, received an engagement rate by view of 11.1%, and an engagement rate by follower of 5.74%.
Not only was this a great example of social listening and monitoring, but it also shows just how powerful influencer content can be. If you don't have a celebrity to share on your feed, turn to beauty influencers to generate hype and engagement around your brand. Sometimes influencers have just as much, if not more, influence than celebs.
No matter your approach, familiar faces get recognized and engaged with on TikTok — so keep that in mind when creating videos that you want to get more engagement.
Looking for real-time insights?
Check out our
live benchmarks
for Makeup brands.
2. TikTok Trend: Interact with your followers
TikTok's informal nature leads many users and brands to be conversational with one another. In addition to being active in the comment section, beauty brands can also use replies as an opportunity to create more content.
Replying to comments with a video is an effective TikTok feature that helps you reengage your followers by showing that you're listening to their comments and looping them back into the conversation. You can do this by staying on top of frequently asked questions or eager inquiries from your followers and responding to them with a video.
For an example of this trend in action, look to Youthforia. In response to a follower who asked when a certain product will be back in stock, the clean makeup brand replied by sharing the story behind the product in question. The video generated an engagement rate by follower of 122% and an engagement rate by view of 12.5%, which is over four times higher than the median rate for beauty brands on TikTok.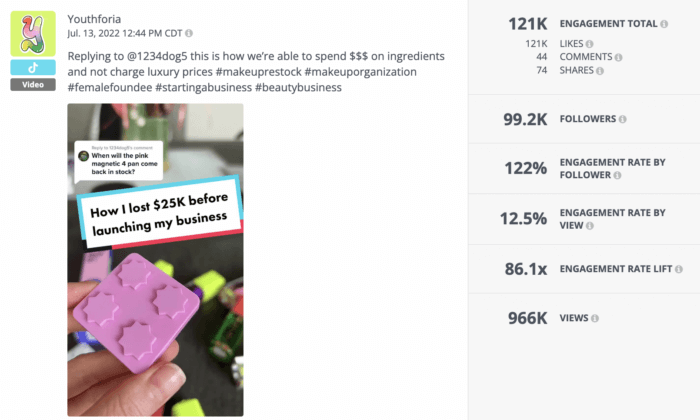 Body care brand Sol de Janeiro employed this trend in a similar way, opting to use the reply feature to announce a new product. This video received an engagement rate by view of 12.4% which is a little over four times better than the average for beauty brands on TikTok.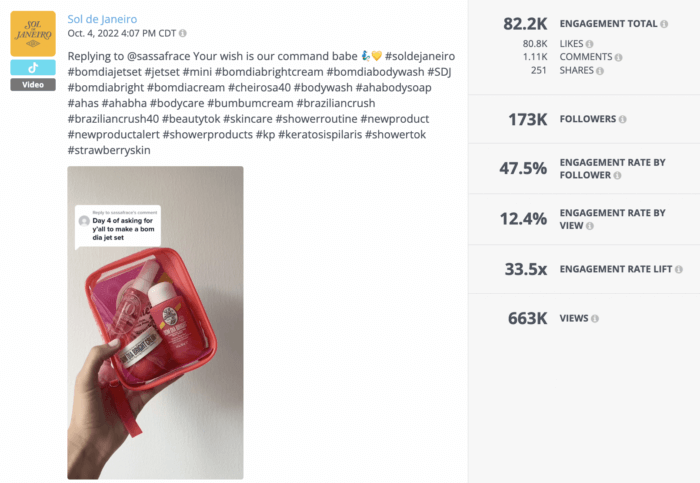 Interacting with your followers in this way helps strengthen the relationship between your brand and them. Not only does it show that you're taking their feedback and questions into consideration, but seeing their comment be the inspiration for a video makes followers feel like they're contributing to your content.
3. TikTok Trend: Giveaways are gold
Giveaways and contests continue to be a go-to social tactic for brands across all channels and industries. So it's no surprise that giveaways help drive engagement for beauty brands on TikTok.
Sol de Janeiro's impressive growth on the platform is one example of how impactful giveaways can be on TikTok. In 2022, the brand shared 11 giveaways and increased its following by over 750%. While Sol de Janeiro also relies on other trends to generate engagement such as influencer and UGC content, it's safe to say giveaways helped to significantly boost its audience size.
The brand experimented with different giveaway formats throughout the year, starting with asking users to Stitch their answers to a prompt to be entered into the giveaway. For those who have yet to try this feature, a Stitch is when you allow other users to use part of your video in their own video. Using this format is a smart way to increase the reach of your giveaway as it did for Sol de Janeiro. The video below was one of the earlier contests that the brand shared and it generated an engagement rate by view of 4.97% and gave the brand an engagement rate lift that was almost twice as high as their average post at the time.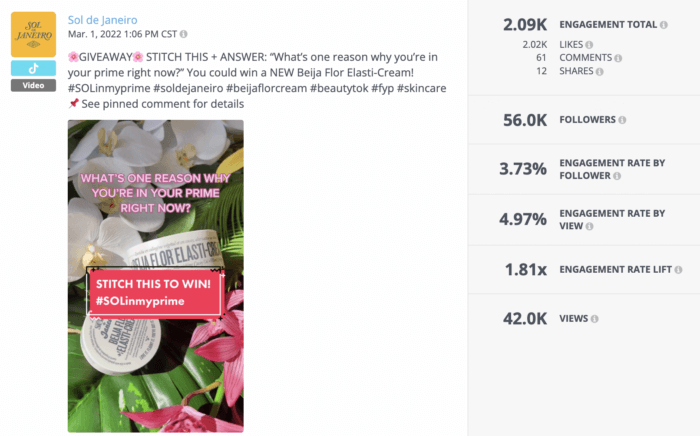 As the beauty brand continued to engage users through enticing contests, it clearly experimented with different formats to see what would generate the most engagement and follower growth on TikTok. By the end of the year, Sol de Janeiro had grown its audience to over 300K followers and shared even bigger giveaways like the one below, a partnership with another major brand, Pura Vida. This video generated a 22.3% engagement rate by view which is seven times higher than the average engagement rate for beauty brands on TikTok.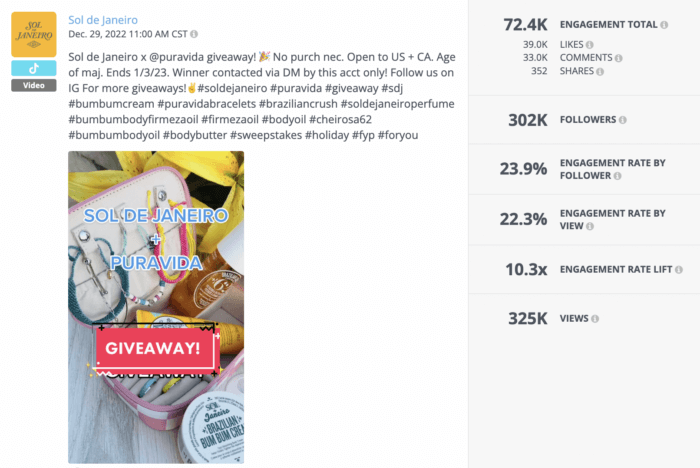 Similar to other channels, giveaways and contests are an effective way to generate a boost in engagement and followers on TikTok. The key to a successful giveaway on the platform is to experiment with the different features TikTok has to offer. Use the reply feature, a trending sound, or even a Stitch to see what captures users' attention the most. You can also partner up with a brand that aligns with your own to reach a new audience and increase your brand awareness on TikTok, especially if you're just getting started.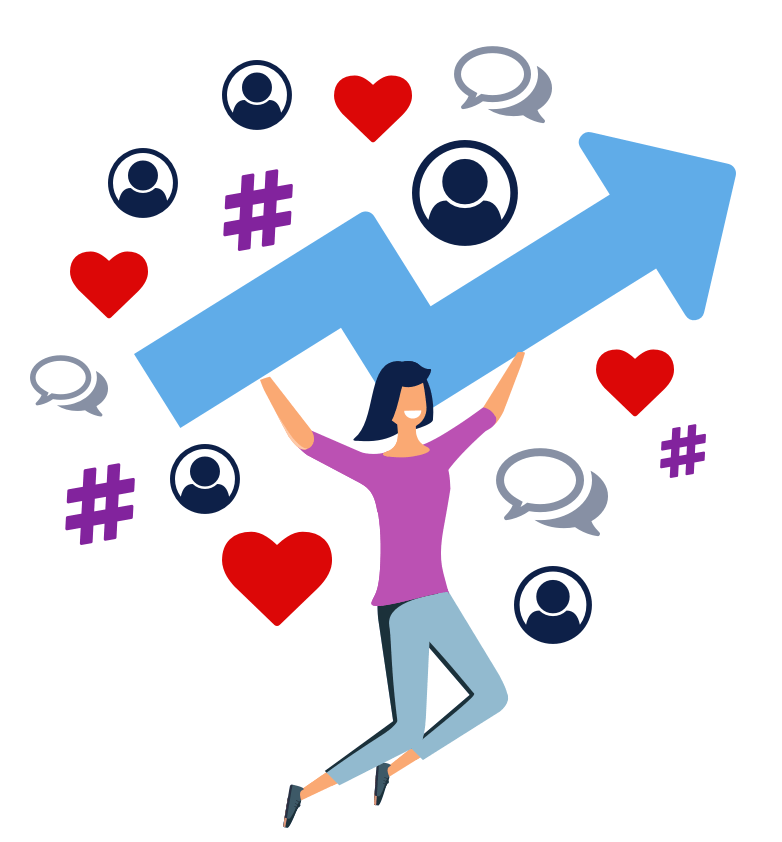 Start analyzing your beauty brand's social with a free Rival IQ trial.
Get my free trial
4. TikTok Trend: Increasing discoverability through hashtags
The beauty brands seeing the most success on TikTok have another thing in common: they take advantage of hashtags. Hashtags are a powerful discovery tool on TikTok. Not only do they help make your videos more searchable, but TikTok also organizes videos within specific hashtags and suggests them to users interested in the topic.
Beauty and skincare are popular topics on TikTok. From skincare routines to makeup tips and tricks, these topics are goldmines for beauty brands that want to reach engaged audiences. As we can see in this hashtag analysis for beauty brands on TikTok, hashtags like #makeup, #skincare, and #spf are popular. But the hashtag that generates the highest engagement rate by follower for the top 10 beauty brands on TikTok is #lipgloss at a rate of 8.33%.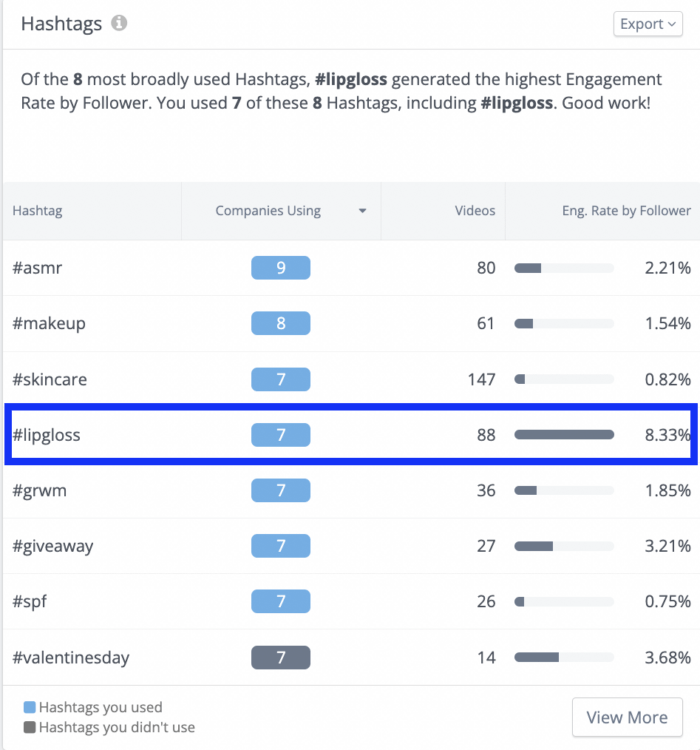 If you're a social marketer for a beauty brand, it's key to be aware of engaging hashtags that your competitors are using. By doing so, you can tap into the same conversations whenever relevant.
For example, beauty brand LANEIGE leverages the powerful #lipgloss hashtag in the video below which spotlights one of their lip balms. This video generated an engagement rate by follower of 83.3% and an engagement rate by view of 12.8%, which is more than four times greater than the median rate for beauty brands. The takeaway? Stay tapped into what types of topics are trending on TikTok, so you can use that momentum to spotlight relevant products from your makeup or skincare line.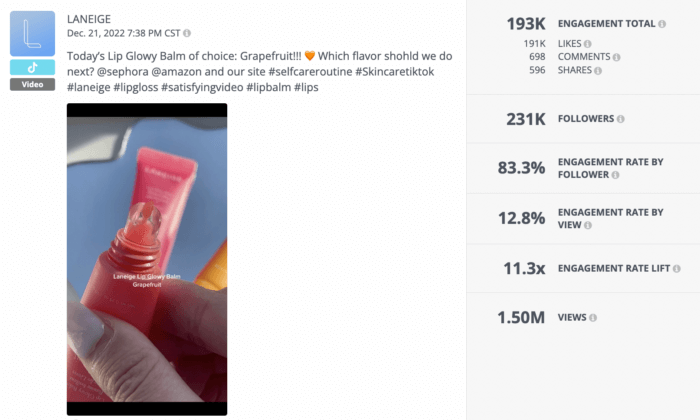 Another stand-out beauty brand that makes the case for using hashtags on TikTok is LIVE TINTED. The clean beauty brand uses hashtags in all of its TikTok videos, tapping into niche audiences and conversations such as #beautyhacks, which has over 27 billion views on TikTok, and #skintokthings, which has over 101 million views. One of the greatest benefits of using widely viewed hashtags like these is that they continue to reach new users again and again.
If you take a look at the search results for #skintokthings, you can see that LIVE TINTED's top-performing post that we mentioned earlier is the first video users see. This means that this video will continue to generate reach and engagement for the brand as users continue to explore this hashtag — which is a major win for LIVE TINTED.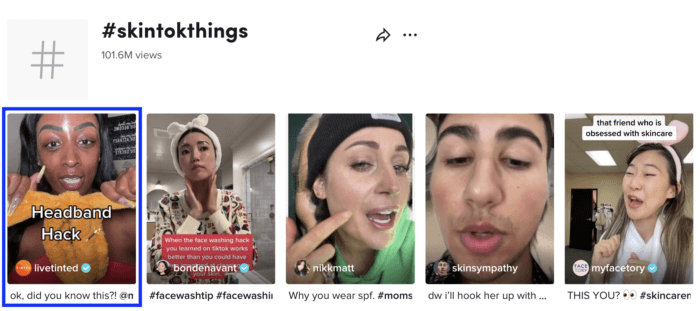 Whether you participate in the momentum of a trending hashtag or leverage the power of an evergreen topic, TikTok hashtags are essential for increasing your beauty brand's reach and discoverability.
Looking for real-time insights?
Check out our
live benchmarks
for Skincare brands.
5. TikTok Trend: Taking viewers behind the scenes
The hashtag #behindthescenes has nearly 60 billion views and counting, so it's safe to say that TikTok users love to get an insider's perspective on things. As a beauty brand, giving your followers an inside look is a great way to participate in that trend.
You can do this by sharing short clips of photoshoots, moments with your founder, or videos of product development — anything that shows a less-produced look at the people or products behind the brand.
Take this video from LANEIGE as an example. The beauty brand's lip masks are a fan favorite, so it makes sense to generate even more buzz around the beloved product by giving viewers a glimpse at how the photos of the masks are created. This behind-the-scenes video received an impressive engagement rate by follower of 495%, generated over five million views, and received an engagement rate by view of 11.2%.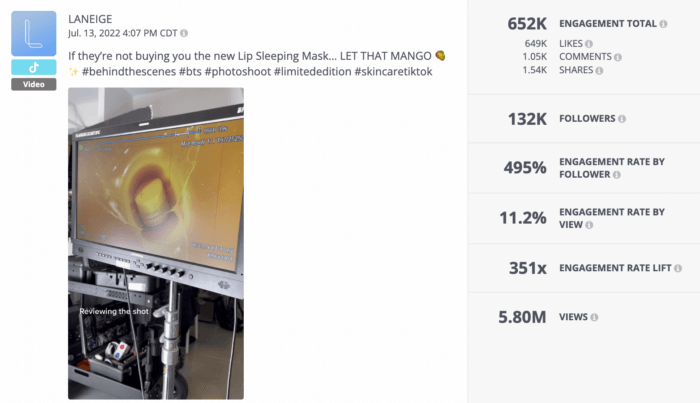 TikTok's informal nature means that even casual moments can be turned into #bts content with less effort and resources than a longer piece of content would — but with just as much, if not more, engagement. To use this trend, pay attention to what your followers are interested in learning more about, capture clips that give them a glimpse behind the scenes, add a few hashtags, and let your video do the rest.
Wrapping it Up
From fun product shots to how-to videos — and even the occasional celebrity appearance — beauty brands on TikTok have a lot to work with. If you want to improve your brand's engagement and reach on the platform, take advantage of the visual nature of your beauty products, stay tapped into what your followers want to see, and don't forget to add hashtags. TikTok is a fun place to be, so if you're having fun with your content creation, then that will come across to your followers. Just remember to analyze how your videos are performing and adjust your strategy until you're on the right track.