Around here, we're big fans of competition. Sounds a bit counterintuitive, right? But your competition may actually be holding the keys to a more successful social media strategy.
When you set social media alerts on your competitors, you're unlocking crucial insights that may help you get ahead in your industry. These alerts can help boost your strategy and budget. So while you may not be on your competitor's team, they may just help you without them even knowing it.
How does setting alerts on your competitors' social media help you? First, let's unpack what setting social media alerts means for you and your brand.
What Are Social Media Alerts?
Social media alerts are notifications sent to you regarding your or your competitors' social presence. You can use these alerts in a variety of ways. If you were to set up alerts on your own social media channels, you might want the notifications to let you know when your following is growing, when a post is receiving attention, or when you receive mentions from online users.
These notifications help you to stay on top of how you're performing on your social media accounts. But social media alerts aren't just for tracking your own social media presence. Let's break down why you should set up alerts on your competition.
Why You Should Use Social Media Alerts
1. Keep an eye on your competition.
When you set up social media alerts on your competitors, you get real-time updates on your market. Receiving social media alerts can help you stay on top of what's happening in your industry and see where your competitors stand in capturing your audience's attention.
Through Rival IQ, you can set alerts to see when your competitors are seeing changes in their social media presence. These changes can give you insight into their overall strategies. Say Caribou Coffee was one of your biggest competitors. By setting up alerts on their social media presence, you'd keep track of their activity, like when they change their Instagram bio.

A change in an Instagram bio can signal a shift in marketing strategy. In this case, Caribou's changing of their bio link alerts you to a new partnership between Caribou and Bulletproof. Staying updated on your competitors' marketing strategy, such as the development of a new collaboration, can help you remain at the top of your industry. You always want to know what your competitors are up to so you can stay two steps ahead. If Caribou is promoting a partnership, you may want to counter with new news of your own to keep the attention on your brand.
2. Learn from what's working.
Your competitors may not be on your team, but that doesn't mean they can't help you. By setting up alerts on their social media accounts, you can follow along to see what's working for them and what isn't. These alerts give you invaluable industry insight. You can see how their posts resonate with online users interested in your market. From there, you can take the learnings from their strategy and implement them into your own.
If your competitor were Dutch Bros, you would want to set up alerts on them to see how their strategy is working. You'll receive alerts for high spikes in their engagement, as well as alerts for specific posts that garnered a lot of attention. These breakout posts can tell you what types of posts are doing well on certain social media platforms and within your industry.

The above breakout post was a video showcasing one of the brand's top drinks of 2022, the Flap Jack Mocha. As a competitor, you might try to gather learnings about why this post succeeded. You might consider implementing more videos into your social media marketing strategy to test if videos are more successful than still images. Or you might want to start creating more posts showcasing specific favorite drinks at your own store. The learnings you take from one breakout post can help you optimize your own greater social media marketing strategy.
3. Advocate for your own budget.
For many small businesses, the CEO is also the social media manager and therefore sees firsthand when there's a need to increase the social media marketing budget. But for mid-tier or enterprise businesses, the social media manager and CEO are two distinct roles.
Depending on the company's size, the social media manager may have to report to multiple executives. They may also have people reporting to them. With this level of disconnect, the social media manager must keep higher-ups up to date on their budget needs. If they are not transparent regarding their social media strategy with their higher-ups, they may not see an increase in the resources needed to succeed.
Perhaps you have a makeup company you're building and want to keep track of some large makeup brand competitors, like NYX Cosmetics. You could set up alerts to see when NYX is boosting their posts.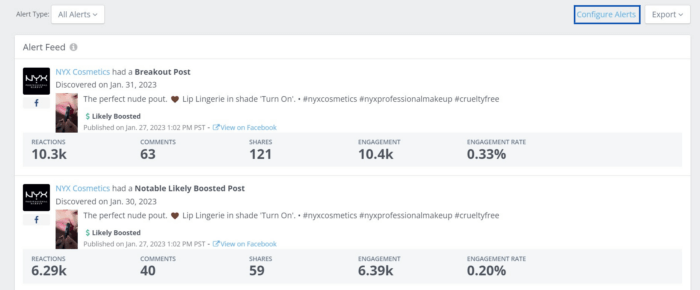 Throughout January 2023, the company boosted three videos on Facebook. Of those three, two received an engagement rate of over 0.15%, resulting in over 5.8K engagements for each post. According to our 2023 Social Media Industry Benchmark Report, health and beauty brands scored a median engagement rate of 0.028% on Facebook. These boosted posts garnered an increase of over 436% from the median rate.
If you wanted to try to prove to your executives that you needed an increase in budget for your social media strategy, you might want to point to those posts as proof that running boosted posts is needed in your overall strategy and, therefore, budget.
Using Rival IQ, you could also use the competitive analysis tool to see how NYX typically performs on Facebook to demonstrate how using boosted posts helped them gain much higher engagement. In January, NYX received an overall engagement rate of 0.03%, over 80% less than the engagement rate for these two boosted posts.
How Do You Set Social Media Alerts?
There are several social listening tools on the market that can help you keep track of your competitors. You can easily set up free alerts on Google. However, Google Alerts cannot be used for social media. When you plug in a keyword on Google Alerts, you'll receive notifications from Google when that keyword is mentioned on the web, not on social media.
Talkwalker allows you to set up alerts for free to keep an eye on your and your competitors' mentions in tweets, blogs, forums, and articles. While Critical Mention does not offer a free alert system, you can use their packages to set up keyword-specific alerts for TV, radio, articles, podcasts, and social media. Another option is Mention, which has a free trial and will let you set up alerts for social media and the web in general.
As a social listening tool and a social analytics tool, you can use Rival IQ to set up alerts and keep track of your and your competitors' mentions. But Rival IQ goes beyond mentions. We'll tell you about changes to your competitors' bios, their engagement rate jumps, their breakout posts, their boosted posts, their follower growth spikes, and even when they make language changes to their website.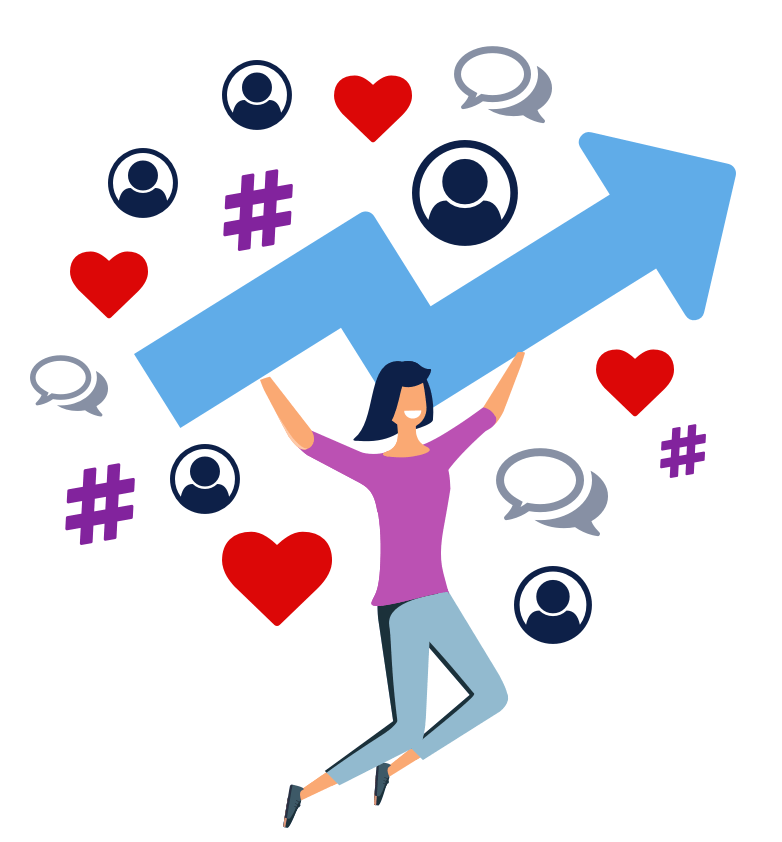 How to configure your alerts on Rival IQ
1. Choose your dashboard and press "Alerts" on the bottom left column.
Once you select your landscape, you'll see "Alerts" in the left-hand column, marked by a bell symbol and outlined here in blue.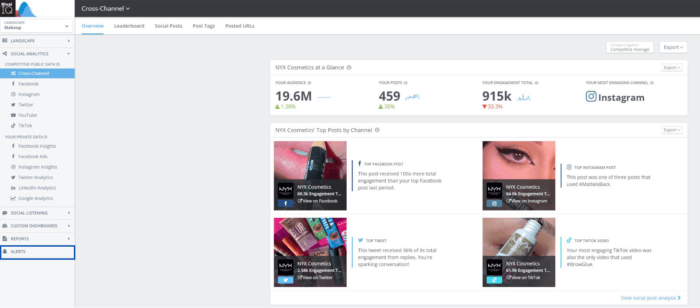 2. Select "Configure Alerts."
On the Alerts page, you'll see "Configure Alerts" in the right-hand corner, outlined here in blue.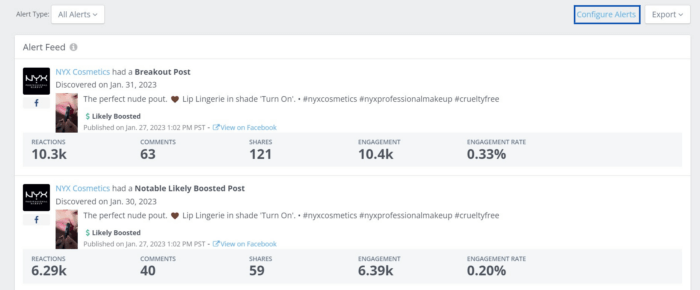 3. Pick which alerts you want to set up.
On this page, you can select which kinds of alerts you'd like to set up.  If you're connected to Google Analytics, you can also receive alerts on traffic and session data from your website.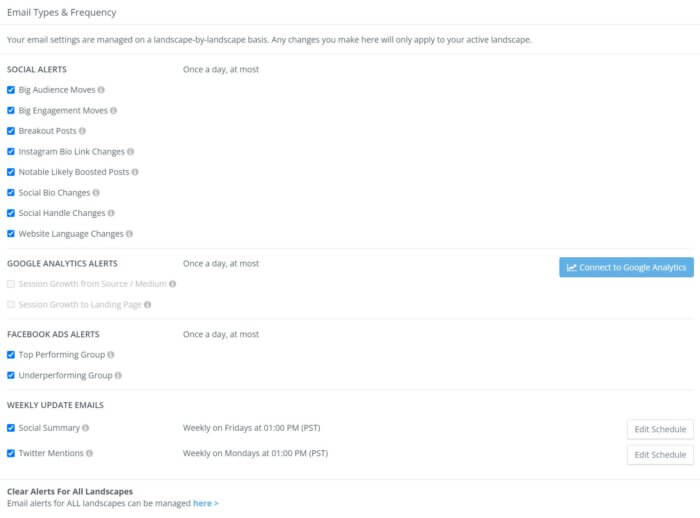 4. Pick the email you'd like to send the notifications to.
At the bottom of the page, you'll find a section labeled "Email Recipients." Write in any email addresses you'd like your social media alerts sent to. If you have multiple people on your team, this option can be especially useful for keeping everyone up to date. Similarly, if you run an agency and want to keep your clients in the loop regarding their social media presence, sending these reports to them is an easy and convenient way to do it.

You can edit these sections at any time if you need to add email addresses or want to change what types and the frequency of your social media alerts.
Ready to Set Up Your Alerts?
When you set up social media alerts, you're putting yourself steps ahead of your competition. Social media alerts come in all shapes and forms, from tracking competitor mentions to following along with their follower growth. These alerts can help you keep an eye on their strategies, which you can take learnings from to help your own growth. You can also use boosted post alerts to help you grow your budget.
While some free tools on the market, like Google Alerts and Talkwalker, help you set up alerts, they aren't fully comprehensive. You may miss out on some crucial information if you're relying on these tools that won't alert you to changes on all social media platforms. But social media monitoring tools like Rival IQ can help paint a more complete picture of your competitors' online presence. Check out our alerts page to learn more about how you can set up comprehensive alerts for your competitors.