They say beauty is in the eye of the beholder, and there sure are a lot of beauty brands to behold on Instagram. But how are these brands stacking up?
Rival IQ created the Top 100 Beauty Brands on Social Media Report to compare how the biggest and best beauty brands are doing across the major social media platforms. We surveyed 100 beauty brands between January 1, 2022, and December 31, 2022, and used a weighted formula to generate an overall engagement ranking for each company.
We noticed some interesting trends on Instagram. K-beauty brands like LANEIGE and Kaja Beauty entered the top five after not making the top 10 last year, demonstrating an increase in the skincare-focused K-beauty style. Meanwhile, Selena Gomez's Rare Beauty climbed all the way to securing the second-highest spot on the list.
So, how did these companies make their way to the top? Let's dive into what these beauty brands do best on Instagram.
What the Top 5 Beauty Brands on Instagram Do Best
1. Huda Beauty
Best at: Inserting themselves into the online conversation
Huda Beauty clocks in at an average engagement rate of 2.08%, nearly 11x the median engagement rate of all of our top 100 beauty brands on Instagram. Of the 251 times the brand posted in 2022, 154 were Reels. Most often, these Reels comment on and duplicate popular beauty trends and hacks. Huda Beauty's founder, Huda Kattan, stars in many of these videos. She tags the original trend creators, who are often popular beauty influencers, which can help get the influencers' fans' eyes on Huda Beauty's posts.
In one such post, which landed among Huda Beauty's top 10 posts by engagement rate, Huda provides commentary on a video of another beauty creator trying a "hack" to use concealer to lift your cheekbones. Huda then tries the hack herself to show its effects on her. The video received an engagement rate of 7.05%, over 37x the median engagement rate of beauty brands on Instagram.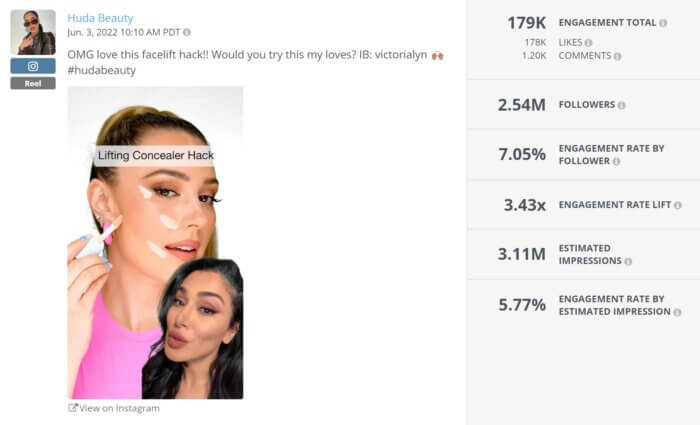 Reusing content by other creators is a helpful way of creating more content for your social media accounts. Using user-generated content (UGC) prevents Huda from having to make content from scratch, saving the brand time and money. But Huda goes a step further. Huda uses the hashtag "IB," meaning "inspired by," on these types of posts. It's generally considered good form to credit original creators, so she's building a positive reputation following this etiquette.
But she's also boosting her own engagement by ensuring that these popular creators see that she's using their content. Their fans will see that their favorite influencer has been tagged, and the influencer may decide to reshare the content Huda made with their posts to their own social media accounts.
2. Rare Beauty
Best at: Product highlights
Rare Beauty ranks as the top brand across all social media platforms in the beauty space. They're top-ranked on both Facebook and Twitter, but they're actually in second place on Instagram and TikTok. With an engagement rate of 1.03%, nearly 5.5x the median engagement rate of all top beauty brands on Instagram, Rare Beauty has indeed seen success that's quite rare in the beauty industry.
Like Huda Beauty, Rare Beauty uses their celebrity founder to build engagement. But Rare goes further and has founder Selena Gomez model her products for many of the brand's Instagram posts. Huda Beauty often focuses on Huda, the person, over Huda, the brand, with founder Huda's personality taking center stage for her brand's many Reels. Rare focuses more on the brand's products than their founder's personality.
Rare's top posts for 2022 are primarily product launches, highlights for products already out, and posts tagged #rareroutine, in which Gomez shows off an entire makeup look and tags the brand's products. Their top post by engagement rate for 2022 announced the new Positive Light Silky Touch Highlighter and Brush. This carousel post features Gomez in the first photo, wearing one of the new product's shades.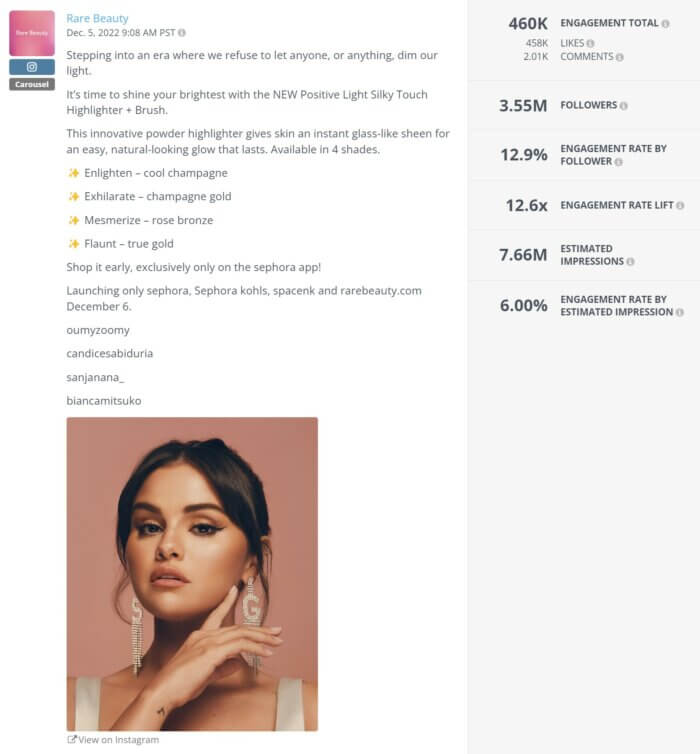 This post also demonstrates another trend Rare Beauty does well. A growing trend we saw in our beauty brands social media report was that beauty brands are working towards greater inclusivity in their industry. Customers are asking for more expansive shade ranges, and many brands are listening. Rare Beauty is one such brand.
This highlighter comes in four shades, which work for many different skin types. To highlight this highlighter, Rare Beauty asked four models to show off the product alongside Gomez. One woman had very dark skin, another moderately dark skin, the third slightly lighter dark skin, and the last fairer skin. By using models with different appearances, fans and followers can better picture how these shades might look on themselves. This post had an engagement rate of 12.9%, nearly 68x the median engagement rate for beauty brands on Instagram.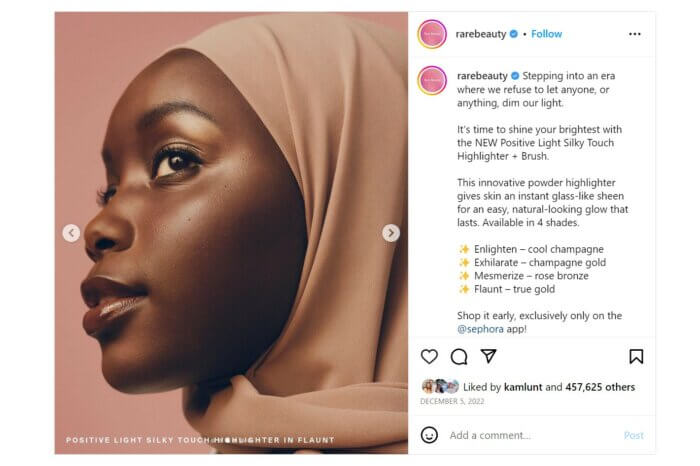 3. Glossier
Best at: Giveaways
Another trend we saw in our beauty brands report was that giveaways remain a top way to garner engagement. Though we saw that engagement on giveaways dipped some in 2022 in our 2023 Social Media Industry Benchmark Report, our beauty brands report demonstrated that engagement on this trend is still high in this space. We used our post tagging feature to tag and analyze contest posts and found that nearly all the brands analyzed had posted at least one giveaway post on Instagram in 2022.
Glossier, like Rare Beauty, does well with product highlights. They particularly do well with highlighting celebrity-made collections, like their popular Olivia Rodrigo collection. But the brand's top posts for the year were giveaways.
However, tying their product highlights to their giveaways is Glossier's specialty. Rodrigo's collection is heavily lavender-inspired. Throughout the year leading up to the launch of the collection, Glossier began dropping numerous lavender products and showcasing them on their Instagram. Though Glossier didn't launch the Rodrigo collection until October, the brand was building up hype for it dating all the way back to April.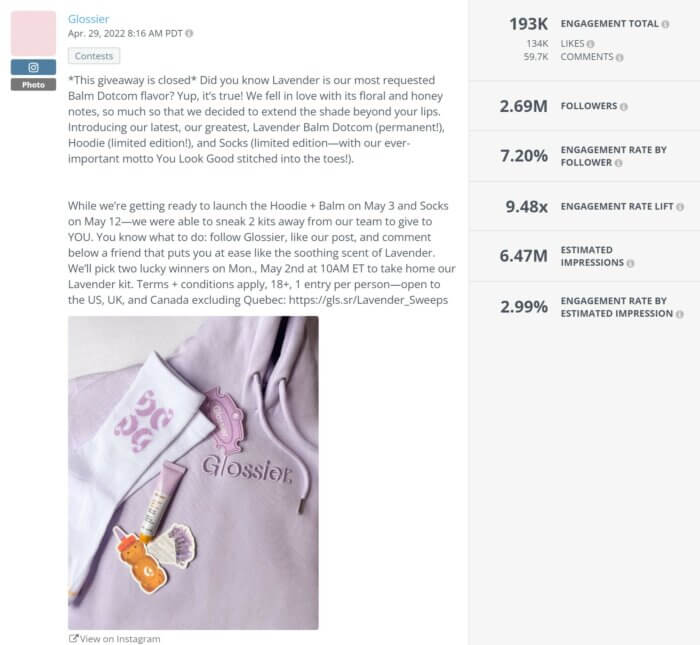 Glossier's top post of the year by engagement rate was a giveaway showcasing such lavender items. The giveaway also demonstrated that you don't necessarily need extremely high-value products for a contest to generate engagement. The post detailed that winners would get a lavender lip balm, socks, and a hoodie. It received an engagement rate of 7.2%, nearly 38x the median engagement rate of beauty brands on Instagram.
4. LANEIGE
Best at: Celebrity partnerships
Actress Syndey Sweeney had a particularly good 2022. She was nominated for her first Emmy Award — two times over. The actress received the nominations for her supporting roles in both the critically-acclaimed hits "Euphoria" and "The White Lotus." Anyone who is paying attention to her success knows that her star is very much on the rise. And LANEIGE is very clearly paying attention, as they made her their newest spokesperson.
LANEIGE received an average engagement rate of 2.28%, 12x the median engagement rate of beauty brands on Instagram. The brand's top two posts helped boost their average quite significantly. Both the top two posts by engagement rate received a rate 99x greater than LANEIGE's average. Both posts highlighted Sweeney.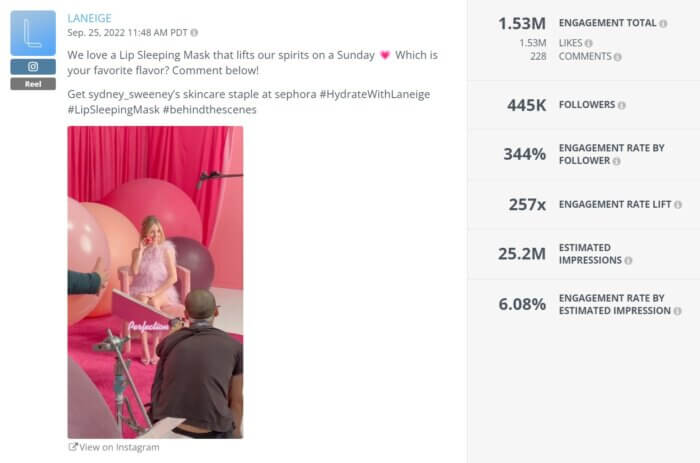 With an engagement rate of 344%, over 1,810x greater than the average engagement rate of beauty brands on Instagram, the brand's top post demonstrated how the beauty industry can find success by showing off both celebrity partnerships and product highlights. The post itself was a video of Sweeney at a photoshoot, showing off both her fun personality and the Lip Sleeping Mask. The caption highlighted where to get Sweeney's "skincare staple," seemingly saying that the actress highly endorsed the product.
The post also demonstrated another trend that we noticed in our beauty brands report. Behind-the-scenes footage is becoming a great way to boost engagement across multiple social media platforms. This fact is especially true on TikTok, where videos mentioning "behind-the-scenes" or "BTS" performed four times better than the median TikTok video for beauty brands, according to our beauty brands social media report. But we also found that behind-the-scenes content gave brands a boost on Instagram as well.
5. Kaja Beauty
Best at: Using hashtags strategically
K-beauty, meaning Korean beauty, has been on the rise for the past several years. This style of beauty puts skincare first, and the West has greatly embraced South Korea's traditional beauty practices. Both LANEIGE and the brand that ranks fifth on this list, Kaja Beauty, are K-beauty brands.
Kaja Beauty garnered an engagement rate of 2.11%, over 11x the median engagement rate of beauty brands on Instagram. What made Kaja Beauty stand out on the social media platform? It's worth considering that Kaja Beauty had a remarkably high engagement rate on posts with hashtags. The brand scored a whopping 94.9% on posts with hashtags, higher than any of the other four brands on this list.
All five of the brand's top five posts by engagement rate used hashtags. The company used both branded hashtags, like #kajabeauty, and more widely-used hashtags, like #crueltyfreemakeup and #oddlysatisfying.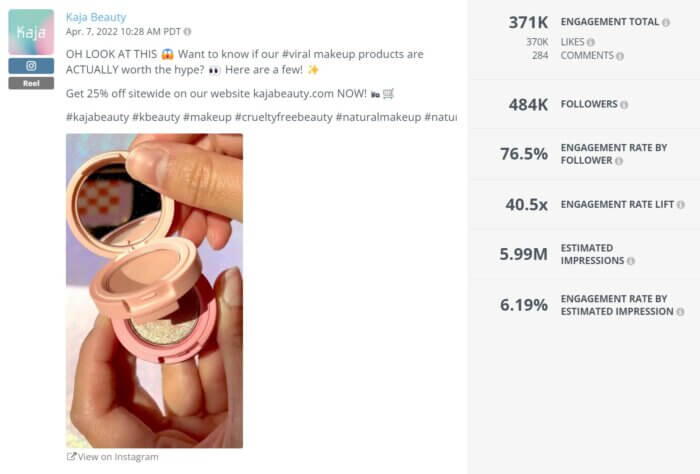 Kaja Beauty's top post by engagement rate focused on a 25% off sitewide sale. Although Instagram recommends the use of three to five hashtags, it appears that Kaja Beauty has found success using 10 hashtags in their posts. The post received an engagement rate of 76.5%, over 400x the median engagement rate for beauty brands on Instagram. It's worth noting that brands often see an engagement boost when they post about sales as well, so it's likely that the combination of the post focusing on a sale and the use of hashtags is what really made this post take off.
Wrapping It Up
What can we take away from the success of these beauty brands? It's clear that K-beauty's hold on the beauty industry isn't going anywhere. Neither is the benefit of having a celebrity founder or spokesperson. Popular standbys like using giveaways and strategic hashtags can also still have a big impact.
But newer trends are also boosting engagement for beauty brands, like the use of behind-the-scenes videos that look more candid and less polished. For a deep dive into how these trends are impacting the beauty industry, check out the Top 100 Beauty Brands on Social Media Report.