What do you want out of your social media channels? One of the first things that comes to mind is likely engagement. Social media engagement is one of the most significant ways to measure success on social networks, although you can measure engagement in many different ways. From reply rates to shares to clicks, social engagement comes in various forms.
And what makes for good engagement varies based on the platform you're using. According to our 2023 Social Media Industry Benchmark Report, the median engagement rate for all industries on Facebook is only 0.06%. On Instagram, that number increases to 0.47%, while Twitter's median engagement rate is lower at 0.035%. But TikTok's median engagement rate is a whopping 5.69%.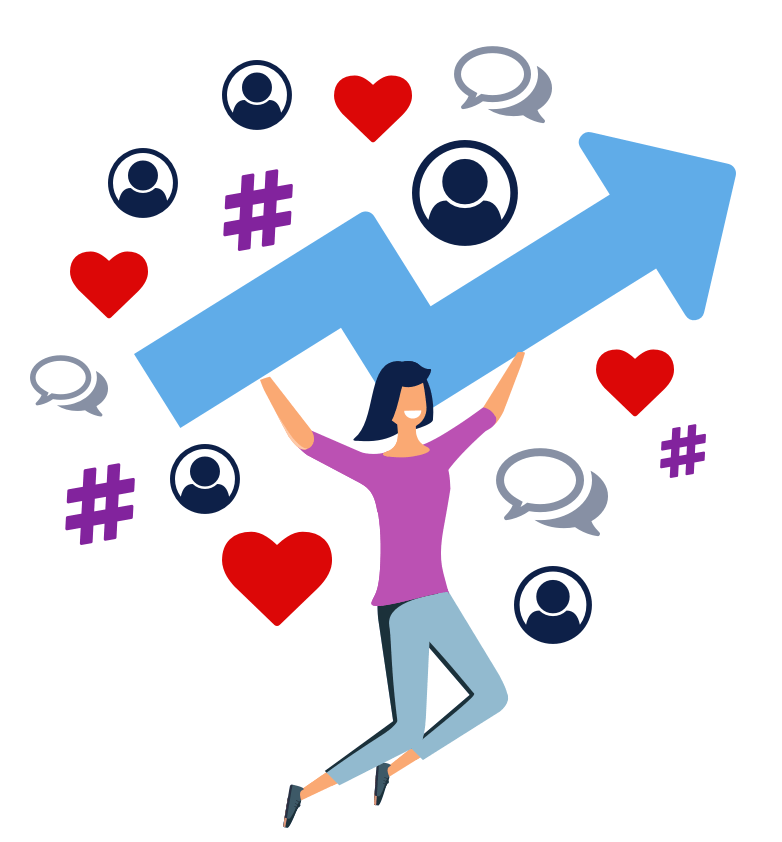 These benchmarks can help you determine what needs a boost in your social media strategy. Looking for ways to boost your engagement rate across your social media accounts? Check out these tried and true tips and trends.
5 Social Media Engagement Strategies for 2023
1. Post contests and giveaways
Looking to garner engagement quickly? Giveaways and contests are a great way to boost a post's engagement rate. According to our Top 100 Beauty Brands on Social Media report, giveaway posts performed twice as well as the median beauty post.
Glossier, one of our top five beauty brands on Instagram, demonstrated that giveaways work, even if the prize isn't extremely high value. The brand's post of 2022 with the highest engagement on Instagram was a giveaway for nothing more than a lavender lip balm, hoodie, and socks. It earned an engagement rate of 7.2%, which was nearly 38x the median engagement rate for beauty brands on Instagram and 9.2x Glossier's average engagement rate.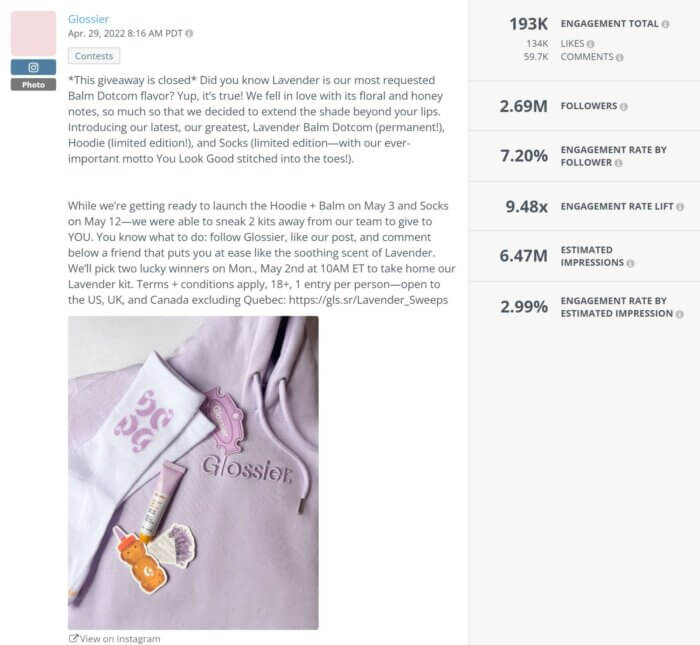 But giveaways don't just work for beauty brands. According to our 2023 Social Media Industry Benchmark Report, posts hashtagged #Giveaway received a median engagement rate of 2.13% for home decor brands, 9.5x the median engagement rate for the industry on Instagram.
Luxury furniture company Arhaus was one of our top home decor brands to see success with giveaways in 2022. The brand's post with the most engagement was a giveaway for a floor mirror in gold, which earned an engagement rate of 10.6%, 47x the median engagement rate for home decor brands on Instagram and 42x Arhaus's average engagement rate for the year.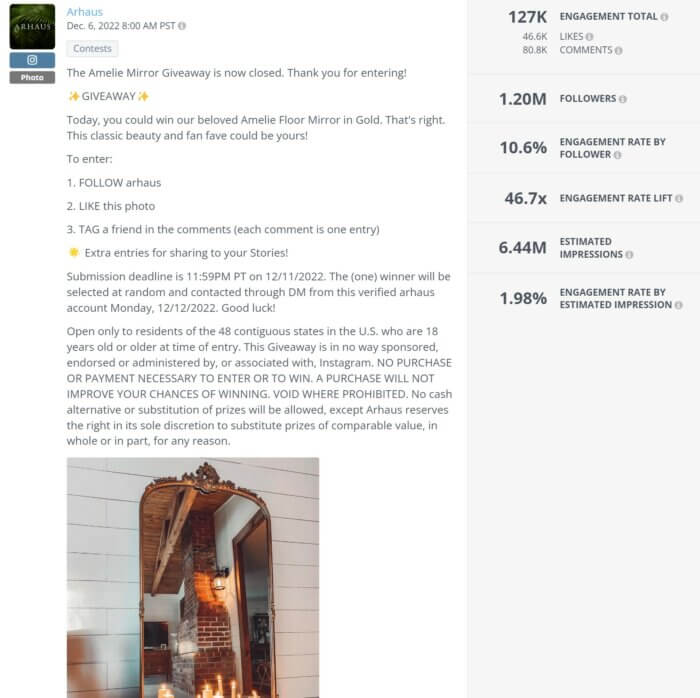 2. Share user-generated content (UGC)
According to Rival IQ research, keeping a consistent posting schedule across your social media channels is a good idea. As of 2022, the top 25% of brands on Instagram posted an average of 3.5 times per week. Meanwhile, the top 25% of brands on Facebook share content 5.1 times per week. The top performers on Twitter tweet 5 times per week, while the top TikTok performers share videos 1.9 times per week.
Sticking to a frequent schedule of posting can be taxing for any social media manager. You need to create high-quality content, but you also need to optimize it for different social media platforms, engage in the conversation around your post, and stay up to date on your analytics. But there is a way to save some time and resources.
By using UGC, you're saving yourself the steps of having to take and edit pictures and videos or having to hire someone else to take those shots for you. Beyond saving you time and money, you're also giving your brand an authenticity boost. According to PR Newswire's 2023 State of Social & User-Generated Content report, authentic UGC has the highest level of trust as it's created by people who have firsthand experience with the product or company but aren't directly affiliated with the brand.
One industry that does UGC particularly well is higher ed, as seen in our 2022 Higher Education Social Media Engagement Report. Our top university on social media for 2022, the University of Iowa, boosted their TikTok presence through the use of UGC. One of their best-performing TikToks of 2022 was a touching story shared by a proud sister about her sibling learning that her pediatrics residency would be at the University of Iowa, where her recently-passed grandfather had delivered thousands of babies.
Such heartwarming stories that are so personal work best when shared through UGC, allowing the people they're about to tell their own emotional tales. The video garnered an engagement rate of 28.6%, 4.4x the school's average engagement rate for 2022.
3. Go behind the scenes
A growing trend across the major social media channels is that people don't just want to see the finished product. They want to see what it took to get there. According to our 2023 Social Media Benchmark Report, #BehindTheScenes or #BTS were top hashtags for fashion, food and beverage, health and beauty, and nonprofit industries on both Instagram and TikTok.
This trend is especially prevalent on TikTok. According to our top beauty brands report, posts mentioning "behind the scenes" or BTS performed four times better than the median TikTok video for beauty brands. Our top beauty brand of the year, Rare Beauty, harnessed the power of behind-the-scenes content with videos of the founder, Selena Gomez, showing off what it takes to promote her brand. One of Rare Beauty's top TikTok videos of 2022 was of Gomez at a photoshoot for their spring 2023 campaign. The TikTok earned an engagement rate of 16.5%, 3x the average TikTok engagement rate for Rare Beauty.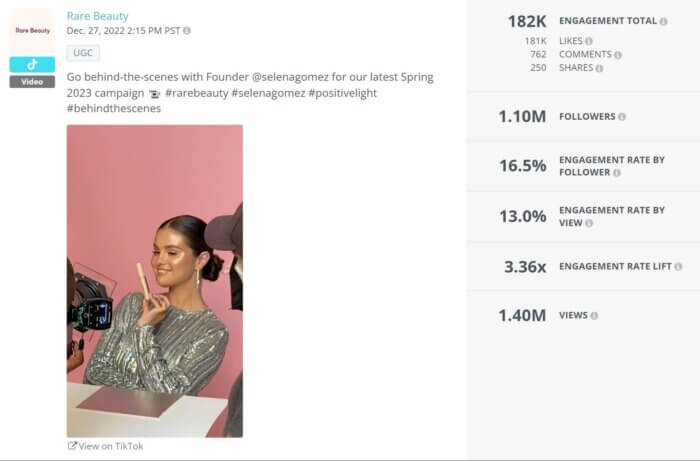 But one of Rare Beauty's biggest competitors, LANEIGE, demonstrated that behind-the-scenes content works well on Instagram, too. The Korean beauty brand's top Instagram post of 2022 was a behind-the-scenes video of a photoshoot with their new spokesperson, actress Sydney Sweeney.
In the post, Sweeney shows off her fun side while also showing off the brand's Lip Sleeping Mask. The post garnered a 344% engagement rate, over 150x the brand's average engagement rate. The success of these posts ties into how some video content is excelling across social media applications. Lo-fi content, which is generally shot on the go on a phone and requires minimal production, is outperforming studio-produced content by 63% on Instagram. It's also an efficient way to make more content.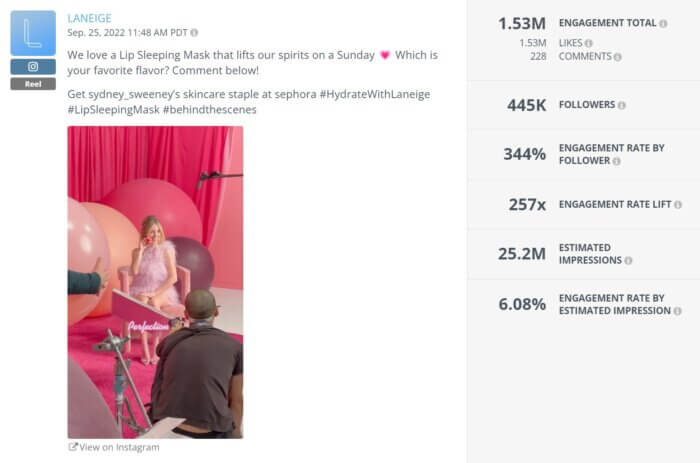 The next time you're at a photoshoot for your latest line of products or interviewing an expert for your blog, get some behind-the-scenes shots on your phone. You might just end up with a viral hit. Sharing behind-the-scenes content with a celebrity influencer leads directly into our next big trend to boost social media engagement.
4. Develop influencer partnerships
LANEIGE has seen great success working with Sydney Sweeney, who had an impressive 2022. Not only did she become LANEIGE's spokesperson, but she also earned her first Emmy nominations for both "The White Lotus" and "Euphoria." Her behind-the-scenes video was the brand's top post on Instagram by engagement rate, but the second most-engaged-with post for the brand was the one announcing her new position as a spokesperson.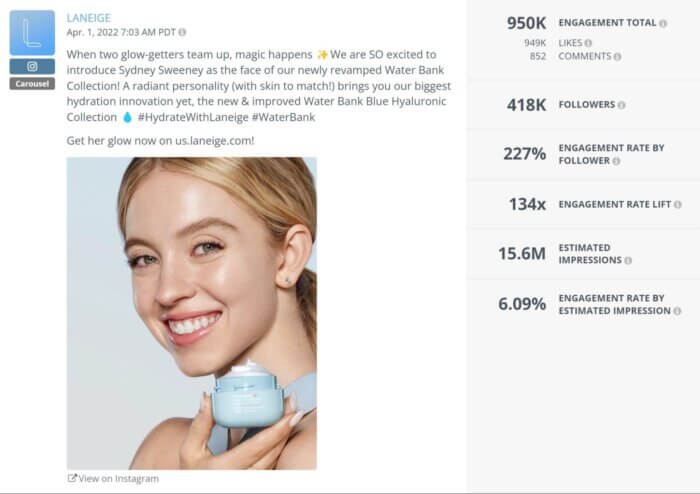 LANEIGE's post announcing Sweeney as their new spokesperson won them an engagement rate of 227%, nearly 100x the brand's average engagement rate for 2022. The high engagement rates of both of these posts demonstrate that star power can indeed drive engagement.
But some brands went above with their partnership. Kodiak Cakes, one of our top 100 health food brands of 2022, hired actor Zac Efron not only as a spokesperson but as the chief brand officer and a board member. By hiring Efron in this position, Kodiak Cakes gave him a stake in the company. Perhaps this stake is why Efron was so involved in the brand's social media strategy throughout 2022. Efron's many videos helped the brand climb to impressive engagement rates throughout their social media platforms, with TikTok being their most successful social account of the year.
One of the brand's top TikToks was one in which Efron was front and center, standing in front of a Grizzly bear announcing Kodiak Cakes' Keep It Wild merchandise. This campaign was to raise money for Grizzlies' habitats. The post earned an engagement rate of 535%, about 22x the brand's average engagement rate on TikTok.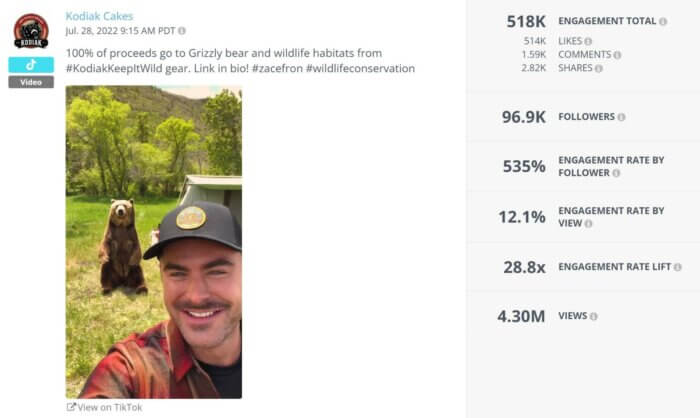 5. Provide value
One trend appears to be a constant across all social media channels: content that serves a purpose. According to our social media benchmark report, multiple industries saw that posts that provide value gave their engagement rates a boost. Both the home decor industry and influencers gained this boost by using hashtags like #Inspiration, #Motivation, and similar language.
But this trend goes beyond home decor and influencers. Huda Beauty, one of our top beauty brands of 2023, demonstrates that beauty fans want value, too. Many of Huda's top posts on Instagram are of the brand's founder, Huda Kattan, testing out viral makeup "hacks" to see if they work. Huda is essentially making it easier for her fans to find out what's worth trying and what isn't. With so many makeup hacks popping up online, Huda is helping her followers wade through the waters of beauty.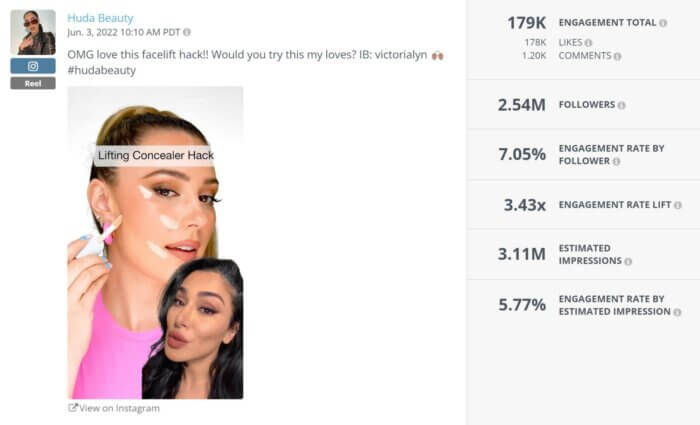 One post saw Huda test out a viral hack in which the wearer uses concealer to make their face look more lifted. The post garnered a 7.05% engagement rate, 3.4x the brand's average Instagram engagement rate.
Wrapping Up
Some trends we see come and go with the growth of different social platforms. But these five trends seem to be standing the test of time. From influencers going behind the scenes to giveaways and contests, these trends have shown that they're proven engagement boosters.
It's important to keep in mind that results may vary based on your industry. As demonstrated by our Social Media Industry Benchmark Report, some industries see bigger engagement bumps by following some of these trends than others. To do a deep dive into what's working and not working in your industry, check out our benchmark reports. They're filled with our research for all different types of industries and are sure to give you more insight into how to garner more engagement for your social channels.