When exactly did influencer marketing start? Some would say the rise of Instagram created influencers, but many of us millennials recall the uber-popular creators during the early days of Tumblr and YouTube who might be considered influencers by today's standards.
Whenever it began, it's certainly here to stay. Today, it's an industry worth $21.1 billion worldwide. And it only seems to keep growing, though it also changes as the greater social media market adjusts to new platforms.
How can you stay ahead of the influencer marketing tide changes? We're big proponents of testing and reinvesting in what works. But to know what works, you'll need to keep track of your influencers' analytics.
While you can manually track influencers, there's an easier way. Influencer marketing analytics tools can automate much of the work for you. And many go even further to help you run the influencer campaigns themselves, as well as discover new influencers. But before we get into what makes for a good influencer marketing analytics platform, let's talk about what makes for a good influencer.
Key Metrics for Influencer Analytics
Tracking your influencer's performance should begin before you start working with them. You want to ensure that the influencer fits your brand, is a valuable asset to your marketing campaign, and appears to be a good collaborator. When you vet an influencer, you should look for:
Strongest social platform: Success on one social platform doesn't necessarily translate to success on another social media application. If you're planning on focusing on TikTok for your social media campaign, be sure to check the influencer's statistics on TikTok. If the influencer is stronger on Instagram, you may want to save working with them until you have an Instagram marketing campaign going.
Engagement rates: There are many ways to calculate engagement rates, but we often divide either a post's impressions or the influencer's number of followers by the number of engagements. Engagement rates help you understand how much of the influencer's audience is invested in their posts.
Target audience: Look for influencers whose audiences align with your own. If you're selling a product targeting women over 40, you might not want to work with someone whose audience is primarily comprised of twenty-somethings.
Niche: Similarly, you shouldn't work with someone whose niche deviates strongly from your own. If you're selling nutrition supplements, working with someone primarily focused on gaming or travel wouldn't make much sense unless they are also very health-conscious.
Photo and video quality: Repurposing influencer content is a great way to boost your own content pool for social media, ads, blogs, and more. But you wouldn't want to repurpose content if the photos and videos are low-quality.
Social media sentiment: Just because someone gets a lot of engagement doesn't mean they're an ideal collaborator. Always check their social media sentiment because if someone's comments or posts made about them are overwhelmingly negative, you might not want your brand's name attached to their brand.
Personality and values: Another reason you may not want someone's brand attached to your brand is if their values and personality greatly differ from your brand's identity. If the influencer promotes causes or ideas your brand doesn't align with, they're likely not the ideal influencer for your company.
Other brand collaborations: If the influencer works with brands in direct competition with you or that have differing values from you, you may not want to work with them. Additionally, if nearly every post on the influencer's social media is sponsored, they may be viewed as less authentic, which may make their audience less likely to buy from you.
Cost: Figuring out an influencer's cost may require some communication, but you can also make some inferences based on their engagement and follower count. If someone is a macro-influencer with over 100K followers and a highly engaged audience, they may be out of your budget if you intend only to pay $100 per influencer post.
Once you work together, there's a different set of metrics to look for regarding the campaign they worked on with you. You'll want to keep track of these analytics to know if this influencer is one to work with again. Pay attention to:
Reach and impressions: Reach refers to how many people saw your influencer's post, while impressions refer to how many times it was seen. You want to know both of these numbers to see if the influencer's audience is seeing and interacting with their content. More impressions than reach can mean that their audience is viewing the post multiple times, which may be good for your brand.
Engagement rate: Just as you did with vetting the influencer, check their engagement rate on the campaign's posts. Engagement rates can help you see whether their audience was receptive to your brand's sponsorship.
Comment sentiment: You can look at comment sentiment in multiple ways. For one thing, you should check the comment sentiment on your campaign's post. But, especially if you're working with a well-known influencer, you should check the general social media sentiment. Are people talking about your collaboration? Rival IQ's new social listening features can help you track online sentiment more easily instead of having to scour the internet for brand mentions.
Sales: You can give a trackable referral link to your influencer to share on their posts to help you attribute sales to the content creator. However, while sales can happen with influencer marketing, they shouldn't be your only goal. Influencers can be beneficial beyond sales. They can increase general brand awareness, which can be good for sales later on. If you have a storefront, for instance, someone may go to the store because they saw your brand being promoted online. But you wouldn't be able to track that the sale came from your influencer. Additionally, you can repurpose influencer-generated content (IGC) in other ways, which saves you money in the long run.
Industry Trends and Tips for Influencer Analytics
The influencer marketing industry isn't going anywhere, but it is constantly changing. Let's take a look at today's current influencer marketing trends and talk about how to apply them to your own influencer marketing strategy.
Work with Small-Scale Influencers
Instead of picking a few or only one macro- or mega-influencer, work with a variety of micro- or even nano-influencers. Smaller influencers tend to have a more targeted audience. They're also more cost-effective, which means you can work with more of them instead of putting all your budget behind one macro- or mega-influencer. Additionally, follower count doesn't always equate to higher-quality content. By using a smaller influencer who makes great content, you can end up paying less than you would for a macro-influencer who produces content you can't repurpose.
A great way to find a variety of micro- or nano-influencers is to locate people with smaller followings who are already talking about you. Say you're running Dunkin's influencer marketing campaigns. You could go on Instagram and look at who is tagging you to find some potential smaller influencers. Or you could use the search tool to find people who are talking about Dunkin' in their posts.
You could also use a tool like Rival IQ to find relevant content creators. If you were specifically looking for Instagram creators, you could use Rival IQ's Instagram Discover tool. Search for your handle or a related hashtag, then take a look at the most engaging posts that tagged you or used that hashtag. If Dunkin' were to use the Instagram Discover tool, they could come across @waffles_the_wonder_dog, who is a big Dunkin' fan. Waffles and his human frequently promote their menu and brand, like in the image below. As a content creator with 21K followers, Waffles is just beginning to outgrow his micro-influencer status and becoming a mid-tier influencer, which may mean it's a good time to start working with him as he seems to be trending upward.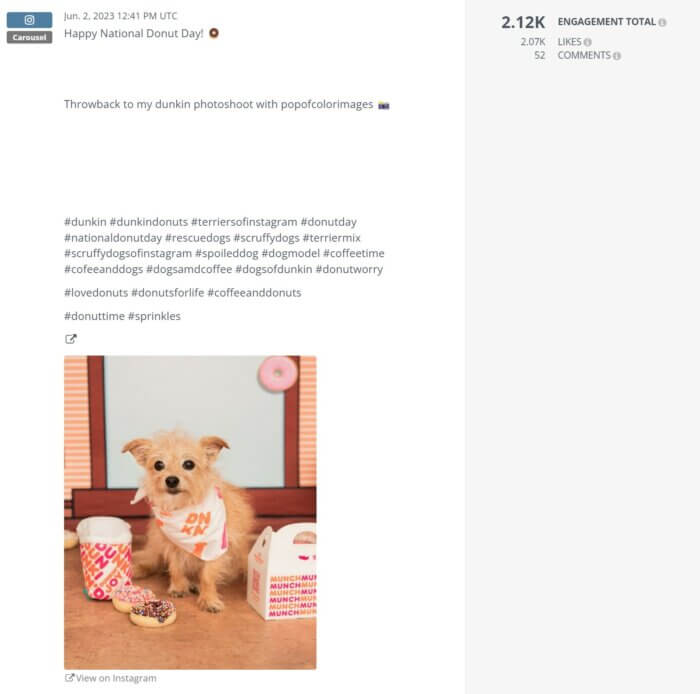 Choose Authentic Influencers
When working with a new influencer, make it clear that you want them to be their authentic selves, which requires no filters. A study found selfies with filters received less engagement than those without. Over the course of the past few years, there's been a movement, particularly on TikTok and Instagram, with creators going filterless to promote more authenticity. More authenticity means more engagement, which is ultimately better for your brand.
While you can use the Instagram Discover feature on Rival IQ to find people tagging your brand, you can also use it to find content creators who are going filterless. Look for hashtags like #nofilter or #filterfree to find creators who prioritize authentic content. Perhaps you're an influencer marketing strategist at a makeup company. You would especially want to work with people who use your products without filters to show them off genuinely.
If you searched #filterfree, you might stumble across @lisa.obrienmakeup, a makeup artist who uses filterless photos to show an accurate depiction of the makeup designs she creates. With 3K followers, this nano-influencer would be a great fit for a makeup campaign that wanted to utilize a wide variety of influencers with makeup experience.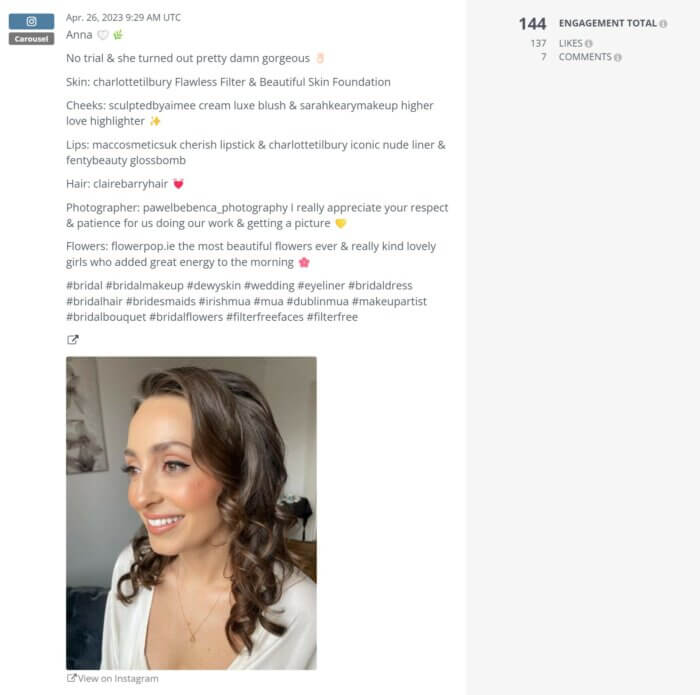 Find Influencers That Fit Your Specific Niche
Rather than seeing creators talking about broad topics, we're seeing more people getting more specific with their niche. For instance, instead of someone who simply posts about fashion, more content creators are focusing on certain aspects of fashion, such as mid-sized clothing, modest clothing, or clothing from a specific time period.
Say you wanted to work with bloggers or vloggers that focus on mid-sized clothing. Using Rival IQ's new Instant Search feature, a part of our social listening offerings, you can search for keywords like "mid-sized blogger," "mid-sized fashion," "mid-sized outfit," or "mid-sized clothing" all at once. From there, you can edit your search to focus just on bloggers and YouTubers.
You'll find content creators like Ellis Sara Smith, a lifestyle YouTuber who just recently posted a try-on haul for mid-sized clothing and frequently shares both mid-sized and plus-sized clothing on her YouTube. As a macro-influencer, she may be more of an investment than smaller-scale influencers, but you may find the investment worth it as she has a fairly dedicated audience.

Invest in Long-Term Partnerships
Working with an influencer over a longer period of time looks more authentic. But it also lets you continue to retarget their audience, ideally resulting in you benefitting from the rule of seven. According to this tried and true marketing rule, people are more likely to make a purchase after experiencing seven touchpoints, such as a variety of seven different social media posts.
Look for influencers who you can turn into ambassadors. Ideally, you should work with someone who isn't already an ambassador for many different brands, especially if those brands are in conflict with yours. If you find someone you like, you can do a deep-dive into their sponsored posts through Rival IQ's social analytics. Maybe you're interested in popular influencer @colormecourtney. You can look for posts that are marked with words like ad, sponsored, and ambassador to see who Courtney is working with.
For instance, a search for #ad reveals that Courtney works as an ambassador for Behr. If you're the influencer marketing strategist for a competitor paint brand, you might not want to or be able to work with Courtney as your ambassador as well.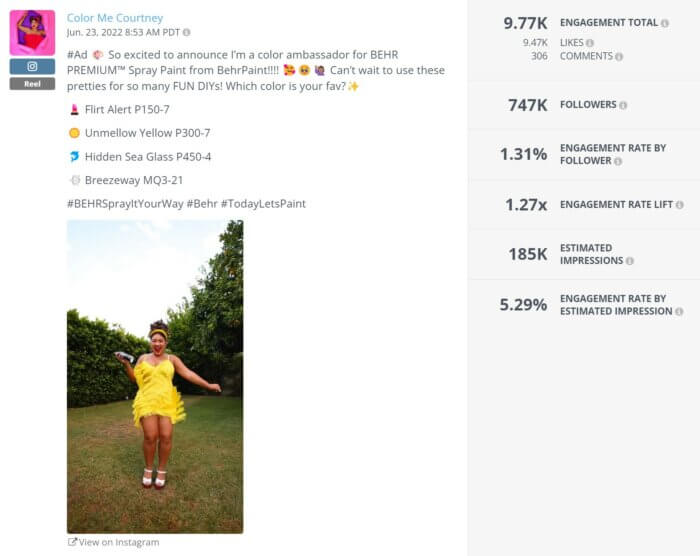 Tools and Platforms for Social Media Influencer Analytics
It can be challenging to manually measure the impact of your influencers. Without an analytics tool, you may end up relying on screenshots from your influencers of their analytics, which may not give you the full picture.
Many social media influencer analytics tools offer more than a look into your influencer's metrics, however. Some help you find influencers, others help you pay them, and some tools even let you repurpose their content right through the app. These tools offer a variety of different features, so there's sure to be one that's the perfect fit for your influencer marketing strategy.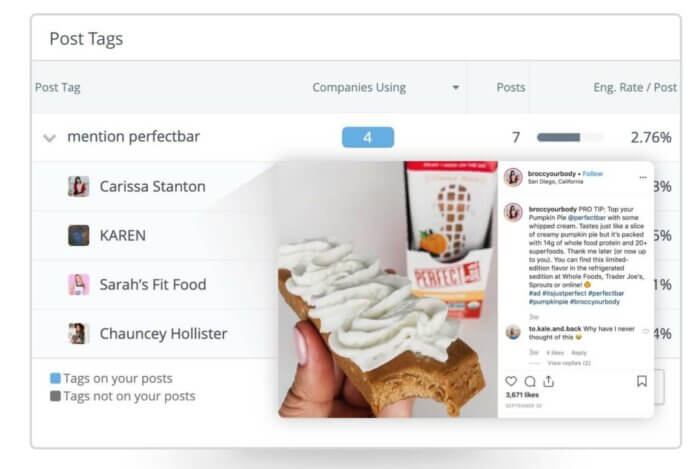 How it works: Rival IQ is a social media analytics tool that can help you automate your influencer tracking, preventing you from having to find and measure your influencers' posts manually. With Rival IQ's auto-tagging and scheduled export tools, you can set up the campaigns you want to track and easily see results. And with Rival IQ's new social listening tool, you can find who is already talking about your brand to find new influencers. You can also use it to find people in your niche or use the Discover tool to find content creators on Twitter and Instagram.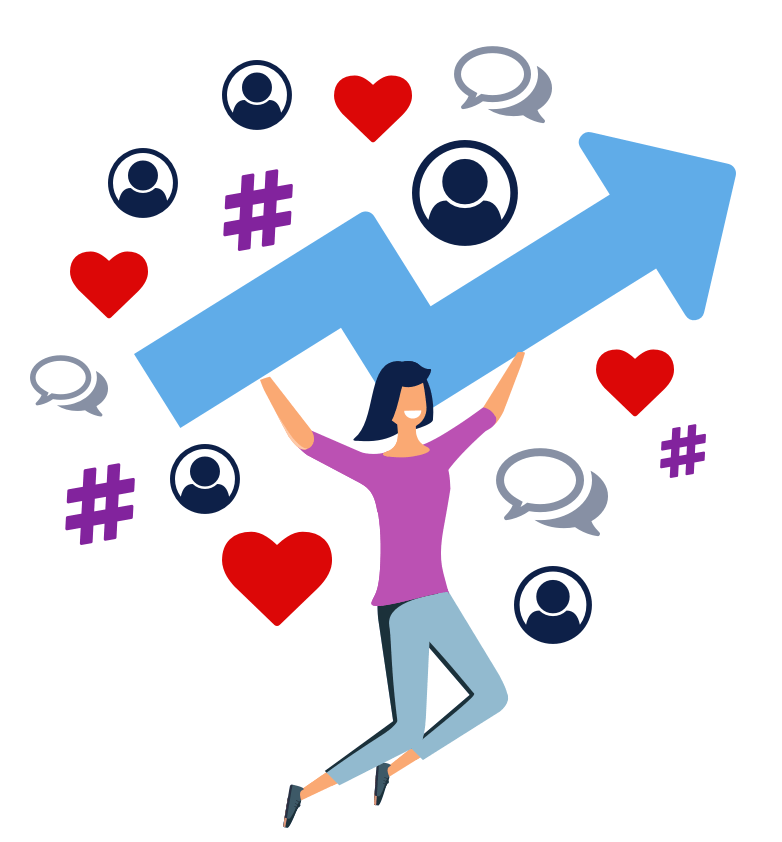 Benefits: Rival IQ goes beyond influencer marketing. As a Rival IQ user, you can measure your own social media accounts' success, use competitive benchmarking to see how you and your influencers are doing in your industry, and put the platform's new social listening features to use to track your brand mentions.
Drawbacks: TikTok, Facebook, and Instagram are currently unavailable on the social listening tool. However, they are available through Rival IQ's parent company, NetBase Quid.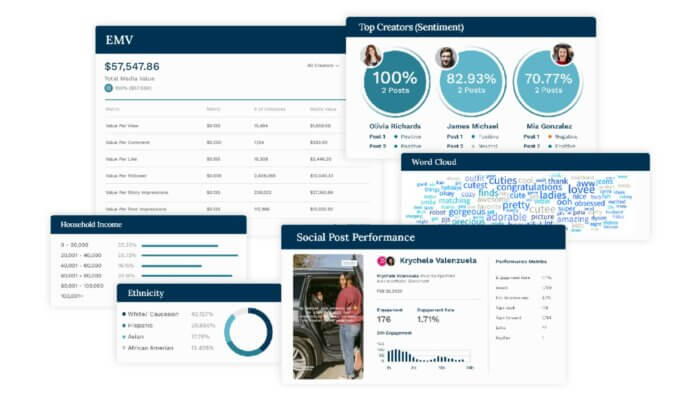 How it works: Get personalized creator recommendations, manage your campaigns from launch to payment, track creators' performances, and even boost influencers' posts directly through the application with Captiv8. Whether you're looking to gather IGC for reuse or build out an affiliate marketing group, this influencer marketing platform is designed to be your one-stop shop.
Benefits: This influencer marketing tool also functions as a full-service agency. Captiv8's in-house brand strategy team allows you to be more hands-off. You get transparency into your campaigns without having to run them yourself. Users also say that Captiv8's customer service is top-notch.
Drawbacks: Users claim that the interface is not very user-friendly. Captiv8 also does not work with Twitch, which can be difficult for brands hoping to leverage that social media platform.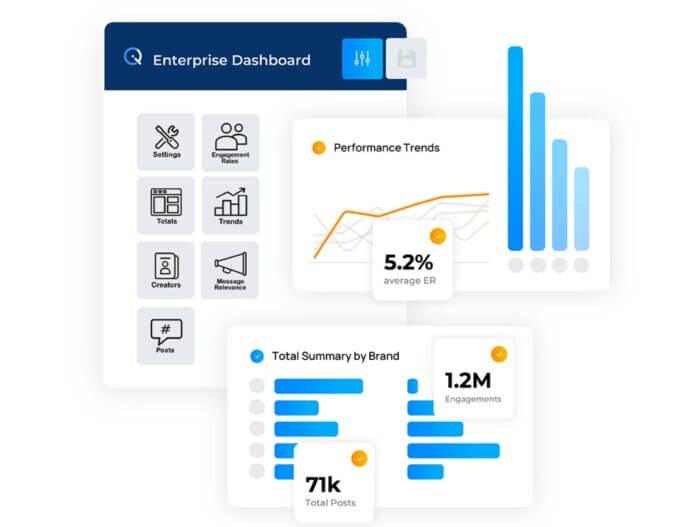 How it works: CreatorIQ is an all-in-one influencer marketing tool. Through the platform, you can evaluate creators to find your perfect match, manage campaigns, and measure performance through their Intelligence Cloud system.
Benefits: Users say CreatorIQ has an easy-to-use interface that simplifies everything from tracking sales to repurposing IGC for ads. The platform also offers competitive benchmarks and social listening for brand mentions beyond your influencer campaigns.
Drawbacks: Users claim that CreatorIQ's influencer discovery tool is lacking. Additionally, getting creators to become authenticated through the influencer marketing platform is tricky.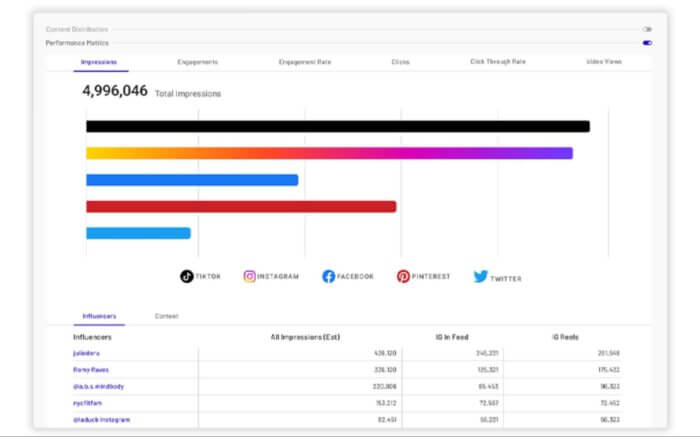 How it works: Linqia's Resonate platform helps you streamline your influencer campaigns, allowing you to search for the right creators, organize and manage your campaigns, and view real-time data all in one place. Linqia focuses on having a large creator community to choose from, but each influencer is vetted, so you only work with the best of the best. Once you approve content for publication, you'll get access to in-depth metrics on a dashboard that you can share with your team and other key stakeholders.
Benefits: Linqia also offers managed services, allowing the Linqia team to handle executing your influencer marketing strategy while you still get full transparency into your campaigns. Whether you use managed services or not, you'll receive a summary of your campaign at its conclusion, which offers insights and recommendations for future campaigns.
Drawbacks: Users say working as a team on the platform instead of having just one user is tricky and that the interface is overall not very user-friendly. Some users also say that they wish content creators were more thoroughly vetted before being able to join the platform.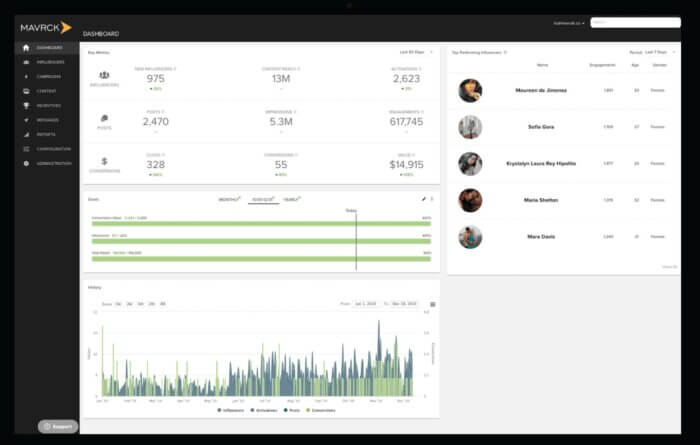 How it works: Mavrck is an influencer marketing tool that goes beyond traditional influencer marketing. While you can discover new content creators to work with, you can also build a team of affiliates, gather reviews and survey results, and incentivize creators and affiliates based on both activity and performance. No matter what type of content you want to collect, whether you're looking for IGC to repurpose or reviews to boost your brand sentiment, Mavrck is designed to help you get it.
Benefits: Mavrck has strategists and activation specialists on hand to help you craft your influencer marketing strategy and put it into action. Many users say that Mavrck's team is highly responsive.
Drawbacks: Mavrck is more focused on running campaigns and collecting content than it is on analytics. Although the platform does have an analytics dashboard, it's less in-depth than some other tools. Some users also say that using Mavrck can be very time-consuming.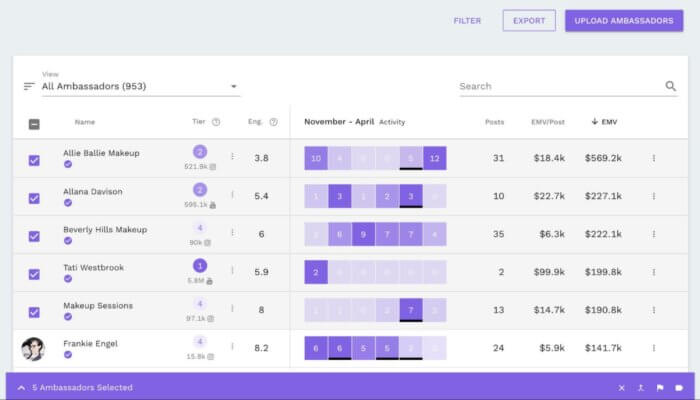 How it works: Tribe Dynamics is a comprehensive influencer marketing analytics platform that provides in-depth analytics on your influencers and posts you're mentioned on and allows you to manage your influencer community all in one place. This platform is highly data-driven and gives you access to tons of information that break down larger key performance indicators (KPIs) like engagement rate into more specific, easily digestible metrics.
Benefits: Tribe has a powerful social listening tool that lets you track all brand mentions beyond your influencer marketing campaigns. And with the Discover feed, you're fed influencers who already love your brand. Tribe also allows you to track competitor, market, and industry analytics through performance benchmarking.
Drawbacks: While Tribe can be great for finding estimated media value (EMV), some users claim it's too focused on this side of influencer analytics, as EMV can often be fairly arbitrary. Some users also say that the creator-sourcing side of the platform is lacking. Tribe also currently doesn't work with Twitch.
Wrapping Up Influencer Marketing
When tracking your influencer's performance, you could always ask your content creator to take a screenshot of their posts' analytics. But this method is time-consuming and not foolproof. It's up to you to manually keep track of all the influencers' screenshots, which don't include any metrics that change after the screenshot is taken.
By using an influencer analytics tool, you can automate tracking and get real-time data. And with many tools, you'll get more information than you would with just the social media platform's analytics page, such as comment sentiment. Some tools even let you do all your influencer marketing work in one place, from discovering content creators to organizing and running campaigns to compensating creators to repurposing content.