There is enormous societal pressure on higher education institutions to maintain a great Twitter presence.
In theory, communicating via Twitter is a simple concept. Write one short message or series of messages, hit publish, monitor, and respond to audience feedback and discussions. Right? Well, if your account represents the thoughts and opinions of one individual, then the answer is probably yes. However, if you are a university that distributes strategic brand messages to multiple audiences, then tweeting just got a lot more complicated.
Twitter is a great way to share updates, breaking news, and industry trends; interact with students, administrators, and thought leaders; and is an excellent recruitment tool. Higher education gets it, coming in hot as the second-most engaging industry on Twitter in our latest Social Media Industry Benchmark Report. Despite the high marks, maintaining a consistent and effective Twitter presence is difficult to do when one-size communication doesn't fit all.
Prospective and current students, alumni, higher ed professionals, parents, staff members, donors, sports enthusiasts, journalists, and tenured academics are all examples of the diverse, multi-faceted audience for universities. While a certain tone of voice, style, and content will resonate with students on-campus (if Gen Z even uses it), the same approach probably won't work as well with large donors and academic researchers.
In spite of the enormous challenge, we're impressed by the top Twitter performers in Higher Education. In the spirit of our Higher Education Social Media Engagement Report, here are a few of our key takeaways and observations from notable universities striking the right balance of tone, content, and mission, and effectively engaging their Twitter followers one tweet at a time.
Named "The #2 Public University in the Nation" by Washington Monthly in 2020, Utah State University (USU) has earned a positive reputation for sharing meaningful global perspectives.
Boasting over 22.4K followers, @USUAggies is the university's main Twitter account. @USUAggies represents all USU messaging and amplifies content from the multiple niches, university-run accounts, ranging from @CHaSSUSU (1.3K followers) to @USUFootball (53.6K followers). While much of their content is light-hearted and celebratory in nature, the university doesn't shy away from diving deep and taking a public stand for causes that matter to their students, alumni, and parents (as evidenced by their top-performing Pride-themed tweet last year). Continuing the trend of sharing inclusive messages, USU recently retweeted the USU Center for Intersectional Gender Studies and Research panel focused on pride and inclusion.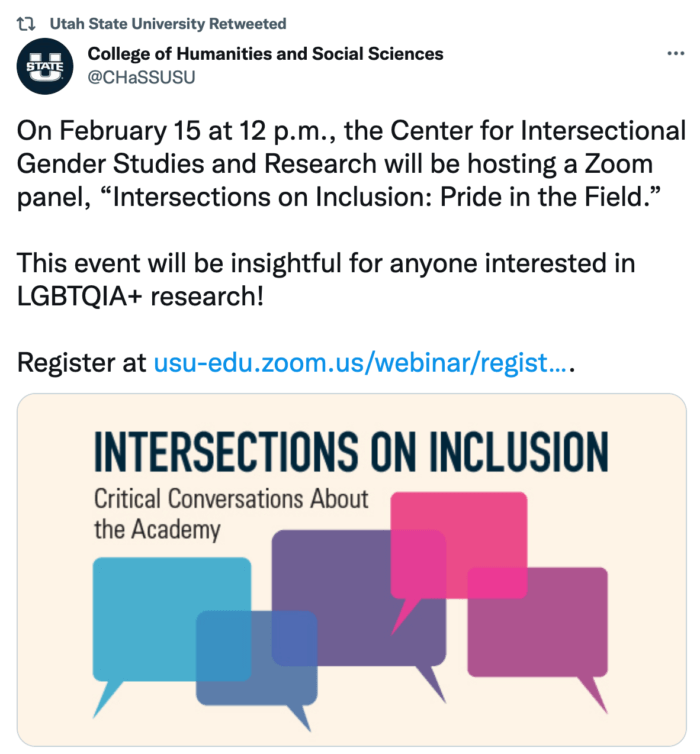 Black History Month and Black Students events on campus, Women in Science, Mental Health Awareness, LGBTQIA+, and carbon neutrality initiatives are just a few other examples of the meaningful topics that USU creates space for on Twitter.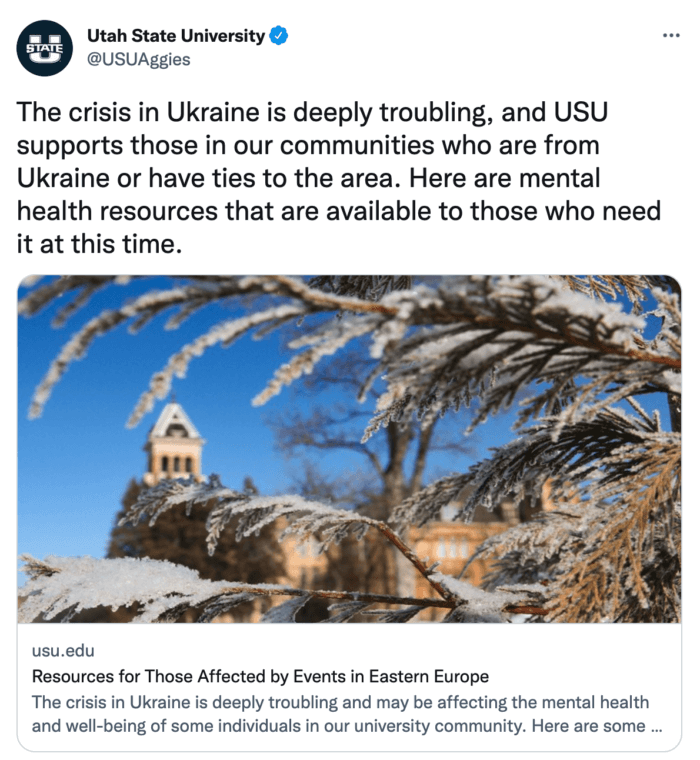 Most recently, the university shared specific content to address the worldwide impact of the Russian-Ukraine war. People everywhere are devastated and humbled by the ongoing conflict in Eastern Europe, and USU recognizes the news can take a mental health toll on students as well. The university compiled resources and took to Twitter to remind students about available help on-campus.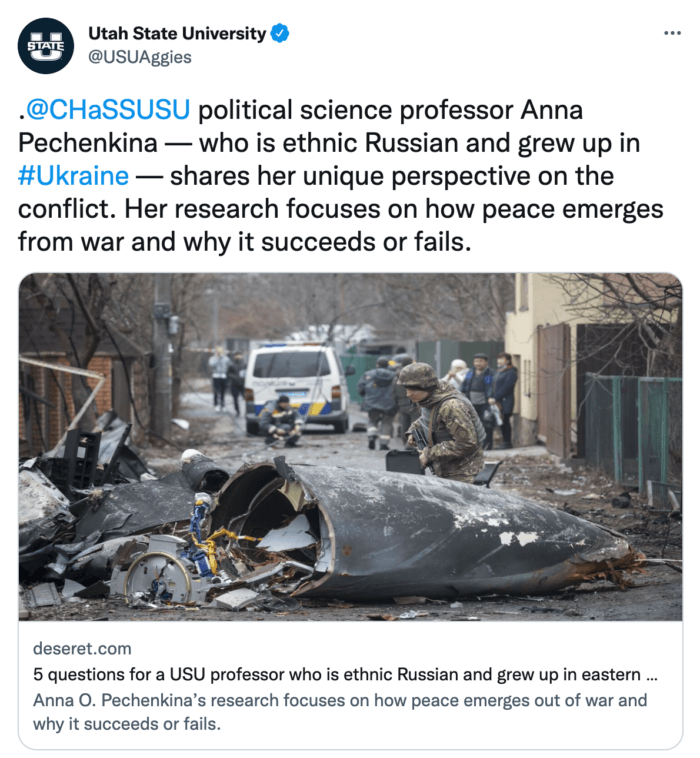 Additionally, USU tweeted a thought-piece written by an Eastern European USU political science professor sharing her perspective on the conflict. By highlighting her unique point of view as it relates to a timely global event, USU also demonstrates how classroom learning becomes applicable in the real world.
Without question, USU's intentional efforts to acknowledge current events and provide inclusive perspectives on diverse topics do not go unnoticed. By strategically using its Twitter platform to support meaningful topics, USU demonstrates that its welcoming environment and thoughtful approach extends far beyond the campus perimeters.
With 19.1K followers, Indiana State University (ISU) primarily uses Twitter to bring audiences together to celebrate good news. In particular, ISU regularly shares breaking news about new scholarship awards, recognizing hard-working recipients from various high schools across the state. The majority of these announcements feature images of incoming freshmen, which generates excitement across the board for the incoming students, their parents, local high schools, and university alumni alike.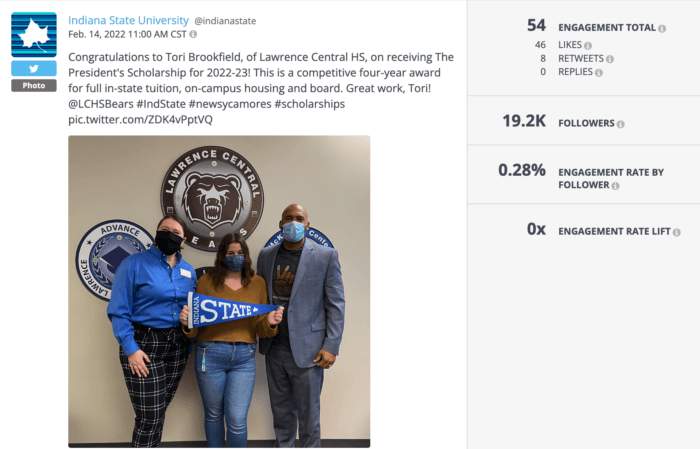 This consistent content contributes to ISU's tweet frequency, which influences their elevated Twitter engagement rate of 0.81%. With this rate, ISU outperforms the 0.071% industry average. Quality and quantity matter, and spotlighting scholarship recipients is an excellent way to celebrate on a local level, while also maximizing state exposure for the university itself and the vast scholarship opportunities available to prospective students. Better yet, generating excitement about these scholarships might even catch the attention of other donors looking to contribute to more programs.
Sitting right at 10K followers, Abilene Christian University's Twitter community is tight-knit and niche. Much of ACU's content consistently aligns with the university's main mission: to foster a Christ-centered community and stimulate spiritual and intellectual growth.
One common misconception is that social media messaging should appeal to everyone. Many brands want to play it safe and avoid unintentionally turning audiences away with hyper-specific content. In reality, it's not possible to please everyone, nor is it the best practice to do so.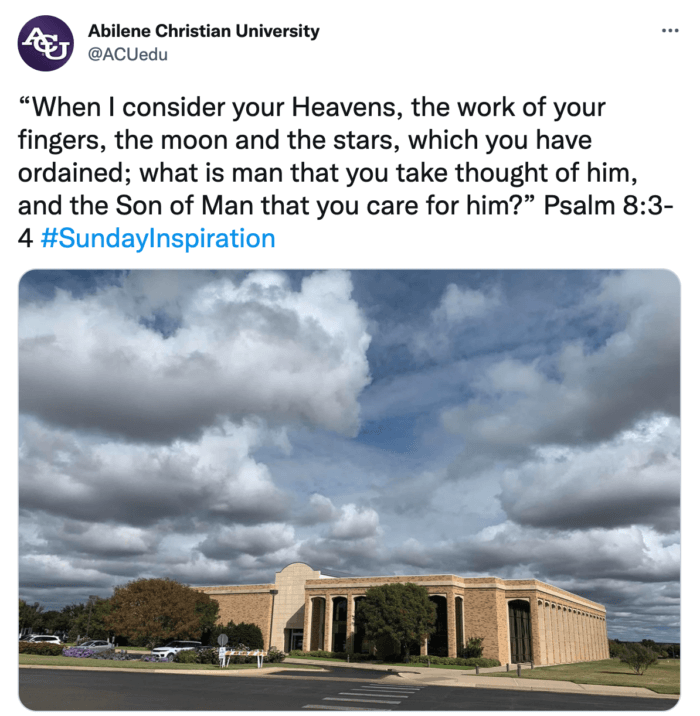 At ACU, many of their most popular tweets (earning the most likes and retweets) are biblical quotes paired with pretty campus pictures. Using the hashtag #SundayInspiration, this weekly series is excellent fodder for ACU's editorial calendar and a great way to use the university's stockpile of marketing and promotional photographs.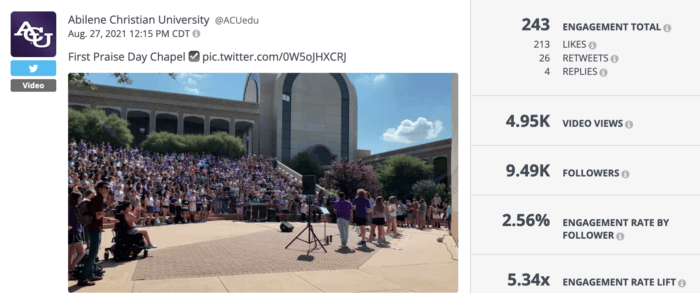 ACU also uses Twitter to promote on-campus events and activities, including the First Praise Day Chapel at the beginning of the 2021-2022 school year. Notably, these types of tweets (and this one in particular) earned a high engagement rate of 2.55% and ranks as the school's 7th most popular tweet during the last academic year.
Setting the Bar High
From sharing global perspectives to celebrating academic achievements, to staying true to messages that differentiate one university from another; we applaud Utah State University, Indiana State University, and Abilene Christian University for setting the Twitter bar high for Higher Education institutions everywhere.