Editor's note, 4/28/20: Due to COVID-19 precautions, college campuses around the world have temporarily ceased in-person operations. With the new tele-learning approach underway, and an ongoing need to safely recruit students from a distance, it's never been more important to remain digitally connected. We can keep moving together, even when we must stay apart. To the high school and college graduating classes of 2020, you are in our thoughts during this difficult time.
If I could go through the college recruitment process all over again, I would do so in a heartbeat. Don't get me wrong, I loved my own undergraduate experience, but today's students have the advantage of using social media to make better-informed decisions for their futures.
Higher education institutes' robust digital marketing can make or break engagement with their most important audiences: past, present and prospective students. While college websites and online reviews are the primary resources used when deciding where to apply, studies show two in five students turn to social media when it's time to accept or reject the offer.
Real-time pictures, stories, and newsworthy updates provide a true sense of campus life, making an institution's social presence an influential decision-driver rather than a discovery engine. The unprecedented insider view from social media allows students to discover and explore what colleges have to offer, all without ever stepping foot on campus. If I had had this opportunity, I would have likely cast a wider net during the application process to line up even more compelling options to choose from.
Here's a look at some of the universities putting their best foot forward, and the best practices that continue to keep them top of mind among each year's graduating class.
Portray campus through a student lens
With acceptance letters in hand, prospective students turn to social media to conduct research about each campus. Savvy universities, like College of the Holy Cross, share user-generated content from current students to showcase life and campus through their eyes.
Holy Cross paints a beautiful campus picture on Instagram. With 15.8K followers, the university enjoys an impressive 6.88% engagement rate per post compared to the average 3.96% engagement rate per post.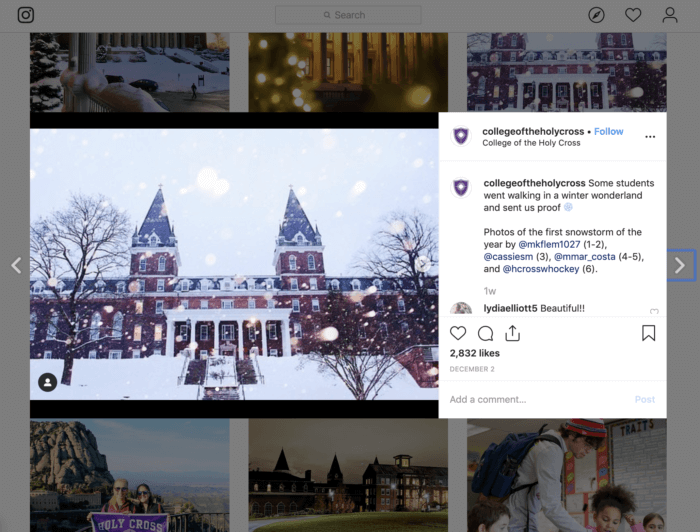 By asking students to contribute photos of their walks to and from the dorms, dining hall, library, classrooms and student activities, Holy Cross amassed a collection of iconic views on campus. Crediting each photographer, Holy Cross primarily posts scenic views of campus across all four seasons. Buildings are shown covered in snow in some pictures, whereas flowers are bursting into bloom in others.
Unlike stock photography that can be stiff and impersonal, the student photos bring a warm point of view so prospective students can explore the campus year-round from a current student's point of view. Talk about walking in someone else's shoes!
These photos serve as little reminders that the Holy Cross community regards their campus as one of the best places on earth. After viewing these tiny squares, students contemplating admission are likely filled with hope, looking forward to pursuing an undergraduate degree and making memories for a lifetime.
Profile alumni career success
While showcasing the most positive aspects of everyday life on campus is very effective, it's equally important to clearly communicate how students are putting those hard-earned degrees to good use after graduation.
The University of Iowa masterfully leverages their Facebook page of 180,699 followers to regularly profile Hawkeyes alumni making headlines in their respective careers.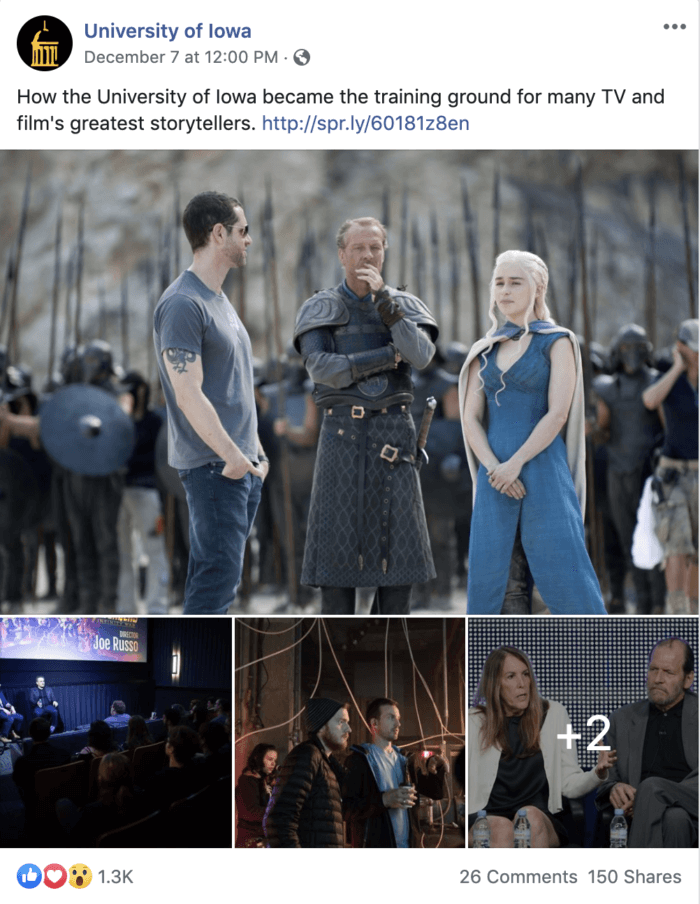 Highlighting a multitude of career paths, from Hollywood blockbusters to high profile engineering projects, gives prospective students the confidence that a degree from Iowa will lay a solid foundation for pursuing a killer career down the road. Celebrating a wide array of interests also provides a plethora of suggestions for those who may be struggling to declare a major, all while clearly communicating Iowa's competitive edge across a variety of industries.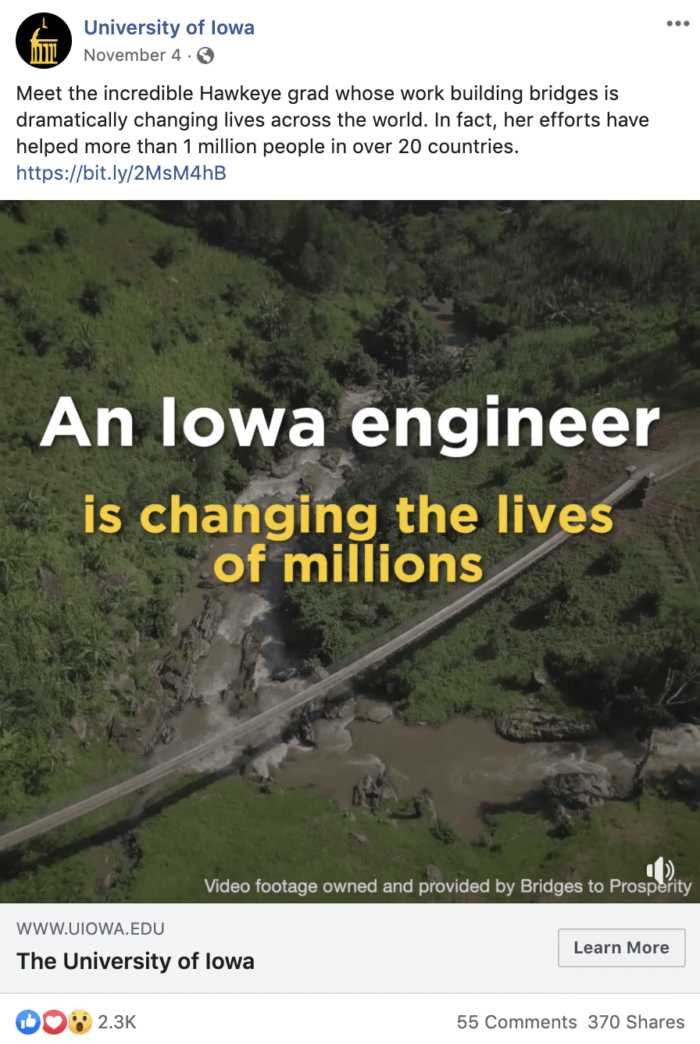 This type of information is very versatile, extending well beyond Facebook. Iowa repurposes deep-dive social posts like these as content for other university external publications as well, including the official website, magazine, brochures and other marketing materials prospective students will likely come across in the admissions process.
There is a strong correlation between Iowa's high rate of digital cross-channel engagement and their approach to content development and promotion. The Hawkeyes soar above their competition with an engagement rate per post of 1.28%, compared to the competition's average of just 0.31% engagement per post.
At the end of the day, the social media algorithm really boils down to a numbers game: the more people that follow and engage, expressing enthusiasm for the school by liking, commenting and sharing its posts, the more the brand can reach target audiences. To optimize reach, Iowa boosts posts that trend well organically for even more views to skyrocket and sustain these high engagement levels. It's really no wonder that Iowa clinched the #1 spot in this year's higher ed social media rankings.
Highlight points of differentiation
Certainly no one wants to alienate or offend a large group of people, but for a message to really have an impact and attract the right followers, it should not appeal to everyone. Instead, a brand is better off speaking directly to their target audiences' interests and goals. If someone is turned off by the messaging, they are likely not a great candidate to become a paying customer.
This brings me to Brigham Young University (BYU), a private research university located in Provo, Utah, and owned by The Church of Jesus Christ of Latter-day Saints. Only 1 percent of students do not identify as Mormon, which means the school's religious affiliation is a major component of the overall campus culture and academic life. BYU excels at remaining true to its mission and beliefs by consistently communicating about their faith, not only in person but also online.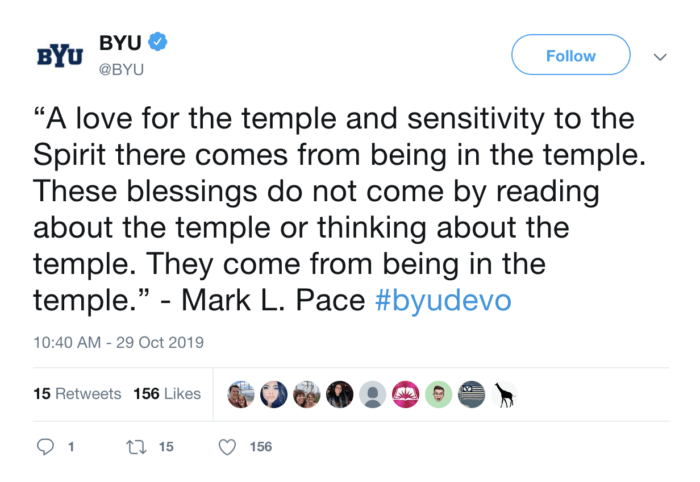 In addition to promoting new research, the happenings around campus, and other university relevant updates, BYU tweets daily devotionals with the hashtag #byudevo to provide encouragement to followers (primarily students) on their faith journey. While these messages do not resonate with everyone in the general public, that's not BYU's goal. Their aim is to speak directly to their target audiences: prospective and current students and alumni who share the same religious philosophy. By living out their mission in a public forum, they are more likely to attract promising leads among like-minded applicants.
Demonstrate commitment to excellence
It's no secret that sports fans get a bit "like-happy" before, during, and after a big game. Fans flock to social channels when their team performs well on the field or court, eager to join other fans in jubilation, tease the opposing team, or directly congratulate the teams and players. Alternatively, they may want to commiserate when the game doesn't go their way, but let's not dwell on the possibility of a devastating loss, shall we?
College sports are a huge component of the undergraduate experience, not only as a fun activity or way to celebrate victories, but also as a source of deep pride for all who are affiliated with the school.
Football, baseball, basketball, soccer, and other hallmark categories demonstrate both athleticism and the university's commitment to excellence through tangible competition. Athletics serve as a symbolic reminder that grit, hard work, and a positive attitude pays dividends.
From a recruitment standpoint, this is a huge draw for many prospective students because people are united by school spirit. It also goes without saying that it's human nature to want to be a member of "the best of the best." When higher education wins in the classroom and on the field or court, it's a winning reputation combination.
The University of Virginia (UVA) does an excellent job representing athletics among academic and campus-focused content. After being offered a spot in the 2019 Orange Bowl, UVA took to social media to share the exciting news with photos and videos. Among other channels, UVA broadcasted the news to nearly 96K Instagram followers.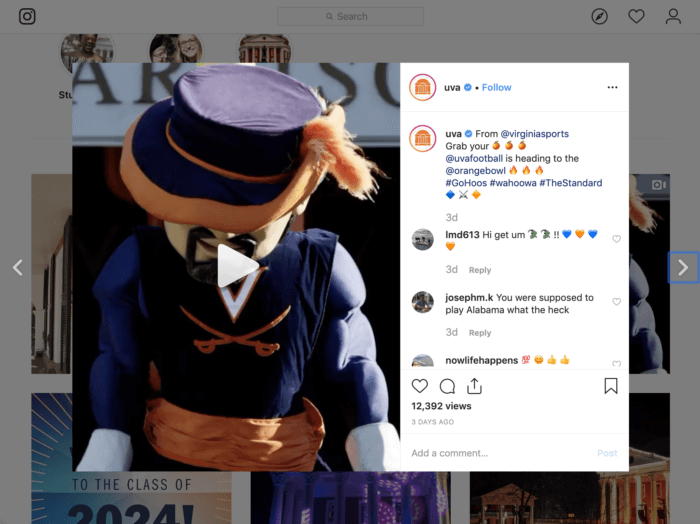 UVA's president, Jim Ryan, serves as a natural complement to the official university channels. Ryan enthusiastically shares about the university's banner athletics year on his own Facebook page and Instagram feed, presenting a united front of emotional support. Ryan's posts are incredibly genuine and heartfelt, which gives viewers all the feels, and fosters a great desire for prospective students to be part of it all.
When higher education institutions present a well-rounded brand view via social media, they maintain a unique edge in a highly saturated market. The competition is fierce among college admissions, and putting your best foot forward online makes a huge difference.
If you are looking to beef up your own university social media content strategy, take a page from the University of Iowa, College of the Holy Cross, Brigham Young University, and the University of Virginia, just to name a few. After all, highly ranked universities should have the digital presence to match. Don't you agree?