Engagement on TikTok is unlike any other channel. You can generate incredible reach and views for a single video, and fall flat on the next. It's enough to make you wonder what a good engagement rate on TikTok actually is these days.
While it may be cool to create a viral video that ends up on everyone's FYP, generating consistently high engagement rates for your brand is the ultimate goal. Using a few engagement strategies to drive growth and participation on TikTok can help your brand reach the right audience, amplify reach, and increase brand awareness.
Below, let's go over what a good engagement rate on TikTok is, how to calculate your TikTok engagement rate, and effective ways to increase your brand's engagement on the platform.
What is a Good Engagement Rate on TikTok?
The median engagement rate per follower is 5.7%, according to our TikTok benchmark report. This rate is 12x more engaging than the next most engaging channel, Instagram.
And since TikTok is a video channel, it's also worth noting what the median engagement rate by view is. Counting the number of times a viewer liked, commented, or shared and dividing it by the overall number of views measures just how compelling your content was. On TikTok, the median engagement rate by view is 4.15%.
When it comes to posting frequency, the average brand publishes about 1.75 videos per week or about eight per month. The most active brands, those in the top 20%, published videos at least five times per week on average.
How to Calculate Engagement Rate on TikTok
At Rival IQ, we define engagement as measurable interaction on organic and paid social media posts. On TikTok, this includes likes, comments, and shares.
TikTok engagement rate is calculated based on all of these interactions divided by total follower count. Here's the formula to calculate your brand's TikTok engagement rate:
TikTok engagement rate = [engagement total] / [total number of followers]
There are a few different ways to calculate engagement rate, but we find that dividing by the number of followers paints a more accurate picture of how your brand's engagement rate compares to similar brands in your industry — regardless of audience size.
Top 5 Industries on TikTok
While brands of all industries and sizes are finding success on TikTok, there are a few industries that are doing especially well on the platform.
The top five industries on TikTok, as ranked by engagement rate by follower, are:
Higher Ed
Sports Teams
Travel
Financial Services
Nonprofits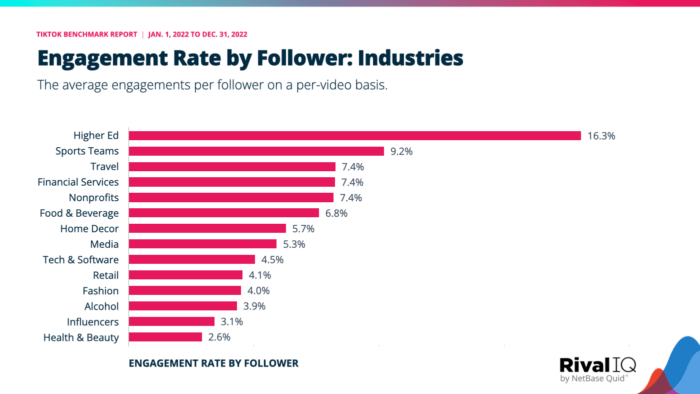 It's no surprise that schools and Sports Teams stand out the most on the platform, with a median engagement rate of 16.3% and 9.2%, respectively. These two industries consistently stand out above the rest across all social channels.
To better understand what they're doing to generate impressive engagement rates like these, let's take a look at a couple of ways these top-performing industries are tapping into TikTok's influential reach.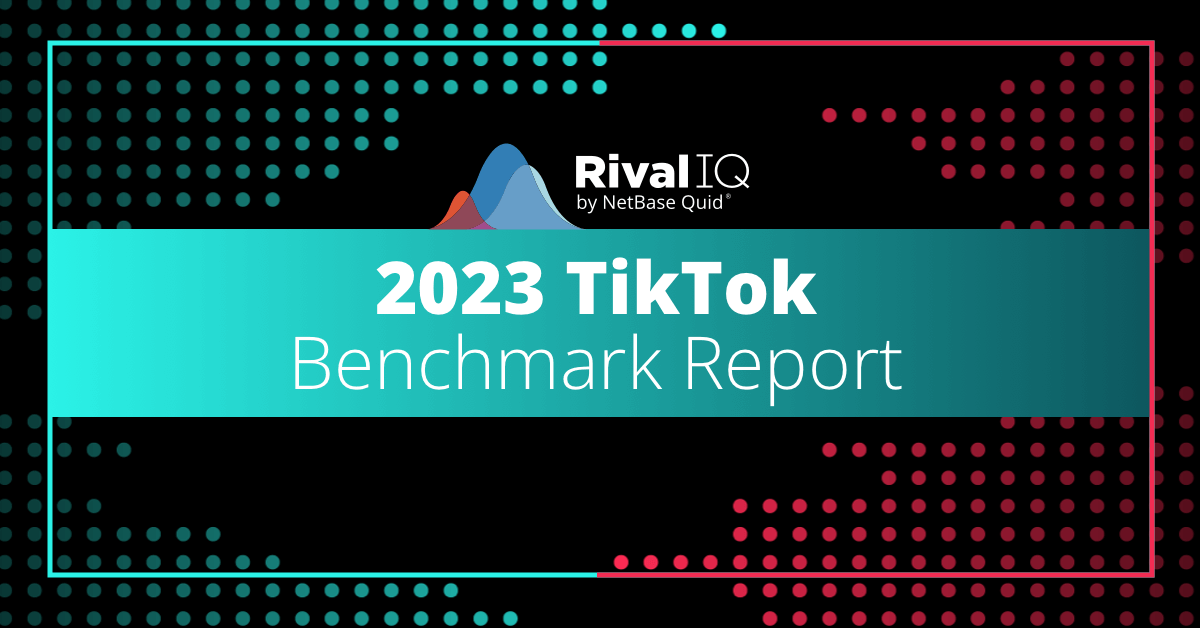 Want to see the full rankings and even more TikTok metrics?
Download now
Top Industry on TikTok: Higher Ed
Schools and universities dominate across social channels year after year, and their performance on TikTok is no different.
The median engagement rate by follower for schools is 16.3%, nearly three times the average engagement rate across industries. Even more impressive is that the top-performing schools (those in the top 25%) earn almost double that rate at a little over 30%. When it comes to posting frequency, schools and universities post 1.39 times per week on average. This comes out to about five posts per month (which is about a third of how often they post on Instagram).
All that to say, Higher Ed has found a sweet spot for themselves on TikTok that many brands would hope to emulate — fewer posts with major impact. So, what exactly are schools doing differently to earn such impressive engagement rates on TikTok?
For starters, school pride is unmatched. Schools often tap into that school spirit by sharing things that current and past students alike can relate to. While on Instagram this means sharing campus glamour shots, on TikTok, this spirit shows up in the form of informal, short videos — moments from a game, glimpses of a school tradition, or even user-generated content that shares an insider's perspective.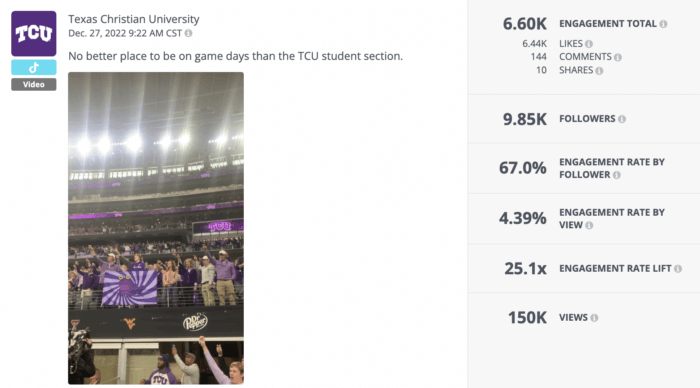 The video above from Texas Christian University is a compilation of videos that show what the student section at a football game looks like both from the field and in the stands. The video generated a whopping 67% engagement rate by follower which is four times as high as the median rate for schools and universities. It also performed 25x better than similar videos in the Sports Teams landscape.
This demonstrates the impact of using short-form video when it perfectly encapsulates a moment. Don't be afraid to share an informal video clip if it represents a moment or feeling that your audience can relate to.
Top Industry on TikTok: Sports Teams
Similar to schools and universities, Sports Teams generate impressive engagement rates on TikTok. Sports Teams cater to their spirited fans and followers by capturing heartwarming moments between players and fans, entertaining soundbites, or game highlights.
The video from hockey team Carolina Hurricanes generated an engagement rate by follower of 144%, which is nearly 16x better than the median rate for Sports Teams on TikTok and 25x better than the average rate across all industries.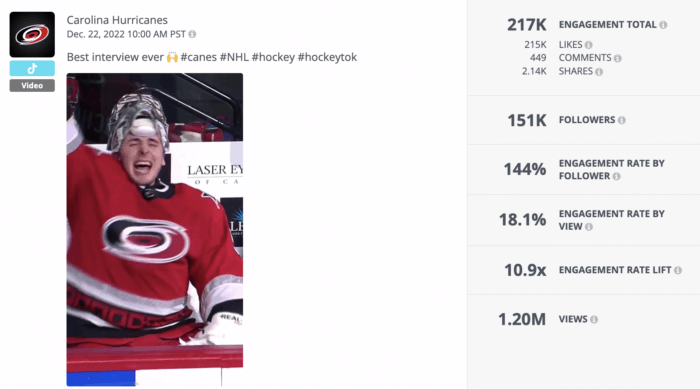 The brand let the video — a 30-second clip of an interview with two players — speak for itself by opting for a short caption and a few targeted hashtags. It also had incredible reach with over one million views. If you want to create similar videos, whether for sports or something similar, showcase quick soundbites or short video clips that are entertaining or inspirational to capture followers' attention and generate engagement.
8 Ways to Increase TikTok Engagement
Whether you're just getting started on TikTok or want to shake up your approach, here are eight ways to navigate the algorithm and increase TikTok engagement in 2023.
1. Mention other brands
When you mention another brand, especially if that brand is a big TikTok account with a lot of reach, the tagged account may engage with it, share it, and ultimately help get your video and brand in front of its audience.
The median brand on TikTok includes a mention in 14% of their videos. However, more brands should be tapping into this engagement method if they want to see increased reach across their account. We found that brands that include mentions in about 10-20% of their videos receive the highest engagement rates by view.
Let's take a look at the impact of a mention. When beauty brand Live Tinted mentioned Ulta Beauty in the video below, it saw impressive results. The video generated a whopping 336% engagement rate by follower, which is 129x higher than the average for beauty brands on TikTok. It also received over 700K views and generated an engagement rate lift that was 237x better than similar videos the brand shared.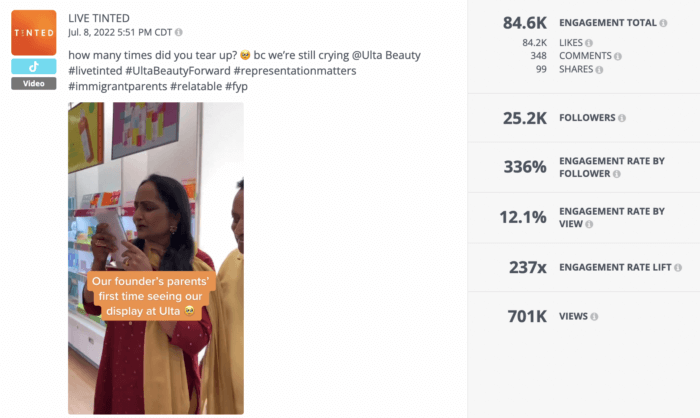 All that to say, mentions matter. If you're ever talking about another brand or product, be sure to mention them if they're on TikTok. It's also wise to tap into social media listening so you can get involved in relevant conversations in your industry and mention other brands when it makes sense.
While it's probably not a good idea to mention accounts simply for the sake of reach and exposure (you don't want to risk coming across as spammy), keep mentions in mind for about 20% of the videos you post and you'll be primed to generate more views and engagement.
2. Engage in the comment section
You've invested time and effort into creating content, so get the most out of it by staying engaged with your followers and other users. Being active in the comment section is a simple yet effective way to generate higher engagement rates on TikTok. This includes the comment section under your own videos as well as other users' videos.
Replying to your follower's comments and questions, commenting on other users' videos, and mentioning brands in your comments all help amplify your account's reach by getting it in front of a larger audience.
The interaction in the comments section of this video by Youthforia, another top beauty brand on TikTok video is a great example of how to thoughtfully engage. Youthforia consistently interacts with its followers through comments and video replies. In the comment below, not only did Youthforia respond to a customer's question with a helpful question, but it also mentioned two other brands.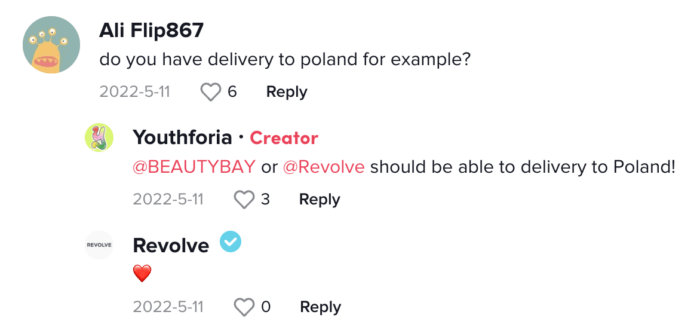 Actively monitoring your comments section ensures you never miss an opportunity to help out a follower, loop in other brand accounts, and effectively increase engagement.
3. Leverage hashtags
Want to increase your chance of landing on someone's FYP? Use hashtags. Niche hashtags and hashtag challenges are a great opportunity to join in on a relevant trend or conversation.
Like other social channels, TikTok uses hashtags to curate content and help users discover videos they could be interested in. Hashtags can also help boost your brand's searchability on TikTok — which is especially important when you consider how many people use TikTok as a search engine these days, especially among younger audiences.
When using hashtags on TikTok, less is more. According to our report, the median number of hashtags used by brands across all industries is four per video. 14% of the brands we analyzed for this report only included two or fewer hashtags in their videos. The takeaway here is to be intentional when choosing which hashtags to include. Focus on using just a few that have the most potential to increase your video's number of views and engagement.
For instance, if we take a look at Rival IQ's hashtag analysis for top-performing convenience stores, we can see which hashtags were most used, how many convenience stores on TikTok were using them, and what the engagement rate is for each one. If you were a marketer for a convenience store, you could use this to determine which hashtags are worth using in your videos to increase your engagement. You could also use this as an opportunity to tap into a lesser-used hashtag that still performs well in order to stand out above your competitors.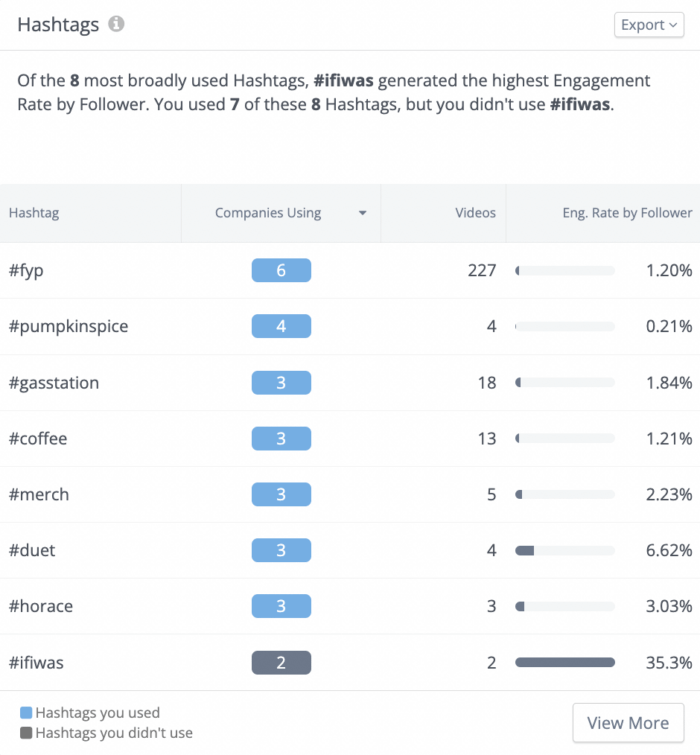 4. Reply with videos
In the same vein as mentions, replies are one of the best ways to increase your engagement by amplifying your video's reach. By re-engaging a follower who previously commented, you're creating an opportunity to grab their attention and get back on their radar again.
Creating content as a reply is also a great way to give followers the content they want to see and let them know you're taking their comments, questions, and feedback into consideration, making them active participants.
Use video replies to answer FAQs or make product announcements like Laneige frequently does. The beauty brand makes it a point to create a video reply anytime they bring back a best-selling product or are launching a new one.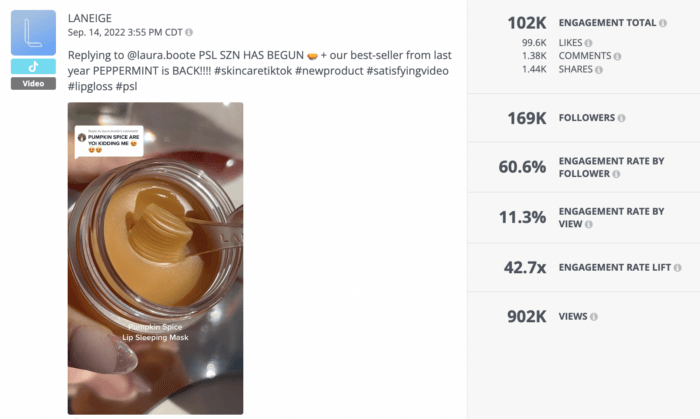 5. Find the posting frequency that works for you
The TikTok algorithm may still be a mystery, but if there's one thing we do know about the platform, it's that brands are posting less here than on other channels.
As we mentioned earlier, the median posting frequency across all brands on TikTok is about 1.75 videos per week or about eight per month. This could be because creating video content requires more planning and resources than creating carousels or graphics on Instagram. Or it could be because brands are still figuring out the right cadence. Either way, it's important to experiment with what works for your brand.
Take a look at your industry posting rates and, more specifically, your competitors to figure out how often you should be posting. Start by experimenting with one post per week then increase or decrease your posting frequency depending on the engagement rates you generate.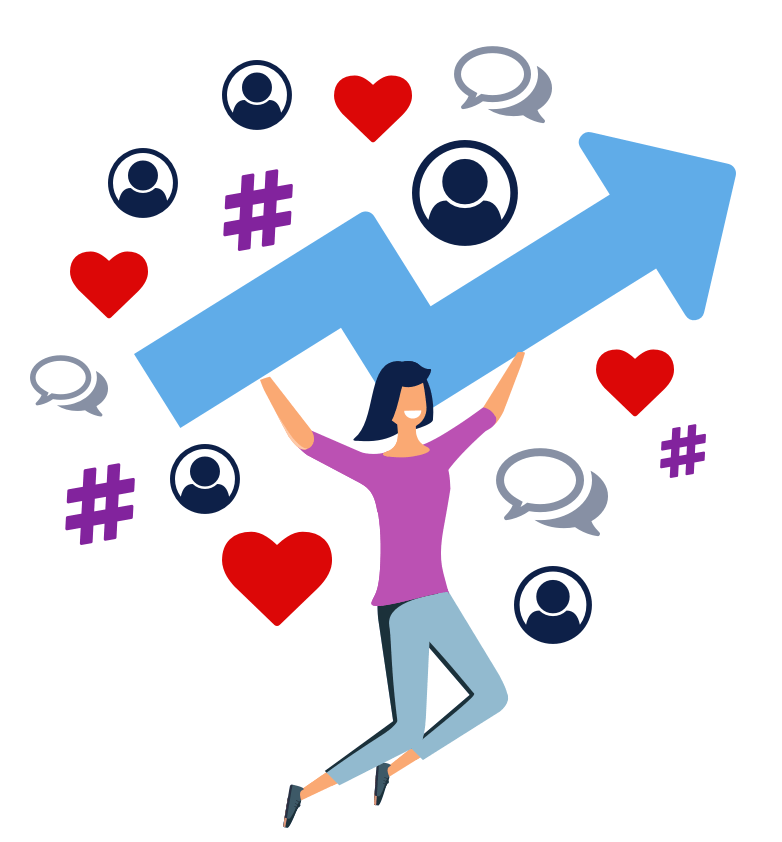 Start analyzing your brand's TikTok engagement with a free Rival IQ trial.
Get my free trial
6. Use a hook (and keep it short)
Short-form video is the priority of TikTok. Even though videos can be up to 10 minutes long now, the average length of a TikTok video is 32.4 seconds.
No matter how long the video is, the first few seconds matter the most. Viewers on TikTok have short attention spans. If it's not immediately clear what your video is about, or there's nothing visually appealing about it, then users will quickly scroll past it.
A common way to introduce the topic of a video is to use text overlay in the first frame. This can also be used as your cover photo, which helps your video stand out in the thumbnails on your page. After your hook, either a) deliver value quickly or b) promise a reveal. Let's look at another video from Live Tinted for an example of this in action.
In the video below, the first frame uses text and a voiceover to call out a skincare pain point their target audience may be dealing with. If you're familiar with hyperpigmentation or discoloration, then they're going to keep watching. Within five seconds, the video then introduces one of the brand's products that was created to help with this. The video wraps up by showing how to use it and the results you can achieve with it.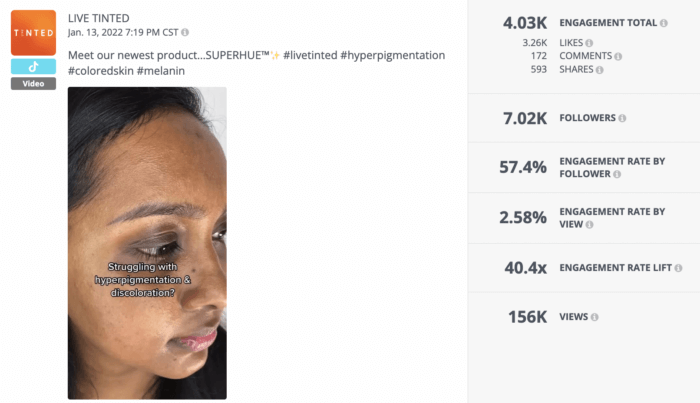 The video generated an engagement rate that's 22x greater than the average rate for health and beauty brands on TikTok. It also helped give the brand an engagement boost that's 40x better compared to similar videos from similar brands.
7. Tap into audio
Trending audio was the main feature that propelled TikTok into popularity, so it's no surprise that it continues to be a major engagement tool on the platform.
Not only does using trending audio help increase your video's discoverability, but it also makes it more memorable. 68% of TikTok users say they remember a brand better when they use a popular song in one of their videos.
Sparkling water brand, Spindrift, used a video reply (another engagement tactic!) to tie in a viral song at the time ("It's Corn" by the one and only @kornboyofficial) but also to create an attention-grabbing corn-based drink using its sparkling water.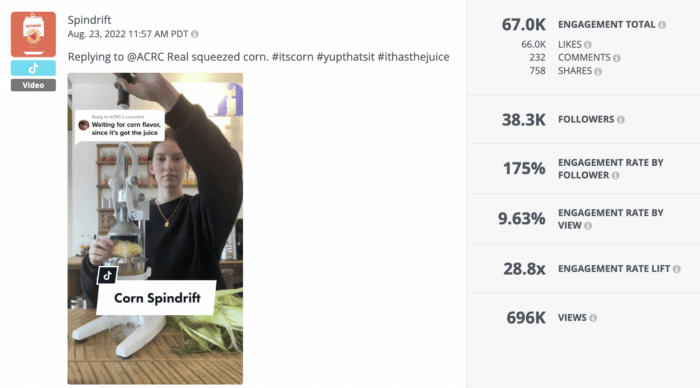 The video was a fun way to incorporate a viral trend and song, while also creating something its followers will remember. A quick glance at the number of comments proves that the homemade beverage got people talking, with some even asking for the brand to add corn-flavored water to its product lineup.
The metrics also prove that the video resonated with followers. With a 175% engagement rate by follower, the brand generated a rate that's a whopping 30x greater than the average rate for brands across all industries by getting creative and leveraging a popular song.
8. Track your analytics
At the end of the day, what works for other businesses on TikTok may or may not work for yours. The only way to figure out where to focus your TikTok marketing efforts is to track your analytics.
Compare your metrics to the average all-industry rates or the engagement rates in your specific industry, whether that's Food and Beverage, Beauty, or Higher Ed. To get the most accurate picture of your performance, it's best to track your analytics with similar brands.
Tap into live benchmarks for your industry to get real-time insights into top-performing posts and trending conversations. You can also use Rival IQ to create a landscape of competitors in your industry. Within the landscape, you can see which videos are generating the most engagement by view or by follower, and how your videos stack up. You can also see which topics and hashtags are being talked about the most within your industry.
Once you've tapped into what your competitors are doing, create, analyze, and measure your videos against this data to really understand what's working and what's not.
Wrapping it up
While TikTok is still a relatively new platform in the social media landscape, it's proving to be a high-performing channel for brands across all industries. Engagement rates on TikTok are well above Instagram, Facebook, and Twitter, and will likely remain high as the video-sharing app has impressive reach and influence.
To harness TikTok's engaged audience for your brand, experiment with the proven engagement methods that the top-performing brands are using. Stay tapped into what other businesses in your industry are doing to drive engagement, but don't hesitate to try something different to stand out above the pack. As long as you analyze and measure your efforts, you can adjust as you go to find the average TikTok engagement rate that works best for your brand.