Brand Marketers Take On Instagram
Instagram has become one of the hottest social networks out there, so it comes as no surprise that brands are looking for ways to fully leverage Instagram's 200+ million users. According to Scott Galloway, professor at Stern School of Business, Instagram's engagement rate is 15 to 25 times higher than those of Facebook and Twitter, making Instagram a potential goldmine for brands. With Instagram's main drawback being the inability to integrate eCommerce directly into posts, marketers have been busy trying to find a way to work around that and make Instagram shoppable. 
#InstaLike to #InstaShop Make Instagram Shoppable
What better way to optimize Instagram than make it shoppable right in time for the holidays? Michael Kors has done just this with the launch of #InstaKors, which allows its 3.2 million followers to shop while scrolling through their Instagram feed.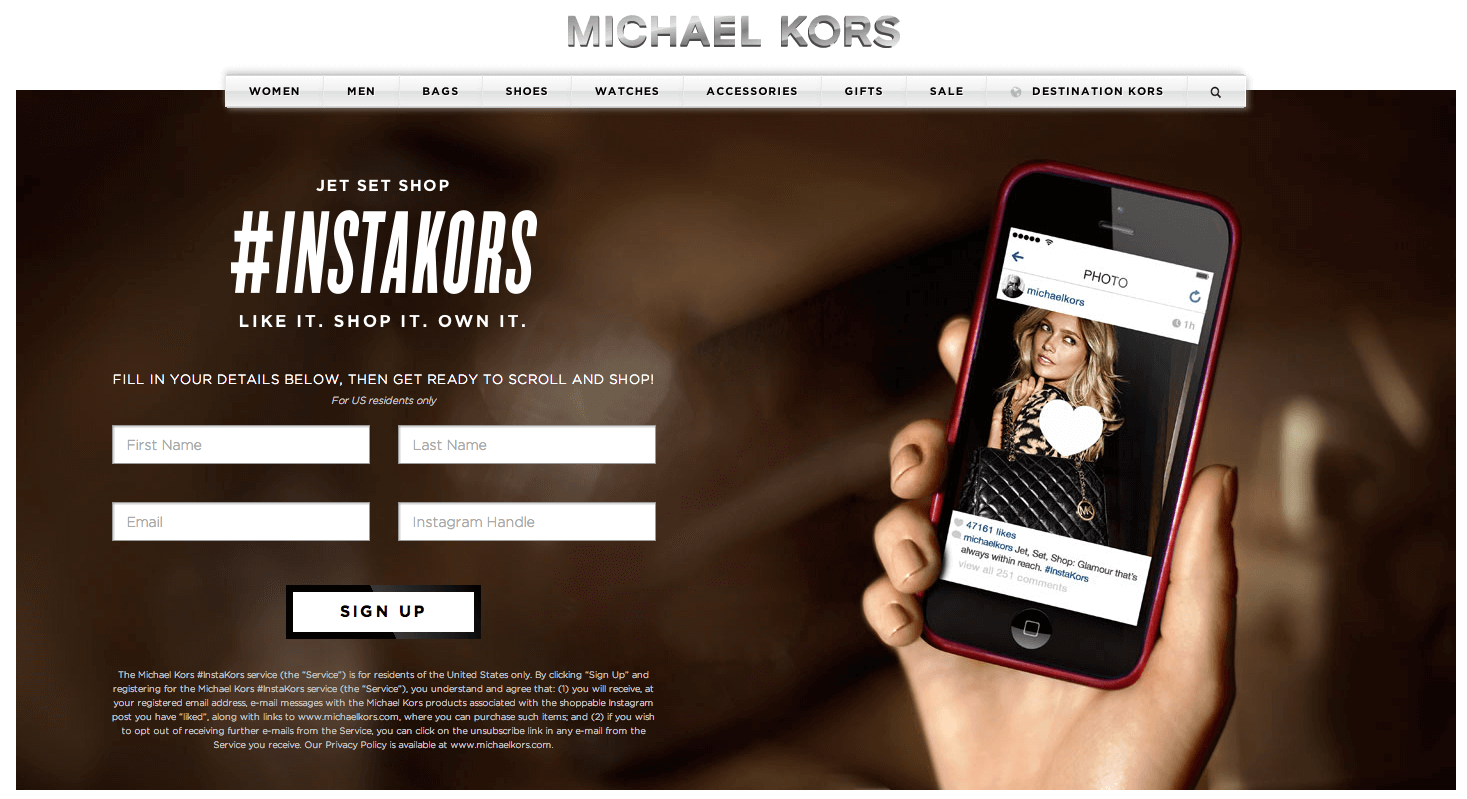 Michael Kors Integrates Instagram with eCommerce
Here's how it works: Sign up on michaelkors.com with your email address and Instagram handle, then just start shopping! If you "like" an image shared by @MichaelKors that also contains the hashtag #InstaKors, you'll instantly receive an email with the item's purchase link.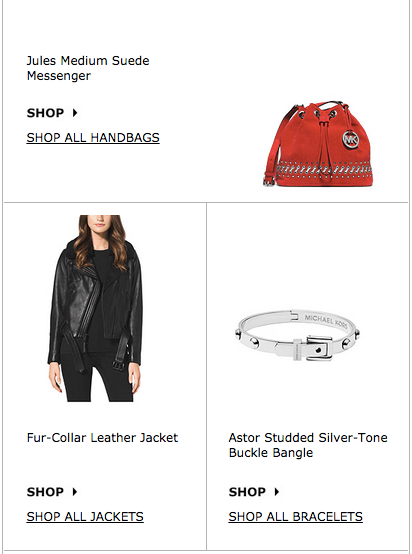 Till now, retailers have been unable to create a seamless shopping experience on Instagram. The inability to click on links within Instagram prevents consumers from quickly navigating from initial interest to purchase. In the age of instant gratification, consumers are unlikely to follow through if it's not a click away.
#InstaKors and other similar campaigns could be the solution that gives marketers a way to bridge the gap between social media marketing and revenue generation.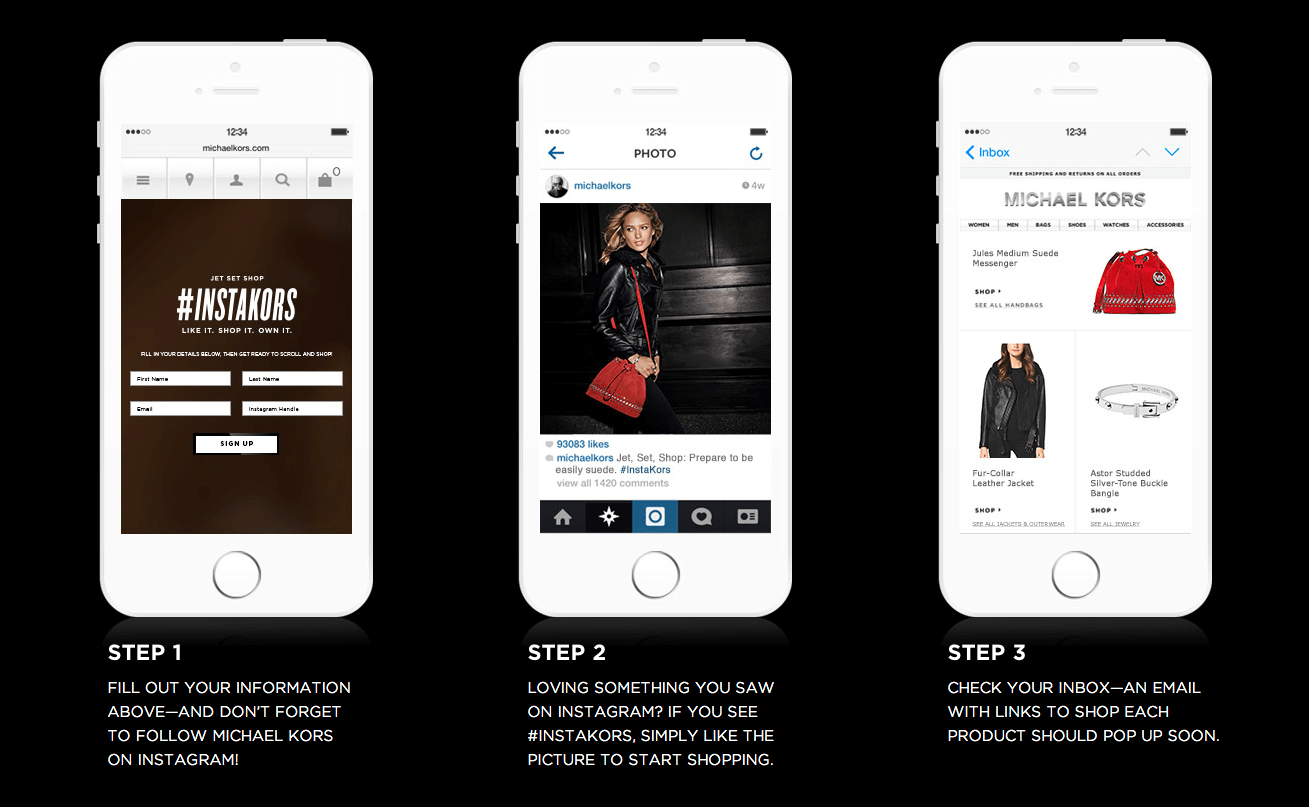 "I've said it before, but we really do live in a selfie world," says Michael Kors. "Everyone is on Instagram. It's inspirational, aspirational, and now, with #InstaKors, it's attainable. If fashion is a reflection of the world we live in, Instagram is the three-way mirror."
Other Brands Joining the Instagram Shoppable Experience
While #InstaKors isn't a one-click shopping experience directly within Instagram, it is definitely a step in the right direction. After all, if someone is going to like every picture of gold purses in their Instagram feed, maybe they just need that extra nudge to bite the bullet and purchase one. Michael Kors does exactly that, and the fashion icon is not alone.
Marc Jacobs recently launched the same campaign for their beauty line (@MarcBeauty) with #ShopMJB.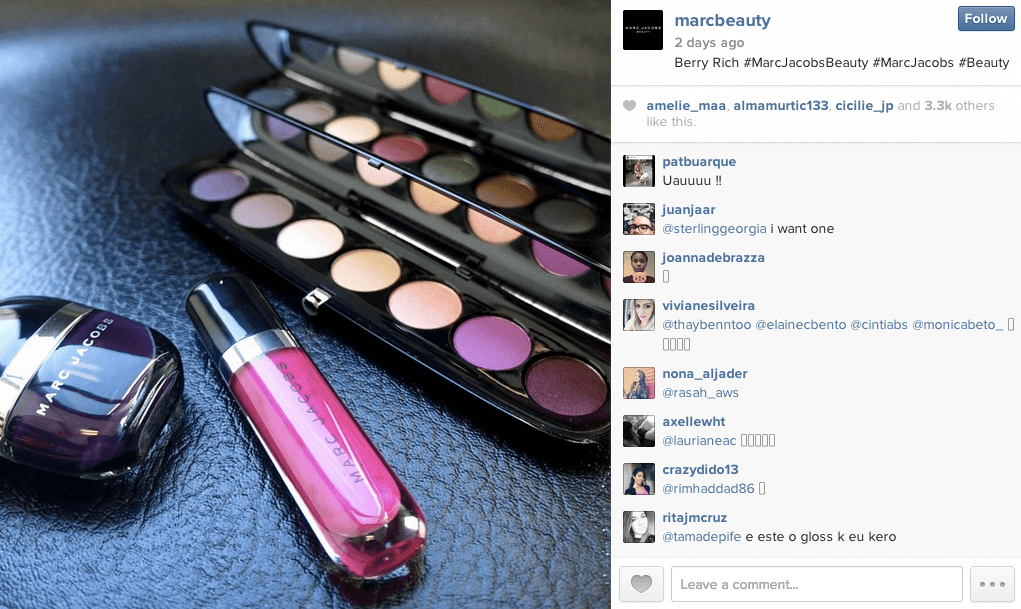 Get an #InstaLook with #InstaKors for Yourself!
I signed myself up to experience the magic of #InstaKors on Instagram. The signup process was quick and seamless. I started liking posts right away and received an email within seconds. The emails were well crafted — I received a purchase link for the item I "liked" and a list of suggested items to complement my selected product. For a social media junkie who is always looking to "complete a look," #InstaKors is exactly what I hoped for and more.
If you are both an Instagrammer and fashionista, I highly recommend you give this and other similar Instagram shoppable campaigns a try this holiday season!