Data without insights is worthless.
If you want your data to create value (which comes in the form of extracting meaning or actionable insights) you need to move beyond simply tracking metrics—you'll have to decode the data. For a long time, those of us who frequently use Instagram bemoaned the lack of analytics and the subsequent difficulties in determining how to improve Instagram marketing. Which is why I was excited when we started working on Instagram Insights in Rival IQ (cue fireworks)!
While I'm clearly biased about using our tool to get actionable insights from your Instagram analytics, no matter how you look at your data there's incredible knowledge you can gain. And with that knowledge, you'll be able to take actions—growing your followers, improving engagement, and driving more traffic to your website.
Let's walk through how you can analyze your Instagram Insights to improve your Instagram marketing. Here's what I'll cover in the following sections:
Improving Engagement
Grow Your Followers
As I'm writing this, there are over 2.5 million articles on how to grow your Instagram following. The majority of them are full of generic advice, push hacks, or tools that can get you kicked off Instagram. But as I'm one to repeat, quality matters, and that's not only about your content but also the followers you attract. If you're curious about how these hacks can go wrong, this article details how one photographer tested bots, and it's a pretty fair example of what happens. (The author mentions Instagress, which is no longer exists, but the tactics live on in many other apps of this nature.)
Rather than focus on gaining any followers, let's look at how you can grow your followers organically through relevant and engaging tactics. Let's start with hashtags.
Aren't hashtags part of the problem?
Hashtags can be a blessing and a curse. It all depends on the methods you're using. Hashtags are how your posts and Stories are discovered beyond your current followers. I won't go too much into hashtag best practices since we've written about that before; instead, let's focus on using Instagram Insights to measure what works.
You already know that relevant and frequently used hashtags are the most helpful. Highly engaging content is highlighted by Instagram as a Top Post when users search via hashtags — a coveted spot for any Instagrammer. But be cautious in using the most popular hashtags, these are less likely to drive awareness as they have hundreds of posts a minute. Unless your post appears in the top posts, the benefits of using the most popular hashtags have a sad half-life. These are also where the bots thrive. Bots may drive likes, but you're looking for real people that will not only follow you but engage with your content going forward.
Explore hashtags that have relevant posts and are frequently used that relate to your brand, industry, or products. For a beauty brand, #lipstick is likely too popular to drive new followers discovering their profile. However, that same brand might find that #mattelips, though still popular, offers more opportunity for discovery. (You can use a tool like Rival IQ's Instagram Discover to find potential hashtags.)
When you're testing new hashtags, be sure to track reach and follower adds. A higher reach will help build awareness and increase the likelihood that new followers will discover your Instagram profile. This same approach is also how you can track if your branded hashtag is gaining more awareness. And now that following hashtags is possible, it's even easier for you to be discovered through a hashtag. Track this as you test new hashtags with Instagram Insights, making changes as you learn more.
If you're using a branded hashtag, you're also on your way to user-generated content.
How does user-generated content help gain more followers?
One of my favorite ways to see businesses on Instagram growing their followers is through user-generated content (UGC). If you already have a strong fan base, UGC can drive incredible engagement along with growing your followers. When users have their photos shared via your brand's Instagram, they're more likely to promote your brand to their network. Of course, it's important to ask for permission when you take this approach ('cause you know, copyright laws).
The Human Rights Campaign (HRC) built much of their social media strategy with UGC. We recently examined how HRC uses UGC in their social media strategy and how you can try this out for your brand. With this approach and Instagram Insights, you'll be able to track increases in followers by watching follower adds on days you post UGC but also by tracking posts including your branded hashtag and mentions.
As you grow your Instagram audience, you'll also have opportunities for collaboration with other Instagrammers. Story takeovers are one great way to collaborate.
What's really in a Story?
Stories can be utilized in many different ways to not only grow your followers but also increase engagement. A Story takeover is when you invite an influencer (brand ambassador, content creator, or however you refer to them) to post to your Stories for the day. The influencer shares on their own channels that they're doing the takeover, and invites their followers to follow along by following your brand. Certainly, they also get to invite the brand's followers to check out what they typically post on their own profile. For most brands, this is more exciting for followers than typical Stories and is a great way to mix things up. This article from Social Media Examiner walks you through how to coordinate your first Story takeover.
Depending on the brand (and the product or service) this could be done in several ways. Here are a few examples:
A Day in the Life: how they use your product or service during their typical day
Behind the Scenes: life the curtain on how things are done, created, or solved
Fun With ______: Attend an exclusive event with the help of your brand
Another way to leverage Stories it to showcase a selection of your followers. In the example below from Instagram Insights, Rival IQ team member and artist, Cheryl, invited her followers to respond and would share her favorite post of theirs in her Stories. Over the next 24 hours, she gained over 300 new followers.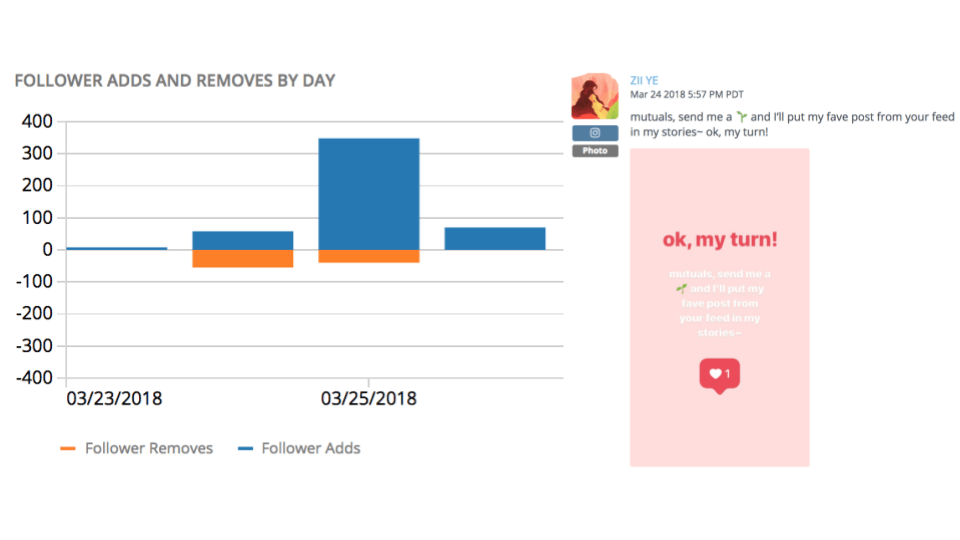 What about giveaways?
Giveaways have been a gold standard in social media. A giveaway post drives incredibly high engagement, but for most brands, that breakout performance doesn't translate into future posts. But the best giveaways aren't about driving higher engagement, they're about driving awareness and new followers.
If you're contemplating adding giveaways to your social strategy, consider doing so as part of a collaboration or partnership. That way you can engage your current fans and also drive new followers and traffic. Partner with companies that align both in audience and branding.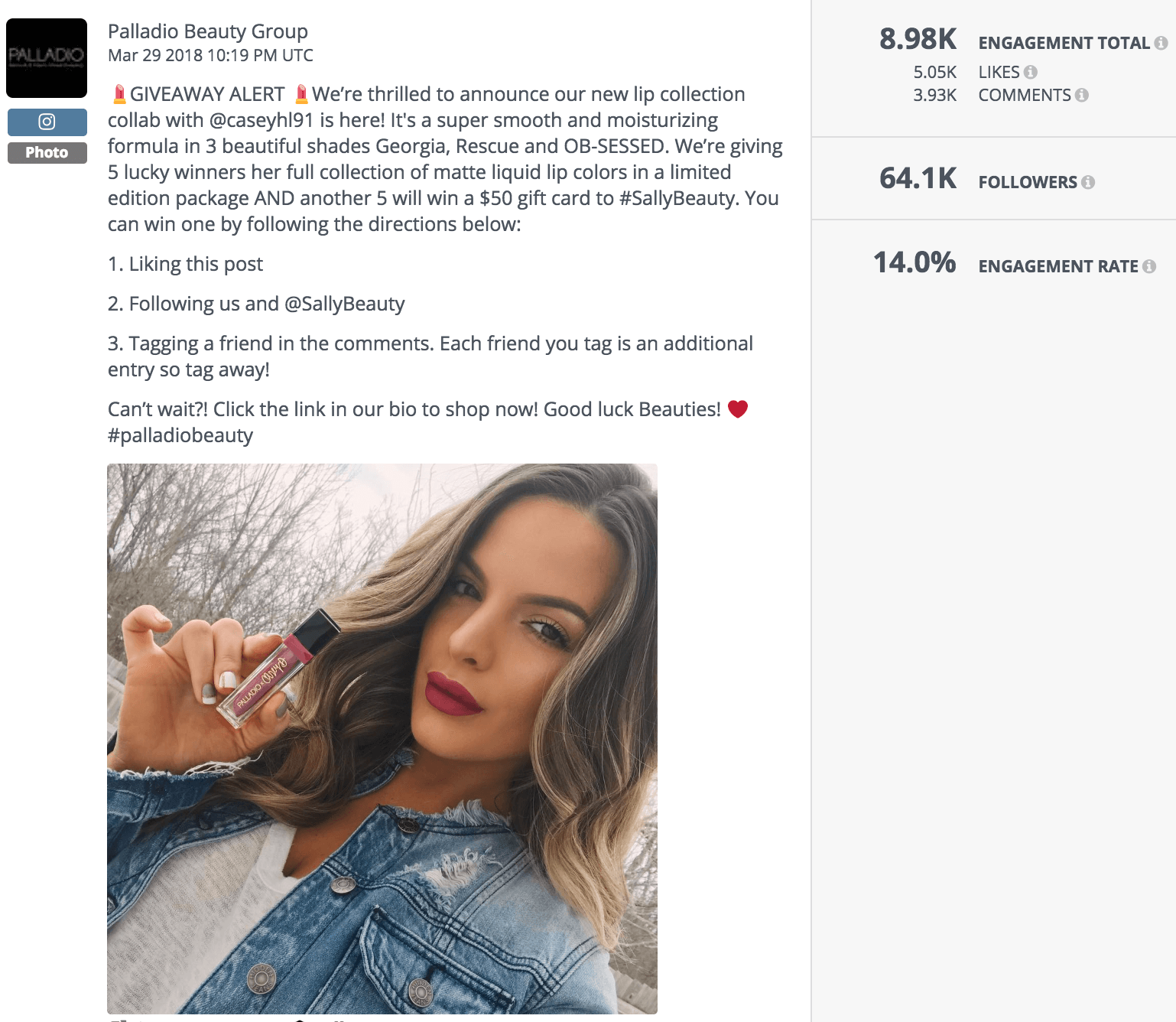 In this example from Palladio Beauty, they announced a new collaboration with a giveaway that partnered with Sally Beauty. With a 14% engagement rate, it's impressive (especially compared to the industry benchmark for health & beauty on Instagram is .98%), and it also grew their Instagram following by a few thousand followers within days. For this strategy to work, you and your brand partner need to really know who is following you on Instagram.
Who are your followers really?
Understanding who your followers are will not only help you understand who you should partner with, it can also help you refine other Instagram marketing strategies like content and posting tactics, which all help engage the followers you want.
There are over 800 million users on Instagram each month (as of September 2017) but if you're not paying attention to your follower demographics you're likely missing a boatload of opportunities. Using the demographic information in Instagram Insights allows you to tailor your brand voice to follower personas. Most brands have multiple customer segments, but not every segment is on every social channel. This is an opportunity to speak to the audience you have (or even the audience you want to have).
Who knows what you'll learn — for example, a reference to an 80's pop song might fall flat if most of your Instagram followers are under 25. By using your demographics, you can also try to understand your followers' online times — the usage habits of 20-year-old university students are going to drastically differ from 40-year-old working moms.
Analyzing location can helpful in few different ways, depending on your brand. If you have retail locations, there's likely a correlation between where your audience is located and your store locations. But what if the locations that drive your biggest segments of followers are not near stores at all? This may be an opportunity to promote your eCommerce or alternative options for purchasing your products.
Location data can also provide clarity for online times or post engagement. If your brand has a significant following in another region of the world, you might consider posting Stories to drive followers to recent posts at times their active. (i.e. For one Instagrammer based on the west coast, posting Stories at 4 am helped drive UK traffic, where it was noon, to engage with the recent post.)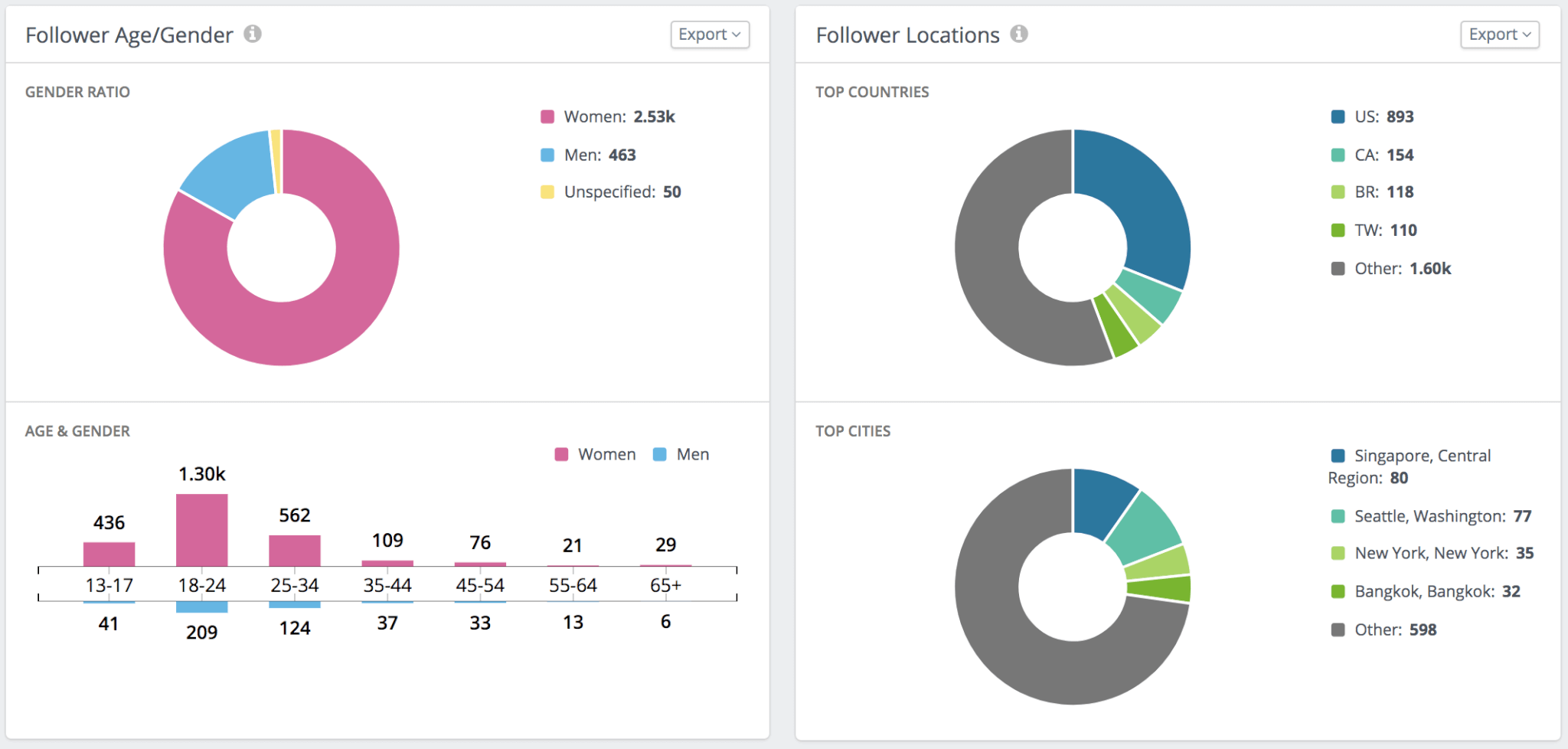 Why bother measuring followers if it's just a vanity metric?
Vanity metrics can make us feel good, but remember that they're not the metrics that matter most. Think of them rather as indicators. For example, when measuring follower counts dramatic shifts (up or down) or trending decreases, can act as indicators that you need to look into potential causes. A dramatic shift could be related to a social media trend, a controversial topic or issue, or that other strategies are working. A trending decrease may indicate that your followers no longer find your content relevant or engaging.
Ideally, you want to see followers increasing over time, as this is an indicator that you're building awareness and that you're producing quality, engaging content.
Like I mentioned, these are indicators. What people do on their social media channels aren't direct reflections of what they do in their 'real lives', but they often correlate. Losing followers may be the precursor to seeing a decrease in customer satisfaction or increased churn. Another way to understand this is to look at engagement rate.
Is this a good engagement rate?
Engagement is the key metric in social that indicates success. Social media engagement is the interactions and interest in your brand. For Instagram, this includes actions such as likes, comments, or saves of your post.
If you want to have a better understanding of how brands are performing across Instagram, benchmarking (comparing metrics against competitors, top brands, or the industry) is going to be the best way to provide that.
Benchmarks also help on an ongoing basis to put your numbers in perspective. Feel like your 5% increase in engagement is not exciting? What if you're looking at your competition and they're not growing at all, does that change your perspective?
While this is something you can do with Rival IQ (wink, wink), you can also use this social media industry benchmark report to benchmark against your industry as a whole. This graph below shows the average Instagram engagement rates per post for the ten industries studied in the report.
The Best Instagram Engagement
When it comes to engagement, not all actions are equal. Like most social media networks, liking a post on Instagram takes little effort, which is why comments are the most coveted type of engagement. Sure, driving traffic and conversions are the outcomes most marketers ultimately seek to improve, but comments are one of the indicators this will happen.
Comments have a lot of benefits. First of all, since commenting takes more effort on the part of your audience it speaks to how engaged and interested they are with your posts. If they didn't have a response, they wouldn't be commenting.
And with the changes in the Instagram APIs, comments are less likely to be from bots than previously. Haven't you noticed a decrease in random emoji comments or generic ones that say how great the feed is? It's hard to say if this is a temporary situation or a long-term fix, but for now, we'll enjoy the authentic commenting we're currently basking in.
There are plenty of assumptions about what comments actually do to the performance of a post. Of course, Instagram isn't sharing the truth of the situation, but we can look at the data. When it comes down to performance, most Instagrammers see higher engagement and post reach correlate with their comment count. The example from Instagram Insights below show a comparison on how comments and reach rate may correlate.
So how do you get more comments on your posts?
Start by reviewing posts that have garnered the most comments and look closely at both the content of the caption and the post itself. Make sure to consider the quality of the comments and remember that your interactions with commenters is counted but wouldn't necessarily help in Instagram's algorithm.
Look for connections between the different posts. Ask yourself the following:
Is there a theme for the posts themselves? (i.e. photos with certain people, activities)
Is there a type of post that gets more comments? (i.e. video, photo, carousel)
What type of caption does it have? (i.e. long with personal insights, short with a pun or joke, or always ends with a question)
In the example above, at that time the posts that garnered the most comments most frequently featured charm designs. These were new to the audience and clearly, they reacted well.
Taking Advantage of Online Times
One of my favorite features of Instagram Insights is being able to understand when followers are online. By understanding when your audience is online you can create a strong Story strategy to drive engagement with your posts.
You should already be using your data to determine which time and days are the best to post to maximize your engagement. While it's important to get engagement immediately following your post, it's also important to ensure that you continue to bring people to your post hours later. By paying attention to when your audience is online, you can use Stories to encourage your followers to check out your recent post.
Here's an example: Your fashion brand typically gets an early-morning workday post gets top engagement. Online times show that your followers peak online in the morning before 9 am, again around noon, and once again in the evening. Posting in the morning gets the initial engagement, but then to increase the likelihood of your remaining followers seeing the post you use Stories. The Stories at noon and in the evening hours may include behind the scenes, close-ups of the clothes from the post, or more ways to style the pieces. Reminding the viewers to check out the post in your feed will help maximize engagement on the initial post.
Online times will shift and may have seasonality to them, so this is not a set-it and forget-it tactic. As you grow your followers, the demographics including their location will likely change, and how they use Instagram can shift. Consider if your audience is primarily mothers with school-age children—seasonal shifts related to school breaks, activities, and even holidays would not be surprising. Keep these in mind when you're planning your social media calendar. Mondays may be your best day for engagement, but holidays like Memorial Day or Labor Day can flip that typical engagement on its head. Using Instagram Insights makes it easier to stay on top of these shifts and adjust your tactics accordingly.
Does the type of post really matter?
Videos, photos, carousels, oh my! The post type for your content, on both Stories and posts, will directly impact the engagement. As we've seen across many industries in the social media benchmark report, there's not one perfect post type. The post types that drive the most engagement don't mean that the rest should be thrown out completely. Take some time to consider how your audience may be viewing these posts, and consider the reach, impressions, and if it's on Stories, the exit and tap forward rates.
For many brands, videos receive lower engagement in the form of likes on Instagram. This is partly due to the nature of how videos work on Instagram. Unlike photo posts that can be easily tapped to like, videos can't. Tapping a video in Instagram turns on or off the sound. A double tap is required to like a video. Even if someone has stayed through your whole video, they may simply forget to double tap and show their appreciation. If your reach is higher on videos than photo posts, this is a positive sign.
For Stories, video and photo posts and how they perform can tell you a great deal. Understanding if your followers are tapping forward (like a fast forward onto your next post), or exiting from your Story help you clarify if this content is engaging and relevant.
In the example above from Instagram Insights we can learn that videos posts receive a higher reach, but not a higher engagement. However, since this data set only included one video post, it may be worthwhile for this brand to explore ways to increase engagement. We also see that for Stories, the full view rate is noticeably higher for video posts — a positive sign that the videos are engaging the audience.
Growing Instagram followers and improving engagement are nice, but what about driving them to purchase or engage with your website? Despite the assumptions, Instagram does drive traffic. If you're not happy with that performance, there are a few ways you can drive more traffic to your website or take the next step with your brand.
How do I drive traffic from Instagram?
First, are you using Google Analytics to see if your Instagram is driving traffic and conversions? If you want to measure how you're increasing this traffic, make sure you have a good baseline to measure against. For Rival IQ customers, make sure to connect your GA to your account. You'll be able to report in multiple ways how your Instagram marketing is influencing website traffic.
One of the best ways to track this is using UTM (which stands for Urchin Tracking Modules) links. A UTM is a simple code that you attach to a URL to track the source, medium, and campaign of your traffic. It tells Google Analytics where your prospects and customers came from (source), how they found the content (medium), and which campaign it was associated with (campaign). There are additional values you can track too including campaign name, term and content type to differentiate your ads. Start by using Google's Campaign URL Builder.
Your Profile Link Matters
While there aren't a plethora of places to include URLs to drive traffic, there are ways to leverage the options you do have. Regularly updating links in Instagram profiles is not a useless endeavor. One of the popular alerts from Rival IQ includes notifications for when brands change their bio, including the link. It works to drive traffic via those links, which that's why brands regularly update theirs.
Want proof that these links work?
Remember that example from earlier — Cheryl shared her favorite posts from her followers in her Stories and gained over 300 new followers within 24 hours? Well at that same time, there was a jump in her website clicks.
You can even see how it works for your competitors. Take any of your competitor's links and do a double check — if they're using bit.ly, just drop a + at the end of the link to see how much traffic they've been able to drive with that link. Depending on the brand links can drive upwards of thousands of clicks.
But this isn't one of those, 'drop in the link and they shall come' moments. (Yes, that's a Field of Dreams reference or Wayne's World 2 if you prefer.) To truly drive traffic, you'll need to make sure to mention the link in posts and Stories.
How can Stories drive traffic?
If you have at least 10 thousand followers, you can also add links directly to your Stories. This allows your followers to just swipe up and head to your site. If your brand doesn't have this capability yet, this is a great example of how working with influencers (with over 10k followers) can be beneficial. This is also another reason why growing your followers is a good thing to do: it opens up other ways to improve your Instagram marketing.
Although not a way to organically drive traffic, one popular tactic is to create Instagram ads that target your followers. With Instagram ads, you can include a link with a clear CTA to drive your followers to your site for specific content or products.
In the Story example above, Daily Harvest worked with an influencer. Although they have the ability to link in their own Stories since over a hundred thousand followers (and they do), they also worked with Karla Reed to introduce their products to a new audience. (Hint: This is the type of collaboration I mentioned earlier that will help increase followers too.)
In the example above, Foodstirs used a Story highlight to explain their line of Mug Cakes and invited their followers to swipe up to order their own set of mug cake mixes.
For a limited set of businesses, there is also the ability to tag or shop from Instagram. If you're using that feature you'll be driving revenue — which is even better than traffic (for most companies). But as Asos looks at it, it's not yet clear how this will play out in the long run.
Wow, That Was A Lot to Cover
(Now if only I could figure out how to make this swipe up…)
As you can see, there's no magic wand you can wave to make your Instagram marketing successfully soar. But I hope by walking through these tips and showing ways you can leverage your Instagram Insights you feel more confident to take on some new challenges.
If you haven't tried Rival IQ and our newest feature, Instagram Insights, I invite you to sign up for a trial. You'll be able to connect your Instagram and start using Instagram Insights to improve your Instagram marketing.
And if you made it this far, I'm certainly interested in hearing your thoughts or questions! Reach out via Twitter or Instagram ?.