The Human Right Campaign is "the largest national lesbian, gay, bisexual, transgender and queer civil rights organization." We love how well they use social media to tell their story and energize their community. Here's a peek into how they find success on social media.
With the support of over 3 million members and supporters nationwide, it's hard to imagine what the Human Rights Campaign was like in 1980 when it began as a small fund designed to provide financial support for gay and lesbian political candidates and gay civil rights legislation. Within two years, the Human Rights Campaign Fund was the 17th largest political action committee in the United States.
Today, HRC is America's largest civil rights organization working to achieve "a world where lesbian, gay, bisexual, transgender and queer people are embraced as full members of society at home, at work, and in every community."
We wanted to learn more about how a successful non-profit organization leverages social media to generate awareness, tolerance, and acceptance while inspiring and engaging people and communities.
So, we analyzed HRC's social media activity in 2017. After looking at nearly 10,400 posts across six social media channels (Facebook, Instagram, Twitter, YouTube, Pinterest, and Google+), we learned that one of their favorite, most successful strategies had nothing to do with promoting themselves or their brand, and everything to do with highlighting their supporters and who they fight for.
User Generated Content (UGC)
You've probably heard a bit about user-generated content (UGC). It's a tactic many organizations, brands and businesses have been successfully using for years where consumers, or users, generate content on the organization's behalf (not always intentionally, but ALWAYS with permission).
UGC is powerful in the sense that people value trust in the organizations they do business with and support. By allowing someone else speak on your organization's behalf instills authenticity and trust in your brand.
UGC stats
In a case study run by Chobani, UGC shared across websites, billboards, and social media resulted in a

225.9% increase in revenue

between 2009 and 2010

51% of Millennials

trust UGC more than anything on a company's site, news article or blogs about the company, product or ad copy

70% of consumers

trust online peer reviews and recommendations more than professional content and copy
For the Human Rights Campaign, user-generated content is their bread and butter, and they execute it well. Here are some UGC best practices and examples from HRC to help you incorporate UGC into your social media strategy.  
User-Generated Content Best Practices
Ask
To get started, you'll need to ask your audience to share related content. In your ask, be specific about what you're looking for, how content can be submitted, and how it will be used. Asking via social posts and newsletters are the easiest ways.
If you notice content that aligns with your brand that you'd like to reshare, you must ask for permission to reshare. Asking via a comment or direct message is the easiest way to get permission.
The Human Rights Campaign accomplishes wider reach on social media by using the power of "the ask." Each social channel is different and asking for your audience to share your content may look slightly different channel to channel.
In this Facebook post, HRC asks their audience to:
Follow them on Instagram. 

If your audience likes your content, odds are they'll like you Instagram content as well.

Take a picture that includes HRC's logo. 

When you ask for content, audiences are more likely to participate if you are specific about what kind of content you want. Bonus points if you can get them to incorporate your branding.

Use the hashtag #WeAreHRC. 

Use a custom or branded hashtag so you can easily track UGC
They also let their audience know what's in it for them by participating. By doing these three things, their participating members are entered into a favorite photo competition. The winners will be featured on their official site touting over 2.6 million followers (serious exposure!).
Use a hashtag
Create a specific or branded hashtag for your user-generated content. Asking them to use a designated hashtag will allow your audience to easily share their content with you, as well as help grow awareness. On Instagram, you can now follow a hashtag – ensuring you're always up to date on who is using your campaign's hashtag.
By asking their audience to use the hashtag, #WeAreHRC, the marketing team could track who was participating in their 'Equali-gram Contest' and select winners by searching that hashtag.
Here are the four winners of that contest: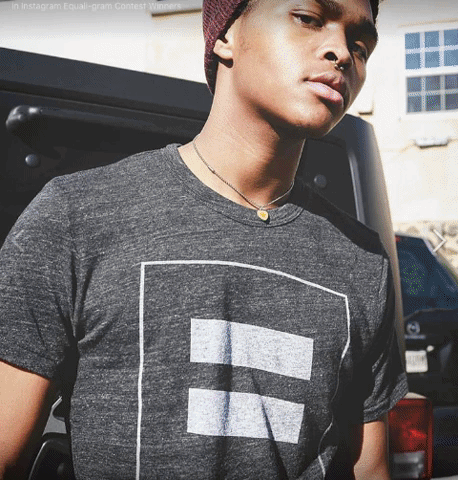 Proper credit
Whenever sharing user-generated content, it's especially important to give proper credit. You can do this by adding 'credit', 'photo,' or 'cc,' along with the creator's handle. HRC often includes the handle on the image, alongside the hashtag #repost, and credit to the original creator.
See the handle of the original author on this image in the bottom left-hand corner:
In this repost, HRC uses the hashtag #repost and gave credit to the original author in the comment section and named them by their handle:
"One way to channel last weekend's energy into sustained action for #LGBTQrights: Share your stories like this one of @chefemiliacirker and her daughter. "
Engage
When your audience shares content by tagging your brand, or using the relevant hashtag – be sure to acknowledge them. You may not be able to use every piece of content, but there's nothing wrong with having too many people sharing your product or mentioning your brand.
Here's the original post by @babybaileymamadrama. She posted a series of family photos and tagged HRC in their Instagram post. 
Here's a look at HRC's repost of the first image above:
Reflect Your Brand
Stay true to your brand with the content you reshare. If you've been specific in your ask from followers, and you've done a good job of promoting your request, you should have enough content to give you options.
Choose high-quality images that reflect your brand properly. There's no need to lower the bar when it comes to sharing user-generated content. HRC does this well – the images they share align with their owned content.
Shifting your social strategy to utilize user-generated content can be intimidating. For non-profits and community focused brands, it's a must-have component for social success. Your audience wants to see themselves in your social presence and user-generated content is the best way to do it. If you're just starting to add this to your social strategy, start small, follow these best practices, and bask in the excitement of your audience. You might just be surprised at how excited your followers get at the possibility of sharing their own content, and of course, your engagement numbers will reflect it too.