Twitter hashtags are essential to your marketing toolkit.
Hashtags have long been used to help users and brands alike categorize content, discover trending topics, and contribute to relevant conversations.
And with around 500 million tweets sent per day — that's 6,000 tweets per second — marketers would be wise to optimize their brand's tweets as much as possible to break through the noise and reach their target audience.
Through Twitter hashtag analytics, marketers can gain crucial insight into which hashtags are being used by their brand's target audience, which ones generate the most engagement, and how their brand's hashtags are performing on Twitter.
Tracking and Analyzing Twitter Hashtags: Why it Matters
On a platform where conversations begin, hashtags have always played a crucial role on Twitter. Not only do hashtags help amplify your tweets and allow your brand to chime in on relevant conversations, but using the right hashtags can increase your content's discoverability and reach.
But exactly how much impact do hashtags have on overall engagement? Let's take a look at a set of hashtags for the alcohol brands industry.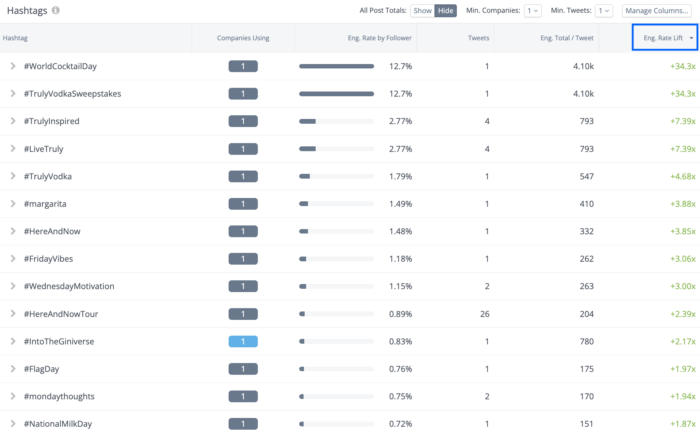 Using our hashtag discovery tool, we can analyze engagement rate lift — highlighted in the blue box in the top right corner — and see how much better or worse tweets with hashtags performed compared to tweets that didn't use the hashtag.
By including these hashtags in their tweets, some of these alcohol brands saw an engagement rate lift up to 34 times better than the average rate for their industry.
So what does this mean for your Twitter strategy? Hashtags can have a major impact on overall engagement, but only if you're using the right ones for your brand.
To figure out which hashtags work for your brand, it's essential to track and analyze different Twitter hashtags.
But in order to accurately measure the performance of your hashtags on Twitter, you need to know which metrics to track, how to analyze hashtags, and which tools to use for your Twitter hashtag analytics.
Top Twitter Hashtag Metrics to Track
When you're considering which hashtags you want to track for your Twitter strategy, there are a few key metrics to look out for. These metrics can help you measure the potential impact these hashtags will have on your brand's overall Twitter performance.
Popularity
First, how popular is the hashtag? In addition to trending hashtags, there are also hashtags that people regularly search for and will always get a ton of usage. For instance, the hashtag #giveaway garners hundreds of uses per hour according to our hashtag analytics tool.

But what's most popular on the platform may not be the best choice for your brand. For example, the hashtag #photography is another popular evergreen hashtag on Twitter that individuals use to showcase their personal work. So if you're marketing a beer brand on Twitter, it probably doesn't make sense to use this popular hashtag.
To make the most impact with your hashtag strategy and reach your target audience on Twitter, it makes more sense to track the most popular hashtags in your industry and look out for the ones your ideal customer uses and searches for (more on that below).
Users
Another key metric to track: Who's using the hashtags you're tracking? If you want your tweets to reach your target audience, then you need to use the same hashtags they (and your competitors) are using and searching for.
To experiment, search for a hashtag that you want to use in your strategy. If the users and conversations connected to this hashtag aren't relevant to your brand or tweets, then that's a sign that the hashtag may not be right for your content strategy.
On the flipside, it's clear when the hashtags you want to use are relevant to your audience. As an example, let's say you're a marketer for a sustainable beauty brand and want to track the hashtag #cleanbeauty. A quick search of the hashtag results in a mix of tweets from both brands and individuals.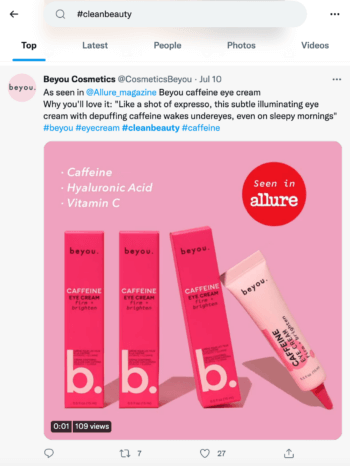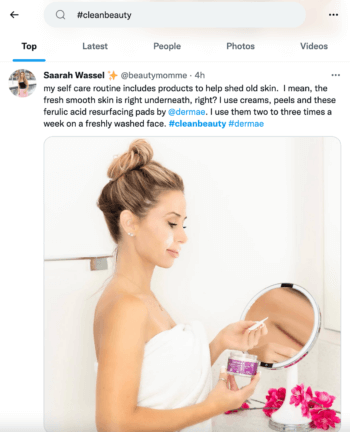 These results indicate a couple things. One, since many beauty brands use this hashtag, it's very likely that this is a common hashtag within your industry. If you want to keep up with the competition, use the same hashtags so your tweets will also show up in the results alongside them.
Another thing to note is that since individuals appear to be using and interacting with this hashtag too, your target audience may be browsing through the relevant tweets to find what they're looking for. Keep this in mind as you craft tweets using this hashtag and make sure the content you're posting is relevant to what people who explore this hashtag are expecting.
The only concrete way to find out if your target audience is engaging with the hashtags you want to use is to measure the engagement of your tweets that use the Twitter hashtags you're tracking.
Engagement
Engagement is arguably the most important metric to track for your Twitter hashtag analytics. At Rival IQ, we define engagement as the number of measurable interactions on a post. On Twitter, that includes likes, retweets, and replies.
If you're curious about how well certain hashtags perform on Twitter, analyze the interactions on the tweets that use the hashtag. You can also use a hashtag analytics tool to find top-performing hashtags that are relevant to your brand.
By analyzing engagement, you can get a better idea of which hashtags are working well and which ones could be swapped out for a hashtag with more reach.
If your brand has its own hashtag, you'll also want to keep tabs on its engagement rate on Twitter. Track your branded hashtag to see how many people are using it, who's using it, and what people are saying about your brand.
How to Track Twitter Hashtags Natively
If you want to stay on top of trending hashtags and search for relevant ones for your brand, you can track Twitter hashtags directly in the app. However, Twitter doesn't have a native analytics tool for hashtags so you'll have to manually measure the number of interactions.
You can find trending hashtags and topics in the Explore tab on both the mobile and desktop app, as shown in the black box below.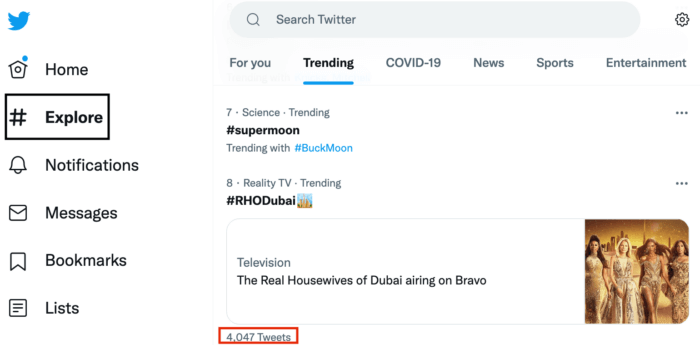 While browsing through the trending hashtags, you can also see how many tweets are currently using a specific hashtag, as outlined in the red box towards the bottom of the screenshot. This provides more insight into how popular the hashtag is and can help you determine if you want to contribute your brand's voice to the conversation.
If you want to check out a specific hashtag you're interested in tracking, let's say #plantbased, simply type it into the search bar.
Twitter will show you the top results — both accounts and tweets — that match your query and you can choose to organize them by top, latest, or tweets that use a certain post type like photos or videos.
If you look at the top tweets using that hashtag, you can get an idea of how engaging that hashtag is, who's using it, and which users are interacting with it.
Tracking hashtags directly in Twitter is a great way to get real-time insight into which topics are trending and what your target audience may be talking about. But if you want deeper insight into engagement rates and top-performing hashtags in your industry over time, you'll want to use a Twitter hashtag analytics tool.
How to Track and Analyze Twitter Hashtags in Rival IQ
To optimize your brand's Twitter hashtag strategy and measure the key metrics we mentioned earlier, it helps to do a deeper dive into industry-related hashtags using an analytics tool.
Let's take a look at an analysis of top hashtags from alcohol brands, an industry that tends to perform well on Twitter, using Rival IQ.
Head to the Twitter analytics tab and once there, click on the Social Posts overview, which you'll see highlighted in the light blue box at the top of the screen.
If you scroll down, you'll see a section dedicated to hashtags, as shown in the red box below. These are hashtags that companies in your landscape used the most.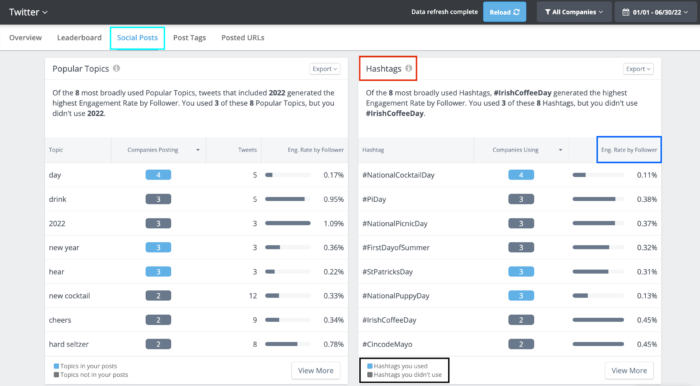 You'll also see which of those hashtags you used compared with others in your industry — as outlined in the black box near the bottom — so you can get an idea of where you stand against the competition as far as hashtag strategy goes.
The hashtag overview also provides data on the engagement rate by follower for each of the top hashtags, which is highlighted in the dark blue box.
If you click on one of the hashtags, you'll get an overview of the top tweets using that hashtag and what each of the tweet's engagement total and engagement rate is.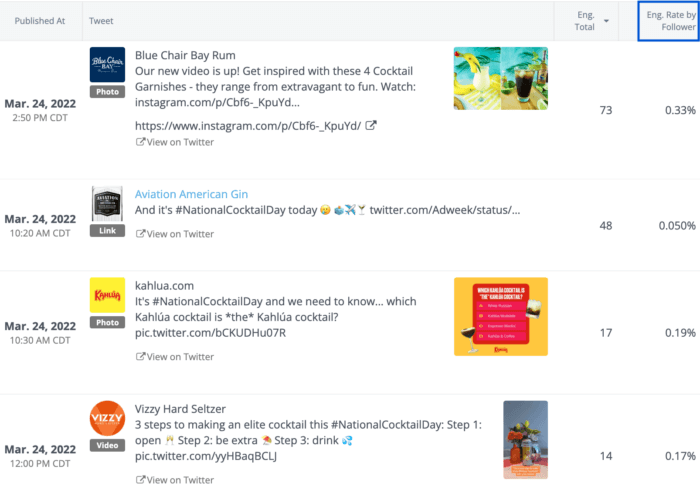 With this data, you can see what's performing well in your industry and use that insight to better optimize your Twitter presence and marketing campaigns.
Types of Twitter Hashtags to Track
If you want to step up your Twitter game and accurately track and analyze your hashtags, then you need to know which types of hashtags to keep tabs on and which ones may work best for your Twitter strategy.
Trending hashtags
Trending hashtags can come and go within a day, so it's important to stay on top of these hashtags if you want to keep your content current and relevant to what people are talking about.
When a hashtag or topic is trending, Twitter will suggest it to users under the Explore tab so both users and brands can get an idea of which topics are currently generating buzz.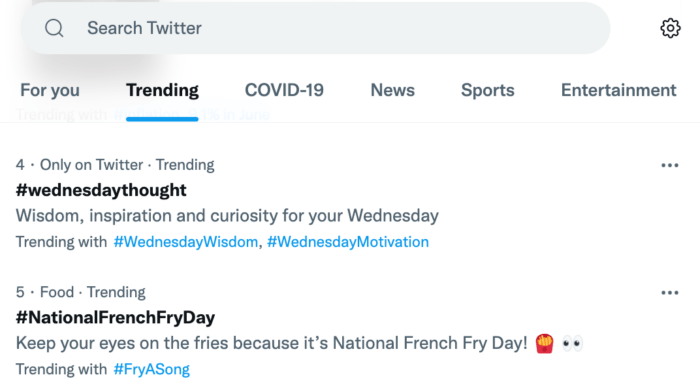 If users are interested in seeing more about a trending hashtag, they can scroll through all of the tweets that use the hashtag and sort them by top-performing or most recent, regardless if they follow an account or not — this is key for brands that want to widen their reach.
Holidays are particularly important to look out for when they're trending. According to our 2022 Social Media Benchmark Report, for many industries, the types of hashtags that perform especially well are those related to holidays and giveaways, as shown in this tweet from fast food chain Whataburger.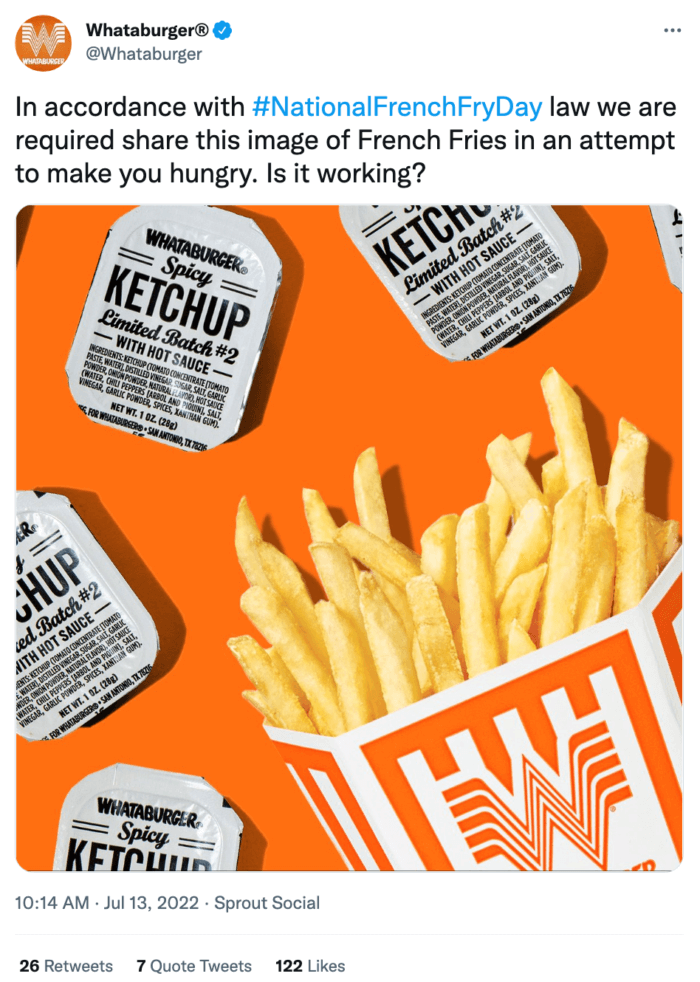 Tracking trending Twitter hashtags is a chance for brands to not only contribute to a current event or topic, but also boost their tweets' visibility by getting in front of more users who are paying special attention to a current topic.
Branded hashtags
Branded hashtags are another key hashtag type to track. A branded hashtag is a hashtag that your company creates specifically to use on social media and encourages users to engage with when mentioning the brand on Twitter.
For example, Texas A&M University, a top-performing school on social media, prominently displays its branded hashtag #12thMan in its Twitter bio which signals to users that #12thMan is a hashtag to use when mentioning the university.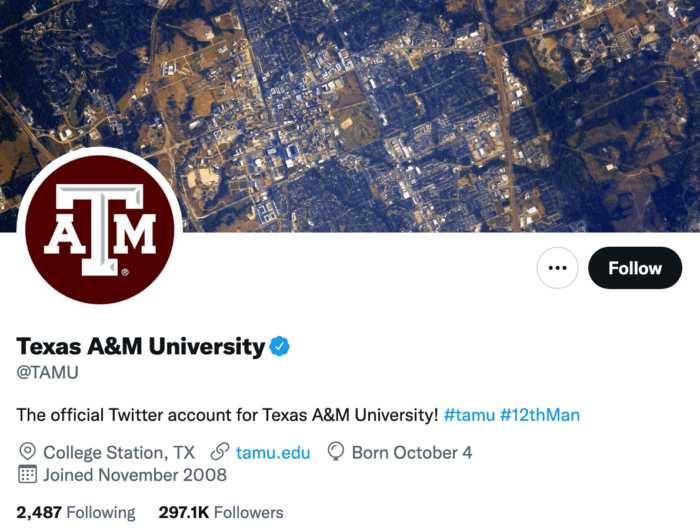 Texas A&M regularly weaves its branded hashtag into its tweets which often garner engagement rates well above the median, as shown in the blue box below that highlights engagement rate lift.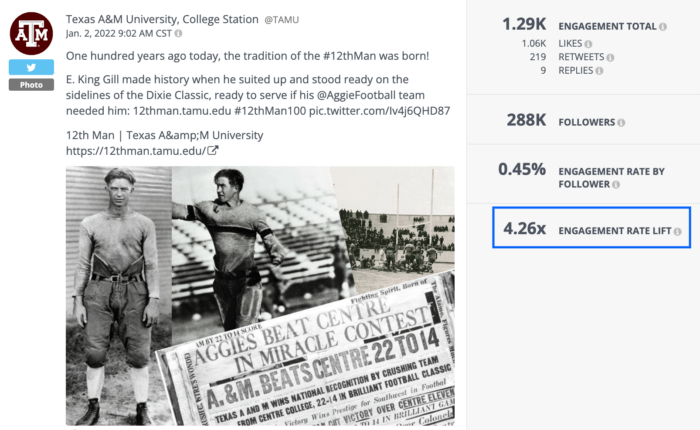 Tracking hashtags associated with your brand is not only essential to see who's engaging with it and what they're talking about, but it also offers the perfect opportunity to gather user-generated content (UGC). Marketers should regularly check in on engagement and usage of their branded hashtags to see if users have used them to post share-worthy images or videos.
Campaign and event hashtags
Campaign and event hashtags are similar to branded hashtags because they're created by and exclusive to one company. The difference is these types of hashtags are only used for a set amount of time, whereas a branded hashtag is used indefinitely.
A campaign hashtag is created to promote a new campaign, whether for a product launch, brand partnership, or even an ad. If you're going to run a campaign, you'll want to track the associated hashtag to measure the campaign's engagement and its impact on your overall Twitter performance.
Event hashtags can be used to share updates and generate buzz leading up to an event, as well as help attendees stay on top of what's happening during the event.
Popular music festival ACL Festival uses the hashtag #ACLFest to promote its event throughout the year, from sharing ticket information to using lineup announcements to get attendees excited.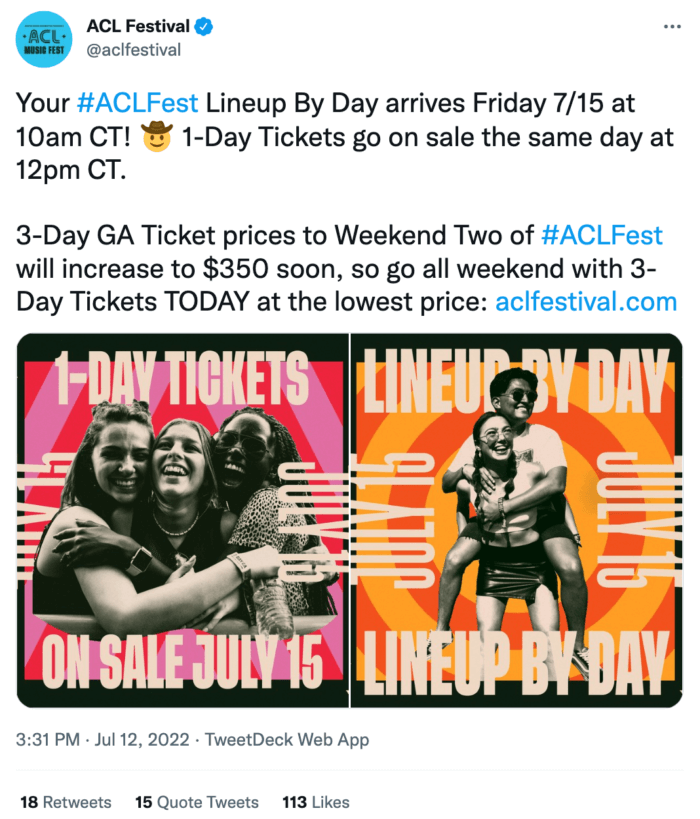 Twitter Hashtag Analytics Tools
While the native Twitter app is great for keeping an eye on trends in real-time, social media marketers don't have time to sift through the app all day long.
To get an in-depth overview of your hashtag analytics without having to scroll through Twitter, here are a few tools that track and analyze Twitter hashtags.
The Wrap Up
On the conversational and sometimes crowded space that is Twitter, hashtags are as important as ever for brands that want to reach their target audience and amplify their content.
By using Twitter hashtag analytics tools and tricks, savvy marketers can identify which hashtags their target audience is engaging with, which hashtags the competition is using, and how your brand's unique hashtags are performing on Twitter.
In 2022 and beyond, tracking Twitter hashtags continues to be an essential activity for marketers that want to stand out and perform well on the platform.