Twitter audits are essential to making sure your brand is staying fresh and relevant on the platform.
Marketers know how important it is to measure and analyze their social media strategy regularly, and audits are a key part of that analysis. And while conducting regular audits helps you better understand your activity and performance, the best audits are done through a competitive lens. By seeing how your brand stacks up against similar brands, you can get a deeper insight into what's working and what could use some improvement.
In our free social media competitive audit course, marketing expert Lauren Teague walks through the steps involved in auditing your social media data and how to use those insights to shape your social strategy. While she covers the process across channels, we're going to hone in on Twitter audits in this article.
Below, we'll go over why Twitter audits are key to your social strategy, the steps you can take to perform a Twitter audit, and how to conduct one using native analytics or a social media analytics tool like Rival IQ.
How Twitter Audits Improve Your Social Strategy
Twitter audits help you identify new opportunities to engage your audience and make sure you're getting the most out of your brand's Twitter presence.
It's easy to get into a routine and tweet the same type of content over and over. But how do you know if what you're putting out there is actually working? A Twitter audit involves reviewing your followers, the type of content you share, your engagement rates, and how that all compares to the competition.
Through a Twitter audit, you can also evaluate whether or not the content you're creating still aligns with your current brand messaging, social media strategy, and the company's overall marketing strategy.
Here are the questions your Twitter audit should help you answer:
How often are you tweeting?
Does your profile accurately reflect your brand?
Are you reaching the people in your target audience?
How and when are your followers engaging?
Which of your tweets has performed the best?
How is your Twitter performing compared to the competition?
These questions can be answered by tracking and measuring the right Twitter metrics, which we'll go over below.
5 Essential Twitter Metrics to Audit
Of all of the metrics you can track and measure on Twitter, these are the ones that make the most impact on your performance and should be reviewed during a Twitter audit:
Engagement rate
Follower growth
Mentions
Impressions
Tweet frequency
When combined, these metrics provide a comprehensive look at how your brand is performing on Twitter over a set period and where you could use improvement.
How to Conduct a Twitter Audit to Beat the Competition
To get an accurate picture of how your brand's Twitter account plays a role in your overall social strategy, and how it compares to your competitors, conduct a Twitter audit by following these steps.
Step 1: Audit your Twitter profile
Step 2: Audit your Twitter followers
Step 3: Audit your Twitter activity
Step 4: Audit your Twitter engagement
Let's go over each step below.
Step 1: Audit your Twitter profile
The first step when auditing your Twitter is to review your profile. Your Twitter profile includes your profile picture, cover image, bio, website link, and the pinned tweet at the top of your page.
First, consider whether your company has undergone any significant changes in the past year such as revamped branding, a new tagline, an updated website, or changes to your offering or services. If so, update your profile elements so that it reflects your company or brand in its current state.
Even if there hasn't been a major change to your company's branding or messaging, your Twitter profile could probably use a refresh. In fact, your profile details shouldn't be static. Elements like your link and cover image can and should be updated regularly to promote upcoming campaigns, product launches, announcements, and more.
For instance, if you run a Twitter account for a sports team, you could update your bio to promote the current season. This includes changing the main website link to a link that directs followers to the schedule and changing your profile picture or cover image to something more seasonal.
To promote the NHL's upcoming season, the Carolina Hurricanes uses a Linktree link in its bio to direct followers to a landing page that houses multiple links, including one to purchase season tickets for the 2022-2023 games.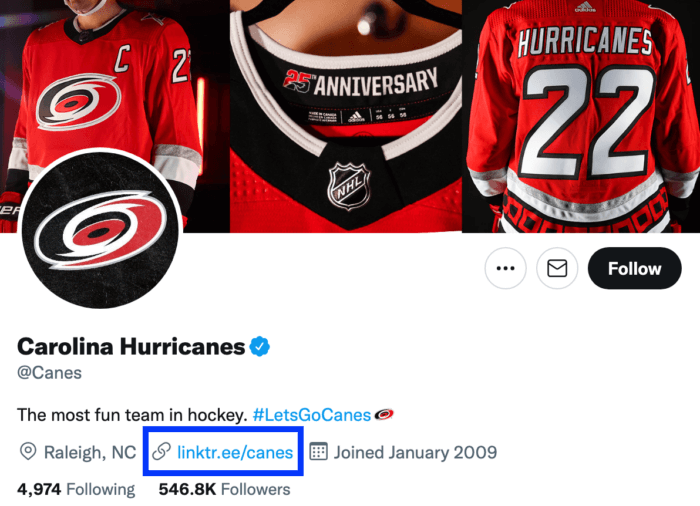 If you need some ideas on what to include in your Twitter profile, look at the competition. Are they regularly changing their profile pictures and cover images? Do they update their bio with the latest campaign promotion? Do they use a Linktree or similar tool?
Identify what similar brands are doing to keep their Twitter profiles fresh so you can experiment with a few different tactics when updating your profile. And to make it even easier to keep tabs on what your competitors are up to, you can use a tool like Rival IQ's bio tracking feature which will notify you anytime your competitors change their bios.
Step 2: Audit your Twitter followers
The next essential step in conducting a Twitter audit is to analyze your followers and, more specifically, your growth rate. Tracking your follower count over time helps you better understand if you're reaching the people you want to reach and building your audience at a steady rate, especially compared to the competition.
Start by comparing your follower count over a set period of time, whether that's year-over-year or month-over-month, to get a big-picture view of how your follower count has changed.
Next, you can use Rival IQ to create a competitive landscape that compares your Twitter account directly with your competitors to see how your growth rate stacks up to theirs.

If your follower rate has declined, check your engagement rates to see if your tweets reflect your brand and resonate with your target audience (more on that below). If your follower rate has grown each month, then you're clearly doing something right. Assess your current strategy to see what's working and figure out how you can continue leaning into that growth.
And we can't talk about auditing your Twitter followers without mentioning bots and fake accounts. Follower count is essential to understanding your audience size in relation to engagement and reach, and bot accounts can skew that data. To get the most accurate analysis of how many followers you have, consider using a tool like SparkToro's Fake Followers Audit to identify fake followers. SparkToro has found that anywhere from 5-30% of followers are bots, spam accounts, or inactive users. By running your Twitter account through its free auditing tool, you can estimate how many of your followers fall into these categories and how that has potentially impacted your follower count metric.
Step 3: Audit your Twitter activity
Once you've reviewed your profile and followers, it's time to audit your Twitter activity and content. This is an opportunity to identify where your current strategy is benefiting your brand's Twitter strategy in relation to the competition.
A few things to review are your posting frequency, post types, post times, and hashtags or topics frequently mentioned. How often are you tweeting? What types of tweets are you sharing? Are you commenting on other accounts' tweets or just sharing your own? These are the types of questions you should be able to answer after a Twitter audit of your activity.
For starters, are you tweeting more or less often than the average brand on Twitter? Our 2022 Social Media Industry Benchmark Report found that across all industries, the median number of tweets per week is 5.04. While each industry differs a little when it comes to how often to post, that average tweet frequency is a good starting point to compare your activity to. By putting your activity into a competitive context, you can make sure your account is keeping up with industry standards and staying active on the platform.
Next, take a look at the type of tweets you share. The post type options you have on Twitter are photo, video, status update, GIF, or a link. Through your Twitter audit, you may discover that you post links frequently, but tweets with GIFs receive a higher engagement rate, as shown in the example analysis below.

Analyzing your activity in a granular way can help you uncover new opportunities to improve your engagement rates or reach new followers by making a few tweaks that could be as simple as increasing your posting frequency or using more GIFs.
Step 4: Audit your Twitter engagement
Once you have a grasp on your followers and activity, it's time to dive into your Twitter engagement rates.
Understanding your Twitter engagement rate is the key to improving your strategy. Everything else you've audited so far, from your follower count to your posting frequency, plays a role in your engagement rate on Twitter and will help you better understand why your rate is what it is.
Start by evaluating your average engagement rate to get the big picture of your Twitter performance and benchmark your brand against similar brands. At Rival IQ, we like to calculate engagement rate by follower as it paints a more accurate picture of how your content is performing in relation to your audience size.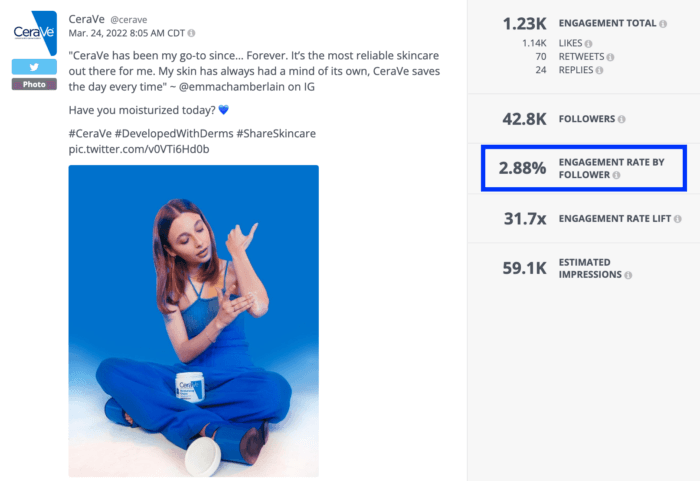 Once you have an average engagement rate to compare to, take a look at individual tweets from the past month or so to see if there were any that generated an engagement rate much higher or much lower than your average. Analyze these tweets to identify what you did differently and how you can either make a change or post similar tweets.
If you see that your engagement rate is below average for your industry, then you know that your content either isn't reaching or resonating with your followers. This could be due to several reasons. Maybe the message fell flat or perhaps your followers didn't relate to the meme you tweeted as much as you thought they would. Or it could be as simple as you didn't post at the best time and not as many people even saw your tweet.
This is also a good opportunity to see how your competitors are doing and compare your metrics with theirs. In the first lesson of our free social media audit course, we walk you through how to competitively benchmark your engagement rates against similar brands using Rival IQ. After creating a landscape of brands you want to compare your engagement with, rank the tweets by engagement rate to identify the top-performing ones and see how yours compare.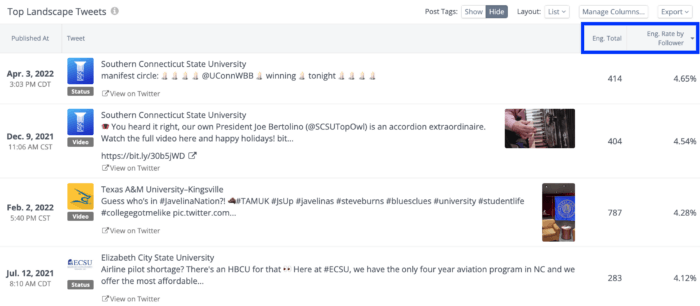 Dig into the top tweets to understand what's working well for these brands. If your competitors are generating higher engagement rates than you, what are they doing differently? For instance, maybe they're seeing more engagement when they tweet about popular topics or use certain hashtags that their audience interacts with. Tapping into engaging conversations can help improve your brand's reach and impressions, which could ultimately help boost engagement.
How to audit your Twitter analytics through the app
If you want a quick glimpse at your Twitter performance, Twitter offers native analytics that is easy to access. Though these analytics don't go too in-depth, they provide an overview of your performance and recent activity that can be helpful if you're already on the platform.
Under Creator Tools, head to the Analytics tab.
Here you'll see an overview of recent account activity including how many tweets you've sent out, the total number of impressions your tweets received, profile visits, mentions, and changes to your follower count.

You can also compare the current month's activity and engagement with previous months.
The dashboard provides an overview of analytics from previous months and highlights your top tweet, top mention, top follower, and a summary of metrics.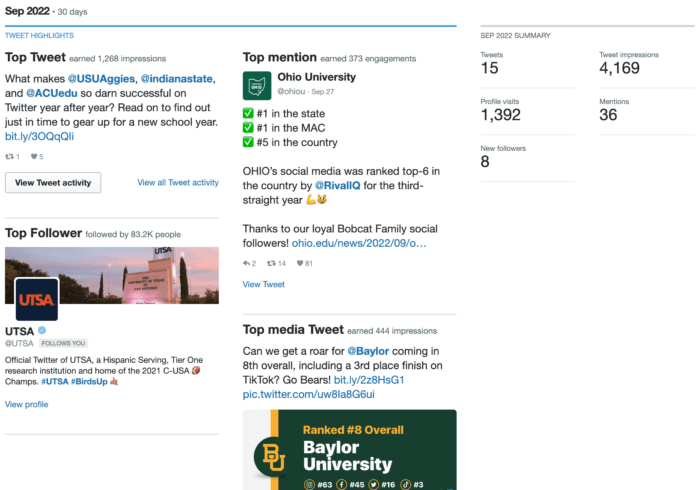 How to track and measure your Twitter analytics using Rival IQ
If you want to dive deeper into your analytics during your Twitter audit, Rival IQ offers a comprehensive analysis of your Twitter account's performance and how it compares to similar brands in your industry. We also cover this topic in more detail in Lesson 2 of our social media audit course, which dives deeper into analyzing your social media data. Getting a detailed look at your Twitter activity and engagement can help you conduct a more thorough audit that results in improvements to your strategy.
Under Social Analytics, visit the Twitter tab for an overview of your account's top Twitter metrics for the selected time period including followers, number of tweets, top tweets, and engagement rate.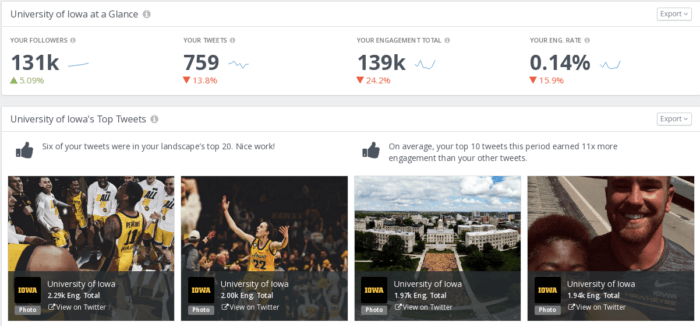 You can then build a landscape that pulls together your competitors' performance data so you can easily track and compare their metrics with your own. Your landscape compares everything from follower count and growth rate to tweet frequency and engagement rates.

Competitive context is key to the success of a Twitter audit. By benchmarking your tweets, followers, and activity against the competition, you can better understand how you're performing in relation to the industry you're in and use those insights to improve your approach.
Key Takeaways
Regular Twitter audits are an essential part of a healthy Twitter strategy. Not only do audits help you understand how your tweets are performing, but they can shed light on where your Twitter stands compared to the industry and similar brands.
By measuring the right metrics, analyzing the key elements of your Twitter strategy, and using an in-depth analytics tool, you can conduct a thorough Twitter audit that helps your brand better interact and engage your followers — and uncover opportunities to stand out among the competition.