At the beginning of the COVID-19 global pandemic, I apprehensively joined TikTok. After all, the platform seemed to be geared towards teenagers and college students, not a thirty-something working mother of two.
Initially, I mindlessly scrolled the app to combat lockdown boredom. As the lonely days and weeks crept by, I increasingly used TikTok as a coping mechanism to feel connected to the outside world. Before I knew it, the videos served on my For You Page (FYP) were eerily customized. The algorithm synced with my interests and there was no turning back. I was officially hooked, especially by the digital marketing potential on TikTok.
Unsurprisingly, I wasn't the only one. As of June 2021, TikTok is now available in over 150 countries, has over 1 billion users, and has been downloaded over 200 million times in the United States alone. Not only that, the data indicates that the average time spent on the app is 52 minutes a day. With 26% of users between the ages 25-44 and 80% between the ages 16-34, that's a lot of time to reach a large swath of prospective target customers via TikTok marketing.
It's clear TikTok has prime real estate for brand marketers to reach niche audiences of all ages and geographic locations. So without further ado, here are the ultimate TikTok best practices and examples to implement into your brand's digital marketing strategy. What can I say? It's the lead generation for me.
The FYP
First things first, when it comes to TikTok, it's all about the For You Page (FYP). The FYP is a curated feed of videos from creators a user may not follow, but TikTok's algorithm thinks they'll like based on previous interactions on the app. For example, if you regularly double-tap videos about parenting, you'll come across other videos about parenting the next time you scroll your FYP. It's also the first page a user sees when opening the app, so it's the best place for your content to be seen by new-to-you viewers.
So how do you land on your target customers' FYP?
TikTok Best Practice #1: Focus on the metrics that matter
For access to TikTok analytics, make sure to designate your account as a business account (as opposed to a creator account). As with most social platforms, TikTok's goal is to keep people active on the app. Therefore, accounts with content that keep people engaged are rewarded by being shown to more people. When tracking your performance, avoid getting caught up with vanity metrics such as likes and followers. Instead, stick to engagement metrics like engagement rates and totals, view counts, and comments, saves, and shares. Be sure to make use of TikTok's native analytics or consider a third-party analytics tool (like Rival IQ!) to help you keep track of your metrics and those of your competitors.
Ultimately, the best way to get ahead on any social channel is to focus on building community by creating stellar content, interacting with your audiences, and reaching the right people.
TikTok Best Practice #2: Entertain, inspire or educate
This is true of every social media platform, and it's true on TikTok too. TikTok is a saturated space, with creators churning out content at a rapid rate. With this kind of volume, it's typical for viewers to scroll past videos unless their attention is immediately piqued.
In order to stop the scroll, creators must hook audiences right away by delivering content that entertains, inspires, or educates (and sometimes all three at the same time).
Before spending time and resources making something new, keep the Hero, Hub, Hygiene model in mind. This holistic video strategy emphasizes the need for content creation consistency. Here's a quick breakdown:
The hope for hero content is that it will "go viral." This type of content is rare and can't be guaranteed.
Hub content is consistent, daily programming that your brand regularly shares. In order to captivate audiences and keep them coming back for more, this content is generally episodic in nature.
Highly SEO-based, hygiene content is hyper-specific to users' needs, wants, and desires. Basically, it's created in order to address what users are searching for. Think: seasonal content, like Halloween costumes or holiday dessert recipes. Hygiene content might look like "how-to" videos and addressing audience FAQs.
TikTok Best Practice #3: Labels, keywords, and hashtags–oh my!
TikTok is not an easy platform to search. I can't tell you how many times I've forgotten to like or save a video I love, only to lose it in the TikTokverse forever. When creators like Karissa Eats label their videos, it makes it much easier to quickly glance over their video thumbnails and find exactly which one I'm looking for, or the content that piques my interest the most.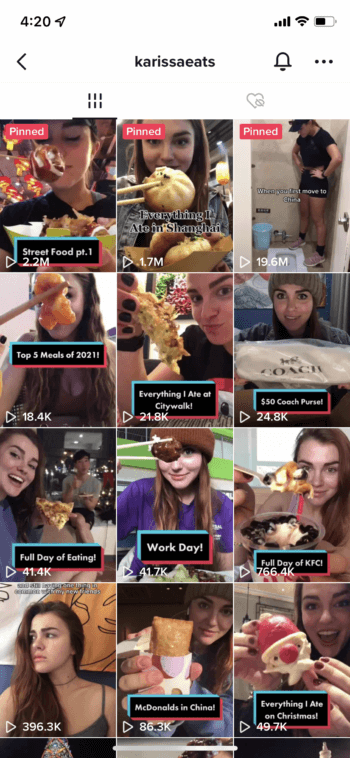 Keywords and hashtags will also help TikTok serve your content to users who are bound to interact with it. Many creators rely on the #fyp and #ForYouPage hashtags to help their videos hit the main video stream. Additionally, trending and niche hashtags can also go a long way to getting the right eyeballs on your videos.
TikTok Best Practice #4: Try Trending Sounds
It's important to understand the DNA of how people interact with the platform. Using trending sounds, popular story formats, and well-done transitions is essential for brands to "fit in" alongside other creators.
Barbara Corcoran, American businesswoman and television personality, is a savvy TikTok user. She regularly uses her TikTok to give fans a behind-the-scenes view of her investor role on the popular show, Shark Tank. While it's not unusual for Barbara's videos to get hundreds of thousands of views (or more), one of her recent videos far exceeded those metrics. By using the trend #icanbebrownicanbeblue (94.8M views) one of Barbara's videos turned into "hero content," earning 9.3M views.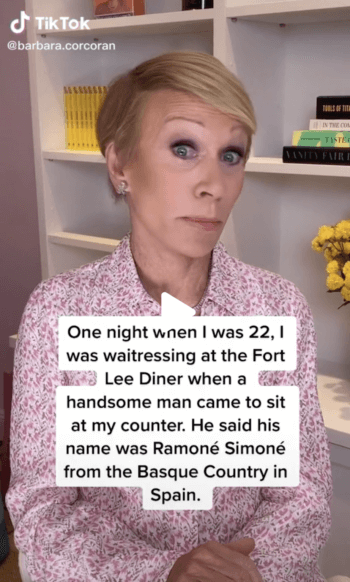 The #icanbebrownicanbeblue trend lets creators tell a story that typically starts off describing a bad, sad or scary situation and often ends with a happy ending you might not expect. In Barbara Corcoran's case, she did a storytime about her career success. Her story is one of overcoming adversity, and it's definitely worth a watch.
It's worth noting that although Barbara's account is business and brand-minded, it's appealing because it features her as a human being. By letting audiences get to know the person or people behind a brand, instead of focusing on a product or service, it makes her content much more interesting.
TikTok Best Practice #5: Use TikTok technology for big rewards
Instagram and TikTok are known for promoting content that uses its trending technology. Using TikTok's features like filters, captions, text-to-speech, duet/stitches, and going live in your digital marketing efforts will all give you a boost onto the FYP.
TikTok's algorithm is notoriously secret and complex, but features like captions and text-to-speech (where a robotic voice reads aloud text from your videos) are easy-to-understand pieces of the algorithm puzzle. When you give TikTok scannable, indexable clues into the content of your videos, the platform can more easily serve your content to users who would find it relevant. The other bonus of using these features? Accessibility. Users who are blind, Deaf, or hard-of-hearing can more easily consume your videos if you put in the effort to include captions or text-to-speech.
TikTok Best Practice #6: Make memorable, unique content
In the spirit of Barbara Corcoran, don't overtly sell your product, service, or business. Sell a personality, instead: someone people can enjoy watching and keep coming back for more. Businesses with a "face" have a higher chance of developing a loyal following and converting views into transactions. In particular, entrepreneurs can make a household name for themselves this way.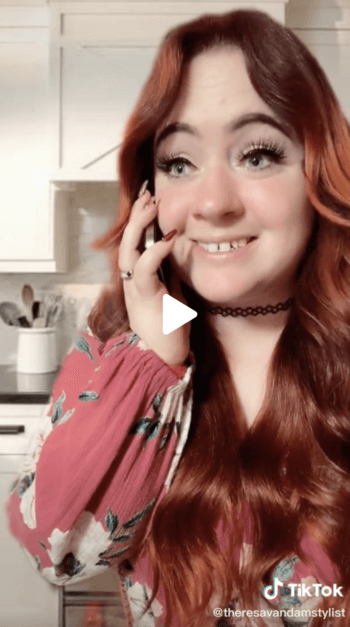 Theresa Van Dam, a talented hair stylist based in the Chicago area, is an excellent example of a consistent hub content creator. Reflecting on her years in the industry, Van Dam creates skits roleplaying customer/stylist interactions she's experienced. Playing both roles in these skits, Van Dam's delivery is smooth, easy to watch and the conversational format is the same every time. She's created a formula for storytelling that makes the story relatable for any viewer, whether they're hairstylists who experience the same thing, customers who might recognize themselves as a difficult customer (cringe), or onlookers who are horrified by the nerve some people seem to have.
Van Dam primarily keeps her TikTok focused on storytelling, but occasionally takes followers along as she films herself doing hair on an actual client. By showing up on the platform daily, telling stories, and showing off her skills, Van Dam has earned viewers' trust. In turn, she's also converted some of her 3.5 million online followers into real-life clients. Her "TikTok famous" reputation has people booking at her salon for a chance to have their hair transformed by the TikTok famous Theresa Van Dam.
TikTok Best Practice #7: Post often and at the right time
While some social media platforms have an unwritten rule to sparingly post, that is not the case on TikTok. A widely accepted practice is to post up to three times per day. The key is to strike the right balance of posting frequently enough while letting enough time lapse before publishing the next video.
According to social media consultant Robert Benjamin, one of the keys to effectively flooding the FYP is to wait 30-45 minutes between posting. He also recommends most accounts post between noon-2pm, 3-5pm, and 8pm (all in eastern time). First, Benjamin cautions that every creator must know their core demographic. Secondly, he recommends considering lifestyles and behaviors that may influence when target audiences are likely online and scrolling the FYP. Remember that every video published counts towards meeting your daily quota. That also includes video responses by the creator in the comment section.
Don't discount the value of sharing previously published videos. With the rigor of having to have multiple pieces of content on the app on a daily basis, reusing previously published content makes a lot of sense. TikTok experts say videos can pick up days, weeks, or months after it's originally posted, so if a video is a few weeks old, or didn't perform well in the first place, it's grounds for reposting.
TikTok Best Practice #8: Engage authentically
Brands run the risk of coming across as too "corporate" when joining a social network. TikTokers want entertainment and authentic connection. So any brand content that reads as too "commercial" won't pass some users' gut check.
When watching a program on TV, I typically mute or fast forward through commercial breaks. However, I linger when a commercial matches the tone or cinematic vibe of the actual program and features some of its cast members. Experiencing this brief disorientation ("Has my show started again or are we still on commercial break?") gives me just enough pause to keep watching.
The same principle can be applied on TikTok. Most users are going to immediately scroll past sponsored content as soon as they realize it is an ad. However, if a brand can initially hook the viewer and keep them watching for longer, it's more likely that the message will penetrate.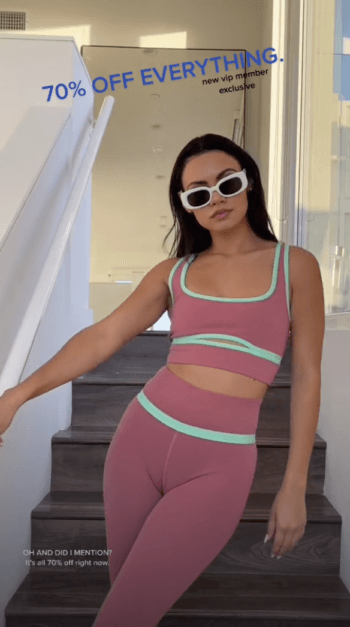 Take Fabletics for example. In this TikTok ad, the "athleisure" brand captures the essence of a social media influencer sharing her latest haul of cute fitness apparel. This specific ad uses trendy music and the popular text-to-voice feature. It all felt so convincing I even watched for a few seconds before realizing it was an ad. My takeaway as a viewer? I felt inspired to level up my wardrobe and learned about Fabletics' 70% off sale. If that's not a beautiful marketing pairing I don't know what is.
TikTok Best Practice #9: Partner with influencers to push sponsored content
Maybe I was born yesterday, or perhaps I've been living under a rock, but until recently I'd never heard of another athleisure brand Halara. Scrolling through my FYP, I came across a few of Halara's sponsored videos in the feed. Truthfully, I initially dismissed the ad and moved on to more interesting, "real" content. However, when one of my favorite creators, comedian and cancer fighter Shawna the Mom, partnered with the brand for a sponsored post, I paid closer attention.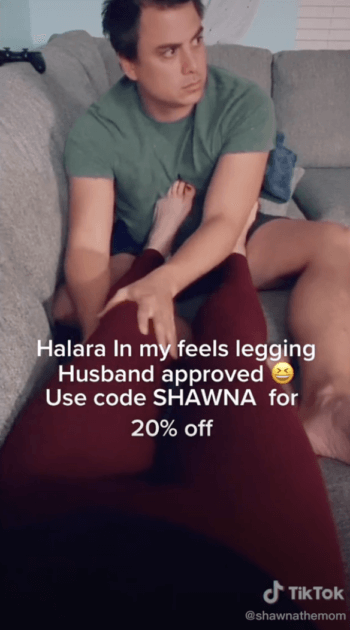 Not only did Shawna feature a Halara product on her feed, she did so creatively to grab her fan's attention. Shawna has 211.9K Followers and 8.6M Likes on the platform. She typically makes comedy skits depicting conversations between her and her husband (Shawna plays both "roles"). Since her husband is regularly referred to but never featured, she teased a "husband reveal" while advertising a pair of Halara leggings. Her husband comes on screen at the end, much to her fans' delight. Shawna seized a golden opportunity to entertain and advertise at the same time.
I'll admit I was a skeptic when just watching Halara's ads. I immediately softened once a creator I know and trust put her stamp of approval on the brand. Brand recognition clicked once I saw one advertisement from an influencer I trust.
TikTok Best Practice #10: UGC on your FYP
If your brand is active on social media, it's helpful to not take things too seriously. Chipotle, a fan favorite in the fast food and TikTok world, does a great job of poking fun at itself. For example, most people know Chipotle charges extra for guacamole on its burritos, bowls, and salads, and the employees do a great job of reminding customers at checkout. As a result, it's become somewhat of a tongue-in-cheek joke among Chipotle stans to remind the restaurant that they know guac is extra.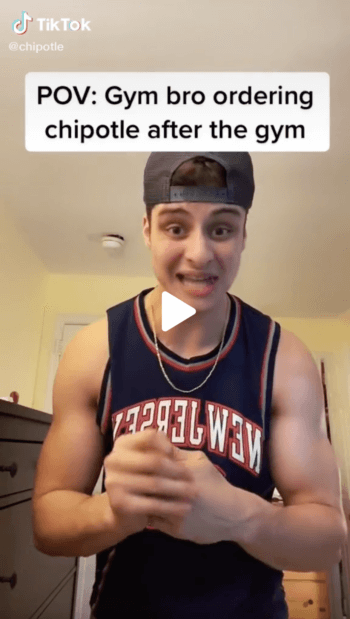 Running with this insider humor, Chipotle will share other creators' content from time to time that highlights their brand. Since the fast food joint is highly customizable, it's a go-to destination for many people to grab a quick lunch. This includes the nutrition and fitness-minded folks among us. In this point of view (POV) video, creator justinlt23 depicts a "gym bro ordering Chipotle after the gym." He hits all the points, including the bro trying to pack as much protein as possible into his bowl and attempting to get the most food while paying the least–and then also agreeing to spend extra on the guac. Chipotle shares Justin's video on their feed, crediting Justin by tagging him and endorsing the message by writing in the caption: "The eye contact, the head nod, all of it."
While this creator has an impressive 839.8K followers, it's thrilling nonetheless for Chipotle to acknowledge they've seen his work, and make it clear that they love it by sharing it to their 1.6 million followers.
Whether you are a gym bro, or you've met one, the video resonates and just might spark a craving for that coveted guac.
Some parting advice
If you are brand new on TikTok, or considering starting a new account, please keep the following in mind: General brand awareness is great for global brands who want to remain top of mind among consumers (think Starbucks vs. Dunkin), but might not be as well suited for your brand. For example, small businesses may place a higher value on acquiring a manageable number of sales transactions per week.
Remember to base your TikTok marketing strategy and results on the metrics that matter most to achieve your brand goals. Avoid biting off more than you can chew in order to not get in over your head. This is especially important when joining a new platform for digital marketing purposes. Happy scrolling and connecting!