Twitter may have the lowest engagement rate compared to other social channels, but beauty brands are still showing up to stand out from the crowd.
Have you heard? After surveying 100 beauty brands between January 1, 2022 and December 31, 2022, we released our Top 100 Beauty Brands on Social Media Report. The report is out now and full of useful analysis on how beauty brands shined across social media platforms.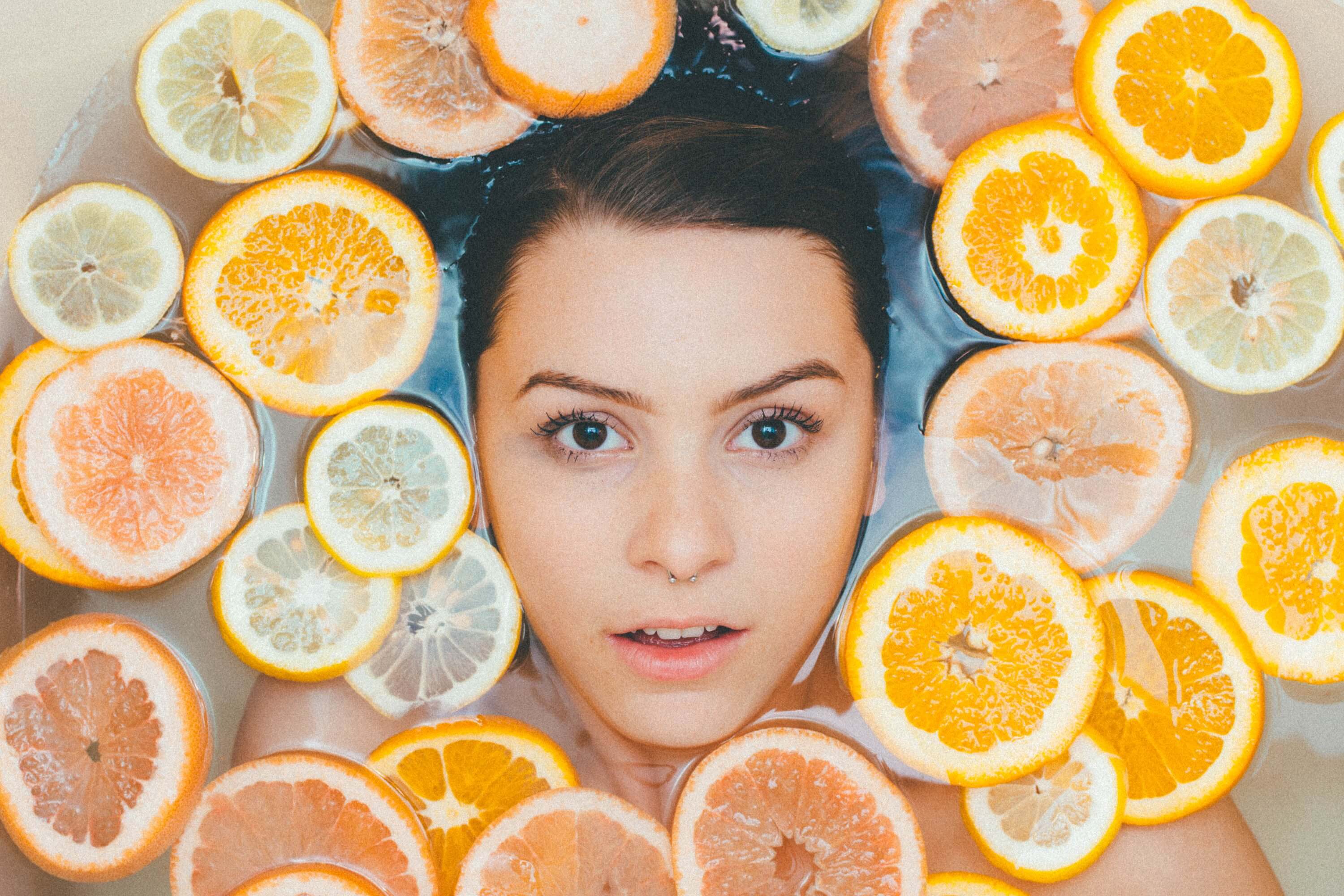 For now, let's turn our attention to Twitter. Much like in previous years, the app wasn't super popular among beauty brands. They averaged less than one tweet a week, with an average engagement rate of 0.02%. Comparatively, Instagram saw an average engagement rate of 0.19%, Facebook 0.03%, and TikTok 2.94%. Despite lagging behind other social channels, we discovered some exciting trends in the data, some involving uber-famous celebrity founders and K-pop collabs, that are sure to spark some inspiration.
Now, let's get right into the top beauty brands on Twitter and how they stand out from the rest.
The Top 7 Beauty Brands on Twitter and How They're Winning
1. Rare Beauty
What's working: Having a greater mission
Total engagement (likes, retweets, replies, and bookmarks): 272,529
Engagement rate by follower: 1.57%
If we're talking about top beauty brands on Twitter, we've got to start with Rare Beauty, which was the shining star across all social media channels this year. With founder Selena Gomez leading the way, the makeup brand whipped up an average engagement rate by follower of 1.57%, an impressive figure next to the industry's 0.02% average, and nearly 300K engagements.
Their secret to success seems to lie in keeping Selena front and center— both her face and all the things fans know and love her for. Nearly all of their top-performing posts feature the singer-turned-founder showing off her products, whether it be for a new launch or getting ready for an awards show. Videos and photos were key here.
Fans also seem to love that Rare doesn't shy away from discussing the importance of mental health, which Selena has always been big on. One shining example is the photo of Selena's open letter in The New York Times, which described the company's goal of raising $10 million for mental health services, among other value-centered goals. The post earned over 6x their average engagement.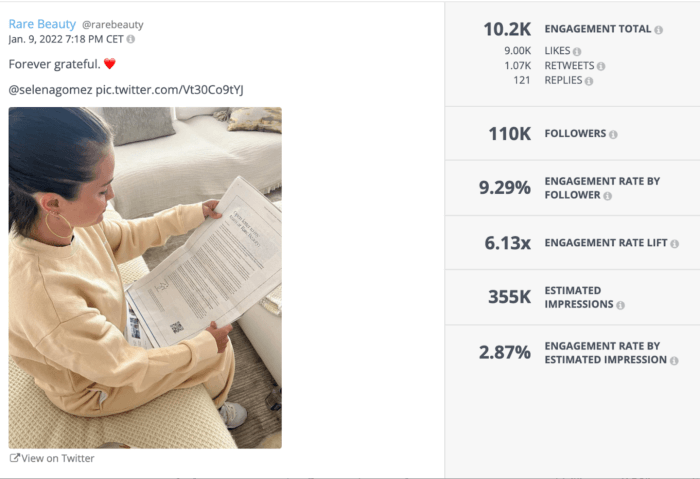 2. Etude House
What's working: Contests and giveaways
Total engagement: 69,321
Engagement rate by follower: 2.65%
If you're into beauty products, you know that Korean skincare is all the rage online. Etude House is no exception. The brand had the highest engagement rate by follower of any company on this list at 2.65%, just under the average engagement for beauty brands on TikTok. Extra impressive.
In the fall, Etude House tapped teen K-pop singer Kazuha as their "charming muse," and the crowds went wild. Subsequently, the brand saw some seriously high engagement with the Le Sserafim member as the subject in 9 of their 10 top tweets.
Once again, pictures and videos did exceptionally well, but their giveaways (a top trend among beauty brands) helped take their engagement to the next level. The more Twitter followers engaged with a post by replying and retweeting, the higher their chances of winning some Etude products and Kazuha merch. Great incentive and an even greater partnership!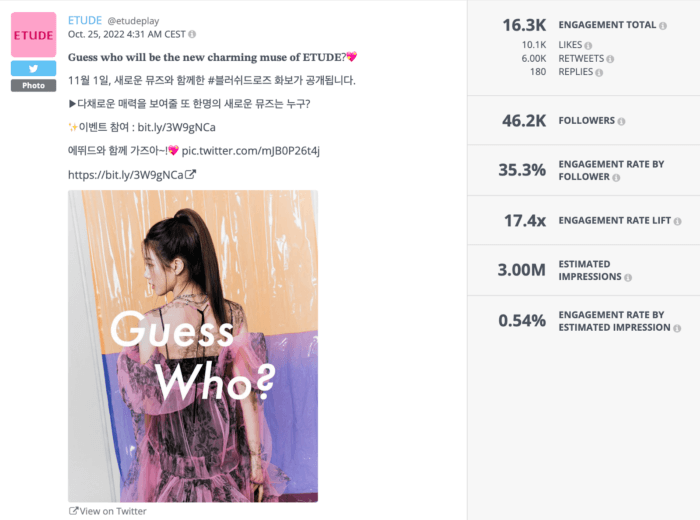 3. Fenty Beauty
What's working: Moves toward inclusivity
Total engagement: 282,002
Engagement rate by follower: 0.14%
Rihanna's Fenty makeup line had a great year on socials, coming in with silver overall and bronze on Twitter.
Their most popular tweet, which notably brought in 140x their average engagement, is the famous captionless photo that hinted at a Ri-Ri Super Bowl appearance. Followers were eager to know more, to say the least, just as they were when Fenty mysteriously tweeted "Rhianna" with no further explanation. *mic drop*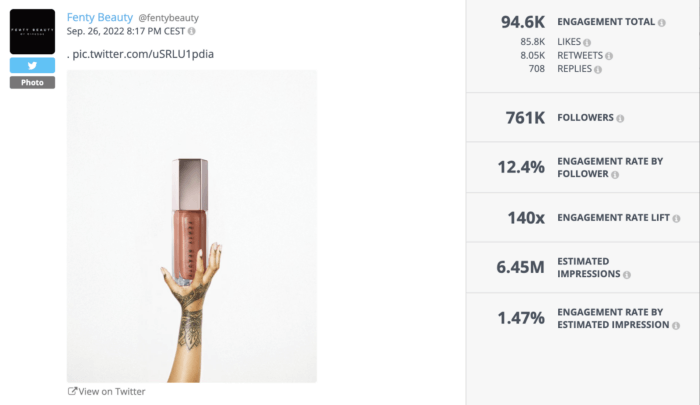 But what's really behind the brand's success on Twitter is its central mission of being accessible to more people— a top trend we saw among beauty brands across all channels. Their move into retailers across several African countries was very well received on Twitter, and the brand was very active in responding to follower questions. They also made sure to share photos of supporters across the world using their products.
Celeb beauty brands are decidedly in, but Fenty stands apart by literally going where few of them have gone before, consistently engaging with supporters online, and creating buzz with their cryptic messages.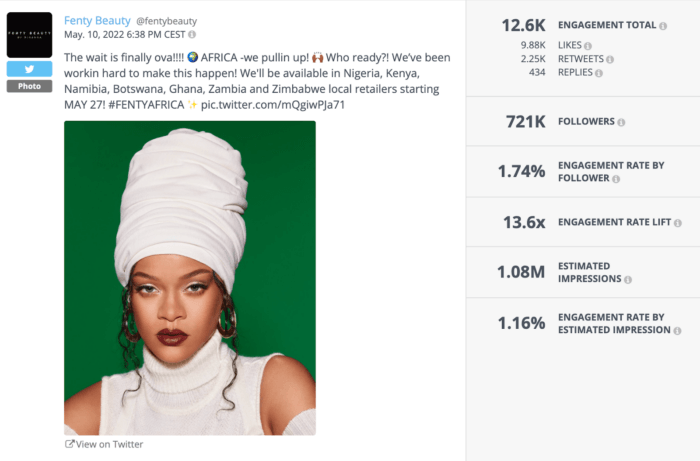 4. ColourPop
What's working: Interactive experiences
Total engagement: 1,351,256
Engagement rate by follower: 0.10%
It's well-known that fans of Korean pop band BTS are an enthusiastic bunch, so when ColourPop announced a collaboration with the popular group last summer, their engagement exploded. The following contests and giveaways helped the brand amass over 1.3M likes, retweets, and replies, and 10x the followers of the average beauty brand.
Another thing that helped ColourPop snag its spot on the list of the top beauty brands on Twitter was their consistency. They tweeted 5x times more than the average beauty brand, with video and photo posts garnering the most engagement by follower.
ColourPop's take on celebrity collabs is unique in that they are less of an endorsement and more of a fun, interactive experience for consumers. The BT21 collection features animated characters created by the BTS members themselves, while The Muppets-themed holiday line surely sparked cozy childhood nostalgia.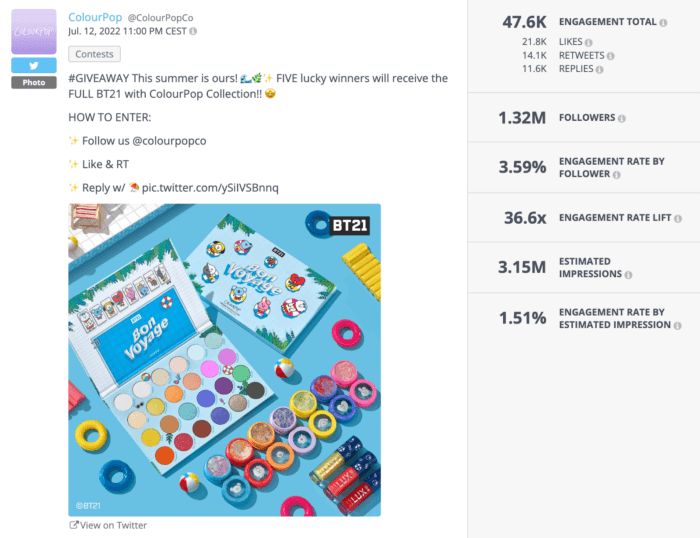 5. Topicals
What's working: Leaning into imperfection
Total engagement: 35,942
Engagement rate by follower: 0.34%
Embracing flaws is the name of Topicals' game, and it's paid off on Twitter, where they've snagged fifth place among the top beauty brands on Twitter.  Specializing in products for chronic skin conditions, the brand doesn't shy away from unedited close-ups or getting real about what it's like to deal with these issues.
In their most successful tweet by engagement rate, the brand recognized Psoriasis Awareness Month with a thread covering the who, what, when, where, and why of the condition. They included untouched images of individuals with psoriasis and offered insights into how their products can help.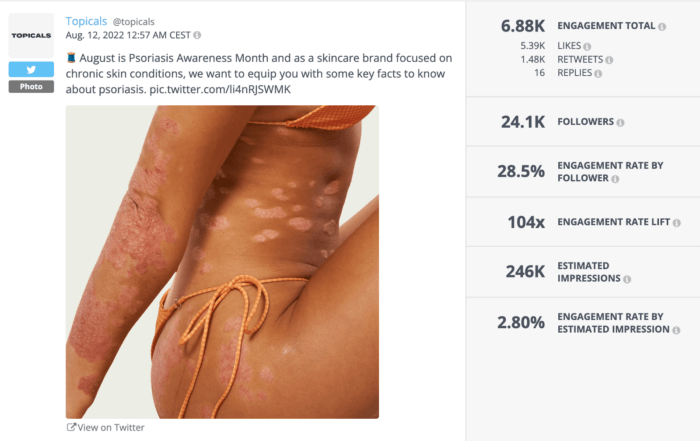 The Topicals team isn't afraid of laughing at themselves, either. When a customer posted a tweet praising the effectiveness of one of their products while simultaneously commenting on its foul odor, the brand had the perfect response: "It's like a drag with a hug…we'll take it."
We know younger generations especially appreciate when brands are candid instead of putting forth a cookie-cutter image, and this interaction is a perfect example.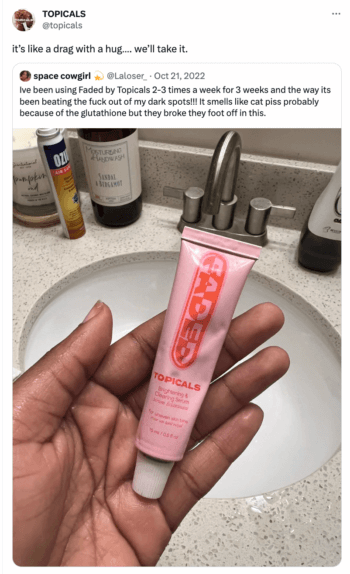 6. Glossier
What's working: Limited collections
Total engagement: 15,467
Engagement rate by follower: 0.60%
After a few tumultuous years at Glossier, the company has set its sights on turning around its public image. They fell from 4th to 8th place this year overall but were able to move up one notch on Twitter to grab 6th place.
At the forefront of their most popular campaign on Twitter was singer-songwriter Olivia Rodrigo, the subject of the brand's top three performing tweets.  The partnership makes a lot of sense, considering the brand is trying to turn a new leaf and solidify its place in the hearts of Gen-Zers. And while Miss Rodrigo has undoubtedly been a huge sticking point with customers, offering her collection for a limited time seemed to really bring home the win.
In fact, limited offers were a big trend for them overall on Twitter. In all of their top five tweets, there is some mention of a limited-edition product, both related to Rodrigo's line and not. Customers felt the urgency and responded accordingly.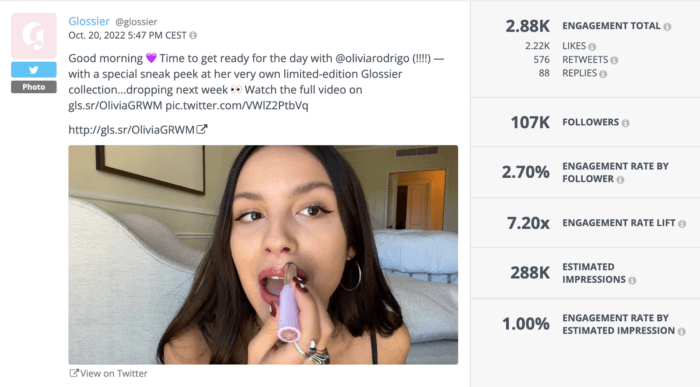 7. Paula's Choice Skincare
What's working: Skincare education (and memes)
Total engagement: 22,938
Engagement rate by follower: 0.21%
Last year, Paula's Choice didn't even make the list of top beauty brands on Twitter, so props to them for stepping up their game! Their secret sauce seems to be a mix of skincare infographics and trending memes. Once again, photos were big with Twitter followers.
In their most popular tweet, the brand broke down how you can effectively pair Vitamin C with other skincare ingredients. It had a 202x rate lift compared to the brand's average tweet and, more impressively, more than 1700 bookmarks, which tells us that followers found this simple explanation very helpful.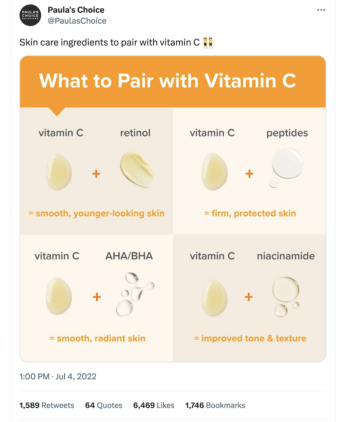 Other times, Paula's Choice opted for lighthearted memes. Sometimes they were informative, like the Galentine's Day post highlighting skincare ingredient "besties," and other times just silly and relatable. The brand's strategy is a great example of how to use easy-to-consume content to communicate good nuggets of knowledge.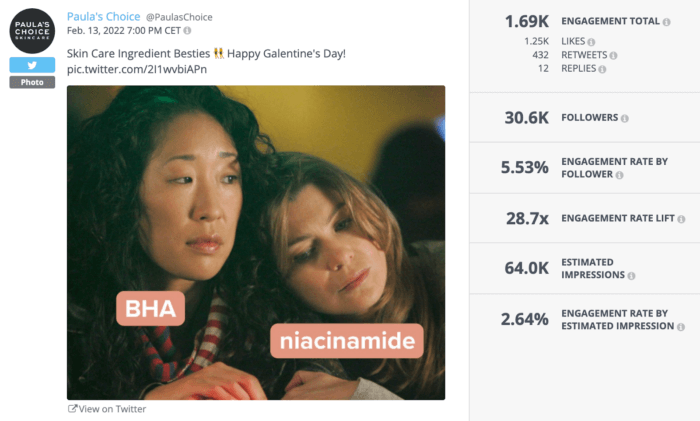 Wrapping it up
While Twitter has never been a beauty brand's favorite app, there are several lessons we can learn about how they interact with their audiences. Overall, we saw that celebrity brands and collaborations were a big hit, as were the brands that made an effort to act on a greater mission for good and frequently used photos and videos in their tweets. Lastly, don't be afraid to show off your brand's more unpolished side.
We hope these insights have given you some ideas about how to engage more with your followers. Let us know how you plan to use them by sending us a DM on Twitter. And if you want to learn more about how brands in the beauty industry are showing up on social media platforms, check out our Top 100 Beauty Brands on Social Media Report.