Facebook has long been a major player in social media. With nearly three billion monthly active users around the world, the platform offers an extensive audience reach and enables brands to connect with potential customers on a more personal level.
However, like any marketing effort, posting without a solid strategy is rarely enough to drive engagement and convert audiences. The most successful beauty brands on Facebook are the ones that have honed their social media strategies to deliver targeted content that resonate with their audience.
To better understand how top brands are doing that, we're exploring the effective tactics and trends employed by the top beauty brands on Facebook. But before we delve into the strategies, let's take a closer look at the top 10 beauty brands that have excelled on the social network.
Top 10 Beauty Brands on Facebook
According to our latest Top 100 Beauty Brands on Social Media report, beauty brands scored a 0.03% engagement rate by follower on Facebook this year. When it came to posting frequency, there was a sharp decline compared to the year before, with beauty brands posting about 3.5 times per week, or nearly half as often as they did in 2021.
Despite the apparent step back from the Metaverse, there were still a handful of brands that knocked it out of the park with engagement rates that surpassed the median. The top 10 beauty brands on Facebook this year were:
To inspire your next post, we're taking a closer look at the top three beauty brands on Facebook and taking notes on how they secured standout engagement levels. Let's get started!
How the Top 3 Beauty Brands Excelled on Facebook
Rare Beauty: Creating a welcoming space in beauty
Founded by actress and singer Selena Gomez, Rare Beauty is a makeup brand centered on values of authenticity and uniqueness. Its mission to "help everyone celebrate their individuality by redefining what beautiful means" has clearly resonated as thousands of people have shown their support across social media.
On Facebook, the Rare Beauty Page has over 123K likes and 136K followers at the time of writing. Even more, the brand's engagement rate of 0.72% was 24x greater than the industry median. What's the secret to Rare Beauty's success on social media? Genuine communication with its community of fans.
One notable post commemorated the brand's two years with photos from the company celebration. With an engagement rate that was 184x the median, the anniversary post made it to the top three of Rare Beauty's most-engaging Facebook posts of the year.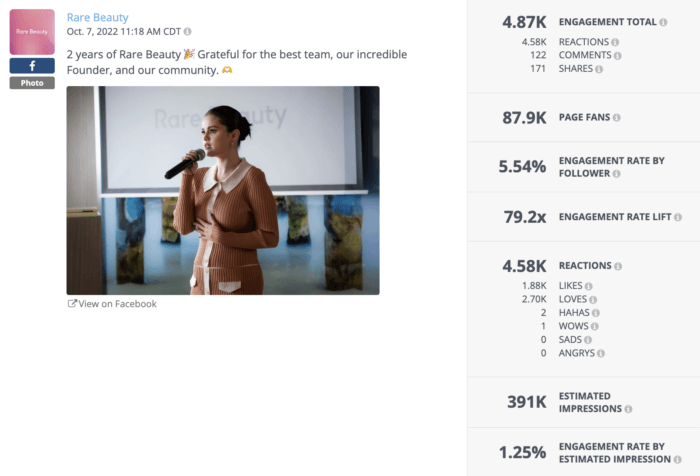 Not only did the post express how grateful the brand was to its customers but it also encouraged fans to feel more connected to the company by openly sharing how Selena and the Rare Beauty team celebrated the milestone. The effect? Thousands of positive engagements as fans showed their love for the brand, making the post a great example of engaging with fans in a way that makes them feel appreciated and included.
With a world-famous founder, it's also no surprise that content spotlighting Selena Gomez herself helped Rare Beauty earn some of the highest engagement rates among beauty brands. Though Rare Beauty has plenty of gorgeous product shots and user-generated content, posts that starred the famous founder were practically a surefire way to boost engagement. In fact, the top 34 posts with the highest engagement rates all featured Selena.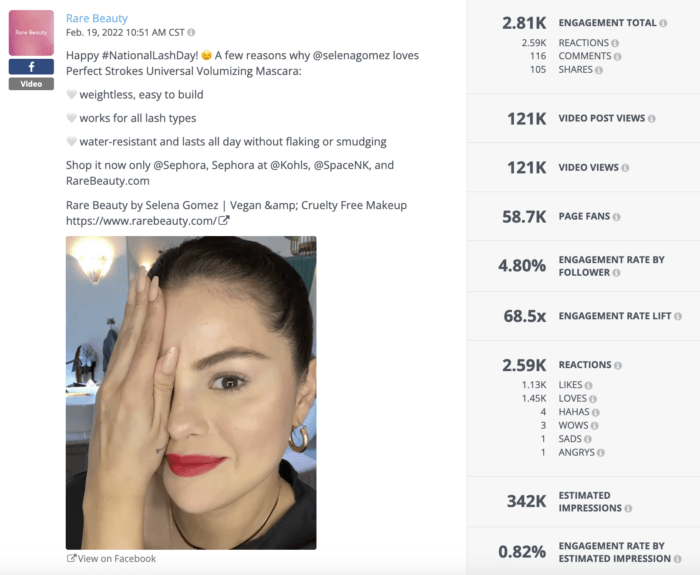 Putting a face to your brand is always a great way to humanize it and build a deeper connection with your customers. In the case of Rare Beauty, regular content that showcases how the founder herself loves and uses the products has the dual effect of driving home the brand's values of authenticity and encouraging fans to purchase its products.
Overall, Rare Beauty's success on Facebook can be attributed to its commitment to establishing a human connection with its customers, as well as its ability to authentically showcase its products. By staying true to its core values and engaging with its audience in a meaningful way, Rare Beauty topped our list of top beauty brands on Facebook.
Juvia's Place: Celebrating inclusive beauty
Juvia's Place, a makeup brand created to bring inclusivity and the beauty of African heritage to the world, is another standout performer on Facebook with an engagement rate of 0.251%. With 411K likes and 787K followers on Facebook at the time of writing, the brand has built a community filled with lovers of its "bright, bold, and proud" products.
Juvia's Place excelled on Facebook by working with a diverse roster of influencers and leveraging the power of video — a strategy that was perfect for showcasing its high-quality and inclusive beauty products.
For instance, the brand's top-performing Facebook Post featured influencer Princess Rese using Juvia's Place products to create a stunning makeup look. The video earned an impressive engagement rate of 20.7%, which is a staggering 690x greater than the industry median.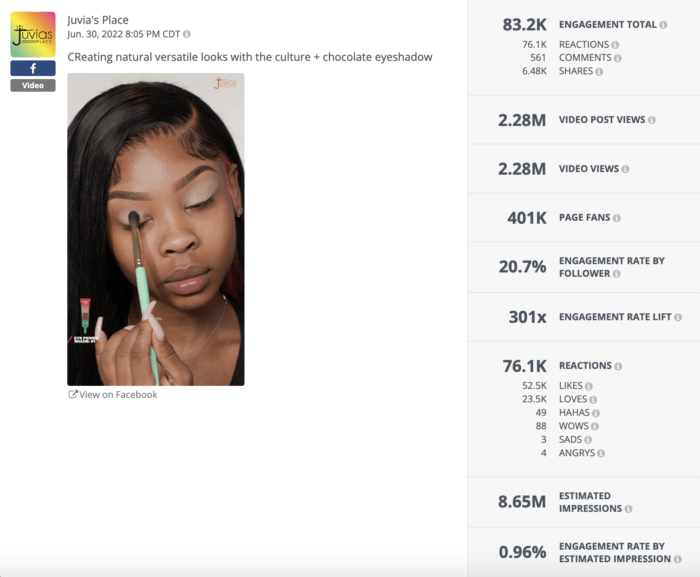 To inspire even more engagement, Juvia's Place also never shied away from initiating interesting conversations about different makeup techniques. The below post garnered a 2.4% engagement rate by directly asking its audience to chime in on their thoughts about a new concealer hack.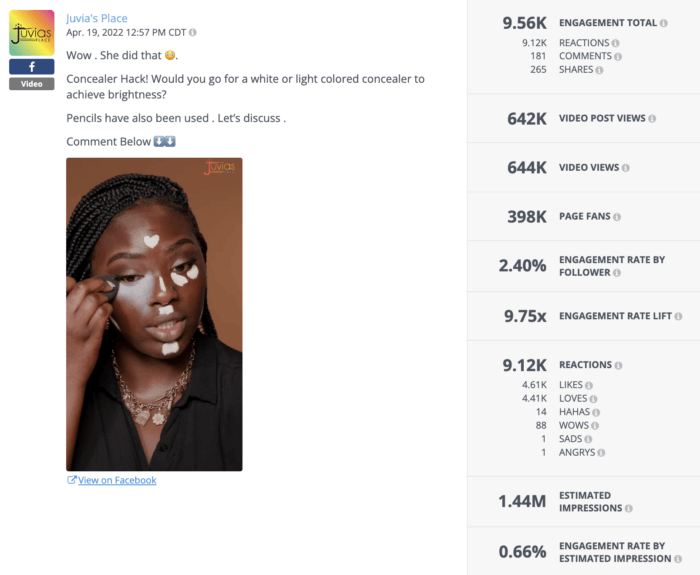 By working with diverse influencers, showcasing its products in video content, and sparking discussions among its community of fans, Juvia's Place effectively communicated its core message of inclusivity and quality. Undoubtedly, the brand's success on Facebook serves as a testament to the power of authenticity and inclusivity.
SKNN BY KIM: Keeping it simple with star power
Created by reality star and businesswoman Kim Kardashian, SKNN BY KIM is a skincare brand that prides itself on its clean ingredients and technical science-backed formulas.
Despite being less than a year old, SKNN BY KIM has made enough waves on Facebook to be ranked third among the top beauty brands on the platform. Its Facebook Page has garnered 17K likes and 34K followers, and its smaller following helped it earn an engagement rate by follower that was 47x greater than the industry median.
Much like Rare Beauty, SKNN BY KIM benefited from the fame of its founder, once again showing just how powerful it can be to have a recognizable figure as the face of your brand. Fans would flock to show love to posts that featured the celebrity, such as the simple birthday post below that earned an incredible 9.05% engagement rate.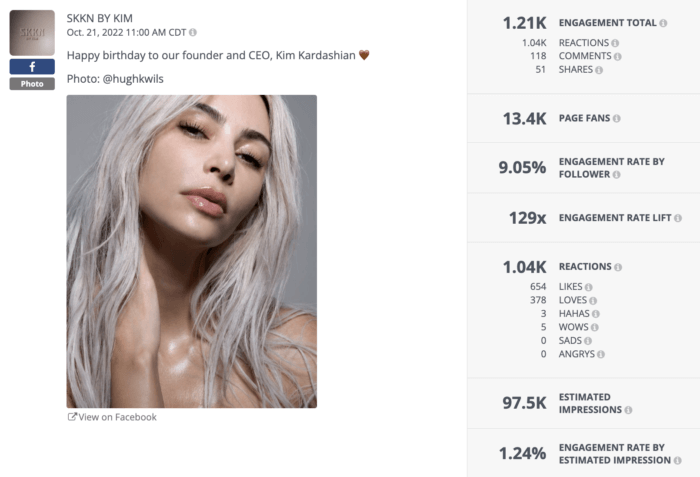 However, while much of SKNN BY KIM's content featured static photos of the brand's founder and products, its top-performing post was actually a video. The below clip of Kim's appearance on The Tonight Show Starring Jimmy Fallon scored an engagement rate of 17.3% — that's over 576x greater than the median!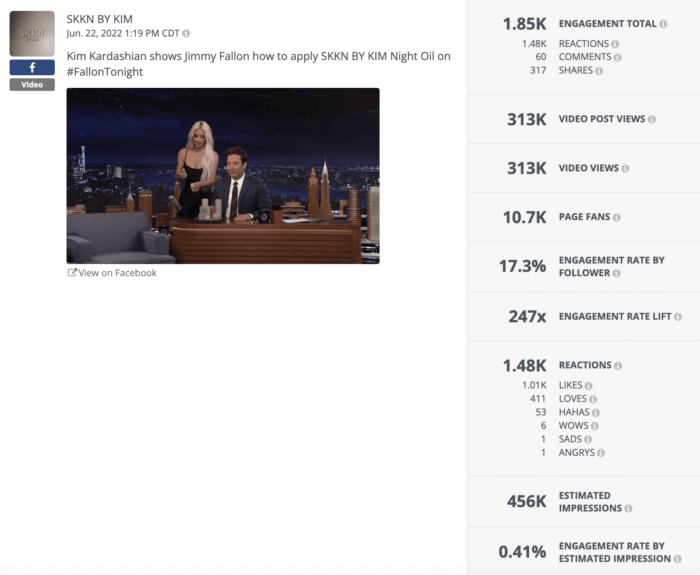 The video's success can serve as a reminder of two things: 1) video remains a powerful medium that encourages engagement and 2) repurposing promotional efforts is a great way to make your content work harder so you can maximize your ROI.
The Wrap Up
Rare Beauty, Juvia's Place, and SKNN BY KIM have set the bar high for other beauty brands to follow. From leveraging the power of video to sharing user-generated content, these top beauty brands on Facebook excelled at posting content that resonates with their audience and aligns with their brand identity.
As you strive to enhance your brand's social media performance, take inspiration from these top brands and experiment with different strategies to find what works best for you. With the right mix of creativity and data-driven insights, you too can drive stronger engagement on Facebook. Just remember to track your analytics closely and continue refining your approach over time.