With 2.8 billion monthly active users as of 2021, Facebook continues to be the top social media platform. 
While the platform has evolved immensely since first coming into our lives 17 years ago — and we've seen a slight decrease in engagement in the past year — social media marketers know that it remains crucial to measure engagement on the reigning platform.
But in a world where paid content rules and getting organic reach to cut through the noise is more challenging than ever, what's considered a good engagement rate on Facebook these days?
Let's jump into how marketers can calculate Facebook engagement rate for their brand and incorporate a few tactics to achieve greater engagement.
Calculating Your Facebook Engagement Rate
Before we dive into what a good engagement rate is in 2022, it's important to point out how we define engagement. At Rival IQ, we define engagement as measurable interaction on social media posts. Facebook engagement includes likes, comments, favorites, shares, and reactions.
Facebook engagement rate is calculated based on all of these interactions divided by total follower count.
Likes + comments + shares + reactions / total number of followers
This formula will give you the Facebook engagement rate per post. To us, engagement rate per post is the most accurate metric to help marketers understand how they're doing in relation to their competitors. Engagement rate per post takes into account post volume and audience size, so it reveals what content is resonating with your audience regardless of how many followers you have.
What is a Good Engagement Rate on Facebook?
According to our 2022 Social Media Industry Benchmark Report, the median engagement rate for Facebook is 0.064%. Out of the top 25% of brands across all industries — the brands performing best on social media — the median engagement rate is 0.174%. Using those numbers as your baseline, it's clear to see what number you need to reach to have a good engagement rate on Facebook and what your objective should be if you want to be a bit above the rest.
Another factor that goes into engagement rate on Facebook is the posting frequency. When it comes to how often to post on Facebook, the median for brands across all industries is 5.87 times per week while brands in the top 25% for engagement post 5.11 times per week.
Facebook Engagement Rate by Industry
While we've calculated the average engagement rate across all industries, every industry has its own unique set of metrics.
Let's take a look at the breakdown of a few industries along with examples of brands who are not only receiving high engagement within their own industry, but have posts with higher engagement than the overall median engagement rate.
Higher Education
Higher Education Median Engagement Rate: 0.148%
Higher Education Median Posting Frequency: 6.91 Facebook posts per week
Representing the higher education industry, University of Iowa is one of the top-performing brands on Facebook in its industry, according to our 2021 Higher Education Social Media Engagement Report. Even though the industry as a whole tends to do well on Facebook, University of Iowa comes out on top. One of the school's top Facebook posts this year received an engagement rate of 10.1% which is 68x greater than the industry engagement rate.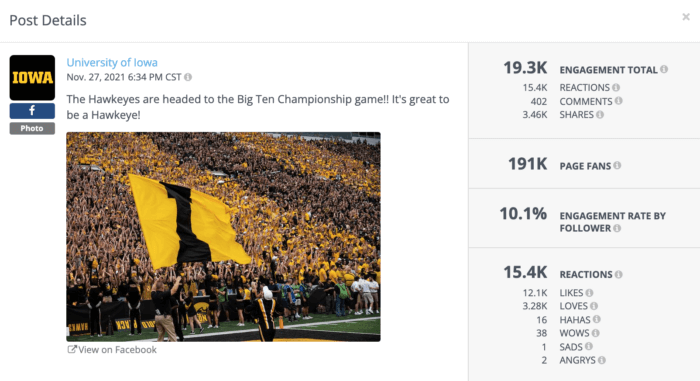 While this post likely received high engagement because it's centered around exciting news, there are still takeaways any brand can learn from it.
Even if you're not creating social media content for a university or sports team, you can take a cue from the school pride and community element demonstrated in this post. Take advantage of exciting milestones and moments your community wants to celebrate. And when you do, do so in a timely manner so that it takes advantage of the momentum.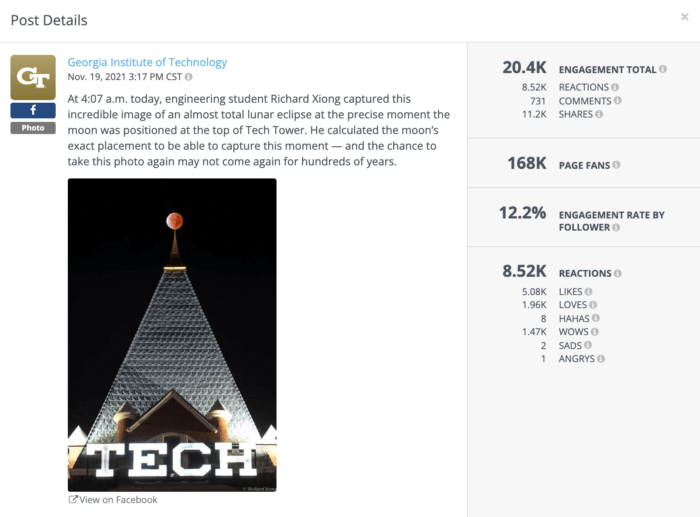 Georgia Institute of Technology is another top university with an impressive engagement rate on Facebook. Georgia Tech's average engagement rate ranks well above average at 0.71%. The post above is the school's top-performing Facebook post with an engagement rate of 12.2%, which is 82x greater than the median rate for higher education.
So, what's the secret to Georgia Tech's successful post? The image was taken by a student who used his impressive engineering skills to calculate the exact time and place the moon (which is almost a total lunar eclipse) would be centered right above the school's monument. Not only did Georgia Tech take advantage of a user generated content opportunity, but this image demonstrates the impressive skills of its student body and reflects well onto the school.
Hotels & Resorts
Hotels & Resorts Median Engagement Rate: 0.094%
Hotels & Resorts Median Posting Frequency: 3.36 Facebook posts per week
During a time when travel has been so uncertain, hotel and resort brands have really stepped up their game on social media, especially on Facebook. Hotel brand Fairmont, for instance, received an engagement rate on one of its Facebook posts that was a whopping 165x greater than the industry rate.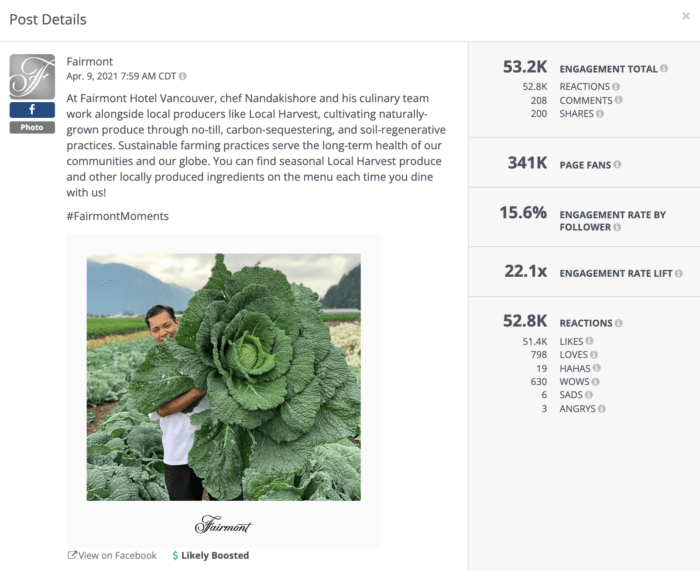 It's important to note that this post was likely boosted, which can explain its extremely high engagement rate. However, even if all of the engagement wasn't organic, there's something to be said about the content of the post. Oftentimes brands opt to put money behind posts that directly promote one of their offerings, whether that's an upcoming event, a holiday promotion, or a product launch. In other words, a boosted post is intended to sell something to followers.
Fairmont took a different approach with this high-performing Facebook post. The brand highlighted a partner that one of their culinary teams works with, a local producer who practices sustainable farming. This directly aligns with one of Fairmont's brand values, sustainability. Rather than telling its audience about a promotion, Fairmont promoted one of its brand values as a way to show its audience what's important to them.
When crafting your social media advertising strategy, consider what you really want your audience to know about your brand and how you can leverage that increased reach by communicating an important value.
Alcohol
Alcohol Median Engagement Rate: 0.097%
Alcohol Median Posting Frequency: 3.31 Facebook posts per week
Austin Beerworks, a top alcohol brand on Facebook, stood out this year with a high-performing post that was over 500x the industry engagement rate on Facebook. It was a simple, no-frills type of post — there wasn't even an image or link to go with it.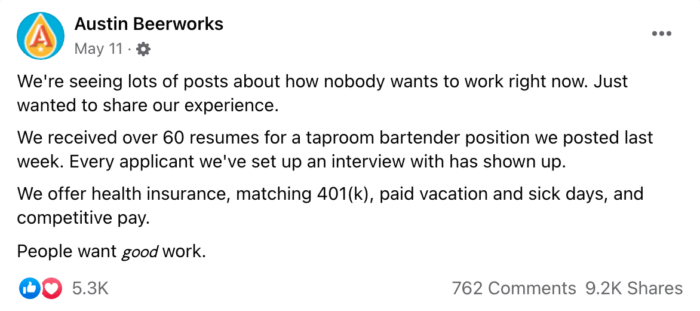 During a time when people are quitting their jobs in record numbers (AKA, The Great Resignation) and companies are being called to reevaluate what employees want, the Austin-based brewery shared an experience that not only contributed to the conversation but spoke volumes about the brand.
While their audience may be smaller than other top alcohol brands, that doesn't minimize the impact of its straightforward post. Shares contributed to a bulk of the engagement which means the message resonated with their current followers and most likely with people who weren't already following the brand. The lesson? Make your Facebook content shareable so you can organically reach a larger audience.
Health & Beauty
Health & Beauty Median Engagement Rate: 0.022%
Health & Beauty Median Posting Frequency: 6.19 Facebook posts per week
Beauty brands tend to have a lower Facebook engagement rate compared to other industries. The industry engagement rate is below the median engagement across industries at 0.022%. But that doesn't mean these health and beauty brands don't have breakout posts every now and again. Take Beautycounter, one of the top beauty brands on social media, for example.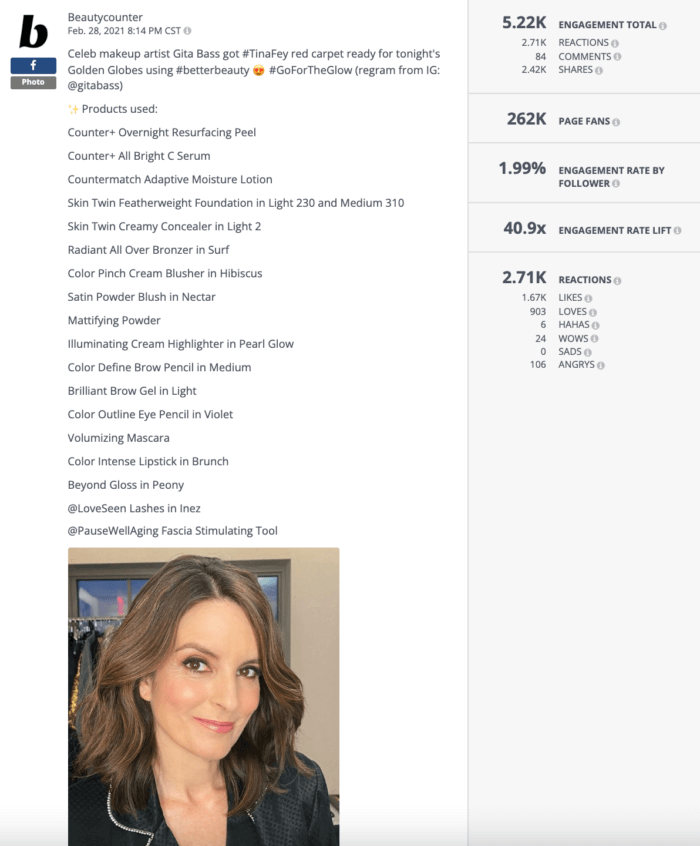 This post has an engagement rate that's 90x greater than the beauty industry engagement rate on Facebook. While, yes, it does have a celebrity to help boost the attention it gets, this post is also a shining example of leveraging user-generated content. The image of Tina Fey was originally posted by celebrity makeup artist, Gita Bass, who used a full line-up of Beautycounter products to get Tina ready for the red carpet.
Whether you have connections to celebrities or not, pay attention to the people and accounts your audience or customers engage with. Once that content is on your radar, you can spot opportunities to repost user-generated content.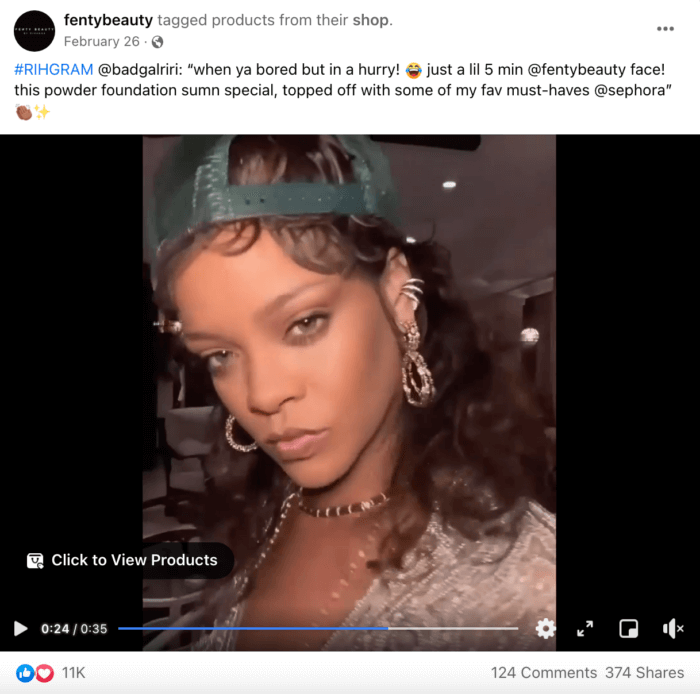 Another top beauty brand, Fenty Beauty also stands out for a high-performing Facebook post.
Fenty Beauty's top Facebook post received a 1.6% engagement rate, 72x times greater than the median for the beauty industry and 20x higher than the overall engagement rate for Facebook across industries. The post is a video time lapse of Rihanna herself applying her "5 minute" makeup routine using all Fenty Beauty products.
The famous founder making an appearance on her brand's page is undoubtedly a major driver of this post's engagement. But the video is also a lesson in experimentation.
Photos perform best for beauty brands on Facebook, so this post goes to show that sometimes it pays off to go against the grain and experiment with a different post type — especially if your competitors aren't doing it. If you have a content idea that doesn't fall into the usual bucket of posts your brand creates, don't be afraid to explore it. Experiment, measure the performance, and take note of what did or didn't work. As long as it aligns with your brand, it's worth a shot!
The Wrap-Up
While 0.064% is considered a good engagement rate on Facebook, it should be viewed as a general baseline for your social media strategy. Different industries have their own median engagement rate to measure up against, so consider where your brand stacks up against your competition before comparing it to the median rate across industries.
As evidenced by these brands, there's no one-size-fits-all answer to achieving a good engagement rate on Facebook. Take note of what these top-performing posts are doing right, and experiment with how you can incorporate these best practices into your Facebook strategy.