The COVID-19 pandemic is finally winding down and despite everyone hoping for everything to go back to normal, there is a new normal that is taking hold. Everything has changed in nearly every industry, social media included. In fact, social media trends are changing faster than ever and the old pre-pandemic rules no longer apply, no matter if we're talking about ad targeting, influencer marketing, or e-commerce.
In just the last few months alone, several key market players made massive moves that changed the entire social media landscape. It's crucial that your business stays ahead of the curve, so I've put together a shortlist of the five major social media trends and the corresponding best practices to tackle them. Seizing these trends will help carry your brand throughout the rest of the year.
So, what are the latest social media trends?
Social Media Trend #1: Uncertainty in ad targeting is likely to increase
Apple has upended the tech world yet again, but instead of offering a revolutionary piece of hardware, they're making serious strides in protecting the privacy of its users. iOS 14 introduced new tracking policies that are making a sizable impact in the world of digital advertising.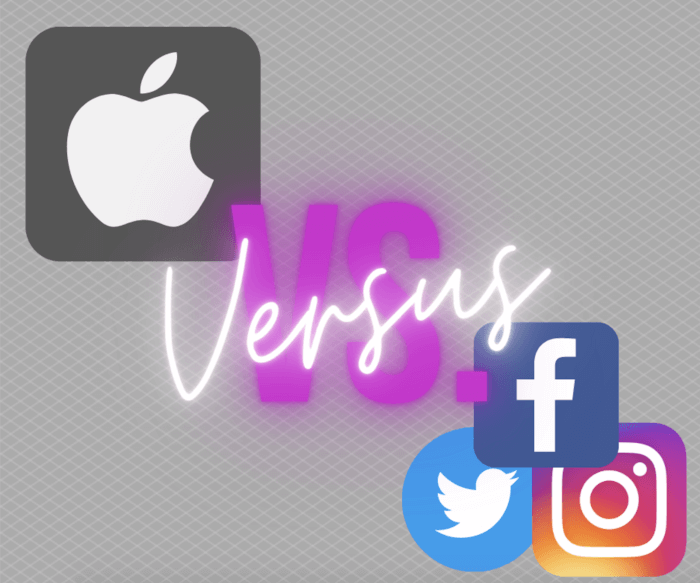 Apple is taking significant strides to become the premier privacy company out of Silicon Valley. (Via Canva)
Advertisers use IDFA (identifiers for advertisers) in order to track and target users to measure the success of advertisements from impressions to ad revenue. Until iOS 14 was released, these IDFAs were turned on by default on Apple devices with the option to manually opt out of these trackers. Apple has flipped the script on IDFAs and turned them all off by default and users will have to manually decide whether or not to opt-in. Out of all of the social media trends in this list, this is the most concerning for brands who rely on ad targeting to maximize their reach and revenue.
While these changes only impact Apple devices that have upgraded to iOS 14, this shift is just the beginning as users and governments increasingly push for additional online privacy protections.
So what should you do?
What does all of this mean for your business and what will the future look like for social media advertising? Obviously, this means that the data your business does collect from social platforms will be less valuable than it once was. It's time to start building a social spend strategy that incorporates more contextual targeting in preparation for the increase in users opting out of tracking.
You will have to develop campaigns around a more generalized idea of an audience using the context of where the ad is served, such as the content surrounding the location of the ad and the general audience searching for that topic. Let me explain. Traditionally your business relies on gathering data from users clicking on certain links, posts, and interests while using Facebook and any apps associated with it. This data is then used by companies to sell targeted ads through carefully constructed buyer personas based on user behaviors.
Now, with the introduction of these privacy features and a smaller pool of data, your business will have to rely on "best guesses" for where these users go and what they are interested in. Obviously, this will lead to less efficient ad campaigns until more solid solutions are discovered.
In the meantime, the users who opt-in to tracking will be extremely valuable to your business but as these privacy practices spread the shrinking pool of users will make it harder to develop a truly targeted campaign. It's best to make the most of these users and to also take a more proactive approach in finding out how, where, and when these users interact with your brand by any means necessary, such as requesting surveys and manually evaluating customer data. Combine this data with those who still choose to opt into your targeting efforts in order to build a more solid buyer persona.
Social Media Trend #2: Expected participation in social movements
Silence is no longer an option for most major brands these days. 2020 was a major year for social movements, including (but not limited to) Black Lives Matter, income inequality, diversity/inclusion, LGBTQ+, and worker's rights. Businesses are not only expected by Millennial and Gen Z audiences to voice their support for social movements but to also commit to actions in support of solutions.
The backlash to "slacktivism" is gaining steam, and simply changing your logo or running a simple ad campaign in support of a social issue is just not enough, especially when your rhetoric doesn't mirror practice. In case you aren't already aware, "slacktivism" is a portmanteau of the words "slacker" and "activism" used to describe lazy activism which voices support an issue but does nothing meaningful to change the status quo.
For example, Disney's current behavior is quickly becoming the poster child for corporate "slacktivism" turned into hypocrisy: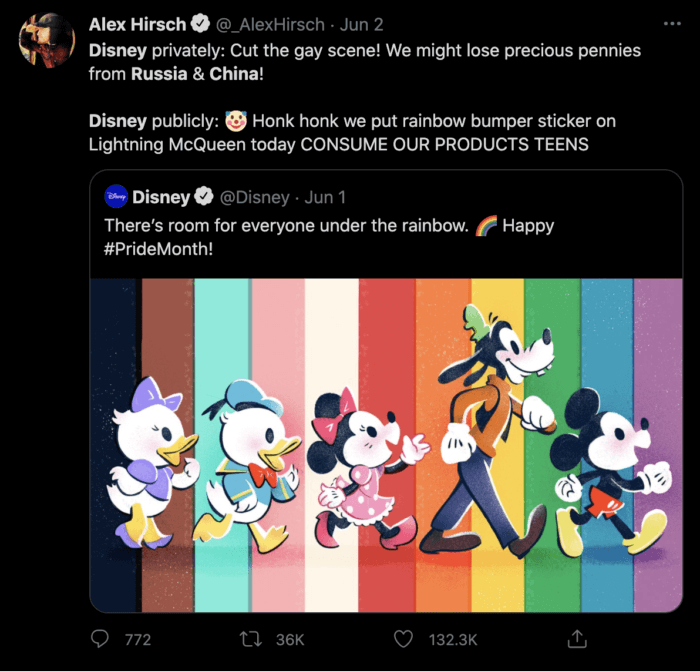 Trust me, the other responses to Disney's tweet don't get any more positive from here. (Screenshot via Twitter)
The truth is, the general public is quite adept at spotting insincere or shallow attempts to co-opt a social movement for the purpose of driving sales.
So what should you do?
I would argue that if your business doesn't intend on making any meaningful impact with an advertising campaign, then it is better to not say anything at all about that issue. That being said, the best practice your business could implement regarding social issues and advertising campaigns is making a sincere effort to help the issue.
Give back to the affected communities by creating content that directs customers to helpful resources or show how your business will commit to relevant policy changes that right a previous wrong. Younger audiences connect with brands with skin in the game on issues that matter most to them.
Social Media Trend #3: Influencer marketing is still on the rise
Influencer marketing is a long-standing social media trend that continues to grow even through 2021. American youth's number one career aspiration is still on the rise and shows no signs of slowing down. Platforms like Instagram, Snapchat, YouTube, Twitter, and TikTok gave rise to what is known as the "influencer," and with millions around the world locked in their homes over the course of the pandemic, this career path has continued to flourish. If you haven't considered influencer marketing to boost your brand then now is the time to jump into the pond.
The growth of short-form content, specifically short videos, allows you to connect with thousands to potentially millions of customers in a matter of seconds. Instagram Stories, TikTok videos, Facebook Stories, and even YouTube Shorts have opened the door to quick and exciting new ways to market your brand using trusted and relatable spokespeople.
So what should you do?
When choosing influencers for your brand, sometimes it's better to stick with less mainstream figures rather than pulling big names like the Kardashians (if your brand could even appeal to these names). While those big names work best for major brands like Coca-Cola, Ford, and Microsoft, small-to-medium-sized businesses are better off sticking with influencers with a subscribed audience range of 10,000 to 250,000 followers. These influencers have a sizable audience while still appealing to more everyday users. After all, the goal is to "influence," right?
Ask yourself, who do you relate to better? Matthew McConaughey and his multi-million dollar lifestyle or the middle-class social media influencer who's actually tried a product or service? It's all about trust and relatability. The more down-to-earth your influencer, the better the connection an audience is bound to make with your brand.
Social Media Trend #4: Audiences want something real
In a recent article, I wrote an entire section about why it is so important to just "be real" when pushing your brand on Facebook because that is exactly what the newer generations are looking for. Decades of clichés and canned slogans are finally taking their toll. Millennials and Gen Z aren't looking for fancy slogans and they certainly don't want to listen to condescending messages about their age, tastes, and interests. They want to hear from brands that genuinely understand their wants, their humor, and their place in the world.
This can't be overstated enough. All it takes is one misused meme or catchphrase to turn your entire advertising campaign into a punchline overnight. Social media is brutal and quick to jump on any "cringeworthy" content.
So what should you do?
I've split this section into two separate, but equally important, solutions: bringing your staff in on your marketing strategy and employing self-aware humor.
First, avoid the use of oversaturated slang and using unrelatable celebrities to push a message. Instead of hiring actors or using "hip" language to communicate how amazing your product or service is on social media, why not utilize the most human element of your business: your employees.
Dollar Shave Club has great examples of this kind of marketing:
Your employees are closer to your business than almost anyone and they understand it just as deeply as your audience.
Another great tool for marketing on social media is the use of humor and by that, I don't mean using outdated memes. Some of the best ads and social campaigns are down-to-Earth, funny, and relatable. We all use hyperbole, sarcasm, and ridiculous analogies to make our points and so do they. Self-aware meta-humor is all the rage right now since consumers are disillusioned by the overuse of canned catchphrases and slimy sales tactics.
Just be real with your audience about what you do. Your audiences will reward that candid attitude with clicks, conversions, and loyalty.
Social Media Trend #5: Growth in social media e-commerce
Thanks to the COVID-19 pandemic the growth in online shopping has exploded in popularity. Online shopping was already rising and has been for quite some time, but with all of this time spent at home, what else was everyone supposed to spend their hard-earned cash on?
This monumental growth in popularity also put certain social media markets on a path to serious expansion. First off, Facebook Marketplace has seen massive success over the course of the pandemic. Meanwhile, Instagram (also owned by Facebook) launched its redesigned shopping features to allow sellers to list their products using its own attractive interface while businesses still link to their own product pages. Additionally, Instagram has also made moves to clear up the clutter of online shopping by allowing users to purchase products from businesses without leaving Instagram using its own Checkout feature.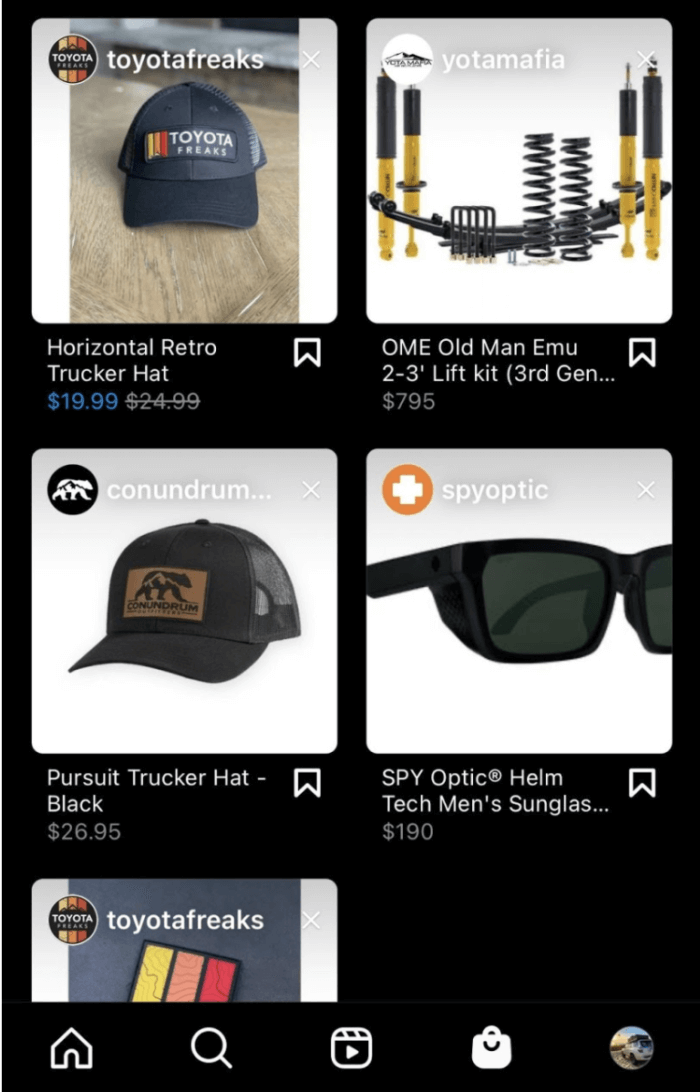 Here you get a little glimpse into what businesses want to sell me on Instagram. Clearly, they're very aware of my addiction to my Toyota 4Runner. (Screenshot via Instagram)
This trend means your business has more avenues for making a sale than ever before. Lifestyle brands are particularly set to dominate the Instagram market since the platform is based around the idea of sharing said lifestyles and experiences.
So what should you do?
Don't wait to get in on this trend. The combination of e-commerce and social media is such a natural marriage that up-and-coming brands can't afford to ignore Facebook Marketplace and Instagram Shop. Millennials and Gen Z are all about experiences and social media is where all of those life events are shared. It's crucial that your business makes inroads into those experiences as soon as possible.
So here are a few pointers for conducting business in these spaces:
Trim down the buying process: If you're selling products that are simple and straightforward, then don't clutter up the process by redirecting customers to your website from your social media posts. Engage in transactions directly through platforms like Instagram whenever possible. The last thing you want to deal with is an excess of abandoned internet carts.
Utilize user-generated content: Your customers are not only a source of revenue, they are also your best chance at winning over new customers. Happy customers are worth far more than singing your own praise, so borrow their own words and images when marketing the products they choose. Of course, it's best to ask for permission first.
Use video whenever possible: Images are great, but videos are even better. Seeing video of your product in action gives your customers a real glimpse into what they can expect when they make a purchase.
Use high-quality images: I cannot stress this enough. Time and time again I find businesses marketing their products on Facebook Marketplace or Instagram Shop using grainy or pixelated images. These low-quality images inspire more mistrust than a willingness to buy. Take the time to generate quality images to market your products and business.
Whatever you do, just don't leave this open market on the sidelines to collect dust. Embrace the new way to sell.
And the shifts are bound to continue
Considering the speed at which the landscape has changed over the last year, there's no telling how many of these social media trends will continue into 2022. If you're looking to stay up-to-date with the latest social media news and best practices for business, be sure to check in with our blog regularly. Additionally, if you have any thoughts on our suggestions, feel free to find us on Twitter to share your feedback. We'd love to hear from you!